Beaubier Wins Fifth MotoAmerica Superbike Title at Indianapolis
Monster Energy Attack Performance Yamaha rider Cameron Beaubier claimed his fifth MotoAmerica Superbike title with third and second-place finishes at Sunday's doubleheader at the Indianapolis Motor Speedway. Teammate and title rival Jake Gagne took solid points finishes in both races, crossing the line fourth in race two and recovering from a crash in race three to finish seventh.
Mixed fortunes in race one at The Brickyard on Saturday saw Gagne take second and Beaubier crash out, but Sunday was a new day. They lined up for race two in their qualifying positions of sixth and fourth, respectively. At lights out, Gagne got the better launch and advanced to fifth on the first lap. Beaubier on the other hand struggled in the opening stages of the race and lost a position, but quickly settled into a rhythm and held steady in sixth.
Gagne kept moving forward and worked his way up to fourth. He began to break away with the leaders, dicing with the rider behind before finding more pace and fighting up to third by the seventh lap. After finding a groove with his R1, Beaubier began his charge on lap 11, easing past fifth place and within reach of the podium. Ahead of him, Gagne had been setting a series of quick times as both Yamaha riders closed the leaders down. It became a four-rider battle in the closing stages making for a thrilling final lap. Champion-elect Beaubier made his move on the final lap into the first turn and managed to hold him off to secure his first podium of the weekend, scoring vital points over his teammate in fourth.
Anticipation rose heading into race three with Beaubier in reach to clinch the 2020 championship, only needing to leave The Brickyard 75 points clear of his teammate whilst sitting at 86. After the start he lost a place to the rapid-starting Gagne, the duo holding fourth and fifth, respectively, as they finished the opening lap. Before they could progress, the action was stopped for the third time this weekend with a red flag after the race leader crashed on lap two.
With the track conditions good to go, the race resumed. Beaubier dropped to sixth at the restart with Gagne moving up into third on the first lap and quickly muscling his way into second. Behind him, the defending champ was making his way forward. On lap six, he made his move into a podium position and a title-winning shot, chasing down Gagne ahead. With only four laps to go, a small mistake by Gagne caused him to go down, but he quickly re-joined the action to finish seventh.
Beaubier controlled his pace and saw off a late challenge from third place to cross the line second and score his fifth MotoAmerica Superbike Championship. In a dominant season which saw him take 13 wins, two podiums, and 361 points, Beaubier has set the standard all year with a sublime season. With 75 points still available from the final round at Laguna Seca, the 2020 Superbike champ also has a chance to surpass the record of the most points scored in a MotoAmerica season, currently held by Josh Hayes with 410.
The MotoAmerica series concludes at the iconic WeatherTech Raceway Laguna Seca in Monterey, California on October 23-25, with another triple-header and a final chance for podium glory for the Monster Energy Attack Performance Yamaha squad.
Richard Stanboli – Monster Energy Attack Performance Yamaha Racing Team Manager
"It wasn't the weekend we expected, but the mission was accomplished. This was Cameron's fifth championship and our first Superbike championship with Yamaha. It was mostly a seamless season; everything just fell into place perfectly. We now have to work hard to make sure that Jake solidifies the second place in the championship at Laguna Seca. I can say for sure that Cameron, Jake, and the entire team are looking forward to the season finale at Laguna. It has always been a great track for them and Yamaha."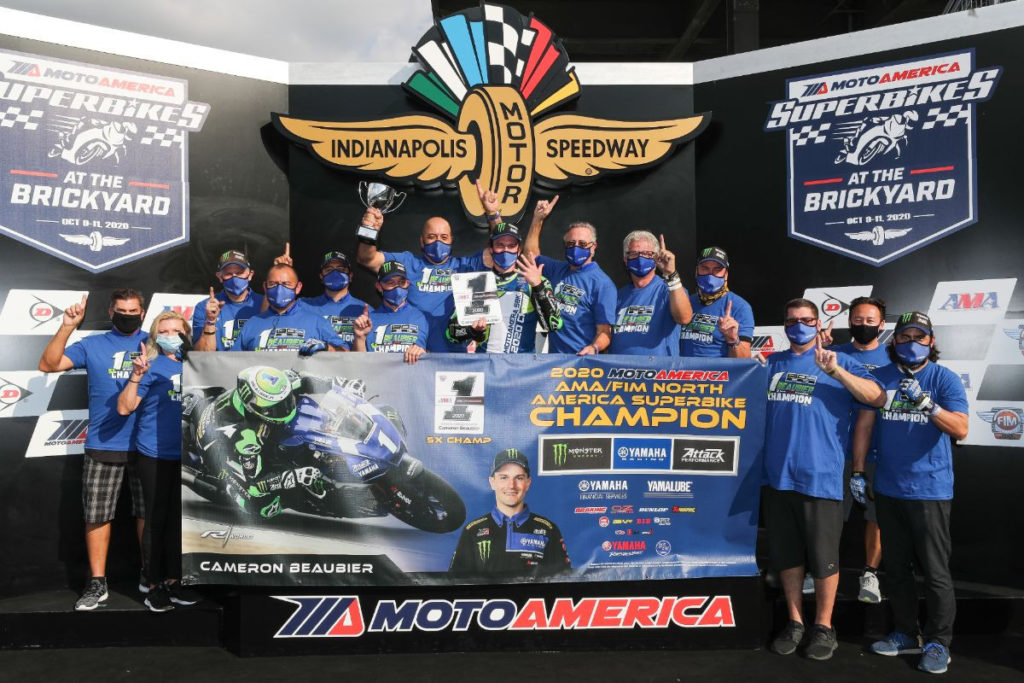 Cameron Beaubier – Monster Energy Attack Performance Yamaha Racing
"It doesn't seem real that we have racked up five superbike championships. It was such a tough weekend crashing three times and having a couple of issues, but with how great of a year we were having, we were due for a challenging one! I'm so happy going forward to Laguna and to be able to just enjoy the weekend with my team. It's definitely my favorite year I've had racing a motorcycle."
Jake Gagne – Monster Energy Attack Performance Yamaha Racing
"I didn't get off the line too great in the first race, but I started getting into a rhythm after a few laps. There were some parts of the track I was struggling with quite a bit with the front end, so I made a few mistakes and ended up fourth. In the second race, the crew made some great changes to the bike and I was feeling much better. Once I got into second I put my head down to try and inch my way forward to the leader. I really wanted to fight for that win. Unfortunately, I asked a little much of the front tire and low sided in Turn 10. I'm glad the bike was okay and we could remount to get some points for the Monster Energy Attack Yamaha team. Hats off to Cam for an incredible year and another Superbike championship for Yamaha!"
More, from a press release issued by Suzuki Motor of America, Inc.:
FONG WINS SUPERBIKE TWICE AS PETERSEN AND LANDERS EARN MOTOAMERICA CHAMPIONSHIPS FOR SUZUKI AT THE BRICKYARD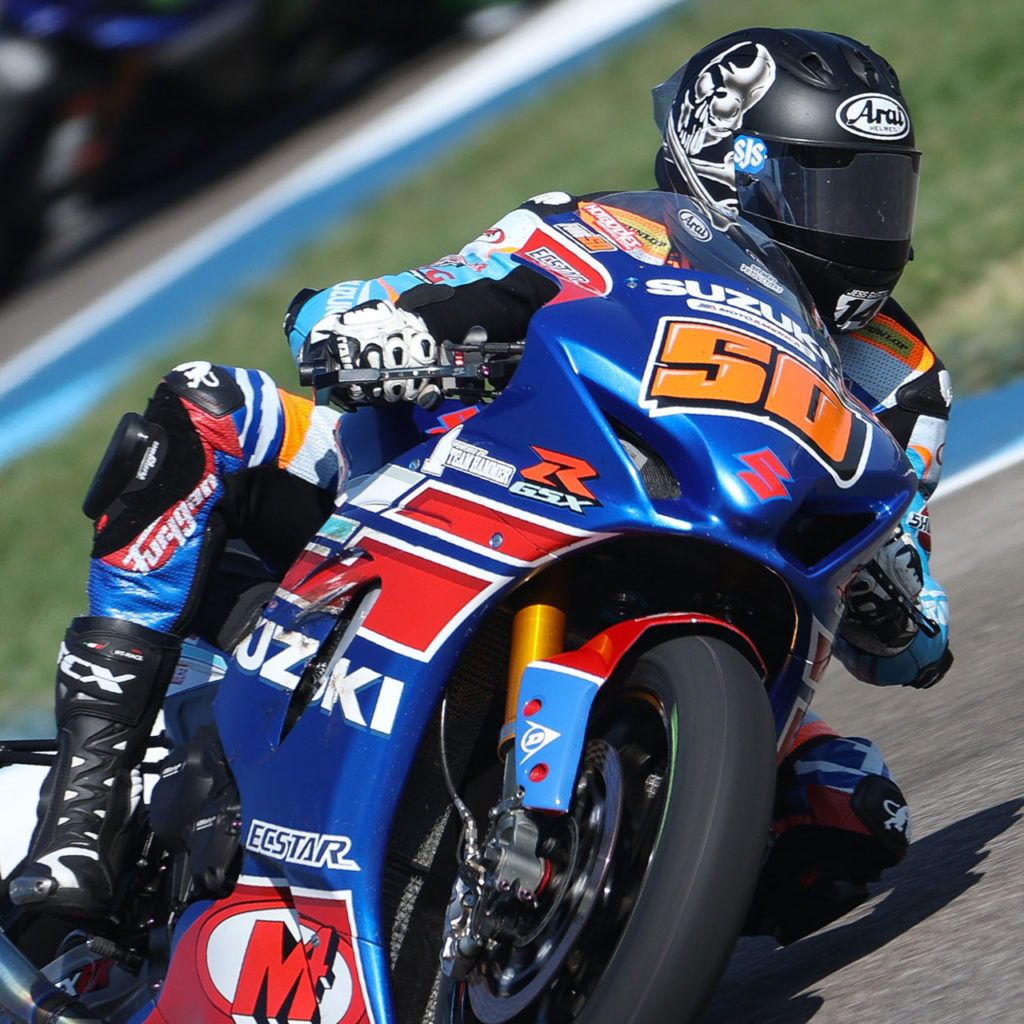 Brea, CA (October 12, 2020) –Suzuki Motor of America, Inc., and Team Hammer reaped the rewards of a season's worth of hard work with a highlight weekend of the 2020 MotoAmerica AMA/FIM North American Road Racing season to date at Indianapolis Motor Speedway. By the time the final checkered flag at the Brickyard had waved, the pairing had gained two national championships, three race victories, four pole positions, and six podiums.The rider who grabbed that final checkered flag was M4 ECSTAR Suzuki's Bobby Fong, who enjoyed perhaps the finest weekend of his decorated professional career. On a historic MotoAmerica Superbike tripleheader weekend, Fong took a narrow victory in the Saturday's race aboard his Suzuki GSX-R1000, backed it up with a close second in Sunday's first race, and then pulled off a dominant, runaway win in the day's concluding contest.
"It's great to be back up here," Fong said after his Sunday triumph. "It's been a long season and my M4 ECSTAR Suzuki is finally coming into its own. I didn't really have a gameplan coming into the final race, but my coach, Josh Hayes, said I just had to be relentless out there. I just plugged away and put in my laps."
Fong consistently performed his best despite a large number of obstacles, including several red flags as well as competitors crashing near him. Fong avoided trouble throughout yet ran a strong race pace that was tough to match. The Californian now has three Superbike victories this season to go with the Supersport crown he won last year while mounted on a Suzuki GSX-R.
"The bike was awesome," he added. "Big kudos to everyone on the team. They've been supporting me all year long, and I can't thank them enough for all they've done."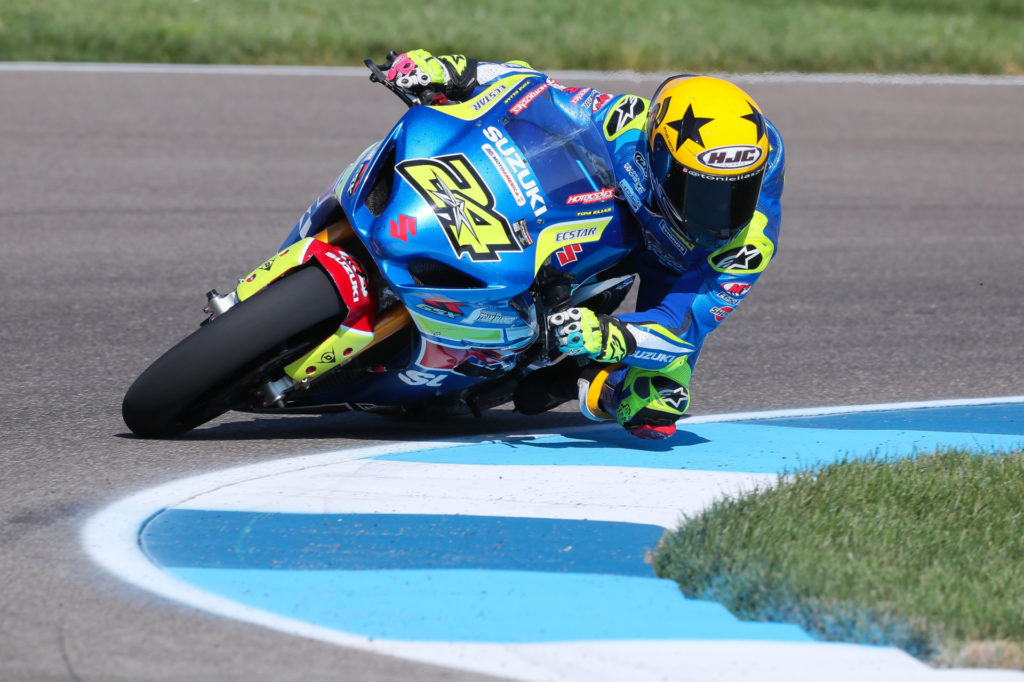 His premier-class teammate, Toni Elias, was in outstanding form in Indy as well, powering to pole position aboard his M4 ECSTAR Suzuki GSX-R1000. Elias' results were dampened by some misfortune — a red flag was shown while he was running second on Saturday and he crashed out of the lead as he and Fong were pulling clear early in Sunday's second race – but he still managed to net a pair of top fives (fourth and fifth) on the weekend.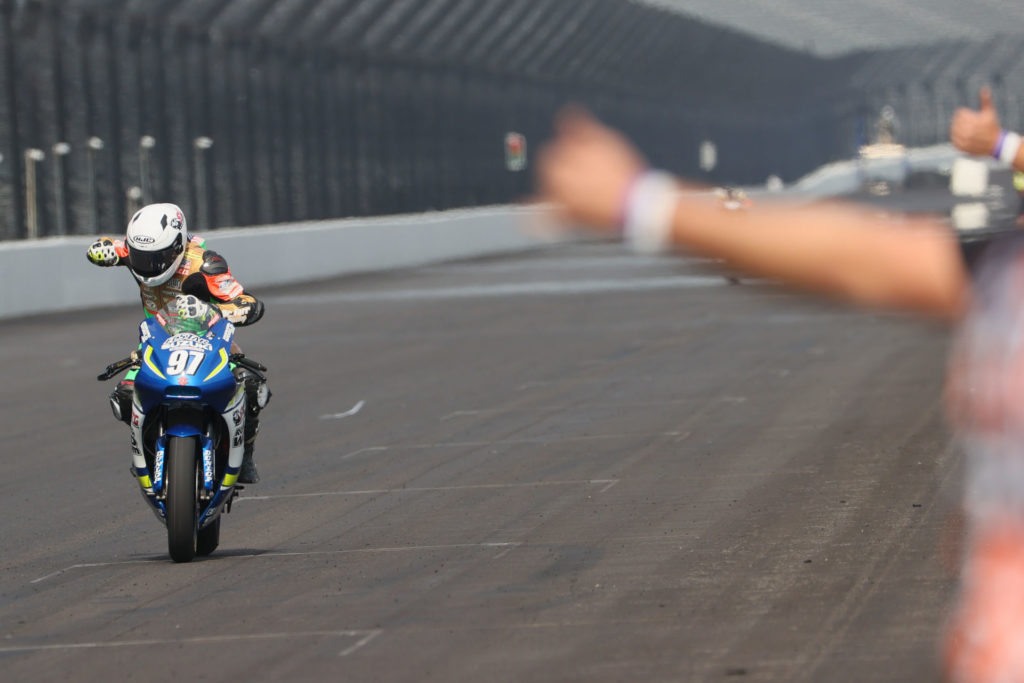 The Indy weekend also saw SportbikeTrackGear.com Suzuki's Rocco Landers and Altus Motorsports Suzuki's Cam Petersen wrap up their respective Twins Cup and Stock 1000 championships a full round early aboard their Team Hammer-built Suzuki racebikes. Landers pulled another disappearing act in Twins Cup action to register his seventh win in succession aboard his Suzuki SV650, clinching his title campaign in style. Petersen appeared to do the same aboard his Stock 1000-spec GSX-R1000, however, his seventh win in a row was later relegated to a runner-up finish when he was docked 0.4 of a second due to a sporting infraction.
15-year-old Landers said, "SportbikeTrackGear.com and Team Hammer have put this amazing program behind me all year. After Road America and Atlanta, I didn't think I was going to be up here. The results early in the year messed with my head a little bit, but I'm feeling so good now. I've been feeling so good most of the year. It's been so awesome working with this whole team. They've worked so hard for me and given me such an amazing bike."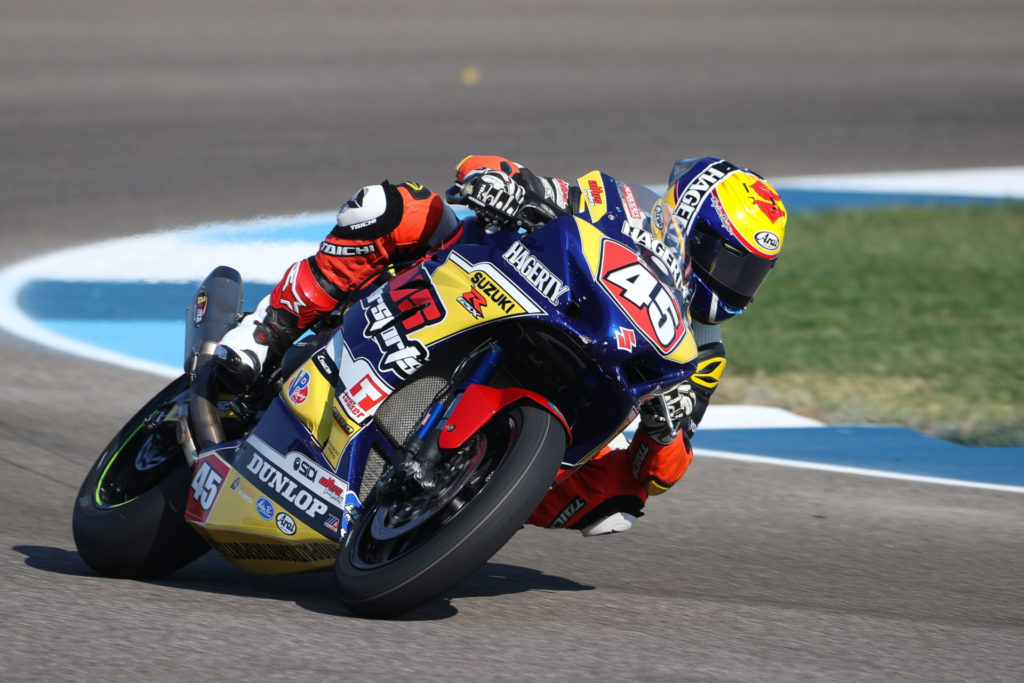 After winning the Stock 1000 championship, South African Petersen said, "I'm a little bit lost for words. It means a lot to me. I've been working for this my whole life. To be able to hold up an AMA #1 plate is pretty special. I'm so happy. I've got to thank the whole team for all their work and giving me a machine I can win on every weekend."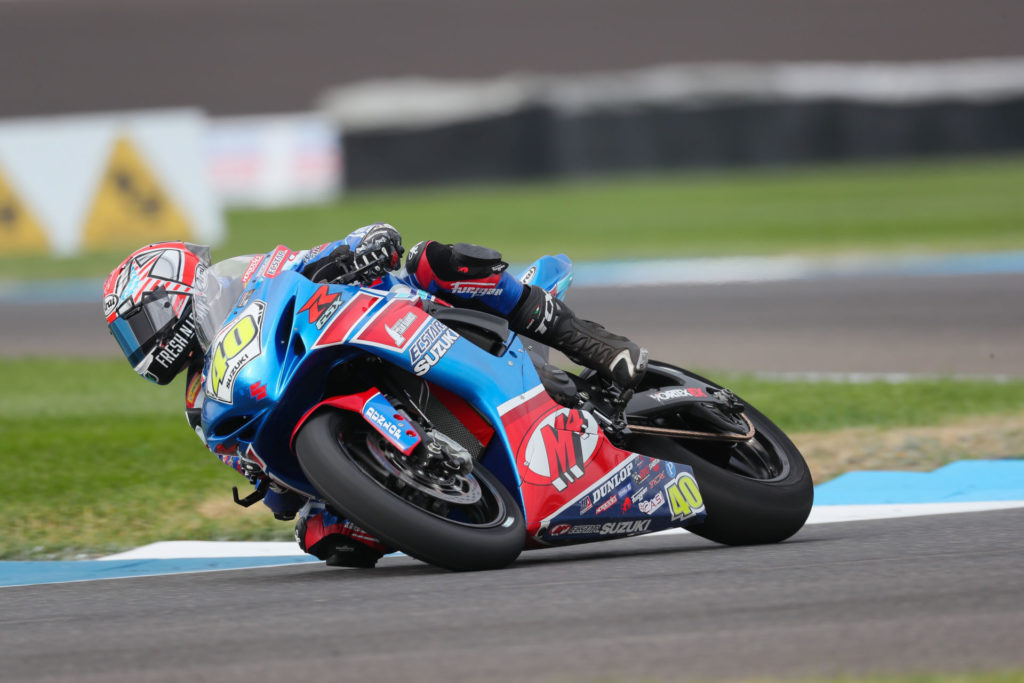 Meanwhile, M4 ECSTAR Suzuki's MotoAmerica Supersport duo of Sean Dylan Kelly and Lucas Silva showcased their skills as well. Kelly earned the pole aboard his GSX-R600, but made a small mistake on Saturday while leading in a 'must win' effort to keep his title hopes alive. He bounced back from the fall to finish as the Supersport runner-up on Sunday.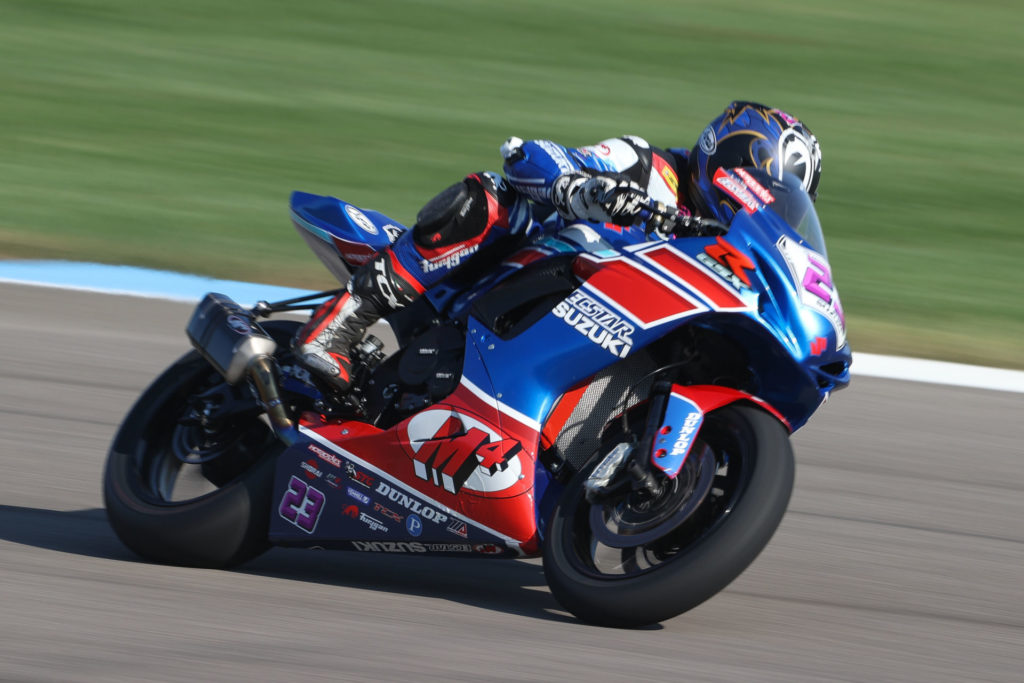 Silva, meanwhile, battled for the podium on Saturday, running in second position until he was pushed wide on the final lap and ultimately came home in fourth. He followed that up with a sixth on Sunday to keep his season-long run of top tens alive.
Team Hammer and American Suzuki will look to continue its hot form and close out the 2020 season in a flourish at the 2020 MotoAmerica season finale, which will take place at WeatherTech Raceway Laguna Seca in Monterey, California, on October 23-25.
More, from a press release issued by Jason Aguilar Racing:
Another sixth in Supersport on Saturday, the Indianapolis highlight for Jason Aguilar 
Jason Aguilar remains fourth overall in the 2020 MotoAmerica Supersport Championship despite a race two crash in yesterday's second race at the iconic Indianapolis Motor Speedway.
Qualifying seventh meant a third row start for the two races, with the #96 finishing a solid sixth in the opening encounter on Saturday, his eleventh top six finish of the season. Sunday's race was short-lived, lasting only a matter of seconds, Aguilar crashing hard in the opening sequence of corners, walking away without any serious injury.
Disappointed to have said goodbye to any chance of third overall, with just one round (two races) at WeatherTech Raceway Laguna Seca remaining in a fortnight, Jason's focus is now on ending the year on a high.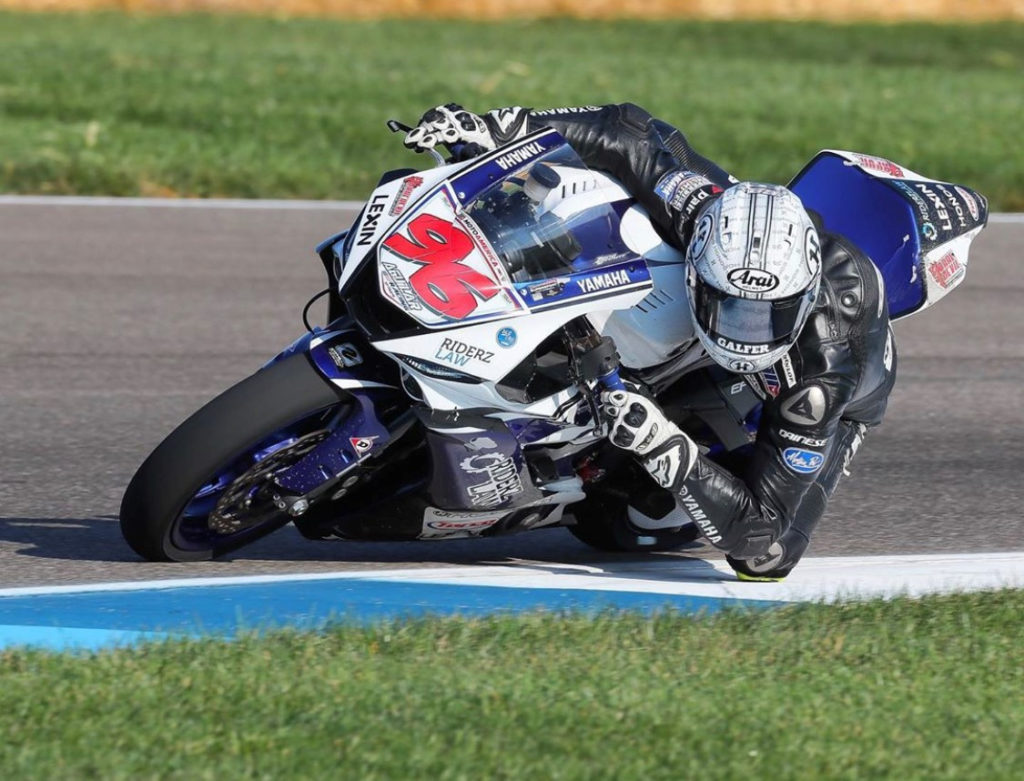 Jason Aguilar: "I got a decent start in race one but caught up with the pack in the opening couple of corners and lost some time. I made up some ground and was catching the podium fight. I felt that I had the pace, but I lost too much time at the beginning and missed the chance to be in their draft. My bike is a missile but when you can't catch the slipstream, especially at Indy, it's tough. I wasn't happy with sixth, especially after the P3 and P4 last time out and so I was determined to make up for it on Sunday. It's hard to say anything about race two. I don't remember too much to be honest. I went into Turn 2; I braked and then went down. I'm not too sure exactly what happened, it was all over in the blink of an eye. I'm ok, luckily, I bounce well. We will fix the bike and move on to Laguna where I want to finish the year on the podium!"
For more information go to www.aguilarracing.com
More, from a press release issued by Altus Motorsports:
MotoAmerica: Round 8 Results from Indianapolis Motor Speedway for the Altus Motorsports Tucker Hagerty Rangeline Team
(Indianapolis, IN)  Round 8 of the MotoAmerica Championship at Indianapolis Motor Speedway – "The Brickyard" was one for the ages. "The facility and track are amazing and the weather cooperated – it had all the ingredients for and delivered on a great weekend," said Team-Owner, George Nassaney.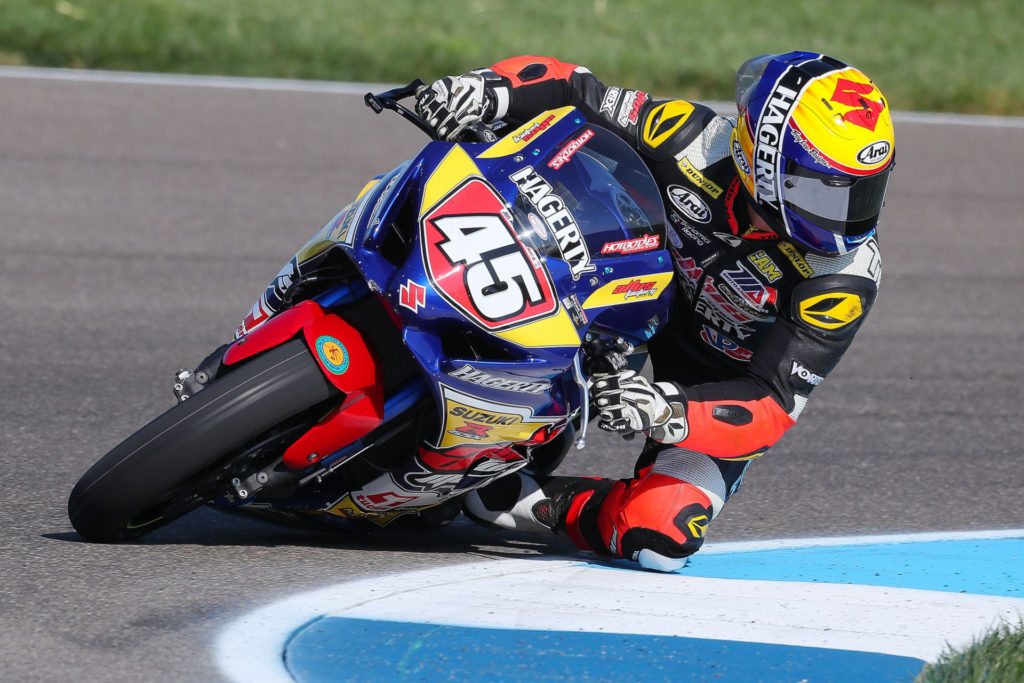 Honos Superbike & Stock 1000: Cam Petersen has made it official. With his results in Saturday's Stock 1000 race, he became the MotoAmerica 2020 Stock 1000 Champion. "I've been working toward this my entire life. To be able to hold up a Number 1 board is pretty special. I am so happy and can't thank my team enough. Coming into the season I didn't have a ride. The deal with Altus came together really late but I am so glad it did. They've done some amazing work and gave me a machine I can win on. I could not be happier," said Petersen.
Initially, Cam was credited with the win in the Stock 1000 race but later was demoted to 2nd due to a penalty for 'exceeding track limits.' The change in the results did not impact the overall championship results.
"This Stock 1000 championship would not have happened without the combined efforts of a lot of people. We are so lucky to have had Cam join the team this year. It was a pleasure to watch him ride and to have him in our pit. I can't thank Melissa Paris and her assistant, Ryan Williams enough for all the hard work they did this year on the bike. I also need to thank our Crew Chief, Eric Gray for all his efforts. And, of course, Team Hammer for all the support. They build our engines and supply parts. They have been there for us every round," said Geoge Nassaney.
Cam missed the first of the three Superbike races of the weekend but in the other two, he was impressive. Starting from 10th in the second of the triple-header races, he piloted his Stock 1000-spec GSX-R1000 to a 7th place finish. In the third Superbike race of the weekend, he started 9th and finished 6th.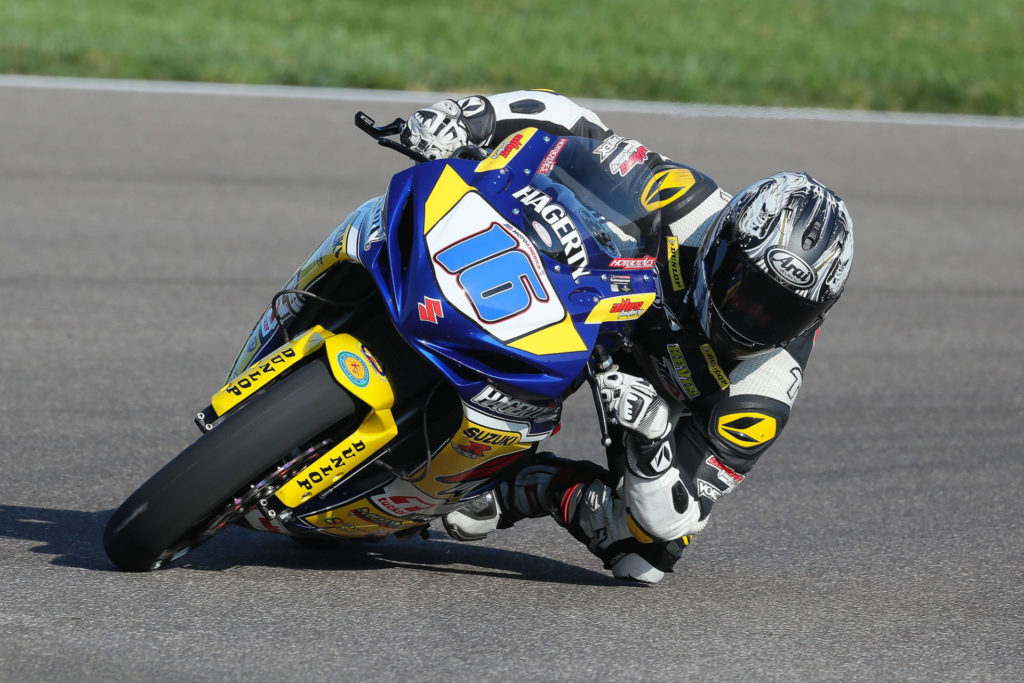 Supersport 600: As he has done all season, Kevin Olmedo quickly got to a top-5 pace in practice and qualifying at IMS.
In the first Supersport race, Olmedo had an issue with his shock. He made the most of a bad situation and crossed the line in 8th. In the Sunday race, he struggled with rear grip. The medium Dunlop didn't 'come-in' until late. Kevin finished 7th and ran his fastest time on the last lap.
Like most of the riders in the MotoAmerica paddock, the Indianapolis circuit is relatively new to  Jaret Nassaney. He spent each practice and qualifying sessions methodically getting faster. He was 10th fastest in Q1 but finished Q2 in 15th. In Race 1, Nassaney was in a race-long fight for 12th place. With three laps to go, he took the position and held it to the finish. In the second Supersport Race, Jaret also struggled with rear grip like his teammate. In spite of the issue, Jaret was able to battle for 10th but missed out by only a few hundredths of a second.
"The track was a lot of fun! We struggled to get the bike setup dialed-in and, as a result, didn't get the results we were looking for, but overall, we're very happy with the weekend," said Jaret Nassaney.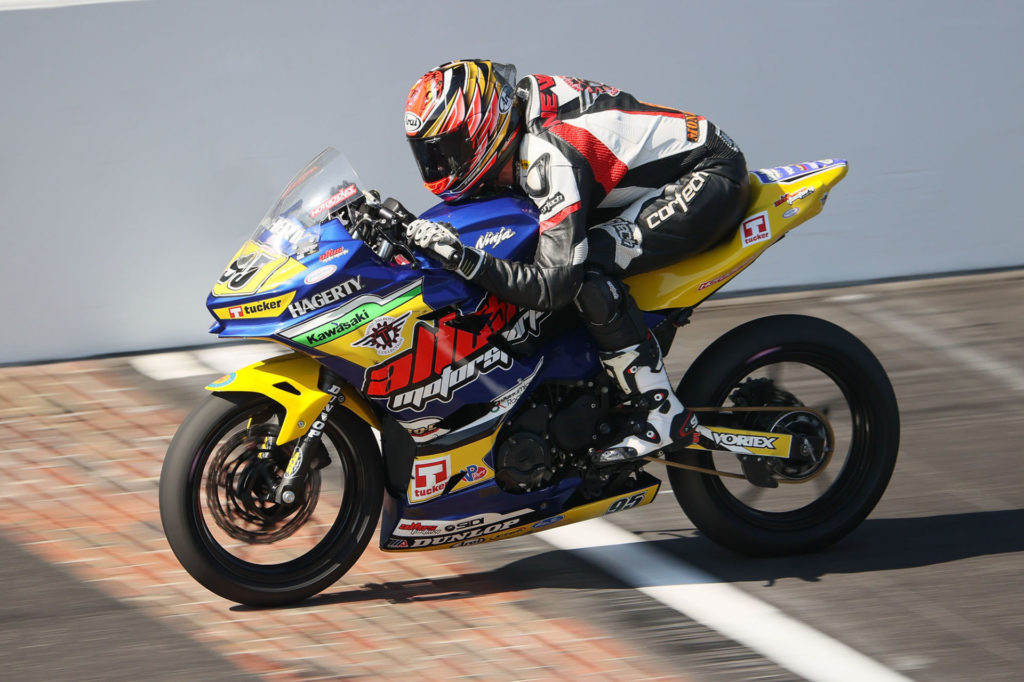 Liqui Moly Junior Cup: Jay Newton stepped-in for the injured Daniel Kinard onboard the Altus Motorsports' Ninja 400 for Round 8 of the MotoAmerica series. Newton had not raced in over a year so he went to work getting the rust out. Jay was immediately running at a top 10 pace during practice and qualifying and managed to lock down 9th position on the starting grid. In Race 1, Newton got off the line well but got shuffled back during the first lap. He spent the rest of the race fighting his way back through the pack. He crossed the Yard of Bricks in 8th but was just a second behind the battle for third. The Sunday race got off to a very rough start. The team made some big changes to the bike and Newton spent the first few laps trying to come to grips with them. At the end of lap 1, he was back in 15th. Newton went to work and managed to get himself back up into a 6-bike pack fighting for 5th position. Newton ran as high as 8th palace at one point but ended up crossing the line in 11th.
"Thursday I got to this legendary track which I was super pumped to ride and did a track walk. From the start, every time we went out on track we went quicker and made improvements. For race 1 on Saturday, I managed a good launch but got pinched off super bad into turn two with bikes going everywhere. I then had to put my head down and do some work and finished p8. That night we made gearing and suspension changes. Sunday's warmup went super well  – the bike felt solid and we finished the session p5 which gave me confidence going into race 2. We made some additional changes and Race 2 got off to a very rough start. I couldn't get the bike to handle in the first couple of laps and I think I was 15th at one point and 5 seconds off the big group in front of me. So I put my head down and made some passes and was catching back up to the group again battling for 5th place. Unfortunately, I burned my tire off in the process and then in the last couple of laps I made a few little mistakes and ended the day in p11. Thanks to Altus Motorsports and Moto Talbott for making it possible," said Jay Newton.
"2020 has been a crazy year. Kudos to MotoAmerica for finding a way to have a season in spite of everything. The back-to-back rounds put a lot of pressure on the team and especially our mechanics to be ready week after week. We are looking forward to wrapping it up at Laguna Seca. That's a favorite for most of us. We are already planning for 2021," said Team-Owner, George Nassaney
The Altus Motorsports team is supported by our great family of sponsors: Altus Motorsports, Tucker Powersports, Hagerty, Suzuki, The Rangeline Group, VP Lubricants, RS Taichi, Arai, Moto D, Bonamici, Hotbodies Racing, SBS Brakes, Vortex, Motion Pro, Law Tigers Oklahoma, Arata Exhaust, Dunlop, Team Hammer, and Altus Factory Racing
More, from a press release issued by Travis Wyman Racing:
Travis Wyman back to winning ways at MotoAmerica Superbikes at the Brickyard
Las Vegas resident claims Stock 1000 victory, three Superbike top 10s at Indianapolis Motor Speedway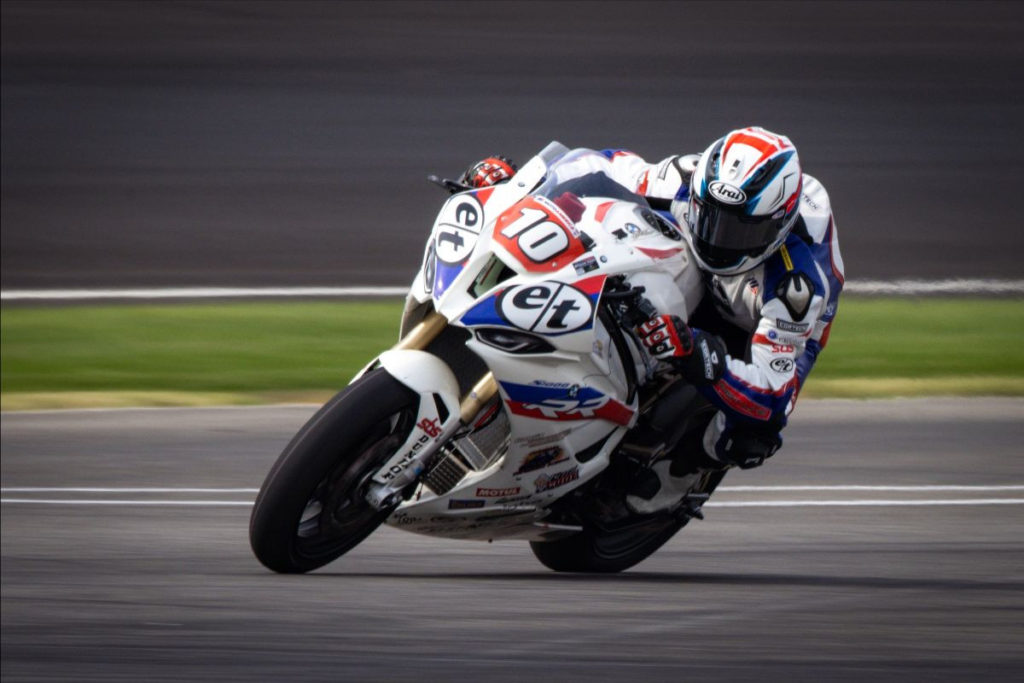 INDIANAPOLIS, Ind. — Racing at the iconic Indianapolis Motor Speedway is nothing new for Travis Wyman, but never before had he come out on top in a race there. That all changed Saturday, when the Las Vegas resident piloted his 2020 BMW S 1000 RR to his first victory of the 2020 season in the Stock 1000 race at MotoAmerica's Superbikes at the Brickyard round.
The victory – Wyman's first aboard the 2020 edition of BMW's flagship sport motorcycle model – marked his first time on the top step of the Stock 1000 podium since the VIRginia International Raceway round in May 2018 and is the sixth win of Wyman's pro road racing career.
Wyman first raced on the speedway's road course in 2008 as part of his participation in the Red Bull AMA U.S. Rookies Cup. He also competed in the AMA Pro Vance & Hines XR1200 Class races in 2012-2014 and the MotoAmerica Supersport race in 2015 at the historic venue.
Wyman had a strong start to the event, placing second in both Friday Stock 1000 qualifying practice sessions and securing second place on the Stock 1000 grid – his fourth front-row starting spot of the season.
That positive momentum carried into Saturday, staring with the weekend's only Stock 1000 race. Wyman rode around the outside of several other competitors at the opening corner of the race and entered Turn 2 in second place. From there, Wyman and the race leader pulled away from the rest of the field. Wyman briefly held the lead after a Turn 1 pass on the race leader and was running in a close second place before lapped traffic stifled his charge forward several times in the latter stages of the race.
Though he crossed the finish line in second place, Wyman was reclassified as the winner after MotoAmerica issued a penalty against the race winner for exceeding track limits.
Later Saturday, Wyman scored the best Superbike finish of his career. The contest was stopped twice due to on-track incidents. Wyman moved up the running order from 12th place to 11th after the first restart and made the most of the second restart, climbing to ninth place by the end of the first lap. Wyman powered his way past three more riders in the remaining 14 laps to finish sixth.
After skipping the damp Sunday morning warm-up session, Wyman had another good outing in Sunday's first Superbike race. Starting the race 15th on the grid, Wyman moved up the running order three places in opening four laps. Later in the race, Wyman advanced past four more riders on Laps 7-10 and finished the race in eighth place.
In the third and final Superbike race of the weekend, Wyman got a good start from 13th on the grid and was running in 11th place when the race was red flagged. After the race restarted, Wyman began quickly working his way up the running order. In the span of five laps, he advanced from 12th place to eighth and later staved off a challenge from other rider to finish the race in eighth place.
Wyman's Stock 1000 victory moved him up to third place in that class' championship standings, and he is one of two riders who remain in contention for the inaugural MotoAmerica Superbike Cup title.
With the Indianapolis round in the books, the Travis Wyman Racing BMW team heads west to the final round of the 2020 MotoAmerica season, which is scheduled for Oct. 23-25 at WeatherTech Raceway Laguna Seca in Monterey, Calif.
Travis Wyman / #10
"This weekend has been one of my best racing weekends in a really long time. I really enjoy racing here at Indianapolis Motor Speedway, and it was great to get my first win of the season here. The win didn't come the way we hoped it would, but we'll take it and move on from here. We've been working really hard at developing this new BMW package, and this was the weekend that things really came together for us. My crew chief, Steve Weir, had our BMW dialed in for all four races, and this was the best I've felt on the new bike all year. My best Superbike finish before Indianapolis was a ninth place, so I couldn't be happier leaving here with a sixth place and two eighth-place finishes in the series' top class. The next track we visit – Laguna Seca – hasn't been a favorite of mine. But, based on how well the new bike performed at other tracks that had given us fits in the past – like New Jersey and Barber – I'm expecting more good results at Laguna."