Corey Alexander races to double podium finish as Tytlers Cycle Racing end 2023 third overall in MotoAmerica Superbike
It was a successful end to the 2023 MotoAmerica Superbike Championship for Tytlers Cycle Racing which was held at New Jersey Motorsports Park last weekend (September 22-24), the team securing third overall in the final standings with PJ Jacobsen.
Corey Alexander raced to a debut podium in the class in difficult conditions on Saturday before backing it up with a second podium finish on Sunday. Stefano Mesa also rode well, achieving another top-10 finish.
A solid fourth on Saturday for PJ, backed up by a second position finish, his eighth podium of the year, was enough to secure P3 overall for the #99 and the team.
Corey finished seventh overall in the final points classification at the end of his debut year in Superbike. Having made the jump from STK1000 where he won the title for the squad a year ago, the #23 showed great speed particularly towards the end of the season and his double podium in the season finale is just reward for his efforts.
Stefano was called up to replace the injured Cameron Beaubier after PittRace and once again showed his ability to adapt to any racing situation. A top 10 on Saturday in his first wet race on the BMW M 1000 RR shows he has a bright future in Superbike. He was unlucky not to finish on Sunday.
Corey Alexander: "It's been an unbelievable weekend here at NJMP. The weather brought an unexpected variable that played in our favour. The bike worked amazing in both races and I'm super thankful to my guys for all the hard work with all the challenges that have been thrown our way these last few races. Two superbike podiums are like a dream come true. Hopefully we have the opportunity for some more next year."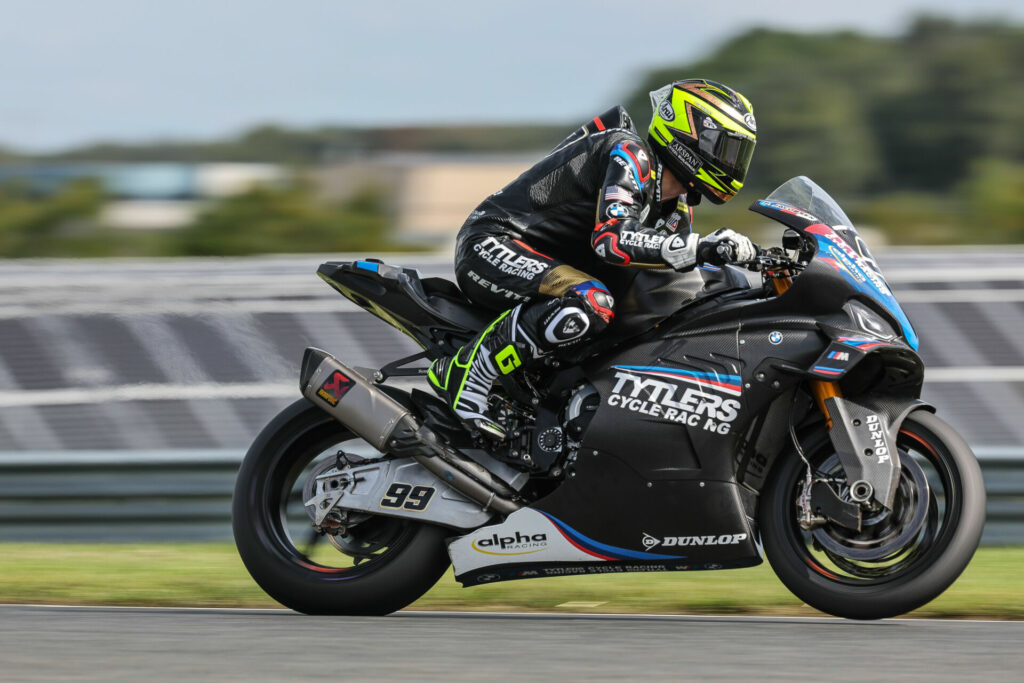 PJ Jacobsen: "Starting on Pole was a pretty good start to the New Jersey weekend. I was hunting down (Jake) Gagne, but when I passed (Josh) Herrin there was a yellow flag which I didn't see, and I was penalized to fourth position. That was a huge bummer, but I knew we could make amends on Sunday. There wasn't much grip on Sunday, and I was sliding all over the place. It was nice to end the season on the podium in P2 and to have Corey up there with me was great for the team. Race One really hurt me overall in the championship as without the penalty given by MotoAmerica I would have been second and not third."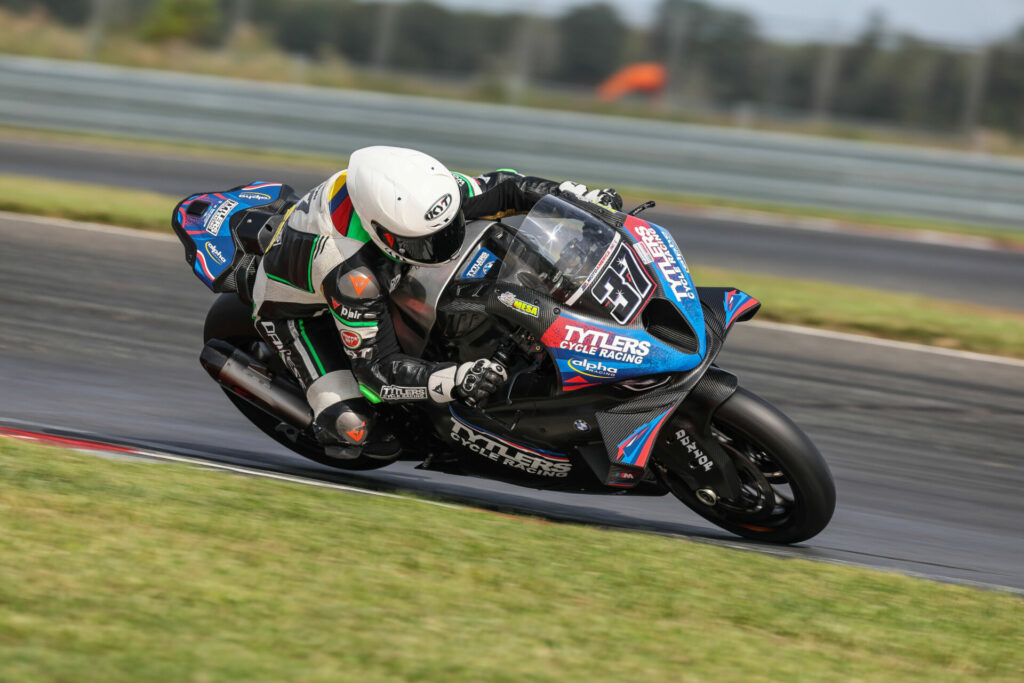 Stefano Mesa: "Race One was pretty good given the conditions we faced. I was having a good time out there on the bike and lap by lap I kept figuring things out a little. In Race Two, we had a bit more direction for the wet conditions and I felt a lot better on Sunday than on Saturday. I was running fifth and the bike felt great, but we unfortunately had a mechanical [problem] – but that's racing. I want to thank the team for their work. It was another great experience this weekend for me with the Tytlers Cycle Racing team."
The team of course cannot sign off from the 2023 season without saying a big thanks to Cameron Beaubier who took the team to their first win in their debut race together before mounting what was a serious assault on the MotoAmerica title before bad luck and injury intervened.
More, from a press release issued by Rodio Racing – Powered by Robem Engineering:
Rodio Racing – Powered by Robem Engineering riders Rodio, Landers wrap up 2023 Twins Cup season second, third in standings
Gloddy nearly scores podium in first Twins Cup race since Daytona round
 
MILLVILLE, N.J. — It wasn't the ending to the 2023 season that either Gus Rodio or Rocco Landers had hoped for, but the pair of Rodio Racing – Powered by Robem Engineering riders performed admirably in their first time racing their Aprilia RS 660s in full wet conditions on Saturday and ended the season on Sunday with a total of six poles, nine wins and nine additional podium finishes between them.
The Sept. 22-24 round at New Jersey Motorsports Park also marked Ben Gloddy's return to MotoAmerica competition with a near-podium finish after being sidelined with an injury from the Daytona International Speedway round in March.
The Rodio Racing Powered by Robem Engineering riders had a strong start to the round in Friday's dry conditions. Landers was the fastest rider in Friday practice, as he set a best lap time of 1:27.629 that was about 1.4 seconds faster than the next fastest rider. Rodio finished that session third, and Gloddy was sixth. Later Friday, the team's riders found even more pace and secured first, second and sixth place on the provisional starting grid. Landers was again at the top of the time sheet with a 1:24.659, Rodio provisionally qualified alongside his teammate in second. Gloddy was the sixth-fastest rider in the session.
Tropical Storm Ophelia began its trek across southern New Jersey Saturday morning, which made for very wet conditions on the 2.25-mile NJMP Thunderbolt track. The conditions allowed Landers' qualifying time from Friday to earn him his sixth Twins Cup pole of 2023. In the wet conditions, Landers was still among the fastest riders in the Twins Cup field. He finished Qualifying 2 as the second-fastest rider, and Gloddy was 10th-fastest. Rodio was a little off the pace, as he finished the session in 11th.
At the start of Saturday afternoon's Race 1, it was Gloddy who got the best launch of the trio. He moved up three places during the first lap and ended up running in third place for most of the race. It was a different story for Rodio and Landers who lost several places as the field funneled through the first turn. Rodio finished Lap 1 all the way down in 10th place and Landers in seventh. Those two riders didn't waste time making up the positions they lost, as Landers had moved up to fifth place by the end of Lap 3 and Rodio was running in fourth place by the end of Lap 6. Rodio's paced improved as the race went on, and he got by Gloddy on the last lap to secure his 10th appearance on a MotoAmerica Twins Cup podium this year while also putting the fastest lap of race on the last lap. Gloddy held onto fourth place and Landers finished in fifth.
Race 2 on Sunday took place with mixed track conditions as the near-constant precipitation began to subside. Rodio got a good launch and led the field through the first corner. As Rodio and his championship rival pulled away from the rest of the field, Landers was struggling a little for pace and had fallen to fifth place by the end of Lap 2. The race was stopped on Lap 3 due to a crash at the exit of Turn 12, and Rodio got another good start when racing resumed. Though he was able to maintain the lead for the first two laps of the restarted race, Rodio got passed at the start of the next lap. As Rodio was trying to retake the lead, his teammates Gloddy and Landers were running in sixth and 10th place, respectively. Rodio's race came to a premature end, as he highsided in the same area as the rider whose crash had brought out the red flag, and the race was stopped and later called complete. In the final race results, Gloddy was classified in fifth place and Landers in seventh.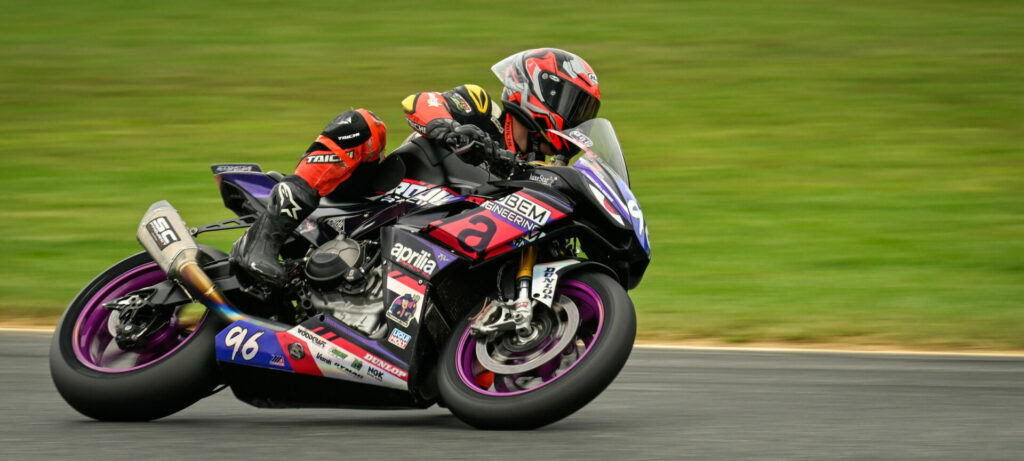 Gus Rodio / No. 96
"I had never ridden the Aprilia in the rain, and we got on the podium on Saturday in a rain race. On Sunday, it was more mixed conditions, and there wasn't much more we could've done. I'd hoped MotoAmerica would delay the race a bit more than they did, but unfortunately that's not what happened. I put it on the floor trying today, and it was a big one. It's been an up-and-down kind of season. A lot of things went wrong, but a lot went right too. Overall, it was a good year."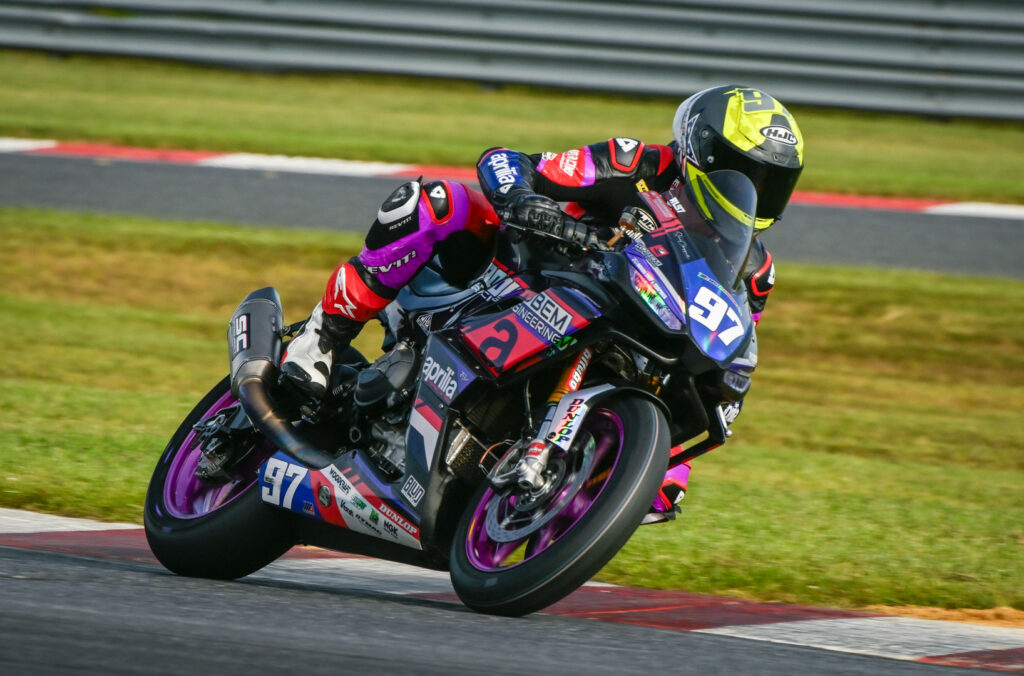 Rocco Landers / No. 97
"It was an eventful weekend – that's for sure. It's too bad we couldn't win the championship for Aprilia. But, it goes like that sometimes. If conditions had been dry this weekend, I think Gus and I would've been right up at the front, This season has been hard for me, but I also didn't think I was going to be racing at all this year. I was trying to get to 50 career wins this year, but I at least got that total up to 48. We'll see what next year holds. Without Aprilia, I wouldn't be in as strong a position to move up a class next year."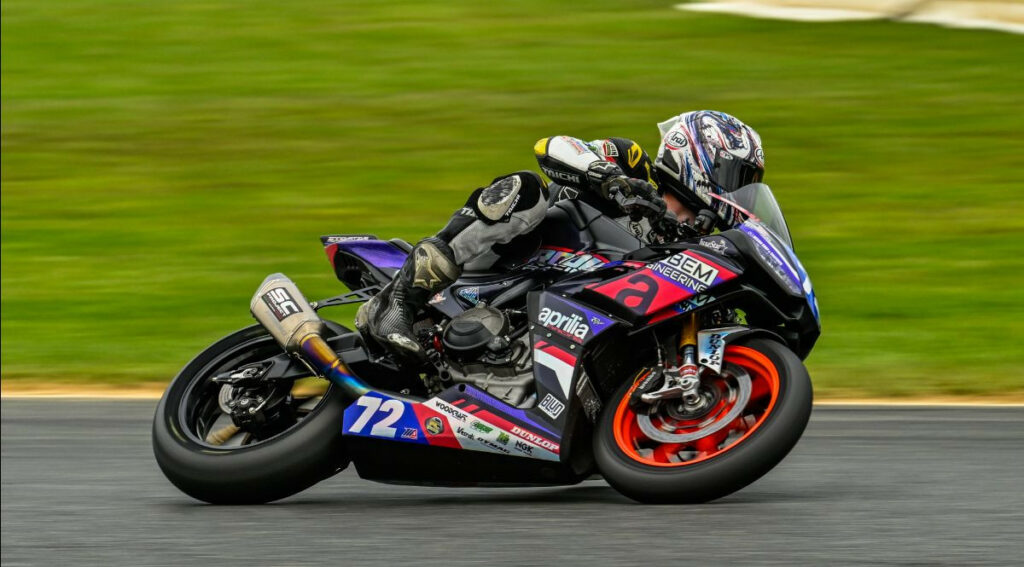 Ben Gloddy / No. 72
"It was a good weekend, as I was just coming back from my injury at Daytona. It was a good dry day on Friday, and I ended up qualifying in sixth. I ran most of Saturday's race in third place, but Gus was able to run me down at the end. Today, with the tricky weather, I just didn't have the confidence I needed to move up the field. I didn't have any high expectations for this weekend. I just wanted to have some fun and get back into it."
Robem Engineering's technical partners for 2023 include Aprilia Racing, Piaggio Group Americas, Bitubo Suspension, Dunlop, Woodcraft Technologies, Dymag, Vesrah, Sprint Filter, DID, Sara Chappell Photos, NGK/NTK, Blud Lubricants, Millennium Technologies, Motovation USA and SC-Project.
Rodio Racing's technical partners for 2023 include NJ MiniGP, Luxestar VIP, MAR Contractors, Evolve GT, N2 Racing, Dunlop, Spellcaster Productions, Kathedral, The Martinn and MVR Endeavor.
More, from a press release issued by Dunlop:
Congratulations to Dunlop's 2023 MotoAmerica Champions!
Rancho Cucamonga, CA: Dunlop is proud to be the AMA MotoAmerica spec tire for all classes since 2015, and Dunlop and MotoAmerica recently renewed their contract, allowing Dunlop to remain the official tire supplier of MotoAmerica through 2025! Each year, it seems like North America's premier motorcycle road racing series continues to become more and more thrilling. The 2023 MotoAmerica Series was no exception, with it ending at wet and technical New Jersey Motorsports Park.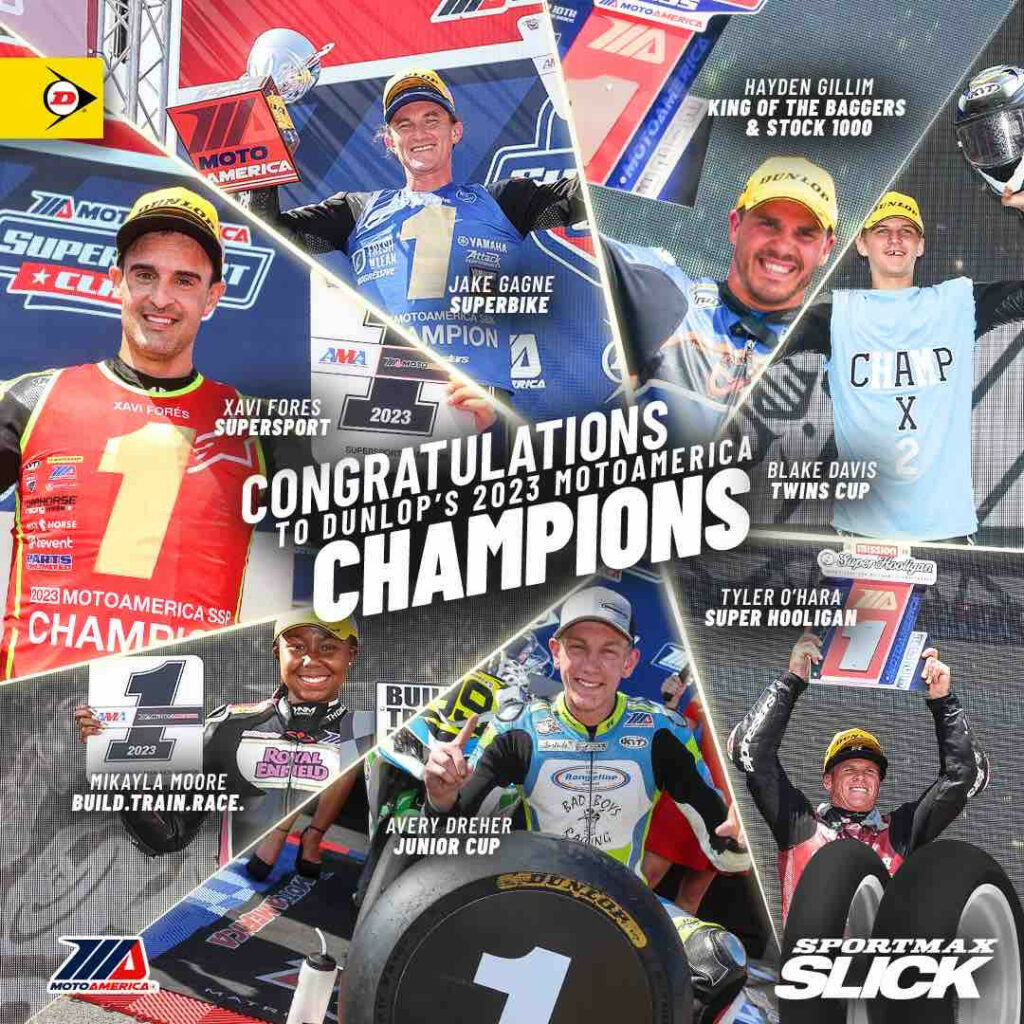 This year was an even more exciting season for the Dunlop crew, with an all-new tire available for all racers. The all-new Sportmax Slick replaced the industry standard KR448 and KR451 range of slicks and are now the Official Tires of the MotoAmerica series. Countless lap and class records have been demolished with the new and improved tire during the 2023 MotoAmerica series at multiple tracks in multiple classes! Impressive example: Superbike rider Josh Herrin broke Road America's race record by over 1.5 seconds on this new Sportmax Slick.
Last year, Jake Gagne took home an astounding 12 race wins to earn his second MotoAmerica Superbike championship. This season was more challenging for the two-time defending champion with competition from 2022 Supersport Champion Josh Herrin, who kept him on his toes. At the eighth stop of the race tour in Pittsburgh, Gagne was able to wrap up his third straight MotoAmerica Superbike title with two rounds and four races on the schedule remaining. The Fresh N' Lean Progressive Yamaha Racing rider grabbed a few more wins before the season ended, securing the championship by 148 points over Josh Herrin on the new Dunlop Sportmax Slicks!
In addition, in round eight, Avery Dreher clinched the Junior Cup championship on his Bad Boys Racing Kawasaki and in the hands-on Royal Enfield Build. Train. Race. Championship, rider Mikayla Moore swept all seven races in the series to dominate her championship.
Three support class titles were decided in the penultimate round at the Circuit of Americas. In the Supersport class, Warhorse HSBK Racing Ducati NYC Xavi Fores was crowned after winning a record-breaking eight wins at the start of the season. In addition, in the Stock 1000 class, Hayden Gillim was awarded champion after winning six races on his Disrupt Racing Suzuki. The Indian Motorcycle/Progressive/Mission Foods rider Tyler O'Hara also finished the season as champion in Texas, in the always-exciting Super Hooligans series.
At the season finale in New Jersey, the Twins Cup title was wrapped up by Blake Davis on his N2 Racing BobbleHeadMoto Yamaha. The head-to-head battle with Gus Rodio was cut short due to Rodio falling susceptible to the track conditions ending up out of the race. Meanwhile, the Vance & Hines Mission Harley-Davidson rider Hayden Gillim clinched the King of the Baggers Championship by riding conservatively to a second-place finish at the season finale after his competition struggled in the tricky conditions.
"MotoAmerica racing in 2023 has been some of the most exhilarating racing we've witnessed in years, as multiple lap records were broken with our new Sportmax Slick tire offerings!" said Mike Buckley, Senior VP, Sales and Marketing, Dunlop Motorcycle Tires. "The continued evolution of the series, classes, and tires are a testament to the dedication of MotoAmerica, our Dunlop support crew, and all the riders, racers, teams, and supporters. We are honored to be the official tire of MotoAmerica for years to come."
About Dunlop Motorcycle Tires:
Dunlop is the largest supplier of original equipment and replacement motorcycle tires in the U.S.A. For more information, visit www.DunlopMotorcycleTires.com. Follow @ridedunlop on Instagram, Facebook, and Twitter for the latest Dunlop news. Use #RideDunlop and/or #RaceDunlop to share your Dunlop moments.
More, from a press release issued by KYT Americas:
3 MotoAmerica Class Champions!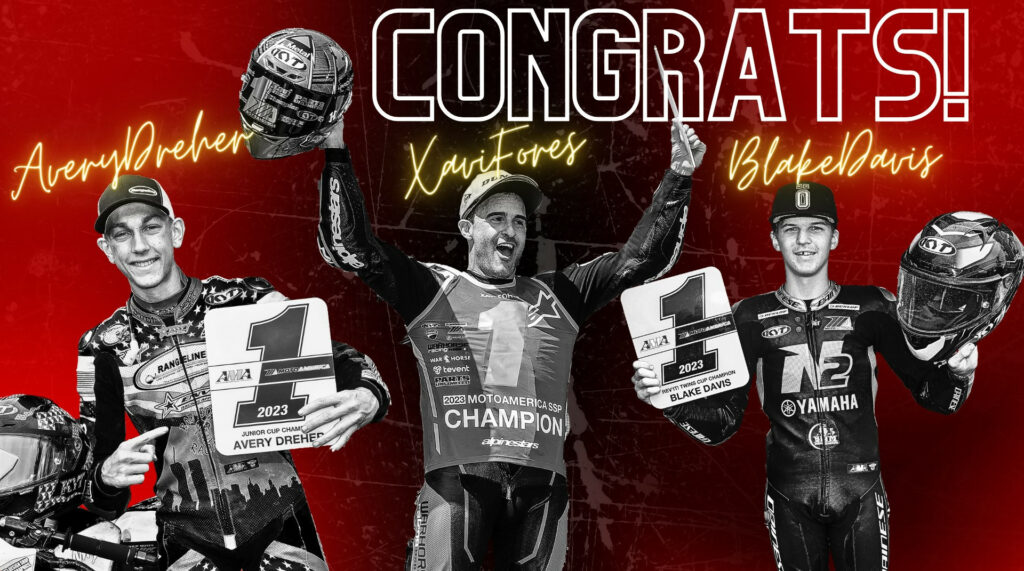 KYT Americas proudly congratulates Xavi Fores, Blake Davis, and Avery Dreher on their 2023 championships. Xavi Fores demonstrated exceptional talent, skill, and determination throughout the season, ultimately securing the championship title in his first full year racing MotoAmerica's Supersport class. Blake Davis, last year's Twins Cup champion, retains his number one plate due to his consistent podiums and front-running pace throughout the season. Avery Dreher was a tactician and master in the draft against the extremely tight competition of the Junior Cup class.
This achievement underscores the incredible skill, dedication, and unwavering commitment of these athletes. KYT Americas has long been a leader in safety and performance in motorsports, and we are honored to support these racers in their pursuit of championships.
The champions and their respective classes are as follows:
1.     Xavi Fores – Warhorse HSBK Racing Ducati
MotoAmerica Supersport
2.      Blake Davis – N2 Racing / BobbleHeadMoto
MotoAmerica Twins Cup
3.     Avery Dreher – Bad Boys Racing
MotoAmerica Junior Cup
Brandon Cretu, CEO at KYT Americas, expressed his enthusiasm, saying, "Going into 2023, KYT Americas was looking forward to supporting these guys. We knew they were talented, even world class, but it's so hard to predict how a season will turn out. Having three riders we sponsored win their respective class championships is very exciting for us. We look forward to continuing to support their journey and witnessing their future successes."
KYT Americas remains steadfast in its mission to provide the highest quality safety equipment and support to racers around the world, ensuring they can perform at their best while staying safe on the track. We appreciate the trust our athletes put in us.
More, from a press release issued by Altus Motorsports:
MotoAmerica: Altus Motorsports Results from New Jersey Motorsports Park
(Millville, NJ) Historically, the  New Jersey round always has the potential for interesting weather and the final round of the 2023 MotoAmerica season was no exception.
After a difficult season that challenged the team on many levels, Altus Motorsports finished the 2023 season strong and with a solid platform to build on for the future.
Supersport:
Jaret Nassaney continued to improve on his Suzuki GSX-R750 in the New Jersey Supersport races. He qualified 9th in the dry on Friday and only 1.7 seconds out of pole.  This is the closest he has been to the top spot all year.  Saturdays qualifying was in the rain, so the team worked on their rain setup for race one.  Jaret faced rain for the entirety of Supersport Race 1.  After starting from 9th, Nassaney crossed the finish line in 6th. The Sunday weather was only marginally better; a drying track mixed with puddles. In spite of the conditions, he pulled off another 6th place.  Both races were his best finishes of the season.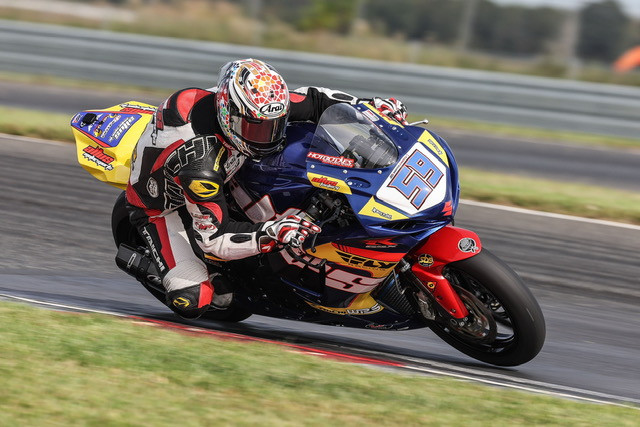 Jaret Nassaney: "I got two 6th place finishes and I am super stoked with that, given the race conditions!  I am very happy to end the season on a high note.  The conditions were sketchy,  but we rode hard and got it done.  I have to thank my Crew Chief Boyd Bruner, lead mechanic William Gerken, and assistant LJ for everything this weekend."
Junior Cup
In the dry practice and qualifying on Friday, Alessandro Di Mario showed fantastic pace. He qualified in 6th, less than a second off of the pole sitter. Unfortunately, both of the Junior Cup races were wet. Di Mario struggled to get comfortable on the soaked surface at NJMP. He finished Race 1 in 15th and Race 2 in 20th.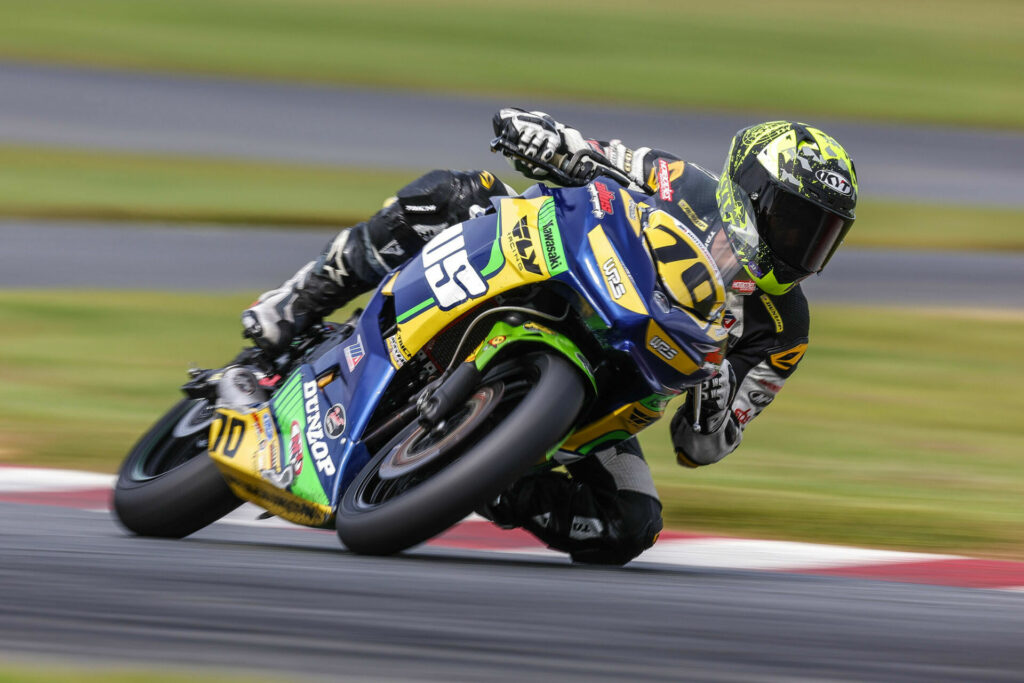 Alessandro Di Mario: "It was a tough weekend. It was my first time with the bike and the tires in the wet. It took me a while, but my pace got a lot better toward the end. We have to work on getting better in these kinds of conditions."
George Nassaney: "After a very difficult season it was nice to finish the last few rounds strong. We made a lot of changes this year and we're finishing the season with a good crew and a solid trajectory for the future.  Preparation has already begun for 2024 and i am currently in discussions with several riders.  I hope to have a couple riders signed soon, so we can begin winter testing.  I can't thank everybody enough for their support this year."
Altus Motorsports team is supported by our great family of sponsors: Altus Motorsports, FLY Racing WPS, Suzuki Motor Corporation, Yamaha Motor Company, Barnett, Buy A Jet From Steve Main, Maxima Racing Oils, Moto-D Racing, Bonamici, Hot Bodies Racing, M4 Exhausts, Vortex EK, Motion Pro, SBS Brakes, BrakeTech USA, Inc., Ohlins, K-Tech, RS Taichi, Arai, Yoshimura, Chicken Hawk Tire Warmers, CarbonSmith, Law Tigers Oklahoma, and Altus Factory Racing