KurveyGirl.com brings you the results of this weekend's events.

At our online motorcycle parts store, you'll find a specialized selection of quarter turn "Dzus" fasteners, titanium hardware, premium tire valve stems, Vesrah racing brake pads, Brembo parts and accessories, and other unique hardware specifically designed for race and trackday motorcycles.
Jake Gagne won MotoAmerica Medallia Superbike Race One Saturday at rainy New Motorsports Park, in Millville, New Jersey. Riding his Fresh N Lean Progressive Yamaha YZF-R1, the three-time Superbike Champion won the 16-lap race by 16.185 seconds.
JD Beach, who is filling in for Gagne's injured teammate Cameron Petersen, finished second, and Tytlers Cycle Racing BMW's Corey Alexander took his career-first Superbike podium finish in third.
Alexander's teammate PJ Jacobsen crossed the finish line in second, 3.119 seconds behind Gagne, but Jacobsen received a two-position penalty for passing Warhorse HSBK Racing Ducati's Josh Herrin in Turn 10 under a waving yellow flag early in the race.
Westby Racing Yamaha's Mathew Scholtz was scored fifth ahead of sixth-place Herrin. However, Scholtz made contact with Herrin during a pass late in the race, causing Herrin to run off track, and that pass is under investigation by Race Direction.
More, from a press release issued by MotoAmerica:
Gagne Wins Medallia Superbike Race One In A Rainstorm At NJMP
Jake Gagne Is The Master Of New Jersey Motorsports Park In A Driving Rainstorm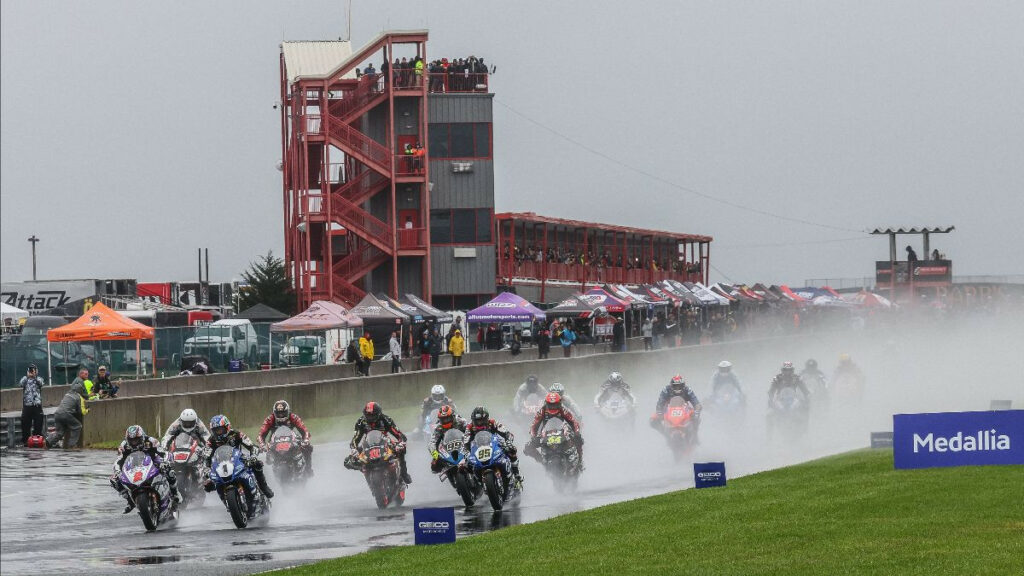 MILLVILLE, NJ (September 23, 2023) – Saturday's MotoAmerica Medallia Superbike race was held in a rainstorm at New Jersey Motorsports Park, and it was a race that Fresh N Lean Progressive Yamaha's Jake Gagne didn't need to win. But he did. Because he could. And that's what Gagne does.
The three-time MotoAmerica Medallia Superbike Champion won his 11th race of the season and the 40th Superbike race of his career in horrible conditions at NJMP. He won by a tick over 16 seconds and in the same manner as the majority of his other 39 wins. He led off the line, led into turn one, gapped the field quickly and maintained his lead to the finish of the 16-lapper that was shortened due to the inclement weather.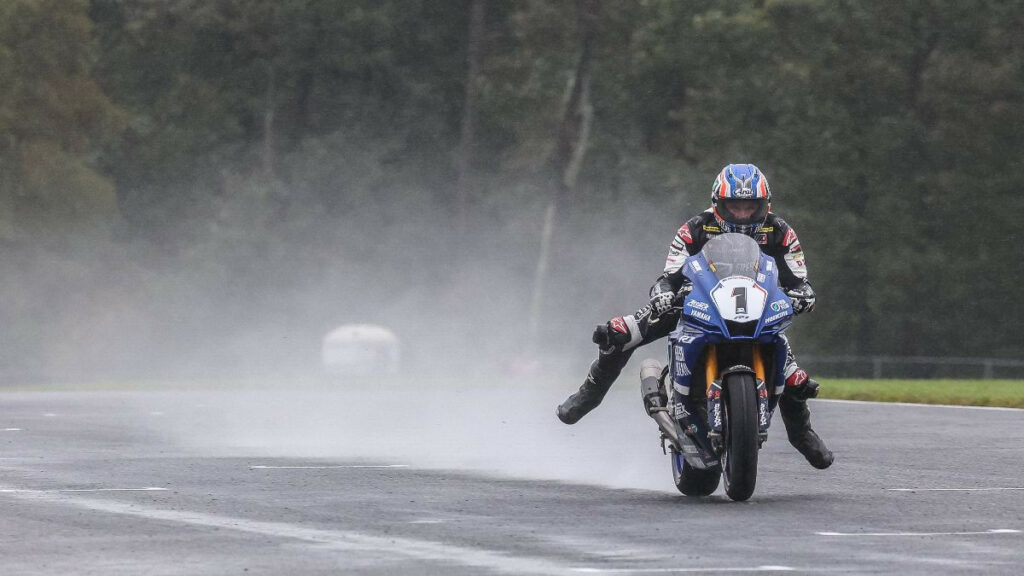 Gagne's victory came over his teammate-of-late, JD Beach. Beach, who is filling in for the injured Cameron Petersen, was in the top four throughout the race and took advantage of crashes, off-track excursions and a penalty given to Tytlers Cycle Racing's PJ Jacobsen after the New Yorker made a pass on Warhorse HSBK Racing Ducati NYC's Josh Herrin under a waving yellow flag.
When the dust (or mud) had settled, Beach was second with Jacobsen being dropped to fourth with the penalty.
While the Tytlers Cycle Racing team saw their lead rider dropped from second to fourth, they also got to enjoy the polar opposite with Jacobsen's teammate Corey Alexander earning the first MotoAmerica Superbike podium of his career. Alexander was steady and fast and ended up some four seconds adrift of Beach and ahead of Jacobsen.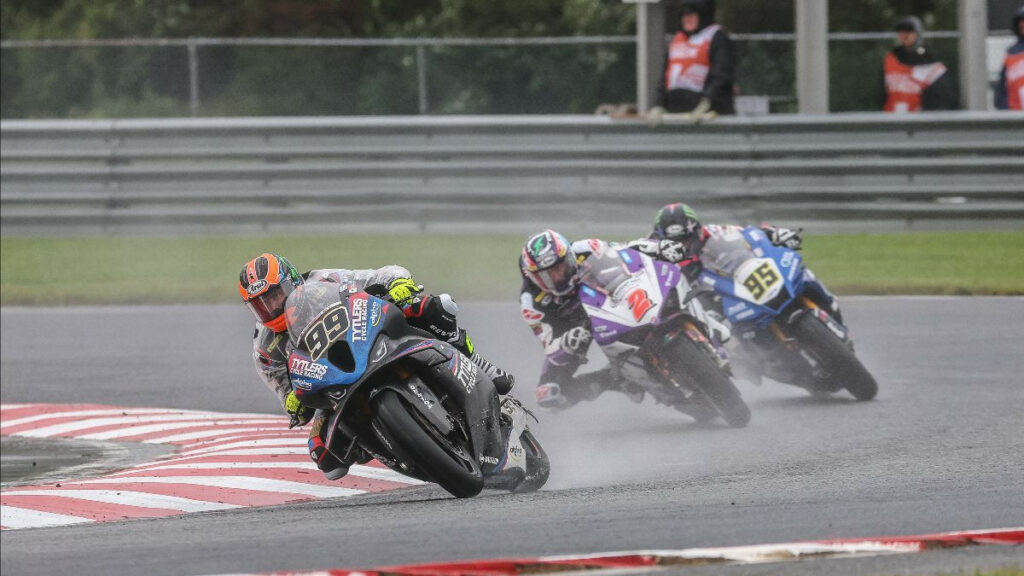 Westby Racing's Mathew Scholtz was fifth on the track, but sixth in the official results after being penalized for punting Herrin off the track while passing the Ducati rider for fifth. Scholtz had already remounted after crashing out of third place in what was an eventful afternoon for the South African.
Seventh place went to Benjamin Smith Racing's Benjamin Smith, who was 10 seconds clear of Disrupt Racing's Hayden Gillim.
Tom Woods Powersports' Nolan Lamkin and Tytlers Cycle Racing's Stefano Mesa rounded out the top 10.
Notable non finishers included Vision Wheel M4 ECSTAR Suzuki's Brandon Paasch and Aftercare Scheibe Racing's Ashton Yates. Paasch crashed out of the race in the fast last corner with Yates suffering a mechanical failure.
Vision Wheel M4 ECSTAR Suzuki's Richie Escalante had his worst finish of the season in 11th. Ditto for Wrench Motorcycles' Bobby Fong, who was 13th.
Superbike Race 1
Jake Gagne (Yamaha)
JD Beach (Yamaha)
Corey Alexander (BMW)
PJ Jacobsen (BMW)
Josh Herrin (Ducati)
Mathew Scholtz (Yamaha)
Benjamin Smith (Yamaha)
Hayden Gillim (Suzuki)
Nolan Lamkin (BMW)
Stefano Mesa (BMW)
Quotes
 
Jake Gagne – Winner
"A lot of little moments, for sure. It was sketchy. This morning we had that session and it felt really good, really solid, but just this little bit of extra rain we got before the race. I almost crashed in the first left-hander in turn 3B in the lead on the first lap. Just pushed the front. Then I kind of calmed down. I was so focused on just hitting my marks that I didn't even look at the pit board for a while, and then I kind of saw that plus two. Then there was that lap where I'd get reeled in and then it was just back and forth. So, I was trying to just hit my marks. It was really easy to crash today. I think we saw quite a bit of them today. It was just one of those days where if you could get a little offline, like JD (Beach) said, in a puddle, you were down quick. But I'm happy riding this Yamaha. I had a lot of fun riding out there. A couple good moments, little moments. I just hit my marks. Congrats to JD and Corey (Alexander). These guys up on the podium, they deserve it. I could see both Corey and JD. There's a section of the track like (turn) 10 where I could see them. The last half of the race, the last five laps, they were in the same spot every time. I was still pushing, so they had a good pace. I think everybody probably learned a lot today. I think it will be closer tomorrow. It seems like every time we come to this place we get some crazy weather. So, I'm happy that we pulled home a win. Last race of the season tomorrow, so just try to have fun and enjoy it and hopefully have a good battle with these guys. I think everybody wants to get that last one, so it will be fun."
JD Beach – Second Place
"When I'm with a guy out there it definitely helps because I think one thing for me, I like to be able to get my knee down but being so short, I'm stretching to try and do that. But when I got a guy in front of me, I kind of pick my eyes up a bit more and just roll through the turns better. It was definitely a hard race. This track in the rain is no joke. There're so many slick spots. It's weird because it will hold water in a few spots and then as the race goes on, it's almost like the water gets pushed to a new spot. So, you're kind of looking for the line all the time. You think it would start to dry out, but the water just gets pushed around. To get on the podium again as a fill-in rider is awesome. To be up here with Jake (Gagne) is great, and to see Corey (Alexander) get on the box is great too. I know he said that his titles might have asterisks on them, but on that day he's racing against the best guys in that class. So, a title is a title. It doesn't matter. To be on the box with two guys that have won titles in the last two seasons in great."
Corey Alexander – Third Place
"I had no idea until I rolled in over here (that he'd finished third). I actually stopped to talk to James Rispoli really quick to give him some info about the track before his race. He was like, 'I think you were third.' I was like, 'No, man, I was fourth. I was close, but I was fourth.' Then they pulled me into the podium. Definitely a good surprise, for sure. I wasn't expecting that one. I always seem to surprise myself in the rain somehow. Today more so than others. My first career win was in the rain, a long time ago now. I said to my mechanic before we rolled out and he was like, 'This is going to be fun, huh?' Like real sarcastic. I was like, 'It's all right. We've been here before.' Usually in the rain somehow my riding style clicks with it. It takes me a little bit to get going, but once I get going, I get pretty comfortable. Felt really good towards the end. I knew I couldn't catch JD (Beach) on those last couple laps. I was pushing and he was coming back to me. I wasn't ready to take as big enough of a risk to really reel him in as I needed to. The tires were starting to get a little bit shot and I was losing the rear in a couple spots. I was very content with fourth place. That would have been a very good place for me to finish. I was happy enough with that. I was celebrating like it was a podium for fourth, and I would have celebrated a lot harder if I knew it was a podium. But it is what it is. Super happy to be up here. Like I said on the podium, anybody who has kind of been in my inner circle knows how hard these last few races have been for me. I haven't been having much fun, honestly. So, to do this for my guys that are working so hard and just everybody that supports me personally, it's nice to pay them back with something at least before the year is over."
More, from a press release issued by Yamaha:
Gagne Dominates Rain-Soaked Superbike Race 1 at NJMP 
Fresh N Lean Progressive Yamaha Racing's Jake Gagne and JD Beach score a stellar 1-2 finish in the opening race of the MotoAmerica Superbike season finale at New Jersey Motorsports Park
MARIETTA, Ga. – September 23, 2023 – Fresh N Lean Progressive Yamaha Racing's Jake Gagne rode superbly in the rain to score his 11th victory of the season in today's MotoAmerica Superbike Race 1 at the New Jersey Motorsports Park. JD Beach joined him on the podium for a stellar 1-2 finish for the team as Tropical Storm Ophelia soaked the 2.25-mile track in Millville, New Jersey.
Gagne showed strength in the rain earlier in the day, topping the timesheets in the second qualifying session and securing the runner-up spot in the combined times. When the lights went out, the three-time MotoAmerica Superbike Champion got off to a great start, grabbed the holeshot, and quickly built a cushion up front in the rain-soaked conditions. Gagne put on another masterclass performance and went unchallenged en route to his 11th win of the season and his 40th career superbike victory.
After qualifying seventh, Beach got a great start from the third row of the grid into third. Although he was shuffled to fifth a couple of laps before the halfway point, the dirt track/road racer rode his own race in the tricky conditions, made his way back to third, and ultimately, a runner-up finish. After a long absence from Superbike racing before filling in for the injured Cameron Petersen at the last three rounds, it was another great ride from Beach, who scored his second podium finish of the season with the team.
The Fresh N Lean Progressive Yamaha Racing team looks to stay on top tomorrow at New Jersey Motorsports Park for Race 2 and the final race of the 2023 MotoAmerica Superbike season.
Richard Stanboli – Fresh N Lean Progressive Yamaha Racing Team Manager
"Today was awesome! The whole team did a great job. Our R1s were on point and both Jake and JD rode great in the rain. Another 1-2 finish, so I get to buy the team dinner again. We will try to do it again tomorrow."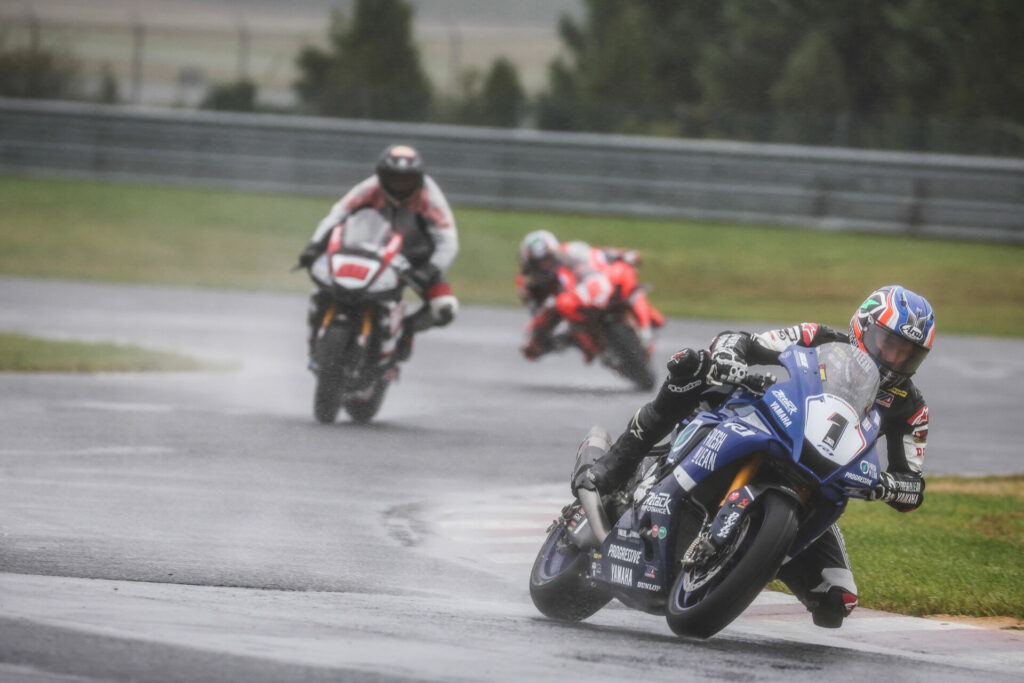 Jake Gagne – Fresh N Lean Progressive Yamaha Racing
"It was crazy conditions today! I got off to a great start, and the R1 was working awesome in the rain. I had to navigate some standing water, so it wasn't easy, but what a great day for the team!"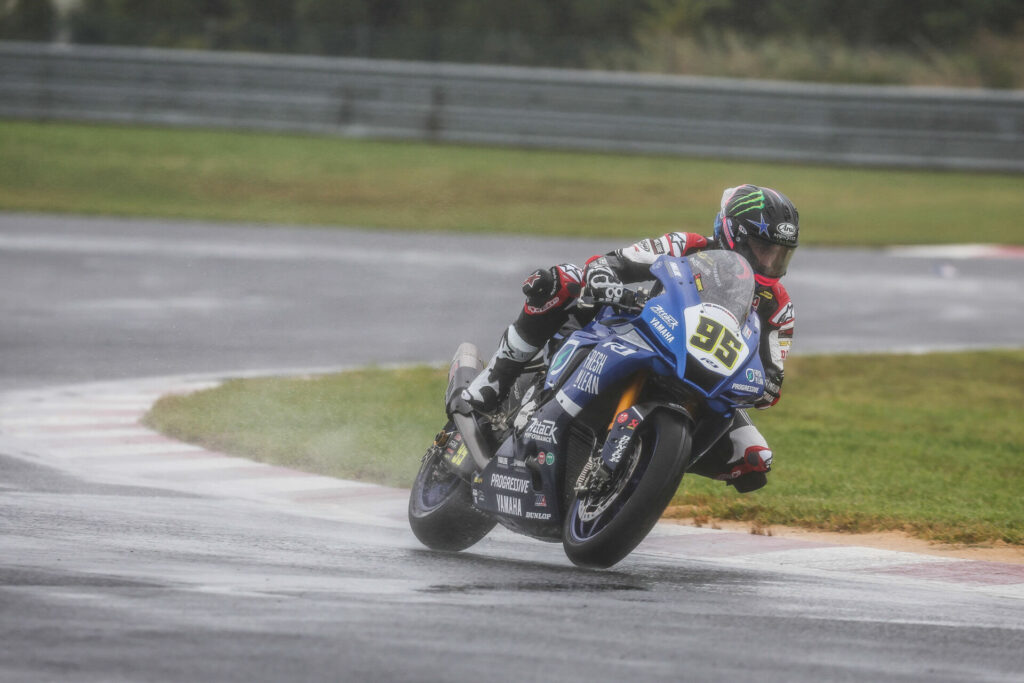 JD Beach – Fresh N Lean Progressive Yamaha Racing
"The race was so mentally intense! When this track is so wet, it makes it super slick. I was just trying to ride my own race and be as smooth as I could. This is only my third superbike weekend this season, and I haven't had any rain races, so I was hoping for it to be dry, but it was great. I'm really pumped to get on the podium again on the superbike and to do it in the rain – that's awesome!
About Yamaha Motor Corporation, USA
Yamaha Motor Corporation, USA (YMUS), is a recognized leader in the outdoor recreation industry. The company's ever-expanding product offerings include Motorcycles and Scooters, ATV and Side-by-Side vehicles, Snowmobiles, WaveRunner Personal Watercraft, Boats, Outboard Motors, Outdoor Power Equipment, Power Assist Bicycles, Golf Cars, Power Assist Wheelchair Systems, Surface Mount Technology (SMT) and Robotic Machines, Unmanned Helicopters, Accessories, Apparel, Yamalube products, and much more. YMUS products are sold through a nationwide network of distributors and dealers in the United States.
YMUS has a corporate office in California, two corporate offices in Georgia, facilities in Wisconsin and Alabama, and factory operations in Tennessee and Georgia. Additional U.S.-based subsidiaries include Yamaha Marine Systems Company (YMSC) with divisions Bennett Marine (Florida), Kracor Systems (Wisconsin) and Siren Marine, Inc. (Rhode Island), Skeeter Boats (Texas), with division G3 Boats (Missouri), and Yamaha Precision Propeller (Indiana)
More, from a press release issued by Westby Racing:
Mathew Scholtz Races To An Event-Filled Sixth-Place Finish At New Jersey Motorsport Park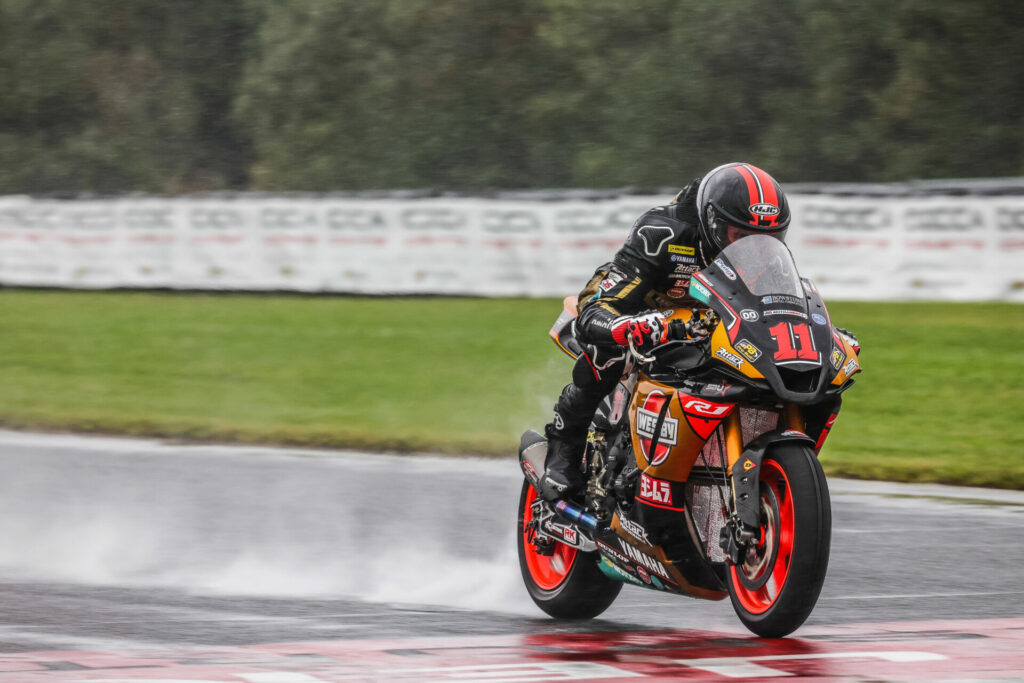 Millville, NJ – September 23, 2023 – In Saturday's MotoAmerica Superbike race one at New Jersey Motorsports Park (NJMP), Westby Racing's Mathew Scholtz was headed for a podium finish until the prodigious rain from Tropical Storm Ophelia conspired against him.
Well-known as a master rider in the rain, Mathew surprisingly went off the track on lap 11 of the 16-lap event and fell down in the saturated grass. Unhurt, he re-mounted his Westby Racing Yamaha YZF-R1 Superbike and proceeded to race for a top-five finish. While in sixth on the final lap, Mathew tried overtaking Josh Herrin on the inside, but there just wasn't enough room, and he sent Herrin off the track, which resulted in Race Control awarding Herrin with a fifth-place result and Mathew was credited with sixth.
"Usually, I get pretty good results in the rain," Mathew said. "I'm always smooth with the throttle and on the brakes, which is really a benefit in these kinds of conditions. Unfortunately, I got caught out by the standing water on the track, and before I knew it, I was in the grass and going too fast to avoid tipping over in the grass. I was OK, and the bike didn't have any damage, so I was able to continue. After all that, I really wanted to salvage a top-five result, but there just wasn't enough room on the inside of (Josh) Herrin when I tried to pass him. We'll regroup and try for a better result tomorrow. It's the final race of the season, so we're determined to end the year on a high note."
Superbike race two is on Sunday at 3 p.m. ET, and it will be shown live on MotoAmerica's YouTube Channel.
For all the action from Pitt Race, as it happens, subscribe to MotoAmerica Live+, which is MotoAmerica's live streaming and on-demand service.
Meet Mathew, Get An Autographed Poster, And More
Mathew will be available for autographs during the Dunlop Hot Pit Walk & Autograph Session, scheduled for 11 to 11:45 a.m. Sunday on pit lane at NJMP. He and the team will be handing out free posters and T-shirts, so don't miss it.
Check Out The Westby Racing Sponsor Showcase
SBS Friction A/S, Superbike Unlimited LLC, Worldwide Bearings, and Yamaha Racing are the featured team sponsors on display in the Westby Racing paddock area this race weekend, so be sure to stop by to say hello and learn about some of the companies that support the team.
Also, follow "Westby Racing" on your favorite social media sites.