KurveyGirl.com brings you the results of this weekend's events.

At our online motorcycle parts store, you'll find a specialized selection of quarter turn "Dzus" fasteners, titanium hardware, premium tire valve stems, Vesrah racing brake pads, Brembo parts and accessories, and other unique hardware specifically designed for race and trackday motorcycles.
JD Beach won MotoAmerica Medallia Superbike Race Two Sunday at New Jersey Motorsports Park, in Millville, New Jersey. Riding a Fresh N Lean Progressive Yamaha YZF-R1 as a fill-in for injured Cameron Petersen, Beach took the lead on lap six and pulled away on the wet-but-drying 2.25-mile track to win the 16-lap race by 5.493 seconds.
It was Beach's second career Superbike race win. His first came in 2019 at VIRginia International Raceway.
PJ Jacobsen led from the first lap but could not match Beach and had to settle for the runner-up spot on his Tytlers Cycle Racing BMW M 1000 RR.
Jacobsen's teammate Corey Alexander backed up his career-first Superbike podium finish in Race One on Saturday with a second Superbike podium finish in Race Two.
Newly crowned three-time MotoAmerica Superbike Champion Jake Gagne, Beach's temporary teammate, finished fourth.
Brandon Paasch passed his Vision Wheel M4 ECSTAR Suzuki teammate Richie Escalante on the final lap to score fifth. Escalante came home sixth.
Most of the field started the race on rain tires. Warhorse HSBK Racing Ducati's Josh Herrin and Westby Racing's Mathew Scholtz gambled and started the race on slicks, front and rear, but both riders crashed out early in the race.
More, from a press release issued by MotoAmerica:
Beach Surprises With Medallia Superbike Victory At NJMP
JD Beach Scores His Second Career MotoAmerica Superbike Win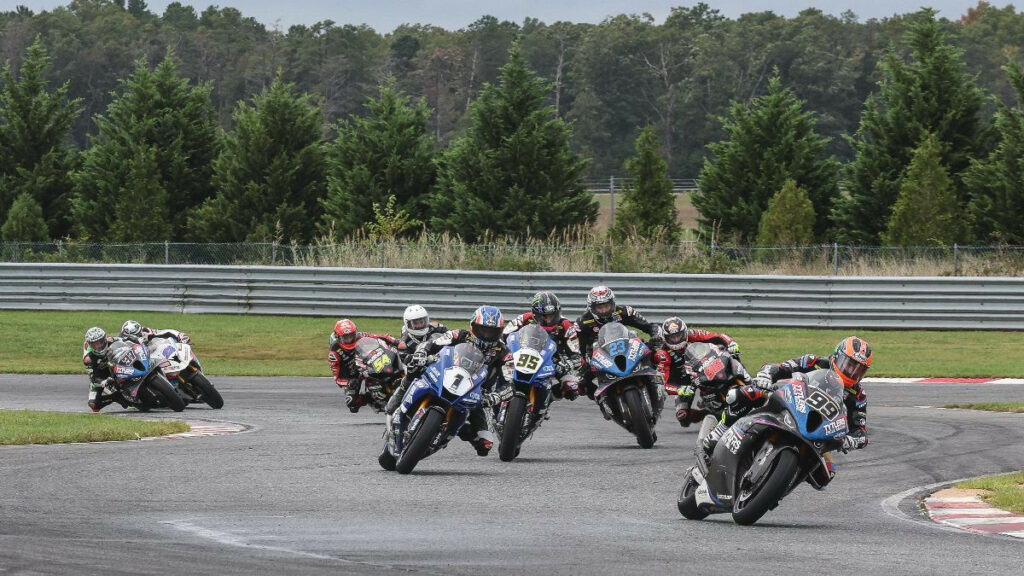 MILLVILLE, NJ (September 24, 2023) – JD Beach was the master of iffy track conditions on Sunday at New Jersey Motorsports Park with the Fresh N Lean Progressive Yamaha Racing rider controlling the final race of the season from the sixth of 16 laps to score the second MotoAmerica Medallia Superbike victory of his career and his first in four years.
With a drying track throwing a bit of confusion into the mix prior to the start, Beach and the majority of the Medallia Superbike contingent went with Dunlop rain tires while two of them opted for slicks. As it turns out, rain tires were the right call and one that Beach and his team made just prior to the start of the race.
It was Tytlers Cycle Racing's PJ Jacobsen who led the race for the first five laps before Beach made his move on the New Yorker. Once past, Beach steadily pulled away before slowing his pace to cross the finish line 5.4 seconds ahead of Jacobsen.
With Jacobsen finishing second, it was his teammate Corey Alexander who finished third for the second straight day. On Sunday, however, the Tytlers Cycle Racing BMW-mounted Alexander was third on the track and it didn't take Jacobsen's two-spot penalty to move him to the position as it did the day prior. Alexander was happy with his first podium but was happier with his second.
Three-time MotoAmerica Superbike Champion Jake Gagne finished fourth, the Fresh N Lean Progressive Yamaha rider finishing off the podium for the first time all season in races that he finished. The Colorado resident had a DNF with a mechanical issue that was his only non-score in what was an 11-win season in which he scored 420 points.
Vision Wheel M4 ECSTAR Suzuki's Brandon Paasch was fifth, three seconds behind Gagne and just .274 of a second ahead of his teammate Richie Escalante.
Team Brazil's Danilo Lewis had his best MotoAmerica Superbike finish in seventh with Wrench Motorcycles' Bobby Fong eighth.
Aftercare Scheibe Racing's Ashton Yates and Thrashed Bike Racing's Max Flinders rounded out the top 10.
Notables missing from the results are Warhorse HSBK Racing Ducati NYC's Josh Herrin and Westby Racing's Mathew Scholtz. Both Herrin and Scholtz opted for slicks, and both crashed early in the race.
The final 2023 MotoAmerica Medallia Superbike Championship point standings were led by Gagne's 420 points with Herrin second and Jacobsen third. Scholtz ended up fourth, tied with Escalante. Sixth went to Cameron Beaubier with the five-time MotoAmerica Superbike Champion missing the final four races of the season with injury.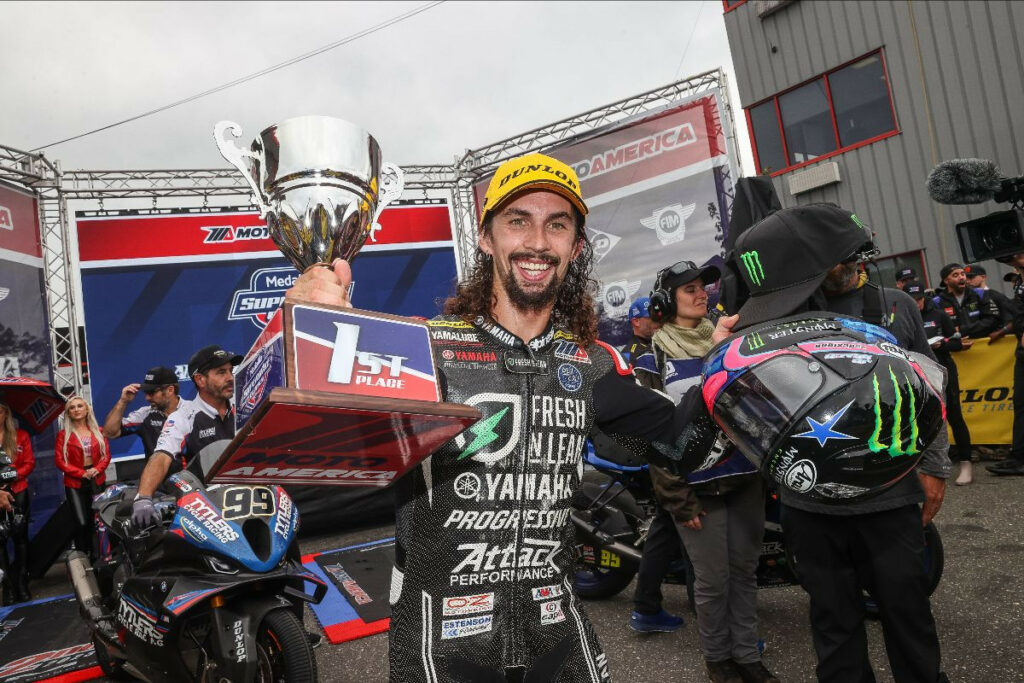 Superbike Race 2
JD Beach (Yamaha)
PJ Jacobsen (BMW)
Corey Alexander (BMW)
Jake Gagne (Yamaha)
Brandon Paasch (Suzuki)
Richie Escalante (Suzuki)
Danilo Lewis (BMW)
Bobby Fong (Yamaha)
Ashton Yates (BMW)
Max Flinders (Yamaha)
Quotes
 
JD Beach – Winner
"Honestly, PJ (Jacobsen) thought I was going to be fast, but out on the grid I was crapping my pants. I was scared. I'm like, 'I don't know what's going to happen.' When I went out for the warmup lap, as soon as I tipped it in, a few times the thing would slide. But the track didn't look wet. So, I was nervous. Before the race started, I was going back and forth – slicks, rains, slicks, rains. Richard (Stanboli) came out on the grid. We talked about it. I was down to the last minute. I was like, only two guys went to slicks. Actually, (Josh) Herrin tried to trick me. I asked him if he switched and he said no, but I watched him do it. So, he's not going to get no help anymore. So, then we just went with rains. PJ (Jacobsen) got a hell of a start. It was like a Jake (Gagne) start. The first lap, he was just gone. So, I was behind Jake (Gagne) and I was just like, I'm just going to match what he does. If he picks the bike up, I'm going to pick the bike up. So, I was just matching him, and I was making time on him, so I'm like, I guess I'll just go by him. So, I went by Jake. PJ was out there, so I just put my head down and I started charging. I caught PJ and I tried to get by him as quick as I could. Just put my head down. I felt really good. I was just enjoying it. The bike was sliding around. I was spinning up. I just thought to myself, I wasn't going to try to save the tire. I'd rather blow them off than have tires left at the end and not win. I just went for it. It feels really cool to get a win again after four years, and just getting on this bike for the last three rounds."
PJ Jacobsen – Second Place
"Yeah, just like after yesterday and stuff like that I was still pretty pissed off, to be honest with you. It was hard to take that yesterday. Then I feel like I got a decent start and I just wanted to lead and try to run away with it and see what I could do. Honestly, I knew JD (Beach) before the start of the race would be pretty fast because we're both dirt trackers, and it was like completely so sketchy out there when it's half wet, half dry. Then also I was kind of nervous about the guys with the slicks because I was kind of shaking my head when we rolled up to start the race. I was just like, "I might just go backwards after five laps here.' So, I don't really know what's going to happen. But once JD passed me, it was very hard to stay with him because I kept losing the rear going into all the corners with some lean angle. I just knew my tire was done. There was no going through water or anything saving me like that. So, it was kind of just riding the struggle bus through the rest of the race. I could see the gap behind me. So, I was managing that. Then I wasn't pushing too much more to try to catch JD. It was just a big risk, because I was sideways a lot in the entry of the corners, and I don't really want to crash like that. So, it was good to come back in second today. But I'm actually really happy for Corey (Alexander). That's awesome that he got a podium today. He really deserved it. It's really good. It's awesome that we're both up here for the last race of the season. He's (Alexander) had a difficult season with a lot of things going on, so I'm pretty happy for him here at New Jersey Motorsports Park, his home race and my home race. So, it's really cool to be sharing the podium with him. It's good to get a podium at the end of the season here before it all ends before the winter."
Corey Alexander – Third Place
"I guess so because I'm not happy with third. I feel like I've got a lot of pace left. But either way, just to be up here with these guys again. Passing Jake (Gagne) was pretty surreal. I thought, 'he's got to have some kind of plan. He must be saving his tire or something. He's going to come back by me in a bit.' And then we just had a huge gap. So, it was surreal during the race. For me, yesterday was obviously huge. It was amazing to get a podium, but just having PJ's (Jacobsen) penalty and whatnot is not exactly how I'd want it to go down if I could dream up a podium. So, to be able to do it again and have him up here with me is amazing for our team and just for me confidence-wise to know that I actually went out and earned this one. Super excited. Super thankful for all the people that helped me to get here. It's been a long road. Just hope to get to do it again next year."
More, from a press release issued by Westby Racing:
Mathew Scholtz Finishes Fourth In The 2023 MotoAmerica Superbike Championship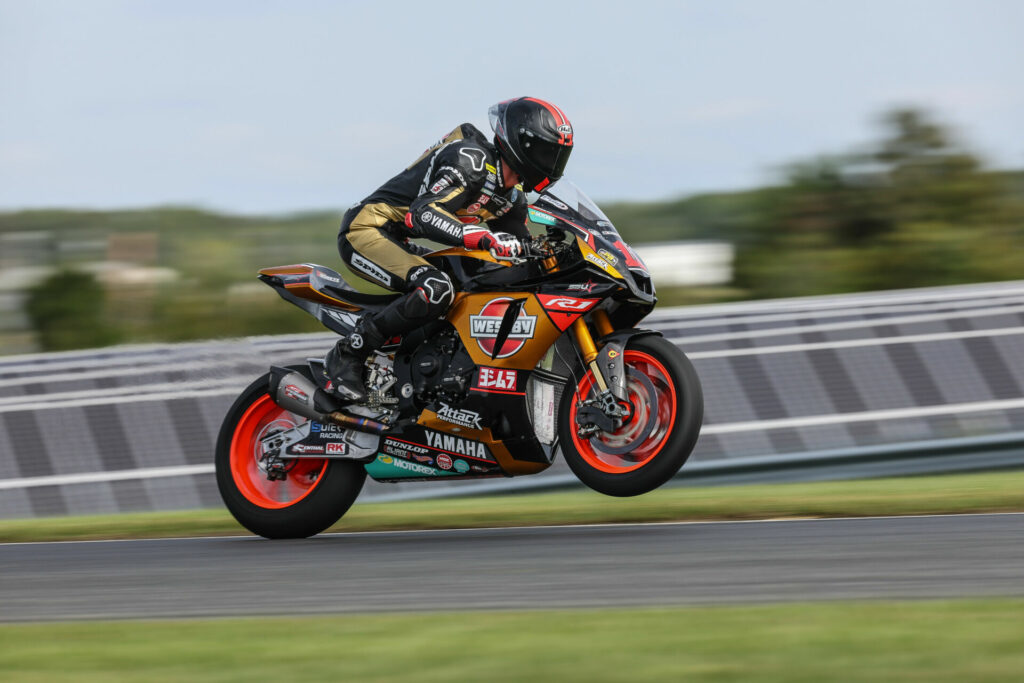 Millville, NJ – September 24, 2023 – The 2023 MotoAmerica Superbike Championship wrapped up on Sunday at New Jersey Motorsports Park with Westby Racing's Mathew Scholtz ending up fourth in the standings after moving up one position during the final weekend of the season.
After Saturday's rain-sodden race one, in which Mathew finished sixth, he and the team were determined to get a better result on Sunday. The precipitation from Tropical Storm Ophelia had diminished, which left the track mostly dry with only a few wet areas here and there.
Mathew and the team decided to start the race on slick tires in hopes that the track would dry out more during the race and enable Mathew to overtake any riders in front of him who had chosen full rain tires, which offer better grip in the wet, but not in the dry.
Unfortunately, the strategy didn't work out because Mathew was running back in 12th place on lap five, and he crashed out of the race before he could start advancing to the front.
And so, the incident ended Mathew's day and his season a little bit earlier than he and the team were hoping for.
Team owner Tryg Westby, Mathew, and the entire Westby Racing team want to thank all the fans for the loyal support they showed this year.
MotoAmerica Superbike Final Standings
1. Jake Gagne – Yamaha – 420
2. Josh Herrin – Ducati – 272
3. PJ Jacobsen – BMW – 266
4. Mathew Scholtz – Yamaha – 205
5. Richie Escalante – Suzuki – 205
For more updates about Westby Racing, including news, photos, and videos, visit http://www.WestbyRacing.com
Also, follow "Westby Racing" on your favorite social media sites.