Travis Wyman scores podium finish in Stock 1000 race at MotoAmerica season finale
Motul-sponsored BMW rider secures second place in Stock 1000, Superbike Cup standings at Barber Motorsports Park
BIRMINGHAM, Ala. — It was a positive conclusion to the 2021 MotoAmerica season for Travis Wyman, as the Motul-sponsored rider scored a podium finish in the final Stock 1000 race of the year and ended the season runner-up in the Stock 1000 and Superbike Cup points standings.
The BMW rider put in an excellent performance in two days of racing in challenging wet conditions Sept. 17-19 at Barber Motorsports Park and was twice in the hunt for a top-five Superbike finish or better. Though he came up just short of his goal of winning two MotoAmerica No. 1 plates, Wyman – like he has all season – got the most he could out of his BMW S 1000 RR and put his title sponsor Motul back on the MotoAmerica podium.
Wyman and the other top 10 riders in the Superbike Cup standings practiced and qualified with the Superbike Class at Barber. In Friday practice, Wyman put in the ninth-fastest time of the session and was second among the Superbike Cup riders. Later Friday, Wyman finished Qualifying 1 in 11th and was third among the Cup competitors. Qualifying wrapped up Saturday morning in wet conditions with Wyman having claimed third on the Stock 1000 grid – his fourth front row starting spot of the season – and 12th for the Saturday Superbike race.
Saturday also featured the weekend's lone Stock 1000 race and one Superbike race. In the Stock 1000 contest, Wyman struggled in the early laps of the race on the 2.38-mile Barber circuit. After falling as far down the running order as sixth at the end of Lap 1, Wyman had advanced to fourth place by the end of Lap 4. With two laps to go, Wyman made his move into third place, which he held on to by a margin of more than five seconds. Rain continued to pour down on Barber Motorsports Park later Saturday when Superbike Race 1 got underway. Wyman got an excellent start and had moved up the running order five positions by the end of Lap 1. After advancing one position per lap on Laps 2-4, Wyman was running in third at the end of Lap 6 but suffered a crash at the exit of the Museum Corner on Lap 7 and had to retire from the race.
In Sunday's Superbike Race 2, Wyman had to start the race 20th — third to last — because of his crash on Saturday. Wyman got off the line well again and moved up from 20th to 17th on the first lap. After passing two more riders in the next two laps, Wyman had moved up to 12th place when the race was stopped on Lap 12 of 17 due to wildlife being loose on the racetrack. In Superbike Race 3, Wyman had a banner first lap as he moved up from 13th on the starting grid to eighth by the end of the lap. After running as high as seventh on Laps 2-4, Wyman began experiencing a fogging problem with his helmet's face shield. The problem forced him to back off his pace, and Wyman had to settle for an 11th-place finish.
With the 2021 MotoAmerica season having come to an end, the Travis Wyman Racing BMW team thanks its many sponsors, especially Motul, and its many enthusiastic fans for another great season of MotoAmerica competition.
Travis Wyman / No. 10
"Friday qualifying went well, and it felt great to have a new engine in our BMW S 1000 RR. We were less than a tenth of a second off the Stock 1000 pole, and we knew on Saturday that the rest of the weekend was going to be wet. We used Qualifying 2 on Saturday morning to work on our wet setup, which felt great on Saturday and Sunday. It was drying conditions in the Stock 1000 race, and I was pretty tentative off the start. I had a great battle with another rider for the last podium spot. Getting third was great for the team and allowed me to secure second place in the Stock 1000 championship. It rained really hard for the Saturday Superbike race, and I was in the running for my first Superbike podium before crashing out. I got more comfortable as the Sunday morning Superbike race went on and was able to work my way from 20th to 12th. I felt great in the last Superbike race, but my shield fogged up so bad that I couldn't see and had to battle that issue the rest of the race. I was lifting my shield on the back straight trying to wipe it dry and had to actually rip the face shield off to finish the last lap of that race, which was pretty frustrating."
More, from a press release issued by Royal Enfield North America:
BUILD. TRAIN. RACE. ROAD RACING WRAPS UP AT BARBER MOTOAMERICA
CJ Lukacs completes the hat trick at rain-soaked final at Alabama's Barber Motorsports Park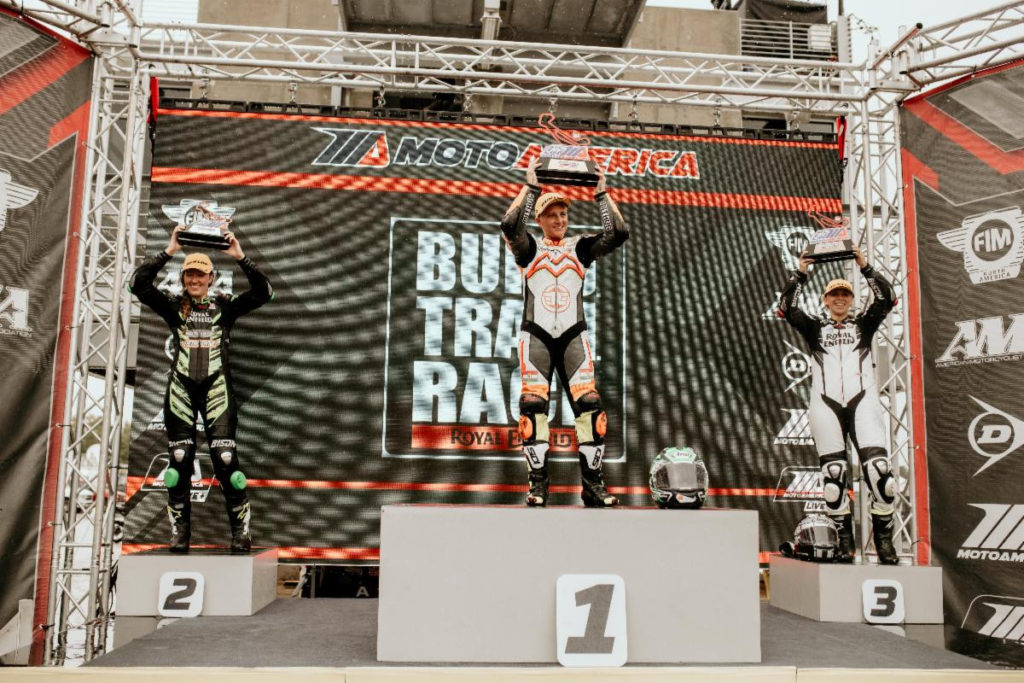 Milwaukee, WI – The rain-soaked and program-delayed round of MotoAmerica at Barber Motorsports Park in Birmingham, Alabama, might not have been the season final anyone was hoping for, including the women of Royal Enfield's Build. Train. Race. (BTR), but for a program with the goal of cultivating the life experience that comes through racing motorcycles, perhaps it was a fitting way to close the series after all.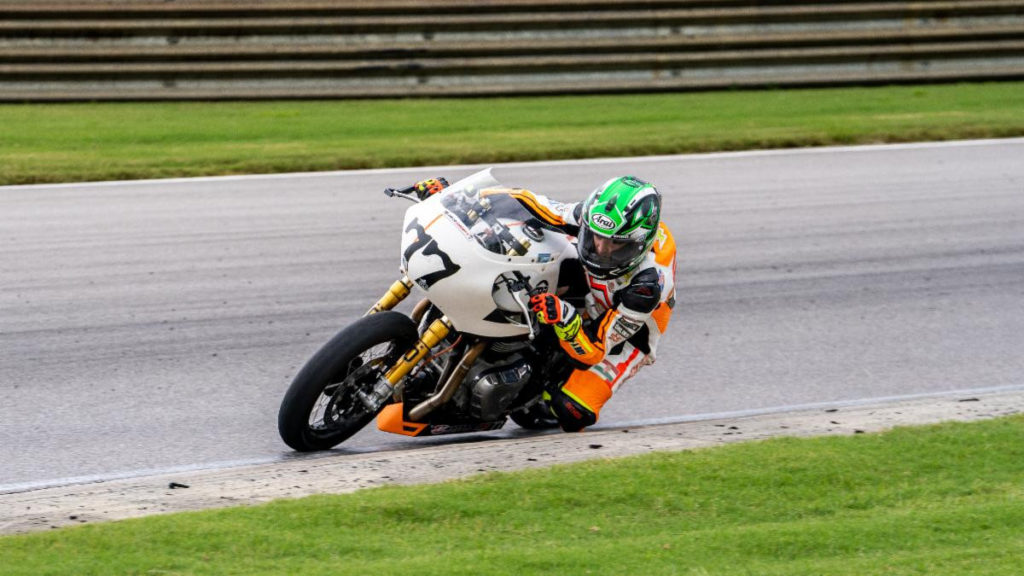 "It was a bit of a wild weekend for the Royal Enfield Build. Train. Race. Road Racers," said Breeann Poland, Marketing and Communications Lead – Royal Enfield Americas. "We had some pretty serious weather, some difficult racing conditions, and several spills in the wet. But this is racing, and it's not for the weak. The challenges are all part of the experience that shapes us. It's finding your limits, getting up after you fall, dealing with the unexpected and working to solve problems while the clock is ticking. These women faced all of these challenges at Barber this weekend and really pushed through. To say that I'm proud of them would be a gross understatement."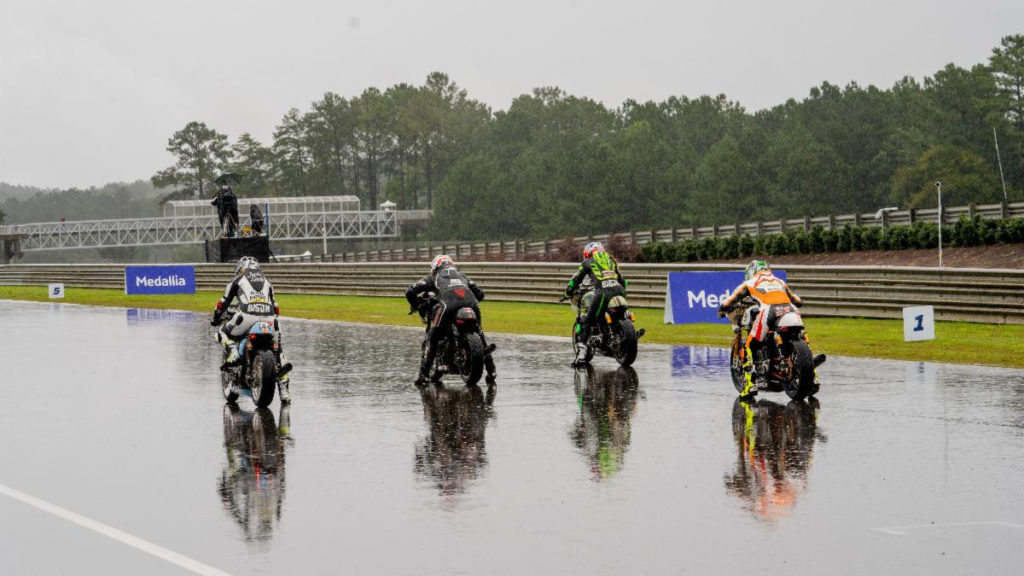 After the original start time was postponed during to Sunday's downpour, many Royal Enfield team members were sent scrambling to rebook flights in the attempt to stay at the ready for a race that may or may not even take place. Five of the seven-rider field were able and/or willing to stick it out in the hopes of getting their track time, and fortunately the MotoAmerica crew found a way to slot in time for the third of three BTR Road Racing exhibition races in the revised schedule.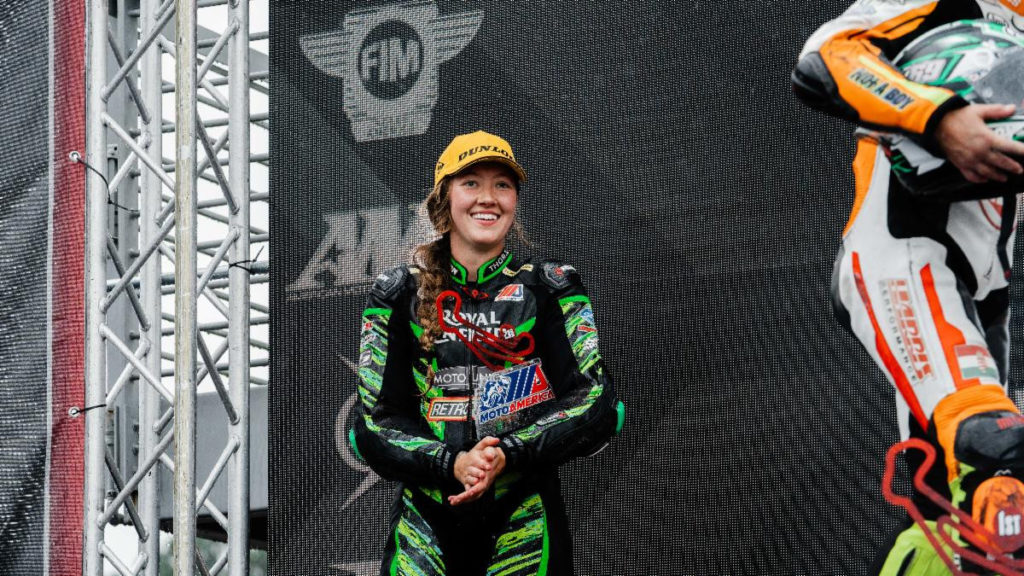 CJ Lukacs, who all but dominated the first two rounds, found herself on a second-row start behind Kayla Theisler, Trisha Dahl and Alyssa Bridges (fifth rider Michaela Trumbull experienced mechanical issues on the warmup lap and did not make the start). Dahl grabbed the holeshot and lead the early charge, but was soon overtaken by Lukacs and Theisler. The trio remained tight in the opening laps in what was the closest racing all season.
"We battled back and forth almost every corner," said Lukacs. "It was so exciting! Having that push between all of us, bar to bar, there's nothing else like it."
Lukacs maneuvered her way out front, only a bike-length or two in front of the number 52 of Theisler. Given more time, Theisler might have overtaken the point, but a red flag handed the top spot to Lukacs by a fraction of a second, with Dahl and Bridges not far off. In the end, it cemented the former pro motocrosser's top spot in the BTR Road Racing ranks, making for a clean sweep of the three-round series.
"We all wanted to finish upright," Lukacs said, "and the fact that we did so, even through battling each other in crazy track conditions, makes me so proud. I am humbled by everyone's talent and growth. As crazy as this last round was, the experience of racing in the rain for the first time couldn't have been better."
The finish marked Theisler's first podium of the championship, while Trisha Dahl's third-place finish completes her podium sweep of the series, having finished in the top-three at every BTR MotoAmerica event this season.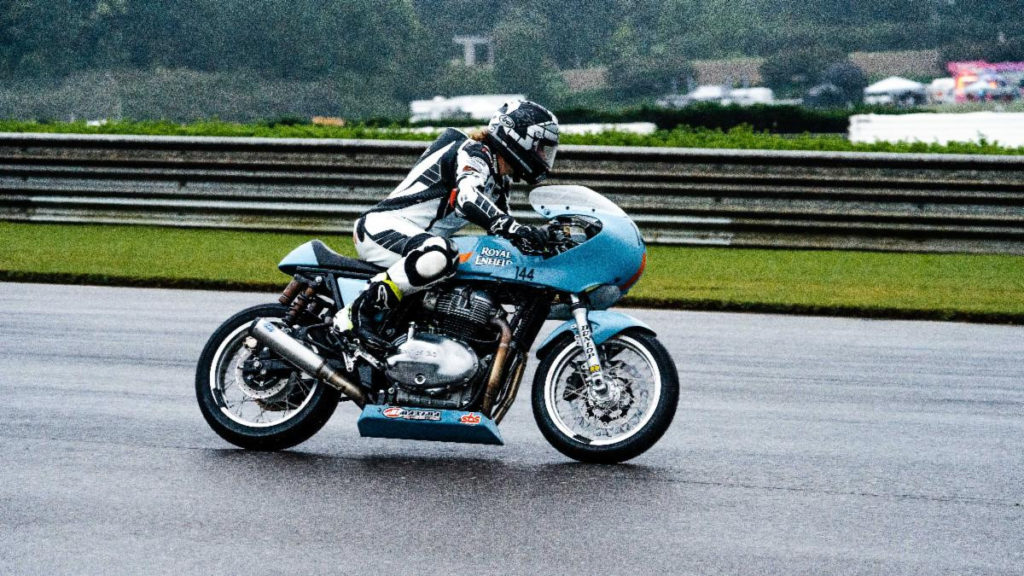 "What a weekend!" Trisha Dahl exclaimed. "My nerves were through the roof and I had no idea how hard I could push it. As my mentor Melissa Paris would say, 'to finish first, you must first finish.' I kept the inputs light but also stayed aggressive on the throttle when I knew the bike was upright. For the very little experience we have on rain tires, I am very impressed with myself and all my teammates. We went headfirst into this weekend and adapted to every challenge that was presented. I'm so proud to be a part of this team."
Kayla Theisler echoed the sentiment, "Royal Enfield not only provided the resources for me to grow as a rider and racer, they also allowed me to create lasting relationships with so many talented, strong, inspiring women. I'm grateful and humbled to be a part of this trailblazing program for women in motorcycling."
"That wasn't an easy weekend, and we'd like to thank MotoAmerica for shuffling the program and giving our racers the chance to finish out their season," Breeann Poland added. "And, of course, to all our sponsors who really came through, once again! After several spills on Saturday morning in the rain, these ladies worked so hard to repair their Royal Enfield Continental GT 650 race bikes in order to be ready for Sunday. We're beyond thrilled to see a strong finish to our first Build. Train. Race. season with MotoAmerica and we're already looking forward going bigger next year."
Royal Enfield BUILD. TRAIN. RACE.
Round 3 Results – Barber MotoAmerica
1. CJ Lukacs
2. Kayla Theisler
3. Trisha Dahl
4. Alyssa Bridges
Visit https://motoamerica.com/standings/ for detailed results.
The Royal Enfield BTR Road Racing program has concluded for 2021, and is looking forward to an expanded platform with MotoAmerica next season. Look for an announcement on the 2022 Royal Enfield BUILD. TRAIN. RACE. USA Road Racing program, including details on the application period, in the coming weeks.
The BUILD. TRAIN. RACE. Flat Track program will race their fourth and final round at the Charlotte Half-Mile in Charlotte, North Carolina on October 8. Find more information on the Royal Enfield BTR programs at https://buildtrainrace.com/.
About Royal Enfield
The oldest motorcycle company in continuous production in the world, Royal Enfield made its first motorcycle in 1901. A division of Eicher Motors Limited, Royal Enfield has created the midsize motorcycle segment in India with its unique and distinctive modern classic motorcycles. With its manufacturing base in Chennai, India, Royal Enfield has been able to grow its production rapidly against a surge in demand for its motorcycles. Royal Enfield is a leading player in the global middleweight motorcycle market.
Royal Enfield North America (RENA) is headquartered in Milwaukee, Wisconsin, and is developing a growing network of more than 140 dealers in North America, including the contiguous U.S., Canada and Puerto Rico. RENA currently offers the all-new Meteor 350, Himalayan and the 650 Twins (INT 650 and Continental GT 650) motorcycles, along with a range of Genuine Motorcycle Accessories and apparel.
For more information on Royal Enfield North America, visit www.RoyalEnfield.com/us/en/, www.Instagram.com/RoyalEnfield_NA, www.Facebook.com/RoyalEnfieldNorthAmerica.
More, from a press release issued by N2 Racing:
Blake Davis Finishes Top 5 at Barber Motorsports Park!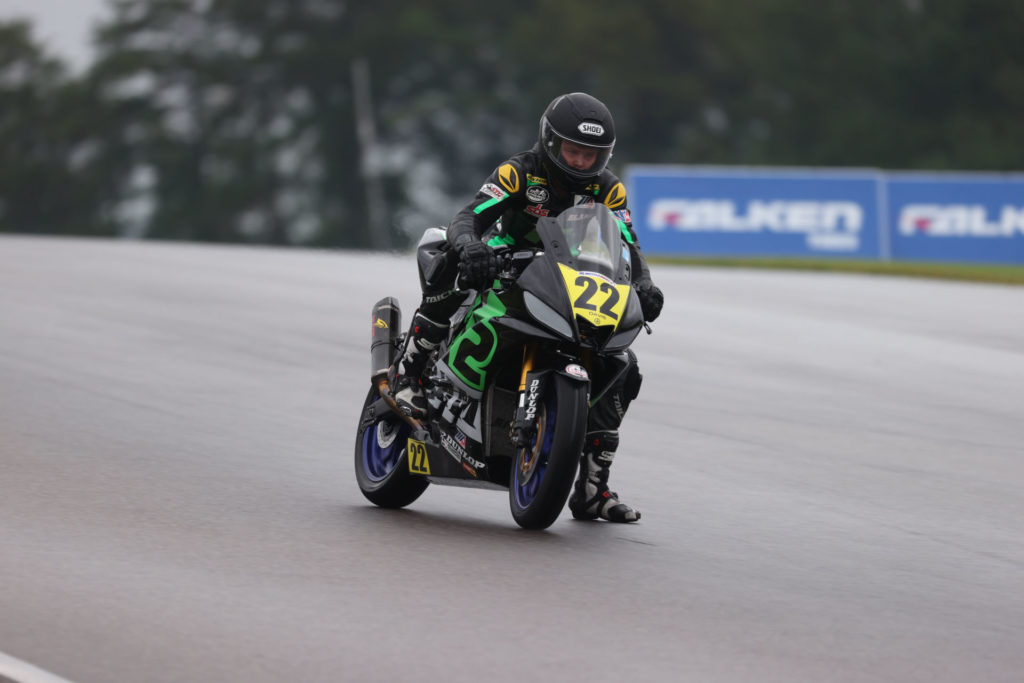 Birmingham, AL (September 2021) – N2 Racing's Blake Davis finished fifth on his Yamaha YZF-R3 in the last race of the MotoAmerica Junior Cup season after dealing with mixed conditions and torrential rain. Blake also finished in seventh place in Junior Cup Race 1 and these two combined finishes secured sixth place in the championship.
Friday practice and qualifying were dry and Blake was competitive in every session. In QP1, Blake was able to turn a lap time of 1:37.110 which would be his fastest lap of the weekend, because then, the rain came down. The rain never stopped either, just changing in degrees of intensity from a light drizzle to torrential down poor.
Blakes time from Friday put him seventh, in the inside of row three for the start. The race was started under heavy rain and Blake got a great start. Visibility and traction were changing lap to lap and several competitors struggled with crashes. Blake battled with Max Van for most of the race, bringing the number 22 home in seventh place.
Sunday started off fantastic with Blake finishing in the first position in the morning warmup. The team had worked hard to develop a better wet set up after Saturday's race and it paid off. Race 2 was held in a soaking rain. Blake struggled at the start, fading back to eighth place in the first few laps. As the chaos of the start calmed down, Blake was able to put his head down and start working his way through the field. Blake eventually worked his way up to fifth place at the finish and secured sixth place in the season championship standings.
Kris Smith (Team Owner) – "Our team is pretty proud of Blake Davis for showing us all what a true pro he is in the most challenging conditions. It feels good to finish the season on a positive and Blake took care of that for our team with his 5th in race two. I'm especially pleased that he was able to score points in 16 out of 18 races this year and take 6th in the championship. Blake will be the first to tell you he has more to offer and I'm a believer. I'm pretty excited about our plans for N2 Racing and the 2022 season which we hope to be announcing in the near future."
Shiloh Salopek (Crew Chief) – "As challenging as this season has been for the whole team it was great to end the season on a good note.  Blake has impressed me more and more every round with his dedication and positive attitude no matter what has been thrown our way.  I am very happy to have the opportunity to continue on working with him in 2022 in what is shaping up to be the best year yet for N2."
Blake Davis – "It was a crazy way to finish what has been an amazing and challenging season. This weekend was a lot like the entire season. We had lots of ups and downs, but we overcame all of our challenges as a team. I would like to thank all of the sponsors for their support. I can't thank Kris Smith, Shiloh, Emerson, and my family enough for all the hard work this year. Thank you for believing in me and I can't wait for what's coming next season."
About N2 Track Days:
N2 provides a structured riding environment for sport-bike riders of all levels promoting motorcycle safety through instruction on a closed course racetrack. Our instructors and coaching staff are comprised of club-racers, pro racers, and experienced track day riders who are articulate and passionate about all aspects of this sport. N2 strives to provide an enjoyable riding experience in an environment where members can hone their skills and inspire confidence in their riding ability. Riding with N2 means you and your sportbike gain access to a structured environment without the hazards, limitations, distractions, and obstacles that you'll find on the street.
N2 Racing is proudly sponsored by: N2 Track Days, BobbleHeadMoto, SBS Brakes, Renthal, Motorex, Shoei Helmets, Ohlins USA, Trading Paint, Westby Racing, and Moto Liberty
More, from a press release issued by Altus Motorsports:
MotoAmerica: Jake Lewis Clinches the 2021 MotoAmerica Superbike Cup Championship. Results from Round 9 Barber Motorsports Park for the Altus Motorsports Tucker Environmental Service Solutions Team
(Birmingham, AL) – The unrelenting rain at Barber Motorsports Park in Birmingham, Alabama could not dampen the spirits of the Altus Motorsports team. For the second year in a row, the Altus team won the MotoAmerica Stock 1000 & Superbike Cup Championship.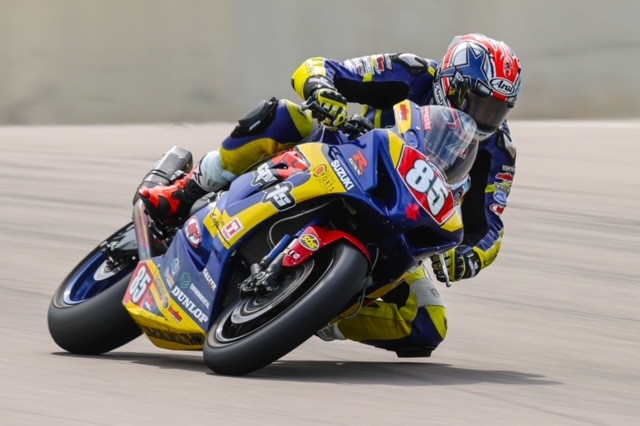 Honos Superbike & Stock 1000:
After clinching the Stock 1000 championship last round, Jake Lewis came into the final round of the MotoAmerica 2021 season looking to do the same with the Superbike Cup. And he did. Lewis started the first of the weekend's three Superbike races from 10th on the grid and in a wet and crash-laden race, he finished in 5th. He was the second-fastest Stock 1000 bike, but it was good enough to clinch the Superbike Cup championship. In the second Superbike race, he again finished 5th and took 9th in the third and final race of the season.
Jake also won the last Stock 1000 race of the year. In the 2021 Stock 1000 championship season, Lewis only finished off the podium three times. All totaled, he claimed 6 wins, two second-place finishes, a third, two fourths, and one DNF.
"I cannot thank George and Janette Nassaney and the Altus Motorsports team enough for giving me the opportunity to ride this year. I've said it before, last year I was out of the paddock and thought my racing career might be over. George is an amazing person. He always wants to win, but there was never any pressure. Even if I was running 3rd or 4th, he was just supportive. I also have to thank Eric Gray, my crew chief. He and my mechanics, Tony and David did an incredible job every round. I'm incredibly grateful to my personal sponsors: Roclun International, Service Tools and Plastics, Pikanty Group, Arai Helmets, and Cortech Leathers," said Jake Lewis.
Supersport 600:
It was a wet and wild weekend for the Supersport riders. Both the Saturday and Sunday races were plagued by rain and each one ended up more a game of survival than a competition. In fact, almost half the field did not finish on Saturday.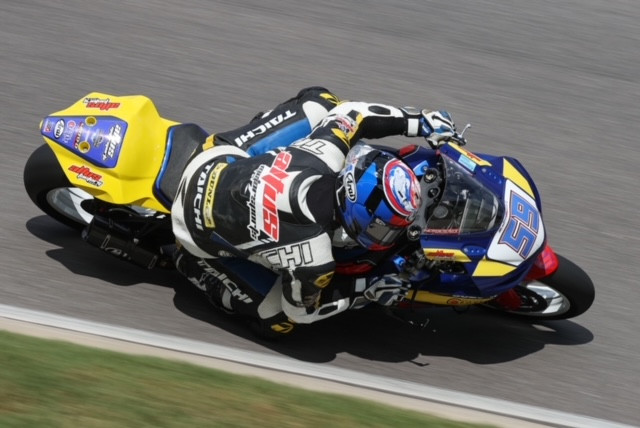 Jaret Nassaney started Race 1 from 11th and managed to persevere to finish in 13th. In Race 2, he started 10th and, after battling for 8th, finished in the same position at 10th. Nassaney finished the season 10th overall in the Supersport class.
"On the last lap of Race 1, I lost the rear and crashed, but I picked the bike up and finished. We made some changes before Race 2.  I felt better, but with a few laps to go it started to dump rain and I ended up giving up two spots to finish 10th. Overall I'm just glad to survive," said Jaret Nassaney. "I'm pretty happy with the season. We scored points every race but one and never got a DNF. I finished the season in 10th and only a few points out of 8th. I am ready to come back next year and continue progressing."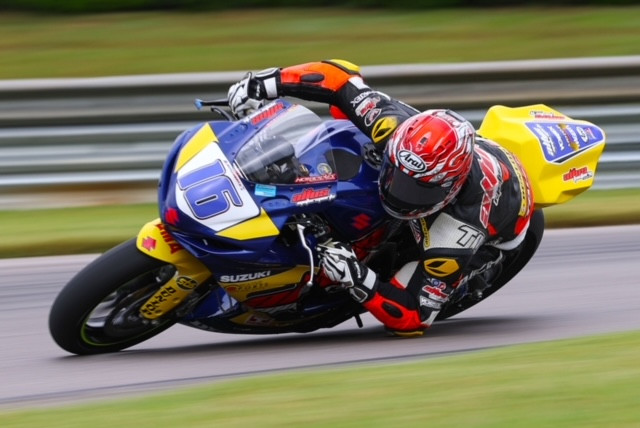 Kevin Olmedo was one of the victims of the Saturday weather. He crashed before the race was red-flagged and restarted. In Race 2, he started from 4th and focused on finishing. He crossed the line in 12th. In spite of missing the first two rounds (four races), Olmedo managed to finish the season 7th overall in the class.
Junior Cup: 
Hayden Bicknese came into Barber Motorsports Park with high hopes. It was the only track on the schedule that he was very familiar with and he expected to post some good results. Unfortunately, Mother Nature decided to throw a change-up and fill the weekend with torrential downpours.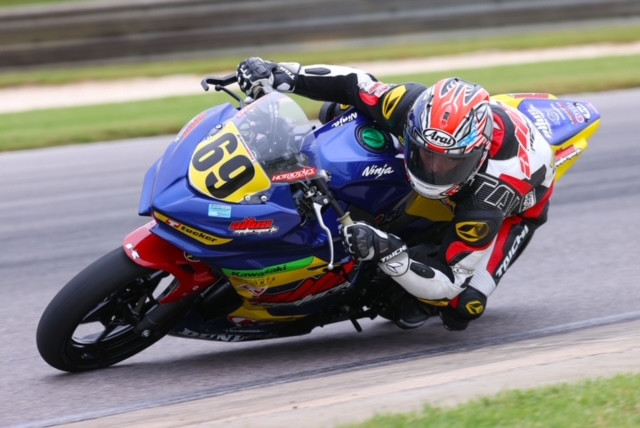 It was a rough weekend for Hayden in the rain. He started the Saturday race from 11th. While almost ⅓ of the entrants ended up crashing out, Hayden rode smart and took the checkered flag in 12th.
With the Sunday Race Start approaching, the weather turned worse. Hard consistent rain had created large areas of standing water. With little to gain and the potential for crashing and possible injury high, the team wisely decided to park the bike for Race 2. Bicknese ended his inaugural season in an impressive 12th overall.
"2021 is a wrap! For our team to win back-to-back Stock 1000 and Superbike Cup it feels amazing. This season had its challenges, but in the end, Jake Lewis is the Champion and we could not be more proud! None of this is possible without Crew Chief Eric Gray. He works many long hours to make sure the entire team is ready every weekend. His desire to push the team to be the best makes all of us champions! Thank you, Tony Pogue and David Gray for coming on midseason and making sure Jake's bike was ready for battle. Jake Lewis, you are an amazing young man! Your competitive nature, professionalism, and being a genuinely good person brings out the best in our team."
"Eric has always said it's easy to make it to the 3rd or 4th Rounds, but much more difficult to complete an entire season. Thank you, Mike Castro, Sean Gager, and Mauro Deviasso for all your hard work this season.  You guys came together and made our team a success."
"Jaret, Kevin, and Hayden all had great seasons. They came in focused and ready to compete at the highest level. As a team owner, I could not ask for more," said George Nassaney.
Altus Motorsports is already working on the team for next year. They are looking at what the mix of bikes will be between 1000s, 600s, and Junior Cup bikes. Any riders looking for a bike or even transportation for the 2022 season, reach out to George Nassaney at [email protected]
The Altus Motorsports team is supported by our great family of sponsors: Altus Motorsports, Environmental Service Solutions, Suzuki Motor Corporation, Creative Sports Concepts, Tucker Powersports, Schaefer Engineering, Hot Bodies Racing, M4 Exhausts, Vortex EK, Motion Pro, Barnett, VP Lubricants, SBS Brakes, Galfer USA, Moto-D Racing, Bonamici, Ohlins, K-Techs, RS Taichi, Arai, Law Tigers Oklahoma, Lawton Motorsports, and Altus Factory Racing.