Last week, five-time MotoAmerica Superbike Champion Cameron Beaubier signed a two-year deal to race in the Moto2 World Championship with American Racing Team in hopes of proving himself enough to get an opportunity to move into the MotoGP World Championship. It's an unorthodox route, especially for a soon-to-be-28-year-old, but according to veteran racer Toni Elias, Beaubier is good enough to succeed.
And Elias should know. The Spaniard has won MotoGP races, won the Moto2 World Championship, raced in World Superbike, won the MotoAmerica Superbike Championship, and has raced bar-to-bar with Beaubier for five seasons.
"I battled with many strong riders in World Championship," Elias said in a post-race press conference Sunday at WeatherTech Raceway Laguna Seca, "specialist in 125, specialist in 250, specialist in Moto2, MotoGP, Superbikes. Valentino [Rossi], I think was one of the toughest guys I ever battled, but [Beaubier] is not less than him. I think he [Beaubier] has that level, has level enough to do it. Now is the opportunity. I believe in him and I believe in his opportunity. This way will bring him to MotoGP, because he's good enough.
"Here you have a friend. We had big battles. We had so much fun. It's been really cool. Sometimes we play back to each other, we play our cards, but this is racing. And after that, we appreciate each other. If you need me, just have the phone and do it. Good luck, man."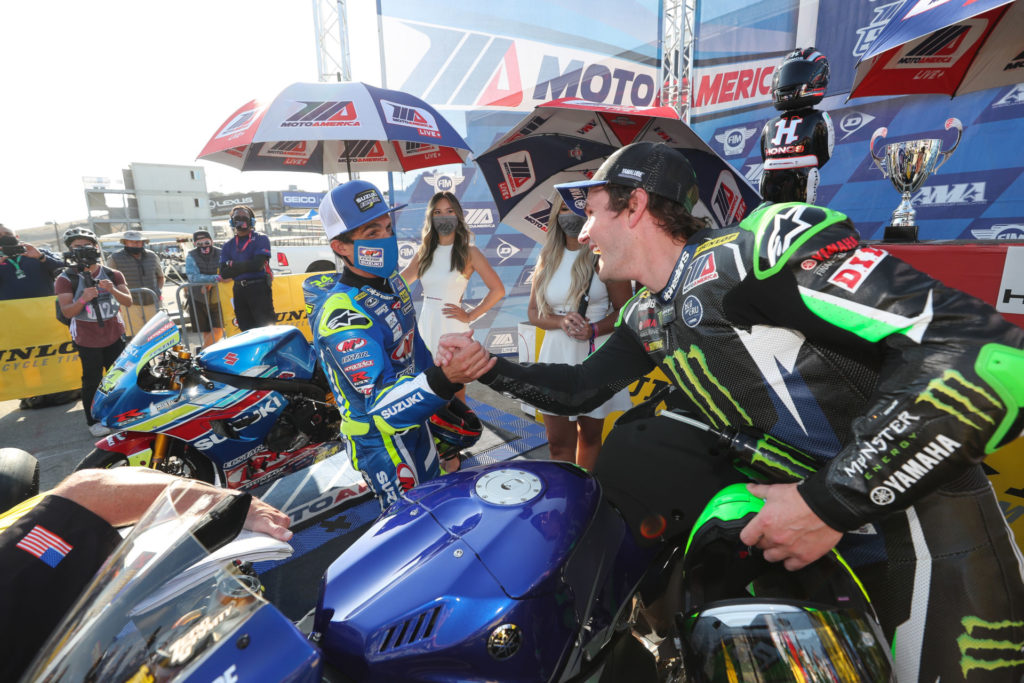 Considering Elias announced last week that he is ending his five-year relationship with Suzuki and that his career as a professional may be over, Beaubier also had kind words for his rival.
"I'm not sure if it's Toni's last race, but hats off to Toni for an amazing career," Beaubier said at the same press conference. "We've had our battles on the track and we were at each other's throat a couple times, but I respect you a lot as a racer and a person. You're amazing, man. Amazing career. I'm grateful for you coming over here and kicking our butts and putting us in our place. He gave us something to chase. [I'm] just really looking forward to getting going next year and hope to make you guys proud."