SUZUKI SCORECARD AT LAGUNA SECA MOTOAMERICA
Toni Elias: GSX-R1000 – 2-3-2 (Superbike)
Bobby Fong: GSX-R1000 – DNF-10-4 (Superbike)
Sean Dylan Kelly: GSX-R600 – 1-1 (Supersport)
Rocco Landers: SV650 – 1st (Twins Cup)
Cameron Petersen: GSX-R1000 – 1st (Stock 1000)
Suzuki Motor of America and Team Hammer closed out a memorable 2020 MotoAmerica AMA/ FIM North American Road Racing season in an epic way at Laguna Seca at the weekend with several wins and podiums.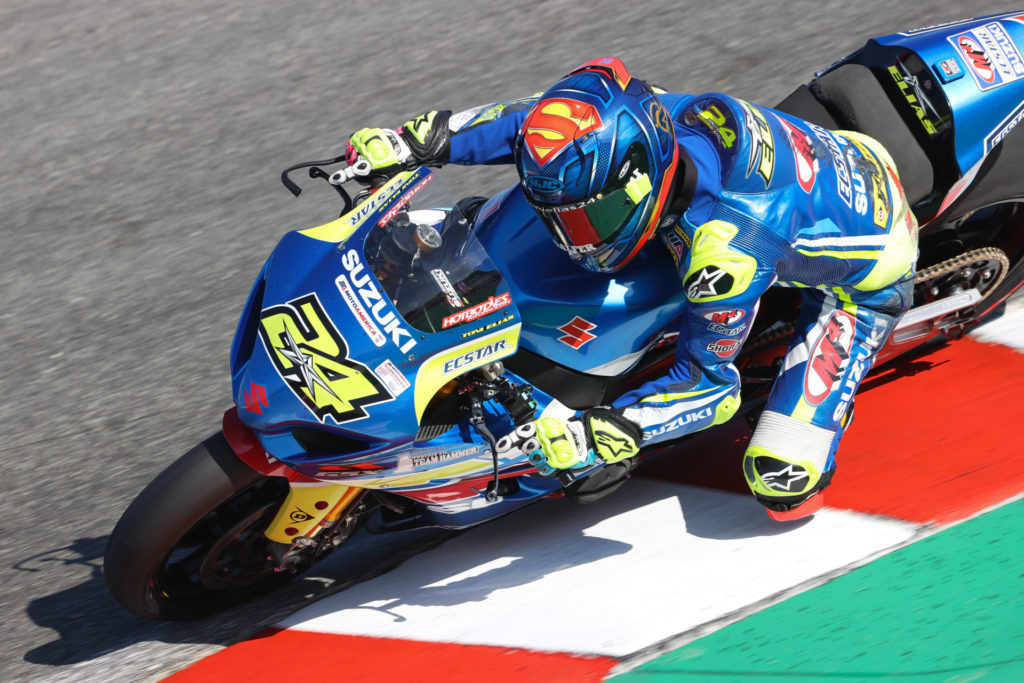 The weekend served as the farewell performance for 2017 MotoAmerica Superbike champion Toni Elias with M4 ECSTAR Suzuki, and the Spaniard delivered. After entering the three-race finale with just a single podium under his belt this season, Elias reminded the paddock of his immense talent and drive, notching up a pair of runner-up finishes and a third-place on the weekend.
Elias saved his best for last, slicing his way up through the top five aboard his Suzuki GSX-R1000 to arrive in second in 2020's final race. That result elevated him to fourth in the final MotoAmerica Superbike standings by a single point.
Said Elias: "I'm really happy to finish the season like this. Thank you so much to my M4 ECSTAR Suzuki team to work hard all the way up to the end. Today they gave me the best bike and the best feeling of the entire year. I was able to easily overtake the riders in front of me and once I got into second I was able to make a gap. For us, this is like a victory. I'm very happy. Right now my future is like a question mark. If this is my last ride, I had a blast. I'm happy I was able to give a little present to my team and Suzuki."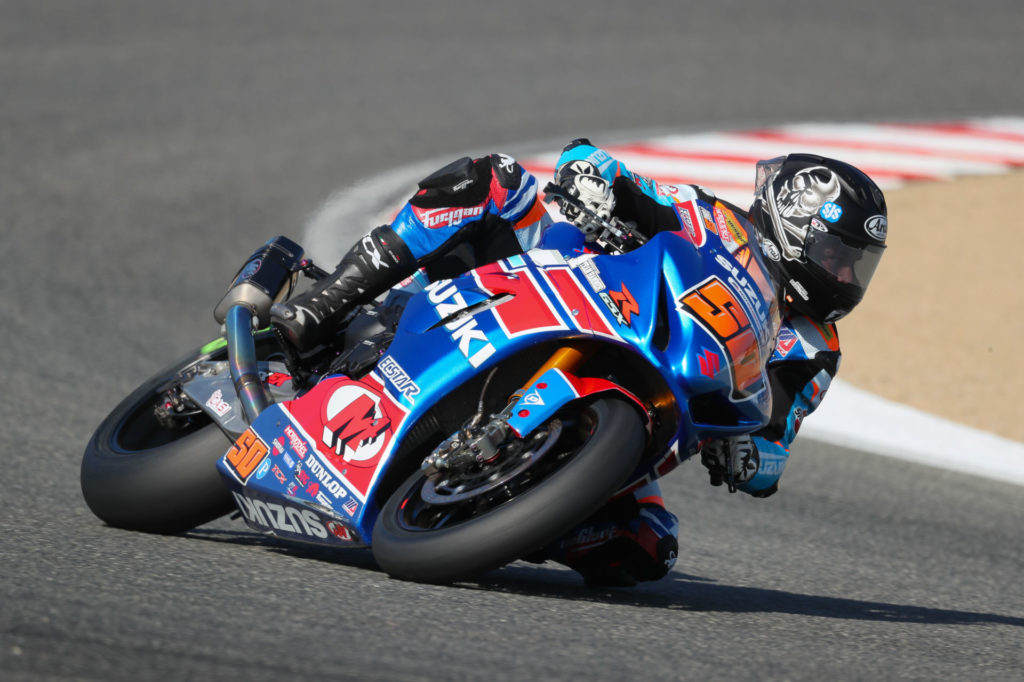 Elias' final pass for position was on his M4 ECSTAR Suzuki teammate Bobby Fong, who ended his breakthrough Superbike season with a fourth. The weekend didn't live up to the Californian's expectations or potential, as he crashed from second on Friday and struggled to 10th in mixed wet and dry conditions in Sunday morning's Race 2.
Still, Fong ended his outstanding premier-class campaign ranked third in the championship on the strength of three victories and eight podiums. The Californian backed up his championship season earned last year in Supersport by proving he is also a contender on a Superbike.
Sean Dylan Kelly came up huge in the MotoAmerica Supersport finale. "SDK" escaped to a breakaway victory on Friday and then won what was likely the race of the year on Sunday courtesy of a final-corner block pass and subsequent sprint to the chequered flag to beat the reigning class champion by 0.073 seconds.
The Floridian's Laguna Seca double upped his win tally to five for the season to go along with 15 top twos and 16 podiums in all.
The Supersport championship runner-up said: "I wanted to finish off the last race of the season on the best note possible, and getting the double is the way to do that!
"I want to dedicate this race to the entire M4 ECSTAR Suzuki team. The last two years together have been amazing and helped prepare for the future. I'm just really proud of the work we've done all season long. We had some tough times, starting the year with a broken leg. But we came back and showed even an injury like that won't stop us. It was an amazing season; quite a few wins, lots of podiums, and second in the championship. We have a lot to be proud of."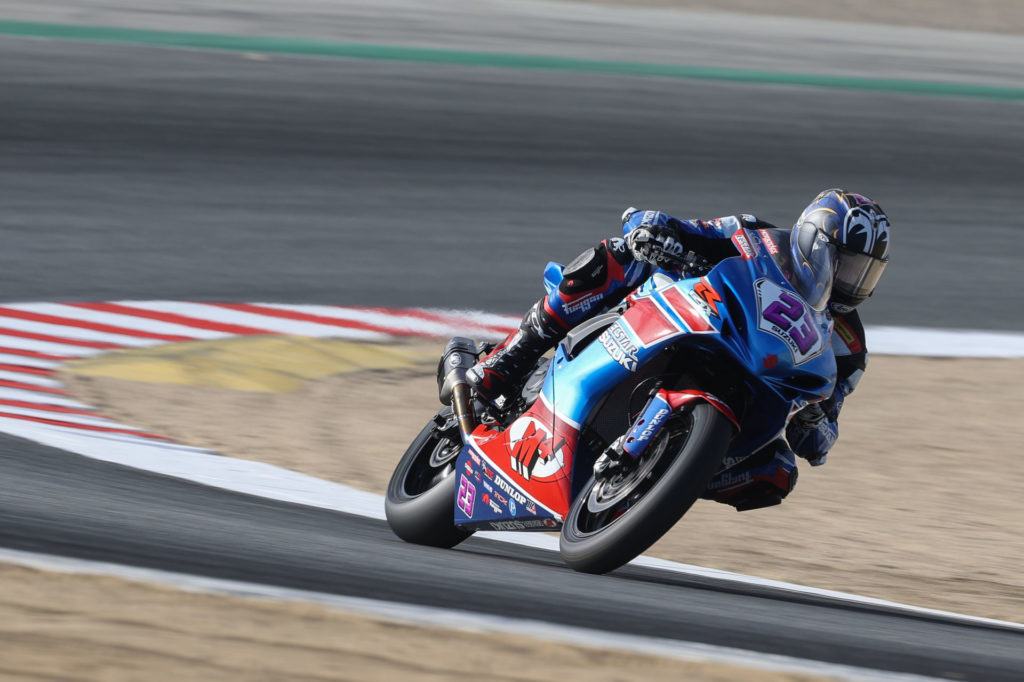 Kelly's Supersport teammate, Lucas Silva joined him inside the championship top five. The native Brazilian earned his fifth-place Supersport ranking due to his remarkable season-long consistency. He finished sixth on Saturday and then ended the season in 13th — his only result outside the top 10 the entire year.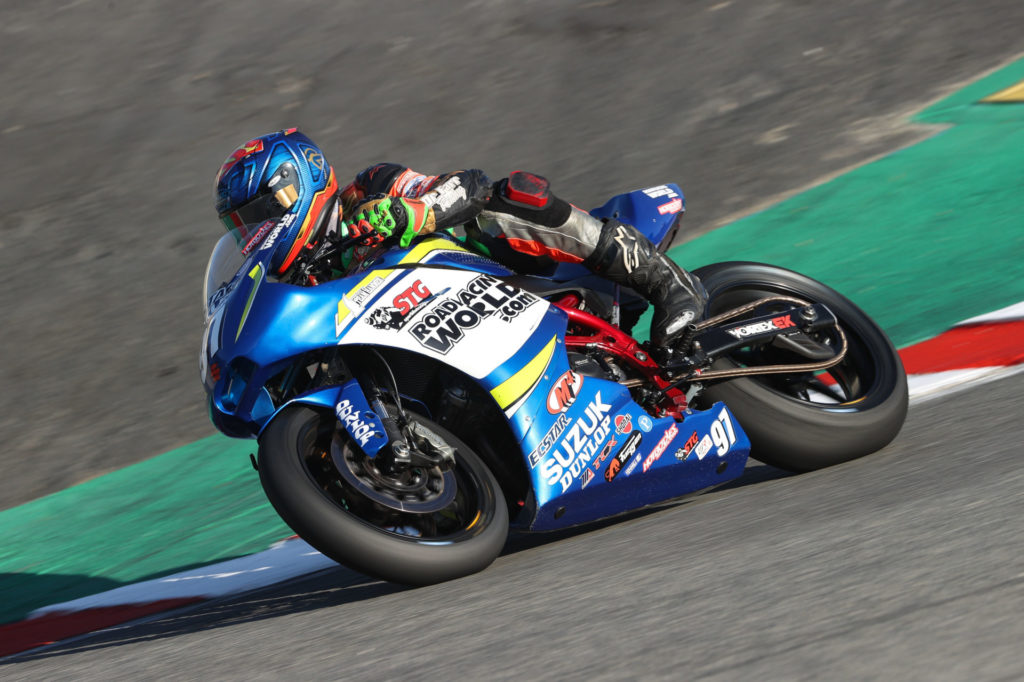 The prodigious Rocco Landers was yet another rider on a Team Hammer race bike to enjoy his season's highlight at the finale. The 15-year-old SportbikeTrackGear.com Suzuki rider had already locked-up the Twins Cup Championship but remained motivated to close out his season with an astonishing eighth straight victory aboard his Suzuki SV650.
It didn't come easily, as he waged a multi-rider battle for the victory throughout. Ultimately Landers demonstrated his skill, outduelling his rivals to win in the last dash to the stripe by 0.112 seconds.
Landers said: "It was great. The guys kept me honest. Oh man, I can't thank my SportbikeTrackGear.com Suzuki team enough for working all weekend. We weren't on top of basically any session all weekend. It's been pretty hard and we didn't get the best start, but I just tried to work my way up. I'm stoked."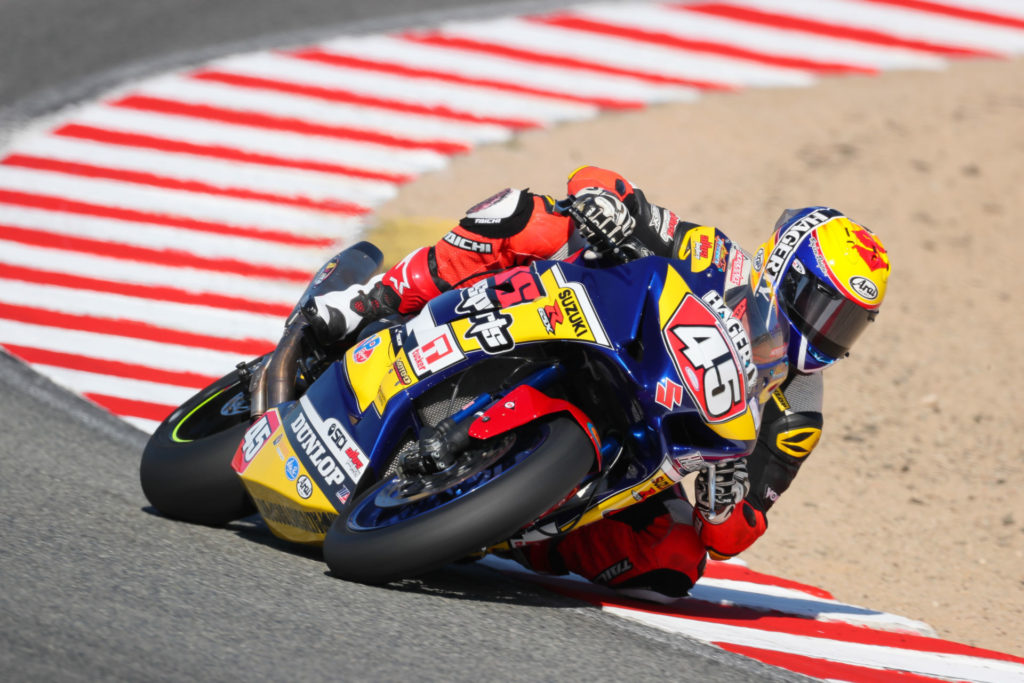 South African Cameron Petersen put the finishing touches on what has to go down as the best season of his career to date. The recently crowned Stock 1000 Champion guided his Team Hammer-built Altus Motorsports Suzuki GSX-R1000 to the eighth win of his championship-winning season.
He then added the Superbike Cup – which serves as a championship-inside-a-championship that honours the top Stock 1000 rider in the premier-class – thanks to a trio of premier-class top 10s at Laguna Seca, including a fifth-place race in Race 2.
Reflecting on his season, Petersen said, "This is everything. I've been working for this my whole life. To win again is such a good feeling. It's been a great season. I've got so many people I need to thank: First of all my team for believing in me. My family for all the sacrifices they made for me. It's pretty special and we finally did it. And the M4 ECSTAR Suzuki team as well who played a big role in my success so a massive shout out to them as well."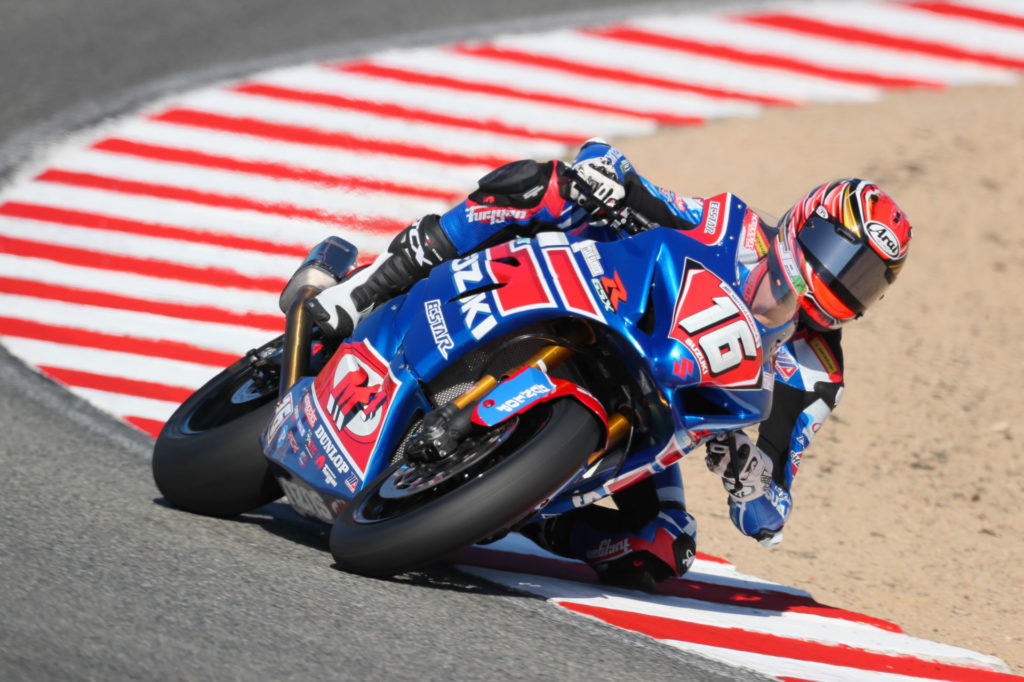 M4 ECSTAR Suzuki's Alex Dumas again demonstrated that he's fast returning to full strength after suffering a mid-season injury. The young French Canadian was Petersen's stiffest competitor in the Stock 1000 class at one point in the season aboard his similarly outfitted GSX-R1000. Dumas scored a close fourth in the finale, hinting that he'll be back in the hunt for race wins and championship victories in 2021.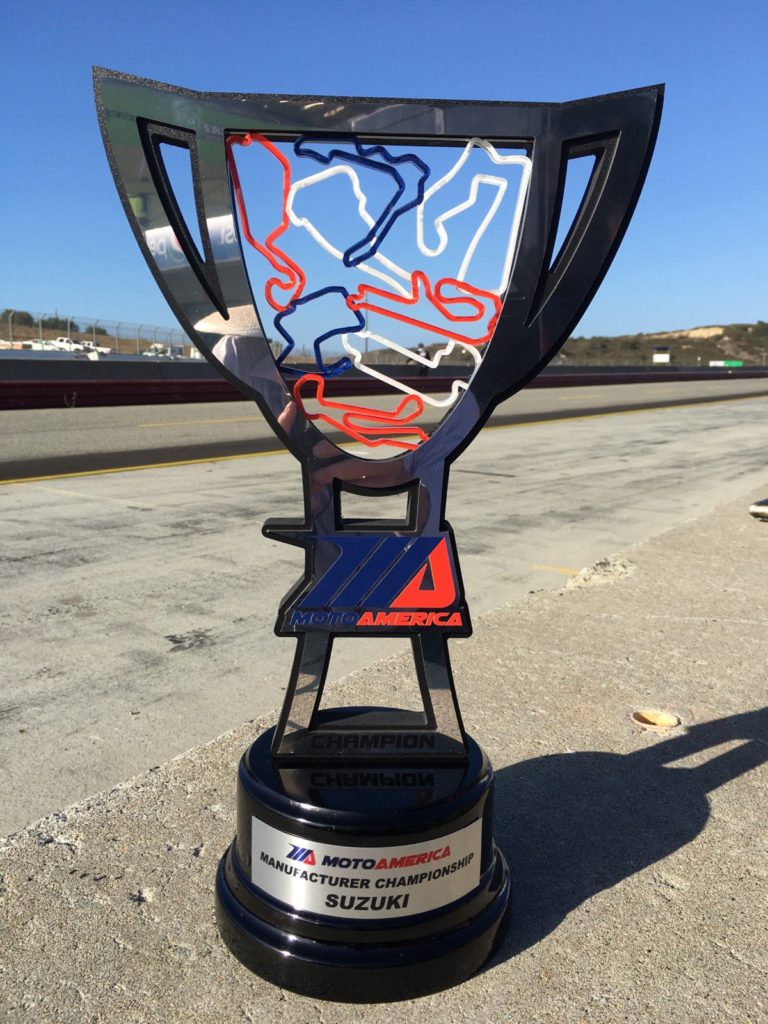 In addition to the numerous wins and podium finishes, Suzuki Motor of America Inc. was presented with the MotoAmerica Manufacturer Championship trophy for the 2020 season.
More, from a press release issued by Ducati North America:
Ducati Finishes 2020 MotoAmerica Superbike Championship on the Podium at Laguna Seca
Sunnyvale, Calif. – The final round of the 2020 MotoAmerica Superbike Championship was a great one for Ducati duo Lorenzo Zanetti and Kyle Wyman, with Zanetti ending the year's campaign with three podiums from three starts in California.
Zanetti, on his first visit to Laguna Seca, ended up bagging 3-2-3 results, consistently challenging Toni Elias, Bobby Fong, and Jake Gagne in an exceptional showing for the Ducati Panigale V4 R SBK.
Kyle Wyman also showed his mettle as he battled through for 5-7-7 results at Laguna Seca. The Arizona resident endured a crash on Sunday morning but battled through to a duo of top 10 results to close out the season in seventh place overall.
2020 MotoAmerica Superbike Standing – Top 5
P1 – Cameron Beaubier (Yamaha) 436
P2 – Jake Gagne (Yamaha) 301
P3 – Bobby Fong (Suzuki) 253
P4 – Toni Elias (Suzuki) 222
P5 – Mathew Scholtz (Yamaha) 221
P7 – Kyle Wyman (Ducati) 174
P9 – Lorenzo Zanetti (Ducati) 118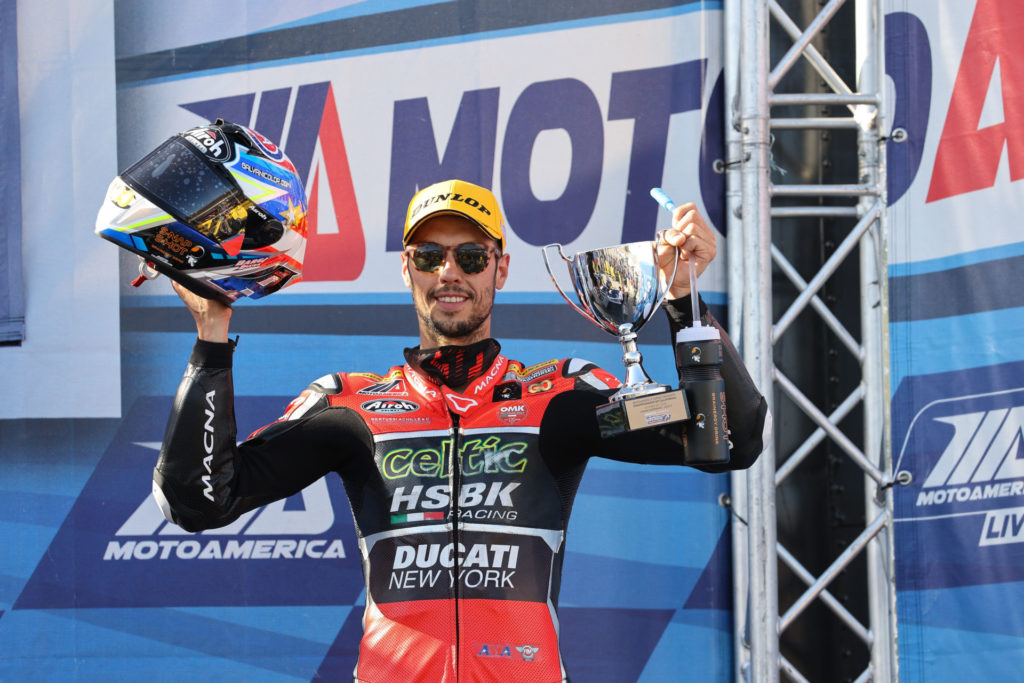 Lorenzo Zanetti (Celtic HSBK Racing – Ducati #87)
"In the end, it's been amazing," Zanetti said. "Three races, three podiums. If we think back to two months ago, the project has come a long way. I believe we had a good package from the first round at The Ridge but we needed to work within the team to make sure we're in the position to win.
"Since then, we worked in a great way, we got the budget, and then it was time to race, even with the pressure. We got the win at Indy, but Laguna Seca is a very different circuit.
We had great pace at this circuit. We improved the pace all through the weekend, and I am very happy to get these three podiums.
"I really hope to come back here next year. If you see in the last two races, I am close to Cameron Beaubier, I can battle. I need to learn and understand the other tracks, but, I know my potential."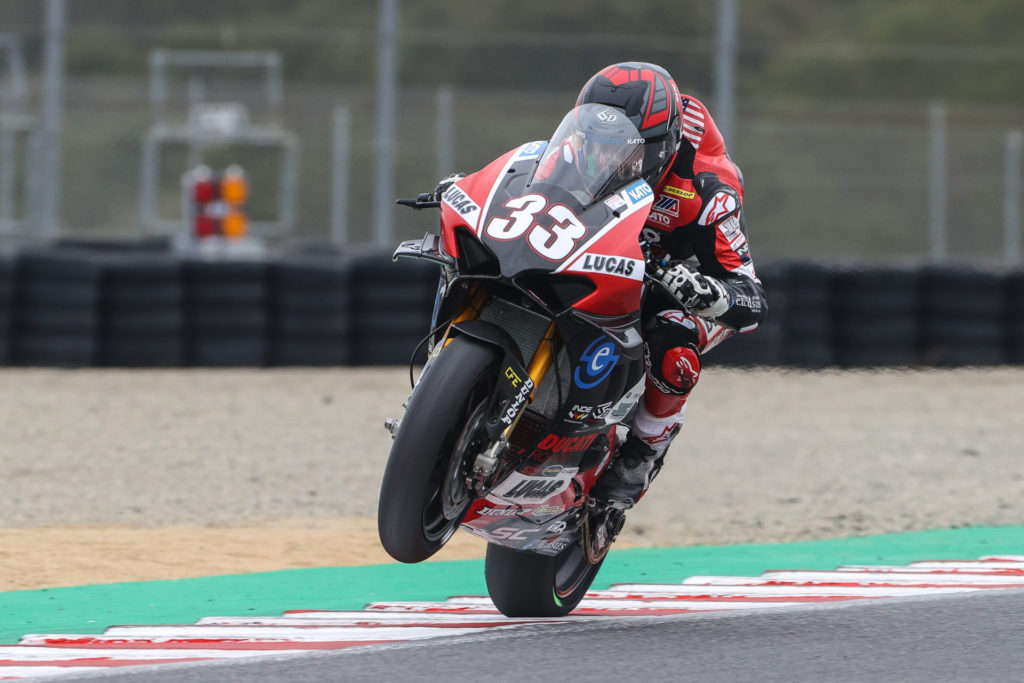 Kyle Wyman (#33 Ducati Richmond/KWR Ducati Team)
"The first thing this morning, it was misty, and I threw the bike down the road," Wyman said of his warm-up crash. "We had an hour and a half until race two, and the boys had to scramble to get the bike ready.
"It was a half-dry, half-wet race, and everyone was on slicks. I got off to a pretty slow start, just trying to make sure I didn't toss the thing again. We were pretty far back, about twelfth or so, but I battled back and got seventh, which was a pretty good result considering how the morning started.
"We got seventh again in race three as well. We got up to sixth, but I just didn't have the pace needed. Overall, the race time was about two seconds quicker than Saturday. That was a little frustrating because it meant we were a little stuck on our Friday pace. All in all, we got three-point scoring finishes, so that's positive for us heading into the off-season."
More, from a press release issued by Travis Wyman Racing:
Travis Wyman finishes 2020 MotoAmerica season runner-up in Superbike Cup, third in Stock 1000 standings
Klock Werks-sponsored rider also scores fourth place in King of the Baggers exhibition at WeatherTech Raceway Laguna Seca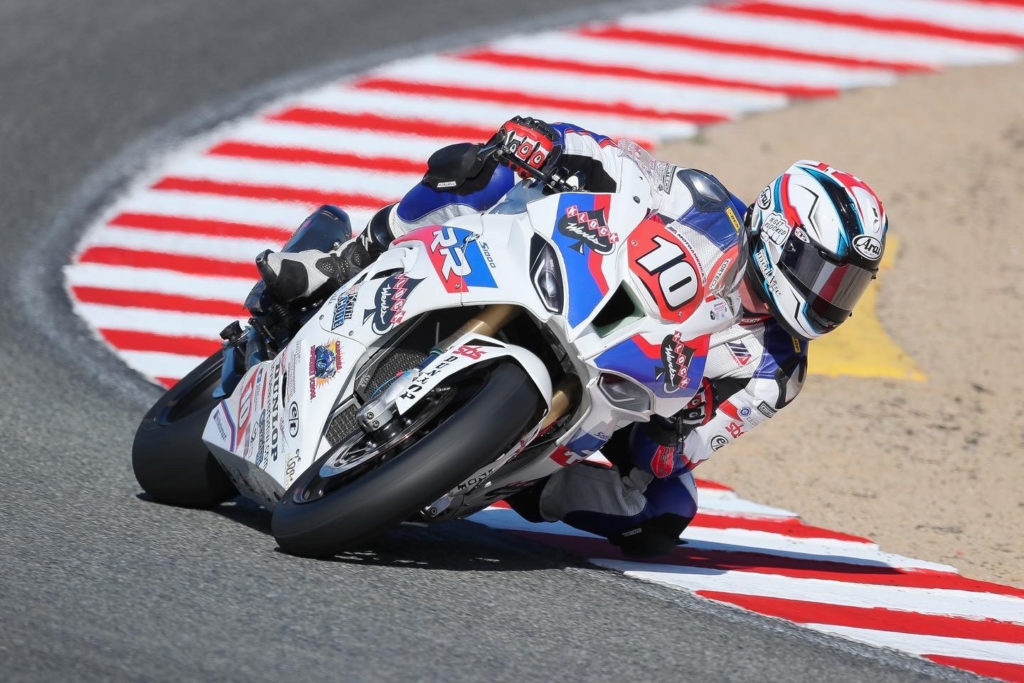 It was a struggle to make it through the final round of the 2020 MotoAmerica season for Klock Werks Travis Wyman Racing BMW, but Wyman finished high enough at the Oct. 23-25 event to finish the season in second place in the Superbike Cup and third in the Stock 1000 championship.
Wyman also competed in the MotoAmerica King of the Baggers exhibition race, scoring a fourth-place finish aboard a Trask Performance-prepared Harley-Davidson Road Glide. The MotoAmerica season finale took place at WeatherTech Raceway Laguna Seca in Monterey, Calif.
The event marked the end of the team's first season competing with a 2020 edition BMW S 1000 RR. Though the team's motorcycle experienced engine problems early in the weekend's racing action, Wyman was able to nurse the bike through the four-race event.
Wyman had a good start to the weekend, scoring third place in Stock 1000 — his fifth front-row starting spot of 2020. Things got difficult for Wyman in the event's only Stock 1000 race early Saturday afternoon. After getting a good jump off the line, Wyman began drifting down the running order due to a diminished engine performance. Wyman finished Lap 1 in sixth place and remained in sixth for the rest of the 14-lap race.
In the Saturday Superbike race, the motorcycle engine issued got worse. Starting the race from 15th place, Wyman quickly began tumbling down the running order. He fell back to 17th by the end of Lap 1 and was running in 19th when he retired from the contest on Lap 8.
Sunday's first Superbike race was run in wet conditions, and Wyman made the most of that opportunity. With the conditions making his bike's lack of horsepower less of a problem, Wyman gradually worked his way up the running order, finishing the race in 12th place. In the third Superbike race of the weekend, Wyman was running 17th most of the race before pulling into the pits on Lap 17. After the team had checked over Wyman's machine, he was able to rejoin the race, netting a 16th-place finish.
The team's title sponsor for the event was Klock Werks. The South Dakota-based company makes a variety of parts and accessories for motorcycling and off-road enthusiasts, The company's wide-ranging line includes handlebars, fenders, patented Flare windshields, klip hanger and ergo handlebars, stamp steel fenders, iOmount phone holders and Shine Werks cleaning products.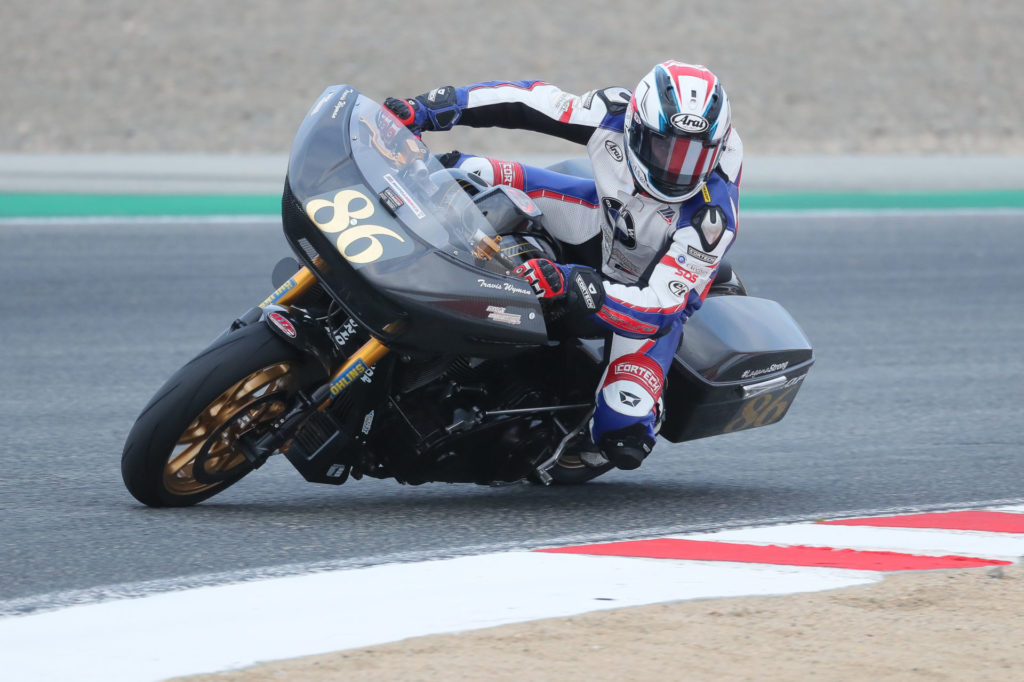 The Trask Performance Harley-Davidson Wyman rode was one of 13 custom-built motorcycles that took part in the King of the Baggers race. Trask Performance is based in Phoenix, Ariz., and built the turbocharged machine specifically for the event.
With the 2020 season having come to a close, Travis Wyman Racing BMW thanks its many sponsors and fans for their support during the challenging 2020 season.
Travis Wyman / #10
"This wasn't the way we wanted to end the season, but – for all the adversity we faced this year – everyone on the team is happy with where we finished in both classes. It was a shame we didn't get to show off the full potential of our BMW here at Laguna Seca, but I'm super proud of what Alex Torres, my mechanic, Steve Weir, my crew chief, and I were able to accomplish this year. We took a motorcycle we'd never raced before, campaigned it against talented grids of riders and finished in the top three in two MotoAmerica classes. It was easily the toughest pro racing season I've had between my elbow injury and racing three or four times at each round. I owe a big thank you to Brian Klock of Klock Werks for getting behind my team as our title sponsor this round, and hats off to Trask Performance for the opportunity to race their bike in the King of the Baggers race. I didn't get a lot of seat time on the Trask bike before this event, but it was a blast pushing the bike as hard as it would let me around Laguna Seca."
More, from a press release issued by Indian Motorcycle:
UNDISPUTED: INDIAN CHALLENGER OFFICIALLY BECOMES "KING OF THE BAGGERS" WITH DRAMATIC VICTORY AT LAGUNA SECA
Inaugural Bagger Road Race Sees Indian Challengers Claim Two of Three Podium Spots as Road Racer Tyler O'Hara Takes the Victory on the S&S Cycle Indian Challenger & Frankie Garcia Takes Third Place on the Roland Sands Design Indian Challenger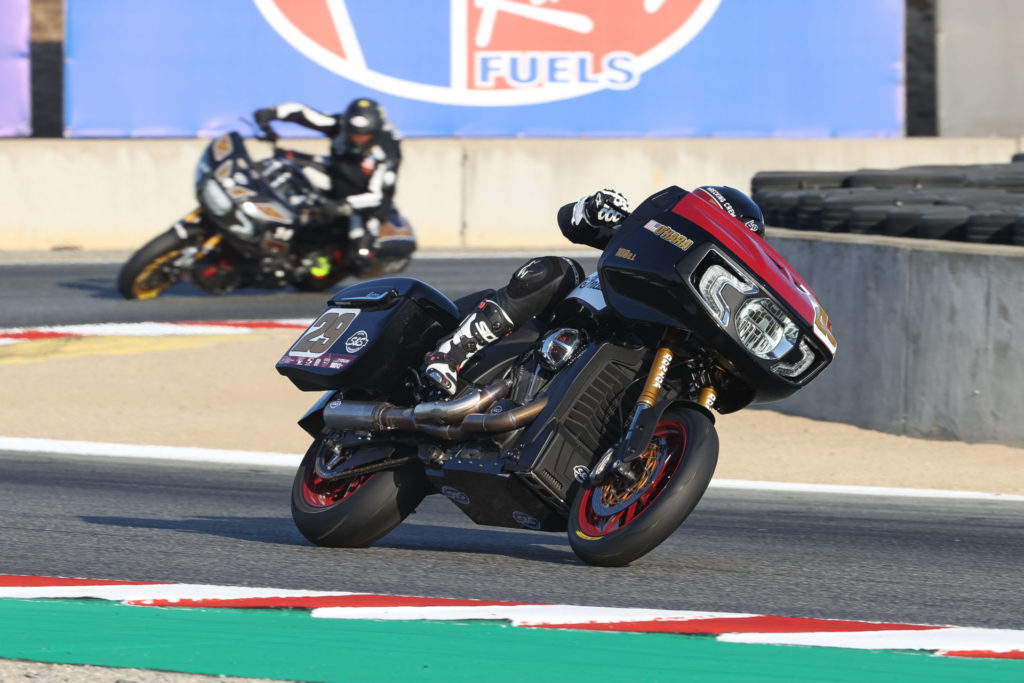 MINNEAPOLIS (October 27, 2020) – Indian Motorcycle, America's First Motorcycle Company, added to its racing legacy with a historic win at the inaugural Drag Specialties King of the Baggers invitational at Laguna Seca Raceway. Facing a field of 11 Harley-Davidsons, the S&S Cycle Indian Challenger, piloted by highly decorated motorcycle racing Champion Tyler O'Hara, captured the win, while veteran rider Frankie Garcia put his Roland Sands Design Indian Challenger on the box with a third-place finish. Claiming two out of three podium positions, the Indian Challenger dramatically showcased its superiority on one of road-racing's most iconic and technical tracks.
The historic race played out in truly dramatic fashion. Barely, 24-hours after an accident where he "looped" his 600-lb. machine during qualifying, Frankie Garcia rebounded taking the holeshot. But it was O'Hara who immediately established a commanding lead through the first three laps. With five laps remaining, an off-track mishap sent O'Hara back to third and Garcia to second, allowing veteran rider Hayden Gillim to take the lead. From there, O'Hara began a patient, methodical comeback, working his way past Garcia and dramatically passing Gillim while diving into the famed "corkscrew" during the penultimate lap. O'Hara held strong for the final lap winning the inaugural race by 1.9 seconds and earning the title "King of the Baggers."
"It's an incredible honor for us to race on this historic track at this historic event, against a field of incredibly talented teams and riders, and we're absolutely thrilled to come away victorious," said Gary Gray, Vice President – Racing, Technology and Service for Indian Motorcycle. "Tyler, Frankie and the S&S Cycle and RSD teams did an incredible job and ultimately, they were able to show the world just how special the Indian Challenger is. We couldn't be more proud of them or our bike."
Race fans witnessed history, as the inaugural King of the Baggers reached social media viewers in record numbers – recording over two million views and more than 30,000 Facebook shares.
"Watching 13 baggers carving through Laguna Seca's famed 'Corkscrew' was a special moment in motorcycle racing," said Reid Wilson, Vice President for Indian Motorcycle. "That said, watching the new Indian Challenger defeat 11 highly-modified Harley Davidsons was a monumental achievement and dramatic validation for the work our product designers and engineers have put into developing the Indian Challenger."
The inaugural King of the Baggers race could not have been more appropriately timed for the Indian Challenger. In a year that saw Indian Motorcycle introduce the new bagger with the Challenger Challenge – a dealer test-ride program that invited riders to compare the Indian Challenger head-to-head against the Harley-Davidson® Road Glide® Special – the inaugural race created a dramatic extension of the marketing program in a full-fledged competitive racing format.
The victory at "King of the Baggers" also came on the heels of Indian Motorcycle Racing earning its fourth consecutive Grand National Championship and Manufacturer's Championship in the American Flat Track racing series.
For more information about Drag Specialties King of the Baggers, visit MotoAmerica.com. Learn more about S&S Cycle at SSCycle.com, Roland Sands Design at RolandSands.com, and Indian Motorcycle at IndianMotorcycle.com, Facebook, Twitter and Instagram.
ABOUT INDIAN MOTORCYCLE®
Indian Motorcycle Company is America's First Motorcycle Company®. Founded in 1901, Indian Motorcycle has won the hearts of motorcyclists around the world and earned distinction as one of America's most legendary and iconic brands through unrivaled racing dominance, engineering prowess and countless innovations and industry firsts. Today that heritage and passion is reignited under new brand stewardship. To learn more, please visit www.indianmotorcycle.com.
INDIAN and INDIAN MOTORCYCLE are registered trademarks of Indian Motorcycle International, LLC.  Always wear a helmet, protective clothing and eyewear and insist your passenger does the same.  Ride within the limits of the law and your own abilities.  Read, understand and follow your owner's manual. Never ride under the influence of drugs or alcohol.