Copyright 2019 Roadracing World Publishing, Inc., All Rights Reserved
By Michael Gougis
After three years in Red Bull Rookies Cup on Moto3 bikes, last November American Sean Dylan Kelly wasn't sure what he would be racing in 2019. A year later, after a successful first season racing a Suzuki GSX-R600 in MotoAmerica Supersport–including two wins–Kelly was on the Moto2 World Championship grid for the 2019 season finale, at Circuit Ricardo Tormo, in Valencia, Spain.
"This is a dream come true–everything that me and my family have been working for," Kelly said at Valencia on Saturday.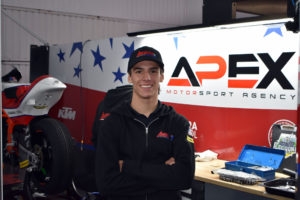 The opportunity to race at the GP level came quickly, but the groundwork had been laid a long time ago. When Kelly signed with Team Hammer, part of the plan was to help Kelly get back onto the Grand Prix paddock after two years racing an M4 ECSTAR Suzuki in the MotoAmerica series. And before that, as Eitan Butbul was starting his career as a Grand Prix rider manager and heading down a path that would lead him to the ownership of the American Racing Team Moto2 squad, Kelly was racing in the Red Bull MotoGP Rookies Cup series. Butbul met with Kelly, Kelly's father Pat, and Team Hammer's John and Chris Ulrich during last July's World Superbike/MotoAmerica round at WeatherTech Raceway Laguna Seca, and all agreed to look at any opportunities that might come up for Kelly, and for future Team Hammer riders.
"(Butbul)'s always shown interest in me. Up until now, we haven't had the opportunity. Two weeks ago, he called me up and said, 'Hey look, there's this opportunity,'" Kelly said. A quick check with Team Hammer's Chris Ulrich, and Kelly was good to go for a one-off Wild Card ride at Valencia.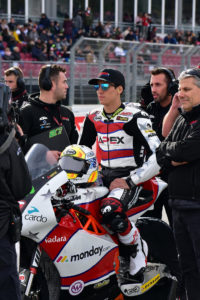 Miguel Oliveira's shoulder injury and subsequent surgery had left him on the sidelines until next year. Tech 3 asked Butbul if Iker Lecuona, (one of Butbul's American Racing Moto2 KTM riders and already signed to move up into MotoGP with Tech 3 in 2020), could ride Oliveira's Red Bull KTM Tech 3 MotoGP racebike in Valencia. Butbul agreed, and that left him looking for a replacement rider to partner American Joe Roberts in the 2019 season finale.
"'That leaves my Moto2 bike open. I want you on the bike,'" Butbul said, according to Kelly. "I said, 'No problem!' He told me on a Saturday night, and I didn't get the confirmation until Wednesday, so I didn't sleep for about four nights. It was crazy to come to the realization that I might be making my Moto2 debut."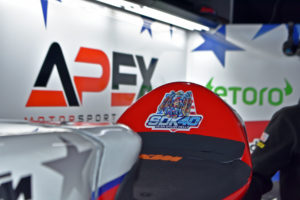 A flurry of reservations and applications followed, then Kelly hopped on a plane for Valencia. There were a few differences between racing in MotoAmerica and in Moto2–not necessarily better, but different. The semi tractor-trailers were packed tight in the Valencia paddock, and yes, the team worked from a garage space–but it was barely wide enough for a mechanic to stand next to the machine!
The year of racing MotoAmerica Supersport with Team Hammer helped prepare Kelly. "Being in a team like Team Hammer, having a crew chief, Jeremy Toye, a mechanic and a support system around me definitely prepared me for this," Kelly said. "It taught me how to learn, how to understand data, how to control a bigger bike. My training, my learning outside of the track, it definitely helped me–I've grown a lot as an athlete."
Adapting to the Moto2 machine required Kelly to dig deep into his skill set of how to learn a new motorcycle quickly, as the middleweight GSX-R600 he raced in the U.S. had little in common with the middleweight Moto2 bike.
"Night and day," Kelly says, when asked about the differences between the two motorcycles. "Yes, it's a 600-class engine, I guess you could say. But the Moto2 chassis is way more rigid. The Suzuki I've been racing this year–at the end of the day, it's a streetbike. Compared to that, the way that this reacts to braking, the way that this reacts to trail braking, is much different.
"The Suzuki–it's really good feeling on the front, but it's heavier feeling. With the Moto2 bike, the feedback is very intense. The inline braking–you can be much more aggressive. You can really load the front. And the trail-braking is something super special as well. You need to feel like you're going wide in every corner, and then you hit the apex perfectly. That is the fastest way to carry corner speed. Getting back on the throttle, these (Moto2) guys are insane. They're at full throttle super, super early."
Kelly was 2.825 seconds back from the quickest lap time in the first practice session at Valencia. Kelly trimmed that gap to less than 1.7 seconds at the end of qualifying, and he lined up 27th out of 32 riders on the grid.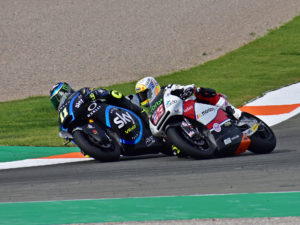 "The start was incredible. It was really interesting to see–they're crazy at the start! And I definitely didn't want to take a step back, so I was in a fight for the first couple of laps," Kelly said. "There was passing, there was touching. Then I just tried to settle in. I had to keep stable, be super-smooth. Any small change, any minimum mistake would really throw everything off. The temperature was dropping a lot. There was a lot of wind. Definitely really, really hard."
Kelly's race ended on the second-to-last lap with a low-speed lowside in Turn 11, where several riders had already been caught out. "Definitely a bummer not to finish the race, but overall it's been an awesome weekend," Kelly said.
Making it just a little more awesome was the number on the front of the fairing. With the blessing of the Hayden family, Kelly ran the #69 of MotoGP World Champion Nicky Hayden (R.I.P.). The number is retired in MotoGP, but it can be used in the other classes, and Kelly was in a pinch for a number to race with. His normal race number–40–was taken, as was 04, its reverse. His first-ever race number, 31, was also taken. He noticed that 69 was available. He thought a lot about it, then he picked up the phone.
"'I'm going to talk to Roger (Hayden),'" Kelly said he thought to himself. "I met Roger this season, I met his dad, and I knew Nicky. I called Roger and told him about the opportunity, and I just asked him, 'What do you think about me using Nicky Hayden's 69 on my debut?' And he said, 'All for it.'
"I said, 'OK, do you want to ask the family, mom, dad?' And he said, 'All for it. They're gonna want to do it.' It really hit me when 10 minutes later he sent me the e-mail and it's Nicky's exact replica of the 69. I just opened it up on my laptop and went, 'Wow. Definitely something super, super special.'"
Kelly will be racing in MotoAmerica with Team Hammer again in 2020, with more non-conflicting Moto2 wild-card 2 rides possible. If all goes well, he's looking forward to racing with Butbul's Team America in the Moto2 World Championship in 2021.