2021_QATAR_Moto2______Moto2____OFFICIAL_TEST_combined_sessions_9

More, from a press release issued by Dorna.
Lowes, Bezzecchi and Gardner end Sunday within just 0.048
It was another incredibly close day on the timesheets for Moto2™, with the Brit taking top honours this time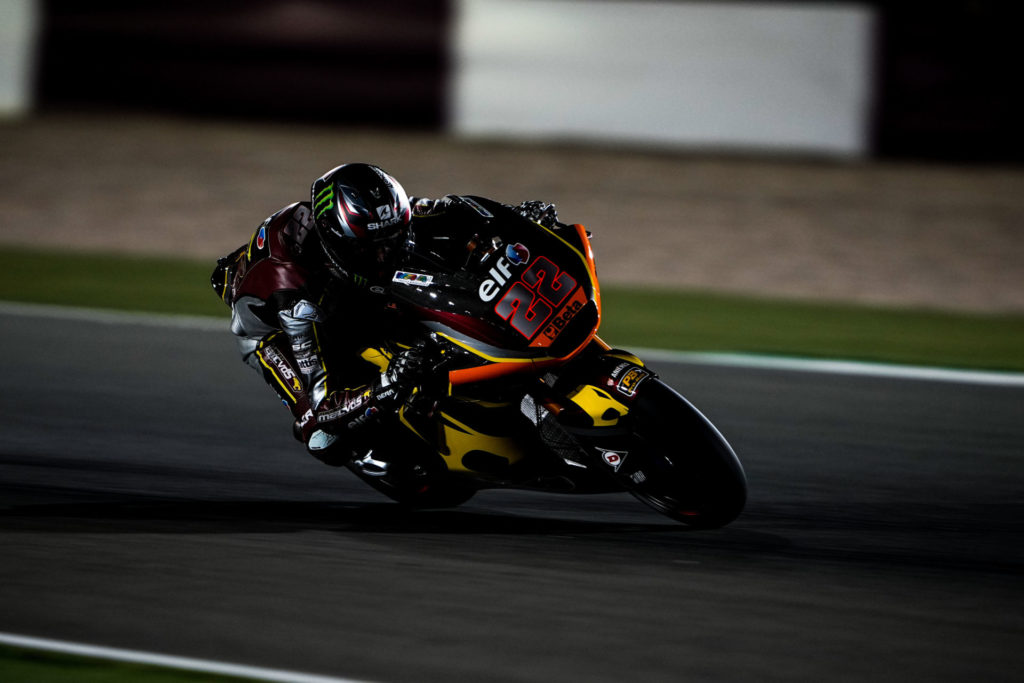 Sunday, 21 March 2021
Another day, another incredibly tight fight at the top of the Moto2™ timesheets? Yup. Sunday at the Official Moto2™ and Moto3™ Qatar Test saw Sam Lowes (Elf Marc VDS Racing Team) snatch P1 in the intermediate class, but the top three was covered by just 0.048 as Marco Bezzecchi (Sky Racing Team VR46) took second and Remy Gardner (Red Bull KTM Ajo) third. All three will likely be starting the year expecting to challenge for wins, and their tests only underlined their speed.
The conditions were fair on Sunday once again, and Lowes' best is the quickest lap of the test as preparations continued for the coming race weekend(s). The gaps one again show we have a stunner in store, across the top three and throughout the timesheets. Lowes, Bezzecchi and Gardner will leave the test happy, and so too will Jake Dixon (Petronas Sprinta Racing) as the Brit rounded out Sunday in fourth. After a wrist injury that could have been a career-threatener, getting straight back into the top five is no mean feat. That top five on Day 3 of the test was completed by Dixon's teammate Xavi Vierge, who was fastest on Saturday.
Sixth place goes to Bo Bendsneyder on Day 3 as the Dutchman continues to impress upon his move to Pertamina Mandalika SAG Team and Kalex. He was only 0.033 off Vierge as he made a late leap up the timesheets, and is another who has been consistently improving. Nicolo Bulega (Federal Oil Gresini Moto2) ends Sunday in seventh, another late to move up the timesheets but doing so in style.
Style is also a good word to describe the start of Raul Fernandez' (Red Bull KTM Ajo) Moto2™ career. Fastest rookie throughout, the Spaniard is on course for an incredibly impressive debut race weekend. So too, now, is Albert Arenas (Inde Aspar Team) though as the reigning Moto3™ World Champion shot up into the top ten on Sunday, only 0.052 off fellow rookie Fernandez. Arenas' teammate Aron Canet completes the top ten, sliding down from second on Day 1 and Day 2 but another with some key consistency.
Stefano Manzi (Flexbox HP40) takes P11 by just 0.003 ahead of another impressive rookie in the form of Ai Ogura (Idemitsu Honda Team Asia), with yet another right behind him: Cameron Beaubier (American Racing). The American was only 0.016 off Ogura too… and pipped compatriot Joe Roberts (Italtrans Racing Team) by 0.011. Marcel Schrötter (Liqui Moly Intact GP) completed the fastest fifteen, just edging out rookie teammate Tony Arbolino.
That's it from the pre-season test for the Moto2™ class, with the stage well and truly set for the first race of the season. Are Lowes, Bezzecchi, Gardner and their experienced compatriots ready for battle? And can the rookies edge ever closer as practice begins? Find out on Friday as the Barwa Grand Prix of Qatar begins. And in the meantime, keep an eye out for more content from the test on motogp.com!
More, from a press release issued by Marc VDS Racing Team:
Sam Lowes tops Qatar test to end pre-season in style
A busy but positive pre-season campaign came to a conclusion for Elf Marc VDS Racing Team riders Sam Lowes and Augusto Fernandez in Qatar this evening.
Lowes gave himself a huge confidence boost at the end of the three-day test by topping the overall timesheets in superb fashion, while Fernandez concentrated on finding a better setting with the rear of his Kalex chassis.
Lowes and Fernandez will return to the Losail International Circuit in just five days for the opening Free Practice session of the 2021 World Championship, which kicks off a scheduled 19-round title battle.
 
Augusto Fernandez
/// 24th: 1'59.739, 29 laps
Fernandez dedicated much of his time on track today to working on rear set-up tweaks, with the aim of finding more grip on corner exit and stability under acceleration.
Fernandez collected plenty of important data to analyse ahead of this weekend's opening race and in the third and final session he clocked a personal best pace of 1'59.739.
The close nature of the competition coming up in 2021 was highlighted on the final timesheets, with Fernandez finishing 24th but the Spaniard only missed the top 10 by 0.5s.
"I am sure we can show our potential in the race"
"It's been a hard day and a shame to finish the test like this. I wasn't feeling good on the bike and I also had a crash in turn six, so it was a difficult session. We worked a lot on the rear of the bike to understand more about what we need for the set-up next weekend. We had two positive days and that means I need to quickly forget what happened today. I'm not that far away in terms of the times and with all the positive things we have worked on this weekend I am sure we can show our potential in the race."
Sam Lowes 
 
/// 1st: 1'58.655, 34 laps
Lowes has been a main protagonist throughout the entire Qatar test and once again tonight he was constantly challenging for the top three.
The 30-year-old powered his Kalex machine to a stunning time of 1'58.655, which came during a very impressive race simulation and not a soft tyre time attack.
That lap was only 0.5s away from the official All Time Lap Record set by Joe Roberts in Q2 last year and only Marco Bezzecchi and Remy Gardner lapped within 0.1s of the British star.
"We've done a great job all winter"
"Today was a very good day and it's always nice to finish fastest. We worked a lot on the bike over the first two days to give me a good feeling and in the last session tonight we put our best package together and did a race simulation. I had a really good rhythm and to be honest I didn't expect to be fastest because I didn't do a time attack. I just did the race run and my best time came in that, so I'm very happy. The team did a great job because the bike felt great at the time we will be racing at on Sunday, particularly with used tyres. We've done a good job all winter and now I can look forward to this weekend expecting to have a lot of fun to start the season."
More, from a press release issued by Italtrans Racing:
Italtrans Racing Team completed three productive days of testing in Qatar
The 2021 MotoGP season will officially start in a few days with the Qatar Grand Prix, scheduled next week in Doha.
An important event for Italtrans Racing Team with the reconfirmed Lorenzo Dalla Porta and the new entry Joe Roberts, after the extraordinary success with the conquest of the Moto2 World Title together with Enea Bastianini at the end of a 2020 of intense and thrilling emotions.
After the test at Jerez de La Frontera, the team completed today the Official Test at the Losail International Circuit. Three days of hard work with positive results.
Despite the problems with the tyres, both riders showed good sensations on the long run and single lap: Dalla Porta is determined to confirm his growth in Moto2 and Roberts is even more confident with the team.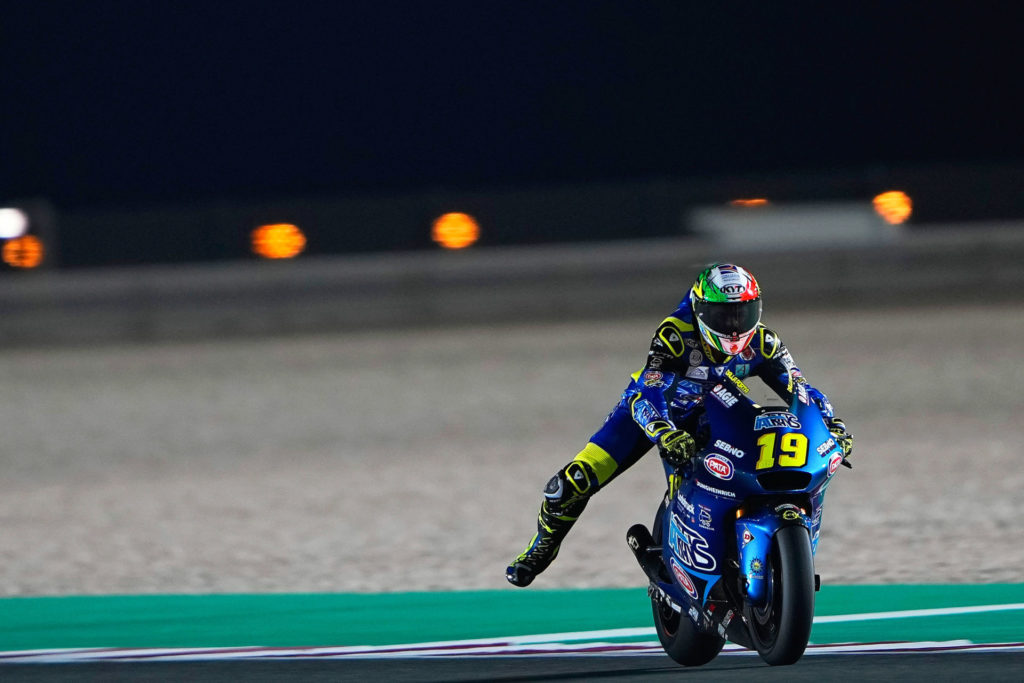 Lorenzo Dalla Porta – 19
"It wasn't the test we expected. I was very slow and after the last session with the new tyres I thought I could improve, but they didn't work as we wanted. We're looking beyond that because these are not the results we want and we can get".

Joe Roberts – 16
"The three days were important more days of riding and working with the team. I'm happy with making the progress: we didn't quite get the lap time we want, missing the last lap to get some clean track, had lot of riders in the way. But I'm really happy for the way we worked and what we're doing I think in race time will be very great".
Giovanni Sandi – Technical Director 
"We had some problems with the tyres and so we cannot take note of these results. The positive side is that with a "failed" tyre the guys did a good job. The classification gives a result that does not belong to us: we will show our potential next week in the race".