A tough end to the French Grand Prix for the American Racing Team as Sean Dylan Kelly narrowly missed out on his first points of the season whilst Rory Skinner crashed out from 20th.
It was a mixed start to Sean's weekend as he climbed into the top 10 early in FP1 before a crash at Turn Three 15 minutes into the session. The American was able to re-join for the final 10 minutes but a second crash at Turn Seven prematurely ended his morning in 25th. Sean significantly improved in the afternoon session, cutting 1.3s off his best time from practice one and narrowly missing out on a direct spot in Q2 by a mere 0.19s.
Overnight rain left the circuit soaked as Sean hit the track for the final practice session. As the track conditions continued to evolve, Sean boosted himself into third on the timings in the final few minutes but was unable to improve on his combined timings position.
With a dry track and the sun shining for Qualifying, Sean quickly took himself into P1 with an impressive early lap before being pushed down to the fringes of the top four. Despite putting in his fastest time of the weekend, he narrowly missed out on a Q2 spot by the tiniest margin, 0.028 of a second.
Lining up from 19th position, Sean dropped three positions in the opening lap. A multi-rider crash three laps into the race brought out the red flag, sending all the riders back into the pits.
Once the track was cleared, race distance was reduced to 14 laps with a quick restart procedure implemented.
As the lights went out for a second time, Sean began his fight towards the points positions as he battled with Senna Agius before moving into 15th spot.
Sean maintained the final points place for the majority of the race but was caught by the hard-charging Sam Lowes on the final lap, snatching his first points finish of the season from him as he crossed the finish line in 16th.
Rory's first visit to the Le Mans circuit in six years got off to an equally tricky start to his teammate as the Scot took an early tumble at Turn Three. Heading back out for the last 10 minutes, Rory suffered his second crash of the session at Turn 13, ending his FP1 in 28th. Rory continued to reacquaint himself with the French circuit in practice two, improving by 1.4s despite suffering from suspected flu to end Friday in 28th place.
Still nursing an illness, Rory joined the damp practice three session to collect some valuable lap time. As the track rapidly dried, the Scot continued to improve, ending the final practice in 15th place ahead of Qualifying.
In the much-improved conditions in Q1, Rory left it until the final moments to put in his best lap time of the weekend to take 26th position.
On race day, Rory maintained his 26th position for the initial three-lap dash before the red flag spotted all action.
Taking to the track for the second time, he made great progress on lap one as he made his way into 20th place and had his sights set on another top-20 finish.
Unfortunately, a highside at Turn Six on lap five ended Rory's impressive run prematurely.
Sean Dylan Kelly #4
I was just off the points in the race. I'm a little bit disappointed because I was P15 until the very last lap – I just felt like I lacked a little bit of something to be more competitive with the group in front of me, P12 was right ahead, and I was trying really hard, and I was able to keep right behind them, but I didn't have enough to make some passes. It was a little bit disappointing to not have that extra juice at the end but, looking at the positives, we were in that fight for the points until the very last lap and yesterday we were just off Q2 which is the objective.
Compared to last year when this was one of my absolute worst weekends, I was really far off and I had a really tough time, I think I was able to make a good turnaround to one year later and, even compared to practice one, I was feeling strong but I had two pretty big crashes so the fact I was able to make that step after those was really important for me
Overall, it was an important weekend. I think we made some important steps, and we were fighting in the battle – now it's time to look at the positives and build on everything else. We have three weeks now before the triple-header so I'm really looking forward to this mini-break and I'm ready to come back stronger.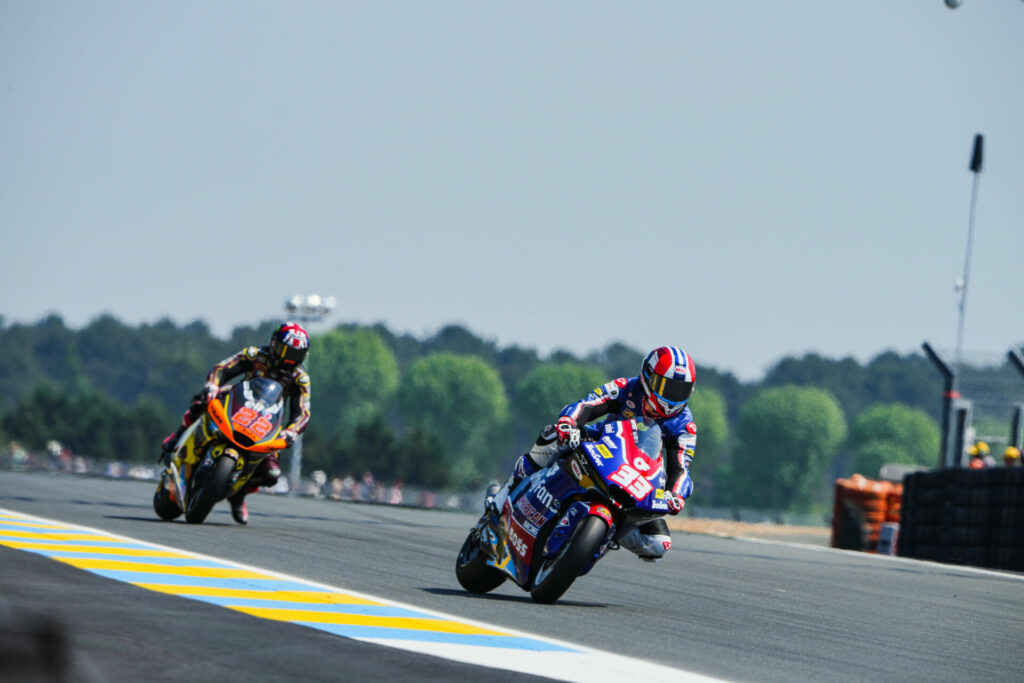 Rory Skinner #33
The weekend has been very up and down. Obviously starting off the weekend with two crashes wasn't ideal and I've felt quite under the weather for a large majority of the weekend but that is what it is, so I just had to get on with that.
It was good after Qualifying, we made some good steps in it on my own and I felt quite good going into the race in both starts, the original and the restart – I got a good launch off the line in both and got into a good group and was settling in for the race but the crash in the restart wasn't great as it was a fairly sizeable highside straight to my face – I'll be feeling that one for a few days – also my wrist is a little sore as I've aggravated an old injury.
I'm happy with the progress we're making, it is coming – I know I've said that every weekend, but it is and we're making steps in the right direction, it's just taking a little longer than I originally anticipated.