Young defends title for first time as wide-open series returns to SMP this weekend
Toronto, ON – After months of speculation surrounding a vastly different and unpredictable 2023 Bridgestone Canadian Superbike season, our first answer will finally be delivered this weekend at Shannonville Motorsport Park, May 18-21.
Much has changed since the last time we saw the feature GP Bikes Pro Superbike championship at CTMP in August 2022, and that different feeling will be on full display at historic SMP – a venue not seen on the CSBK calendar since 2019.
With the new era of Bridgestone tires fully underway, a return to a historic circuit for the first time in four years, and an influx of both purse money and new talent into the feature class, it will likely be a season full of unfamiliarity.
One thing that will feel familiar, however, is Ben Young being the man to beat.
Watch the exclusive round one video preview here:
The reigning national champion for the second time in his career, Young will be sporting the #1 plate for the first time after sitting out the 2020 season (winning in 2019), but it almost seems fitting as the 2022 version of Young was unlike anything we saw before.
Winning five of nine races and finishing inside the top-two in every single one of them, Young took home 225 of a possible 250 points to defeat rival and then-champion Alex Dumas by 29.5 points (the last race awarding half-points due to a red flag).
More impressively, Young completely obliterated the notion from earlier in his career that he was "too safe," winning races six and seven in aggressive and dramatic fashion over Dumas to seal the Canada Cup for the Van Dolder's Home Team BMW program.
Combine all of this with the memory that Young is the most recent victor at SMP – winning round one in 2019 en route to his first championship – and it would be fair to assume that no one will touch him this weekend.
That couldn't be farther from the truth.
Dumas will have plenty to say about being the "underdog" entering 2023, having won eight times in 16 races since moving north to his home country and missing the podium only once – his infamous crash out of the lead in race five at AMP a year ago.
The Purple Skull Brewing/Liqui Moly Suzuki rider also won't have the narrative of track inexperience against him this time around, after losing 44 points to Young across the two tracks he visited for the first time in 2022 (Grand Bend and AMP).
While he's yet to race nationally at SMP, the 20-year-old is an instructor at the FAST School located right within the venue, and he showcased that track knowledge by topping the Super Series regional opener this weekend, just 1.8 seconds off the outright lap record.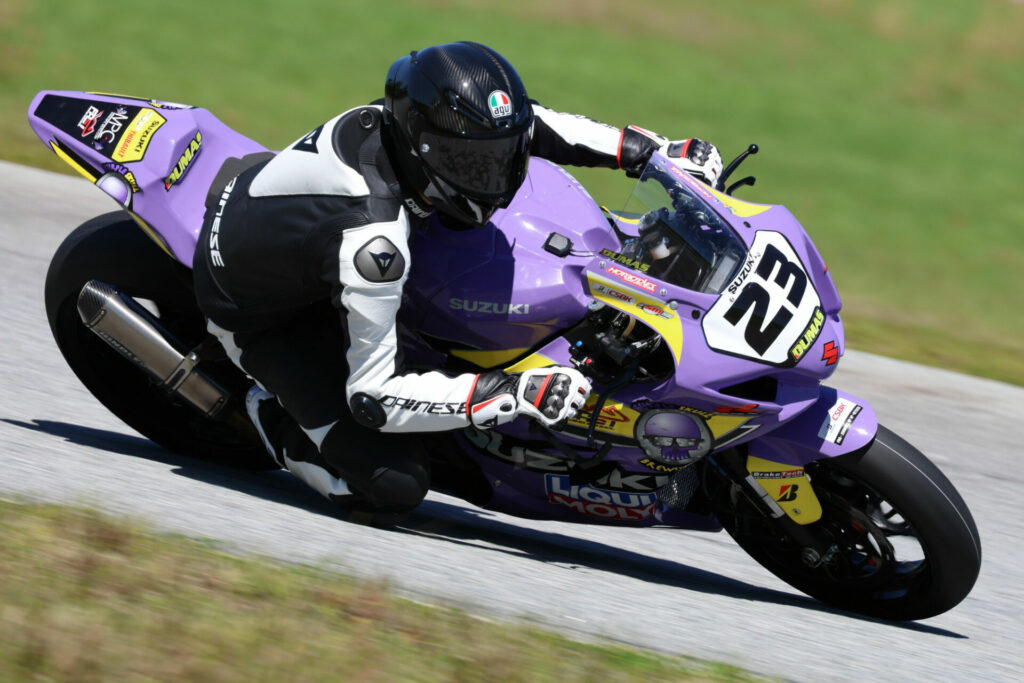 When it comes to track knowledge, however, no one will have more around practically any venue in Canada than 14-time champion Jordan Szoke, who is aiming to make his long-awaited return to the Bridgestone CSBK paddock at the same place where he captured his first Superbike crown in 1998.
Szoke's recovery from a brutal crash last offseason appeared to be behind him, topping the Winter Test in his first appearance back on board the LDS Consultants Kawasaki, but another recent health scare has put that in jeopardy – though he will surely be a threat to win should he manage to turn up.
He won't be the only threat in the LDS Consultants Kawasaki garage, however, as his new rookie teammate, Trevor Dion, proved one year ago. Making his first and thus far only Superbike appearance, Dion came out of nowhere to steal pole position and a third-place finish in last year's Grand Bend opener, before choosing to focus on his eventual Liqui Moly Pro Sport Bike championship-winning season.
Now fully focused on his Superbike career, Dion will lead off the group of riders that are next in line for their first career victories, finishing second to Dumas at the Super Series regional, but he'll have another Trevor to deal with in the form of OneSpeed Suzuki's Trevor Daley.
A podium challenger everywhere he goes, Daley struggled in his last appearance at SMP in 2019 but finished fourth the year prior, and will hope a fresh start at the venue can help him finally capture his elusive first career feature victory.
Also worth mentioning in the podium mix will be a pair of fan favourites in Sam Guerin and Tomas Casas, the former making his first ever national appearance at historic Shannonville. The EFC Group BMW rider went just marginally slower than Dion in his recent regional action, adjusting quickly to a number of new variables as he also broke in a new machine at the circuit.
As for Casas, an injury-riddled 2022 season prevented the Parts Canada Yamaha rider from taking the next step in the feature category, but the former two-time Sport Bike champion reminded everyone of his potential by finishing fourth at CTMP a year ago.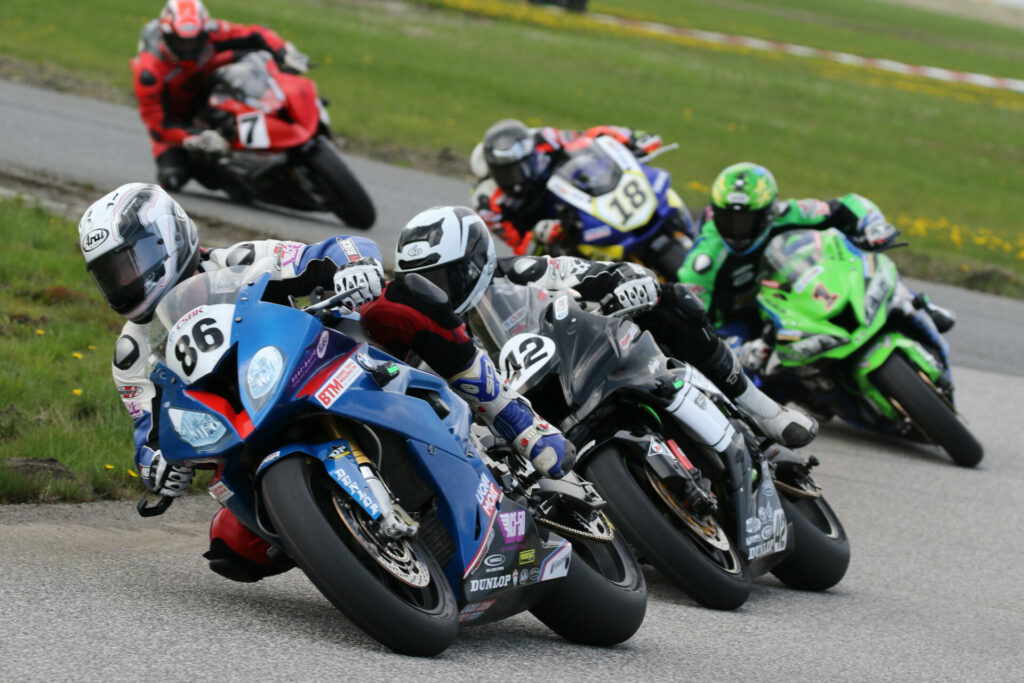 Outside of the individual rider battles on-track, there will also be a pair of other key awards to watch out for at SMP in the Constructors Championship and the Brooklin Cycle Racing Pro Rookie of the Year fight.
BMW will enter as the defending Constructors winners after stealing the trophy from inaugural champs Suzuki, thanks in large part to the efforts of Young and Guerin, but the one-on-one rivalry may be broken up in 2023 by the revamped effort of Kawasaki and the steady progress of Ducati and Yamaha, amongst others.
As for the Rookie of the Year battle, it's anyone's guess who will be the closest challenger to Dion in a deep and wide-open freshman class, though Pierre Simard likely snatched the honour after his breakout performance at the Winter Test.
The D1C Suzuki rider went fourth-fastest in Florida to only Szoke, Young, and Dumas, as he prepares to take a second crack at his rookie season, retaining his status after an early injury derailed his 2022 campaign.
However, the top duo will have fellow Suzuki teenager John Fraser and reigning AIM Insurance Amateur Superbike champion Julien Lafortune (Kawasaki) to contend with, amongst many other talented rookies.
The full schedule for the opening round of the feature GP Bikes Pro Superbike class, as well as the other six support classes, can be found on the series' official website.