AMA Motorcycle Hall of Famer and Racing Legend Dick Mann Passes
Mann, a two-time AMA Grand National Champion, was inducted into the Hall of Fame in 1998
PICKERINGTON, Ohio — Dick "Bugsy" Mann, one of the most versatile racers to ever throw a leg over a motorcycle, passed away on April 26 at the age of 86.
Mr. Mann, born June 13, 1934 in Salt Lake City, Utah, was a two-time AMA Grand National Champion (1963 and 1971), and became best known for being the first person to achieve a motorcycle racing Grand Slam, which involved winning across all five types of circuits included in the Grand National Championship: road racing, TT, short track, half-mile and mile. When he retired from racing in 1974, Mann had 24 national victories, which — at the time — placed him second in all-time wins within the AMA Grand National Series.
While Mann got his racing start in scrambles, he soon got hooked on turning left on dirt ovals, and after some time learning his trade, headed to the professional racing circuit in 1954, turning expert in 1955. He achieved his first national win at the Peoria TT in 1959, quickly establishing himself as an elite racer in the series.
Mann also helped pioneer the sport of motocross in the U.S., competing in several of the early AMA professional motocross races in the late 1960s and early 1970s.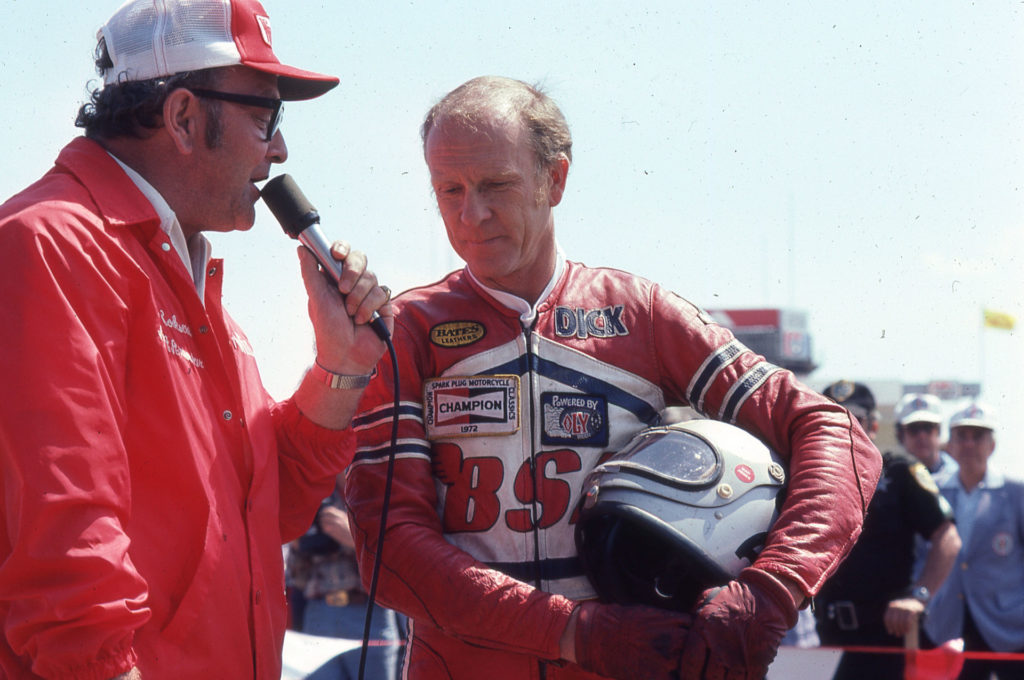 Perhaps Mann's most fulfilling national win was his victory in the 1970 Daytona 200 aboard the then-new Honda CB750. He'd been racing the Daytona 200 for 15 years and finished second three times, and in 1970 finally got to the top step of the podium, holding off rising stars and future Hall of Famers Gary Nixon and Gene Romero, as well as former world champion and Hall of Famer Mike Hailwood. That win wasn't just Mann's first victory at the 200, but the first time a Honda had won an AMA national.
Despite retiring from professional racing in 1974, Mann returned to his trail-riding roots in 1975, qualifying for the United States International Six Days Trial team, competed for the U.S. on the Isle of Man, and brought home a bronze medal.
Beyond being a legendary racer, Mann's mentorship of the next generation of American racers and future Hall of Famers like Dave Aldana, Mert Lawwill and Kenny Roberts, was just as important.
In 1995, Mr. Mann was presented with the AMA Dud Perkins Lifetime Achievement Award, recognizing his significant contributions to the sport. He was inducted into the AMA Motorcycle Hall of Fame in 1998.
Look for more coverage of Mann's legacy and career in future issues of American Motorcyclist.
About the American Motorcyclist Association
Founded in 1924, the AMA is a not-for-profit member-based association whose mission is to promote the motorcycle lifestyle and protect the future of motorcycling. As the world's largest motorcycling rights and event sanctioning organization, the AMA advocates for riders' interests at all levels of government and sanctions thousands of competition and recreational events every year. The AMA also provides money-saving discounts on products and services for its members. Through the AMA Motorcycle Hall of Fame in Pickerington, Ohio, the AMA honors the heroes and heritage of motorcycling. For more information, visit americanmotorcyclist.com.
Not a member? Join the AMA today: americanmotorcyclist.com.
More, from a press release issued by American Flat Track:
Honoring Motorcycle Racing Legend Dick Mann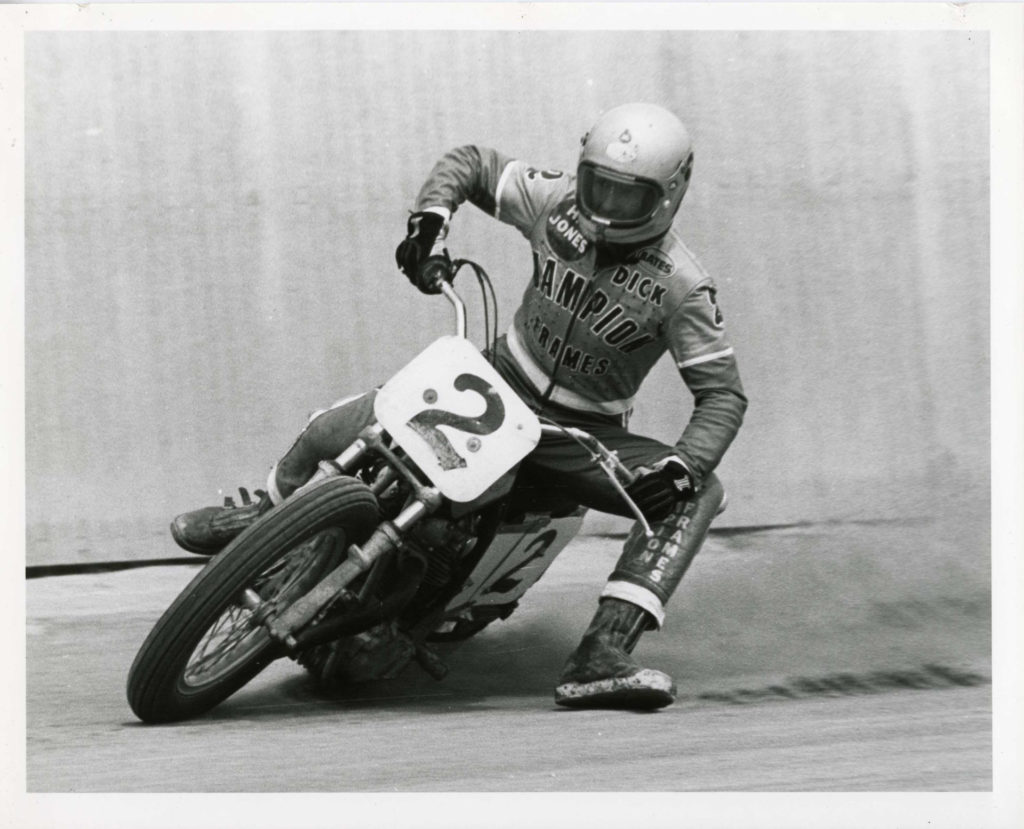 DAYTONA BEACH, Fla. (April 28, 2021) – AMA Pro Racing joins the motorcycle community in mourning the loss of the great Dick Mann. Mann passed Monday at 86 years of age.
The winner of two Grand National Championships, Mann was touted as one of the greatest to ever compete in various motorcycle racing disciplines. Mann is best known for being the first person to ever win all five types of circuit included in the AMA Grand National Championship: short track, TT, half-mile, mile and road race.
Mann continued to contribute to the legacy of motorcycle racing by influencing some of the greatest names in flat track including Gene Romero, Gary Nixon, Mert Lawwill, Kenny Roberts and Dave Aldana.
Mann was inducted into the Motorsports Hall of Fame in 1993 and the AMA Motorcycle Hall of Fame in 1998.
Progressive American Flat Track will observe a moment of silence in Mann's honor during its opening ceremonies at Saturday's event at Atlanta Motor Speedway.
How to Watch
NBCSN and TrackPass on NBC Sports Gold are the official homes for coverage of Progressive American Flat Track. For the 2021 season, NBCSN's coverage of Progressive AFT remains in highly-coveted programming, the complete schedule for which can be viewed at http://www.americanflattrack.com/events-nbcsn/. TrackPass on NBC Sports Gold – the most-robust motorsports offering in the digital marketplace – is a cornerstone of Progressive AFT's digital strategy, providing live streaming coverage of every event and maintaining an active archive of all AFT content.
About Progressive American Flat Track
Progressive American Flat Track is the world's premier dirt track motorcycle racing series and one of the longest-running championships in the history of motorsports. Sanctioned by AMA Pro Racing in Daytona Beach, Fla., the series is highly regarded as the most competitive form of dirt track motorcycle racing on the globe. For more information on Progressive American Flat Track, please visit http://www.americanflattrack.com, like us on Facebook, follow us on Twitter, check us out on Instagram, live stream the events with TrackPass on NBC Sports Gold and catch all the Progressive American Flat Track racing action on NBCSN.
More, from a press release issued by American Honda:
Statement of Condolence on Passing of Dick Mann
Hall of Famer earned Honda's first big motorcycle-race win in the U.S.
April 28, 2021 — TORRANCE, Calif.
Following Monday's passing of Dick "Bugsy" Mann at the age of 86, American Honda today honored the versatile racer.
A true Renaissance man, Mann was noted for his adaptability as a rider, and for the longevity of his professional motorcycle-racing career, which included charter membership in the exclusive Grand Slam Club (for riders who earned Grand National wins in road racing, short track, TT, half-mile and mile competition), two AMA Grand National Championships and a bronze medal for Team USA in the 1975 International Six Days Trial. According to Racer X Illustrated, Mann even scored a win at the first AMA-sanctioned professional motocross race. Those successes came with a variety of brands, but the Utah native's primary tie with Honda centered on a single race—the 1970 Daytona 200.
It was Honda's first factory effort in the legendary endurance event, with a four-rider project aboard CR750 machinery (the racing version of the now-iconic CB750 four-cylinder, which had started production just a year earlier). Conversely, Mann (then 35) had a long and relatively successful history at the race, though victory had eluded him to that point.
After launching from the front row of an all-star starting grid, Mann eventually secured the lead, then preserved the bike in the race's latter stages to score a 10-second win over Gene Romero, with Don Castro third. In the process, Mann ran a record average race speed of 102.697 mph. It was Honda's first AMA National Championship race win, and it established the CB750 at the top of the performance hierarchy. (Over four decades later, Motorcyclist magazine would name it the Bike of the Century.) As such, the victory was significant not only for Honda, but for its American subsidiary.
"For a Japanese company with its first, completely unproven big bike, it was hard to top that," Bob Hansen, then American Honda's National Service Manager, is quoted as saying in Aaron P. Frank's book Honda Motorcycles.
"Hansen prepared the machine, and I rode it as best I could, just as I was contracted to do. That was it," said the humble Mann in the same book.
Mann, who would back up the Daytona 200 win the following year aboard a BSA, was inducted into the Motorsports Hall of Fame of America in 1993, and he is a charter member of the AMA Motorcycle Hall of Fame.
"Everyone at American Honda sends their heartfelt condolences to Dick Mann's family, friends and fans," said Bill Savino, Senior Manager of Customer Engagement at American Honda. "Dick tallied a number of accomplishments over the course of his long career, but he'll always hold a special spot in our hearts for the role he played in proving that Honda motorcycles could perform with the very best."