Editorial Note: This article first appeared in the March 2021 issue of Roadracing World & Motorcycle Technology magazine.
COPYRIGHT 2021, ROADRACING WORLD PUBLISHING, INC.
All Kids Bike: THE POINT OF DEPARTURE
By Michael Gougis
The demographics of motorcycling are a constant point of worry for the industry. Some figures are even worse. Very, very few people get into motorcycling without learning to ride a bicycle. And in the United States, this year, the majority of children will not ride a bicycle this year—not even once.
"The trends are getting scary," says Ryan McFarland, founder and CEO of Strider Sports International, aka Strider, the producer of balance and beginning bikes. "Three-quarters of American kids aren't going to ride a bicycle once this year. That's the whole industry, the whole bike industry, the whole motorcycle industry. It's all the same ladder, and kids aren't even getting on the first rung of the ladder anymore."
McFarland is doing something about it. He began All Kids Bike, a program to bring bicycle riding into the kindergarten curriculum at many public and non-profit private schools.
In little more than two years, the non-profit program has taught approximately 40,000 children how to ride. Starting with a simple Strider balance bike, in eight lessons the children progress to riding a pedal-propelled bicycle.
And perhaps more importantly, McFarland structured the program to focus on teaching teachers how to conduct the curriculum. Combined with special bicycles to minimize repairs and maintenance, it leverages the program's efforts, allowing it to reach far more children than McFarland ever could on his own.

Strider's foundations were personal: "I'm a lifelong motorcycle enthusiast and mountain bike enthusiast. My dad had a motorcycle dealership," says McFarland, an entrepreneur and fabricator. "When I became a dad, I was super-excited to get my son riding. When he was two years old, I had all kinds of get-riding toys lined up. I had a whole fleet of things because I was so excited!
"Then I realized that these things weren't helping him to learn to ride. I was watching him enthusiastically try to use these things, but realized they were too heavy, too big, too complex. My wife said give him a year or two, and I said, 'No, can't do that!'"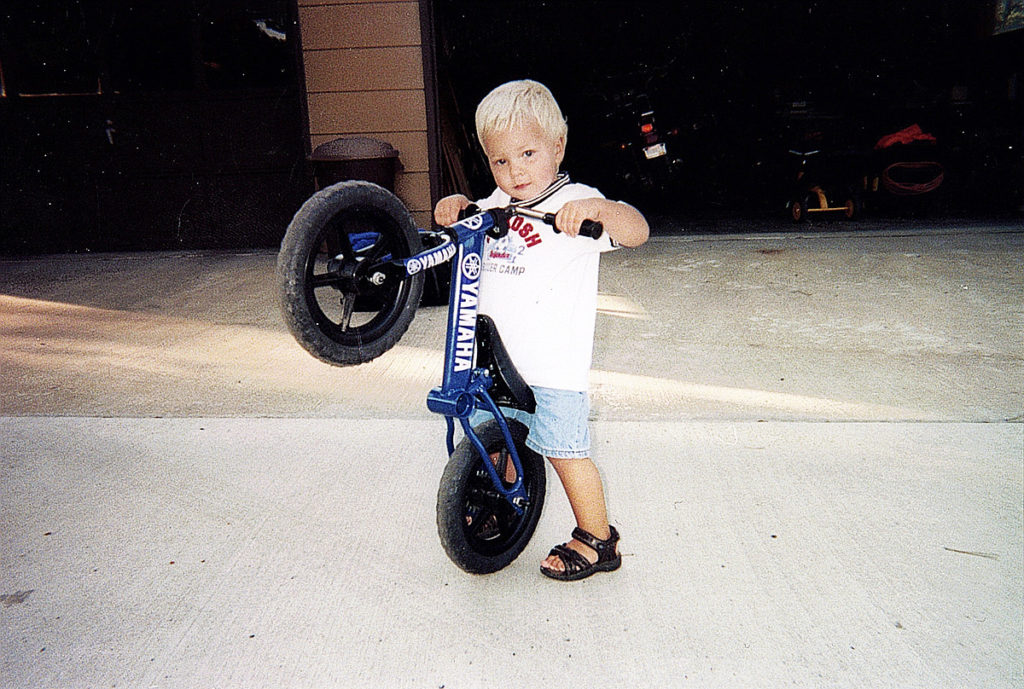 The basic failures of the beginning machines were related to scale, McFarland says. They weighed as much as the two-year-old, with a seat at chest height and gearing that was too tall for toddler leg muscles. So he took a basic 12-inch-wheel bicycle and started chopping until the seat height was appropriate for a two-year-old. With the seat that low, however, it was impossible to operate the pedals.
Then McFarland had his flash of inspiration. "That's when I really realized that the key to this whole thing was separating propulsion from riding. Riding is balancing two linear wheels while straddling it. You start thinking about propulsion separately. Why not striding and walking? That's one way of getting something to move," McFarland says. "What's the easiest propulsion method for a two-year-old? Walking and running. Feet on the ground, Fred Flintstone-style. Totally safe, totally confident, just focusing on riding the bike."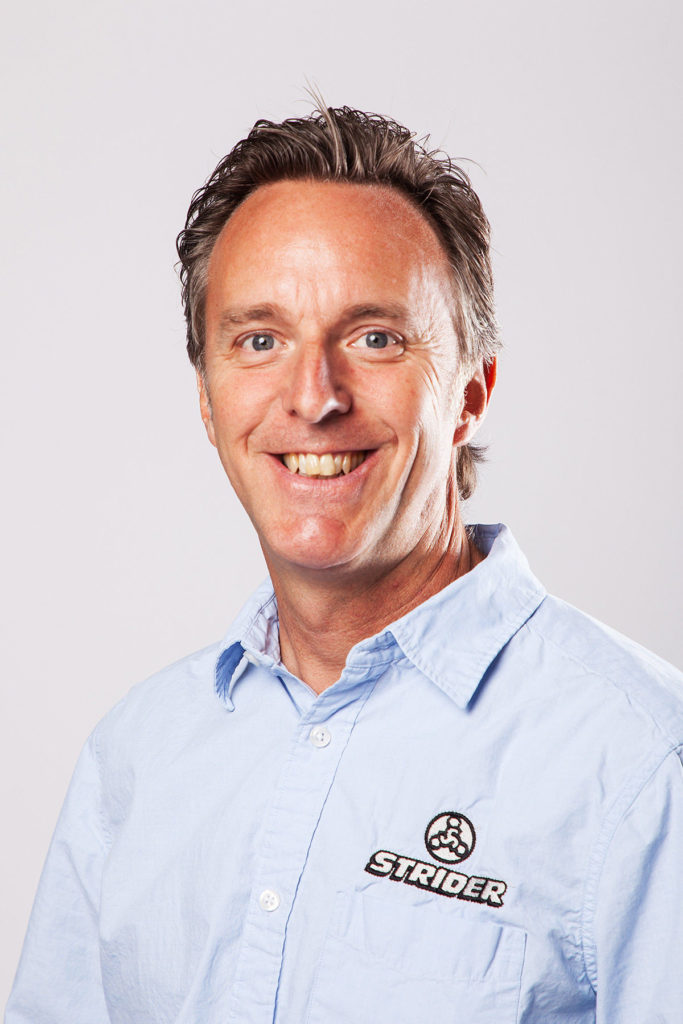 McFarland painted it blue to match the Yamaha 450 dirtbike in his garage and slapped some Yamaha stickers on it. Quickly, his son and the homemade Strider bike were inseparable. It was evidence that the idea was sound—so sound that the company, founded in 2007, has now sold over three million units.

Still, McFarland was not unaware of the fundamental changes in childhood sweeping the world. Not even available a generation or two ago, video-based activities have literally created an alternative reality for those born in the last few years, a reality in which their physical bodies are sedentary. In a very real sense, most of the U.S. is coming to grips with a video-generated reality that is beyond the imagination of those who were studying the impact of television on society 60 years ago. The youngest are facing those changes as surely as anyone else.
"What really dialed us in was the urgency of the problem. This stuff is happening fast. How can we address this?" McFarland says he pondered.
His solution: Get as many kids as possible on bikes, as early as possible. That meant reaching kids where they gathered—school—at the youngest age they were going to be there—kindergarten. "Every kindergarten program has a P.E. program, and that's where we wanted to be," McFarland says.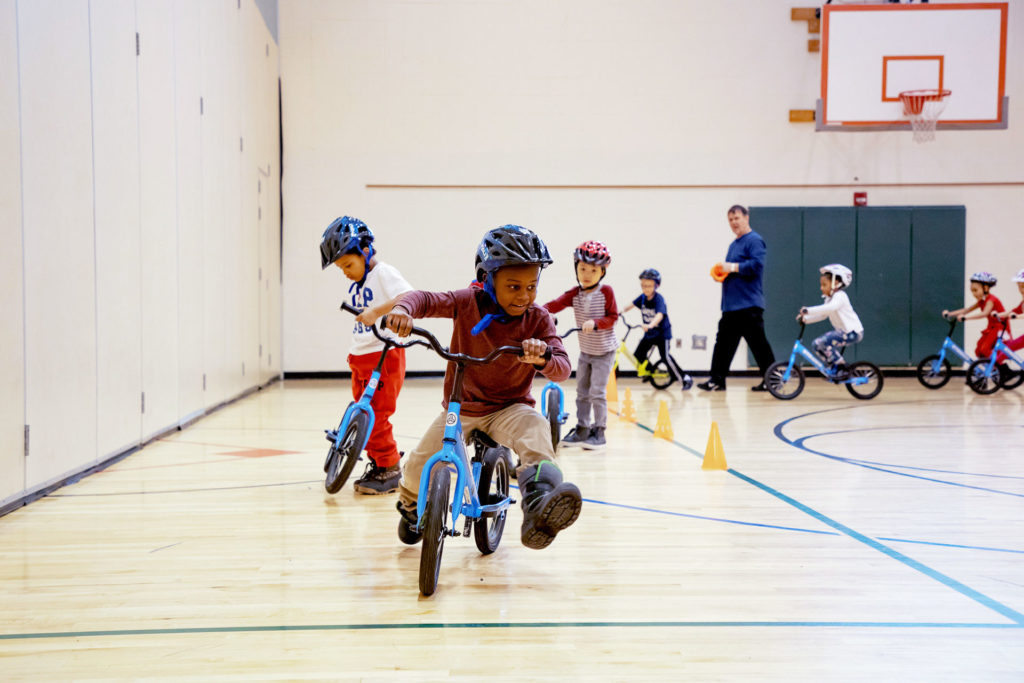 Two things were needed. One was an online curriculum to teach teachers how to teach their kindergartners. The other was a somewhat mythical creature—a kid-proof bicycle. McFarland devised a version of Strider's 14X bike with solid tires and easy-to-adjust handlebars. The bicycles come with a pedal kit that change a balance bike to a pedal bike in three minutes.
The non-profit Strider Education Foundation was incorporated in 2017 as the (pardon the pun) vehicle to collect donations and distribute the curriculum and machines to schools. Since 2018, more than 260 schools in 38 states have adopted the curriculum.
The foundation is looking for donors to support the program. For $5,000 the foundation can provide a fleet of 24 of the children's bikes, one adult-size bike for the teacher, helmets, the pedal conversion kits, and a five-year support commitment.
It's all part of McFarland's plan to save the pastimes about which he is passionate, and to help America's children lead healthier, happier lives. "Just giving kids a bike isn't the answer. Teaching them how to ride bikes is the answer. It really does come down to the educational piece," McFarland says. "Kids need this experience."