COPYRIGHT 2021, ROADRACING WORLD PUBLISHING, INC.
Interview: Red Bull KTM MotoGP Factory Rider Brad Binder:
"There Comes A Moment Where It Feels Completely Normal…"
by Michael Gougis
It's hard to think of Brad Binder as still kind of a rookie. The 2016 Moto3 World Champion already has two MotoGP wins in a very short time in the premier class, and he seems to have been around the paddock for a long time. That is likely because of the attention he's gotten, as he has spent much of his Grand Prix career near the front, with podiums every year since 2014 and wins in most of those seasons.
Yet the South African finds himself still facing new circuits and new challenges. His premier-class rookie season of 2020 was short and chaotic because of the global COVID-19 pandemic, and he's just now getting into his second full season of wrestling the mechanical bull known as a MotoGP racebike.
"I've only had one and a bit proper seasons under my belt on a MotoGP bike. I still feel like – I've never been here on the MotoGP bike," says Binder, 26, of Potchefstroom, South Africa, as he prepared for the Grand Prix of The Americas, in Austin, Texas.
"And there's a lot of tracks coming next season – I'll be going to Philip Island, Japan, Argentina – all of these places for the first time on the MotoGP bike, when I'll be in my third season! It's a little bit difficult, a little bit strange. But I think I've adapted well to the class, and I understand what I need to do to go fast and where to improve."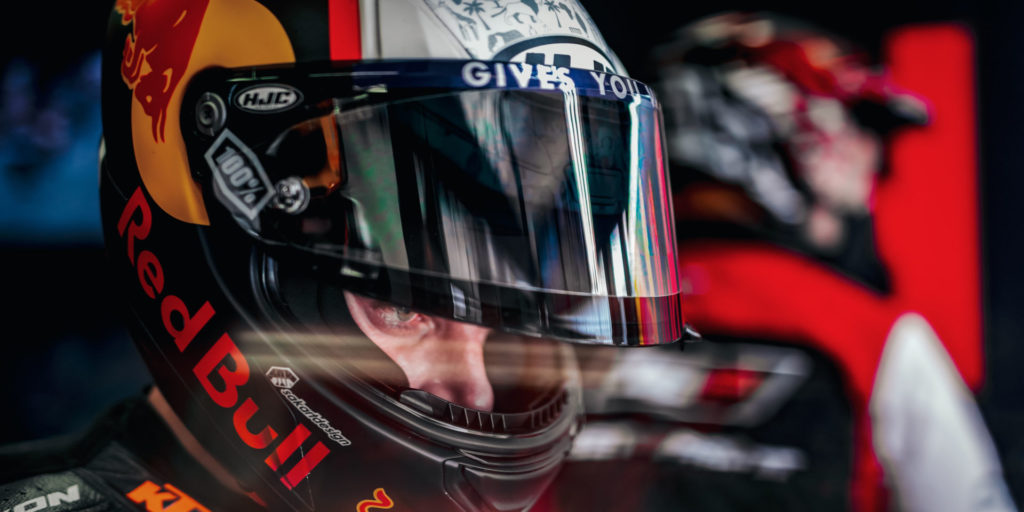 Binder is no stranger to COTA, although he still finds the track a unique challenge on the Championship circuit.
"There's nothing quite like it," Binder says of the 3.4-mile, 20-turn track. "I think it's got the most corners of any track! It's unique. The grip conditions are really low at the beginning, and it just gets better and better and better. It's a long, big track, and it's something I'm really looking forward to."
This season, the factory Red Bull KTM MotoGP RC16 has proven to prefer hot, slick racetracks, Binder says.
"Sometimes we see that in super-hot conditions we're more competitive than we are when it's cooler. In MotoGP it comes down to what the tire allocation is for the weekend. Sometimes the harder rubber suits our KTM a little bit better. Some tracks you can use it, some tracks you can't," he says. "The hotter, the more slippery, the more sketchy the track conditions are, the better it is for us."
With a new fuel coming on-stream in the middle of the 2021 season, the KTM has also added more straight-line speed – not that it was really lacking in that department – to its stout performance under braking. The two, combined, help Binder with his increasingly common Sunday afternoon charge from a starting spot toward the back of the grid to a finishing spot closer to the front than anyone expects.
"Our strongest point on the KTM is definitely our braking performance, which has always been the strongest point for our bike. We have the ability to stop the bike in a shorter space of time than the other guys. We're able to really push it that little bit harder, which makes things a lot better to fight in the race and make overtakes. That's one point of the bike that I'm really happy about," he says. "The biggest difference as far as our top speed goes is the new fuel. It's nice, it's great to have that little extra margin. It's time for free at the end of the day!"
The weak spots, he says, are the obvious one – qualifying – and one that's harder to spot, simply because in MotoGP, the differences between winning and finishing mid-pack are increasingly small.
"The one point where we need to improve is corner exits, especially coming out of hairpins where you're in first gear and you're hooking through the first three-four gears is where we seem to be missing a little bit," Binder says. "That's what we're working on. We've got to sort out some small issues, and we'll be a lot stronger in the upcoming races."
Qualifying is the next major issue that KTM – and he – have to focus on, he says.
"Normally, if I can do a lap time once, I can do it over and over again. But I struggle to do that one lap that's much quicker than the rest. I've always got good race pace, which always seems to carry me through on the Sunday," he says.
"As a rider, it's not my strongest point. It's something that we're working on as a team, for sure. It's not the strongest point for our bike at the moment. But on the other hand, our bike can be consistent over 20 laps. If I had to write one off (race or qualifying), I'd choose qualifying. But I hope for the future we'll be in a position where we can fight for some pole positions as well."
Although Binder says he knows there is room for improvement, the past year has seen the pucker factor of just riding a MotoGP machine drop to the point where he can focus on getting the last few percent of performance out of himself and the KTM. He's come a long way from the wide-eyed rider who hopped off the winning Moto2 machine at Valencia in 2019 and two days later swung his leg over the RC16 at the post-season test.
"The first impression when you get on a MotoGP bike is overwhelming. You don't know how you're going to complete a race distance, because it's so physical, it's so physically demanding, it's just so strong, the wheelie and everything is next level. It takes a while to get used to. But then there comes a moment where it feels completely normal. That becomes the norm. There's no more insane power – of course it's still there, but it becomes like walking – something you completely adapt to. It took a while, to be honest. But it seems like I'm used to it," he says.