Peter Hickman Takes Fourth Macao Motorcycle Crown
Peter Hickman ran a lights-to-flag finish to win the 55th edition of the Macau Motorcycle Grand Prix. Starting from pole position he powered into the lead and from that moment never looked back. He had Davey Todd behind him for the opening four laps, but once he pulled away there was no catching the MGM FHO Racing BMW rider.
"All went to plan," said Hickman on his fourth Macau Motorcycle Grand Prix victory. "The tyre was fantastic, everything worked to perfection. Davey (Todd) was pushing early on which was good for me as once I pulled away from him, I then started making mistakes. I had a little talk to myself and by lap ten I was focussed again. I'm delighted for Faye Ho and all of the team who've worked tirelessly to achieve this win."
The 12-lap race had to be restarted after an incident involving Brian McCormack who fell and suffered an ankle injury. In trying to avoid McCormack's motorcycle, Nadieh Schoots also tumbled. Both were taken to hospital where they were treated for minor injuries.
That happened on the opening lap which was minus Davey Todd who pulled off the grid at the start and it seemed as if he'd missed his chance. Thankfully for him the red flag meant he could start again and was rewarded with a second position finish and a place on the podium, his first at Macao.
"It was Peter Hickman who told me I might have a problem," said Todd. "He saw little puffs of smoke coming from the bike on the warm-up and it turned out to be a split oil pipe. I felt as if my world had come apart walking back down pit lane. However the team was great, they kept going just in case there was a red flag, which there was, so we could join in the restart. A massive thanks to Phil Crowe, he gave us a replacement pipe as we didn't have one without which we couldn't have gone back out."
Starting from the head of the second row of the grid, David Datzer suffered a poor start to the race, losing a number of positions off the line. He then set about working his way up through the field, eventually passing Macao debutant Josh Brookes for third, which he held all the way to the chequered flag.
"I was so disappointed with my start," admitted the German rider. "However, I'm blessed to have a great bike which has been prepared by a great team. I worked my way through and to be on the podium again at Macao is a great way to end the event."
"I'm happy with the final result," said Josh Brookes, who marked his debut at Macao with a fourth place finish. "After we had the gearbox issue in qualifying, everything with the bike has been perfect. I had a great start from row five but it's my job to get away well off the line. Once David passed me for third there was no way I was prepared to push to take it back. Macao is a new experience for me. It's a different environment to anything else I've known in racing. I've enjoyed my time and who knows if I will come back. Never say never."
Fifth place went to Rob Hodson. "My plan was to go faster," said the SMT Racing Honda rider, "and that's exactly what we did. To finish in fifth is great plus we're the highest placed non-BMW."
Michael Rutter was an early retirement with technical issues. "It's a real shame as the bike has just been improving all week," said the nine-time Macau Grand Prix winner. "I've been around long enough to realise it's one of those things."
Erno Kostamo, who won last year's Macau Grand Prix, was in third place in the first half of the race but he had to pull over due to an electrical issue with the bike. David Johnson had a brake problem with his Kawasaki and was forced to retire. Kamil Holan crashed on the final lap and was taken to hospital where he was treated for minor injuries.
More, from a press release issued by FHO Racing:
Peter Hickman delivers a Macau Grand Prix masterclass for FHO Racing BMW Motorrad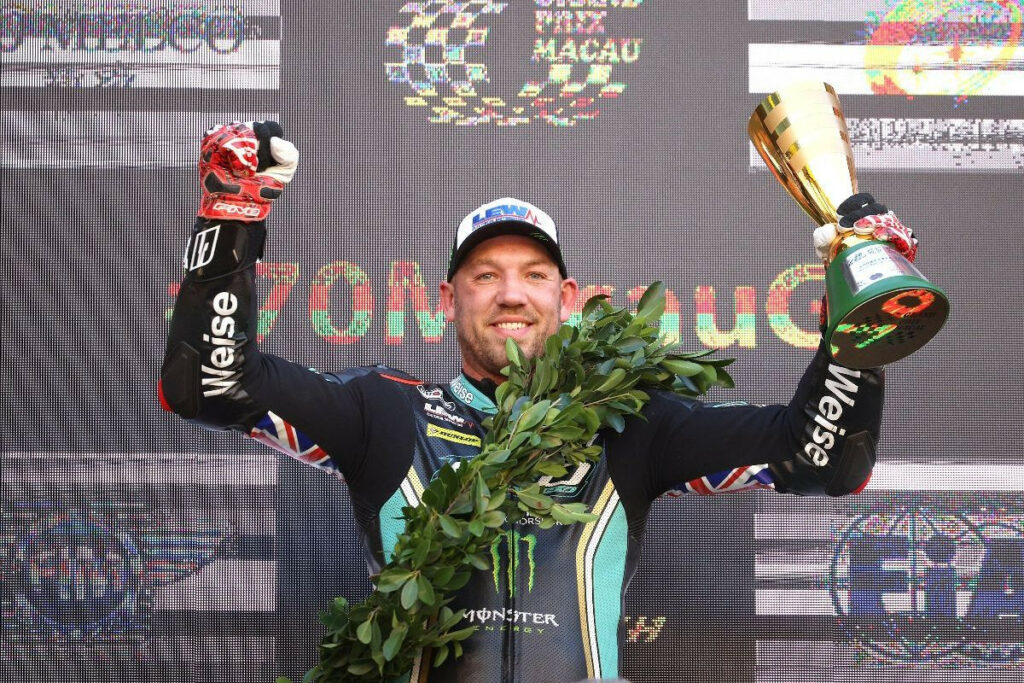 Peter Hickman, the man of the 2023 Macau Motorcycle Grand Prix delivered a masterclass in this morning's 12-lap race aboard the BMW M 1000 RR giving Team Principal, Faye Ho and the FHO Racing team sponsored by MGM, its first Macau Grand Prix win in their debut outing at the event.
In Faye's hometown, throughout all sessions Hicky topped the times and started today's 12-lap race from pole position. The race got underway at 08:48 local time and it was teammates Peter and Michael Rutter neck and neck in the opening lap, with Michael moving into second place before the race was red flagged.
A full distance restart was announced, and a quick start procedure got underway with the restart at 09:44 (local time). Off the line once again it was Hicky leading the group with Davey Todd hot on his heels and FHO's Michael third and newcomer Josh Brookes fifth.
At the end of the first lap Michael came into the pits reporting an issue with his brakes. A quick look at the machine by the FHO crew and he went back to the race on the third rotation, but pulled back in still unhappy and was forced to retire from the running.
Meanwhile on track, Peter had pulled a gap between himself and second place Davey, while Josh had moved into third place. As the race progressed Hicky continued to extend his lead and his fourth Macau GP victory was looking inevitable.
On the 12th and final lap of the Macau Motorcycle Grand Prix – 55th Edition the front runners started to approach back marker traffic, but this wasn't an issue for Hicky who glided past aboard his FHO Racing BMW Motorrad machine, to take the chequered flag 27s ahead, to claim his fourth Macau win and a first for Faye and the FHO Racing team.
It was also a good finish for Josh, who on his debut outing at the Guia Circuit impressed by consistently improving his lap times and progressing, despite not having a lot of track time in the schedule. Starting the race from 13th on the grid, the Aussie had a fantastic start and was in the leading group, and by mid-race distance he had moved into third place.
Improving his lap times and looking comfortable aboard his BMW machine, Josh eventually crossed the line fourth in his debut Macau Grand Prix event.

Josh Brookes – 4th:
"I'm really quite happy with fourth, considering it's my first time here. When we lost some time in qualifying it lowered my expectation on how far I could improve, which I purely think is just circuit time that I need to further improve. In the race it's a completely different atmosphere, which suits me better, I'm accustomed to racing and not just riding around, so I felt like I improved more in the race. But I think it all comes down to laps and familiarisation with the circuit. I got two good starts and managed to make up places, then some people dropped out of the race, which I would say gave me a few positions. But I held my pace in the race and finished fourth, so I'm happy enough. Of course, it would have been fantastic for the team if I had finished on the podium, but it wasn't to be. So, you have to be happy with fourth and that we're going home safe."

Michael Rutter – DNF:
"Obviously I'm well disappointed to have to retire from the race. We have spent just over a week in Macau and unfortunately, we've had a bit of an issue with the brakes. In the first race before it was red flagged, the bike was brilliant, it felt good, and I had a bit of a go at Pete [Hickman] coming into the Lisboa corner and was into second but it got flagged. In the restart I was third, I felt comfortable then I had awful chatter braking for the Hairpin and I knew immediately what was wrong as we'd experienced it in qualifying. With the issue we had to retire, which was really unfortunate for the team. Congratulations to Pete on the win and to Josh for his fourth place in his debut year."

Peter Hickman – 2023 Macau Motorcycle Grand Prix – 55th Edition winner:
"We've had a fantastic result today, we're at Faye's home event and it's her proper home track, you know it's her City and it's just fantastic to be first in every single session and winning the race, so I couldn't really ask for more than that – I'm super happy. The boys have worked absolutely mega, the BMW has been superb to be honest, the track was a little harder, but probably as we've had a few years away and it's a bit bumpier than it used to be, which makes it hard to ride. But honestly the FHO Racing team have got the bike pretty much bang on, nothing is ever perfect but it wasn't far away and I felt really comfortable. Davey obviously gave us a bit of a push to start with, but we could really keep the pace and he couldn't, so we managed to break away and disappeared up the road and just managed it from there. Everything was pretty much as good as it could be and I couldn't have really asked for anything more; P1 in every session and taking my fourth Macau GP win. I've seen Brian [McCormack] now, so I know he's alright after the crash this morning, I hope Nadieh is okay also."

Faye Ho – Team Principal:
"Well, what can I say! This week all my dreams have come true! Coming back to Macau, my home with my own team, leading every session and then taking the win – it doesn't get much better than that. Pete has ridden fantastically all week and a huge thanks to the team for all their hard work in making this possible. It was such a shame that Michael experienced the issue he did, as I think without that we could have seen a FHO Racing 1-2 on the podium, but this year it wasn't meant to be. Josh has really impressed everyone with his attitude to the race and how he's progressed, I think with a little more track experience he could have pushed for the podium. It's been an amazing week and I'm so proud of the FHO Racing team – 2023 Macau GP winners!"