Peter Hickman takes pole for 55th Edition of Macau Motorcycle Grand Prix
A sensational last lap of the second and final qualifying session put Peter Hickman in pole position for tomorrow's Macau Motorcycle Grand Prix – 55th Edition. The three-time race winner recorded a best time of 2:24.8, to grab the optimal starting place on the grid ahead of Saturday's 12-lap race.
However, he may not have posted the time had it not been for the efforts of his rival Davey Todd: "I didn't think we needed to go out again. Everything was good with the bike, we're happy with the tyres amongst other things, so I was quite content to stay in the garage," said the MGM FHO Racing BMW rider. "Then Davey did his lap to take provisional pole with about eight minutes left so I decided to put my helmet back on. It turned out to be the right decision as the bike performed brilliantly so I was able to grab top spot again. There's a bit of psychology involved in that. Had Davey stayed in pole he would be super-confident ahead of tomorrow, but hopefully I've now given him something to think about."
"The track was a lot better than I was expecting," he added. "I thought it may have been greasier following all the day's car action. The only issue was the sun into Lisboa. It was hard to find brake marks but, all in all, everything worked out okay."
Davey Todd will start in the middle of the front row but his session got off to a challenging start when his Burrows Engineering RK Racing BMW suffered a clutch issue: "I'm delighted with the way things worked out in the end," said Todd. "I have a good little team around me so when the clutch went there was no need to panic and we got out with plenty of time left to put that lap in. I've been happy with the BMW from the word go, so I'm confident ahead of tomorrow. I'm looking forward to racing with Peter [Hickman] and everyone else and putting on a show. Bring it on!"
Last year's Macau Motorcycle Grand Prix winner Erno Kostamo completes the front row of the grid and, like his two rivals at the head of the grid, he improved on his time from the morning session.
"I'm very happy with the way things have gone," said the Finn. "I've lapped quicker on the ZERO UP Racing Team by Penz 13 BMW than I did last year when I won the race. My only dilemma is what tyre I decide to use tomorrow. Do I go soft, which may be a big risk, or do I go hard which will provide more stability? Whatever happens I'm looking forward to crossing swords with Peter and Davey again."
Fourth fastest was German David Datzer on the MTP-Racing by ZERO UP Penz 13, while nine-time winner and Hickman's team mate Michael Rutter rounded out the top five fastest riders over the two qualifying sessions.
More, from a press release issued by FHO Racing:
Peter Hickman snatches pole position at the Macau Grand Prix in a last lap dash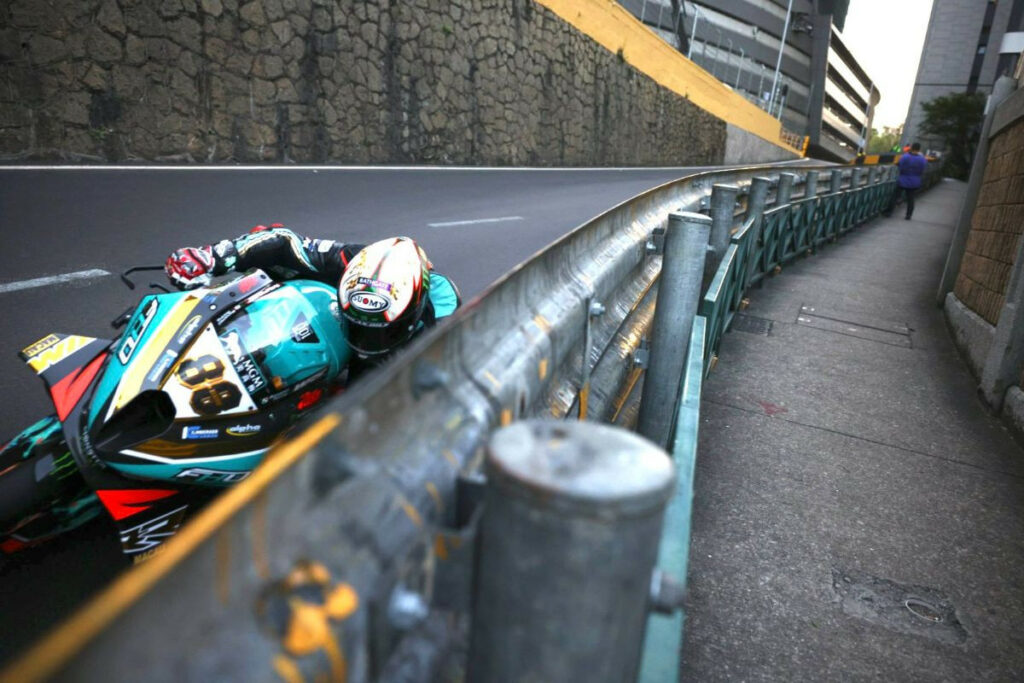 FHO Racing BMW Motorrad are on pole ready for tomorrow's Macau Motorcycle Grand Prix, after a sensational last lap dash from Peter Hickman aboard the BMW M 1000 RR, at Team Principal Faye Ho's home event.
Awarding Faye's team its first-ever pole position at the Macau Grand Prix, Hicky has led the way during all practice and qualifying sessions at the Guia Circuit. Peter, a three-time Macau GP winner has been consistently fast aboard his BMW machine, sponsored by MGM, especially in the final qualifying session this afternoon.
Topping the times in yesterday's opening practice and today's first qualifying, Peter didn't have it easy in the final session after delays during the days' schedule meant low lying sun was an issue at the 6.120-km circuit.
Dicing with rival Davey Todd, Peter was back into second place in the closing stages of qualifying and had pulled into the garage, but following a lap from Davey that put him in pole position, Pete returned to the track and took back pole position with a 2:24.879 lap time, 0.0491s ahead.
Meanwhile Peter's teammates Michael Rutter and Macau GP newcomer Josh Brookes will start the race with Michael on the second row in fifth and 13th for newcomer Josh, after a challenging day. Still getting to grips with the Macau circuit, Josh encountered an issue with his gearbox in Q1, where he only got two flying laps and finished 17th. For the afternoon he was determined to progress and with each lap of the circuit his lap times improved, where he qualified in 13th place.
The 55th Edition of the Macau Motorcycle Grand Prix takes place tomorrow (Saturday 18 November) at 08:40 local time (00:40 GMT) and can be watched live here.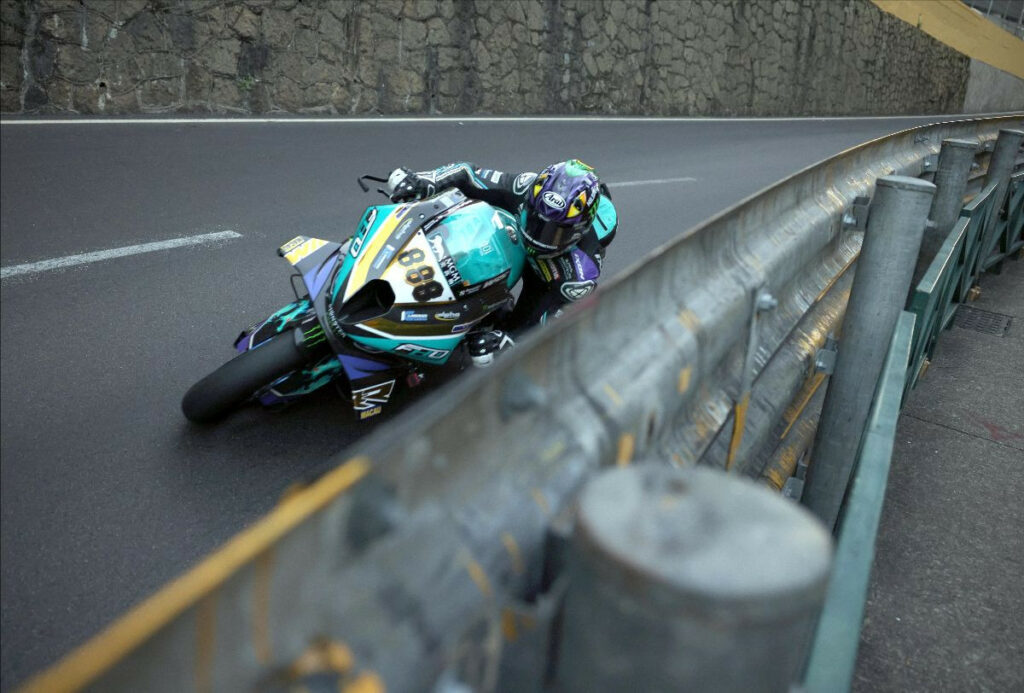 Josh Brookes – 13th:
"Qualifying started off pretty disastrous, I was so desperate to do some more laps. Yesterday's practice went well, I did as many laps as I could really, and then I was hoping to match that today and do a similar pattern during the session. Unfortunately, we had a gearbox problem so I was only able to get two timed laps, which meant we lost a lot of track time, which being new to the event track time is critical and that's what will make the difference between where I'll qualify and where I'll finish. Luckily, we had Q2 in the afternoon and we got the maximum amount of laps as I could get away with. We came in during the middle got more fuel and tyres, then went and did another bunch of laps. So, I kind of maximised the amount of laps I could do in qualifying and secured my fastest lap during the last lap. Every lap I do is helpful and I'm progressing, but I'm actually a bit surprised that the progress isn't quicker. It feels a little like I'm held back for some reason, obviously fear and self-preservation, those sort of things, but yeah, I just feel how I feel when I'm looking through the visor; I feel OK but the stopwatch is not indicating the same sensation, so I don't know how to improve that for tomorrow. We've got morning warm up and I'll get some more laps, then hopefully get into a better rhythm ready for the race."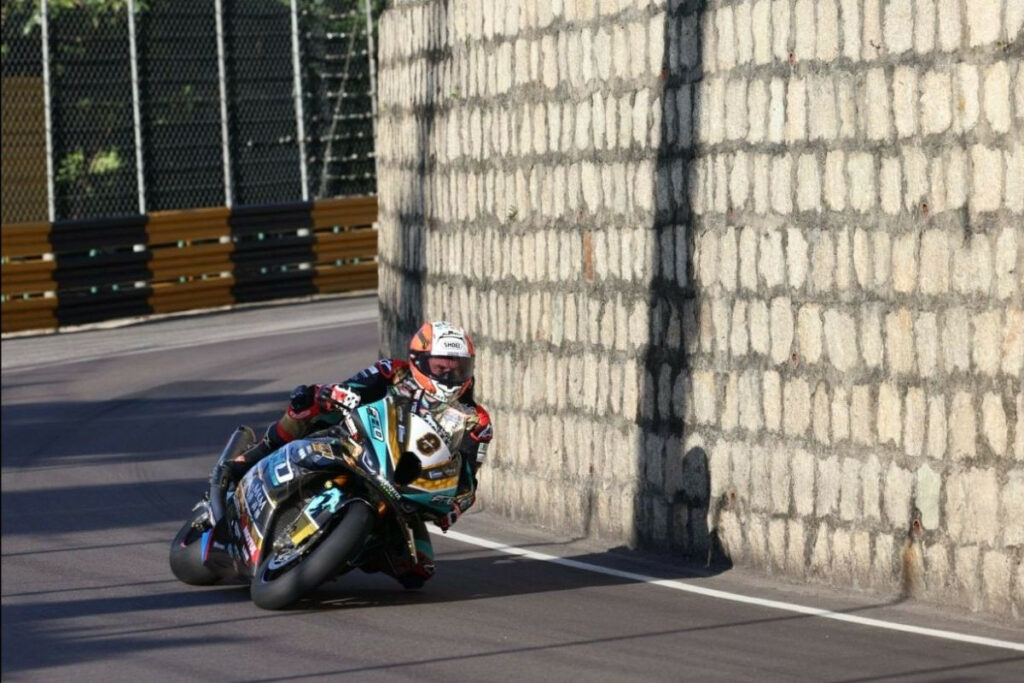 Michael Rutter – 5th:
"I won't lie, I wish I'd ended up on the front row, but I'm not I'm fifth! I'm happy in one sense, I feel better with the bike and with each lap it got better. I was feeling a bit sick in the other sessions, perhaps just getting used to it and getting up to speed, but I felt better in the final session. It was just the sun really, I just didn't feel comfortable with it. I tried to do the best I could and ended up going quicker, so it's all going the right way. We have morning warm-up and the race tomorrow, so hopefully we can make some further progress and move a little closer towards Pete."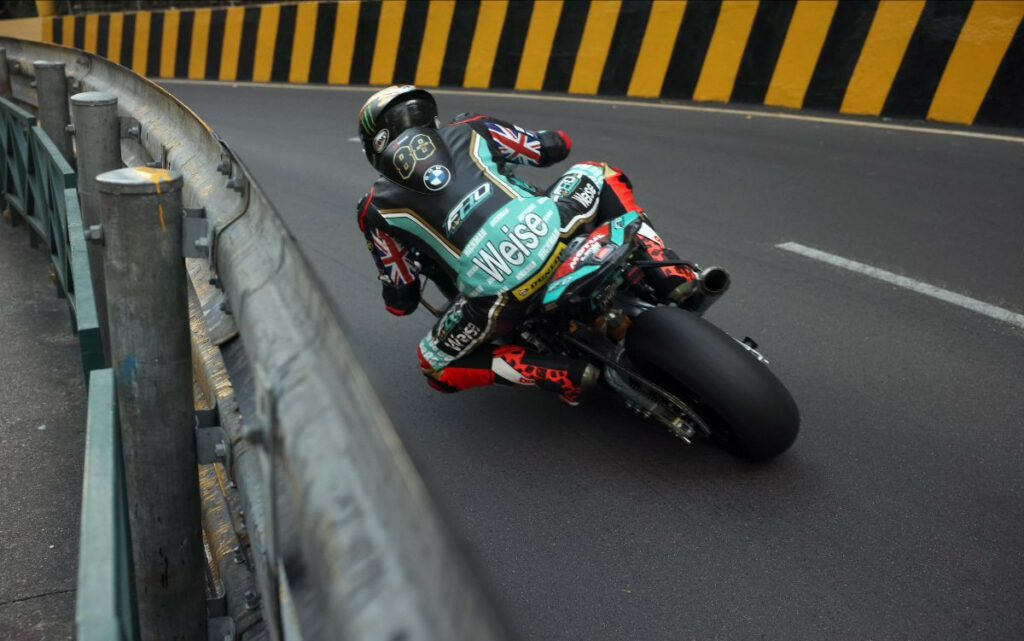 Peter Hickman – Pole Position:
"The BMW's working good; the boys are working really well. This morning in Q1 I was pretty fast, I'm a second away from where I was in qualifying in 2019. The track is bumpier as well, so I was quite happy with that, but the other boys have been super-fast as well, so second place was only a tenth behind me. It's good to see that we have some strong competition! Coming into this afternoon, I wasn't entirely sure when we'd get going, there'd been a lot of crashes in the car classes, but we weren't too late in the end, so we had enough time but the sun was really low and in the run to Lisboa in particular, you really couldn't see and couldn't judge your braking markers at all. I thought the session was over to be honest, seven minutes to go I pulled in, I hadn't been as fast as I was in the morning as I didn't need to, then all of a sudden, the boys hadn't even got the bike on the stand as I pulled in, and Davey suddenly did a 25.3 lap, so I looked up at the screen and thought 'I best get back out on the bike!' I went back out, seven minutes you don't have much time, so once I'd done the out lap it meant I could only do two flying laps. The first lap wasn't the best and I caught few people, the second lap I still caught a few people but managed to pull it out of the bag with a 2:24.879 lap time. I'm happy with that, it was lap eight of the rear tyre, so shows that we can have pace into the race if we need to. I'm mega happy for FHO Racing and of course for Faye to get her first pole position, this is the first time FHO Racing has been here so it's a great result already and I can't wait for the race tomorrow!"

Faye Ho – Team Principal:
"It means so much to me that we're on pole position here at the Macau Grand Prix, at my home race in our debut year. Everyone in the team has, and always does work so hard, but this week the whole team have been amazing and to finish today on pole, is something really special – so a huge thank you to each and everyone in the team. It's not over just yet, as we have 12 laps of the race tomorrow for Josh, Michael and Peter, but I know as a team we will put our best foot forward and do the very best we can. I'd like to wish my riders a safe and successful race, but also to our fellow competitors. The Macau Grand Prix is not an easy event, so here's to a good race for everyone!"