Grush and Wood Named Co-Executive Directors of Loudon Road Race Series
Veteran racers John Grush and Eric Wood bring a new vision to New Hampshire Motor Speedway's Loudon Road Race Series starting with the 2020 season.
LOUDON, N.H. – Long-time motorcycle racers John Grush and Eric Wood have been named co-executive directors of New Hampshire Motor Speedway's Loudon Road Race Series (LRRS).
The 2020 LRRS schedule features eight weekends of Championship Cup Series (CCS) motorcycle racing including seven events at NHMS. Through a new partnership with CCS, LRRS will race for the first time at another venue and will include a points-paying round at New Jersey Motorsports Park (NJMP) on July 4-5 for all LRRS championships. Likewise, the CCS Atlantic and Mid-Atlantic championships will have a points-paying round at NHMS during the 97th annual Loudon Classic, the longest-running motorcycle race in America, on June 19-21. All schedule conflicts between motorcycle races at NHMS, NJMP and Summit Point have been eliminated.
"We are grateful for the hard work of all parties involved and excited for the opportunity to grow the relationship between LRRS and CCS to create a friendly rivalry between the riders who frequent these two racetracks," said Wood. "We feel strongly that this relationship will strengthen racing in the northeast as a whole and that the creation of a little north/south challenge will bring our communities together and provide new opportunities to become better riders."
Grush and Wood have also formed an advisory board consisting of riders, officials, dealers and vendors who are invested in the sport and share the same vision of growth. The three-part vision is to: Reward current riders with an atmosphere that combines fun, customer service, safety and fairness throughout all aspects of the weekend; create opportunities for track day riders to feel welcomed to participate in the world of racing by creating a low pressure, more relaxed environment to test the waters; and ensure the future of the sport through the development of a youth program that lowers the barriers to entry and provides guidance from experienced experts, leading to a path for success.
"I came into road racing and found a family," said Grush. "Our primary goals with LRRS and racing in general is to nurture and grow that family. We want to not only engage the riders in the process but also the motorcycle community as a whole. Over the next few seasons, we hope to roll out a number of programs that will allow more riders to experience what makes racing so great, strengthen motorcycle businesses and solidify the sport for the foreseeable future."
Grush and Wood hope to work together with racing organizations across the country to pool information and exchange ideas in the spirit of enhancing the racing community and evolving the sport.
"We have a deep-rooted passion for our sport and believe there are many great minds in racing organizations across the country," said Wood. "We look forward to opening lines of communication that will usher in an era of collaboration that will help racing thrive both at LRRS and throughout the nation."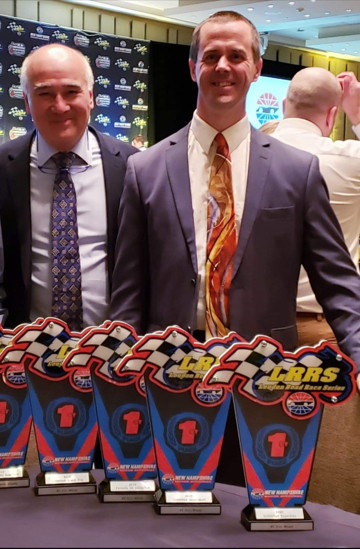 The Loudon Road Race Series will return to New Hampshire Motor Speedway May 2-3 to kick off the 2020 season.
2020 Schedule:
–       May 2-3 and 16-17
–       June 19-21 (97th annual Loudon Classic Weekend)
–       July 4-5 (At New Jersey Motorsports Park)
–       August 1-2 and 29-30
–       September 19-20
–       October 3-4
Check out the full results from all races: https://trackintel.com/ti/lrrs/ajax2014/results/index.html
Stay up-to-date with the Loudon Road Race Series:
–       Facebook: https://www.Facebook.com/LRRSNHMS/
–       Website: https://www.NHMS.com/Local/Loudon-Road-Race-Series/
For ticket information for all events at New Hampshire Motor Speedway, including the November 28, 2019-January 5, 2020 Gift of Lights presented by Eastern Propane & Oil, the June 13-20, 2020 Motorcycle Week at NHMS, the July 17-19, 2020 Foxwoods Resort Casino 301 race weekend and the September 11-12, 2020 Full Throttle Fall Weekend visit the speedway website at NHMS.com or call Fan Relations at (603) 783-4931.