Ferran Sastre, overall winner of the 2019 Flat Track Winter Olympics
Sastre: He Came, He Saw, He Conquered…
It couldn't have gone much better for Ferran Sastre (Kawasaki), racing for the first time in the United States. He won the prestigious Number One Plate at the AMA-sanctioned Flat Track Winter Olympics, run over the Thanksgiving holidays at Travelers Rest Speedway, South Carolina. The 20-year-old Spaniard from Barcelona was invited by the Flat Track Winter Olympics promoters (Motoanatomy) on the basis of having won, in undefeated and dominant fashion, the inaugural European Flat Track Series (DTRA).
Racing began with the TT event on Friday. Sastre was leading when the race was red-flagged and eventually finished second to outstanding Yamaha-mounted AFT rookie Dallas Daniels of Mattoon, Il (winner of the prestigious Peoria TT). Third was Xavier Zayat (Kawasaki) of New Windsor, New York. Daniels, who came though from deep in the pack on the restart, caught and passed Sastre in the final laps. Sastre said afterwards that he was confused about the number of laps remaining at the end, but acknowledged that Daniels was quicker.
Next event of the Triple Crown program was the Short Track and, after winning his qualifying heat, Sastre went on to score a dominant win from Zayat and Jeremiah Duffy (Honda), and that set the stage for the Flat Track Winter Olympics deciding race. Daniels, who didn't contest the Short Track, retained an outside chance, but Sastre knew that a finish in the top six would be enough. He did better than that.
It was the first time the Spaniard had ever turned a wheel on an American half mile and he got some valuable advice on riding and set-up from AFT pro Johnny Lewis. Sastre found his Kawasaki, tuned for the Spanish and European quarter-mile and eighth-mile circuits was short on power on the straights and he had to fight his way up from eighth at the end of the opening lap.
At the front, Daniels pulled out to a comfortable lead, but, always aware of the points, Sastre picked up places lap after lap to finally finish fourth and in contention for a podium position. With Lowe second and Brandon Kitchen of Clifford Michigan third on a KTM, Sastre and his team, directed by his father Pep Sastre, were the overall winners. Ferran will be awarded the Flat Track Winter Olympics Number One plate at the December AMA Awards Banquet.
Results TT
1. Dallas Daniels (Yamaha)
2. Ferran Sastre (Kawasaki)
3. Xavier Zayat (Kawasaki)
4. Trevor Browner (Honda)
Results Short Track
1. Ferran Sastre (Kawasaki)
2. Xavier Zayat (Kawasaki)
3. Jeremiah Duffy (Honda)
4. Blake Lomas (Honda)

Results 1/2 Mile
1. Dallas Daniels (Yamaha)
2. Ben Lowe (Kawasaki)
3. Brandon Kitchen (KTM)
4. Ferran Sastre (Kawasaki)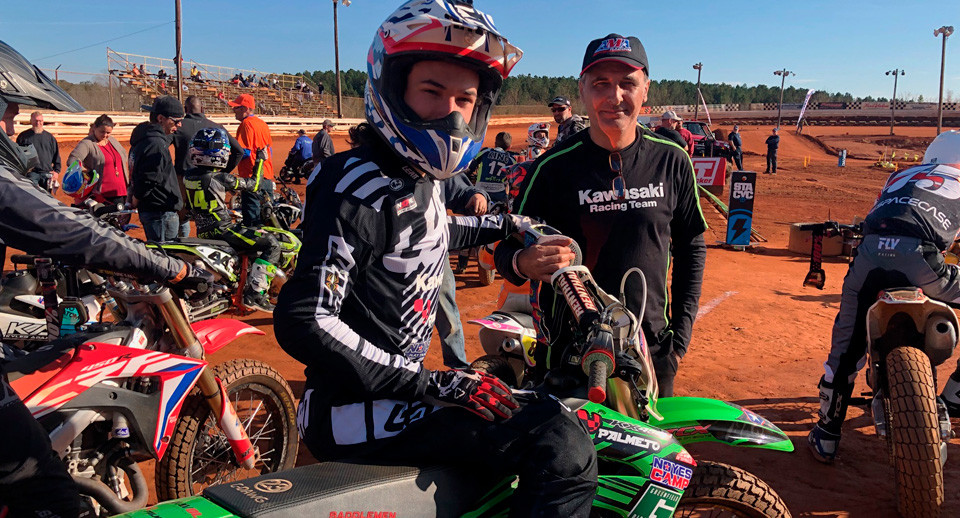 Ferran Sastre #215:
"Coming here to the USA was a dream for me and I want to thank MotoAnatonomy,  DTRA and all those who made this trip possible. We had to change the front brake during practice for the TT but I got the holeshot… and pulled a few meters of advantage at the beginning. I was comfortable in the lead but, unfortunately, there was a three-rider crash that brought out the red flags. In the second start, a single-file start, I already lost the gap I had built up. I led but 'I didn't understand how many laps were left. I thought we were running ten laps but actually we were only running five. So, I led, but reserving a little.  Dallas, involved in the crash that stopped the race, made a great comeback from the back of the grid and was able to overtake me just at the end but I am still very happy because Dallas in a very, very good rider, and be at his level and be able to put pressure on him to fight for the win was very satisfying. I am very happy to have been able to measure myself with such a good professional.
"The Short Track, my specialty, I was able to win without much difficulty, but the real challenge, the reason I was excited to come to the USA was the half mile. As I got in more laps, I felt better and better. Fourth place is a very good result considering that I made a bad start and had to come back from the eighth. With more laps I think I could have finished second. So, I´m very happy. We improved the bike a bit and we will leave for Spain with more experience in these long circuits. Above all, thanks to Johnny and everyone who helped… I´m Very happy to have received this Number One Plate from the AMA and I hope it will serve as a return ticket to the USA in the future. Now I need to get my feet back on the ground. And I hope to return next year."