The Roadracing World Reader Survey, Part 4, was brought to you by Dunlop Motorcycle Tires.
The prize winner for Roadracing World's Reader Survey, Part 4, is Peter Adang, from Scottsdale, Arizona. He won a set of Dunlop motorcycle tires of his choice, up a $500 value.
To sign up to receive upcoming, short installments of future Roadracing World reader surveys and other promotional e-mails from Roadracing World, CLICK HERE.
Survey results are used to improve content for readers and marketing for our advertisers.  Name and address required for prize drawing. No mailing list or confidential individual information is shared with third parties. Roadracing World's privacy policy can be viewed HERE.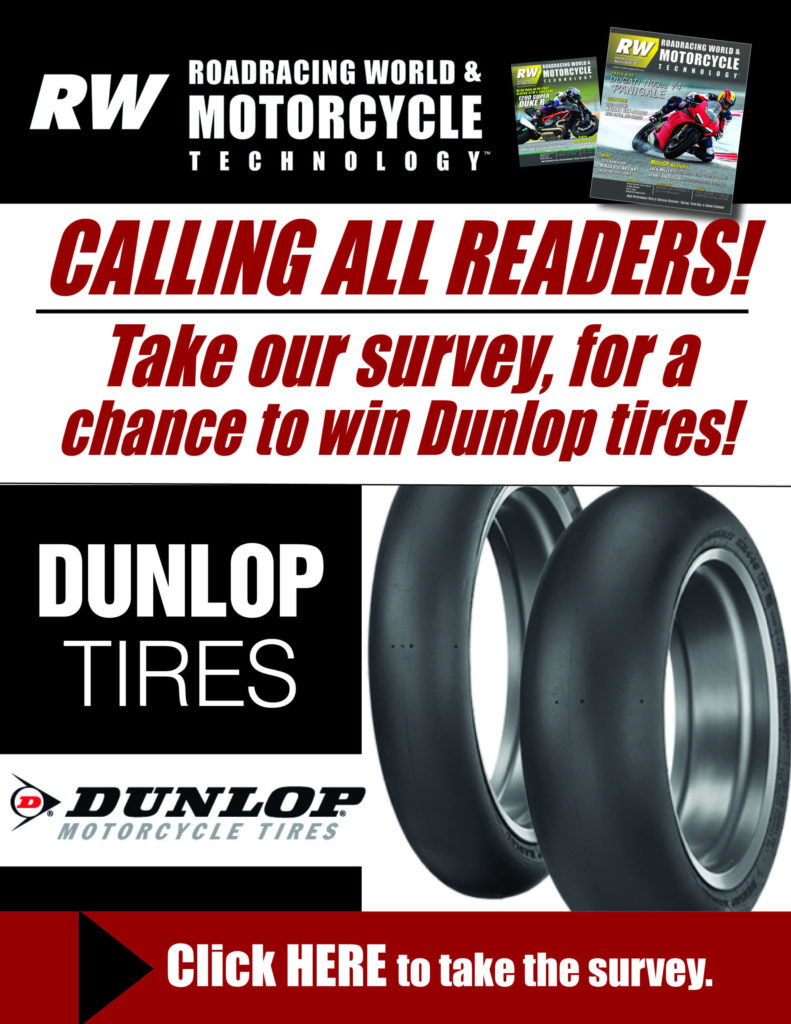 Dunlop offered a set of Dunlop Motorcycle Tires of the winner's choice, a value worth up to $500, as the prize for this survey.
About Dunlop Motorcycle Tires
Dunlop is a proud supporter of American road racing at both the amateur and professional levels alike. Dunlop is also the largest supplier of original equipment and replacement motorcycle tires in the U.S.A. For more information, visit www.dunlopmotorcycletires.com or  www.dunlopracing.com.
For more information on how your product can be the presenting sponsor of an upcoming portion of the Roadracing World Reader Survey, email Natalie Ulrich Heard, [email protected]dracingworld.com.