Greenwood back to winning ways, Gloddy sets a record
After nine long months since the 2019 season finale, the Loudon Road Race Series (LRRS) held the first of six races on the schedule for 2020 this past weekend (July 4-5) at New Hampshire Motor Speedway.
2020 marked a change for LRRS as New Hampshire Motor Speedway turned the management of the series over to longtime racers Eric Wood and John Grush.
"We're grateful for the efforts of NHMS on behalf of LRRS over the years.  They allocated corporate resources to promoting the series and spent more money on Airfence and safety upgrades than any racetrack I am aware of over the past decade," noted Wood.
Grush agreed, saying, "Eric and I share the same vision of bringing back a true club and family atmosphere while also focusing on growing the sport of road racing in the Northeast and in the US as a whole."
In the Amateur ranks Lincoln Gottier was the star of the show raking in six victories on his Yamaha R6.  Fellow middleweight riders Anthony DiCecca, Bryan Wardius and Paul Hosue all took turns trying to unseat Gottier from his position on top of the podium, but in the end ended up taking turns occupying the second step of the podium.  Gottier ran times in the low 1:17's and is a likely candidate to get bumped to Expert before the end of the 2020 season.
In the lightweight Amateur races a similar performance was put on by SV650-mounted Drew Bailey, who went five for five for a super successful weekend.  Other notable Amateur riders were Anthony Franco with three wins on his Husqvarna 450 and Thomas Sands with three wins on his KTM 390.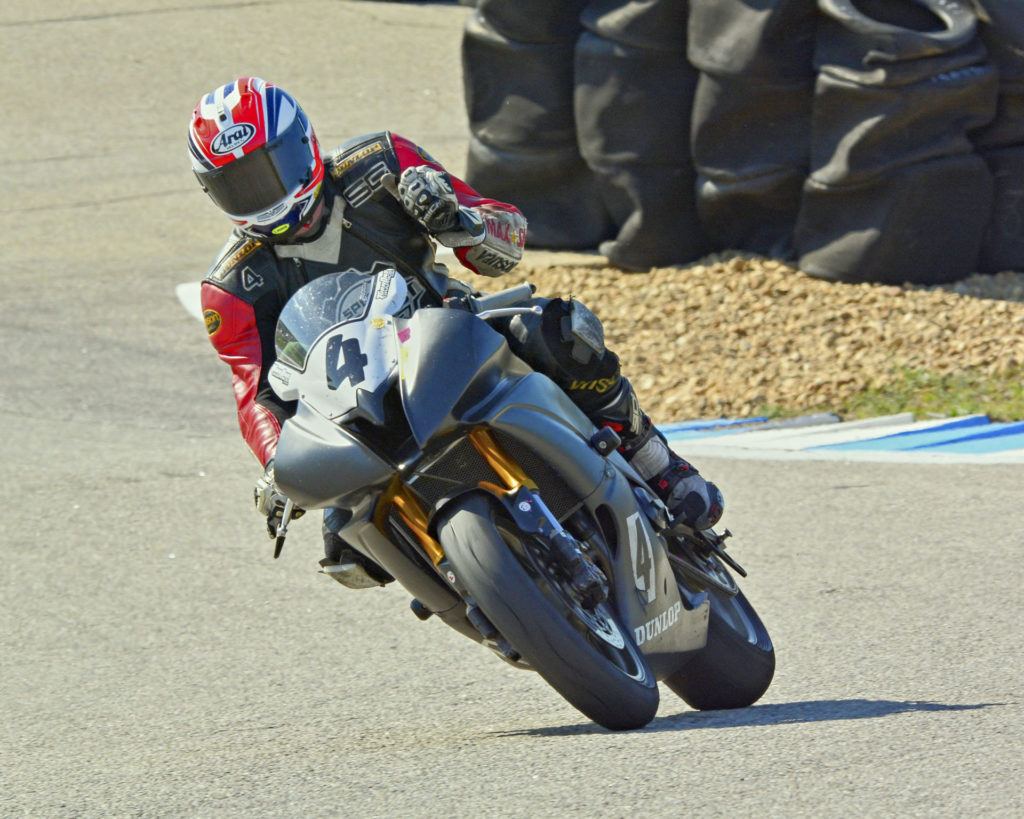 In the Expert ranks some familiar faces were back at the front.  Charles "Jesse" Sandoz raked in six wins on his Ducati 1100 in the lightweight classes and Eric Wood carded four victories on his Kawasaki ZX-10R in the unlimited classes.  Scott Greenwood was the star of the weekend carding six victories on his new Tony Romo-built Yamaha R6, including the premier Michelin-Motorace Middleweight GP class.  One milestone of note was in the Heavyweight Supersport race where Scott Greenwood made a mistake and Sam Greenwood (Scott's son) ended up taking home his first win against the "old man."  We're not calling for a changing of the guard just yet, but Sammy rode well all weekend long.
Also of note, Ben Gloddy won his first race of the weekend on his Ninja 400 and then in his second race did a number on his motorcycle with a big high-side crash in Turn Four.  His MotoAmerica team owner and coach Dale Quarterley lent him a motorcycle for Sunday's 500 Superbike race and Ben bounced back with a particularly impressive ride.  The previous 500 Superbike class record was a 1:19.2, and Ben smashed it with an incredible 1:17.9!
LRRS riders are back in action on July 18-19 for round #2.
Race Results:
500 Superbike:
1. Benjamin Gloddy (Kawasaki Ninja 400)
2. Elijah Block (Kawasaki Ninja 400)
3. Brianna McHugh (Kawasaki Ninja 400)
4. Christopher Woodman (KTM RC 390)
5. Michael Zoner (Kawasaki Ninja 400)
6. Shane Lewis (Kawasaki Ninja 400)
Amateur 500 Superbike:
1. John Lear (Kawasaki Ninja 500R)
2. Roy Whitson (Yamaha YZF-R3)
3. Thomas Sands (KTM RC 390)
4. Brendan Moriarty (Kawasaki Ninja 300)
5. Frank Vollkommer (Kawasaki Ninja 400)
Amateur 300 Supersport:
1. Thomas Sands (KTM RC 390)
2. Roy Whitson (Yamaha YZF-R3)
Amateur Formula 50 Lights:
1. Michael Dimond (Husqvarna FS 450)
2. Bruce Marshall (Suzuki SV650)
3. Matthew Lilly (KTM SXF 450)
4. Stephen Biehl (Suzuki SV650)
5. Mike Wankum (KTM 790 Duke)
Amateur Formula 40 Lights:
1. Bruce Marshall (Suzuki SV650)
2. Dan Pletea (Suzuki SV650)
3. Stephen Biehl (Suzuki SV650)
4. Kevin Fogg (Suzuki SV650)
Amateur Formula 40 Unlimited:
1. Todd Burnham (KTM RC8R)
2. Michael Newton (Suzuki GSX-R600)
3. Loyd Palmer (Yamaha YZF-R6)
4. Christian Trudeau (Yamaha YZF-R6)
5. Anthony Wells (Kawasaki ZX-6R)
6. Christopher Dixon (Yamaha YZF-R6)
Amateur GTL:
1. Drew Bailey (Suzuki SV650)
2. John Lear (Kawasaki Ninja 500R)
3. Dan Pletea (Suzuki SV650)
4. Stephen Biehl (Suzuki SV650)
Amateur GTO:
1. Todd Burnham
2. Jason Fairclough (Yamaha YZF-R6)
3. Bryan Wardius (Yamaha YZF-R6)
4. Ron Gimondo (Kawasaki ZX-6R)
Amateur GTU:
1. Lincoln Gottier (Yamaha YZF-R6)
2. Anthony DiCecca (Yamaha YZF-R6)
3. Jane Kennedy (Ducati 749)
4. Jeff Gray (Yamaha YZF-R6)
5. Anthony Wells (Kawasaki ZX-6R)
6. Michael Newton (Suzuki GSX-R600)
Amateur HW Superbike:
1. Lincoln Gottier (Yamaha YZF-R6)
2. Bryan Wardius (Yamaha YZF-R6)
3. Kevin Custer (Suzuki GSX-R600)
4. Jason Fairclough (Yamaha YZF-R6)
5. Anthony DiCecca (Suzuki GSX-R600)
6. LeRoy Cort (Kawasaki ZX-6R)
Amateur HW Supersport:
1. Bryan Wardius (Yamaha YZF-R6)
2. Paul Hosue (Yamaha YZF-R6)
3. LeRoy Cort (Kawasaki ZX-6R)
4. Kevin Custer (Suzuki GSX-R600)
5. Daryl Blums (Yamaha YZF-R6)
6. Owen Feeney (Suzuki GSX-R600)
Amateur LW Sportsman:
1. Anthony Franco (Husqvarna FS 450)
2. Christopher Girard (Husqvarna FS 450)
3. Jonathan Tine (Honda CRF450R)
Amateur LW Grand Prix:
1. Drew Bailey (Suzuki SV650)
2. Michael Giossi (Suzuki SV650)
3. Dan Pletea (Suzuki SV650)
4. Stephen Biehl (Suzuki SV650)
5. Edward Forer (Suzuki SV650)
6. Miles Allen (Husqvarna FS 450)
Amateur LW Superbike:
1. Drew Bailey (Suzuki SV650)
2. Dan Pletea (Suzuki SV650)
3. Michael Giossi (Suzuki SV650)
4. Edward Forer (Suzuki SV650)
5. Kevin Fogg (Suzuki SV650)
Amateur LW Supersport:
1. Drew Bailey (Suzuki SV650)
2. Bruce Marshall (Suzuki SV650)
3. Dan Pletea (Suzuki SV650)
4. Stephen Biehl (Suzuki SV650)
Amateur Moto 3:
1. Thomas Sands (KTM RC 390)
2. Jeff Vader
3. Miles Allen (Husqvarna FS 450)
4. Christopher Szarek (Husqvarna FS 450)
Amateur Motard:
1. Anthony Franco (Husqvarna FS 450)
2. Levi Lilly (KTM 450SX-F)
3. Christpher Girard (Husqvarna FS 450)
4. Michael Dimond (Husqvarna FS 450)
5. Matthew Lilly (KTM 450SX-F)
6. Jonathan Tine (Honda CRF450R)
Amateur MW Formula 40:
1. Kevin Custer (Suzuki GSX-R600)
2. Thomas Hynes IV (Kawasaki ZX-6R)
3. Jane Kennedy (Ducati 749)
4. Christian Trudeau (Yamaha YZF-R6)
5. David Mink (Kawasaki ZX-6R)
6. Lloyd Palmer (Yamaha YZF-R6)
Amateur MW Grand Prix:
1. Lincoln Gottier (Yamaha YZF-R6)
2. Paul Hosue (Yamaha YZF-R6)
3. Anthony DiCecca (Yamaha YZF-R6)
4. Bryan Wardius (Yamaha YZF-R6)
5. Jason Fairclough (Yamaha YZF-R6)
6. Kevin Custer (Suzuki GSX-R600)
Amateur MW Superbike:
1. Lincoln Gottier (Yamaha YZF-R6)
2. LeRoy Cort (Kawasaki ZX-6R)
3. Owen Feeney (Suzuki GSX-R600)
4. Daryl Blums (Yamaha YZF-R6)
5. Christian Trudeau (Yamaha YZF-R6)
Amateur MW Supersport:
1. Lincoln Gottier (Yamaha YZF-R6 )
2. Bryan Wardius (Yamaha YZF-R6)
3. Anthony DiCecca (Yamaha YZF-R6)
4. Thomas Hynes IV (Yamaha YZF-R6)
5. LeRoy Cort (Kawasaki ZX-6R)
6. John Murray (Ducati 848)
Amateur Super Singles:
1. Anthony Franco (Husqvarna FS 450)
2. Michael Dimond (Husqvarna FS 450)
3. Levi Lilly (KTM 450SX-F)
4. Matthew Lilly (KTM 450SX-F)
5. Miles Allen (Husqvarna FS 450)
6. Christopher Girard (Husqvarna FS 450)
Amateur 500 Supersport:
1. Thomas Sands (KTM RC 390)
2. Roy Whitson (Yamaha YZF-R3)
3. Frank Vollkommer (Kawasaki Ninja 400)
Amateur Thunderbike:
1. Edward Forer (Suzuki SV650)
2. Mike Wankum (KTM 790)
Amateur 300 Superbike:
1. Thomas Sands (KTM RC 390)
2. Roy Whitson (Yamaha YZF-R3)
3. Brendan Moriarty (Kawasaki Ninja 300)
Amateur Ultralight Superbike:
1. Drew Bailey (Suzuki SV650)
2. Michael Dimond (Husqvarna FS 450)
3. Levi Lilly (KTM 450 SX-F)
4. Michael Giossi (Suzuki SV650)
5. Kevin Fogg (Suzuki SV650)
6. Christopher Girard (Kawasaki KX450)
Amateur Unlimited Grand Prix:
1. Lincoln Gottier (Yamaha YZF-R6)
2. Jason Fairclough (Yamaha YZF-R6)
3. Jeff Gray (Yamaha YZF-R6)
4. LeRoy Cort (Kawasaki ZX-6R)
5. Christian Trudeau (Yamaha YZF-R6)
6. Lloyd Palmer (Yamaha YZF-R6)
Amateur Unlimited Superbike:
1. Bryan Wardius (Yamaha YZF-R6)
2. Todd Burnham (KTM RC8R)
3. Paul Hosue (Suzuki GSX-R600)
4. Thomas Hynes IV (Kawasaki ZX-6R)
5. Lloyd Palmer (Yamaha YZF-R6)
6. Joe Ammendolia (Yamaha YZF-R6)
Amateur Unlimited Supersport:
1. John Murray (Ducati 848)
2. Anthony Wells (Kawasaki ZX-6R)
3. Joe Ammendolia (Yamaha YZF-R6)
Combined Formula 60 Lights:
1. John Grush (Yamaha YZF-R6/565)
2. John Donald (KTM 790 Duke)
3. Timothy O'Connor (Kramer TZ690)
4. Bart Chamberlain
5. Michael Dimond (Husqvarna FS 450)
6. Mike Wankum (KTM 790 Duke)
Combined GT 500:
1. Benjamin Gloddy (Kawasaki Ninja 400)
2. Shane Lewis (Kawasaki Ninja 400)
3. Brianna McHugh (Kawasaki Ninja 400)
4. Michael Zoner (Kawasaki Ninja 400)
5. Jason Downs (Yamaha YZF-R3)
6. Branch Worsham (Kawasaki Ninja 500)
300 Supersport:
1. Rick Doucette (Yamaha YZF-R3)
2. Jason Downs (Yamaha YZF-R3)
3. James Whitaker (Yamaha YZF-R3)
Formula 50 Lights:
1. John Grush (Yamaha YZF-R6/565)
2. Rick Doucette (Yamaha YZF-R6/565)
3. Fred McCullough (KTM Duke 790)
4. John Donald (KTM Duke 790)
5. Keith Draghi (Ducati Monster 1100)
6. Jaimie Cortez (Suzuki SV650)
Formula 40 Lights:
1. Charles Sandoz (Ducati Monster 1100)
2. Rick Doucette (Yamaha YZF-R6/565)
3. Tim Hogan (Ducati 749R)
4. Steven Heider (Suzuki SV650)
5. John Grush (Yamaha YZF-R6/565)
6. Shawn Barron (KTM 790 Duke)
Formula 40 Unlimited:
1. Eric Wood (Kawasaki ZX-10R)
2. David Dayon (Kawasaki ZX-10R)
3. Eric Shaw (Kawasaki ZX-10R)
4. Christopher Woodman (Yamaha YZF-R1)
5. Wojciech Kasperuk (Yamaha YZF-R6)
6. Vicente Frontinan (Yamaha YZF-R6)
GTL:
1. Charles Sandoz (Ducati Monster 1100)
2. Rick Doucette (Yamaha YZF-R6/565)
3. Brett Guyer (HKR EVO2R)
4. Bill Coolahan (KTM 790 Duke)
5. Nick Leighton (Suzuki SV650)
6. Fred McCullough (KTM 790 Duke)
GTO:
1. Cory Hildebrand (Kawasaki ZX-10R)
2. David Dayon (Kawasaki ZX-10R)
3. Eric Shaw (Kawasaki ZX-10R)
GTU:
1. Scott Greenwood (Yamaha YZF-R6)
2. Tyler Wasserbauer (Yamaha YZF-R6)
3. Alexander Guilbeault (Yamaha YZF-R6)
4. Paul Duval (Yamaha YZF-R6)
5. Robert S. Briody (Suzuki GSX-R600)
6. Jesse Burnett (Kawasaki ZX-6R)
HW Superbike:
1. Scott Greenwood (Yamaha YZF-R6)
2. Samuel Greenwood (Yamaha YZF-R6)
3. Alexander Guilbeault (Yamaha YZF-R6)
4. Rick Doucette (Yamaha YZF-R6)
5. Kip Peterson (Suzuki GSX-R600)
6. Daniel Weems (Yamaha YZF-R6)
HW Supersport:
1. Samuel Greenwood (Yamaha YZF-R6)
2. Scott Greenwood (Yamaha YZF-R6)
3. Daniel Weems (Yamaha YZF-R6)
4. Kip Peterson (Yamaha YZF-R6)
5. Justin Landry (Yamaha YZF-R6)
6. Joel Laub (Yamaha YZF-R6)
LW Sportsman:
1. Brett Guyer (HKR EVO2R)
2. Bill Morey (Husqvarna FS 450)
3. Sergio Di Molfetta (Husqvarna FS 450)
4. J.C. Bernier (Honda CRF450R)
5. Lee Schmidt (Husqvarna FS 450)
6. Adam Clark (Husqvarna FS 450)
LW Grand Prix:
1. Charles Sandoz (Ducati Monster 1100)
2. Elijah Block (KTM 450)
3. Rick Doucette (Yamaha YZF-R6/565)
4. Harlan Hildebrand (KTM Duke)
5. John Grush (Yamaha YZF-R6/565)
6. Adam Guyer (Ducati 1000SS)
LW Superbike:
1. Charles Sandoz (Ducati Monster 1100)
2. Harlan Hildebrand (KTM Duke 790)
3. Bill Coolahan (KTM Duke 790)
4. Shawn Barron (KTM Duke 790)
5. Adam Guyer (Ducati 1000DS)
6. Brian Faucher (Suzuki SV650)
LW Supersport:
1. Bill Coolahan (KTM Duke 790)
2. Steven Heider (Suzuki SV650)
3. Shawn Barron (KTM 790 Duke)
4. Nick Leighton (Suzuki SV650)
5. Brian Faucher (Suzuki SV650)
6. John Donald (Suzuki SV650)
Moto 3:
1. Michael Zoner (Kawasaki Ninja 400)
2. Christopher Woodman (KTM RC 390)
Motard:
1. Elijah Block (KTM 450)
2. Gunnar Ouellette (Husqvarna FS 450)
3. Sergio Di Molfetta (Husqvarna FS 450)
4. Adam Clark (Honda CRF450)
5. Bill Morey (Husqvarna FS 450)
6. J.C. Bernier (Honda CRF450)
MW Formula 40:
1. Scott Greenwood (Yamaha YZF-R6)
2. Paul Duval (Yamaha YZF-R6)
3. Robert S. Briody (Suzuki GSX-R600)
4. Kip Peterson (Yamaha YZF-R6)
5. Adam Tognazzi (Yamaha YZF-R6)
6. Wojciech Kasperuk (Yamaha YZF-R6)
MW Grand Prix:
1. Scott Greenwood (Yamaha YZF-R6)
2. Samuel Greenwood (Yamaha YZF-R6)
3. Tyler Wasserbauer (Yamaha YZF-R6)
4. Alexander Guilbeault (Yamaha YZF-R6)
5. Paul Duval (Yamaha YZF-R6)
6. Anthony Furia (Yamaha YZF-R6)
MW Superbike:
1. Scott Greenwood (Yamaha YZF-R6)
2. Tyler Wasserbauer (Yamaha YZF-R6)
3. Rick Doucette (Yamaha YZF-R6)
4. Daniel Weems (Yamaha YZF-R6)
5. Justin Landry (Yamaha YZF-R6)
6. Kip Peterson (Yamaha YZF-R6)
MW Supersport:
1. Scott Greenwood (Yamaha YZF-R6)
2. Tyler Wasserbauer (Yamaha YZF-R6)
3. Samuel Greenwood (Yamaha YZF-R6)
4. Daniel Weems (Yamaha YZF-R6)
5. Vincente Frontinan (Yamaha YZF-R6)
6. Adam Tognazzi (Yamaha YZF-R6)
Novice Formula 1:
1. Tsuyoshi Honjo (Suzuki GSX-R750)
2. Megan Desmarais (Triumph Daytona 675)
3. Dennis Metzler (Ducati 848 EVO)
4. Daniel Foley (Ducati 848 EVO)
5. Ronald Baughman (Yamaha YZF-R6)
Novice Formula 2:
1. Megan Desmarais (Triumph Daytona 675)
2. Patrick Gallo (Ducati 848 EVO)
3. Dennis Metzler (Ducati 848 EVO)
4. Daniel Foley (Ducati 848 EVO)
5. Matthew Paternoster (Suzuki SV650)
6. Jeff Schreiber (Suzuki SV650)
Novice Formula 3:
1. Matthew Paternoster (Suzuki SV650)
2. Jeff Schreiber (Suzuki SV650)
3. Cameron Armstrong (Suzuki SV650)
4. Alexander Kates (Husqvarna FS 450)
5. Gary Beck (Honda NSF250)
6. Rick Ma (Honda NT650)
Novice Formula 4:
1. Renee Franco (Kawasaki Ninja 400)
2. Jacob Crossman (Kawasaki Ninja 400)
3. Tyrell Boudreau (Suzuki SV650)
4. Alexander Kates (Husqvarna FS 450)
5. Rick Ma (Honda NT650)
6. Lukas Doucette (Yamaha YZF-R3)
Novice Racer 1:
1. Tsuyoshi Honjo (Suzuki GSX-R750)
2. Daniel Foley (Ducati 848)
Novice Racer 2:
1. Dennis Metzler (Ducati 848)
2. John Corey (Kawasaki ZX-6R)
3. Keith Berkins
4. Ronald Baughman (Yamaha YZF-R6)
Novice Racer 3:
1. Matthew Paternoster (Suzuki SV650)
2. Jeff Schreiber (Suzuki SV650)
3. Pierce Ballantyne (Suzuki SV650)
4. Tyrell Boudreau (Suzuki SV650)
5. Todd Fanciullo (Kawasaki Ninja 650)
6. Benjamin Claman (Suzuki SV650)
Novice Racer 4:
1. Jacob Crossman
2. Renee Franco (Kawasaki Ninja 400)
3. Alexander Kates (Husqvarna FC 450)
4. Lukas Doucette (Yamaha YZF-R3)
5. Scott Arzamarski (Kawasaki Ninja 400)
6. Michele Pierro (Kawasaki Ninja 400)
Novice Starter 1:
1. Tsuyoshi Honjo (Suzuki GSX-R750)
2. Daniel Foley (Ducati 848)
Novice Starter 2:
1. Dennis Metzler (Ducati 848)
2. Ronald Baughman (Yamaha YZF-R6)
3. Keith Berkins
4. David Burrows
Novice Starter 3:
1. Matthew Paternoster (Suzuki SV650)
2. Jeff Schreiber (Suzuki SV650)
3. Pierce Ballantyne (Suzuki SV650)
4. Benjamin Claman (Suzuki SV650)
5. Todd Fanciullo (Kawasaki Ninja 650)
6. Mohammad Nourmohammadi
Novice Starter 4:
1. Renee Franco (Kawasaki Ninja 400)
2. Jacob Crossman (Kawasaki Ninja 400)
3. Alexander Kates (Husqvarna FC 450)
4. Lukas Doucette (Yamaha YZF-R3)
5. Rick Ma (Honda NT650)
6. Michele Pierro (Kawasaki Ninja 400)
Super Singles:
1. Brett Guyer (HKR EVO2R)
2. Gunnar Ouellette (Husqvarna FS 450)
3. Bill Morey (Husqvarna FS 450)
4. Adam Clark (Honda CRF450)
5. Wesley Lakis (Kramer 690)
6. Lee Schmidt (Husqvarna FS 450)
Combined SuperTwins:
1. Charles Sandoz (Ducati Monster 1100)
2. Tim Hogan (Ducati 749R)
3. Bill Coolahan (KTM 790 Duke)
4. Harlan Hildebrand (Suzuki SV650)
5. Nick Leighton (Suzuki SV650)
6. Jim Rich (Ducati 1199)
500 Supersport:
1. Elijah Block (Kawasaki Ninja 400)
2. Michael Zoner (Kawasaki Ninja 400)
3. Brianna McHugh (Kawasaki Ninja 400)
4. Shane Lewis (Kawasaki Ninja 400)
5. Branch Worsham (Kawasaki Ninja 500)
6. Benjamin Gloddy (Kawasaki Ninja 400)
Thunderbike:
1. Charles Sandoz (Ducati Monster 1100)
2. Tim Hogan (Ducati 749)
3. Wesley Lakis (Kramer 690)
4. Adam Guyer (Ducati 1000 SS)
5. Adam Kells (Ducati M1100 EVO)
6. Kevin Calder (Suzuki SV650)
300 Superbike:
1. Christopher Woodman (KTM RC 390)
2. Rick Doucette (Yamaha YZF-R3)
3. Jason Downs (Yamaha YZF-R3)
4. James Whitaker (Yamaha YZF-R3)
Combined Ultralight GP:
1. Brett Guyer (HKR EVO2R)
2. Wesley Lakis (2019 Kramer Kramer)
3. John Lear (Kawasaki Ninja 500R)
Ultralight Superbike:
1. Elijah Block (KTM 450)
2. Steven Heider (Suzuki SV650)
3. Gunnar Ouellette (Husqvarna FS 450)
4. Wesley Lakis (Kramer 690)
5. Nick Leighton (Suzuki SV650)
6. Benjamin MacKinney (Suzuki SV650)
Unlimited Grand Prix:
1. Eric Wood (Kawasaki ZX-10R)
2. Cory Hildebrand (Kawasaki ZX-10R)
3. David Dayon (Kawasaki ZX-10R)
4. Eric Shaw (Kawasaki ZX-10R)
5. Christopher Woodman (Yamaha YZF-R1M)
6. Wojciech Kasperuk (Yamaha YZF-R6)
Unlimited Superbike:
1. Eric Wood (Kawasaki ZX-10R)
2. Scott Mullin (Kawasaki ZX-10R)
3. David Dayon (Kawasaki ZX-10R)
4. Eric Shaw (Kawasaki ZX-10R)
5. Jim Rich (Ducati 1199)
Unlimited Supersport:
1. Eric Wood (Kawasaki ZX-10R)
2. Cory Hildebrand (Kawasaki ZX-10R)
3. David Dayon (Kawasaki ZX-10R)
4. Scott Mullin (Kawasaki ZX-10R)