Pro Superbike - Race 2 (Sunday)

More, from a press release issued by CSBK:
Dumas dominates race two at SMP, stretches out huge title lead
Shannonville, ON – It may only be one round into the five-round Bridgestone Canadian Superbike Championship season, but Alex Dumas cracked the series wide open on Sunday with another victory at Shannonville Motorsport Park.
It was Sam Guerin who grabbed the holeshot for a second day in a row, but Dumas was far less patient his second time following the BMW rider, taking over the lead late on the opening lap. Guerin initially managed to hang with the race one winner, but it was only a matter of time as Dumas stretched out an insurmountable lead, cruising to perhaps the most dominant victory of his GP Bikes Pro Superbike career.
The result turned out even better for the Purple Skull Brewing/Liqui Moly Suzuki team, as rival and defending champion Ben Young saw his early title hopes unravel beneath him.
After charging through to second on lap four, Young curiously sped into the pit lane, revealing a loose tail-section that the Van Dolder's Home Team BMW mechanics had to rip off the machine. The bodywork issue left him stranded in ninth, facing an impossible comeback as Dumas torched the rest of the field.
Young would manage his way to sixth, but the damage was done as Dumas leaves Shannonville with a comfortable 23-point lead.
"It's an awesome start to the season. Once I got some clear track, I just wanted to put my head down and stretch out a lead," Dumas said. "It sucks what happened to Ben, but it's good for our championship. Now we're really looking forward to round two."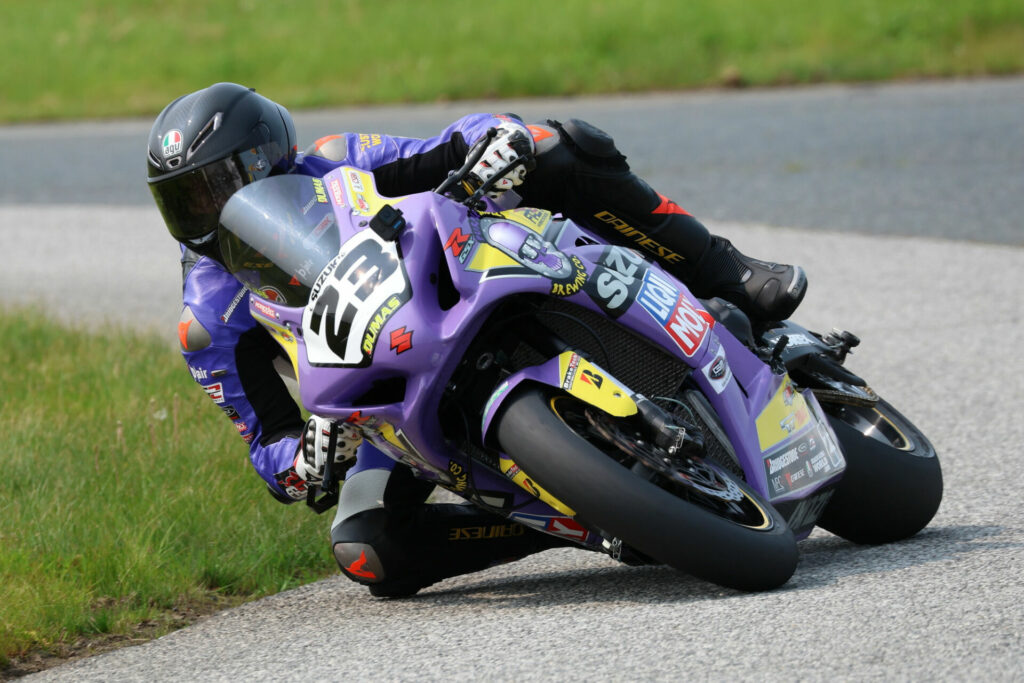 Salvaging BMW's hopes was Guerin, who redeemed himself from his Saturday crash out of the lead to finish second. It was hardly a straightforward race for the EFC Group BMW rider, however, as he faded back to fourth before returning to second in an epic battle with Jordan Szoke.
The result was long-overdue for Guerin, who stepped back onto the podium for the first time since his rookie season in 2020.
"I thought yesterday was my time, but I ended up on my butt," he joked. "It was a fun battle with Jordan – hats off to him – but it's good to be back."
Szoke was the real hero of the day, fighting through injuries and poor health to score his 118th career podium, and first since returning from the frightening injuries that nearly ended his career.
The LDS Consultants Kawasaki rider – who his team confirmed was close to not racing on Sunday as he recovers from a recent infection and a rare Saturday crash – could barely stand as he mounted the podium, though the 14-time champion was likely uplifted by the (very deserved) praise from the fans for his effort.
"I don't even know what to say. I only got a few laps in this morning…I'm in a lot of pain, but it feels good to be back up here," Szoke said. "I saw something happened to Ben, so I was aiming for a podium. It was a good battle with Sam. I thought I could get him in the esses on the last lap, but he held me off."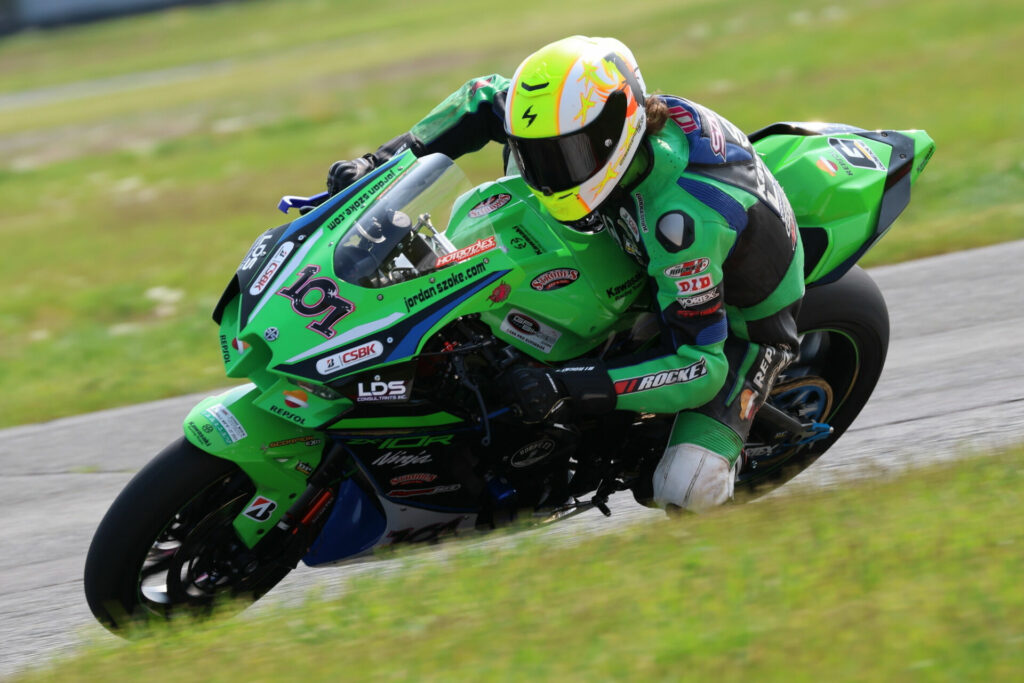 Finishing fourth was Trevor Daley, mounting a late comeback on the OneSpeed Suzuki machine as he began to reel in the battle for the final podium places. Daley's effort was also crucial for Suzuki given the issues for Young, as he helps put the 2021 champions 16 points clear of the reigning winners entering round two.
Completing the top-five was Tomas Casas, who ran as high as third after finishing there on Saturday before arm pump issues relegated him behind the quicker Daley. Still, the pair of top-five finishes will place the Parts Canada Yamaha rider third overall in the championship, the highest he's ever ranked in his GP Bikes Pro Superbike career.
Young's comeback to sixth would at least earn him the FAST Riding School Hard Charger Award and a $500 prize, though he was understandably frustrated as he leaves round one with just 34 of a possible 58 points.
"Unfortunately, on the first lap the tail-section came loose, but it was okay for three or four laps so I thought it might be okay," Young said. "After that it just got too sketchy, and I didn't want it to affect anyone behind me. I tried to make the gentleman move and just rip it off, but obviously it limited us quite a bit – but the season's far from over."
Just behind Young was lBEW BMW's Jordan Royds, who broke free of a battle with fellow BMW-mounted rider Philip Leckie on the SCM/TanIans machine, the pair finishing seventh and eighth in the final order to put four BMW's in that group.
Alberta's Paul Macdonell was the top rookie in ninth, putting his Acme Motorsports Yamaha atop the Brooklin Cycle Racing Pro Rookie of the Year standings and keeping Yamaha ahead of Kawasaki for third in the Constructors Standings.
Full results can be found on the series' official website.
More, from a press release issued by Ben Young Racing:
The opening round of the Canadian Superbike Championship was a bumpy ride for reigning champion Ben Young in more ways than one. A mixed bag of results after a challenging weekend saw Young leave Shannonville Motorsports Park with points for pole position, a second place, and a hard-fought 6th place finish after being forced to detour through the pit lane to remove a broken tail seat.
After setting a blistering pace during the Superpole session on Friday, Young was poised for a successful weekend. Aboard his Van Dolder's Home Team BMW M1, Young put in a time of 1:04.749 which no one could come near.
A very rainy Saturday ushered in the first race of the season. Young didn't feel overly comfortable given the conditions of the rain-soaked track. It's a long season, and he played a smart race by cruising to a solid 2nd place, gaining valuable championship points.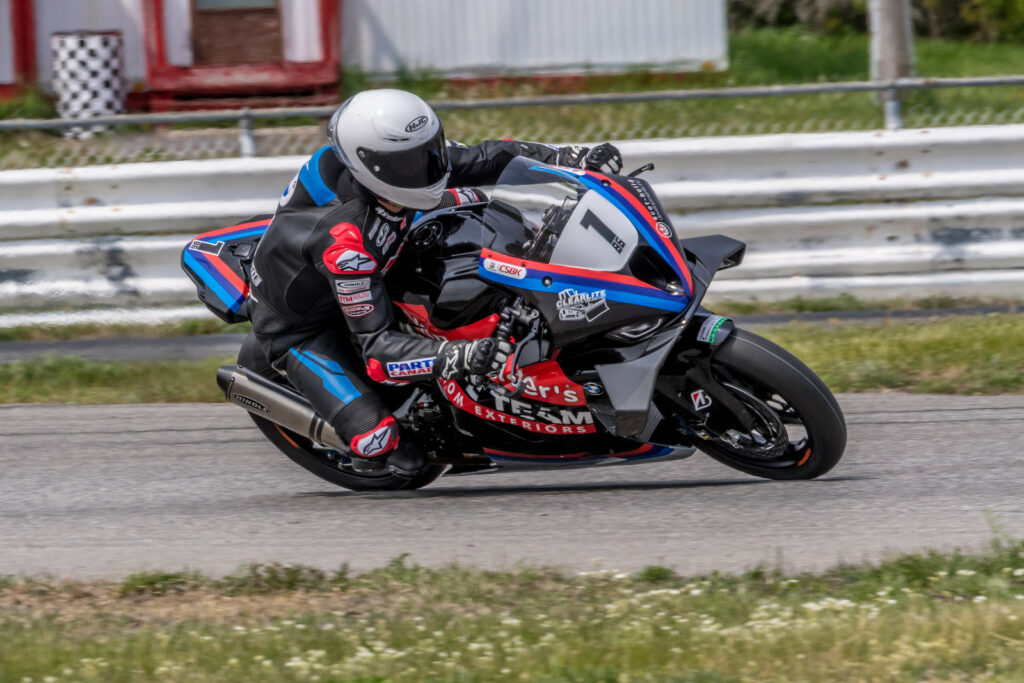 A sunnier, albeit cool Sunday started off well for Young who would lead the morning's practice session, feeling very at home on the BMW M1. After a poor start to race two, Young found himself in 5th position. On the first lap, the fiberglass seat under him collapsed. He fought back to 2nd position, but the seat was completely broken and was unsafe for himself and other riders. He was forced to detour into pit lane, where the team tore the seat off and Young rejoined the race in a distant 9th position. After an extremely uncomfortable ride perched atop the subframe and bike battery, Young still managed to fight back to 6th position.
Of the weekend Young said: "Obviously the weekend didn't go how we'd planned. The 6th position isn't ideal for the championship, but it's better than no points. It's a long season ahead and hopefully, that's all the bad luck out the way".
The next race will be held at Grand Bend Motorplex, Lake Huron, ON on June 8th-11th.
Young's partners for his 2022 Bridgestone Canadian Superbike Championship season include; BMW Motorrad Canada, Van Dolder's Home Team, Scot-build Developments Inc, Parts Canada, HJC Helmets, Alpinestars, Hindle Exhaust, Clearlite, Primitive Patterns, DP Brakes, alphaRacing, Vass Performance Cycle, Cartier Racing and Bickle Racing.
To keep up-to-date on Ben Young throughout the year visit; www.BenYoungRacing.com, www.facebook.com/BenYoungRacing and on Twitter and Instagram: @benyoung_86.