Alex Dumas, riding his Purple Skull Brewing/Liqui Moly Suzuki GSX-R1000R, won GP Bikes Canadian Pro Superbike Race One Saturday at Shannonville Motorsport Park, in Shannonville, Ontario, Canada.
The 20-year-old won the 18-lap race by 3.0 seconds over defending Champion Ben Young, who rode his Van Dolder's Home Team BMW M 1000 RR.
Thomas Casas finished a lonely third on his Yamaha YZF-R1.
Pro Superbike - Race 1 (Saturday)

More, from a press release issued by CSBK:
Dumas wins rain-soaked race one after Guerin crashes out of the lead at SMP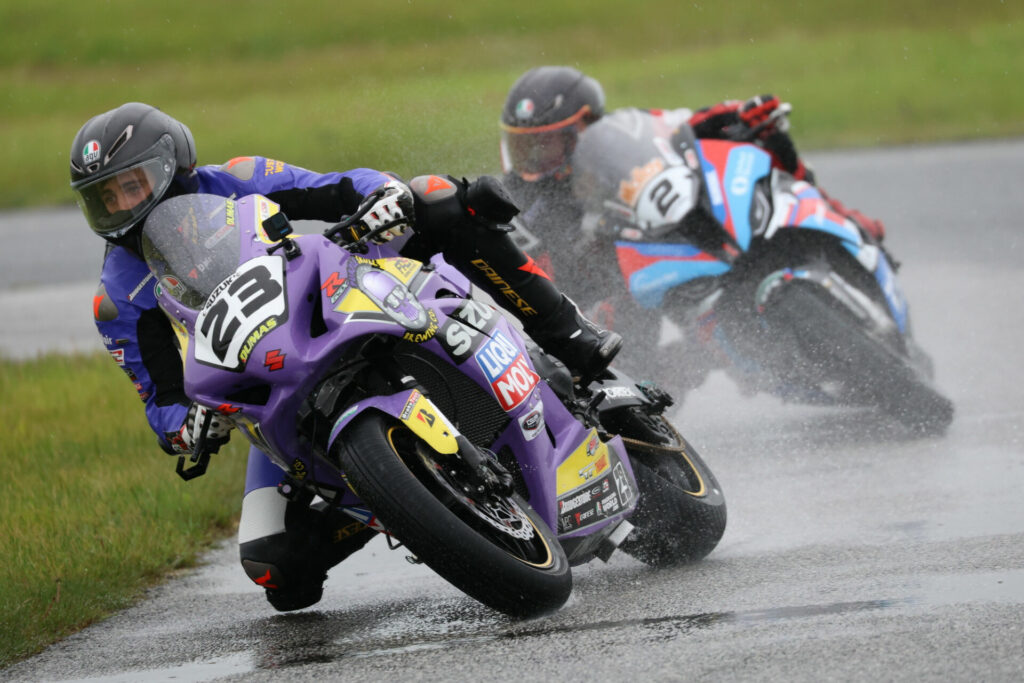 Shannonville, ON – The Bridgestone Canadian Superbike Championship season began with a familiar face on the top of the box, but in hardly the way many fans would have expected.
Alex Dumas won race one of the GP Bikes Pro Superbike campaign at Shannonville Motorsport Park, inheriting the rain-soaked victory after surprise leader Sam Guerin crashed out late in the race on Saturday.
Guerin stormed away with the initial holeshot, though it didn't last long as a massive high-side crash for Trevor Daley brought out a red flag on lap one, forcing an 18-lap restart. That second attempt was less kind to Guerin, as Dumas jumped out to the lead with the EFC Group BMW rider close behind.
Dumas would cede position to Guerin later on the first lap, only to then blow past him on the back straightaway aboard his Purple Skull Brewing/Liqui Moly Suzuki. That order stayed the same for a number of laps until Guerin fought his way back to the front, chasing his first career pro national victory.
It looked as though that victory would come his way as he began to distance himself from Dumas, only to then have the win slip away in heartbreaking fashion as he crashed out in the hairpin, handing the chequered flag to 2021 champion Dumas.
"I didn't get the first start I wanted, so the red flag worked out well for us. I got a much better second start, but Sam still pulled a bit of a gap on me, so I started to just settle into second," Dumas explained. "When he crashed, I was able to just bring it home the rest of the way. It sucks for Sam, I'm glad to see he's okay."
The misfortune of one BMW rider proved to be the benefit of another, as defending champion Ben Young was promoted to second – a surprisingly distant second – as he managed to escape with 20 points for the Van Dolder's Home Team BMW program.
"After finishing fifth in morning practice, I would have been pretty happy with this," the reigning champ joked. "These guys were out of their mind, the pace was so fast. I'm quite happy with second. It's a long season, so I just wanted to keep it smart and bring home points for the team."
Completing the podium for just the second time in his career was Tomas Casas, who has become a wet-weather specialist after he scored his debut podium in the rain at Atlantic Motorsport Park four years ago.
The Parts Canada Yamaha rider didn't know he was in a battle for the final podium spot with Daley, but was excited to learn he and his brand would be returning to the box after a difficult 2022 campaign.
"It's been a tough year, so I'm really glad to be back here – it's been a while," Casas said. "The Bridgestone tires were great, and Daley kept me honest out there, so it was pretty fun. I owe a huge thanks to the team for this one."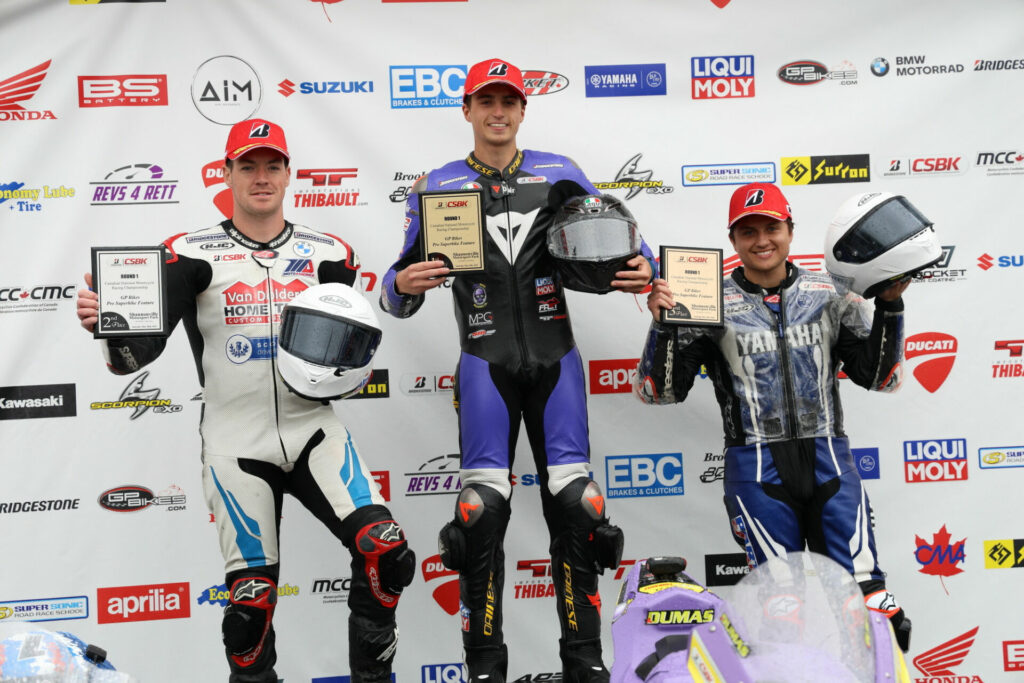 While he just fell short of another podium, Daley and his OneSpeed Suzuki team put together a heroic effort just to take the restart after his huge crash in turn one. Daley thankfully escaped any major injury, though his bike wasn't as lucky, giving his team just five minutes to try and piece the machine back together.
They would manage to do so with just under a minute to spare, and it proved to be worth the energy as Daley fought his way to fourth and nearly third on the wounded Suzuki, putting them tops in the Constructors Standings as he and Dumas escaped race one with 38 of a possible 45 points.
His effort also earned the team some extra money to refine his bike for race two on Sunday, winning the FAST Riding School Hard Charger Award and $500 to go with it.
Notably absent from the finishing order was 14-time champion Jordan Szoke, who crashed out of third in his return aboard the LDS Consultants Kawasaki machine.
Szoke was fortunately uninjured in what's been a disastrous weekend for the team thus far, crashing out of a race for just the second time since 2010.
Rounding out the top-five in his debut was another Suzuki in the form of rookie John Fraser, who deserved to be the star of the race if not for the chaos in front of him.
The Nova Scotia teenager and youngest rider in the class excelled in the rain aboard his RLS Contracting machine, finishing as the top rookie and taking the early advantage in the Brooklin Cycle Racing Pro Rookie of the Year fight.
Just behind him was a dramatic battle for sixth between Jordan Royds and Paul Macdonnell, the latter making his first appearance in the feature class for ACME Motorsports Yamaha, though his debut effort fell just short as the more experienced Royds held on to sixth for IBEW BMW.
That proved to be an important battle in the Constructors Championship, as defending champs BMW will hold on to second with 30 points (eight behind Suzuki) while Yamaha starts the year in third with 25 points.
Full results from race one can be found on the series' official website.