Editorial Note: American Brandon Paasch, riding his Dynavolt Triumph Daytona 765, was 7th in combined British Supersport practice times on Friday at Snetterton. Paasch's best lap time of 1:54.308 was 2.200 seconds behind the fastest rider Jack Kennedy on his HEL Performance/Bournemouth Kawasaki ZX-6R.
Hickman holds off chasing pack with last lap shuffle in SUPERPICKS Free Practice times at Snetterton
Peter Hickman claimed the upper hand in the Bennetts British Superbike Championship at Snetterton this afternoon. The FHO Racing BMW rider saved his best until last to maintain his position as the leader of the pack after the second SUPERPICKS Free Practice session in Norfolk.
The session began with Glenn Irwin becoming the first rider to improve on his time from the opening practice, but Hickman was soon gaining ground and he moved to within 0.202s after the first ten minutes.
Meanwhile reigning champion Josh Brookes was having a resurgence as he fired in a string of flying laps on the VisionTrack Ducati to move to the top, and then continued to improve to increase his margin over his rivals.
The Australian had the edge with five minutes remaining on the clock, just ahead of championship leader Jason O'Halloran who had jumped up the order into second place on the McAMS Yamaha.
Lee Jackson was on a sequence of flying laps though and in the final minute he had launched the FS-3 Racing Kawasaki into second place and just an incredible 0.003s adrift of Brookes at the top.
However, a final lap dash from Hickman put him back at the top of the times as the FHO Racing BMW rider, and the returning Danny Buchan, pulled out a lap time inside the existing lap record to claim the top two positions ahead of tomorrow's SUPERPICKS Qualifying and BikeSocial Race 1.
Brookes maintained third ahead of Jackson with O'Halloran dropping to fifth in the final moments of the session.
Glenn Irwin was sixth for Honda Racing after running inside the top three earlier in the session, holding off Rory Skinner who had a strong opening day in Norfolk.
Bradley Ray had approached the final five minutes of the session inside the top five, but the flurry of improvements in the closing stages meant he finished eighth on combined times ahead of the leading Buildbase Suzuki of Gino Rea.
Tommy Bridewell completed the top ten ahead of Tarran Mackenzie and Andrew Irwin, with the leading 12 riders progressing directly into tomorrow's Qualifying 2 session.
The first riders to miss out on the top 12 and will need to progress through Qualifying 1 tomorrow include local ace Ryan Vickers, Christian Iddon and Dan Linfoot.
Bennetts British Superbike Championship, Snetterton, SUPERPICKS Combined Free Practice results:
Peter Hickman (FHO Racing BMW) 1m:47.074s
Danny Buchan (SYNETIQ BMW) +0.059s
Josh Brookes (VisionTrack Ducati) +0.278s
Lee Jackson (FS-3 Racing Kawasaki) +0.281s
Jason O'Halloran (McAMS Yamaha) +0.316s
Glenn Irwin (Honda Racing) +0.517s
Rory Skinner (FS-3 Racing Kawasaki) +0.544s
Bradley Ray (Rich Energy OMG Racing BMW) +0.631s
Gino Rea (Buildbase Suzuki) +0.652s
Tommy Bridewell (Oxford Products Racing Ducati) +0.726s
Tarran Mackenzie (McAMS Yamaha) +0.774s
Andrew Irwin (SYNETIQ BMW) +0.897s
For more information on the Bennetts British Superbike Championship visit www.britishsuperbike.com
Peter Hickman – FHO Racing BMW
Fastest in SUPERPICKS Free Practice combined times
"It has been fantastic day and really we have been following on from what we did at Cadwell Park, so I need to thank all of the FHO Racing BMW team.
"I have never done a 1m:47s lap around Snetterton before, let alone come close to a 1m:46s this afternoon, so I am really happy with that.
"I have traditionally during my career been rubbish in qualifying and getting those flying laps in, so this year I have really been practicing it and trying to get that super quick lap in – it seems to have worked!
"That said, our pace even on used tyres was strong so I am happy with how this first day has gone, we need to keep working on that, and I might even treat myself to a bit of cake now!"
More, from a press release issued by Dynavolt Triumph:
Smith finds the pace on day one at Snetterton
Kyle Smith was fourth quickest for Dynavolt Triumph as round 7 of the 2021 Quattro Group British Supersport Championship got underway today at Snetterton in Norfolk.
Smith made steady progress in FP1 ending the session in seventh with a time of 1'54.819.  Following a few set-up changes for FP2, Smith really found the pace with a huge step forward, improving his time by over two seconds to 1'52.503 to finish the day fourth on the combined timesheets.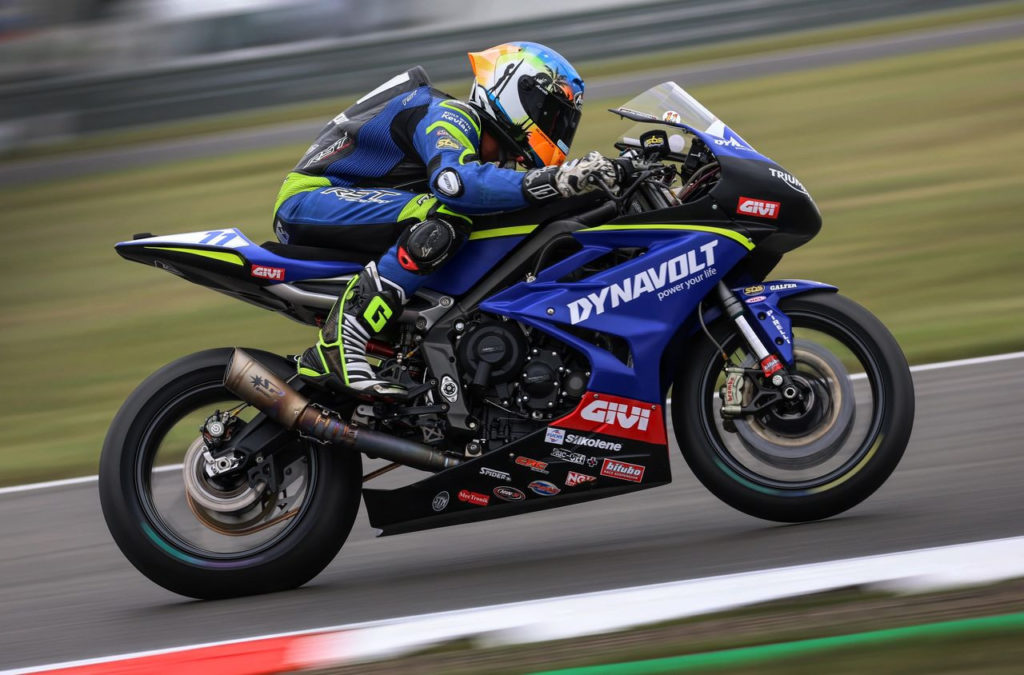 Kyle Smith: "To be honest I had a difficult start this morning, not feeling that comfortable with the bike and then we made some changes for this afternoon and I felt a lot more comfortable and didn't feel too far off the pace. I don't feel like we are 100% there yet but if we can carry on progressing as we have done from this morning to this afternoon again tomorrow I think we can be on the pace for the race."
Teammate Brandon Paasch had a frustrating opening day at the fast, Norfolk circuit when he experienced a technical issue with gear shifting just six laps into FP2 which meant he couldn't improve on his time of 1'54.308 set in the morning session.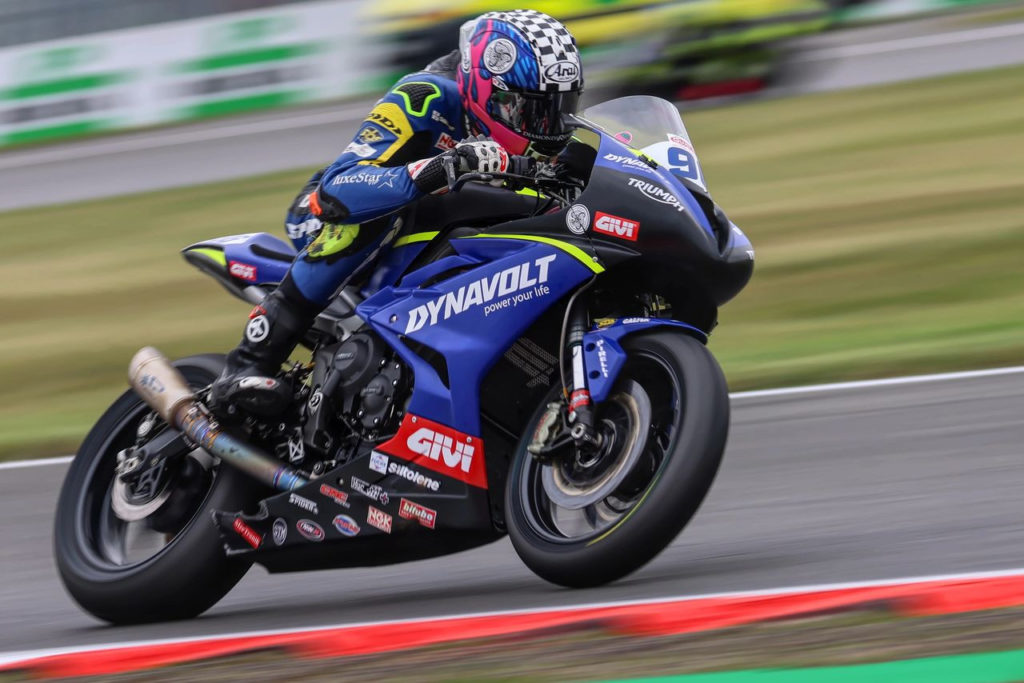 Brandon Paasch: "Day one here at Snetterton didn't really go to plan. A little bit frustrating but I'll come back tomorrow, try and go faster and get back to the front, that's the plan."
Dynavolt Triumph Team Manager Simon Buckmaster: "A big improvement by Kyle from FP1 to FP2.  We made some changes and I would honestly say the changes made a difference but also Kyle rode so much better in FP2. He was fastest for a long while and ended up fourth but right there in the fight putting a lot of fast laps together. There's more to come, we had a little bit of chatter that we need to sort out but a huge step forward, really good race pace and we'll look to challenge for pole position in qualifying tomorrow and challenge in the race.  Fair play to the boys and Devis at Bitubo for making the changes that made Kyle feel much more comfortable and perform much better on the bike."
"Brandon was pretty good in FP1 but in FP2 we had some problems with gear shifting.  We didn't get the chance to fix it for him because he stamped on the gear lever so hard he broke it and got left out on track. That's not really the professional way to behave.  He's young, we have discussed things and I am sure he will learn from this.  Things don't always go our way. But it's disappointing for his team for that to happen.  He is happy with his bike setting and I'm sure that he will also be challenging for the front two rows of the grid in qualifying tomorrow."