Dynavolt Triumph set for Snetterton challenge
The complex and challenging Snetterton circuit is host to Round 7 of the 2021 Quattro Group British Supersport Championship this weekend as Kyle Smith and Brandon Paasch head to the Norfolk track looking to improve on their mixed fortunes last time out at Cadwell Park.
Both Dynavolt Triumph riders arrive at Snetterton having only previously completed a handful of laps each at the 3-mile track after the three days of testing in May were frustrated by inclement weather and both Smith and Paasch are aiming to get to grips with the circuit as quickly as possible.
Smith sits fourth in the championship heading into round 7, just 30 points adrift of the lead and is keen to get to a track that is closer in nature to what he is accustomed to and resume his bid for the championship.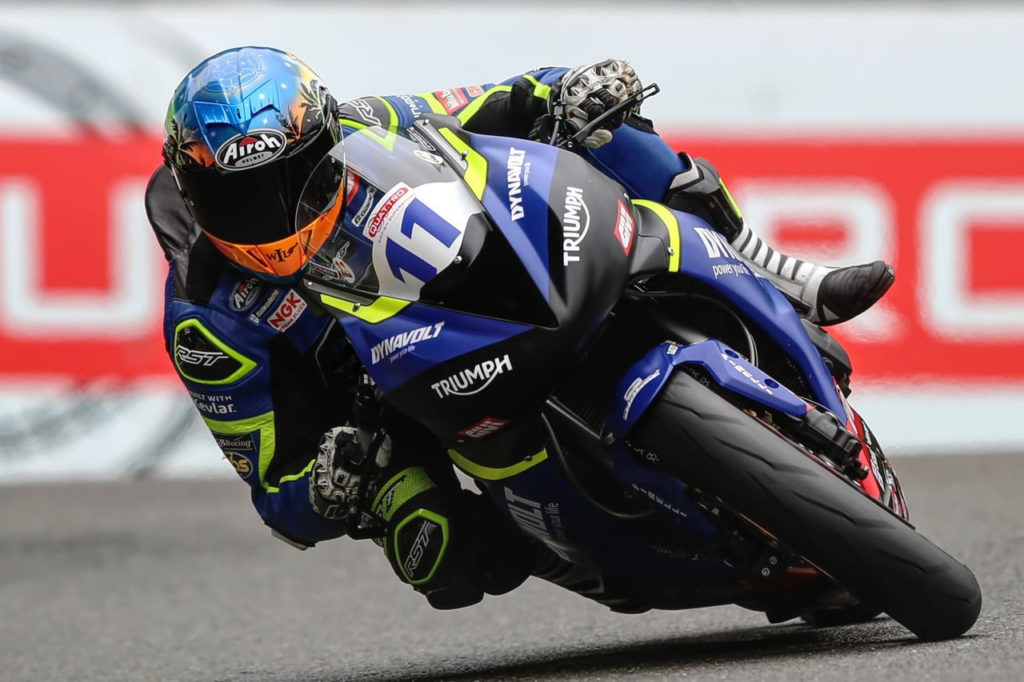 Kyle Smith: "I'm itching to get a good result after a difficult weekend at Cadwell.  We are going to a track that I'm not too familiar with.  We had a pre-season test there but the weather wasn't on our side and we didn't get many laps in but I'm looking forward to it."
Teammate Paasch returns to action after a mistake saw him crash out of the feature race at Cadwell Park and is looking forward to redeeming himself at a track that should play to the Dynavolt Triumph's strengths.
Brandon Paasch: "I'm excited to be headed to Snetterton, a fairly new track to me so I'm ready to go get up to speed and see what we can do.  Let's get to work!"
Dynavolt Triumph Team Manager Simon Buckmaster: "Cadwell was a difficult weekend for us. Kyle never really got to grips with the circuit, it's tricky and it's very different to anything he has been used to riding in World Championship.  In a lot of ways, we got lucky with other people's mistakes and we still have a realistic chance of winning the championship. If we are going to realise this ambition, we can't afford any more mistakes and we have to consistently beat the three riders in front of us as they are now very close together in the championship.  We did test at Snetterton with not a lot of dry laps but Kyle knows the layout of the track, it's a more 'normal' race circuit for him and the bike should be strong there."
"Brandon had the pace at Cadwell, unfortunately he made an error and collided with another rider and missed a real chance of a podium.  He is on form, he has got the pace but he actually dropped a place in the championship due to the crash.   Again, if he continues with his form and puts in a string of good results between now and the end of the season, he can still end up in a very good championship position.  He has the potential to win races and that has been our aim since the start of the year.   We also learned a lot with what we are doing with the bike with the balancing rules.  It's not so simple as just getting the best out of your bike because we have to work within the balancing situation and learn what to do with our bike to make the best of that.  You can say in the last two circuits we have just done that are shorter geared circuits, we didn't maximise that but we've looked at data from, for example, Donington from the race and the test, and we can see what we need to do and how we need to get the best from our machines.  We, as a team, will put that right and the riders then to ride the bike in the best way to get the best out of it.  Both riders are used to riding four cylinder bikes, there's still a bit of that.  We work together as a team and as a team now it's time to make it count as we move into the last five rounds."
Supersport actions kicks off from Snetterton with Free Practice One on Friday at 09:35hrs (BST).