Leoncino Trail Joins Benelli Motorcycles USA Lineup
Benelli introduces Trail version of the Leoncino classic Scrambler
Norwalk, CA – Just weeks after welcoming the all-new Leoncino to North America, Benelli Motorcycles USA is proud to announce the next model in the Leoncino legacy to hit U.S. shores, the Benelli Leoncino Trail.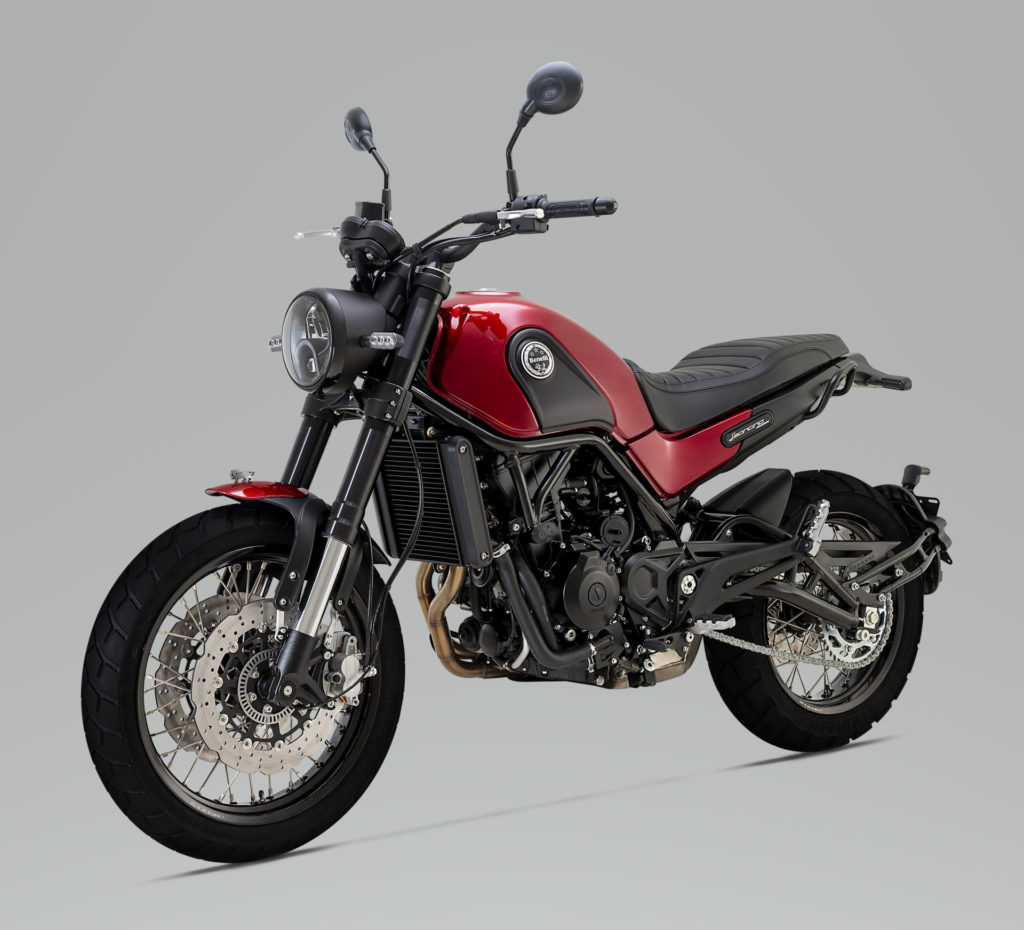 Like the classic Benelli Leoncino motorcycle, inspired by the café racers of the 60's and 70's, the Leoncino Trail takes the do-it-all persona of Benelli's "little lion" and expands its capability even further, with spoked wheels, aggressive tire tread, longer suspension travel and a style all its own. Like the adventurous spirit of the Benelli brothers a century ago, and the proud sporting heritage of Benelli Motorcycles throughout the golden age of motorcycling, the Leoncino Trail will forge ahead even when the road gets rough.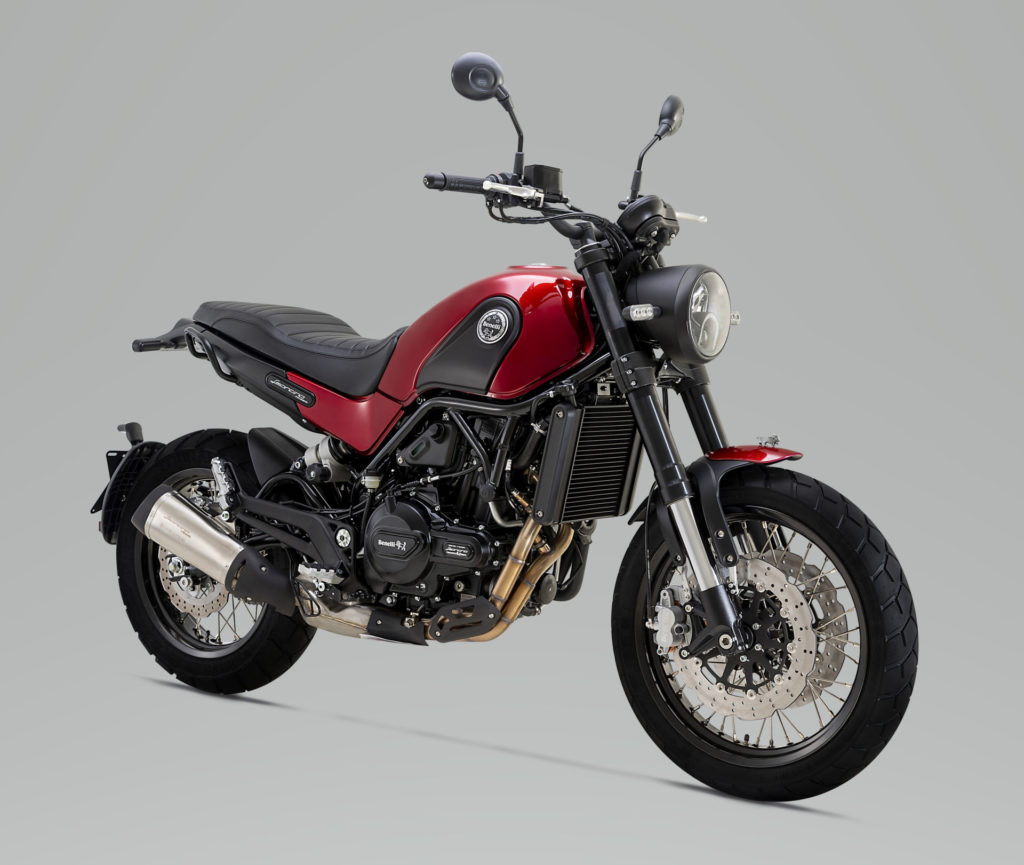 Powered by a 500cc parallel twin engine with dual overhead cams and fuel injection, the Leoncino Trail puts out a steady flow of smooth power. Just like its Leoncino sibling, the Trail shares a generous midrange and sixspeed transmission that make excellent use of its 48 horsepower (at 8500), offering an incredibly fun and easyto-ride motorcycle.
The Leoncino Trail stands apart with its aluminum alloy spoked wheels and aggressive Metzeler Tourance tires. Wheel size increases to 19-inches up front, fitted with 110/80-19 tread, and a 17-inch wheel in the rear with a 150/70-17 tire for optimum stability in mixed road conditions. Suspension also increases from the standard Leoncino, with an adjustable USD fork up front utilizing 50mm fork tubes, and a laterally mounted single shock in the rear. Greater adjustability and increased travel give the Leoncino Trail the versatility to take on rougher roads, so the fun doesn't stop when the pavement does.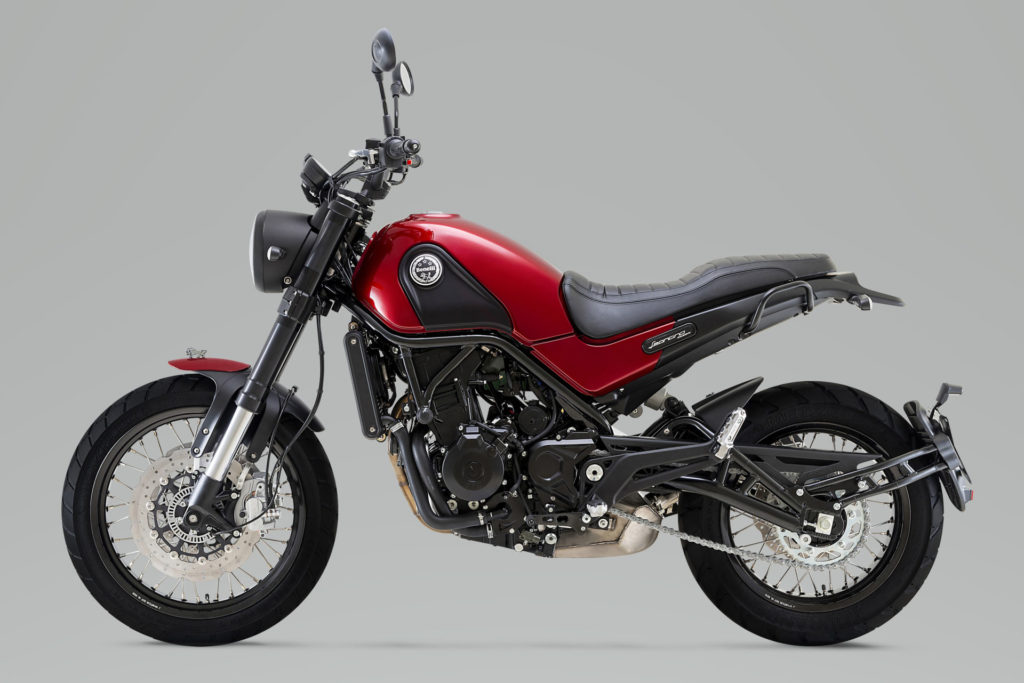 A taller handlebar gives the Leoncino Trail a roomier cockpit and more upright riding position while the stitched gripper seat helps keep the rider in place. Coupled with the added ground clearance and longer-travel suspension, the Leoncino Trail carries a slight size advantage for greater leverage over the bike and improved sporting capabilities. Ultra-strong brakes help keep you in control, with four-piston calipers and dual 320mm wave-style rotors on the front, and a 260mm single disc in the rear.
Minimalist bodywork and a classic low-slung two-into-one exhaust embrace the authentic scrambler design concept. The Leoncino Trail follows the classic style cues with a contemporary twist all its own, and the right touch of technology to bring it into the modern era. Digital instrumentation, clean and compact control switchblocks and all LED lighting round out this versatile sporting package that could only come from Benelli.
List price for the 2021 Benelli Leoncino Trail, currently available at Benelli Motorcycle dealers, is $6,499. Find more information, including specifications, at http://benelli.ssrmotorsports.com/.
ABOUT BENELLI MOTORCYCLES
In 1911, the six Benelli brothers began building motorcycle parts, including their first engine in 1919. In 1921, the first Benelli motorcycle was born. Nearly a century later, the Italian legacy continues, with a rich heritage of sport and touring Benelli motorcycles. In December 2005, Benelli became part of the Qianjiang (Q.J.) Group manufacturer, winner of the prestigious Best Motorcycle Importer award. Q.J. is located in Wenling, China, employing 14,000 people and producing over 1.2 million vehicles and 2 million engines per year, distributed worldwide. In 2015, SSR penned an agreement with Q.J. to control North American distribution, and in 2016 began to import Benelli Motorcycles in the U.S.
More at http://benelli.ssrmotorsports.com/.
ABOUT SSR MOTORSPORTS
SSR Motorsports is an American motorcycle and powersports company based in Norwalk,
California, started in 2002 by the Li family. SSR Motorsports offers a diverse line of powersports products from pit bikes to full-size dirt bikes, street bikes, scooters, e-bicycles and UTVs, with a focus on providing quality products at affordable prices. SSR products are sourced in China, tested and developed in the U.S., and distributed through a vast American dealer network, backed by product warranties, excellent customer service and parts support. In 2016, SSR Motorsports became the exclusive U.S. distributor of Benelli Motorcycles and continues to expand the line of the Qianjiang-owned Italian brand of motorcycles. More at http://www.ssrmotorsports.com/.