Benelli Motorcycles USA Welcomes All-New TRK502 & TRK502X
Venture beyond with the powerful new mid-size duo from Benelli Motorcycles
Norwalk, CA – Benelli Motorcycles USA and SSR Motorsports are proud to reveal the all-new Benelli TRK502 and TRK502X motorcycles, the ideal midsize mounts ready to head out for adventure. Wherever the roads may take you—across town or across the country—the TRK502 and TRK502X have the smooth power, comfortable ergonomics and versatile suspension for whatever journey your adventurous soul craves.
At the heart of the aggressively styled TRK502 and TRK502X beats Benelli's all-new 499.6cc parallel twin engine. Designed with four-valve technology, the four-stroke fuel-injected, DOHC, liquid-cooled engine produces the ideal amount of midsize muscle, ensuring a broad spread of useable power and excellent fuel efficiency. Power is put to work by a six-speed transmission, ensuring a broad spread of useable torque, capable of carrying you through diverse road conditions.
The chassis of the TRK502 starts with the steel-tube trellis frame, which not only provides excellent handling and balance both on and off the tarmac, but also adds an aggressive flare to the adventure styling. Long-travel suspension is provided by a rugged 50mm inverted fork up front, with 5.3 inches of travel. The single shock rear suspension offers preload adjustability along with compression and rebound adjust so you can tune your ride for the road ahead, or the luggage on board.
The TRK502 features 17-inch cast aluminum wheels, front and rear, with 120/70 and 160/60 tires for a smooth ride and efficient road handling capabilities. The more adventurous TRK502X features wire-spoke wheels, 19-inch up front and 17-inch in the rear. When crossing over to the adventurous side, the aggressive Metzeler Tourance tires help tackle more versatile terrain. The TRK502X stands a bit taller, with 8.6 inches of ground clearance, while the TRK502 provides ample clearance of 7.5 inches.
Both the TRK502 and the crossover TRK502X offer generous 5.28 gallons (20 liter) fuel capacity, allowing you to go the distance. Ride in comfort with amazing wind and weather protection from the sleek windscreen, wrap-around hand guards and stylish bodywork. Ergonomics provide all-day comfort as well as an easy reach to the ground with a 31.5-inch seat height (33-inches on the TRK502X).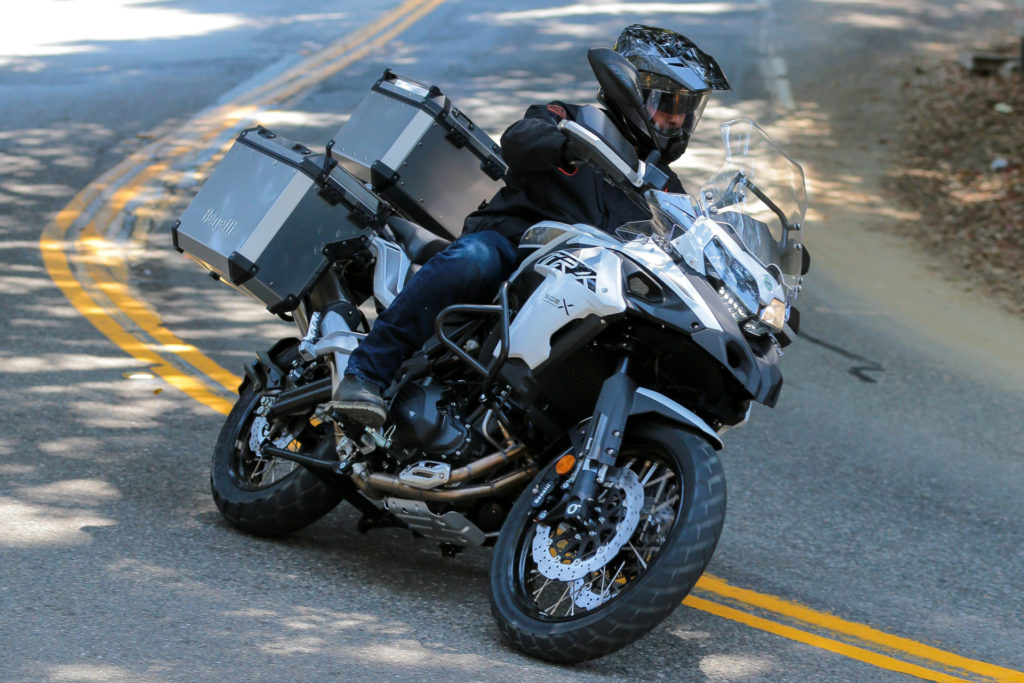 "We are very excited to introduce these all-new Benelli TRK motorcycles to the United States," said Jeff Li, General Manager of SSR Motorsports, U.S. distributor of Benelli Motorcycles. "The TRK502 models provide much-needed midsize options in the adventure touring segment, and we feel that the Benelli TRK's will offer a fun, versatile and comfortable ride for a wide range of riders."
Maximize your touring possibilities with EVO Aluminum Cases available from Benelli. The top case and two side cases integrate seamlessly with the Benelli TRK502 and TRK502X, offering generous onboard capacity to pack whatever you need for your adventure. The full set retails for $999.
List prices are $5,999 for the TRK502, and $6,399 for the TRK502X. Both models are becoming available at SSR/Benelli Motorcycle dealers now.
Find more information, including specifications, at http://benelli.ssrmotorsports.com/bikes/trk502.php and http://benelli.ssrmotorsports.com/bikes/trk502x.php
ABOUT BENELLI MOTORCYCLES
In 1911, the six Benelli brothers began building motorcycle parts, including their first engine in 1919. In 1921, the first Benelli motorcycle was born. Nearly a century later, the Italian legacy continues, with a rich heritage of sport and touring Benelli motorcycles. In December 2005, Benelli became part of the Qianjiang (Q.J.) Group manufacturer, winner of the prestigious Best Motorcycle Importer award. Q.J. is located in Wenling, China, employing 14,000 people and producing over 1.2 million vehicles and 2 million engines per year, distributed worldwide. In 2015, SSR penned an agreement with Q.J. to control North American distribution, and in 2016 began to import Benelli Motorcycles in the U.S.
More at http://benelli.ssrmotorsports.com/.
ABOUT SSR MOTORSPORTS
SSR Motorsports is an American motorcycle and powersports company based in Norwalk, California, started in 2002 by the Li family. SSR Motorsports offers a diverse line of powersports products from pit bikes to full-size dirt bikes, street bikes, scooters, e-bicycles and UTVs, with a focus on providing quality products at affordable prices. SSR products are sourced in China, tested and developed in the U.S., and distributed through a vast American dealer network, backed by product warranties, excellent customer service and parts support. In 2016, SSR Motorsports became the exclusive U.S. distributor of Benelli Motorcycles, and continues to expand the line of the Qianjiang-owned Italian brand of motorcycles.
More at http://www.ssrmotorsports.com/.