Staring the Star of the Show at The Bend Motorsport Park
28 April 2019
Bryan Staring (Kawasaki BCperformance, Kawasaki ZX10RR) has lept into the lead of the 2019 Motul Pirelli Australian Superbike Championship (ASBK) with a clean-sweep of all three races at The Bend Motorsport Park for Round 3 during International MotoFest, alongside Round 2 of the Asia Road Racing Championship (ARRC). Staring had the edge over his opponents in managing tyre wear on the grippy Bend Motorsport Park surface, showing fantastic pace late in all three races to pick up the full 75 championship points. His win in Race 1 of the Asia Road Racing Championship for Kawasaki Thailand Racing Team means that Staring claimed four races from a possible five across the two series, in a brilliant weekend for the West Australian.
Race 2
As the field got away Arthur Sissis (SA Demolition, Suzuki GSX-R) catapulted his way into second place from 11th on the grid behind Wayne Maxwell (Team Suzuki ECSTAR Australia, Suzuki GSX-R) and Daniel Falzon (Yamaha Racing Team, Yamaha YZF-R1) completing the front group. Alex Phillis (Team Suzuki ECSTAR Australia, Suzuki GSX-R) also had a great getaway from thirteenth and made it to third.
Maxwell looked to build up a lead early ahead of Cru Halliday (Yamaha Racing Team, Yamaha YZF-R1) with Staring then working his way to the front of the chasing pack. Over the line for the first time was Maxwell from Halliday, Staring, Phillis, Falzon and Josh Waters (Team Suzuki ECSTAR Australia, Suzuki GSX-R).
On lap three Staring lost out to Falzon when he backed it into turn one and ran wide, letting Falzon through into third. Lap four and the top nine riders started to reconvene at the front with Maxwell and Halliday, getting reeled in by the chasing Falzon and Staring, with Waters and Phillis behind.
Staring had caught Halliday and Maxwell by lap five and was starting to have a few gentle looks up the inside of Halliday. Halliday looked to his left along the main straight to try and spot Staring behind him, who slid to Halliday's right side and snuck past almost completely unnoticed. Halfway round the lap, Staring past Maxwell as well and had already built up a second's worth of lead by the time they crossed the start/finish again.
Further down the pack, Mike Jones began joining the leaders, taking Maxwell down the inside into turn 10 to slide into second, commencing his pursuit of Staring. Staring held the lead to the finish, ahead of Jones, Maxwell, Halliday, Waters, and Troy Herfoss (Penrite Honda Racing, Honda CBR RR SP)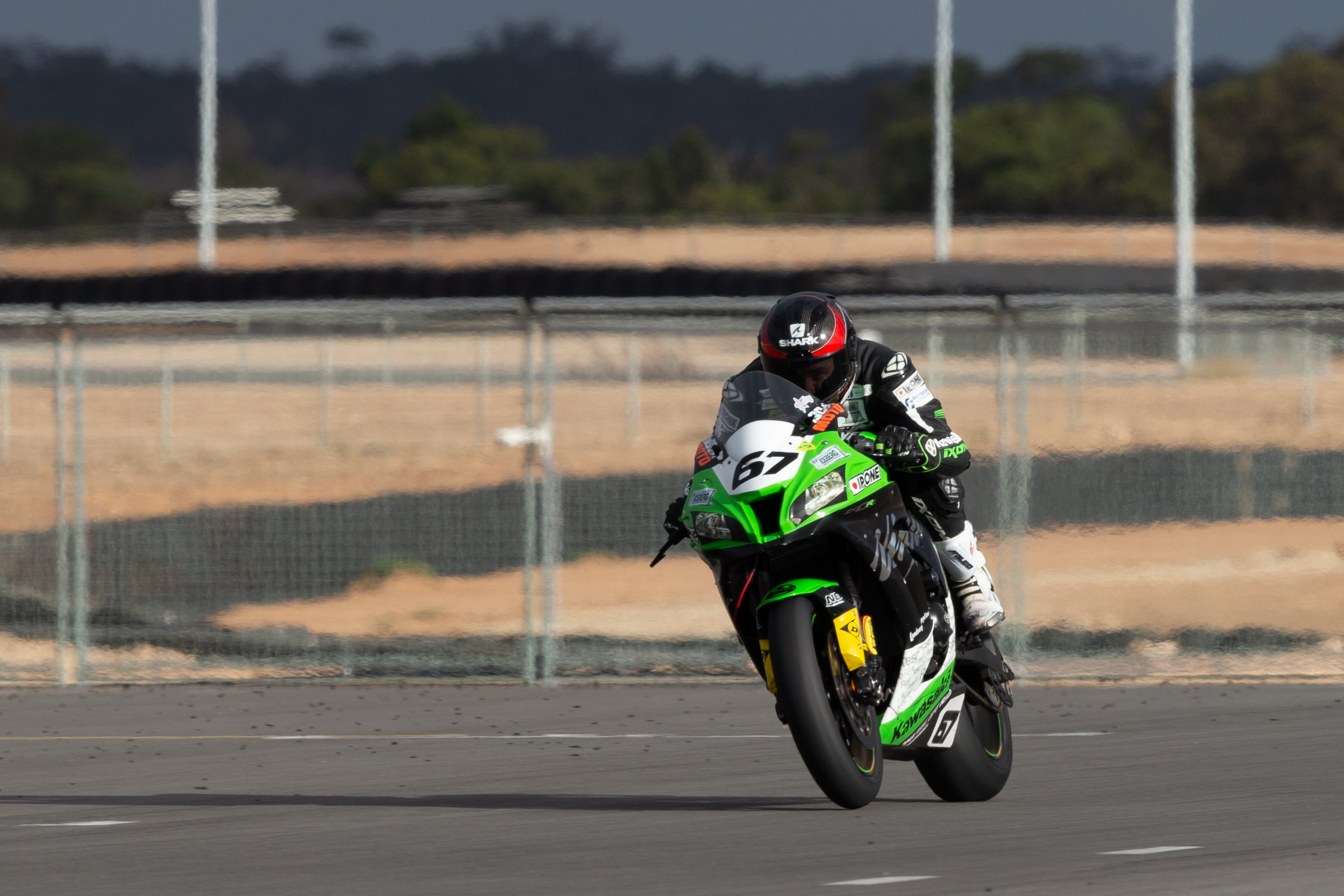 To view Race 2 Provisional Results, click here.
Race 3
Maxwell got a cracking start to get the holeshot into turn one but as the field came through turn two, Falzon crashed off the circuit into a cloud of dust, marking a sad end to a promising weekend. Jones forced his way past Maxwell at turn 10 which caused Maxwell to have to stand the bike up and give Jones first place. Over the line it was Jones, Maxwell, Phillis, Chiodo, and waterW, with Cru Halliday in sixth.
Lap three and Maxwell was looking for a way past Jones at the front, as the two tried to create a gap between themselves and Mark Chiodo who was having another superb run early in third. Maxwell was setting fastest laps in pursuit of the Panigale, finally making it past into turn one on lap four. Weekend hero Staring remained down in sixth behind Waters and Halliday, with Chiodo looking for a way into second past Jones. Chiodo backed it into turn 17 a little too hard, and in the end made a good effort to gather it all up before he hit Jones to run off into the relative safety of the grass. He resumed behind Alex Phillis down in ninth.
Five laps to go and Staring was hitting his straps, passing Jones on the outside of turn 10 and steaming past Waters for second place. Staring was setting 1:53s to his opponents' 1:54's, and with four to go Staring capitalised on a Maxwell mistake on the exit of the last corner to lead the race.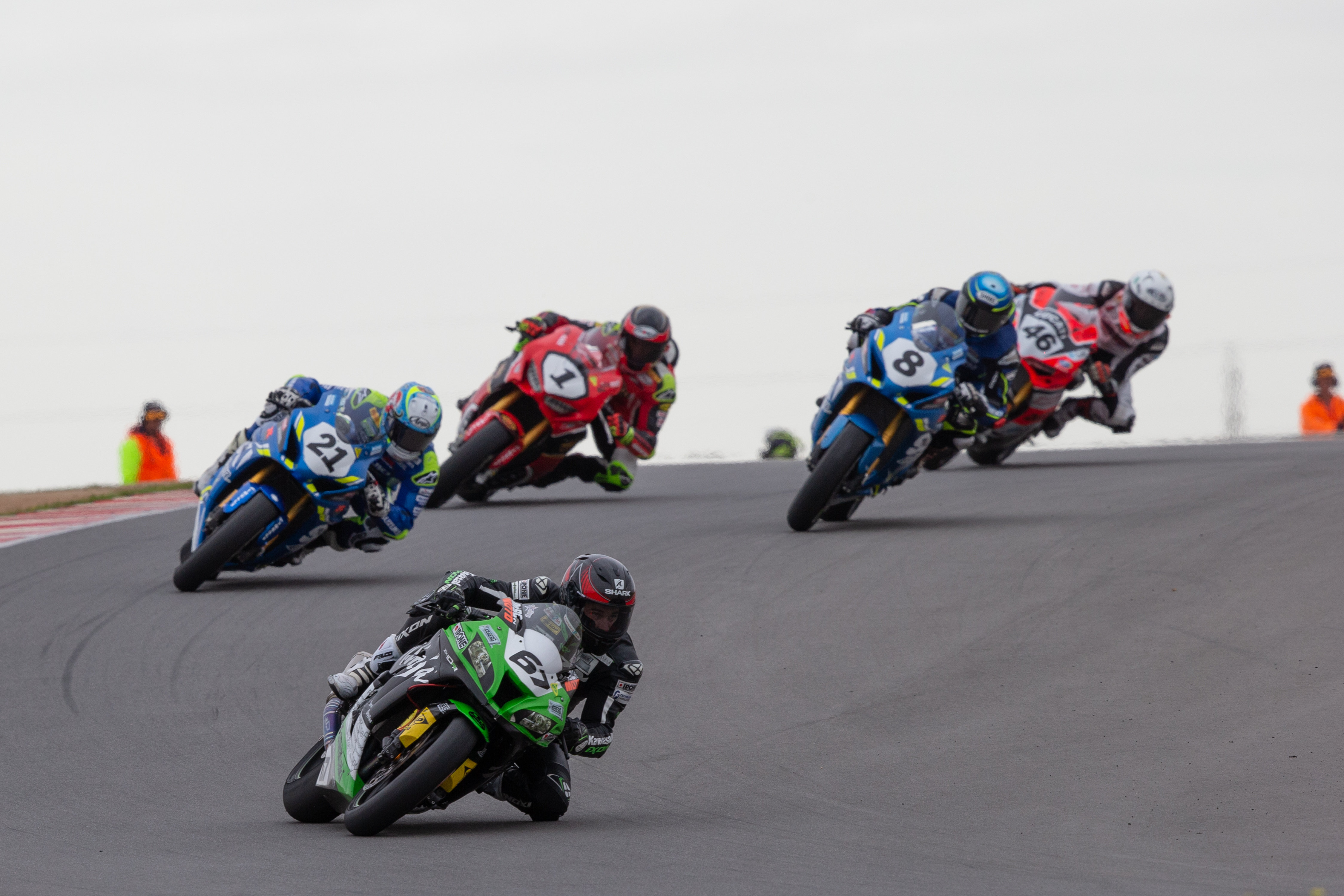 Staring's opponents fought amongst themselves for second place, with defending ASBK champ Herfoss looking particularly good late in the race as he tried to force Halliday off the podium and claim third spot. He had a go up the inside into turn six but went in too hot and let Halliday back through when he ran wide. Bryan Staring cruised over the line to take his fourth victory in two classes for the weekend, with Maxwell, Halliday, Herfoss, Jones and Waters behind.
"Four from five!" exclaimed Staring on the podium. "Broc (Parkes) got the better of me in one of the ARRC races earlier today, but I'm so happy for how my weekend went."
To view the full results from Race 3 click here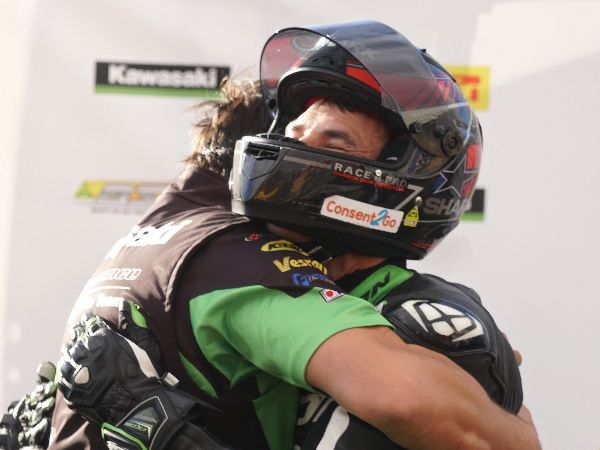 Image courtesy Christopher Horne
The action from The Bend continues tomorrow with Round 3 of the Motul Pirelli Australian Superbike Championship taking place this weekend (April 25-28). Tickets are still available, head to ASBK.com.au for information, or to purchase.