mi-bike Motorcycle Insurance Australian Superbike Championship
Phillip Island Grand Prix Circuit
Phillip Island, Victoria, Australia
March 1, 2020
Race Three Results:
Wayne Maxwell (Duc Panigale V4 R), 12 laps, Total Race Time 18:38.013, Best Lap Time 1:32.283
Cru Halliday (Yam YZF-R1), -0.752 second, 1:32.291
Josh Waters (Suz GSX-R1000), -3.923 seconds, 1:32.438
Mike Jones (Duc Panigale V4 R), -5.570, 1:32.539
Troy Herfoss (Hon CBR1000RR), -7.800, 1:32.394
Bryan Staring (Kaw ZX-10R), -7.834, 1:32.953
Glenn Allerton (BMW S1000RR), -14.613, 1:32.905
Daniel Falzon (Yam YZF-R1), -17.108, 1:33.046
Arthur Sissis (Suz GSX-R1000), -20.239, 1:33.632
Matt Walters (Kaw ZX-10RR), -22.113, 1:33.318
27. Josh Hayes (Yam YZF-R1), DNS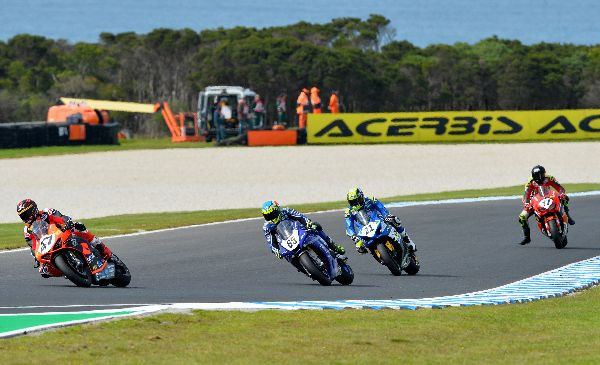 More, from a press release issued by Motorcycling Australia:
Epic Weekend Of Superbikes Delivers a Triple Treat For Fans
It was a triple repeat for fans of Boost Mobile Wayne Maxwell, Yamaha Racing Team's Cru Halliday and JW Racing Josh Walters, finishing 1st 2nd 3rd respectively, at the final race of the mi-bike Motorcycle Insurance Australian Superbike Championship, presented by Motul, at Phillip Island Grand Prix Circuit.
In front of more than 25,000 fans Maxwell led the epic 12 lap Kawasaki Superbike class race from the drop of the green flag, Halliday and Waters were hot on his heels for most of the race and in the last few laps Halliday recorded faster lap times than Maxwell closing the gap to him.
The battle behind was just as intense early on with Penrite Honda's Troy Herfoss dicing with Desmosport Ducati Mike Jones, Kawasaki BC Performance Bran Staring, Maxima BMW Glenn Allerton, William Adams Cat's Daniel Falzon, Kawasaki Australia Matt Walters, Metcher Motorsports Jed Metcher, Unitech Racing's Arthur Sissis and Yamaha Racing Team's Aiden Wagner, all in the 1:32s but unable to catch the three front runners.
Herfoss, Allerton, Staring and Jones tried to stay with the top three but ended dicing with each other losing time.
Wagner at one point was making a solid charge forward but mechanical issues on lap five saw him drop down to 16th.
He will have surgery again this week on his left thumb and be ready to fight for the win at Wakefield next month.
In the end it was as 2019 ASBK Champion Jones and Staring who battled down the main straight on the final lap, with Jones winning out by millimetres.
Fifth place through to tenth respectively was Herfoss, Staring, Allerton, Falzon, Sissis and Walters.
Maxwell praised his team after race 3.
"It's a true testament to Craig McMartin Racing Team Boost Mobile K-tech machine was unbelievable," he said.
"The scary thing is it's got room for improvement and I can improve.
"I've never walked into an environment where people have believed in me more than I have my self.
"So for me that's fantastic and the relationship makes me want to work harder."
Despite catching Maxwell at times, Halliday said he may have cooked his tyres early chasing Maxwell and defending against Walters.
"I'm not going to lie, Wayne was just a bit quicker, I got a bit greedy on the throttle early and it probably hurt me a little," said Halliday.
"I kept closing the gap and then making mistakes, but that was really hard, that little micro second you stuff up on, it can cost you when Wayne is riding so hard, but hats off to the Yamaha Racing Team and bring on Wakefield.
Josh Waters having only early in the week officially announced his team plans was smiling after the race like a Cheshire cat.
"That was great, we changed the bike back to how it was in race one, my pace was a lot better, but something moved and I had quite a bit of chatter in the end," he said.
"Huge thanks to everyone that has jumped on board and supported me."
Teams will hit the road this afternoon in preparation for round two at Wakefield Park, NSW on March 27-29.