Race Lap Record: 1:31.881, Michael Jones, 2019
mi-bike Motorcycle Insurance Australian Superbike Championship
Phillip Island Grand Prix Circuit
Phillip Island, Victoria, Australia
February 29, 2020
Race One Results:
Wayne Maxwell (Duc Panigale V4 R), 12 laps, Total Race Time 18:40.847, Best Lap Time 1:32.456
Cru Halliday (Yam YZF-R1), -0.848 second, 1:32.500
Josh Waters (Suz GSX-R1000), -2.889 seconds, 1:32.664
Bryan Staring (Kaw ZX-10R), -7.547, 1:32.980
Troy Herfoss (Hon CBR1000RR), -17.010, 1:32.475
Arthur Sissis (Suz GSX-R1000), -17.263, 1:33.859
Daniel Falzon (Yam YZF-R1), -17.397, 1:33.752
Aiden Wagner (Yam YZF-R1), -17.485, 1:32.290
Jed Metcher (Suz GSX-R1000), -25.268, 1:34.319
Josh Hayes (Yam YZF-R1), -27.142, 1:34.223
Linden Magee (BMW S1000RR), -39.697, 1:35.405
Max Crocker (Suz GSX-R1000), -39.736, 1:35.388
Sloan Frost (Suz GSX-R1000), -46.159, 1:35.683
Beau Beaton (Duc Panigale V4 R), -49.072, 1:35.662
Brendan McIntyre (Suz GSX-R1000), -52.902, 1:36.208
Glenn Allerton (BMW S1000RR), -56.395, 1:32.767
Glenn Scott (Kaw ZX-10R), -56.894, 1:36.850
Giuseppe Scarcella (Duc Panigale), -57.679, 1:36.943
Dean Hasler (BMW S1000RR), -64.432, 1:37.478
Matthew Tooley (Yam YZF-R1), -70.792, 1:37.876
More, from a press release issued by Motorcycling Australia:
MAXWELL DOMINATES FIRST RACE OF THE SEASON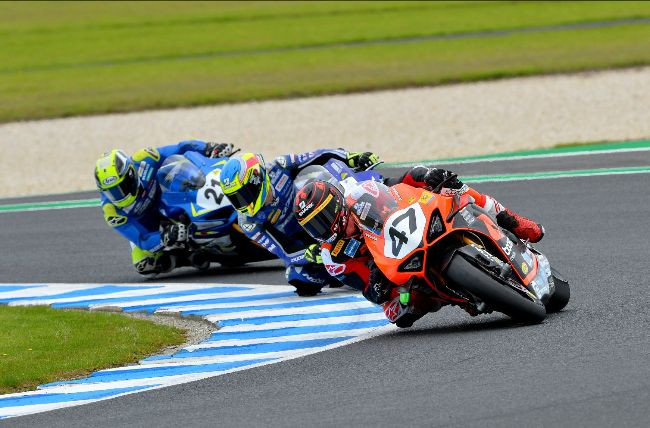 Well we expected drama in the first mi-bike Motorcycle Insurance Australian Superbike Championship, presented by Motul, and that's what we got with Ducati's Mike Jones bike failing on the warm-up lap and Boost Mobile's Wayne Maxwell taking the victory in a sensational battle with Yamaha Racing Team's Cru Halliday and JW Racing Suzuki rider Josh Waters.
It was drama from the start with 2019 ASBK Champion Mike Jones having bike issues on the warm up lap.
As the flag dropped it was Waters with the holeshot before he was quickly gobbled up by Maxwell and Halliday.
Early in the race Penrite Honda's Troy Herfoss joined the battle as did Kawasaki BC Performance Bryan Staring.
Herfoss pressured Maxwell but ran wide mid-race losing a stack of ground and slipped back into the field.
Halliday moved onto the back wheel of Maxwell in the second half of the race piling on the pressure but, was unable each lap to keep on Maxwell's tail leading onto the main straight.
On lap 10 Staring was pressuring Waters but just couldn't get close enough for a solid pass.
On the last lap Halliday gave it his all but Maxwell again was too strong at the Island kicking off his championship in fine style, Halliday second, Waters third, Staring fourth and Troy Herfoss fifth after being able to make up a few places.
Race two coming up this afternoon, stay tuned.