Race Lap Record: 1:31.881, Michael Jones, 2019
mi-bike Motorcycle Insurance Australian Superbike Championship
Phillip Island Grand Prix Circuit
Phillip Island, Victoria, Australia
February 29, 2020
Race Two Results:
Wayne Maxwell (Duc Panigale V4 R), 12 laps, Total Race Time 18:42.496, Best Lap Time 1:32.677
Cru Halliday (Yam YZF-R1), -1.178 seconds, 1:32.784
Mike Jones (Duc Panigale V4 R), -10.087, 1:33.270
Bryan Staring (Kaw ZX-10R), -10.133, 1:33.418
Troy Herfoss (Hon CBR1000RR), -10.175, 1:33.081
Josh Waters (Suz GSX-R1000), -10.319, 1:33.423
Daniel Falzon (Yam YZF-R1), -10.724, 1:33.144
Matt Walters (Kaw ZX-10RR), -13.789, 1:33.459
Glenn Allerton (BMW S1000RR), -22.095, 1:33.901
Jed Metcher (Suz GSX-R1000), -22.145, 1:34.250
Arthur Sissis (Suz GSX-R1000), -22.275, 1:33.954
Aiden Wagner (Yam YZF-R1), -29.815, 1:33.299
Glenn Scott (Kaw ZX-10R), -37.854, 1:35.577
Max Crocker (Suz GSX-R1000), -38.105, 1:35.507
Linden Magee (BMW S1000RR), -38.458, 1:35.450
Sloan Frost (Suz GSX-R1000), -38.672, 1:35.329
Beau Beaton (Duc Panigale V4 R), -46.199, 1:35.617
Brendan McIntyre (Suz GSX-R1000), -56.295, 1:36.787
Giuseppe Scarcella (Duc Panigale), -65.829, 1:37.968
Matthew Tooley (Yam YZF-R1), -68.587, 1:38.020
28. Josh Hayes (Yam YZF-R1), -11 laps, DNF, crash/mechanical, 1:41.943
More, from a press release issued by Motorcycling Australia:
Wayne Maxwell Takes Win 2 In Superbike Race 2 Thriller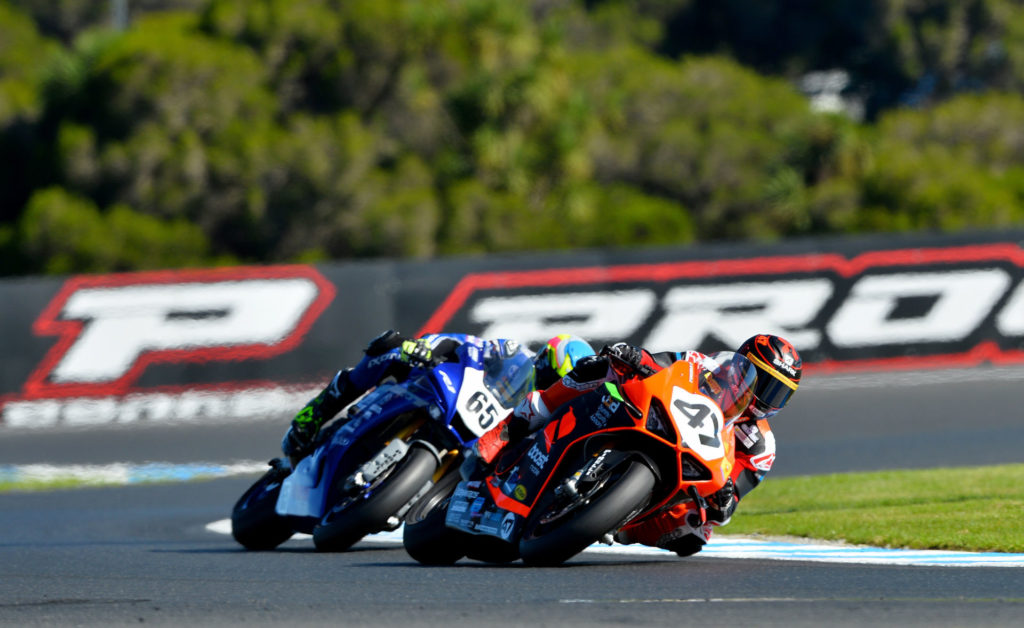 What a blockbuster finish to race 2 of the mi-bike Motorcycle Insurance Australian Superbike Championship, presented by Motul, Kawasaki Superbike class, at Phillip Island Grand Prix Circuit today, with Boost Mobile K-Tech Wayne Maxwell scoring a back to back win.
We knew 2020 was going to be an epic season and the Kawasaki Superbike field certainly didn't disappoint today with bar banging battles right throughout the field.
While Maxwell snuck away to an early lead Yamaha Racing Team's Cru Halliday stalked him all the way to the finish and threatened a serious challenge.
Despite being within striking distance, Halliday admitted after the race he was on the edge and didn't want push it too hard and crash.
The real battle of the race was for third position with a cavalcade of riders dicing including Desmosport Ducati Mike Jones, Penrite Honda's Troy Herfoss, JW Racing Josh Waters, Kawasaki BC Performance Bryan Staring, 2019 ASBK Ironman Award Winner – Kawasaki Australia's Matt Walters, and William Adams Cat Yamaha of Daniel Falzon.
Herfoss, Staring and Jones swapped third spot on every lap, leaving fans salivating at the action, while the Walters, Falzon and Waters no doubt were hoping for them to push each other wide to open up a gap.
It wasn't to be with Jones snatching third gaining some solid points after he failed to start in the first race.
Staring took 4th, Herfoss 5th, Waters 6th, Falzon 7th, Walters 8th, Yamaha Racing Teams's Aiden Wagner 9th and Maxima BMW's Glenn Allerton 10th.
"Fantastic start for everyone at the Boost Mobile K-Tech team, there is so much effort that goes in behind the scenes, for the first round, infrastructure everything has to be organised and trying to piece all the partners and sponsors together," said Maxwell after his win.
"We've managed to do it and not only do it but win two races."
Halliday was pleased with his result.
"I pushed so hard to get to Wayne then the tyre started to get hot," he said after the race.
"Wayne is so fast at the first part of the track and it's hard to make up time.
"I was going to make a pass around Lukey but I'd wash the front out, in the end it was good racing at the end of the day."