Maxwell Takes Round Win After Epic Battle With Herfoss
Wayne Maxwell has taken the round win in the Pirelli Superbike class in a stunning start to the 2021 mi-bike Motorcycle Insurance Australian Superbike Championship, presented by Motul, at Winton Motor Raceway.
In stunning sunshine and a spectacular first race of the season, Maxwell aboard the Boost Mobile Ducati scored the win after Penrite Honda's Troy Herfoss crashed on the last corner of the last lap, managing to get back on the bike and finish 11th, while Desmosport Ducati Mike Jones claimed 2nd and Yamaha Racing Team's Cru Halliday 3rd.
Team Specialist Suzuki Yanni Shaw crashed on turn two, which caused a red flag.
On the restart Herfoss quickly gained a small gap between himself and Maxwell while Jones, Maxima Racing Oils BMW Lachlan Epis, Yamaha Racing Team's Cru Halliday, Unitech Racing's Arthur Sissis and Desmosport Ducati's Oli Bayliss fought over 3rd position.
Midway through the race Herfoss had a comfortable lead.
Herfoss crossed the line comfortably, and celebrated at the podium with a stoppie, Maxwell 2nd and Jones, despite having gear issues throughout the race finished 3rd after managing to hold off the hungry pack behind him.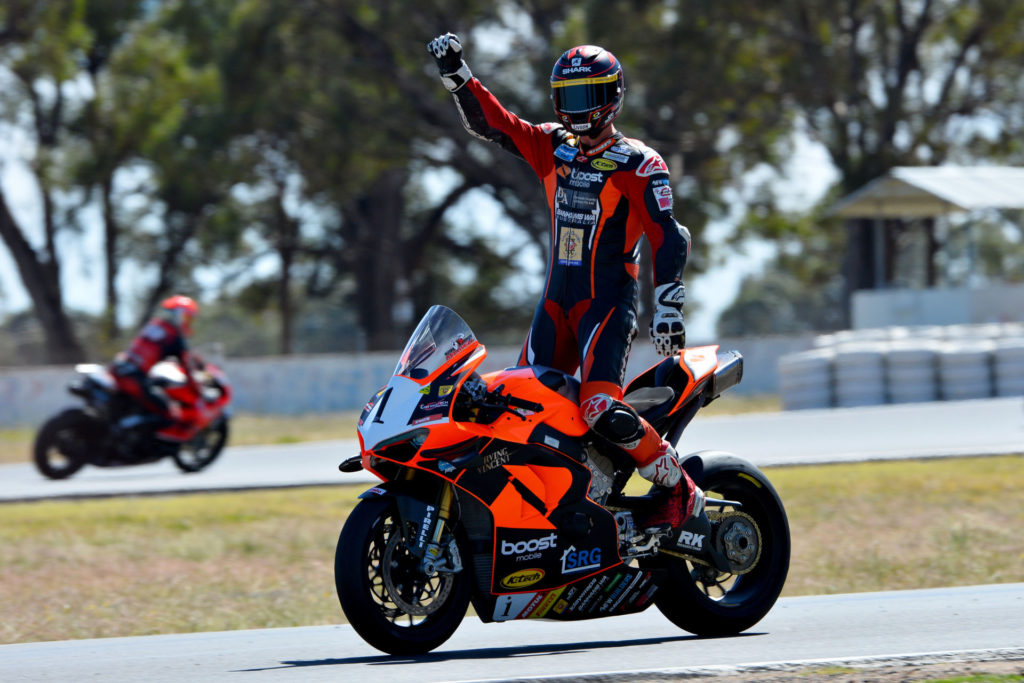 Maxwell was ecstatic with the round win.
"Troy was too good then, congratulations to him and his team, we need to work on a few bits and pieces to improve.
"I'll take the points, the round win, take the Championship lead, and I'm pretty stoked to be able to do that," he said.
"To lead the Championship after the first round is a great start."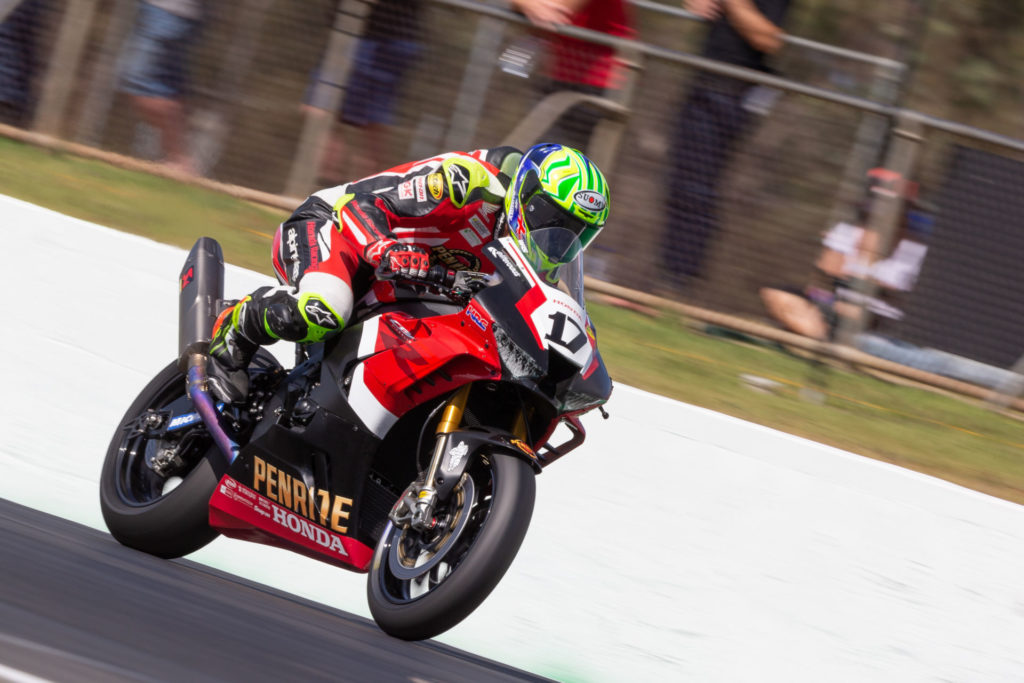 Herfoss was very happy to take the race 2 win.
"We showed our potential over the weekend, I just made a mistake in the end of race 1. I showed my hand a little early.
"I'm so happy in race 2, I was in the sub 20 bracket on my own and just having too much fun, I wanted the race to keep on going."
Jones was also happy to start the year on the podium.
"I had a small issue with the gear shifter so I couldn't quite get all my gears when I was riding around the track.
"I was trying to do consistent lap times at the maximum that I could. Fortunately, that was enough to keep third position so ultimately I'm very happy with the result."
Keep up to date with the latest news on the mi-bike Motorcycle Insurance Australian Superbike Championship, presented by Motul via www.asbk.com.au and following ASBK on Facebook and Instagram. You can also join our ASBK mailing list at www.asbk.com.au
ASBK Championship Calendar
Round 1 Phillip Island Grand Prix Circuit, VIC February 18-21 Postponed
Round 2 Winton Motor Raceway, Benalla, VIC March 12-14
Round 3 Wakefield Park Raceway, Goulburn, NSW April 16-18
Round 4 Hidden Valley Raceway, NT – Supercars 2+4 (Superbikes only) June 18-20
Round 5 Morgan Park Raceway, QLD August 20-22
Round 6 The Bend Motorsport Park, Tailem Bend, SA September 23-26
Round 7 Symmons Plains Raceway, TAS November 4-7