AMERICAN SEAN DYLAN KELLY MAKING MOTO2 WORLD CHAMPIONSHIP DEBUT
American Sean Dylan Kelly is set to make his Moto2 World Championship debut at the 2019 season finale in Valencia, Spain, on November 15-17.
Team Hammer has granted the 17-year-old rising star — who is currently in the midst of a two-year (2019-2020) contract to race in MotoAmerica — permission to compete that weekend with American Racing Team. He'll ride a Moto2 racebike in place of Spaniard Iker Lecuona, who is racing in MotoGP at Valencia prior to moving up to the Red Bull KTM Tech3 MotoGP squad in 2020.
"First of all, this is the start of a dream for me. The next week and a half is something my family, the circle around me, and I have long hoped for," said Kelly, known as SDK in the MotoAmerica paddock. "I'm super excited. We've come a long way and honestly I'm still letting the moment sink in before getting down to business."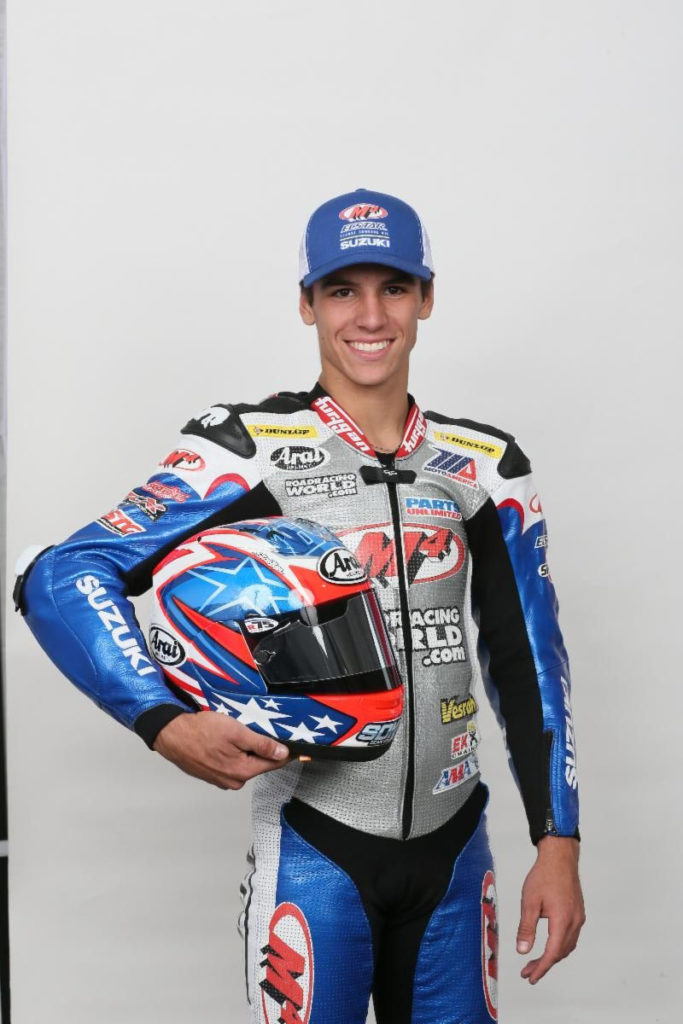 For Kelly, the exciting opportunity marks a temporary return to the MotoGP paddock and a fitting way to celebrate his breakout rookie season in the MotoAmerica AMA/FIM North American Road Racing series. Armed with an M4 ECSTAR Suzuki GSX-R600 in 2019, Kelly finished this year's MotoAmerica Supersport Championship ranked fourth in points. The Hollywood, Florida resident did so on the strength of seven podium finishes, including a thrilling double-victory weekend at Pittsburgh International Race Complex.
Prior to the start of the MotoAmerica season, Kelly played a starring role in the 78th Daytona 200 in his Team Hammer debut on a Suzuki GSX-R600, where he became the youngest pole winner in the prestigious event's nearly eight-decade history and backed that achievement up with a runner-up result in the arduous race.
"I've been waiting for this moment my whole career and I have a good idea of what I am getting into," said Kelly. "Last year about this time, I was able to test a Moto2 bike so I've done quite a bit of 'studying' for my next opportunity and I think I am prepared. Going from a single bike test to a World Championship Moto2 race is a big deal. There's no pressure on me, I am just going to learn and enjoy the competition and do my best. I'm really grateful to Eitan with American Racing Team for believing in me, to give me this chance. Also, thanks to John and Chris Ulrich of Team Hammer for not just having me race on their team, but for also helping me along the path."
Kelly came to Team Hammer fresh off of three seasons as a full-time participant in the Red Bull MotoGP Rookies Cup, where he showed steady, incremental progress each year. That improvement culminated in a final Rookies Cup campaign in which he ranked inside the championship top-10 after tallying up seven top-10 race results.
Kelly first attracted global attention as a 13-year-old wunderkind due to his remarkable success at the 2015 KTM RC390 Cup World Finals, in which he won Race One and ended the World Finals ranked second overall.
"Team Hammer has a reputation for finding, developing, and winning with talented young American racers, then launching them on the next step in their professional careers," said Chris Ulrich, Team Hammer Vice President of Racing Operations. "We have helped Sean understand how to ride a 600, use data, and set up a motorcycle during the 2019 MotoAmerica Supersport season, his first on a 600 after competing on Moto3 bikes for three years in the Red Bull MotoGP Rookies Cup. So we are happy that Sean's performance while racing for our team has earned him an opportunity to ride as a fill-in Moto2 World Championship rider at Valencia in a little more than a week. This is just the first step for SDK, and we have agreed to explore potential future opportunities with American Racing Team owner Eitan Butbul. I'm proud to be a part of it and will be in Valencia to cheer SDK on!"
"I think this is great for American racing," said MotoAmerica President and three-time 500cc Grand Prix World Champion Wayne Rainey. "This is a strong opportunity for SDK to ride in the Moto2 class. He is a very aggressive rider, a well-spoken young man, and has a ton of talent. He's been in our series for a year and really performed. We feel our series is starting to work well and one of our goals is to get our riders a chance in World Championships. I'm looking forward to see how well Sean Dylan does."
About Team Hammer
The 2020 season will mark Team Hammer's 40th consecutive year of operating as a professional road racing team. Racebikes built and fielded by Team Hammer have won 83 AMA Pro and MotoAmerica National races, have finished on AMA Pro and MotoAmerica National podiums 234 times and have won seven AMA Pro and MotoAmerica National Championships, as well as two FIM South American Championships (in Superbike and Supersport). The team has also won 137 endurance races overall (including seven 24-hour races) and 13 Overall WERA National Endurance Championships on Suzuki motorcycles, and holds the U.S. record for mileage covered in a 24-hour race. The team also competed in the televised 1990s Formula USA National Championship, famously running "Methanol Monster" Suzuki GSX-R1100 Superbikes fueled by methanol, and won four F-USA Championships.
About MotoAmerica 
MotoAmerica is the North American road racing series created in 2014 that is home to the AMA Superbike Championship. MotoAmerica is an affiliate of KRAVE Group LLC, a partnership that includes three-time 500cc World Champion, two-time AMA Superbike Champion, and AMA Hall of Famer Wayne Rainey, ex-racer and former manager of Team Roberts Chuck Aksland, motorsports marketing executive Terry Karges, and businessman Richard Varner. For more information on MotoAmerica, visit 
www.MotoAmerica.com
.
 More, from a press release issued by American Racing Team:
Iker Lecuona to ride MotoGP class in Valencia and the American Team to have second American rider at the last race of the season.  
Iker Lecuona, The American Racing Team KTM rider, will ride in the MotoGP class at the Ricardo Tormo Circuit.
The Valencian Grand Prix was going to be the last race for Lecuona with the American Racing Team, but Miguel Oliveira's injury opened the opportunity for Iker to debut in the MotoGP category that offered by Tech3 Team and as a reward from American Racing team for all the hard work he has done in last three seasons and especially in 2019.
As a replacement rider the 17-year-old American rider Sean Dylan Kelly will join the American Racing team for his debut at the Moto2 World championship. The American Racing Team will be participating with two American riders Joe Roberts and Sean Dylan Kelly in the world championship race in Valencia.
Eitan Butbul:  "The team was approached by Tech3 team to offer the option to have Iker to replace Oliveira on the MotoGP bike at the last race in Valencia. We were very happy for this opportunity and thought it would show our appreciation to Iker after three seasons and we fully agreed to release him to participate at his home race on a MotoGP bike.
"As a replacement rider for the Valencia round the team will have the 17-year-old American rider Sean Dylan Kelly to have his debut at the Moto2 World Championship. Sean rode three years at the Red Bull MotoGP Rookies Cup until 2018, and in 2019 season he finished 4th place at the MotoAmerica Supersport Championship with Team Hammer. We thought it will be an amazing opportunity to let him try the Moto2 bike in a race weekend and at the same time have two American Riders.
"This debut and wild card to follow is a result of a corporation between the American Team and Team Hammer to work together when possible to create career opportunities for young American racers."
Iker Lecuona: "To have this opportunity in my home Grand Prix is a proud moment for me. We must enjoy this beautiful experience, but above all learn as much as possible for the future. All this would not have been possible without the help and encouragement of Hervé Poncharal, as well as Eitan Butbul and the American Racing Team amazing Crew, they helped me to grow as a rider and as a person. I also want to wish the best possible recovery to Oliveira, who will be my team mate next season. I will give my best in Valencia as I always do."
Sean Dylan Kelly, Team Hammer Rider: "I've been waiting for this moment my whole career and I have a good idea of what I am getting into. I am just going to learn and enjoy the competition and do my best. I'm really grateful to Eitan with American Racing Team for believing in me, for giving me this chance. Also, thanks to John and Chris Ulrich of Team Hammer for not just having me race on their team, but for also helping me along the path."
Chris Ulrich, Team Hammer Vice President of Racing Operations: "Team Hammer has a reputation for finding, developing, and winning with talented young American racers, then launching them on the next step in their professional careers. We have helped Sean understand how to ride a 600, use data, and set up a motorcycle during the 2019 MotoAmerica Supersport season, his first on a 600 after competing on Moto3 bikes for three years in the Red Bull MotoGP Rookies Cup. So we are happy that Sean's performance while racing for our team has earned him an opportunity to ride as a fill-in Moto2 World Championship rider at Valencia in a little more than a week. This is just the first step for SDK, and we have agreed to explore potential future opportunities with American Racing Team owner Eitan Butbul. I'm proud to be a part of it and will be in Valencia to cheer SDK on!"