MotoAmerica Championship of Pittsburgh
MotoAmerica AMA/FIM North American Road Racing Series
Pittsburgh International Race Complex
Wampum, Pennsylvania
August 24, 2019
Supersport Race One Results (all on Dunlop tires):
1. Sean Dyan Kelly (Suz GSX-R600), 10 laps, Total Race Time 17:31.323, Best Lap Time 1:44.062
2. PJ Jacobsen (Yam YZF-R6), -0.401 second, 1:44.317
3. Hayden Gillim (Yam YZF-R6), -0.448, 1:44.286
4. Nick McFadden (Yam YZF-R6), -13.648 seconds, 1:44.823
5. Cory Ventura (Yam YZF-R6), -21.724, 1:46.031
6. Braeden Ortt (Kaw ZX-6R), -22.041, 1:46.178
7. Benjamin Smith (Yam YZF-R6), -22.088, 1:46.204
8. Lucas Silva (Suz GSX-R600), -22.129, 1:46.079
9. Jason Aguilar (Yam YZF-R6), -22.300, 1:46.172
10. Richie Escalante (Yam YZF-R6), -28.607, 1:46.787
11. Danny Eslick (Suz GSX-R600), -34.880, 1:46.527
12. Carlos Abraham Garcia (Yam YZF-R6), -35.312, 1:46.913
13. Nolan Lamkin (Yam YZF-R6), -40.196, 1:47.629
14. Xavier Zayat (Yam YZF-R6), -43.420, 1:47.814
15. Bryce Prince (Yam YZF-R6), -43.720, 1:43.896, crash
16. CJ LaRoche (Yam YZF-R6), -47.636, 1:48.365
17. Tomas Casas (Yam YZF-R6), -50.911, 1:48.174
18. Jeremy Simmons (Yam YZF-R6), -59.730, 1.49.489
19. Edgar Zaragoza (Yam YZF-R6), -62.264, 1:49.806
20. Hunter Dunham (Yam YZF-R6), -68.471, 1:50.268
21. Alejandro Thermiotis (Yam YZF-R6), -68.495, 1:49.101
22. Andrew Lamoureux (Tri Daytona 675), -69.281, 1:50.613
23. Tim Wilson (Kaw ZX-6R), -73.134, 1:51.158
24. Gary Yancoskie (Kaw ZX-6R), DNF, 1:49.868
25. Bobby Fong (Suz GSX-R600), DNS, crashed during first portion of red-flagged race
26. Caroline Olsen (Yam YZF-R6), DNS
Championship Point Standings:
1. Fong, 200 points
2. Gillim, 196
3. Jacobsen, 184
4. Kelly, 150
5. Escalante, 142
6. Prince, 118
7. Josh Hayes, 105
8. McFadden, 96
9. Aguilar, 91
10. Silva, 66
11. Ortt, 62
12. Ventura, 35
13. Zayat, 32
14. Ashton Yates, 29
15. Nassaney, 24
16. Smith, 21
17. Brandon Paasch, 20
18. Eslick/Joseph Giannotto, 18
20. Garcia, 17

More, from a press release issued by Team Hammer:
KELLY AND DUMAS EARN EXCITING WINS IN PITTSBURGH FOR TEAM HAMMER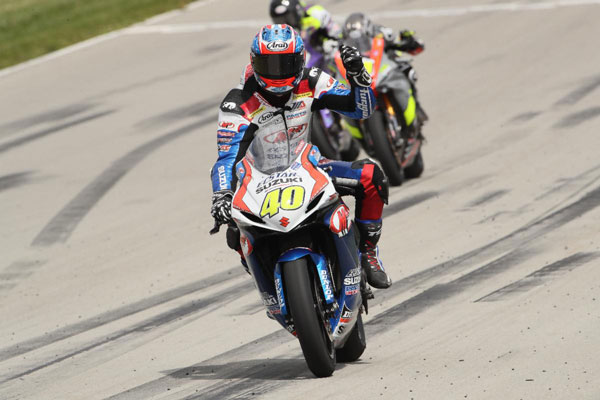 (Above) Sean Dylan Kelly (40) celebrates his first career MotoAmerica Supersport win at Pittsburgh International Race Complex. Photo by Brian J Nelson.
Team Hammer upped its weekend win streak to five consecutive rounds of the 2019 MotoAmerica AMA/FIM North American Road Racing season, emerging from an emotional rollercoaster of a Saturday at Pittsburgh International Race Complex with two more race victories.
M4 ECSTAR Suzuki's Sean Dylan Kelly and Roadracing World Young Guns Suzuki's Alex Dumas did the honors, scooping a pair of victories that may ultimately prove pivotal for Team Hammer in their respective championship battles.
Teenage rookie Kelly sprinted into second off the grid at the start of Saturday's MotoAmerica Supersport race, ducking in behind his M4 ECSTAR Suzuki teammate Bobby Fong, on an identical GSX-R600.
The two then ran in tight formation over the race's opening four laps, slowly stretching open a gap to third position. However, Supersport title leader Fong crashed out of the lead in a shocking highside that brought out the red flag.
While the Californian managed to return to his feet following the violent spill, he was unable to make the restart. Kelly picked up where Fong left off in his absence, storming into the lead once the race resumed. From there he managed to keep a four-rider pack of potential race winners corralled behind him for the next eight-and-a-half laps of the 10-lap shootout.
A rival finally dove up the inside of Kelly with a little more than a lap to go, but Kelly used an ideal launch onto the front straight to power back into first place just as they started the final lap.
The rising star applied the lessons learned the lap before and never provided his opponents with another invitation. Kelly locked down the position and cemented his maiden MotoAmerica Supersport win with a 0.401-second margin of victory at the checkered flag.
After completing the landmark achievement, Kelly said, "Honestly, it's been pretty difficult all year, just because it's been a new class for me jumping up to the 600, and most of the tracks have been new to me, too. It's been a learning year, and every step of the way, we've just been trying to figure out how to improve in every session. We've had a couple tough weekends lately, but this is the best possible way to break through. It feels great to be on top.
"Man, we had a really nice fight for the win. Usually I like to stay behind the more experienced guys and learn from them, but today it was a bit different because I felt I had good pace on used tires. I had to ride really defensively at the end because the guys behind were really fast in the chicane. I was honestly pretty shocked how well it worked–I never even saw a wheel on the final lap.
"I'm extremely happy to have been the first one to get to the line. I want to thank the entire M4 ECSTAR Suzuki team for making this happen and believing in me."
Kelly's triumph also had the added benefit of allowing Fong to retain his place atop the Supersport championship race. Fong still holds a four-point advantage despite Saturday's crash and DNF.
The gap is an identical advantage for Team Hammer in the Twins Cup title fight, as Dumas' class-leading third win of the year saw him take over the championship lead by the same slim margin.
Over the Twins Cup race's opening half, Dumas and Autovest Suzuki's Joseph Blasius swapped up and down the order inside the top five on their nimble Team Hammer Suzuki SV650s. Dumas ran between second and fourth, while Blasius was positioned anywhere from second to fifth as places were constantly traded in the eight-rider lead pack.
The ascendant Dumas finally took control at mid-distance and piled it on from there, building his lead to more than five seconds en route to the checkered flag.
"I didn't get the start that I wanted, but I made some passes and finally worked up into second and followed for a couple laps," Dumas said. "I managed to make a pass and lead from there until the end.
"I'm really happy with how my bike worked, so I really need to thank Team Hammer and my Roadracing World Young Guns crew. I'm looking forward to tomorrow."
Blasius continued to scrap for the podium, and clawed hard to deliver a Team Hammer 1-2 on the final lap. Unfortunately, his efforts to do so opened the door behind him, and he was dropped to fourth and edged off the podium in the run to the stripe by just 0.04-second.
The extreme up-and-down nature of the day extended into the premier Superbike class. M4 ECSTAR Suzuki's Jake Lewis entered Saturday's main event with high hopes after consistently placing inside the top three throughout practice, qualifying and superpole heading into the race.
Starting on the front row aboard his Superbike-spec GSX-R1000R, Lewis slotted into third in the race's first corner. However, he was stood up in a chain-reaction incident while still working the opening lap, which resulted in contact with another rider on Lewis' outside. The two crashed out together, spoiling what had the potential to be the Lewis' best outing of the year.
Fortunately for Team Hammer, there's another day of racing at Pittsburgh International Race Complex tomorrow with legitimate podium chances in play across the board.
About Team Hammer
The 2019 season marks Team Hammer's 39th consecutive year of operating as a professional road racing team. Racebikes built and fielded by Team Hammer have won 78 AMA Pro and MotoAmerica National races, have finished on AMA Pro and MotoAmerica National podiums 224 times and have won five AMA Pro National Championships, as well as two FIM South American Championships. The team has also won 135 endurance races overall (including seven 24-hour races) and 13 Overall WERA National Endurance Championships with Suzuki motorcycles, and holds the U.S. record for mileage covered in a 24-hour race. The team also competed in the televised 1990s Formula USA National Championship, famously running "Methanol Monster" GSX-R1100 Superbikes fueled by methanol, and won four F-USA Championships.