Tomac Makes It Two-for-Two in Title Chase with San Diego Supercross Win
Lawrence Also Repeats with 250SX Class Win
San Diego, Calif., – Monster Energy Yamaha Star Racing's Eli Tomac grabbed his second victory of the 2023 Monster Energy AMA Supercross season in front of a sold-out crowd inside Snapdragon Stadium in San Diego, California. Red Bull KTM's Cooper Webb also replicated his Round 1 finish and earned second place at Round 3, although the race was only the second time the riders have faced off in 2023. Troy Lee Designs Red Bull GASGAS Factory Racing's Justin Barcia held off pressure right until the checkers to take the final podium spot at the first Supercross event held inside the new stadium.
In Western Regional 250SX Class racing, Team Honda HRC's Jett Lawrence also repeated his opening round win with a nearly flawless ride. Tomac and Lawrence extended their points lead in the 17-round Monster Energy AMA Supercross season as well as toward the inaugural 31-round SuperMotocross World Championship of 2023.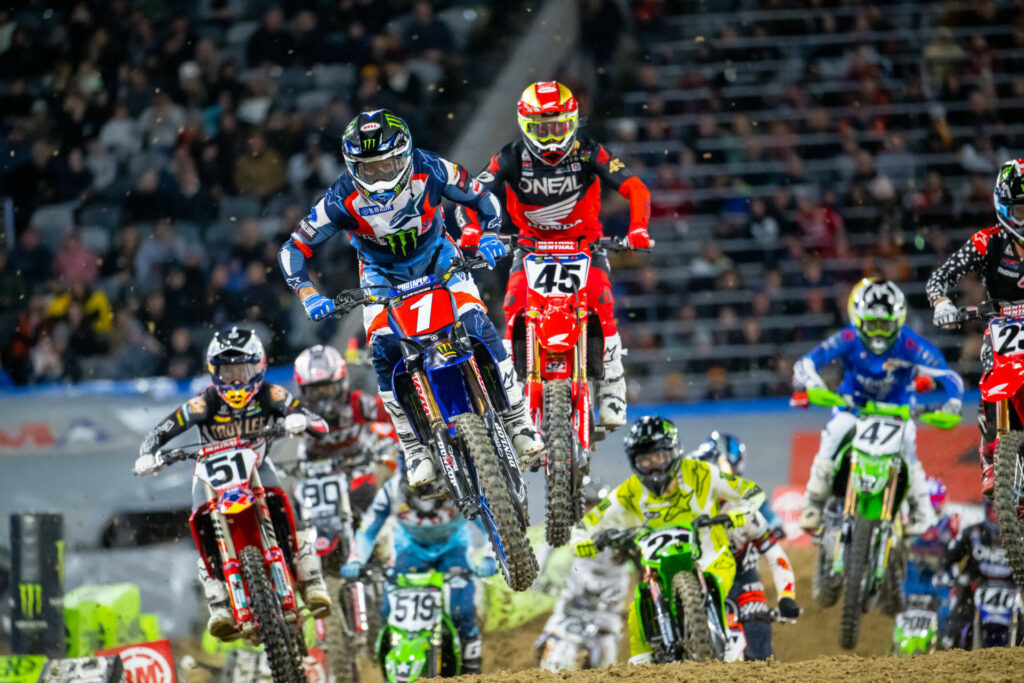 Just as at the previous round, Team Honda HRC's Colt Nichols got through the first corner ahead of 21 other racers to nab the 450SX Class Main Event Holeshot. Monster Energy Kawasaki's Adam Cianciarulo was quickly into the lead for the opening laps of the 20-minute plus one lap race. The racers who share the past four championships, Webb and Tomac, battled each other as they closed on the leader. Webb took over the front spot two and a half minutes into the race; Tomac also got around Cianciarulo and four minutes after the gate had dropped Tomac made the pass on Webb for the lead. Monster Energy Kawasaki's Jason Anderson pushed forward into third place as a battle brewed between Barcia and Progressive Insurance ECSTAR Suzuki's Ken Roczen for fourth.
Just past the race's halfway point Anderson crashed in a turn, turning the battle between Barcia and Roczen into a podium position fight. Team Honda HRC's Chase Sexton was right behind and the three riders circled the track within a breath of each other. In the final laps Webb pulled close to Tomac's rear fender, knocking the Yamaha rider's lead down to just 1.4 seconds. Tomac held strong for the win, his second of the two races run so far this season.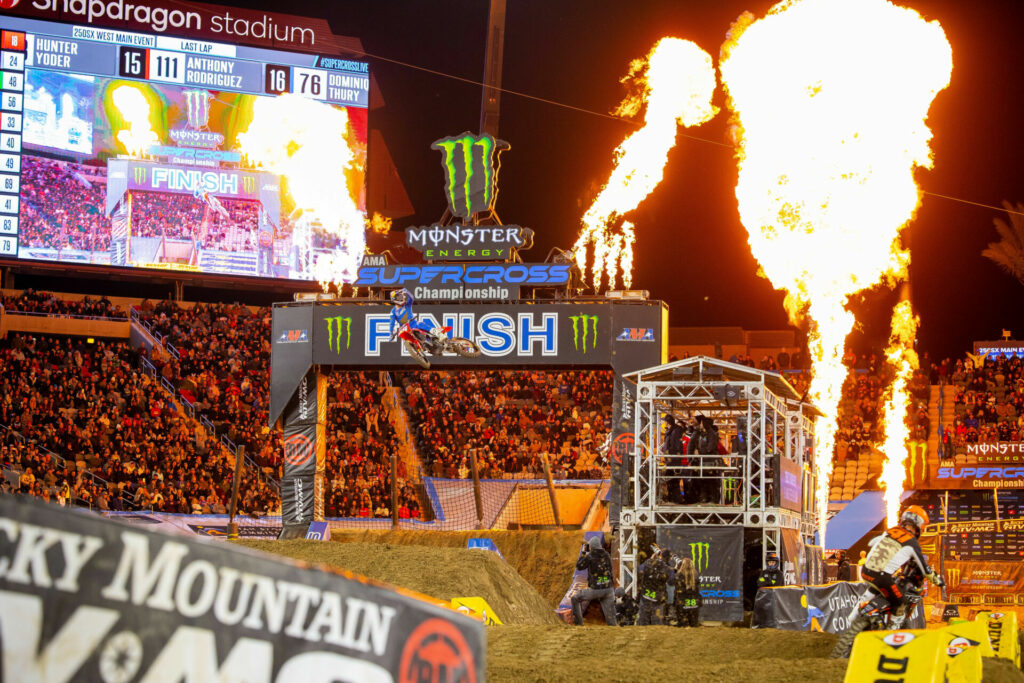 When the gate dropped for the Western Regional 250SX Class Main Event, Jett Lawrence darted to the lead ahead of Muc-Off FXR ClubMX Yamaha's Enzo Lopes, Smartop MotoConcepts Racing Honda's Mitchell Oldenburg, Monster Energy Pro Circuit Kawasaki's Cameron McAdoo and Rockstar Energy Husqvarna Factory Racing's RJ Hampshire. Contact in the tight opening lap pushed Hampshire back but he quickly worked his way back to sixth and started picking off the riders ahead of him. Teammates Lopes and Muc-Off FXR ClubMX Yamaha's Phil Nicoletti scrapped over second while McAdoo and Hampshire slowly pushed forward. Five minutes into the 15-minute plus one lap race McAdoo put his Kawasaki into second and matched lap times with Lawrence, just two seconds ahead. Two minutes later Hampshire reached third. From there Lawrence pulled out some breathing room. As the race clock neared :30 remaining Hampshire cut under McAdoo to match his Round 1 performance and earn second place points.
The series travels back up the California coast to Angel Stadium of Anaheim for a race that pays points to both the Monster Energy Supercross season and the SuperMotocross World Championship series. Monster Energy AMA Supercross Round 2 was postponed due to area flooding and has found its new place on the schedule; the racers will battle at RingCentral Coliseum in Oakland, California on February 18th. The Oakland Supercross will go into the record books as Round 2 of the 2023 season but will sit just after Round 6 on the calendar.
2023 is already proving to be a thrilling season on the track as well as off with the formation of the SuperMotocross World Championship. The new World Championship League brings champions and contenders of both the technical Monster Energy AMA Supercross season, and the wide-open AMA Pro Motocross season together for two exciting Playoff races and one Final race in October to crown a single champion in each class. The 450 Class winner will pocket a one million dollar win bonus and the 250 Class champ will take home $500,000.
From January through October all 31 SuperMotocross World Championship rounds are available live on PeacockTV. Select rounds will be broadcast domestically on NBC, USA Network, and CNBC. SuperMotocross.tv provides international coverage of the events.
Nothing matches the thrill of seeing the action live. Tickets are on sale now for all remaining Monster Energy AMA Supercross events. For tickets, race results, feature stories, and airtimes on Peacock, NBC, USA Network, and CNBC please go to SupercrossLIVE.com.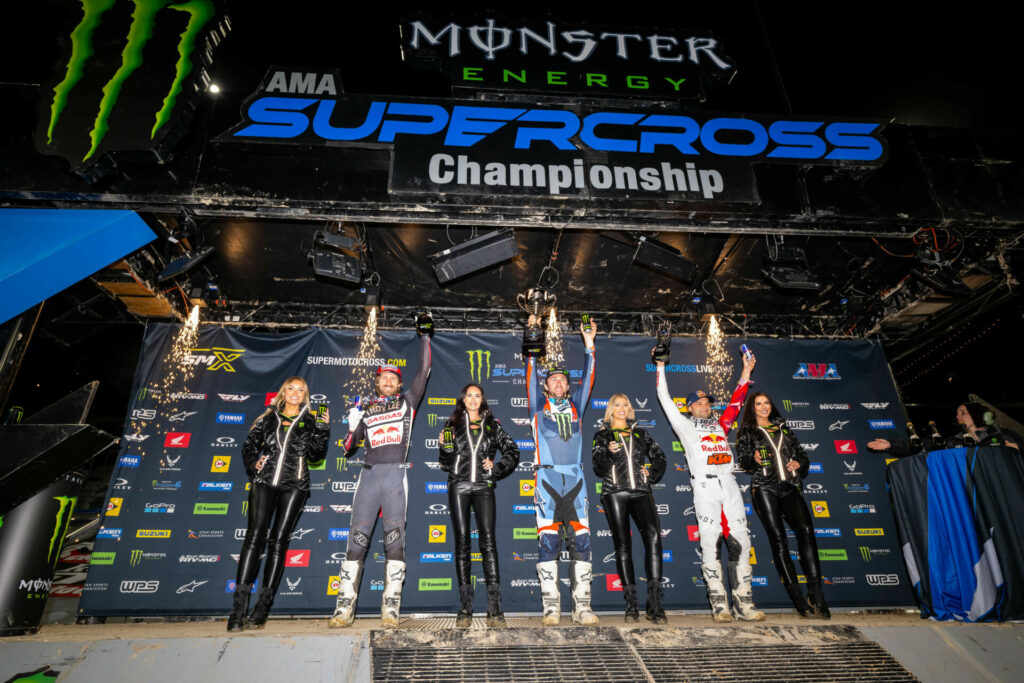 450SX Class Results
1. Eli Tomac, Cortez, Colo., Yamaha
2. Cooper Webb, Newport, N.C., KTM
3. Justin Barcia, Greenville, Fla., GASGAS
4. Ken Roczen, Clermont, Fla., Suzuki
5. Chase Sexton, Clermont, Fla., Honda
6. Dylan Ferrandis, Tallahassee, Fla., Yamaha
7. Jason Anderson, Rio Rancho, N.Mex., Kawasaki
8. Adam Cianciarulo, New Smyrna Beach, Fla., Kawasaki
9. Aaron Plessinger, Hamilton, Ohio, KTM
10. Joey Savatgy, Clermont, Fla., Kawasaki
450SX Class Championship Standings
1. Eli Tomac, Cortez, Colo., Yamaha (52)
2. Cooper Webb, Newport, N.C., KTM (46)
3. Chase Sexton, Clermont, Fla., Honda (39)
4. Ken Roczen, Clermont, Fla., Suzuki (37)
5. Dylan Ferrandis, Tallahassee, Fla., Yamaha (36)
6. Justin Barcia, Greenville, Fla., GASGAS (33)
7. Jason Anderson, Rio Rancho, N.Mex., Kawasaki (32)
8. Adam Cianciarulo, New Smyrna Beach, Fla., Kawasaki (29)
9. Aaron Plessinger, Hamilton, Ohio, KTM (29)
10. Colt Nichols, Murrieta, Calif., Honda (28)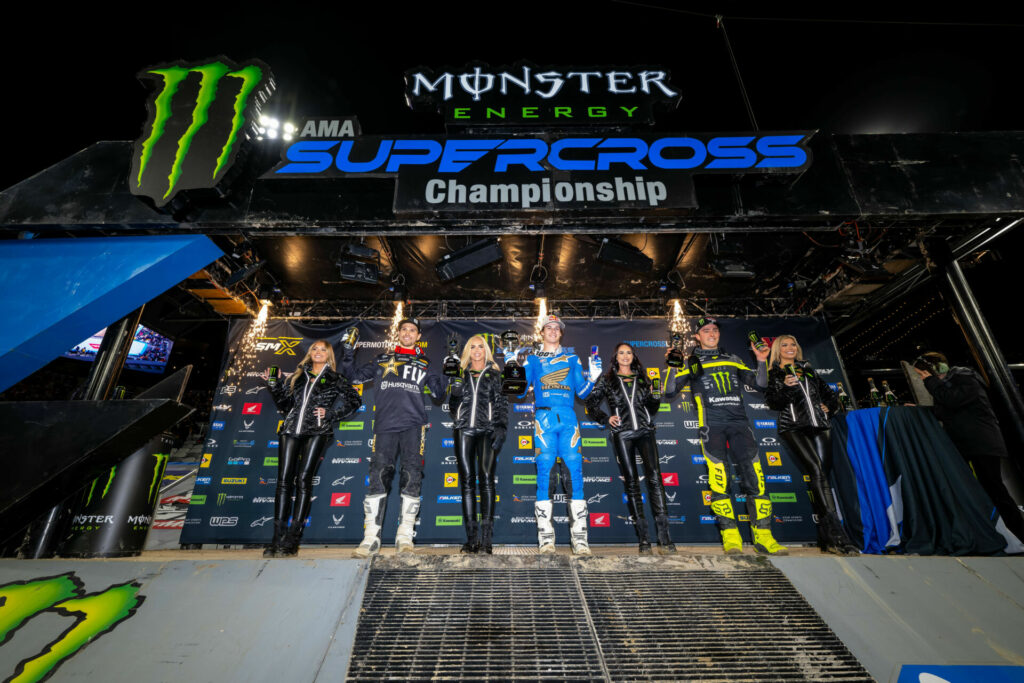 Western Regional 250SX Class Results
1. Jett Lawrence, Zephyrhills, Fla., Honda
2. RJ Hampshire, Minneola, Fla., Husqvarna
3. Cameron McAdoo, Sioux City, Iowa, Kawasaki
4. Enzo Lopes, Chesterfield, S.C., Yamaha
5. Pierce Brown, Sandy, Utah, GASGAS
6. Stilez Robertson, Bakersfield, Calif., Yamaha
7. Mitchell Oldenburg, Godley, Tex., Honda
8. Phillip Nicoletti, Bethel, N.Y., Yamaha
9. Derek Kelley, Riverside, Calif., KTM
10. Cole Thompson, Brigden, Ont., Yamaha
Western Regional 250SX Class Championship Standings
1. Jett Lawrence, Zephyrhills, Fla., Honda (52)
2. RJ Hampshire, Minneola, Fla., Husqvarna (46)
3. Cameron McAdoo, Sioux City, Iowa, Kawasaki (42)
4. Enzo Lopes, Chesterfield, S.C., Yamaha (36)
5. Mitchell Oldenburg, Godley, Tex., Honda (35)
6. Stilez Robertson, Bakersfield, Calif., Yamaha (31)
7. Phillip Nicoletti, Bethel, N.Y., Yamaha (30)
8. Derek Kelley, Riverside, Calif., KTM (27)
9. Dylan Walsh, Wildomar, Calif., Kawasaki (24)
10. Cole Thompson, Brigden, Ont., Yamaha (23)