Copyright 2023, Roadracing World Publishing, Inc.
By Michael Gougis
For many, Arai defines the concept of premium helmet. Few brands can boast of the company's reputation for fit, overall comfort, and safety. And while trends in helmets, as well as companies, have come and gone since Arai was founded nearly a century ago, Arai has pursued a course of steady improvement and incremental changes, always building on the progress it has made.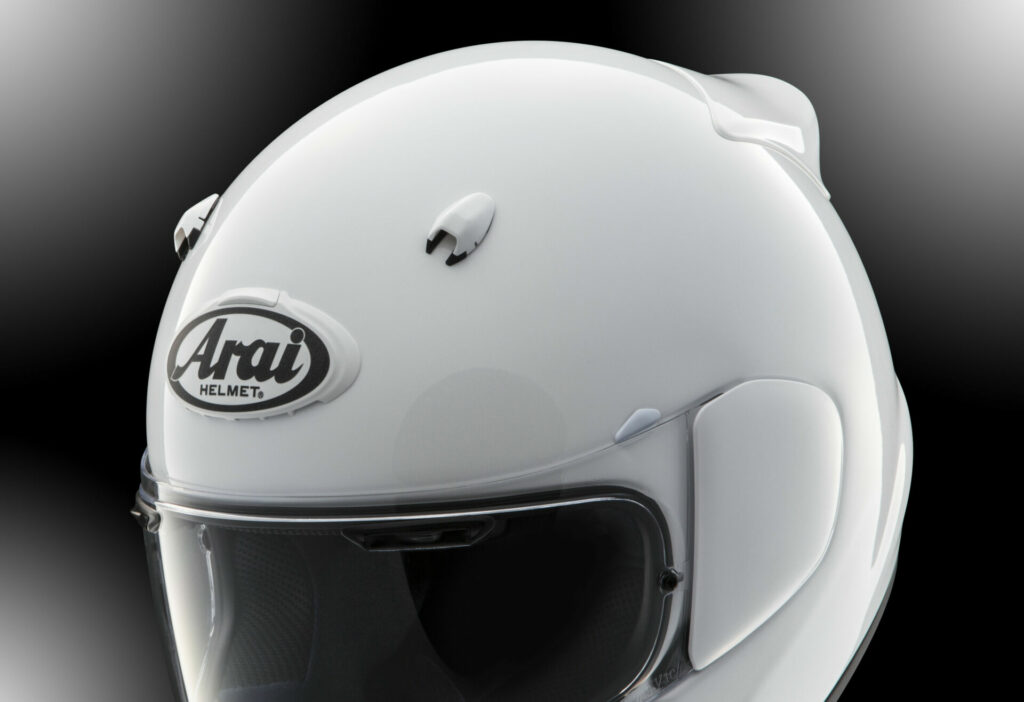 Arai says that has made major breakthroughs in helmet safety more and more difficult to accomplish. In recent years, refinement rather than revolution has defined Arai's approach to its newest models.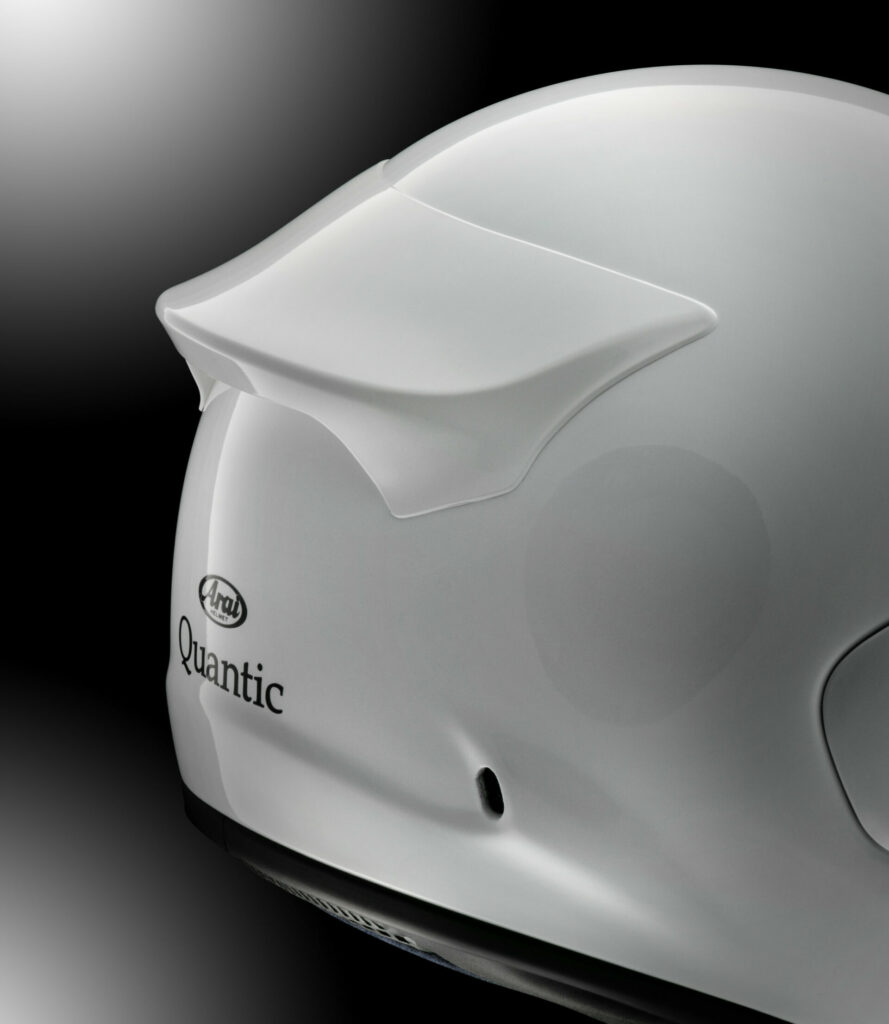 The new-for-2023 Arai Contour-X reflects that design philosophy. Instead of starting the conversation about its new helmet by talking about the lid's new features–of which there are several, and they are useful improvements–the company emphasizes that the "Contour-X is built on the solid foundation and proven performance of the helmets that came before it."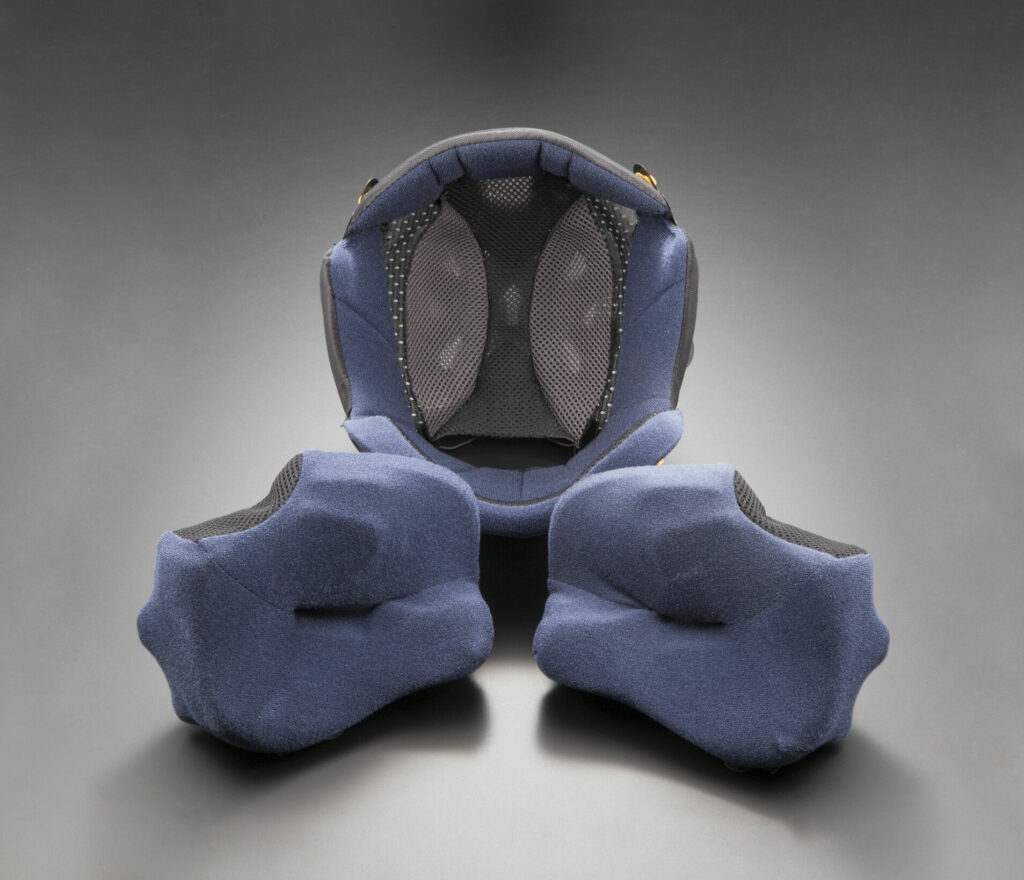 Unveiled in Los Angeles late in 2022, the Contour-X is aimed at the road rider and the sport-touring rider, particularly the rider who likes to cover long distances at high speed, who values comfort but wants the performance features of the company's racing helmets. I swear, it's like they read my mind…
The foundation of the new helmet is its shell, which features Arai's Peripherally Belted Complex Laminate Construction. New matting and resin results in a significant weight reduction, the company says. The new shape has a 5mm flare at the bottom to ease pulling the helmet on and off. The Arai logo at the forehead is now a raised vent. And the left side of the lower shell has a flatter surface to make connecting communication devices easier and more secure. Arai says an extra layer of matting there and a redesigned ridge maintains rigidity in that area of the helmet.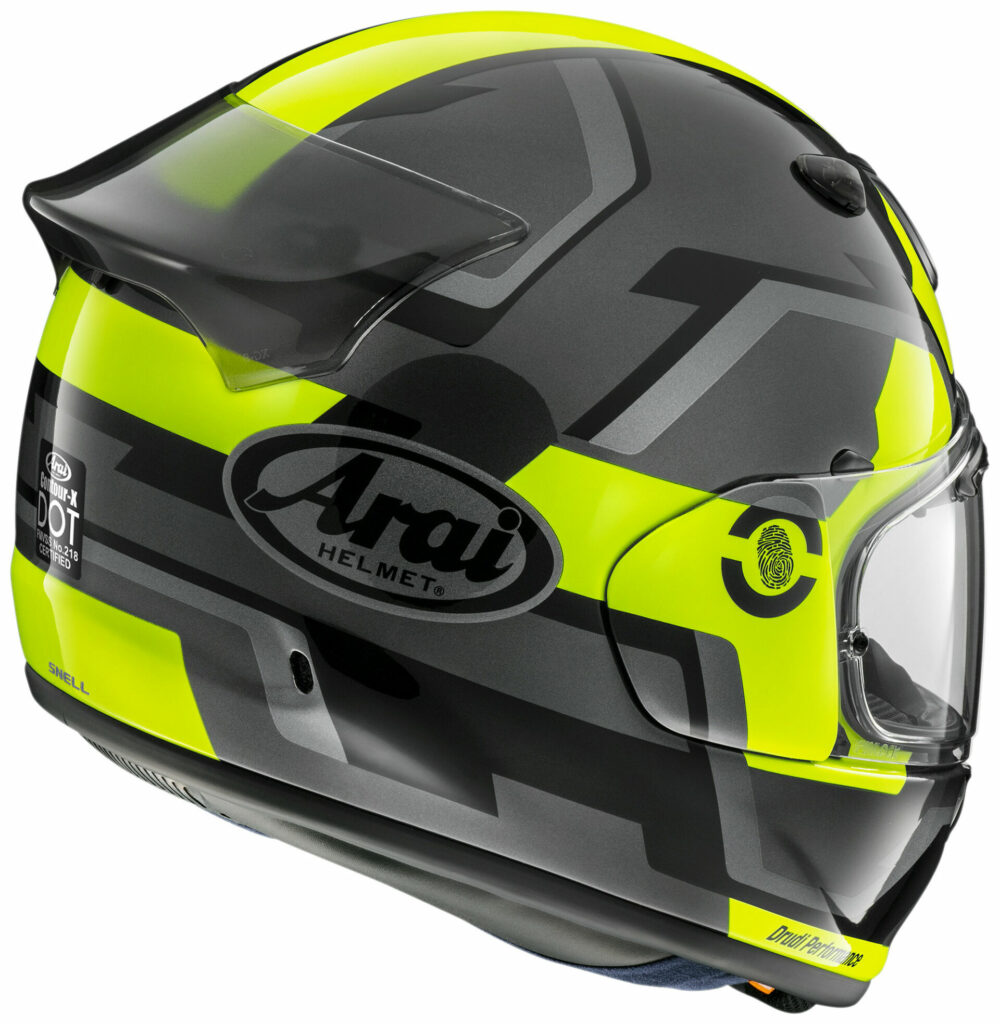 Ventilation on the helmet is provided by no fewer than 13 openings, seven of which draw air into the helmet and six that remove it. The new three-dimensional forehead logo vent, which feeds two 10mm intakes, is designed to be particularly effective at lower speeds. The company says that at 30 mph, the logo vent system flows an additional 40% of air, and at 70 mph it is still delivering an extra 7% percent. Besides the logo intake are two teardrop-shaped vents that were inspired by Arai's Formula One car helmet. The chin vent can be configured in closed, half-open or completely open, has been redesigned to make it easier to use while wearing gloves and has a replaceable filter. The face shield has two eyebrow vents.
At the rear, a wing-shaped exhaust spoiler is designed to create stability and reduce turbulence, thus reducing rider fatigue. Arai says the spoiler is similar to the one on the Corsair-X but sits higher and more forward. While it is aimed at the sport-touring and road rider, Arai says its testers evaluated the design (and presumably approved its performance) at 180 mph at Suzuka Circuit.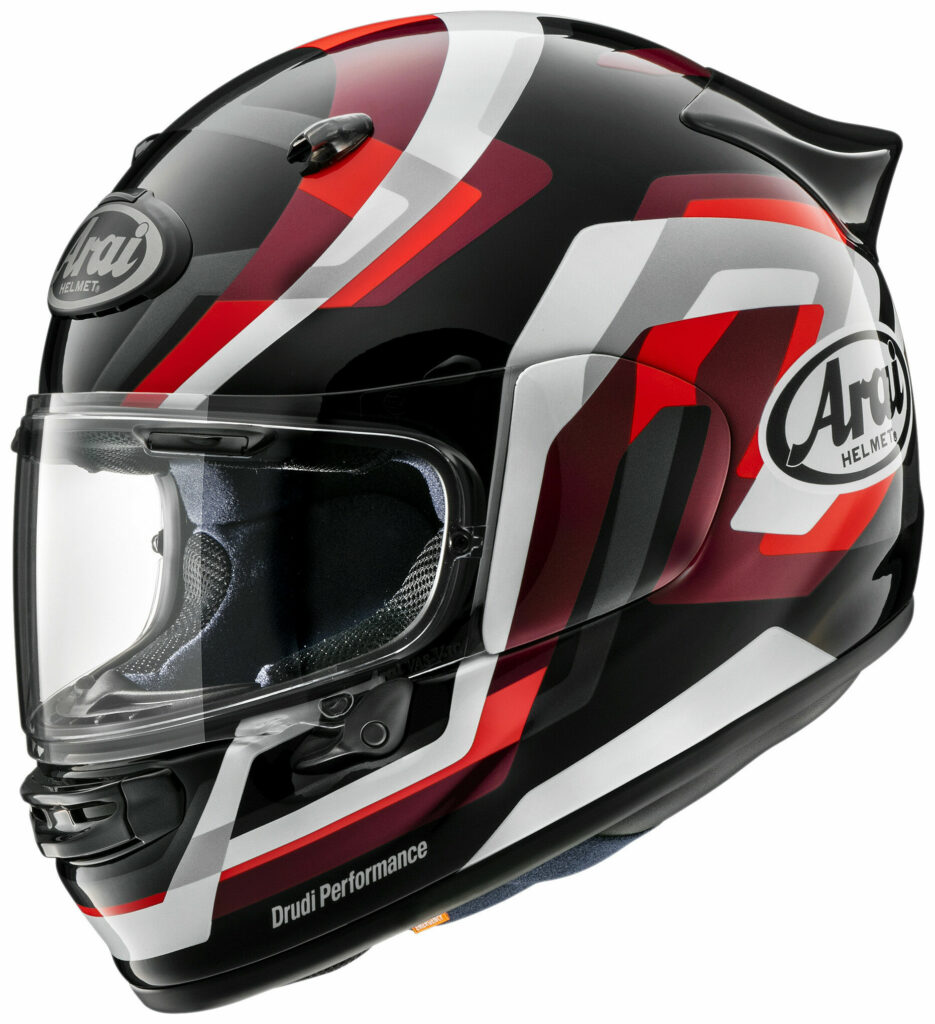 A new brushed nylon liner material offers greater odor resistance performance, and the interior and cheek pads are easily removed for cleaning or adjustment, the company says. The liner also incorporates a pocket to hold additional wiring for the speakers and/or communication device. The Contour-X uses the same VAS shield system, which is Pinlock-insert compatible, as the other full-face helmets currently in the Arai lineup.
Much has been written lately about rotational forces and helmet features designed to reduce or minimize that force on the rider's head in the event of a crash. Arai's philosophy is to minimize the rotational forces by designing a smooth, rounded shell to prevent rotational forces from being generated in the first place. Arai's rounded shells are designed to glance off of the ground or any other object without snagging or catching, thus minimizing the rotational forces created by that impact. And with only so much space that can be devoted to impact absorption materials, Arai says it "prioritizes the liner to absorb impact energy, and is unwilling to take away any of that limited material to address issues like trying to manage rotational energy or add features such as internal sunshades. Such designs diminish the helmets' already limited capacity to absorb impact energy."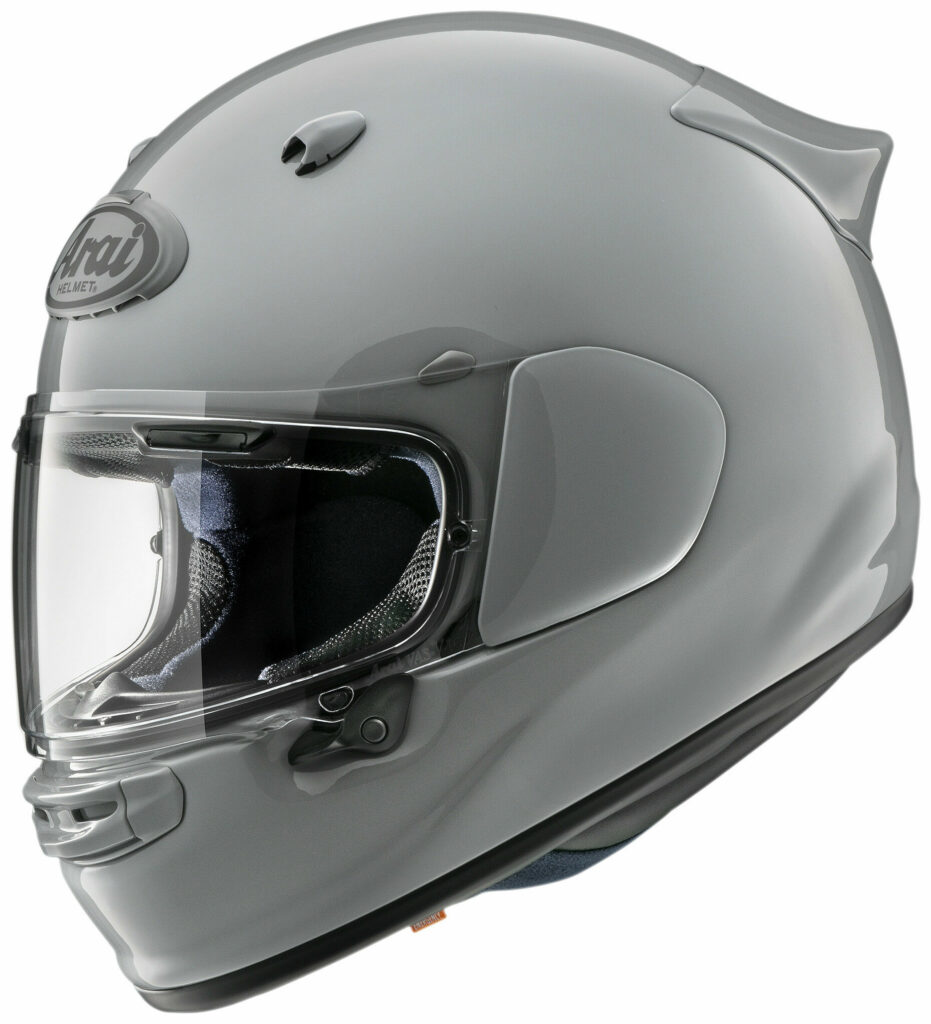 Arai supplied us with sample helmets and led a pack of motojournalists, racers, and friends of Arai on a loop from downtown Los Angeles along Pacific Coast Highway into Malibu. As soon as we turned right and headed up into the Santa Monica Mountains, the rain, which had paused after dumping down for two days, resumed. So much debris washes onto those tight, narrow roads that local authorities employ snowplow-like vehicles to clear away the mud, branches and rocks, but with the rain actually falling, there was nothing to prevent the hazards from sliding back onto the pavement immediately after it had been cleared.
What I learned during that ride was that the new ventilation system offered a lot of flexibility in configuration, important for sketchy weather conditions. I was able to adjust the vents so that with a minimum of forward motion, the face shield did not fog, and I did not get wet or cold air rushing across my skull. And riding with the helmet while doing an on-track evaluation of a Kawasaki Ninja 650 showed that the helmet was stable and didn't create buffeting at triple-digit speeds.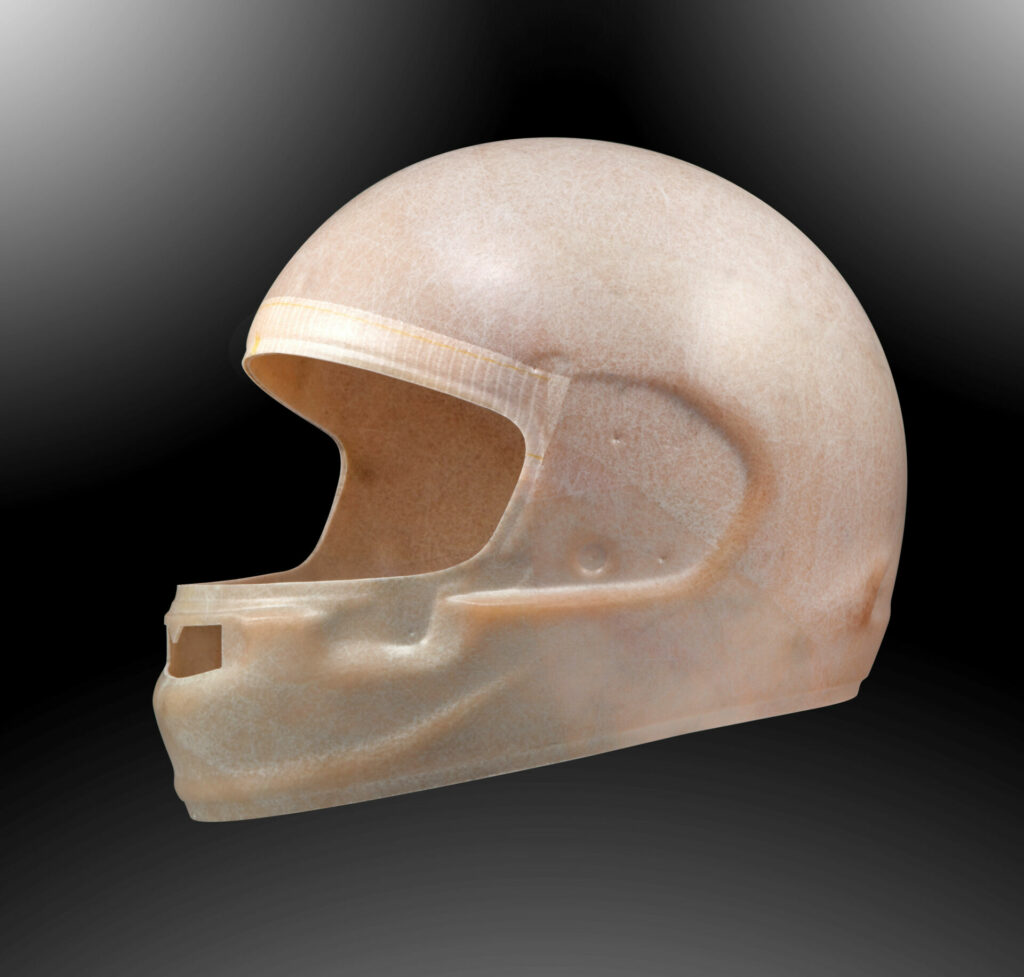 Big improvements may be harder and harder to come by in a technology as mature as modern motorcycle helmet design. But small improvements over time are equally welcome. Arai's latest lid exceeds the company's already high standard for comfort, is easier to use and is functional at speeds its intended user will experience for long periods of time.
Suggested retail starts at $739.95 for the base solid colors, and the multi-color models start at $889.95.
More, from a press release issued by Arai Helmet, Inc.:
The All-New Arai Contour-X: Designed for the Modern Motorcycle Rider
Arai Helmet is proud to introduce the all-new Arai Contour-X!
Representing the latest example of Arai's dedication to rider protection, the Contour-X is built on the solid foundation and proven performance of the helmets that came before it.  For more than seven decades, Arai has looked closely at helmet design, down to the smallest details, where room for even the slightest gains in protection can be found.
The Contour-X has the very familiar "Arai shape", incorporating a Round, Smooth and Strong shell. This foundational shape provides the ability to glance off obstacles and slide across uneven ground and resist deformation during an impact, all of which help to minimize the potential for snagging or catching that might send energy into the helmet or cause excessive rotational forces.
To learn more about Arai from the Value of Arai video, click the image above.
It is important to note that as long as the helmet can slide, or avoid snagging on obstacles, the potential to resist rotational forces is virtually unlimited. This basic function has been incorporated into every Arai helmet shell since the very beginning—more than 70 years ago!
Arai's ongoing philosophy is to avoid as much potential impact energy as possible from getting into the helmet. Keeping energy outside of the helmet means less energy gets into the helmet resulting in less energy for the interior liner to deal with. Knowing that the interior space for a liner is limited, Arai prioritizes the liner to absorb impact energy, and is unwilling to take away any of that limited material to address issues like trying to manage rotational energy or add features such as internal sunshades. Such designs diminish the helmets already limited capacity to absorb impact energy.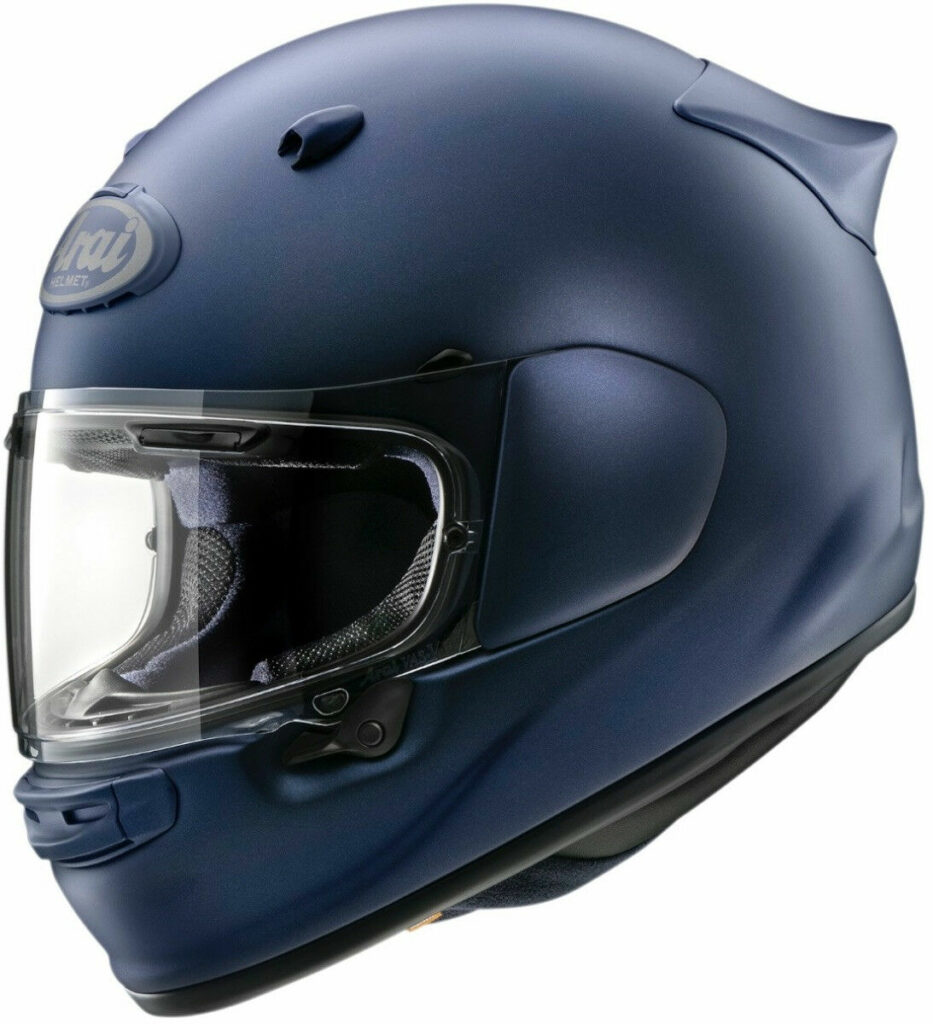 The All-New Arai Contour-X in Blue Frost
At Arai, we believe more performance can be found in avoiding, rather than attempting to manage, impact energy. This is the foundation behind Arai's "Glancing Off" philosophy.
Owned and operated by the Arai family, who demand such dedicated efforts, with a focus on rider protection as their Number-1 priority: this is Arai.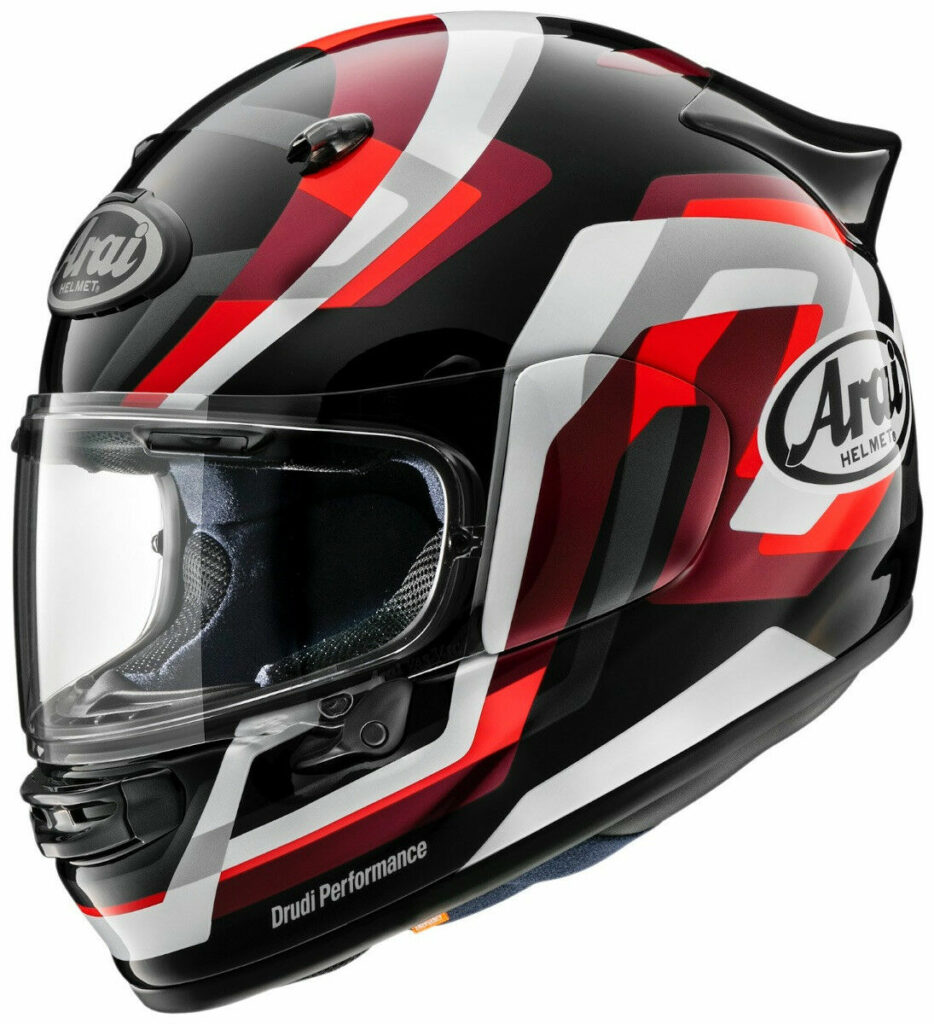 The All-New Arai Contour-X in Snake Red
Built upon this incredible foundation, Arai Helmet, Inc. is thrilled to announce the launch of the all-new Contour-X. This new Arai helmet is designed for the modern motorcycle rider and aimed at a brand-new generation of riders who want dynamic and comfortable race-derived performance on the road.
Extensive work by the R&D team in the lab, on the road and out on the racetrack, with the ever-present goal of creating a full-featured, exceptional new Arai helmet, the Contour-X comes with unmatched performance, but with room for a stylish new look that provides a high level of comfort and protection over thousands of miles.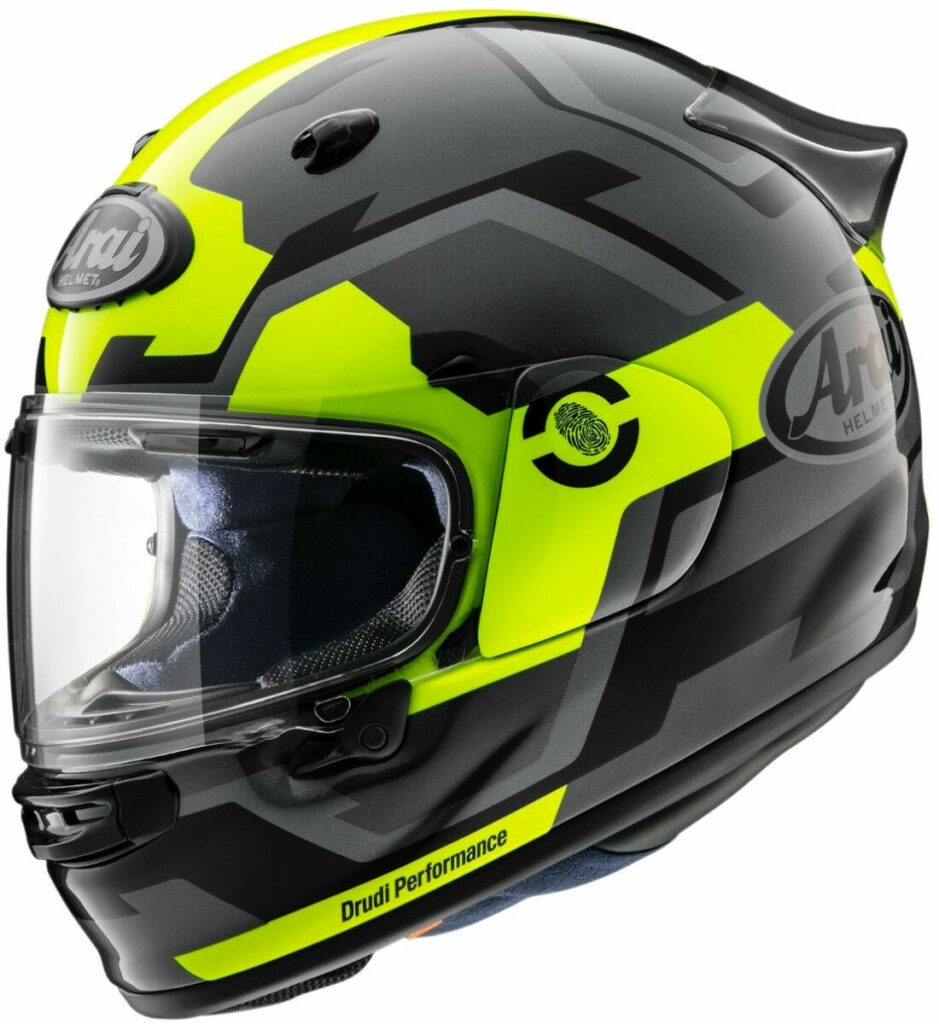 Face Fluorescent Yellow is another beautiful graphic on the All-New Arai Contour-X
Drawing on the ideas, design elements and principles, throughout the Arai range, from the popular Regent-X to the road racing-spec Corsair-X, the Contour-X also has fresh features all its own.
Positioned just below the Arai flagship Corsair-X model, the Contour-X marks a brand-new generation of sophisticated design from Arai that occupies fresh ground. Aimed at the passionate, sport-touring long-distance rider with its Odor Resistant Brushed Nylon interior, increased flexible ventilation, and stable aerodynamic performance offering high-speed comfort for the long haul.
Key Messages:
A brand-new generation of Arai helmet aimed at the sport-touring rider who wants dynamic, race-derived performance on the road.
New smooth, round, and strong Peripherally Belted Complex Laminate Construction (PB-cLc2) outer shell with VAS shield system and a 5-mm flare around the base for easier on/off and comfort.
Unmatched comfort and features suitable for long riding days.
​New Odor Resistant, Brushed Nylon interior that keeps the Contour-X fresher longer with the soft supple feel of the Brushed Nylon.
New front Arai 3D logo vent, new XG chin vent, dual intake XGF top vents and one-piece rear XGR exhaust/spoiler deliver comprehensive and controllable cooling airflow.
​
Designed for straightforward and easy attachment of intercom systems.
Manufactured, by hand, using a Peripherally Belted Complex Laminate Construction (PB-cLc2) shell, the Contour-X's outer shell maintains the core strength that Arai is known for, but with a substantial weight reduction, due to the thinner AR Mat and Z-Compound resin. A soft, multi-density EPS inner liner works with the outer shell to absorb impact energy. The smooth, round, and strong shape is another key Arai signature—and the Arai first principle from which the R&D engineers worked from. While aesthetically sleek and pleasing, the Contour-X shell is primarily designed to 'glance-off' and spread impact forces.
The new 3D Arai logo vent, aggressive XG chin vent, F1-based dual XGF top-vents and Corsair-X DF-X2 inspired one-piece rear XGR exhaust/spoiler were developed in the wind tunnel, in real-road riding conditions and at the Suzuka race circuit. Alongside the brow vents and flush-fit rear exhausts, the Contour-X's ventilation gives a consistent, controllable flow of cooling air via a total of 13 ports in the shell—from low, around-town speeds.
All-day wearability is the other key factor running through the Contour-X's DNA. It features a 5mm flare around the base for easy on/off access, and the VAS MAX vision visor is ready to accept the provided Pinlock insert. The new, premium odor resistant brushed nylon interior is removable and features Facial Contour System (FCS-2) cheek pads, speaker pockets and a neck roll wire pocket. The Contour-X has been designed from the outset for easy application of a communication system. It also features an Emergency Release System (ERS) cheek pad design.
Using the aerodynamic and protective abilities of Arai's full-race helmets—with racer feedback from the highest level—the Contour-X slips through the air neatly and efficiently, wrapping its wearer in a cocoon of comfort. It offers a fresh choice for riders that want the very best performance from a helmet—in terms of protection, comfort and ease of wear, day-in-day out, with zero compromise.
Arai Contour-X MSRP:
Base Solid: $739.95
Premium Solid: $749.95
Standard Graphic: $889.95
Replica: $899.95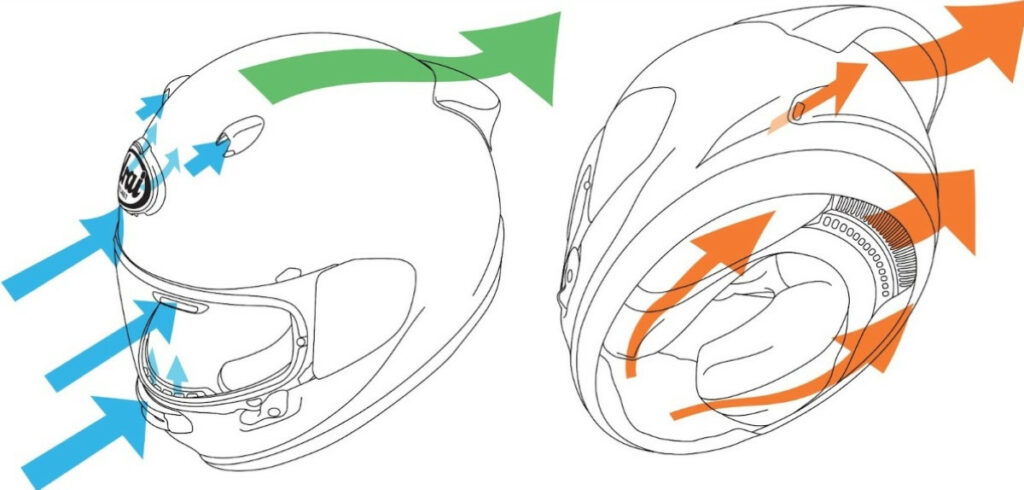 ARAI CONTOUR-X NEW FEATURES:
New Ventilation
Comprehensive and controllable ventilation is based around 13 ventilation ports: 7 intakes and 6 exhausts. The 3D Arai logo feeds cooling air into two central intake points and works well at low speed, alongside dual F1-derived tear-drop top intakes, twin brow vents and filtered chin vent. Hot air is efficiently extracted via the 3-way one-piece rear exhaust/spoiler, twin flush-fit side exhausts (with foam dams to reduce noise) and neck-roll exhaust.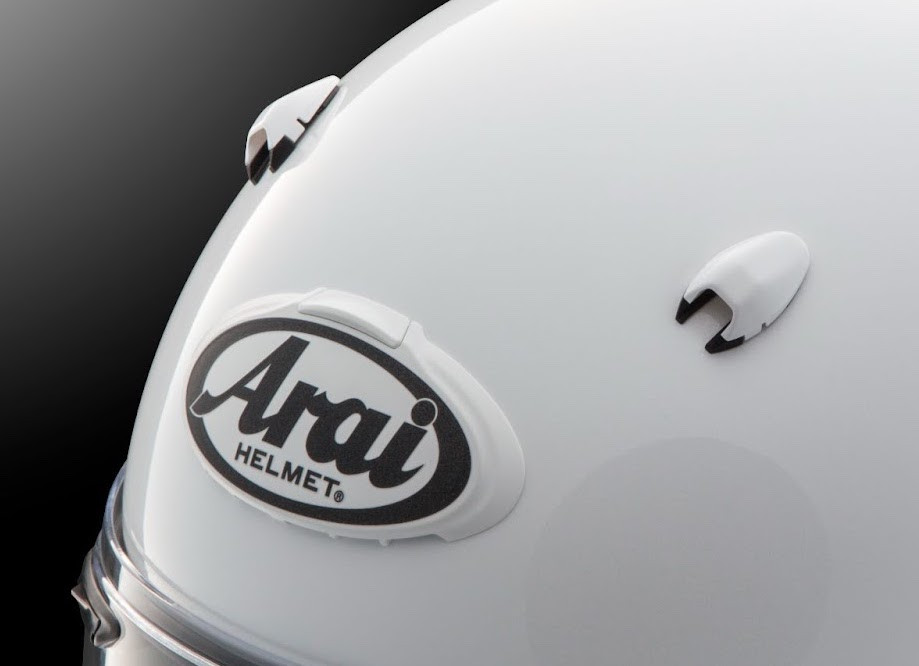 New 3D Arai Logo Vent
Immediately noticeable, the new 3D Arai logo vent (made as thin as possible, just 3.5mm in depth) feeds two central 10mm intake ports. This is a first on an Arai, and entirely due to the PB-cLc2's strength and the shell construction. It works very well at low speed and with an upright riding position. At just 30mph it's channeling an extra 40% airflow; at 70mph an extra 7%. It can also be opened, or closed, easily with summer or winter gloves, via a lever placed at the top; if the lever is down, hidden behind the logo, the vent is open. The Arai logo vent is designed to breakaway in the event of an impact.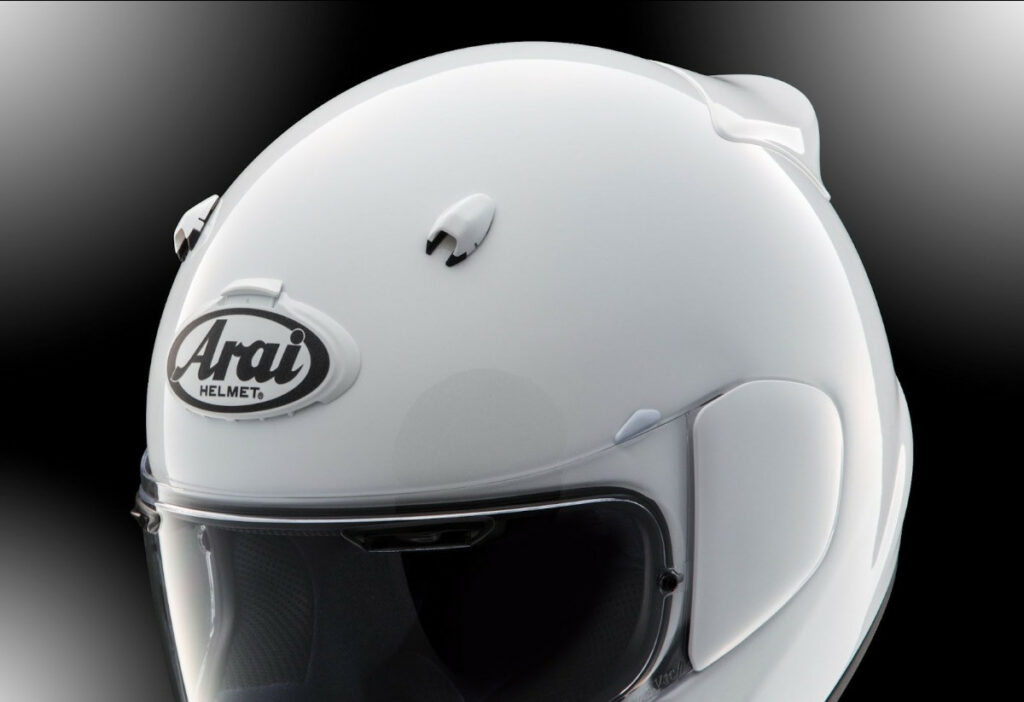 New Dual Tear-Drop Top XGF Intake Vents
Drawn initially from Arai's F1 helmet, the XGF tear-drops maintain the airflow of the previous design with a compact, light and unobtrusive form that complements the round and smooth shell. Opened or closed by sliding to prevent water ingress.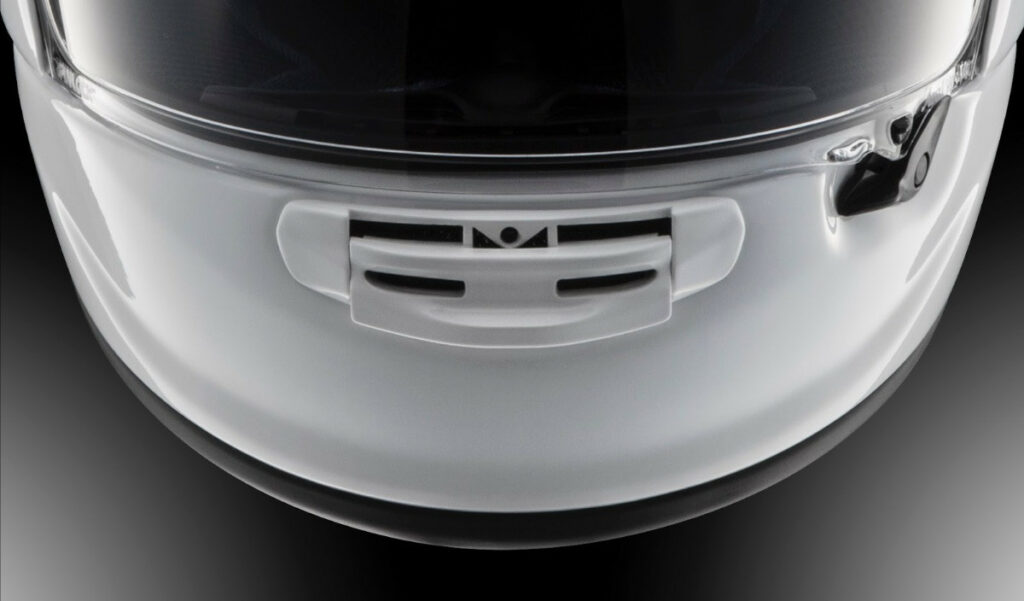 New Air-scoop XG Chin Vent
Also new is the 3-position (open, midway, and closed) sliding air-scoop chin vent which flows a larger intake volume of air and has a replaceable filter. The actuating mechanism is thicker and easy to use with gloves.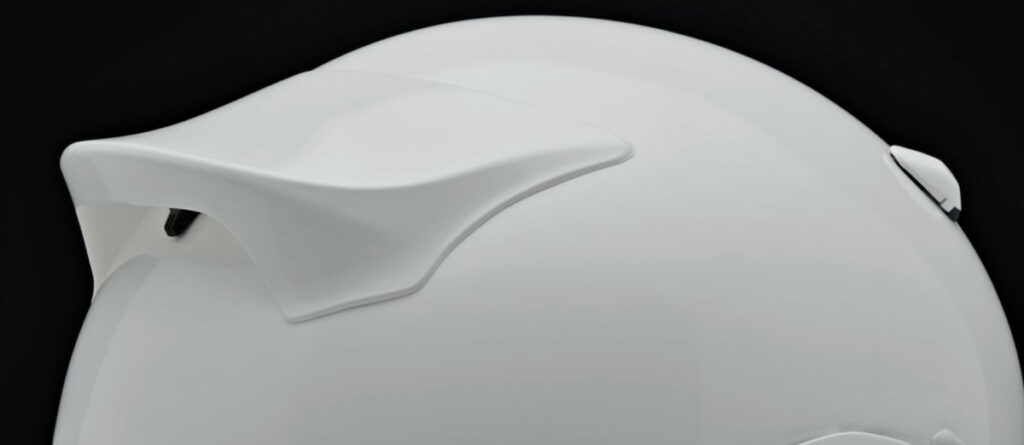 New Rear XGR Exhaust/Spoiler
The one-piece rear exhaust/spoiler, operated by a 3-way switch, is inspired by the DF-X2 of the Corsair-X, but redesigned for everyday sport/touring use. However, it was tested up to 180 mph by top racers at the Suzuka Circuit. It sits a little more forward on the shell and is fed by 3 ports in the shell. As part of the Contour-X's comprehensive ventilation system, it efficiently draws air but also smooths airflow over (and from the side) of the helmet, improving stability and reducing buffeting, especially while overtaking at highway speeds. The result is much less rider fatigue. Manufactured as thin and light as possible, it's designed to crush or break away upon impact, therefore having no impact on protective performance.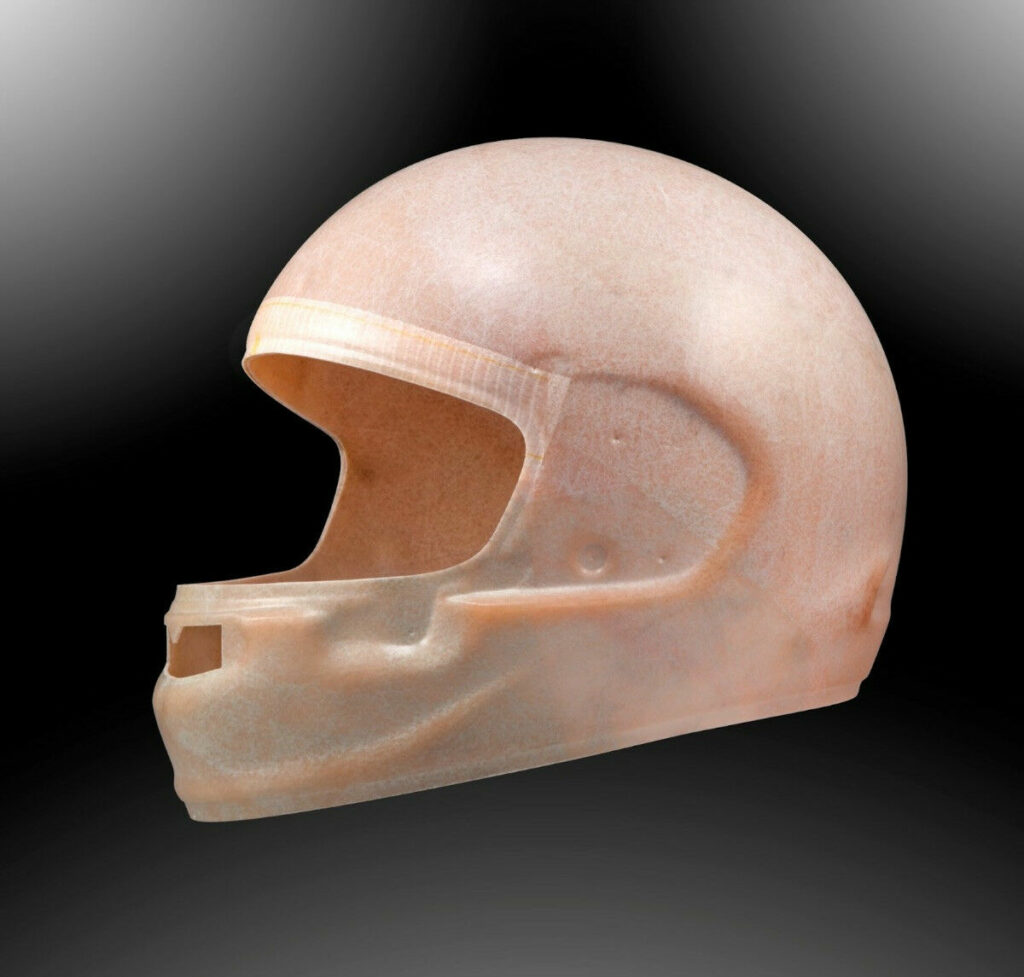 Outer Shell
The PB-cLc2 outer shell features a stylish, organic shape and uses a Peripherally Belted Complex Laminate Construction for lightweight strength. The Peripherally Belted Complex Laminate Construction with latest generation Z-Compound resin and AR Mat is the accumulation of years of Arai's experience in shell making, handmade with over 25 individual pieces bound by Arai's new proprietary resin and reinforced by the Peripheral Belt.
An extra layer of Super Fiber belting—along with a re-shaped Hyper Ridge—maintains rigidity in a crucial area while offering flat sides for easy fitment of an intercom. Variable Axis System (VAS) lowers the visor mounting system and yields an average of an additional 24mm across both temple areas, for a smoother shell shape that increases the ability to glance-off energy as compared to the previous shield pivot system. Like the Regent-X, the Contour-X shell flares out 5mm around the base, for easier on/off access.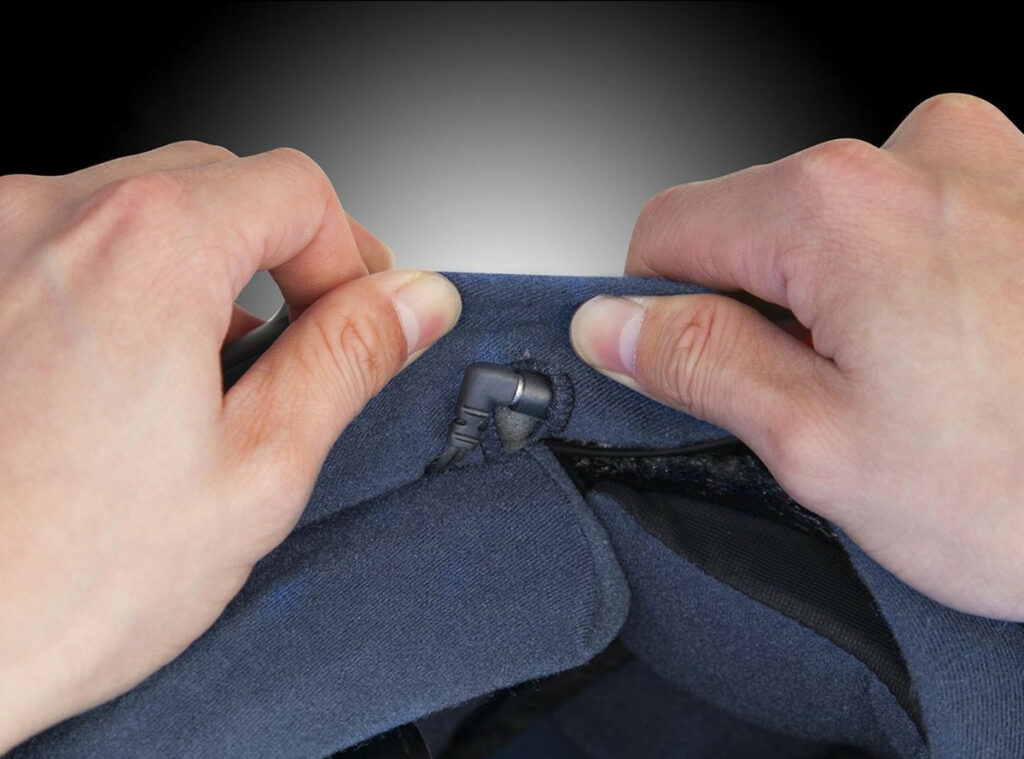 New Integrated wire pocket 
Designed to work cleanly without affecting comfort or protection to store excess cable length in the neck roll.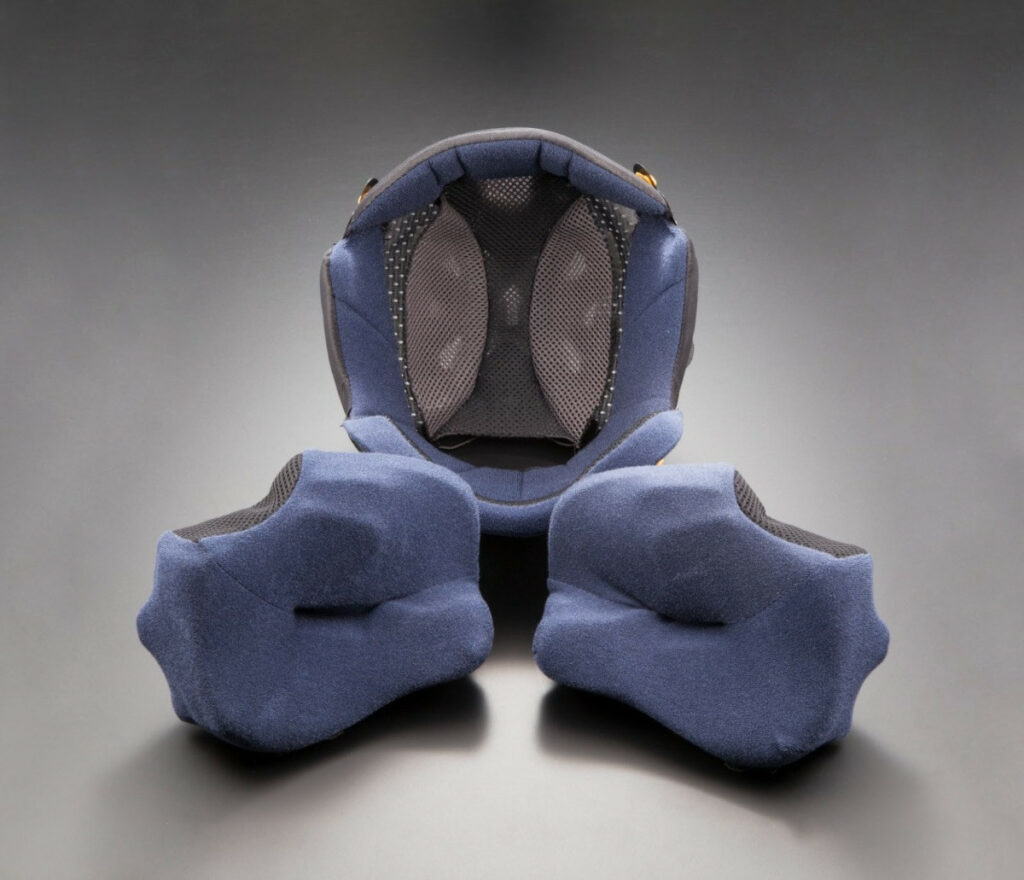 New Interior
Using the interiors of both the Regent-X and the Corsair-X as benchmarks, the Contour-X's interior was designed for maximum comfort, airflow (there are two pass-through holes in the forehead area) and lightweight. A new liner material created just for the Contour-X is a brushed nylon with odor resistance performance, keeping the interior liner components fresher, longer.  The interior and cheek pads are easily removed for cleaning or adjustment.