Copyright 2021, Roadracing World Publishing, Inc.
By Michael Gougis
It's not a bobber. It's not a hyper-stylized retro throwback to a design concept that emerged decades ago. But you can see the same sort of thinking in the new Yamaha MT-09 hyper-naked triple. It's the sort of thinking that says, strip everything off that doesn't help make it go faster, reduce it to its elemental components, make it look good, and let it rip.
Yamaha's third generation MT-09 carries on with the idea that inspired the first version back in 2014. It's not a race bike, but a machine built for performance on the street. There's nothing on it that doesn't belong on a street bike. The seat/tail section is minimized, the front fender minimal, large areas are matte and blacked out. It looks like it belongs in the city, at night, ready to go do things that radar detectors are designed to prevent.
But don't mistake that for crude. For 2021, Yamaha went through the entire machine and says that 90 percent of the parts are new. The engine is larger, more fuel efficient. The bike has more – and more sophisticated – rider aids, better suspension, better brakes, updated styling and only $9,399 (Manufacturer's Suggested Retail Price) gets you all of that.
In the real world, where street bikes are ridden only on the street, it represents a remarkable value, with a massive hit of performance per dollar, all in an agile, easy-to-manage package that allows you to take advantage of every pony Yamaha's engineers crammed into the engine bay.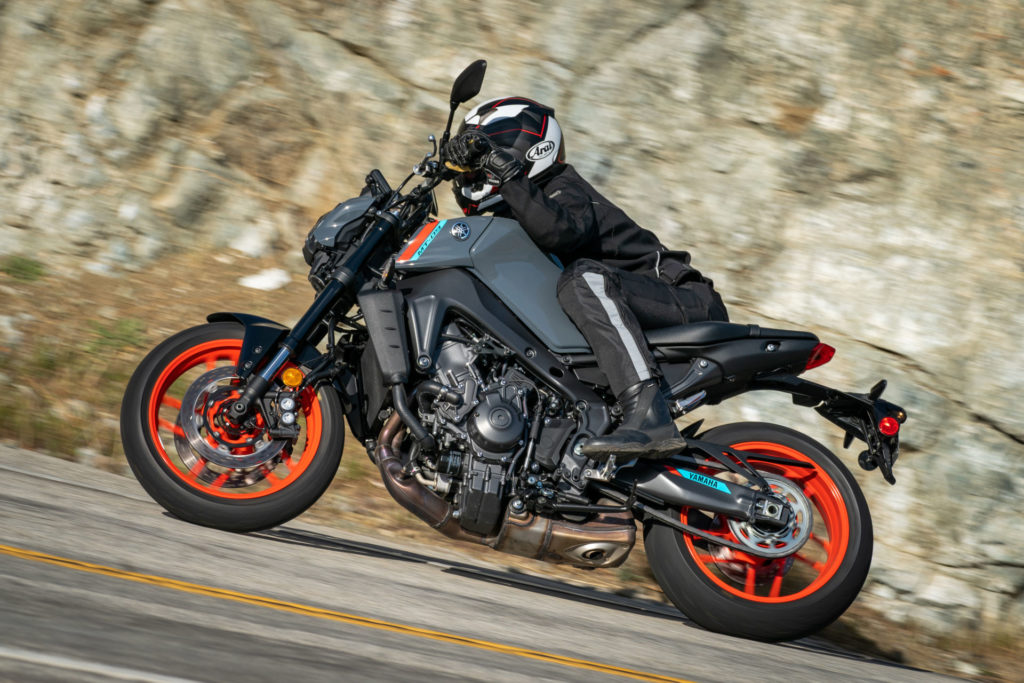 Riding Impressions
A clever set of adjustable tubular handlebars and equally clever adjustable rearsets allow the rider to fine-tune what is already a comfortable, upright riding position. The seat is flat and supportive and was comfortable for our entire 139.3-mile ride through the streets of downtown Los Angeles and mountain roads of Southern California.
Quickly you adapt and start to confidently push. The upgraded brakes, which incorporate technology from the company's YZF-R1, are more than adequate for anything the rider will be doing on the street. The upgraded frame's enhanced rigidity is immediately noticeable, even while riding around in the city. On curvy mountain roads at speed, the increased rigidity is even more noticeable, helping keep the MT-09 exactly on the arc you intend.
The very first iteration of this machine had a throttle response that was snatchy at the bottom, right when you cracked open the throttle, and it performed best in one of the less aggressive ride modes. Those drawbacks are but a bad memory. Throttle response, even in the most aggressive ride mode, is smooth, direct and confidence inspiring. I was able to get on the throttle early going through corners, settling the chassis and setting up for an enthusiastic drive out.
While Yamaha redesigned the motor to meet ever stricter emissions requirements while still maintaining the character of the torquey, versatile triple, it seems to have lost something in the latest translation. It's still powerful, but it doesn't seem quite as revvy as it used to. Even at higher revs, it still feels like it's working a little harder than it used to.
Obviously, the bike is built to a price point, and really sophisticated suspension units are really expensive. So while the damping settings have been revised for the new model, they still show their bargain roots. The ride quality is good over everything except for sharp edged bumps, but those definitely transmit shock to the rider that more sophisticated units would not transmit.
Having ridden motorcycles for nearly 40 years now, I still wonder why it took so long to develop clutchless upshifting and downshifting. The clutchless shifts on this bike are smooth, precise and decisive. For anything having to do with street use, the up and down quickshift just flat works. You can't believe how quickly you get used to this. Of all of the new technology that has come out on motorcycles since I started riding, I can't decide which is my favorite: traction control or the clutchless shifting. But both have to be done well, and Yamaha has done the quickshifter (on a value bike, no less!) very, very well.
Yamaha's MT-09 is a street bike. Ride it in that setting, and it works remarkably well and delivers an immense amount of performance for what you pay for it. Easy to live with, easy to have fun on, it's even more of a value when you consider that to get everything that the MT-09 delivers, you might have to own two machines…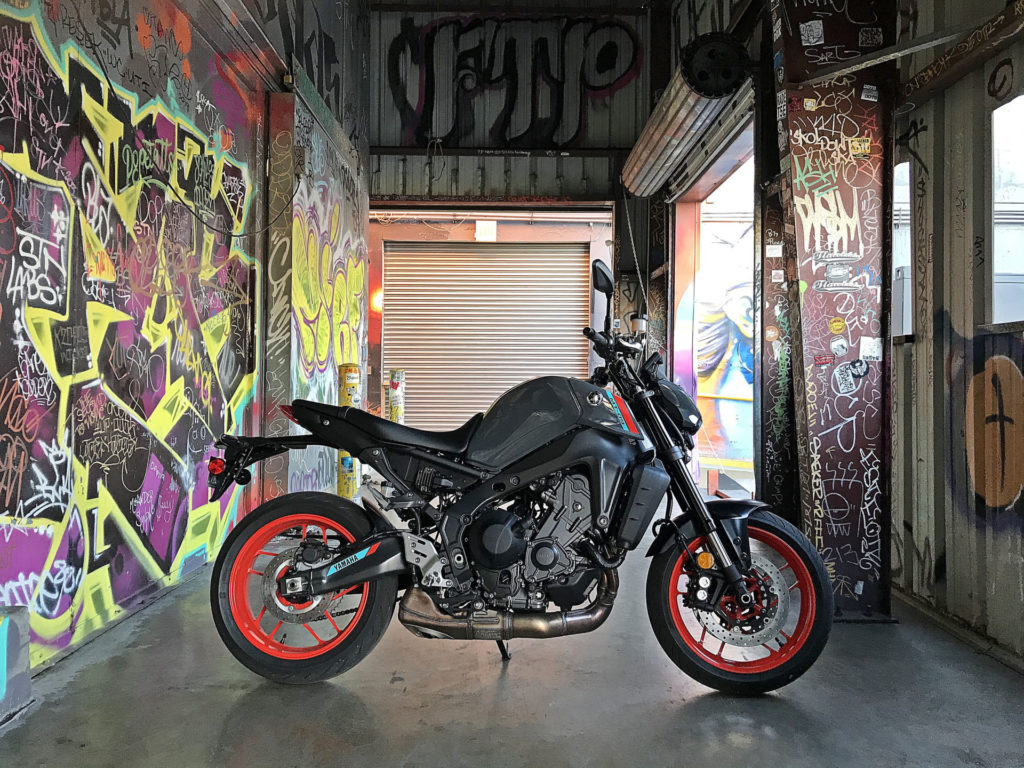 Technical Overview
For the new 2021 model, Yamaha bumped the displacement from 847cc to 890cc. The engine also features more aggressive cams, a new cylinder head, revised inlet tracts with three different length velocity stacks and a revised, lighter exhaust system. The revisions allow Yamaha to meet Euro 5 emissions standards while increasing torque by six percent, company representatives said.
The transmission is revised with different ratios in the first two gears and a refined assisted and slipper clutch. A quickshifter allows for clutchless up- and down-shifts.
The weight drops eight pounds, from 425 pounds to 417 pounds, due to changes in the twin-spar aluminum frame, subframe and swingarm, and exhaust. Revised KYB 41mm inverted forks are fully adjustable, and a new adjustable KYB shock handles suspension duties at the rear. A new radial master cylinder comes from the current YZF-R1 and operates four-piston calipers and 298mm twin discs at the front.
Electronic rider aids reflect the functionality of the current YZF-R1 as well. With a new six-axis IMU at the core, the MT-09 now offers lean-sensitive traction control, slide control and wheelie control. The ABS now offers a lean-sensitive functionality as well. Four ride modes are available. Modes 1-3 offer the rider a choice of throttle responses, from sharpest to more subdued, while Mode 4 reduces power output.