ZERO MOTORCYCLES LAUNCHES THE ALL-NEW SR/S, A REFINED RIDING EXPERIENCE PACKED WITH CUTTING-EDGE PERFORMANCE
Industry-Leading Power, Connection and Control with a New, Elevated Design
SANTA CRUZ, Calif., (February 19, 2020) – Zero Motorcycles, the forward-thinking brand that has defined the fast-moving category of electric motorcycles for the past 14 years, introduces their latest industry-redefining product, the SR/S. On the heels of the multi-award winning SR/F launched last year, the new SR/S features a sleek full fairing design and revised ergonomics for elevated comfort and functionality. Built around Zero's package of industry-leading power, control and connection, the SR/S offers a unique riding experience that is only truly understood with a hand on the throttle.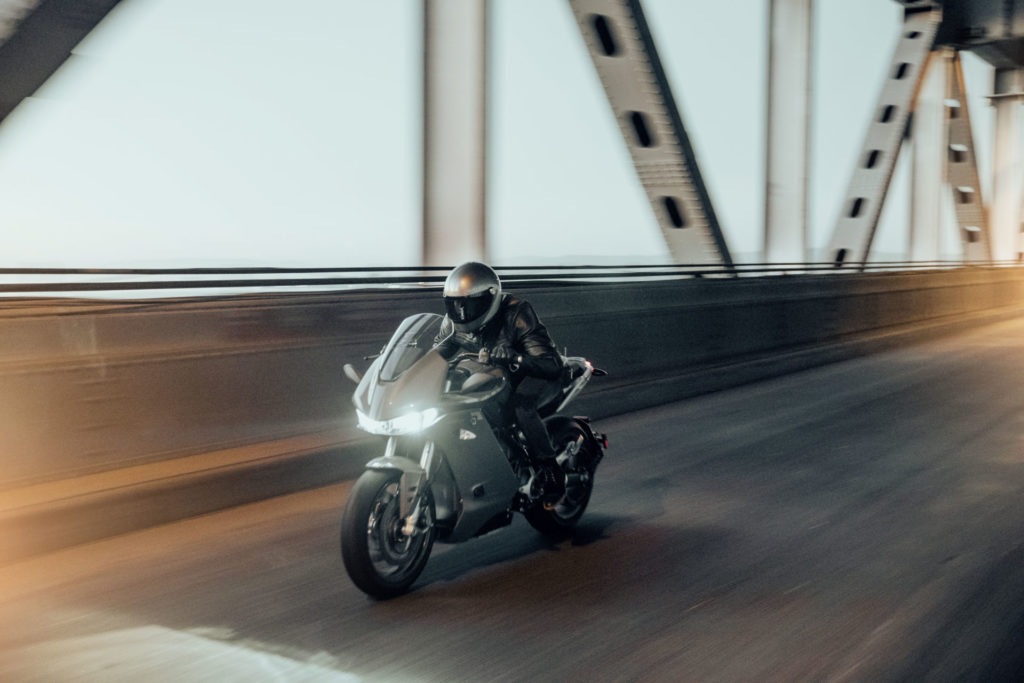 ELEVATED DESIGN AND COMFORT
Inspired by cutting edge aerospace design, the new look of the SR/S is rooted in its all-new aerodynamically obsessed fairing design. Like all things Zero Motorcycles, form follows function. When riders lean into the cockpit and get behind the fairing, they are rewarded with a 13 percent improvement in efficiency and range with the SR/S versus its award-winning sibling, the SR/F.
The full fairing on the new SR/S gives it a premium look that demands attention from          the passing lane to the parking lot. Wrapped tight across the bike's trellis frame, it    envelops the rider in the cockpit for maximum aerodynamic efficiency and range.
Thanks to lower foot position and higher handlebars, riders will enjoy a more upright and relaxed riding position. The ergonomic comfort of the SR/S even extends to two-up riding, giving passengers the ride of their life with matching lower pegs and a larger seating area.The fine-tuned suspension adds yet another level of luxury to the ride.
EFFORTLESS POWER
Pouring out 140 ft-lbs of torque and 110 horsepower with a twist of the wrist, the new SR/S offers class-leading performance and efficiency from our ZF 75-10 motor and 14.4kWh lithium-ion battery.
The compact powertrain boasts innovative air-cooling that increases longevity, eliminates most routine maintenance and effortlessly launches the SR/S to top speed. A single charge delivers up to a 201-mile range with the addition of Zero's Power Tank.
The innovative Rapid Charge System works on the large and growing network of Level 2 charge stations and provides a platform that allows for up to three independent charging modules. This enables unique adaptability and the fastest recharge capacity in Zero's lineup. With all three modules installed, the SR/S can charge from 0 to 95 percent capacity in one hour.
The uniquely designed steel-trellis frame and concentric swingarm of the SR/S optimizes torque delivery to the rear wheel, allowing the bike to harness the full capabilities of the new powertrain.
EFFORTLESS CONTROL
Thanks to Zero's intelligent Cypher III operating system and Bosch stability control (MSC), the new SR/S manages a balance between power and control that sets a new standard for premium performance. Cypher III acts as the central hub, integrating all systems on the motorcycle to deliver a superior riding experience. From Bosch's MSC all the way to Zero's next-gen app and dash, everything is seamlessly connected for easy and intuitive control.
The SR/S integrates Bosch's MSC system, renowned for dynamic acceleration and improved stability regardless of road surface or conditions. When combined with Cypher lIl, the MSC's full capabilities are unleashed, resulting in best-in-class straight-line ABS and cornering brake control, traction control and drag torque control.
With an arsenal of ride modes, the SR/S allows riders to customize performance through Zero's intuitive next-generation app and dash interface. The SR/S expertly navigates the road no matter the conditions with Street, Sport, Eco, Rain and up to 10 programmable custom modes. Additionally, it's equipped with a dual radial front brake system, adding a level of control that makes shedding speed as effortless as building it.
EFFORTLESS CONNECTION
The SR/S is a true smart motorcycle thanks to Zero's Cypher III operating system, and one of the first commercially available connected motorcycles on the market. Connectivity gives the rider the ability to monitor the bike in four main areas: Bike Status and Alerts, Charging, Ride Data Sharing, and System Upgrades and Updates.
Bike Status and Alerts: The SR/S alerts riders regarding bike status, including interruptions in charging and tip-over or unexpected motion notifications. In addition, the "Find my Bike" function allows riders to keep tabs on the motorcycle at all times.
Charging: The SR/S takes the convenience of recharging to new levels with the ability to remotely set charging parameters, including Targeted Charge Levels, notification of State of Charge (SoC), Charge Time Scheduling and Charge Tracking. These notifications allow riders to control all aspects of charging and to monitor charge status even when away from the motorcycle.
Ride Data Sharing: Riders can gather, relive and share extensive data about their ride through the app. An industry first, the motorcycle records bike location, speed, lean angle, power, torque, SoC and energy used/regenerated. Riders can replay each ride and also choose to upload additional content to record and share their full experience. Riders also have the option to keep data anonymous.
System Upgrades and Updates: New updates and diagnostic capabilities allow riders to remotely download the latest Cypher III operating system release to ensure optimal performance and provide access to feature improvements.
All the benefits of connectivity are offered free-of-charge for the first two years with the purchase of a new SR/S.
The premium SR/S model with 6 kW Rapid Charger, heated hand grips and aluminum bar ends starts at $21,995 USD. The standard model with 3 kW Rapid Charger starts at $19,995 USD. The Power Tank adds an additional 3.6 kWh to the SR/S for extended city range of 201 miles and is available for an additional $2,895 as either a factory or dealer install option and will be available to owners beginning March 1, 2020.
The SR/S, along with Zero's entire 2020 model line of electric motorcycles, is eligible for a 10 percent federal tax credit for plug-in vehicles, up to a $2,500 maximum. Financing is available through Freedom Road and Syncrony.
Both premium and standard models are available in Skyline Silver and Cerulian Blue colorways. The new Zero SR/S ships to dealers today.
About Zero Motorcycles
Zero Motorcycles is the global leader in electric motorcycles and powertrains. Designed and crafted by hand in California, Zero Motorcycles combines Silicon Valley technology with traditional motorcycle soul to elevate the motorcycling experience for intelligent, innovative riders around the world.