YAMAHA VR46 MASTER CAMP IS BACK IN BUSINESS FOR 9TH EDITION
Yamaha Motor Co., Ltd. and the VR46 Riders Academy are set to return with a renewed Yamaha VR46 Master Camp, held from 18 – 22 August 2021. The ninth edition rider line-up is perfectly suited for the programme's high-level and full-on racing training as they are all taking part in Yamaha's bLU cRU programme.
The long wait is over for Yamaha Motor Co., Ltd. and the VR46 Riders Academy. After a year of waiting, the Yamaha VR46 Master Camp is ready to open its doors to the ninth-edition participants, who will be training at Valentino Rossi's VR46 Motor Ranch from 18 – 22 August 2021.
The five selected up-and-coming talents are all currently riders for Yamaha Motor Europe's 2021 WorldSSP300 teams or competing in Yamaha Motor Europe's 2021 Yamaha R3 bLU cRU European Cup. They are skilled and hungry for good results – the perfect traits for aspiring Master Camp graduates.
The new Master Camp students include Yamaha MS Racing teammates Unai Orradre (aged 17, from Spain) and Bahattin Sofuoglu (aged 17, from Turkey), participating in the WorldSSP300 championship, as well as Humberto "Torquinho" Maier (aged 15, from Brazil), Fenton Harrison Seabright (aged 19, from the UK), and Iker Garcia Abella (aged 17, from Spain) who are Yamaha R3 bLU cRU European Cup riders.
Much like the Yamaha R3 bLU cRU European Cup, a competition that takes place over six rounds, the Master Camp programme is especially designed to nurture talent. The Master Camp is designed by racing and fitness professionals and aims to give young Yamaha stars a boost by enchancing their riding skills and professionalism, thus enabling them to make a further step in their racing career.
To improve the bLU cRU riders' skills, they will have a chance to learn from three-time English Flat Track Champion and two-time American and European Flat Track Champion Marco Belli at the VR46 Motor Ranch (on YZ250Fs), and they will also receive soft cross training (on YZ125s). Furthermore, the youngsters will be riding at the Circuit di Pomposa (on YZF-R3s, made possible by Yamalube, Akrapovič, and Pirelli), at the mini Supermoto Jeepers Park (on MiniGP YZ85 bikes), work out at the Fisio Gym with fitness trainer Carlo Casabianca, and practise throttle control with Yamaha EX Deluxe and Yamaha GP1800 WaveRunners at the beach (made possible by Yamaha Marine Europe and Yamaha Marine Italy). The up and coming riders will be joined by their VR46 Academy seniors every session for some personal coaching. Moreover, Monster Energy Yamaha MotoGP's Lorenzo Daretti (aka Trastevere73) will be a guest lecturer this series for MotoGP eSports classes (made possible by MSI Gaming Italy), to teach the riders tricks many professional racers use to refamiliarize themselves with the MotoGP circuits on the calendar.
Moreover, the ninth-edition riders will be provided with new Yamaha VR46 Master Camp outfits for on and off-track wear (made possible by Oakley, Alpinestars, and VR46).
News, images, videos and updates from the Yamaha VR46 Master Camp will be posted regularly on its dedicated media channels throughout the ninth edition:
Yamaha VR46 Master Camp website
Monster Energy Yamaha MotoGP website
Facebook
Twitter
Instagram
Youtube
WILLIAM FAVERO
MARKETING & COMMUNICATIONS MANAGER, YAMAHA MOTOR RACING
"First of all, we are thrilled that the Yamaha VR46 Master Camp is back after a year of waiting due to the ongoing global pandemic. This edition has been long awaited, but that makes it all the more exciting and satisfying that MC9 is actually happening in less than two weeks from now.
"On behalf of Yamaha Motor Co, Ltd. and Yamaha Motor Racing, I would like to thank Valentino and VR46 for their support and efforts to strengthen our special partnership throughout the years, which has led to many rewarding moments. As so many young talents have already benefitted from this unique training programme, the Master Camp is now highly anticipated and monitored by Yamaha markets all over the world. The already coveted spots in the Master Camp, five or six of them per edition, are becoming more and more sought after, as all Yamaha distributors wish to let their respective best talents train with MotoGP stars in an effort to boost their chances of an international career.
"For the young riders attending this particular edition of the Master Camp, we aim to provide them with all the tools and skills they need in the WorldSSP300 championship and Yamaha R3 bLU cRU European Cup whilst respecting and following all Covid-19 safety rules. I would like to take this moment to thank the Yamaha VR46 Master Camp sponsors – Monster Energy, Yamalube, Akrapovič, Oakley, Alpinestars, Pirelli, MSI Gaming Italy, Yamaha Marine Italy, and Yamaha Marine Europe – for making this event possible and helping to give those young Yamaha riders' careers an extra push."
ALESSIO SALUCCI
DIRECTOR, VR46 RIDERS ACADEMY
"We are so happy to welcome riders to the Yamaha VR46 Master Camp again after a year of absence. It took a while, but we finally are able to host the ninth edition of this fun and very meaningful event.
"We are always looking for improvements to make this programme even more successful and fitted to the young riders' needs. We know that the riders competing in the Yamaha R3 bLU cRU European Challenge are all very talented and keen on a challenge, so we have taken this into consideration when we developed our training plan for this upcoming edition.
"As always, we expect the riders to work hard and act in a manner that we can expect from professional riders, but it's equally important that they will enjoy themselves during the training. We want the riders to have fun and at the same time pick up some skills that will aid them in their future racing careers – it's the combination of passion, professionalism, and the feeling of excitement during racing and training that makes great racers.
"I would like to thank Yamaha and the sponsors and partners who have helped VR46 organise the Master Camp project despite global pandemic restrictions. It will be a very happy moment for us all when these young riders can start their Master Camp training."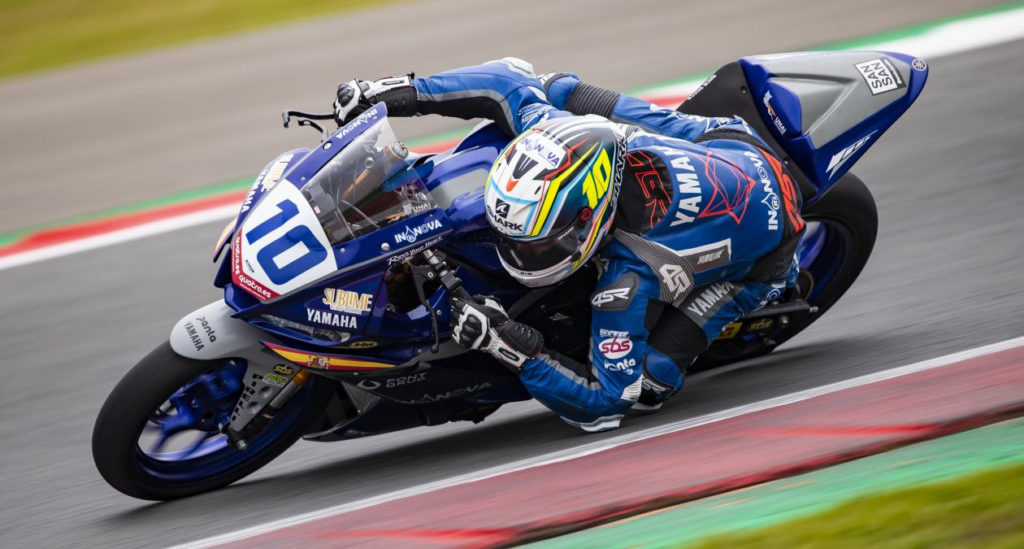 UNAI ORRADRE
2019 ESBK Superbike Junior champion Unai Orradre made his FIM Supersport 300 World Championship Wildcard debut in 2019, and in 2020 the Spanish youngster stepped up to contest his first full season with the Yamaha MS Racing WorldSSP300 Supported Team.
That year, the then 16-year-old became the youngest ever winner in the WorldSSP300 championship, after storming to a dominant victory in the opening race of the 2020 season at Jerez.
Orradre picked up two further podium finishes, taking second at Portimao and third at Aragon on his way to a seventh place in the riders' standings.
His performances and potential earned him another year as part of the bLU cRU programme in the WorldSSP300 class alongside Bahattin Sofuoglu, and in 2021 he remained with the Yamaha MS Racing team with goals of challenging for the title.
WorldSSP300 Record
Races: 21 (as of Assen, 2021)
Wins: 1 (Jerez Race 1, 2020)
Podiums: 4
Pole positions: 0
Fastest laps: 2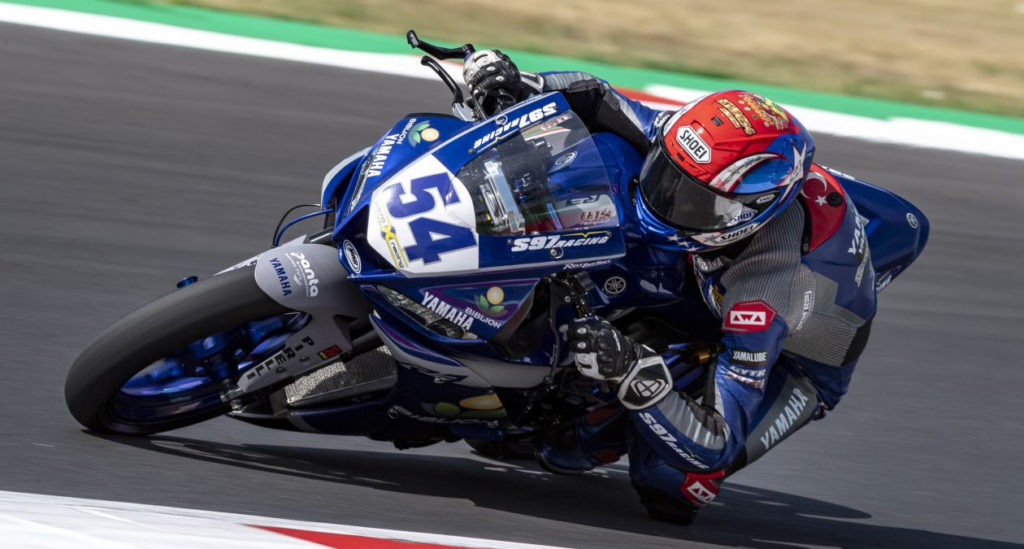 BAHATTIN SOFUOGLU
Bahattin Sofuoglu brought the name made famous by his cousin, five-time WorldSSP Champion Kenan Sofuoglu, back into world championship motorcycle racing in 2018, making a wildcard appearance in the FIM Supersport 300 World Championship and going on to participate in eight races the following year.
In 2020, he joined Yamaha's bLU cRU programme, racing for the Biblion Motoxracing Yamaha WorldSSP300 Supported Team. Sofuoglu won on his first weekend of the season, following fellow bLU cRU rider Unai Orradre's Race-1 success with a victory on Sunday.
The Turkish rider won from pole position at Aragon, stepping on the podium again that weekend with a third place in Race 2. Sofuoglu scored another top-three finish at Magny-Cours and ended the season third in the championship as the top Yamaha racer.
In 2021, he is contesting another WorldSSP300 year as a bLU cRU rider, and will look to convert his rapid pace into race victories to mount a serious championship challenge.
WorldSSP300 Record
Races: 30 (as of Assen, 2021)
Wins: 2 (Jerez Race 2, 2020, Teruel Race 1, 2020)
Podiums: 4
Pole positions: 2
Fastest laps: 1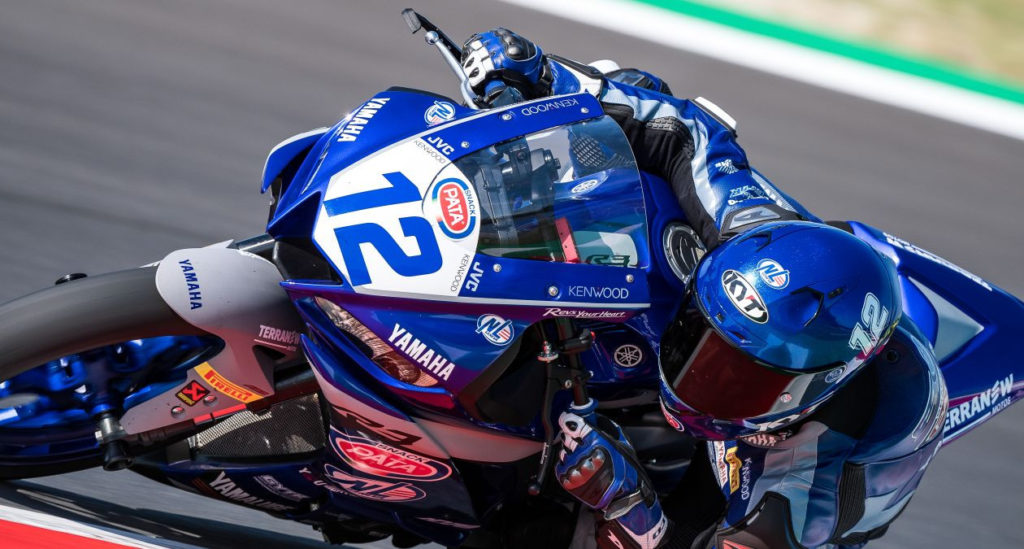 HUMBERTO MAIER
Humberto Cesar Maier Neto is a Brazilian rider currently contesting the inaugural Yamaha R3 bLU cRU European Cup. At 15 years old, he's already a winner in the series and brings a lot of success from his racing in South American countries.
Having started racing at just seven years old, following in his father's footsteps, the youngster went on to win the Yamalube R3 Cup Brazil Stock category in 2019, as well as the GP3 de Las Americas, before being crowned the overall champion in the 2020 Yamalube R3 bLU cRU Cup Brazil.
His win at Assen in 2021 saw him climb to seventh in the Yamaha R3 bLU cRU European Cup standings, with his goal for next year being in the FIM Supersport 300 World Championship.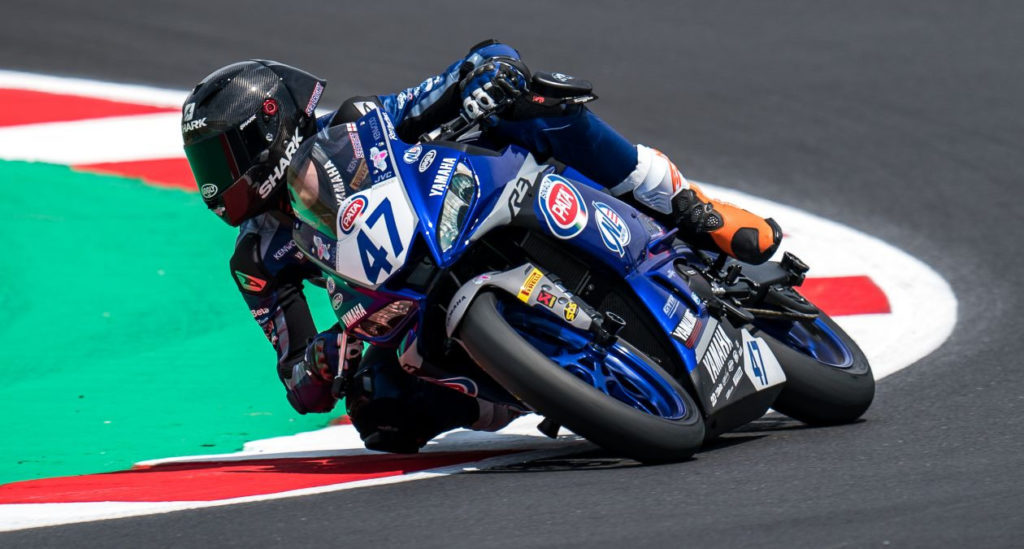 FENTON HARRISON SEABRIGHT
Fenton Harrison Seabright has already announced himself as a championship contender in the 2021 Yamaha R3 bLU cRU European Cup, with a victory at Donington Park to his name. The British rider from Essex has been on the podium in every championship he's contested, including in the FIM CEV Championship.
Starting out racing go-karts before switching to motorbikes aged 12 after wanting more of an adrenaline rush, the 19-year-old idolised Valentino Rossi and Casey Stoner growing up and has dreams of one day becoming world champion.
As of Assen, Seabright currently sits second in the Yamaha R3 bLU cRU European Cup championship standings, with three podiums, a win, and a pole position to his name.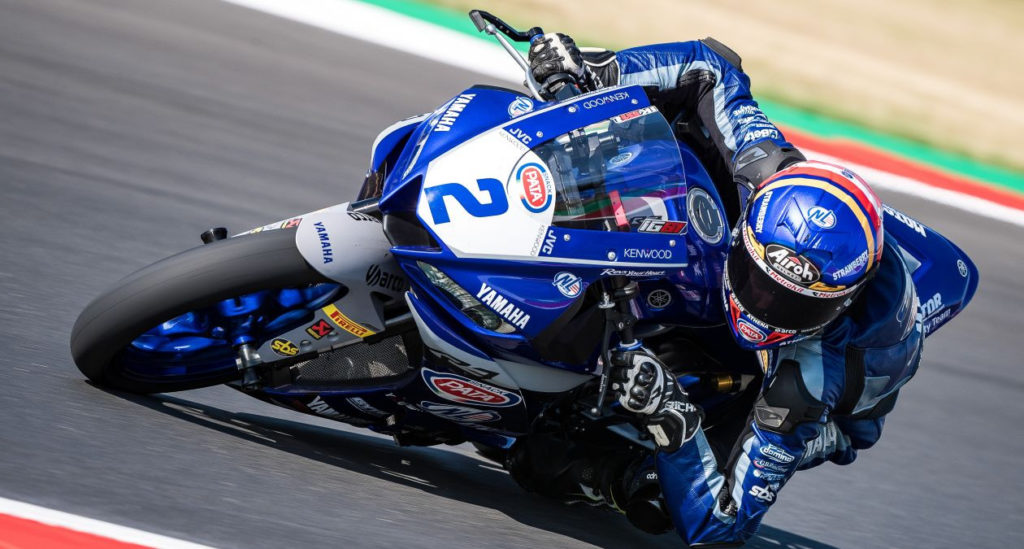 IKER GARCIA ABELLA
Born in Les Cases d'Alcanar, Spain, Iker Garcia Abella currently races the #2 Yamaha R3 in the Yamaha R3 bLU cRU European Cup, and is already stretching out a lead in the riders' standings.
After his father bought him his first motorbike when he was six, the now 17-year-old won the Spanish Moto4 Championship in 2018, and has also scored victories in the FIM CEV Repsol and European Talent Cup classes. Additionally, he contested two WorldSSP300 rounds at Circuit de Barcelona-Catalunya.
In 2021, the Spaniard has already won two Yamaha R3 bLU cRU European Cup races and stepped onto the podium five times in six races, which has given him a 39-point lead in the championship heading into Round 4, held this weekend. Garcia Abella is hoping for title glory this year to earn him a spot on the WorldSSP300 grid next season.
NOTES
ABOUT THE YAMAHA VR46 MASTER CAMP
In an effort to support young Italian riders aiming to become world-class racers, Valentino Rossi decided to put his vast experience and knowledge from his many years of racing to good use in 2014 and established the VR46 Riders Academy.
In March 2016, Yamaha Motor Co., Ltd. entered into a formal three-year partnership agreement with the VR46 Riders Academy as an Official Partner and also as its Official Motorcycle Supplier. The programme's three-year contract was extended by a further three years at the end of 2018.
In July of 2016, Yamaha Motor Co., Ltd. and the VR46 Riders Academy staged the inaugural Yamaha VR46 Master Camp with the goal of helping selected young Yamaha talent make their way in the racing world by increasing their skills and experience in various racing disciplines.
Since then the Yamaha VR46 Master Camp has put on eight subsequent training events. The participants so far have been 37 mostly teenage riders, who race in various championships on bikes like the YZF-R25 and YZF-R3, and hail from 14 countries in all: Australia, Brazil, Canada, Finland, France, Indonesia, Italy, Japan, Malaysia, the Netherlands, Spain, Thailand, Ukraine, and the United States. Turkey will be added to this list with the upcoming edition.
Thailand's Keminth Kubo who took part in the fifth edition of the programme and Malaysia's Kyle McKinley from the eighth edition are currently participating in the CEV Repsol Moto2 Championship as VR46 Master Camp riders.
With a marine activity being added in 2019, the students will be riding Yamaha YZ85, YZ125, YZ250F, and YZF-R3 bikes, and Yamaha EX Deluxe and Yamaha GP1800 WaveRunners during their stay in Tavullia.
The riders for the ninth edition of the Yamaha VR46 Master Camp were selected by Yamaha Motor Co., Ltd and Yamaha Motor Europe. A place in the Yamaha VR46 Master Camp can't be bought, nor can riders apply for a placement – riders are to be put forward by Yamaha distributors.