American Kayla Yaakov Podiums In Yamaha R3 bLU cRU European SuperFinale in Portugal:
"I Had A Lot Of Confidence…"
by Michael Gougis
Kayla Yaakov had an awesome year of racing before she even got on the plane to Portugal. At 15, she became the first -ever female race winner in MotoAmerica competition when she led most of the second Junior Cup race at Ridge Motorsports Park and crossed the line first.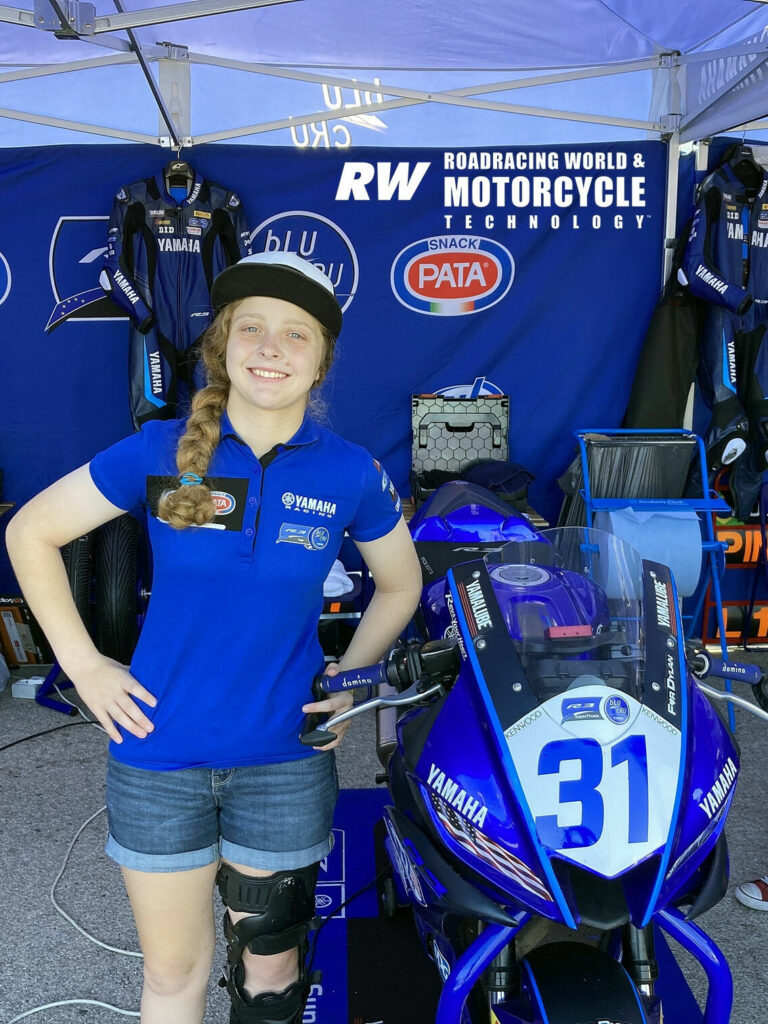 But at the Autodromo Internacional do Algarve, Yaakov showed that she could be a force at the International level as well. Taking to the grid in the Yamaha R3 bLU cRU European SuperFinale two-race shootout on Saturday, Yaakov just missed out on the podium in Race One – and stormed to second place in Race Two, standing on the podium at a Superbike World Championship event weekend.
"It shows that Americans can do it, that we're fast, and that MotoAmerica is at a really high level," said Yaakov.
The young racer says that Tom Halverson, Assistant Manager of Yamaha's U.S. Racing Department, was looking for a rider to bring over to the R3 event, since Attack Racing was bringing two-time MotoAmerica Superbike Champion Jake Gagne to race as a wild card in World Superbike. Yaakov got the nod.
The series pits contestants against each other on identically prepared Yamaha YZF-R3 racebikes. They are basically stock except for a racing exhaust and suspension work, Yaakov says. She raced the series in 2021, so when she showed up at Portimao, she was already familiar with the bike – and with Yamaha.
"We thought it was a great opportunity to come over here, be with Yamaha, learn the track, see some people that I knew from doing this last year and have a good time," Yaakov said. "With Jake (Gagne) and (former MotoAmerica Yamaha Superbike winner Garrett) Gerloff being here, it was cool to be here with a bunch of Americans."
After qualifying, Yaakov had a pretty good idea she was going to be competitive. "I had a bit of confidence going into the race – I basically qualified without any draft," she said. "I knew it was going to be a little bit difficult, because of starting 10th, but either way I'm going for it. The goal's to have a lot of fun, stay out of trouble and put it all on the table in the last couple of laps."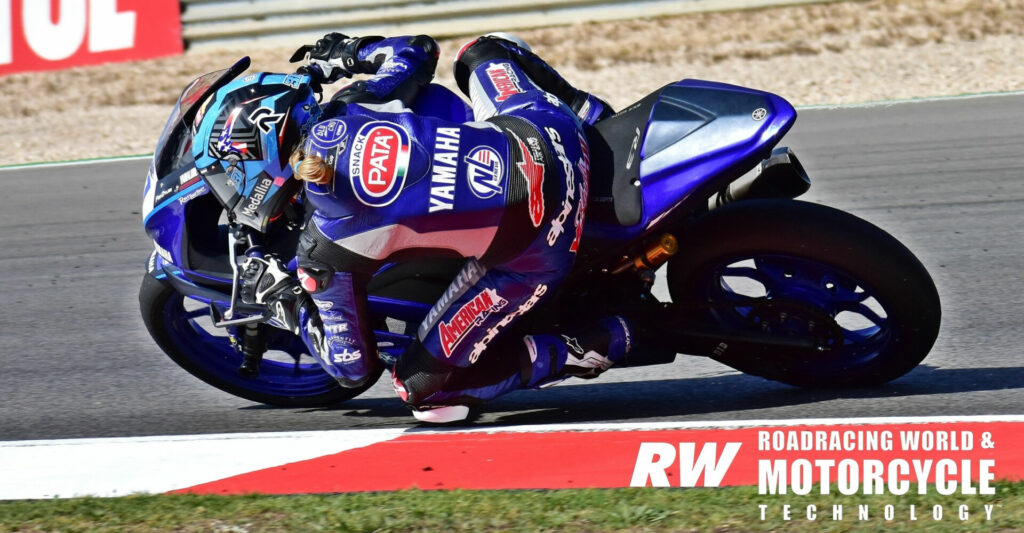 Race One saw her pushed out wide into the first turn. But Yaakov started picking her way through the field and was in the podium places on the final lap. But coming out of the final turn, the rear slid and "it killed my drive going onto the front straight, so I just missed out on the podium. Either way, though, it was good," she said.
If Yaakov thought she could be competitive before the first race, she absolutely knew she could be in the second one. "I had a lot of confidence from Race One because I knew I could run the pace," she said. "With the laps shortened, I knew I was going to have to make my passes quick."