More, from a press release issued by Dorna WorldSBK Press Office:
Bautista takes commanding Race 2 victory at MotorLand Aragon ahead of Rea
The Spanish rider is back on top of the podium for the first time since 2019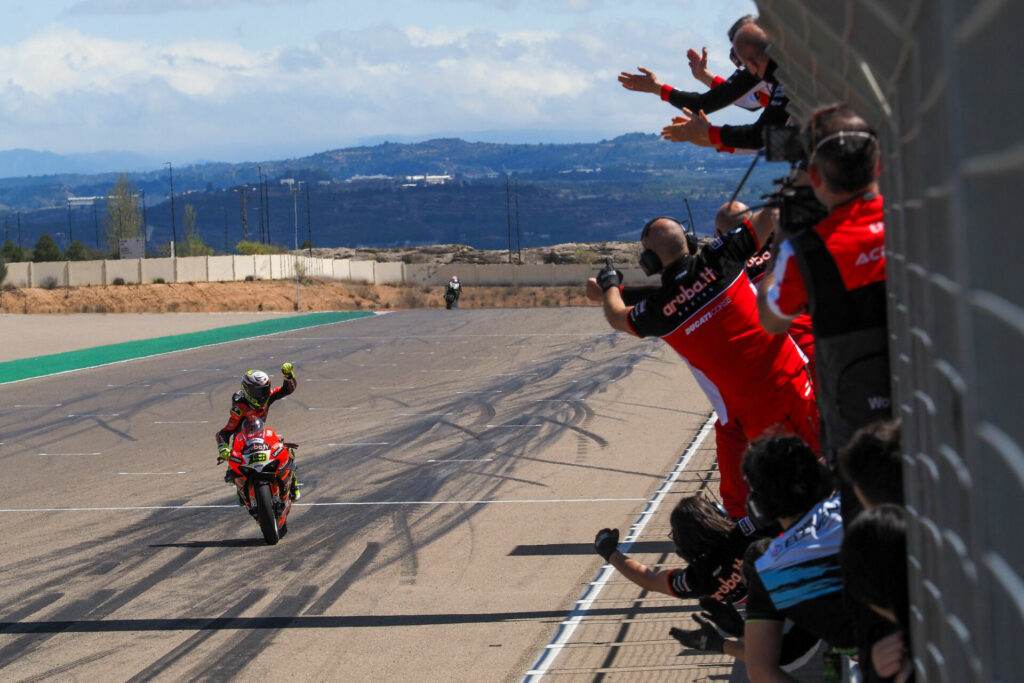 Alvaro Bautista (Aruba.it Racing – Ducati) claimed his second victory of the weekend, after having won the Tissot Superpole Race earlier on Sunday. He won by more than four seconds, despite his early fight with teammate Michael Ruben Rinaldi, Jonathan Rea (Kawasaki Racing Team WorldSBK) and Toprak Razgatlioglu (Pata Yamaha with Brixx WorldSBK). "This afternoon, the track conditions were different as it was much warmer. I needed to understand the limit under these conditions. I stayed consistent and managed to win again. I'm in love with this bike. I enjoyed a lot today," he said. "It's the best way to start the Championship!"
Jonathan Rea finished in second place, after battling with Rinaldi and Razgatlioglu. "I thought I could go to the front and do a great rhythm but straight away I knew it was going to be difficult to lead the race. Alvaro came through, his rhythm was really strong. It was a fun race with Toprak and Rinaldi, with lots of great moves. We started with a great weekend, a win and two second places. We move on to Assen!" said Rea.
Toprak Razgatlioglu could not catch up with Rea in the last part of the race, ending in third despite closing the gap in the latter stages. He said: "I saw that Rinaldi was sliding a lot, so I tried again my best to finish on the podium. With third position, we take great points for the Championship. I think that we'll come back stronger for the next weekend."
Rinaldi finished just outside the podium in fourth place, as Razgatlioglu overtook him with four laps remaining. "It's my best WorldSBK season start. On the other hand, we were improving all weekend, but we always had the same issue. When the tyre drops, it's like riding a completely different bike and I can't push. I couldn't turn the bike," he explained.
Alex Lowes (Kawasaki Racing Team WorldSBK) finished in fifth place as he bounced back from his Race 1 crash to claim a top-five finish. "I tried to go with the guys at the front. But I was missing two or three tenths to be there consistently, especially from lap 5 to lap 12. I could enjoy riding the bike the last part of the race" Lowes explains. "It's never easy to win, to get on the podium. We're not too far away. That's my target to be mixing with them," he added.
Lowes led top Independent rider Axel Bassani (Motocorsa Racing) in sixth place after the Italian made a good start to jump up the order as he looks to continue his form from 2021 where he impressed as a rookie. Loris Baz (Bonovo Action BMW) was the first BWM rider in seventh as he finished 0.865s clear of Spanish rookie Xavi Vierge (Team HRC); the lead Honda rider.
Alvaro Bautista leads the Championship standings for the first time since Misano in 2019, with 57 points. Jonathan Rea stands in second with 54 points while Reigning WorldSBK Champion Toprak Razgatlioglu is third with 39 points.
More, from a press release issued by Yamaha:
Top Ten for GYTR GRT Yamaha WorldSBK Team in Aragón Race Two
In Sunday's races at the 2022 FIM Superbike World Championship season opener at MotorLand Aragón, GYTR GRT Yamaha WorldSBK Team's Garrett Gerloff scored a ninth-place result in Race 2, with Nozane just missing out on points.
Gerloff and Nozane kicked off the day with the 15-minute Warm Up session, with the American going fifth fastest on a 1'50.273, while his Japanese teammate placed 16th (1'51.918).
In the Superpole Race, Gerloff held his position on the opening lap, and battled in the middle of the pack throughout the 10 laps. The 26-year-old eventually finished 10th, just missing out on an improved grid position for Race 2. Nozane gained positions on the start, finding himself inside the top 15 fight, crossing the line in 18th.
In Race 2, Gerloff gained two positions at the start and soon found himself fighting over seventh place. The #31 rider showed good pace during the 18-lap contest, crossing the line in ninth.
Nozane enjoyed another impressive first lap, gaining six positions and finding himself in 13th. After that, the #3 rider kept pushing to secure a points-scoring spot, but unfortunately fell in the final stages of the race while running inside the top 15.
The GYTR GRT Yamaha WorldSBK Team will be back in action in just two weeks for the second round of the season at the TT Circuit Assen on 22nd-24th April.
Garrett Gerloff: SPRC – P10 / Race 2 – P9
"Today wasn't easy as everyone made a big step, including myself, but I didn't have the advantage I had yesterday in the last part of the race. Sometimes, for me, it's difficult to use my strengths when I'm up against these guys. In the Superpole Race, I was unable to take that ninth place, as the riders ahead defended well. Now, we'll look forward to Assen – I enjoy the track a lot and I think Yamaha works better there."
Kohta Nozane: SPRC – P18 / Race 2 – DNF
"In the Superpole Race I enjoyed some battles and tried to gain as many positions as possible. After that, I made a brilliant start in Race 2, recovering a lot of positions and I was feeling confident about a top 15 finish today. I tried to stay in a points-scoring position but unfortunately towards the end of the race I suffered a crash, which denied me that chance. I'm sorry for the team, I'll come back stronger in Assen."
More, from a press release issued by Team HRC:
Team HRC makes its best season start to date
With riders Iker Lecuona and Xavi Vierge lying fifth and sixth in the general standings at the end of this opening round of the 2022 Superbike World Championship, Team HRC enjoys its strongest start to the season to date, its rookie SBK riders concluding all three of the weekend's races inside the top ten.
At 11am this morning (CET), Lecuona and Vierge competed in their first Tissot Superpole Race. With just ten laps in which to make their mark, the Team HRC riders set out in a determined frame of mind. Lying eighth and ninth at the end of the opening lap and lapping with very similar pace to each other, the Team HRC riders maintained these positions with Lecuona finally crossing the line eighth, followed by Vierge, ninth.
The second and final 18-lap Superbike race got underway as scheduled at 2pm. Starting eighth and ninth based on the results of the morning's Superpole race, Vierge and Lecuona were lying seventh and eighth respectively a lap into the race. In a similar fashion to the morning's sprint, the two Team HRC riders rode a consistent race, swapping positions more than once throughout the eighteen laps. This time it was Vierge who got the better of his team-mate, finishing eighth ahead of Lecuona, tenth.
At the end of this opening weekend, Lecuona positions fifth in the general standings with eighteen points, followed by Vierge sixth, who also holds eighteen points. Team HRC will be back in action at the next WorldSBK round, scheduled to take place at the Assen TT Circuit in The Netherlands over the weekend of 22-24 April.
Xavi Vierge  97
P9 IN SPRC  P8 IN RACE2
"Before coming here, I did not even expect to finish all three races but, in the end, not only did we finish them but we also consistently fought in the top ten. I'm really happy to have finally discovered the WSBK championship; it's a nice racing format and I've really enjoyed it. Due to my recent injury, I had to build on my performance over the course of the weekend. Today was a good day, firstly because we made up four positions in the sprint race and were therefore able to gain a better grid position for Race 2. And then we finished eighth in race 2. When I saw the possibility to pass Iker, I gave it my all. Step by step, I was able to increase my pace over the weekend and I can say I'm very happy with the work we did each day. Hopefully now, in the run up to Assen, I can recover and be fully fit for the next round so that I can focus solely on the track action. Iker and I are pushing to the max and this is good for us both, but also for the team as a whole. We get along well, and I think we are all doing a good job as a team."
Iker Lecuona  7
P8 IN SPRC  P10 IN RACE 2
"Overall, I think I can be happy. Leaving Aragon in fifth place in the championship, considering this is my first round with the team and the bike and after crashing in testing, is not bad at all. Having said that, it's frustrating that I missed out on the chance to do better than eighth in the sprint race after making a small mistake when I shifted into third gear in a second-gear corner, losing some ground that I wasn't able to recover. Then in Race 2 I struggled a lot, firstly when I found myself behind Xavi; it took me some time to pass him because I really wanted to do it in the safest possible way. I eventually moved up to eighth but then I started to lose the front in the final stages of the race. I had to be careful not to crash and so couldn't defend my position in the end. A bit of a tough race then, but it's all experience that we will harness in order to do better in the future. Thanks to the team because they always work very hard and really help me."
More, from a press release issued by Kawasaki:
Rea Takes Two More Podiums In Spain
KRT rider Jonathan Rea secured two more WorldSBK podium finishes on the opening race weekend of the 2022 season, riding to second place in both the Superpole Race and Race Two on Sunday. Alex Lowes took his KRT Ninja ZX-10RR to sixth and fifth place finishes on the final day of race action.
In the first ten-lap Superpole race on Sunday morning Rea had to fight hard to take second on his official Ninja ZX-10RR, holding off the constant challenges of Michael Ruben Rinaldi through the second half of the race.
Lowes placed sixth in the Superpole race, taking his first points of the season after having a fall in Race One on Saturday.
In the full distance 18-lap Race Two Rea was again involved in a battle that prevented him from trying to reel in double Sunday race winner Alvaro Bautista. Jonathan was finally second once again, having eased out a gap to the riders behind in the latter stages.
Lowes ended up in a lonely fifth place after 18 laps of the 5.077km Motorland Aragon track in Race Two, taking his best result of the opening weekend.
In the championship standings, Rea is second overall with 54 points to Bautista's 57. Lowes is eighth overall, with 15 points.
Assen in The Netherlands will host the second round of the FIM Superbike World Championship, between 22-24 April.
Jonathan Rea, stated: "It was a battling Superpole race. All I could do was to race for second place and the contest with Toprak and Rinaldi was intense. I couldn't really get a free lap to do my rhythm, but it was fun as well. To come out on top of that little 'mini-battle' was nice. Just like the Superpole race I just got involved with other riders in Race Two. I felt my pace was similar to Alvaro's, but on clear track. Rinaldi and Toprak were so excited to take track position I just really struggled to do my rhythm. I needed clear track to be fast and it took a long time to get that. The race was very aggressive again. I made quite a few mistakes. It was windy out there – and the wind changed direction. Yesterday there was a big tailwind on the straight; today it was a headwind, pushing you at T1 as well. But I am happy with the results. If I could have guaranteed these results on Monday, I would have signed up for them. To be best of the rest today I have to be really happy and move forward to Assen."
Alex Lowes, stated: "I have struggled all week to find a good setting, even though I have worked hard. Maybe I worked too much in the winter on used tyres because when it came time to be fast I wasn't quite as fast as I wanted to be. Today, I was happy because it was faster than we managed last year in terms of race times. In hotter conditions I felt quite good and I was not too far off the guys at the front. We are just lacking a few tenths, but we are also step in front of the others. It is not too bad, we just have a little bit of work to do."
Lucas Mahias (Kawasaki Puccetti Racing) was a strong 11th in Race Two, after finishing 14th in the Superpole race. Oliver König (Orelac Racing VerdNatura) was 23rd and then 22nd today. Loris Cresson (TPR Team Pedercini Racing) was 24th and then 23rd.
More, from a press release issued by Team Go Eleven:
STRONG DEBUT FOR OETTL, GO ELEVEN EARNS POINTS CLOSING THE GAP TO P10!
Final day in Aragon, a good debut weekend for Philipp Oettl and the Go Eleven Team! After a Superpole Race with a few mistakes, the German set an excellent pace in Race 2, which allowed him to fight in the second group.
The Warm Up allowed Philipp to regain confidence with the Ducati Panigale on used tyres, slightly lost yesterday in the final laps, when he gave his opponents a couple of seconds. It should be considered that many opponents started with new tyres, immediately riding fast, while Oettl had to struggle with the low grip generated by the rear tyre with 14 laps.
Warm Up:
P 1   M. Rinaldi   1.49.721
P 2   T. Razgatlioglu   + 0.005
P 3   A. Bautista   + 0.046
…
P 19   P. Oettl   + 2.512
The Superpole Race was a complicated race, but really useful for Philipp to understand the tyres and the behavior of the bike in battle. The Go Eleven rider, together with the technicians, opted to race with the brand new SCQ, the qualifying soft. A risky choice, but which proved to be quite good. Perhaps he did not provide the advantage that could have been expected at the start of the race, also thanks to a bad start that caused him to lose six positions, but it was constant throughout the ten lap distance. Unfortunately, in the middle of the race Oettl made a mistake, going wide, while he was returning to fight for the Top Ten, thus losing several positions. He probably wouldn't have entered the nine (the only positions that give points) at the end of the race, but the pace was very good and fast, so much so that he managed to pass four riders in a couple of laps.
Superpole Race: 
P 1   A. Bautista    18'19.201
P 2   J. Rea   + 5.141
P 3   T. Razgatlioglu  + 6.008
…
P 16   P. Oettl   + 22.818
Race 2 turned out to be decidedly more positive and consistent than Saturday's Race 1. After a not perfect start, which saw Philipp pass in seventeenth position at the first corner, he was able to quickly recover a couple of positions, entering the points area and trying to close the gap taken in the first laps by the group fighting for the Top Ten. The pace was good, practically the same as the Honda HRC riders and Loris Baz; here in Aragon from seventh to fifteenth all the riders were fighting each other and a few tenths per lap could really make a difference. Unfortunately when you start back it is difficult to recover, but Oettl was able to grit his teeth even in the final and finish in thirteenth position. Today the technical staff and all the members of the Team were quite happy with the performance of the number 5 rookie, as he showed good growth and greater stability in the 18 laps of the race. An overall debut in the points area, close to the Top Ten, without errors or technical problems! It's hard to hope for better on the eve, but the Championship has just begun!
Race 2: 
P 1   A. Bautista   33'17.081
P 2   J. Rea   + 4.393
P 3   T. Razgatlioglu   + 6.223
…
P 13   P. Oettl   + 29.325
The Superbike circus moves to Assen, in the cathedral of speed, one of the most beautiful and exciting tracks of the whole season! Two weeks of rest, just the time to reorganize thoughts and datas, and it will be time for Round 02, April 22-24!
Philipp Oettl (Rider): 
"After the Second Race, I am much more happy than yesterday, because I could keep the pace longer. I think we learnt a lot during the Races. In the Superpole Race I did a few mistakes, but I had the pace to stay close to the Top 10. Overall I think it was a good race weekend, we did two times points in both races, so I think we can be quite happy with it. Now we will analyse the datas, and see what we can improve for Assen. We are not so far from the top ten, and we are at the first Race! The team did a good job, all the test and then the weekend we had no problem, we spent nice ten days together. I think we must be happy…by now!"
Denis Sacchetti (Team Manager):
"Philipp raced the Superpole Race and the 3 races at the weekend for his first time! I think it was a very positive day for us, we have finally discovered our starting level and we are even more motivated than before, because we have a very high potential and we could improve. The riders and bikes in this World Championship are all very close and very competitive, if you are not perfect it is easy not to get the result, but if you can take a small step, a small improvement, it is just as easy to make a significative step forward in the standings. Philipp works methodically and the bike is fast, the team is also in harmony and we have all the bases to grow solidly and have fun! "
More, from a press release issued by BMW Motorrad Motorsport WorldSBK Team:
MotorLand Aragón: Highs and lows for BMW Motorrad Motorsport at 2022 WorldSBK season-opener.
Ilya Mikhalchik produces impressive Saturday for the BMW Motorrad WorldSBK Team.
Loris Baz finishes seventh on Sunday to earn Bonovo action BMW Racing Team its best result so far; top-ten finish for Eugene Laverty on Saturday.
Tough first weekend for Scott Redding.
Alcañiz. The 2022 FIM Superbike World Championship (WorldSBK) kicked off at MotorLand Aragón. BMW Motorrad Motorsport experienced an opening weekend of highs and lows in Spain. Competing for the BMW Motorrad WorldSBK Team were newcomer Scott Redding (GER) and Ilya Mikhalchik (UKR), who was standing in for the injured Michael van der Mark (NED). Loris Baz (FRA) and Eugene Laverty (IRL) were contesting their first race weekend together with the Bonovo action BMW Racing Team.
Mikhalchik, a BMW works rider in the FIM Endurance World Championship, caught the eye with an impressive Saturday on his WorldSBK debut with the BMW Motorrad WorldSBK Team. He was the best-placed BMW rider in both Superpole qualifying and race one, finishing eighth on both occasions. However, he crashed in Sunday morning's Superpole Race and had to settle for 15th place in race two. Redding struggled all weekend. His best result was 12th place in the Superpole Race, before retiring with a technical issue in race two on Sunday afternoon.
The Bonovo action BMW Racing Team came into the season-opener with its sights set on the top ten – and successfully achieved that goal. Laverty finished tenth in race one on Saturday, just ahead of his team-mate Baz. The Frenchman then went one better in race two on Sunday afternoon: seventh place was the best WorldSBK result for the Bonovo action BMW Racing Team. Laverty came home 12th this time. Baz had also set the fastest time in the third free practice session on Saturday morning.
Round two of the 2022 WorldSBK season will take place from 22nd to 24th April in Assen, Netherlands.
Quotes after the season opener at MotorLand Aragón.
 
Marc Bongers, BMW Motorrad Motorsport Director: "After testing, which was in different conditions and painted a far more positive picture, the opening weekend was generally disappointing for us. However, there were various individual highlights. They include the strong performance from Ilya Mikhalchik on Saturday, and seventh place for Loris Baz and the Bonovo action BMW Racing Team in race two this afternoon. They are the positives that we will take with us. On the other hand, we still have a lot of work ahead of us – particularly with Scott, but also with Eugene. We must now work hard to understand the causes, and come up with a plan for solving the problem and making sure we are back at the front of the field. We hope to do better in Assen."
Loris Baz, Bonovo action BMW Racing Team (SP: 10 / R01: 11 / SP Race: 13 / R02: 7): "I thought that P7 was our potential. To be honest, I was disappointed with yesterday and this morning, especially after the testing we did on Monday and Tuesday and FP3. So we needed to understand why we were slower in the race than in testing. Why I was slower in the group than alone. So our crew made some changes before race two. I was feeling more comfortable on the bike, I understood more things, I had the bike more in my hand. I know that our potential at the moment is to be behind the three top manufacturers and that is what I wanted to do. I tried to not any mistakes and bring it home. I said from the beginning, that this weekend is the base for our work for this year. And it is exactly what happened. We will build the whole project further from here, and work hard as we did from the first test on. For sure it is not my ultimate goal to be seventh, but the season is long and I am happy that I did a good race and with the work that BMW and the entire team do. So a big thank you to them. Now off to the next one."
Ilya Mikhalchik, BMW Motorrad WorldSBK Team (SP: 8 / R01: 8 / SP Race: DNF / R02: 15): "For sure, I take more positive than negative points from my first WorldSBK weekend. The main thing was that I replaced Michael and we showed strong results in Superpole and race one. That was especially good as we did not have so much testing before. Today was not our day. I would have liked to continue in the same way we did yesterday. But in the  Superpole Race, I was not able to push from the beginning. Then I made a small mistake and crashed. Thanks to the team that built a completely new bike within two hours and we made it to the grid for race two. The feeling of the bike was actually not bad, but the track temperatures were too high and it was difficult for me to find in a rhythm. After a few laps I started to feel better. My pace was good enough for seventh or eighth, but it was too late. I was riding alone, catching the top-ten group. For sure, those results did not make me happy after the strong Saturday. But that's racing and every race can be different. Now we have a lot of information for BMW to continue to improve the bike to get it into top positions in the races."
Eugene Laverty, Bonovo action BMW Racing Team (SP: 14 / R01: 10 / SP Race: 11 / R02: 12): "In the Superpole Race, the bike felt really good. I really wanted to be in the top-9 to change my grid position for race two, but I just did not have the pace to beat those guys. But anyway, the performance was good. In race two this afternoon, the temperature was higher and I was in difficulties with the front tyre. That did not allow me to catch the group for seventh position. My pace was more or less the same than theirs but it was not meant to be today, I had lost too many positions in the early laps and was not able to recover. It was great for the team that Loris was seventh. The Bonovo action BMW Racing Team can be really proud of the effort they all put in not just this weekend, but also in winter testing."
Scott Redding, BMW Motorrad WorldSBK Team (SP: 16 / R01: 15 / SP Race: 12 / R02: DNF): "This weekend was not what I expected it to go like, even considering we had two days of testing on Monday and Tuesday. Then we come to the race weekend and we lost lap time. So for me it was hard to accept this. We worked very hard to try and solve our problem, but we really never got anything to help us through the weekend. It was hard. We need to understand why it was different, we need to understand why we are suffering more than with last year's bike. There have been some changes on the engine and the bike so we need to understand why this happening because the potential is more. Then in the last race of the weekend, I just had no grip, the brakes where not working so well and the engine overheated. That is just how it goes. There is not much more to say. We need to work, understand and try to come back stronger because we don't deserve to be in this position."
More, from another press release issued by Yamaha:
Triple Podium Weekend for Razgatlıoğlu and Pata Yamaha with Brixx WorldSBK at Aragon
Toprak Razgatlıoğlu and Pata Yamaha with Brixx WorldSBK fought to maximise their potential, as the Turkish rider completed the opening round of the 2022 FIM Superbike World Championship with two further third-place podiums at MotorLand Aragon today, leaving Spain third in the overall standings.
Fans both at the track and worldwide were treated to a spectacular show on track for both Race 2 and in particular, the 10-lap Superpole Race, where Razgatlıoğlu and Michael Ruben Rinaldi (Ducati) touched through the final corner in a no-holds barred sprint to the finish. The two riders, along with Jonathan Rea (Kawasaki) traded places and rubber for the podium positions throughout.
Competition continued to heat up in Race 2, where Razgatlıoğlu strategically followed the front runners of Alvaro Bautista (Ducati), Rinaldi and Rea in order to save his tyres for the final laps. A mistake from Rea on Lap 4 gave Yamaha's defending champion a chance of third position, but it wasn't until Lap 16 that Razgatlıoğlu consolidated his third podium of the weekend with a signature overtake into Turn 1 on Rinaldi.
Razgatlıoğlu and Pata Yamaha with Brixx WorldSBK leave Aragon with their best results at this circuit, and with just an 18-point deficit to early series leader Bautista. As a comparison, in 2021, Razgatlıoğlu left the first round in fourth position in the Riders' Championship, 27 points from the lead.
Locatelli made a step forward in the Superpole Race this morning to finish in a close fifth position, just 1.5s behind his teammate on the podium and in touch with the "top group" of riders. In Race 2, the young Italian pushed hard to join the battle at the front but unfortunately lost the front into the slow left-hander of Turn 9 coming down the hill. He was able to recover his R1 WorldSBK and finish the race in 19th, remaining positive about the potential to fight for the podium at the second round of the season, just around the corner at TT Circuit Assen in the Netherlands from 22-24 April.
Toprak Razgatlıoğlu – SPRC: P3 / Race 2: P3
"I think last year we did not start so strong here, because normally this is a difficult track for Yamaha – but three podiums is better. For me this is a good weekend, I try in the race to improve and I'm fighting with Johnny sometimes, but in the last laps my tyres had a big drop in grip and I am not able to fight again. Third position is not bad and I am again on the podium, so this is good. In the Superpole Race I enjoy a lot the fight with Rinaldi and Jonathan, in the last corner I need to pass Michael because I need the podium and the points! This is racing and we race a lot like this together in Superstock 600 in 2015! In the second race I saw him in second position pushing the tyre and see it start to drop, I say okay now I start to push – I was trying to look after the tyre because in the final laps there is a big drop in grip. I passed Michael and tried to go for Johnny but it was not possible. But anyway, everybody tries their best and I try this weekend to fight for the podium – I am happy and also big thanks to my team because every session we are trying for a good set up for the race and finally we have improved."
Andrea Locatelli – SPRC: P5 / Race 2: P19
"I wanted to try and go with the front group in Race 2, by pushing hard in the second lap, and I lost the front at Turn 9. I re-joined in case there was an opportunity for a restart, but I couldn't do anything so instead I used the race to play a little bit with the settings and understand more as well as collect data for the guys. We lost the opportunity to close the weekend maybe in the top five, but it's just the first round. I want to push and now is the time to take the risk to try and stay with the front group. I was happy with the Superpole Race because in the end I was close to Toprak and Jonathan – I took the motivation for Race 2 from this, but unfortunately I crashed. Now, we will put this behind us and continue to work for Assen to improve more."
Paul Denning – Team Principal, Pata Yamaha with Brixx WorldSBK:
"Honestly, it's been a challenging first race weekend of the year as it often seems to be for us in Aragon. But, I'm satisfied with the massive efforts made by the team and the riders today. We took a good step in performance compared to yesterday and Toprak ran a lot closer to Jonathan which is encouraging. He made a massive effort today to maximise the results and showed exactly why he is a World Champion. Loka rode very well in the Superpole Race, finishing only 1.5s behind Jonathan and Toprak, and his ambition was clear in the second race to run with the front group. When you push that hard, sometimes mistakes happen but despite this, it's been an encouraging start to the season for Andrea. Assen is a very different race track and we go there with a smaller points deficit to the lead of the championship than we did at last year's second round – so let's build from here and see what we can do."
More, from a press release issued by Aruba.it Racing Ducati:
A stunning Sunday for Bautista who dominates both SPR and Race-2. Rinaldi twice P4. First historic podium for Bulega and the Panigale V2 in WorldSSP
Two victories for Alvaro Bautista and two star-studded races for Michael Rinaldi: these were the highlights of the Aruba.it Racing – Ducati Team's extraordinary Sunday. The Pirelli Aragon Round, the first round of the 2022 WorldSBK season, ends with the Spanish rider topping the Superbike World Championship standings.
Superpole Race
P1 – Alvaro Bautista dominates the race right from the start and finishes first, 5 seconds ahead of Rea (Kawasaki).
P4 – Michael Rinaldi battles with Razgatliogliu (Yamaha) and Rea (Kawasaki). The fight is intense and the Italian rider pushes his way into the second position. At the last corner, however, he is overtaken by Razgatlioglu and he eventually settles for fourth place, just 59 thousandths from the podium.
Race -2
P1 – Alvaro Bautista gets off a good start, battling with Rea (Kawasaki) on the first lap and then pushing hard to create the gap that allows him to end the race with more than 4 seconds of advantage.
P4 – Since the start, Michael Rinaldi is glued to the podium group. On lap 5 the Italian rider takes the second position, trying to stay with his teammate. From the middle of the race, however, the rear grip drops visibly, not allowing him to conquer a potential podium.
Alvaro Bautista (Aruba.it Racing – Ducati #19)
"I'm really happy. It's been a very positive weekend, we've obtained important results but the crucial thing was to regain confidence with positive feelings: with the bike, with the team, with my fans. I was satisfied  yesterday for the second place too,  but I felt that something was missing. Since the warm-up the feeling was very good and so I tried to push harder. It was a very good start of the season. I can't wait to be in Assen".
Michael Rinaldi (Aruba.it Racing – Ducati #21)
"I close this weekend with mixed emotions. I'm very satisfied with the work we've done especially because in every race we've been in a position to easily fight for the podium. On the other hand, however, it is clear that something was missing. The balance is certainly positive, but we will have to work to fix those details that can allow us to be even more competitive".
WorldSSP
The Aragon Sunday will be long remembered by the Aruba.it Racing WSSP team as Nicolò Bulega took the Ducati Panigale V2's first podium in the WorldSSP championship.
After a difficult start, the Italian rider made up position after position to attack Van Straalen (Yamaha) at the last corner and finish the race with team celebrations at the park ferme.
Nicolò Bulega (Aruba.it Racing WSSP #11)
"I am very happy with this result. It's the first podium for me and for the Panigale V2 in the World Supersport Championship. I want to thank the team for the work done so far. We started practically from scratch, without data, without references, with a bike with no experience in this category. Expectations remain high and we must continue to work with this focus".