More, from a press release issued by Dorna WorldSBK Press Office:
Rea wins an intense battle with Bautista to take his first victory of 2022
0.090s separated Rea and Bautista at the finish line of the Pirelli Aragon Round, with Razgatlioglu finishing 5.4s behind the pair.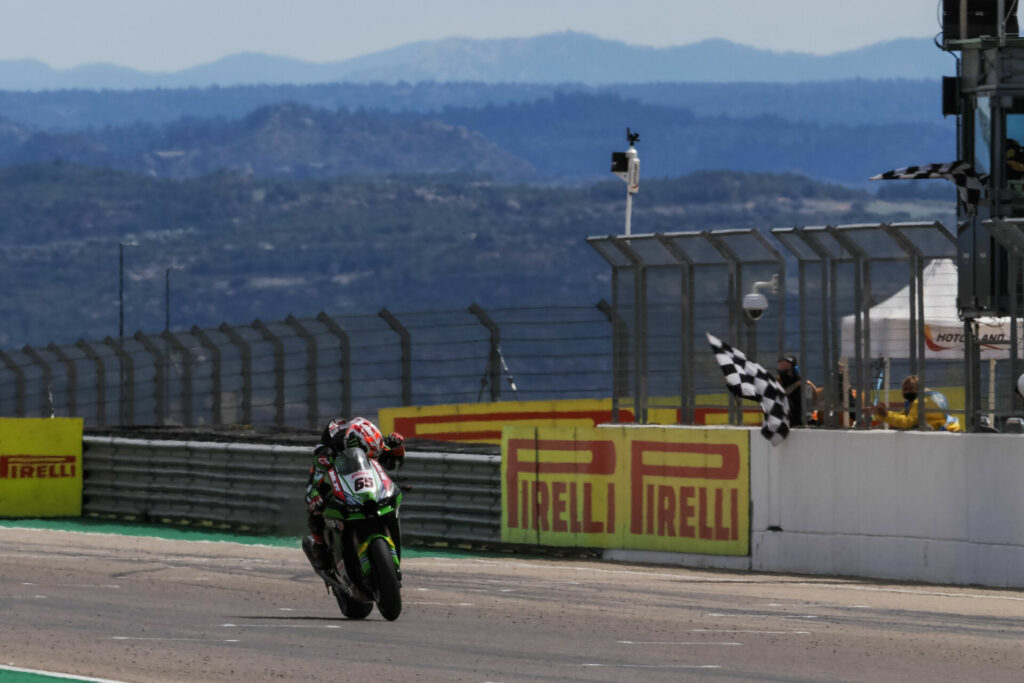 Jonathan Rea (Kawasaki Racing Team WorldSBK) claimed his first win of the 2022 MOTUL FIM Superbike World Championship season. It's the fifth time of his career that he has won the season-opening race. Rea was able to defend the victory from Alvaro Bautista (Aruba.it Racing – Ducati) and Toprak Razgatlioglu (Pata Yamaha with Brixx WorldSBK) despite the Ducati rider trying to make a move into the final two corners: "I had to work as hard I've had to for a long time. It was such an exciting race. I knew it was going to be tough from the beginning with both Toprak and Alvaro. We were right on the border line with the tyre choice. I was not really sure. Honestly in the past, we've never made the SCX tyre works in these kinds of conditions. I was able to manage pretty well."
Bautista crossed the finish line in second just 0.090s behind the winner and claimed his first podium with Ducati since Losail 2019. He had a great start getting the holeshot into Turn 1. After battling with both Razgatlioglu and Rea, Bautista had a huge moment which allowed Rea back through into Turn 1 at the start of Lap 10.
The Spanish rider managed to stay in the fight for victory until the last two corners as Rea claimed victory: "Fighting again for the top positions again after the last two seasons was very important for me. With Jonathan, I passed him many times, but I didn't want to risk much more. I tried to until the last corner because I could overtake him on the long straight but then I missed a lot of acceleration in every corner and especially in the last corner he could close a bit better the line."
Reigning WorldSBK Champion Razgatlioglu was in third place 5.4s behind Rea: "It has not been an easy race for me. After my pole position, I tried my best. I was fighting for the win in the first laps. But during the last nine laps, I started to dropped positions. My front tyre was dropping, and I started sliding. Tomorrow, I'll try again to fight for top positions."
Michael Ruben Rinaldi (Aruba.it Racing – Ducati) was fourth in Race 1 as he finished around five seconds back from Razgatlioglu. The Italian had been fighting in the lead group in the first half of the race but soon found himself on track on his own: "In the end, fourth place is a good result. I struggled all the race to ride the bike, so we have to improve the settings of the bike, especially turning because I struggle when the tyre drops, and I have less grip. I was able to stay with the top guys for half of the race but then I could not risk too much."
Andrea Locatelli (Pata Yamaha with Brixx WorldSBK) claimed fifth place as he finished five seconds behind Rinaldi: "This track is not easy for us. We need to work a little for tomorrow to try to stay close and to try to be on the podium."
Iker Lecuona (Team HRC) completed the top six in his first WorldSBK race: "Really good start here in Superbike. I didn't expect this sixth position. The goal was to be P7 or P8.  The pace I had in the first laps, I was not expecting it. I learned a lot during the race. I tried to follow Locatelli, but he was faster than me. The bike has lot of potential. We need to work and keep improving." Teammate Xavi Vierge finished in seventh place on his WorldSBK debut.
Illia Mykalchyk (BMW Motorrad WorldSBK Team) was the first BWM rider in eighth place on his first WorldSBK race.
More, from a press release issued by Team HRC:
A strong first showing for Team HRC in the opening WorldSBK race of 2022
Team HRC has competed in today's opening race of the 2022 Superbike World Championship at the Motorland Aragón circuit in Spain, with factory riders Iker Lecuona and Xavi Vierge, both rookies in the production-derived series, crossing the line a strong sixth and seventh in their debut WorldSBK race.
Having made a few final adjustments during the morning's final practice session, the two Team HRC riders then got their first taste of the Superbike qualifying phase, the all-important Superpole. With just 15 minutes in which to secure the best possible grid position, Lecuona and Vierge did their best to exploit the limited track time and, by the end of the brief phase, had set a best of 1'49.329 and 1'49.655 respectively. This meant that they qualified on the third and fifth row of the grid respectively, in seventh and thirteenth position.
The lights went out on the first race of the 2022 season at 2pm CET. Lecuona made a very strong start and was straight up to fifth through the first turns. Vierge made a similarly rapid start, making up five places through the first corners to place eighth at the end of lap one. Losing just a little ground in the opening stages, Lecuona maintained a strong pace and sixth place throughout the central part of the race, just ahead of his team-mate Vierge, who dealt with the pain and fatigue caused by recent injury to defend an impressive seventh place. The Team HRC pairing ran a consistent race from there on in, holding sixth and seventh all the way to the line to score solid points in their first official WorldSBK outing with the CBR1000RR-R FIREBLADES.
The Team HRC riders will now prepare for tomorrow's action, with the Tissot Superpole race taking place at 11am CET followed by the second and final Superbike race at 2pm CET.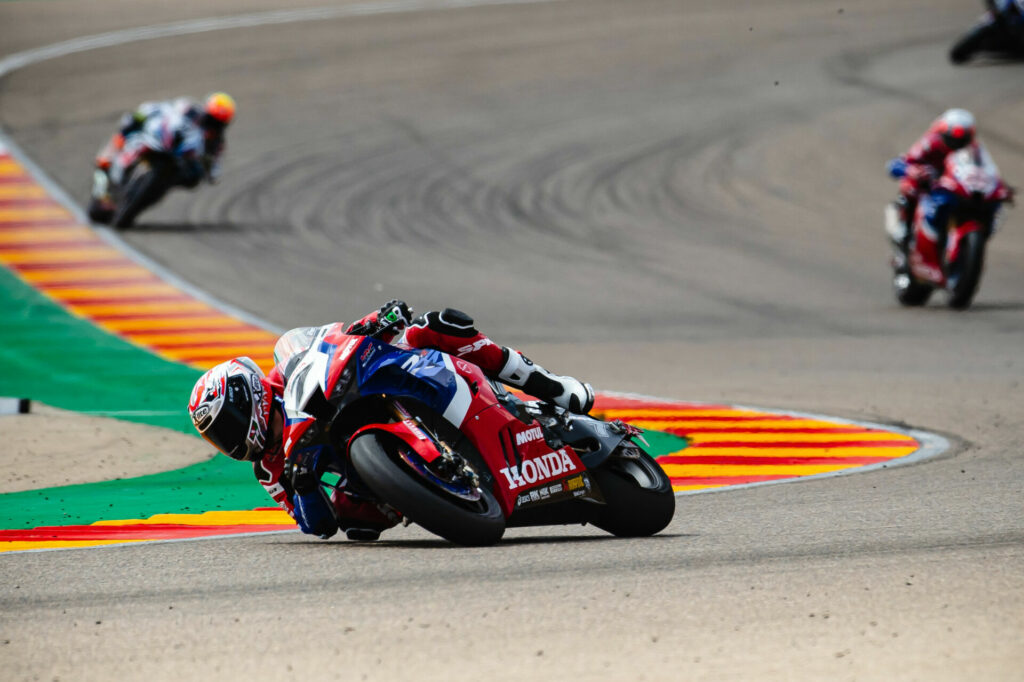 Iker Lecuona  7
P6 
"I'm really very happy, as we've made a very good start in Superbike today. The first target was to complete a consistent race and then, of course, to score as strong a result as possible. I didn't know what to expect in this morning's qualifying, as it was totally new for me with these tyres, but it went very well, honestly. I lapped alone and finished seventh, not a bad position at all. Then in the race I didn't expect P6 to be honest, but I made a very good start and was able to overtake a couple of guys in the first corner, so I immediately realised I had good pace. At a certain point, I lost the leading group but throughout the race my team-mate and I were able to gain a few seconds on those chasing us. We must continue to work and improve of course, but the bike has strong potential. It's also great to be racing at home and have the fans back here supporting us. Feeling this support is fantastic. Tomorrow we have another great opportunity, so we'll analyse today's data and see what we can do in the next two races."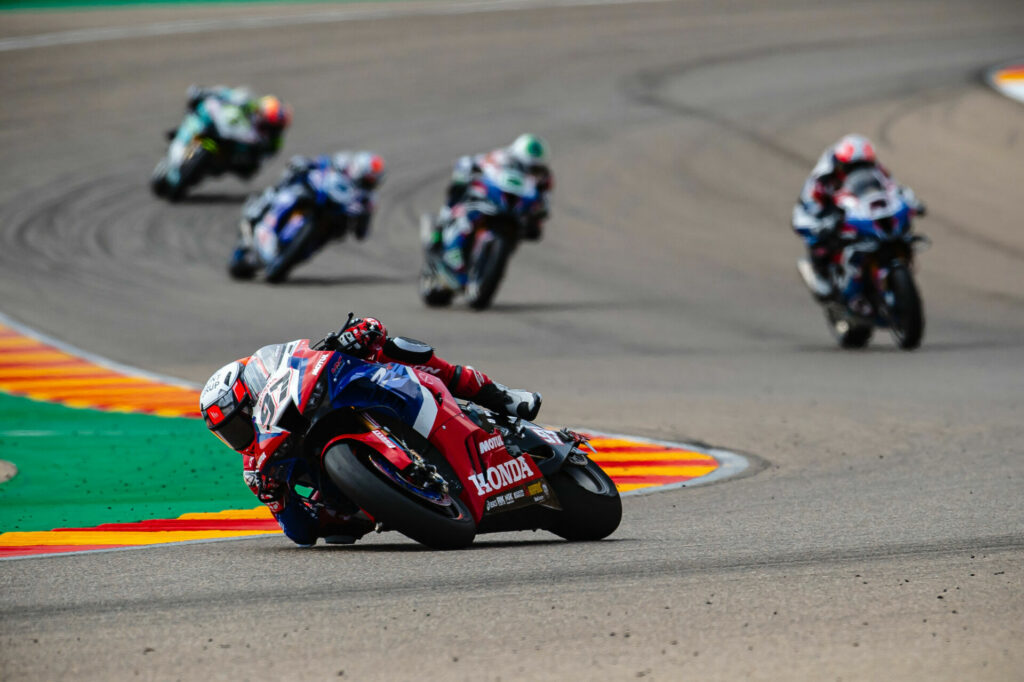 Xavi Vierge  97
P7 
"I'm really happy because we started this weekend having no idea whether we could finish the race. I broke a rib in testing at Barcelona only a couple of weeks ago and so to finish this first race, and with a good result too, represents a great start for us. I struggled a lot this morning to be honest and then in the race, I just focused on staying calm and trying to ride smoothly in order to reach the line. So this is important, because I've understood how to go fast without overdoing things physically speaking. Now we'll check the data and see if we can take another small step tomorrow. Everything is new for me with the Honda of course, but we've improved with each exit and, step by step, I'm learning how to exploit the bike's potential, so I'm very pleased. I want to thank my physiotherapist for helping me get here today and my team for supporting me in every way."
More, from a press release issued by Kawasaki:
Rea Scores Fantastic Race One Win
Jonathan Rea took his KRT Ninja ZX-10RR to victory in the first race of the 2022 season after 18 laps of constant battling with first two, and then one, of his expected championship rivals. KRT rider Alex Lowes was in a comfortable fifth place but fell on lap seven and no scored.
The anticipation was high for a classic battle to start the first race weekend of the  2022 WorldSBK season at the 5.077km long Motorland Aragon circuit in Spain, and the action up front delivered from the first to the last lap.
Having secured third place in Superpole qualifying earlier in the day, Rea started alongside pole man Toprak Razgatlioglu and second placed qualifier Alvaro Bautista.
The three leading riders fought hard in the early laps, with Rea leading, then being re-passed by Razgatlioglu, with Bautista sitting behind until joining in the three-way fight for the first full points score of the season.
In the final lap, with Razgatlioglu slowing, Rea had to fight Bautista for the what was to be a famous win. Jonathan led onto the back straight but was passed by the Spanish rider as they approached the braking zone. Rea made a decisive move on the inside line into the final corner, holding his advantage on the exit and winning by just 0.090 seconds. With Bautista second, Razgatliolgu was third, 5.416 seconds behind Rea.
Misfortune struck for Lowes as he was sitting in a strong fifth place, at the head of the riders chasing the leading group. He fell at Turn 12 on lap seven and could not restart. Alex had qualified fifth in Superpole and started the race from the second row of the grid.
Two more WorldSBK races remain at Motorland – the ten-lap Superpole Race at 11.00 local time and the 18-lap Race Two on Sunday 10 April.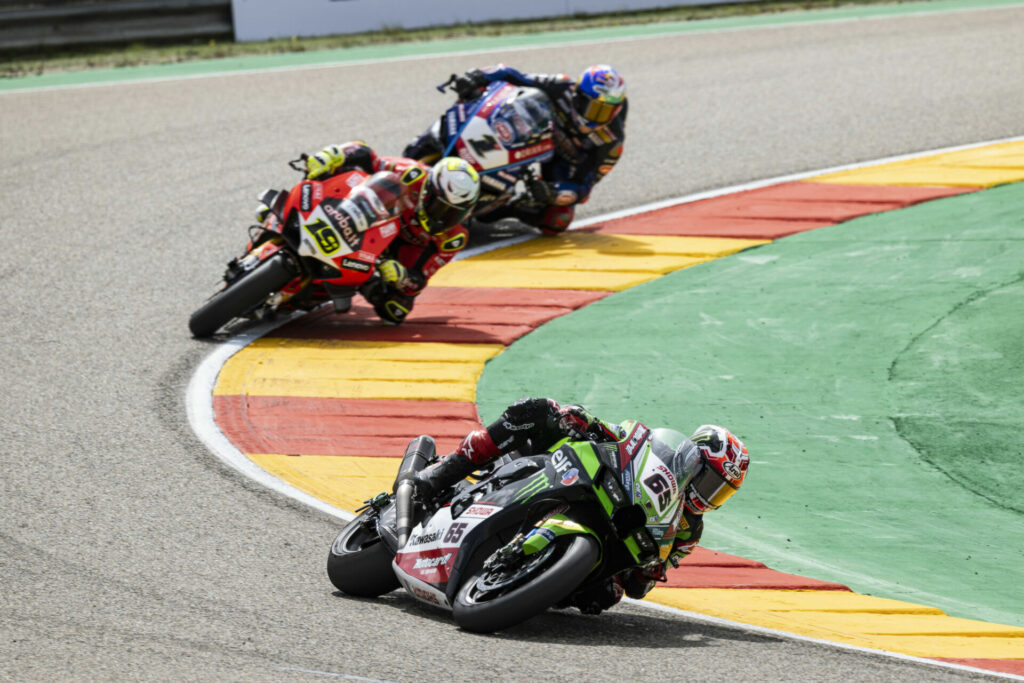 Jonathan Rea, stated: "It was a nice race and an exciting one. I really enjoyed the battle. I think we really showed the strength of our bike. It was very agile, stable on the brakes, and I could change direction. The work we did in the off-season, focusing on the softer tyres in the SCX family, is really bearing fruit now. I was able to be very fast until the end with a soft tyre, in a very cool temperature. Even before the race we were thinking, 'OK, we have done all this work but we had never, ever made this SCX work in 24°C of track temperature'. So big credit to my team, Kawasaki and Showa because it was a really big win for us to do that. Not just to win the first round of the championship but the way we did it. We have two more opportunities tomorrow that we have to maximise. But today I am really happy."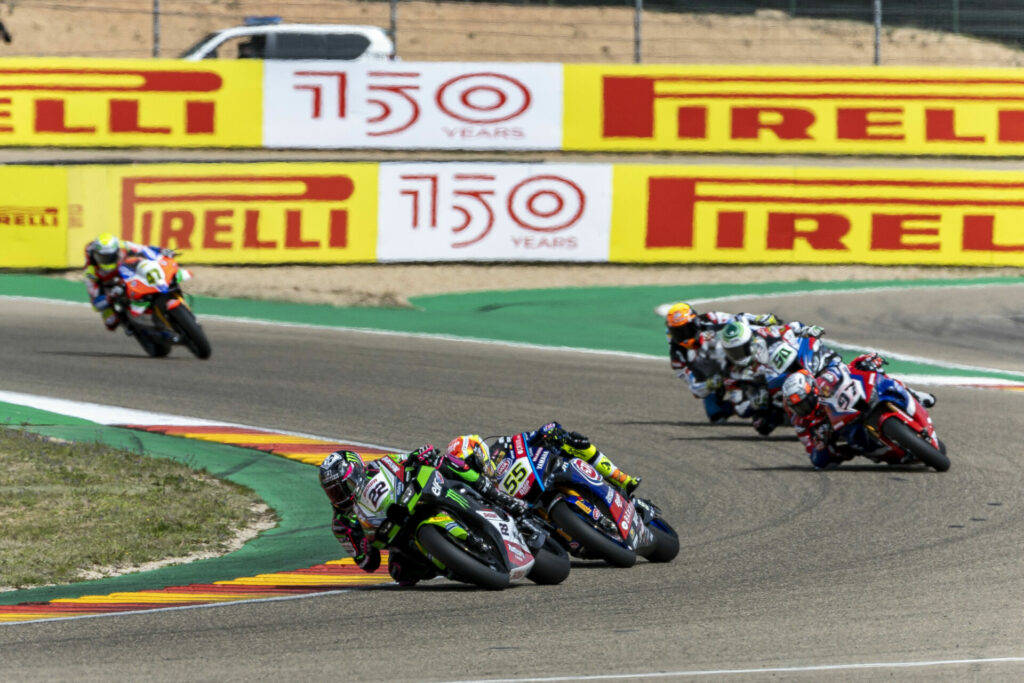 Alex Lowes, stated: "The race was obviously disappointing, even more so because we have worked all winter on used tyres and being consistent. I think we just made some mistakes with the setting on the bike. It is frustrating really that with the experience we have got we ended up where we are. We all have to take responsibility. Congratulations to Jonathan and all his crew because it was a mega race win for KRT, so it was nice for us to start the year with a win. We have a lot to do to get me feeling comfortable, as right now we are not working as I expect. We have work to do."
Lucas Mahias (Kawasaki Puccetti Racing) placed 14th in the season opener, with
Oliver König (Orelac Racing VerdNatura) 22nd and Loris Cresson (TPR Team Pedercini Racing) 23rd.
More, from a press release issued by Aruba.it Racing Ducati:
Exciting Race-1 for Bautista (P2) who fights for the victory until the last corner. Convincing 4th place for Rinaldi. Bulega finishes 5th after a precious comeback on his WorldSSP debut
The first Saturday of the 2022 WorldSBK season brought plenty of excitement to the Aruba.it Racing – Ducati team.
Firstly, the riders showed good teamwork in a convincing qualifying session (P2 for Alvaro Bautista and P4 for Michael Rinaldi) then they took part in an electrifying Race-1 at the Motorland circuit of Aragon (Spain).
Alvaro Bautista fought a spectacular duel first with Razgatlioglu (Yamaha) and then with Rea (Kawasaki). From the middle of the race, the battle with the Welshman got more exciting thanks to an endless series of overtakes and counter-overtakes. At the final corner, Bautista made a decisive attack but he was eventually unable to contain Rea's response, finishing just 90 thousandths of a second behind him at the chequered flag.
Michael Rinaldi confirmed in the race the fourth place obtained in qualifying. The Italian rider stayed with the podium group until lap 10, trying to push to attack Razgatlioglu. In the end, however, his race pace was not enough to fight for the podium and he secures a valuable fourth place.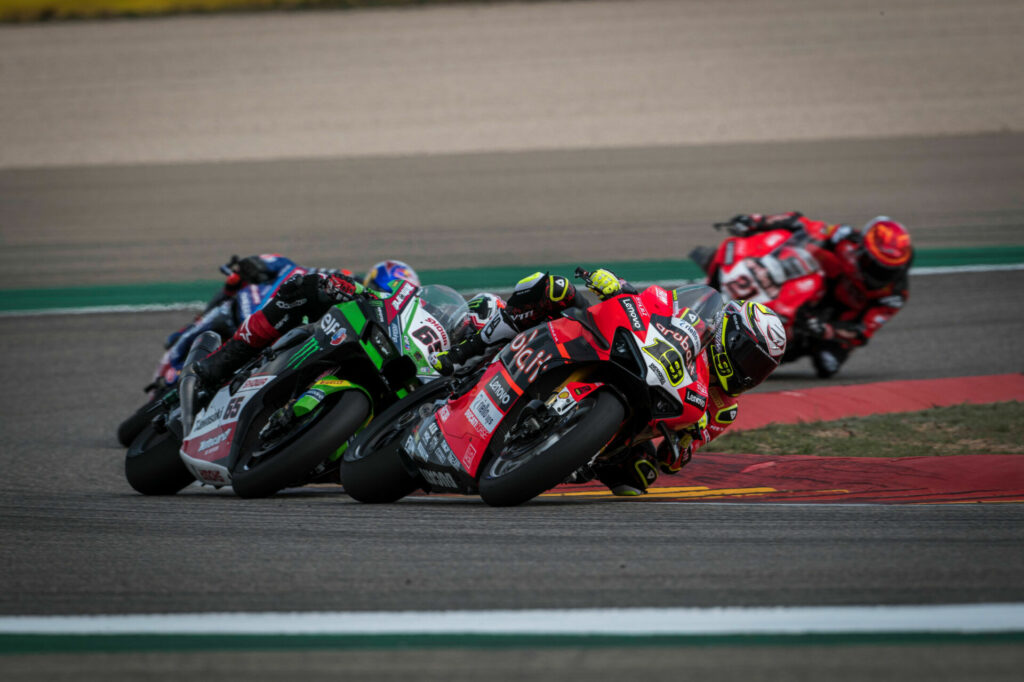 Alvaro Bautista (Aruba.it Racing – Ducati #19)
"I'm very very happy with this race. If have to be honest, winning wasn't my only goal. After two years that weren't easy, I needed to rediscover those sensations that you only get when you're fighting for the win. I immediately felt that feeling which allowed me to try until the end. The battle with Toprak first and then with Jonathan was exciting. I had a lot of fun and I hope I was able to entertain my fans as well. We just need a small step forward for tomorrow".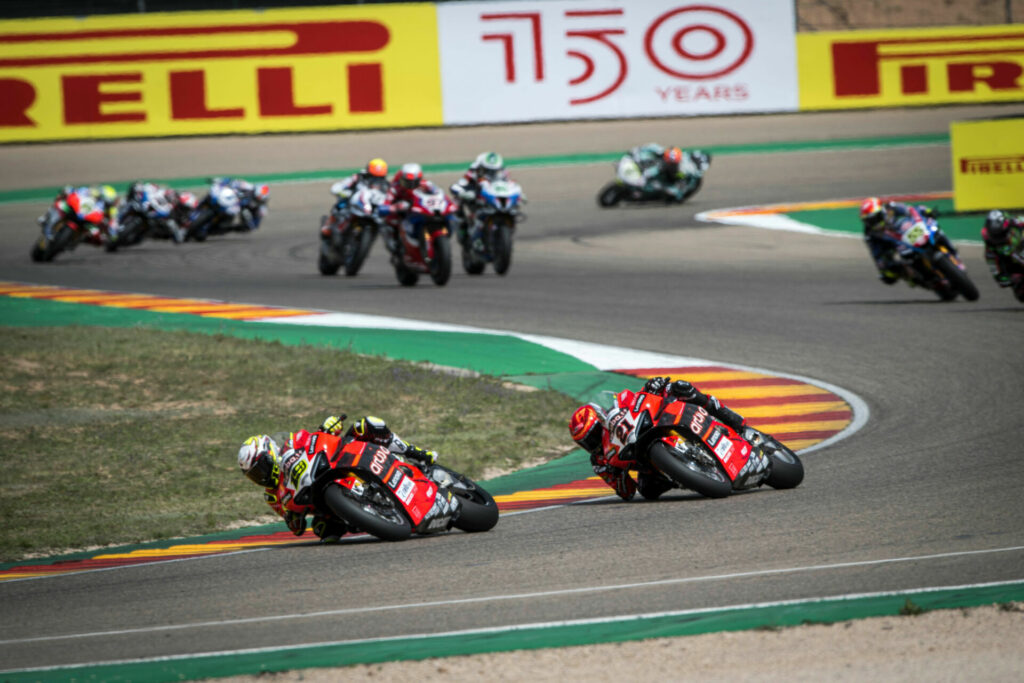 Michael Rinaldi (Aruba.it Racing – Ducati #21)
"I'm pretty happy with the way we started the season. I was sure I could have a good race and I felt good in the first few laps. Unfortunately, when the rear grip dropped, the feeling with the bike dropped and I couldn't stick with the podium group. We already know what we can do to improve and for this reason I'm very confident ahead of tomorrow's races".
WordSSP
Nicolò Bulega's start (P4 on the grid after this morning's qualifying) was not the best and compromised his chances of fighting for the podium. The Italian rider, however, had the merit of staying focused and after passing in 10th position at the first corner, he made up ground to finish fifth under the chequered flag.
Nicolò Bulega (Aruba.it Racing – Ducati WSSP Team #11)
"Unfortunately I made a mistake at the start by releasing the clutch in the wrong way. It's something we have to work on to make sure it doesn't happen again. In the first laps, I had a hard time overtaking the guys in front of me because we don't have the same acceleration performance as our rivals. It a good fifth place, all things considered. Tomorrow we will try to do better".
More, from a press release issued by Yamaha:
GYTR GRT YAMAHA WorldSBK Team Top Independent in Aragón Race One
In the opening race of the 2022 FIM Superbike World Championship season in Aragón, GYTR GRT Yamaha WorldSBK Team's Garrett Gerloff recovered to a ninth-place result, with Kohta Nozane finishing just outside of the points.
Following the first free practice sessions of the year on Friday, Gerloff and Nozane returned to the MotorLand Aragón circuit for Free Practice 3. The American placed seventh in the morning, with Nozane 22nd.
Then came the Tissot Superpole qualifying session, which saw Gerloff go 11th fastest on a 1'49.541, while teammate Nozane was 19th (1'51.098).
In Race 1, Gerloff dropped a couple of places on the start, and had to fight his way back through. In the closing stages, the 26-year-old managed to climb back inside the top 10 with strong late pace, eventually finishing ninth as the Top Independent Rider.
In typical fashion, Nozane made an excellent start, gaining five positions to run in the points-paying positions. After that, the #3 rider battled with those around, but he struggled with the grip in the latter stages, eventually finishing 18th.
The GYTR GRT Yamaha WorldSBK Team will analyse the data from Race 1 to improve their performance tomorrow in the Superpole Race at 11:00 (CET) and Race 2 at 14:00.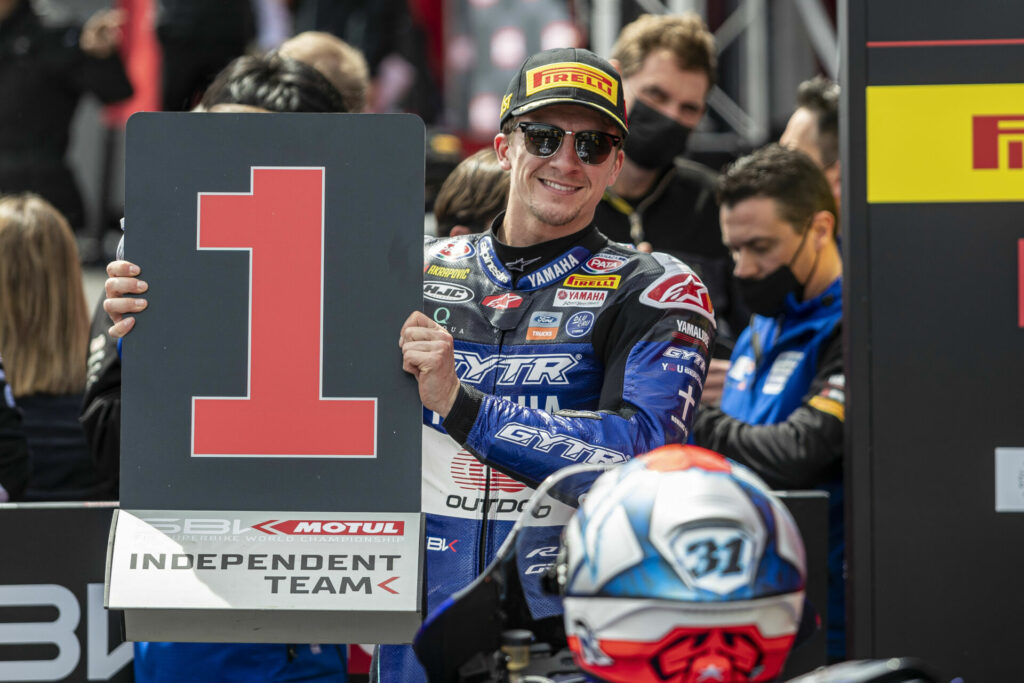 Garrett Gerloff: P9 – Top Independent Rider
"I'm disappointed with the qualifying because we've been top five all winter, so I was expecting to be in the first two rows. Because of that, I had a difficult beginning of the race, but the bike was feeling good and I had strong pace at the end, finishing inside the top 10. I want more than that, but I'm happy to be top Independent Rider for my GYTR GRT Yamaha WorldSBK Team, and now we have a clear plan for tomorrow, where we'll try to push more."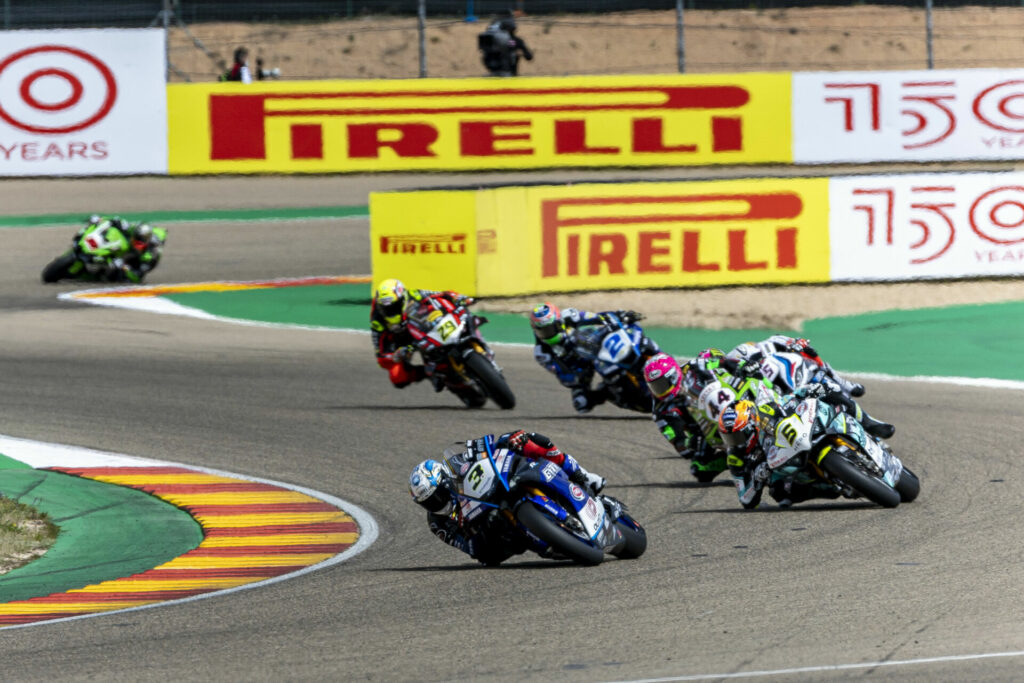 Kohta Nozane: P18
"I was surprised with FP3 and qualifying, I didn't expect to be as far down the order as I was. Luckily, in Race 1, I got a good start and I was able to overtake a lot of riders. Then I tried to push to maintain my position. Lap after lap, I tried to keep a constant pace but unfortunately that wasn't enough to stay inside the points. We took away some positives and we'll work on it to improve the performance tomorrow."
More, from another press release issued by Yamaha:
Record-Breaking Pole Position and Race One Podium for Razgatlıoğlu at Aragon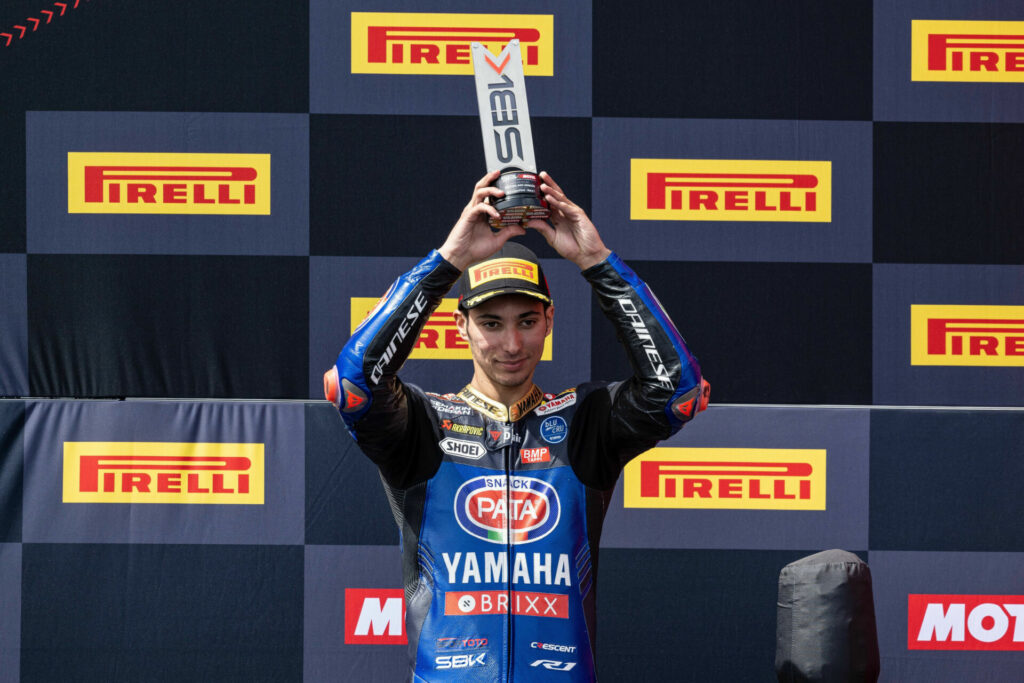 Pata Yamaha with Brixx WorldSBK rider and defending champion Toprak Razgatlıoğlu made a positive start to his 2022 FIM Superbike World Championship campaign with a stunning pole position lap and third-place podium in Race 1 at MotorLand Aragon today.
The 25-year-old Turkish rider smashed the all-time record with a stunning 1'48.267 around the 5.077 km circuit, a lap that impressed many but just 0.006s clear of nearest rival Alvaro Bautista (Ducati). Teammate Andrea Locatelli completed a strong qualifying amongst stiff competition to put his R1 WorldSBK on the second row of the grid in sixth place.
Race 1 then set the stage for another "must watch" WorldSBK season ahead, as three manufacturers battled for the lead in the opening laps. Razgatlıoğlu led the way initially from Kawasaki's Jonathan Rea and Bautista, as the Pata Yamaha with Brixx WorldSBK #1 set the fastest lap of the race on lap three – those at home would have also enjoyed watching the protagonists brake three wide into Turn 1 at the start of Lap 6!
By the middle of the race however, front tyre degradation hampered Razgatlıoğlu's ability to fight for the win and he chose to bank the podium points available for third.
Locatelli maximised the performance of his package today, managing available grip with consistent pace throughout the 18-lap feature race to deliver a solid fifth-place finish – all despite a hectic opening lap which saw him initially slip to eighth.
Pata Yamaha with Brixx WorldSBK will take to the track again tomorrow for the final day at Aragon, in the same format as 2021, with a short 15-minute Warm Up at 9:00 (UTC+2) that precedes the 10-lap Superpole Race at 11:00 and main 18-lap Race 2 at 14:00.
Toprak Razgatlıoğlu: P3
"For me not an easy race but after a good pole position, I tried my best. Normally for Yamaha this is not the strongest track, but I am fighting in the first laps for the win. But, in the last laps I start to drop back because the front tyre grip had a big drop and I start to feel the front sliding. But, third position is okay for today, even if I want more! The championship is very long, you know. Also, we take good points for the championship and tomorrow I will try again for a good position. Every day we are improving and we will try to find a bike set up that improves the front grip."
Andrea Locatelli: P5
"It's a good result for us to start the season in the top five – it's not so bad, but I am not really happy about today because in the start of the race I lost a lot of places. So, I had to try and recover and I wanted to be able to try and close the gap with the front group but in the end it was not possible. We need to work a little bit more for tomorrow, but for sure we have seen that this track it is not easy for us. Now we will try to improve the bike set up to stay close to the front and see if we can fight for the podium tomorrow. We have a lot of data from the first race so let's see what we can do."
Paul Denning – Team Principal, Pata Yamaha with Brixx WorldSBK:
"Not a bad way to start the season, with a pole position and a podium for Toprak at probably our most challenging circuit. Toprak was competitive and very much in the fight for victory, but we suffered with front tyre degradation and the target will be to find a solution that gives him a more comfortable feel entering the corner and the opportunity to look after the front tyre. On Loka's side, a very solid start indeed! Second row in qualifying was perfect and although a poor start and some clashes in the first part of the race meant the front group was gone, he maximised his potential to finish fifth and we couldn't have asked for a lot more than that given the start. It was certainly an exciting opening WorldSBK race of the year and tomorrow we will try to be part of that excitement right until the end!"