A WorldSBK weekend of mixed feelings for BMW Motorrad Motorsport in Assen.
Scott Redding from the ROKiT BMW Motorrad WorldSBK Team claims his best results so far in the Superpole and the races.
Big crash for team-mate Michael van der Mark in race two.
Two twelfth places for Garrett Gerloff from the Bonovo action BMW Racing Team, Loris Baz returns from leg injury.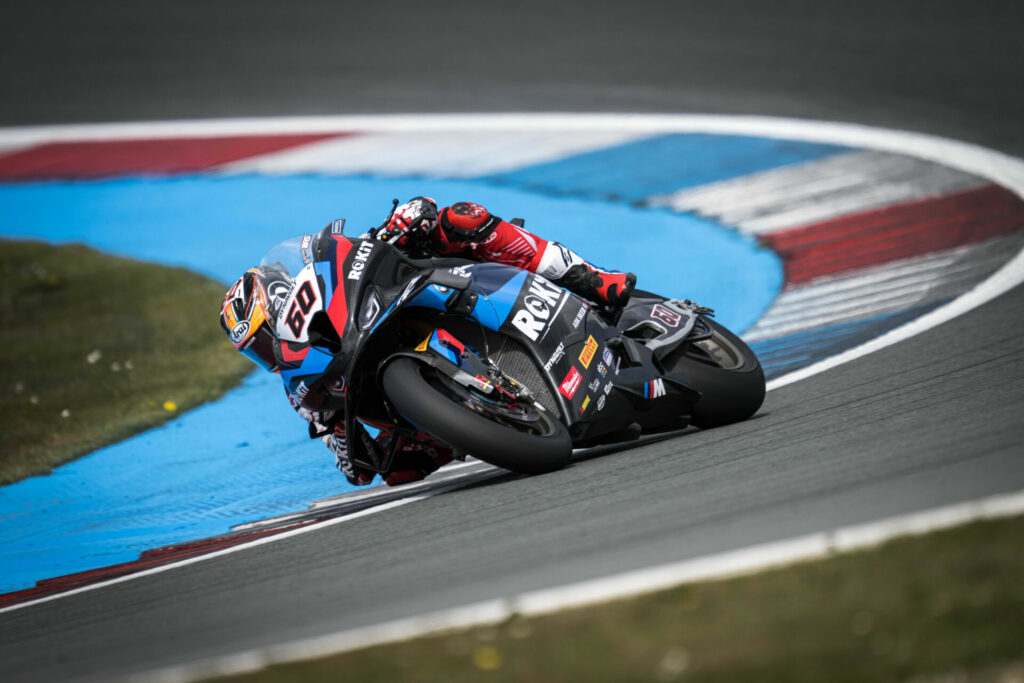 Assen. BMW Motorrad Motorsport experienced a weekend of mixed emotions at the opening round of the European leg of this season's FIM Superbike World Championship (WorldSBK) in Assen, the Netherlands. Scott Redding (GBR) from the ROKiT BMW Motorrad WorldSBK Team claimed his best results of the season so far in the Superpole and the races. Meanwhile, his team-mate and local favourite Michael van der Mark (NED) suffered a big crash in race two. He suffered a leg injury and has been taken to an Assen hospital for further examinations after being checked in the Medical Centre. In the Bonovo action BMW Racing Team, Garrett Gerloff (USA) ended both main races in twelfth place. Loris Baz (FRA) showed his fighting spirit on his return to the saddle just a few weeks after injuring his leg.
Scott Redding produced an impressive lap on his BMW M 1000 RR in Saturday morning's Superpole qualifying to secure fifth place on the grid. Baz qualified 13th, while van der Mark and Gerloff ended qualifying in 15th and 17th place. Redding made a good start in race one on Saturday afternoon and was running in the top five until lap 17 of 21. At one point he had climbed into fourth place. However, his front tyre then started to wear dramatically, and Redding eventually crossed the finish line in 10th place. Gerloff lost a position on lap one, but then consistently worked his way through the field to finish 12th. He was followed over the line by van der Mark in 13th. The Dutchman was lacking the confidence in the front of his bike to be able to attack. Baz overcame the pain in his injured leg to finish 17th after 21 laps of racing.
A technical issue encountered during the warm-up lap meant Baz was unable to line up in the Superpole Race. The start was delayed, and the sprint reduced to eight laps. Redding came home eighth. Van der Mark gained five positions to finish 10th, while Gerloff crossed the finish line 17th.
In race two on Sunday afternoon, Redding immediately climbed from eighth to seventh at the start. As the race progressed, he spent eight laps in sixth place before dropping a position in the closing stages. Seventh place represents Redding's best race result of the season so far. Gerloff dropped back to 20th place at the start, but then fought back to match the 12th place he claimed on Saturday. Van der Mark attempted to make progress from 15th on the grid but suffered a big crash on lap two and injured his leg. Baz was on course for a fine points finish until lap nine, when he too crashed out. The Frenchman was unhurt.
Round four of the 2023 WorldSBK takes place in Barcelona (ESP) in two weeks, from 5th to 7th May.
Quotes after the Assen races.
Marc Bongers, BMW Motorrad Motorsport Director: "Michael's crash was a sad end to a weekend, at which we witnessed a few rays of hope. We made a relatively good start to the weekend and, after the test in Barcelona, lined up with some improvements. The first free practice sessions went as expected and were satisfactory. Scott secured a fine fifth place in qualifying, and a good grid position is important in this extremely well-matched field. The others had difficulties. Scott produced a very strong performance in race one and was in P4 for a long time. We took a bit of a risk with the front tyre, which unfortunately did not pay off. We learned from that for the Superpole Race and race two. The performance was good again in race two. The fact is that we are not yet among the front-runners, but Scott was still able to hold on for seventh place. He also gave us some good input, as to how we need to progress. However, it was a great shame that Michael had that big crash so early in the race. We must await the diagnosis, but definitely wish him all the best. The main thing is that he recovers quickly. Respect to Loris. It was good to see him back on the bike and, despite being in pain, he performed well. Garrett struggled all weekend to find his rhythm on the opening laps of the race. That is reflected in his results. In the final race, he set very similar lap times to Scott after lap five – sometimes even faster. However, if you are not on it from the start, then you cannot make progress later. We will soon do some testing in Misano, where we will make more changes to the bike, in order to take the next step."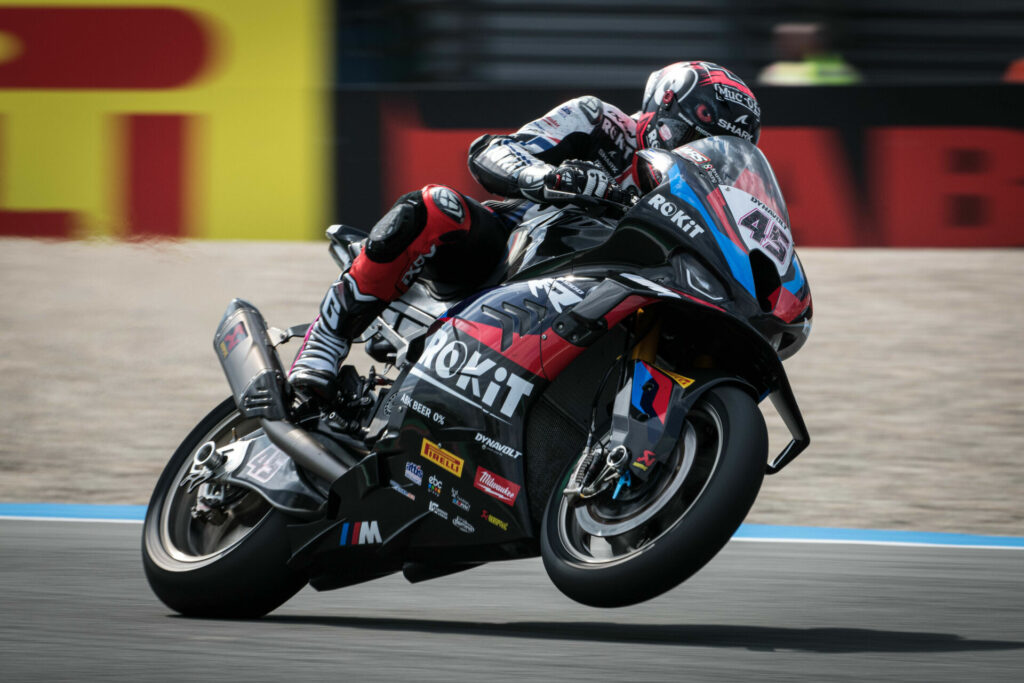 Scott Redding, ROKiT BMW Motorrad WorldSBK Team (SP: 5 / R01: 10 / SP Race: 10 / R02: 7): "I was quite happy that I could be up in the race and even more as I was able to push the bike a little bit, which was nice. But still, we are struggling in some areas and it's difficult because you cannot get much time back on the others. But I feel like I was riding well. I enjoyed riding the bike this week which was nice for me, and I was fighting in positions where I felt we should be. Yesterday I struggled with the front tyre and today I struggled with rear grip over the entire race. But it was a better weekend, we got some good information. And now we will see if we can bring something to further improve."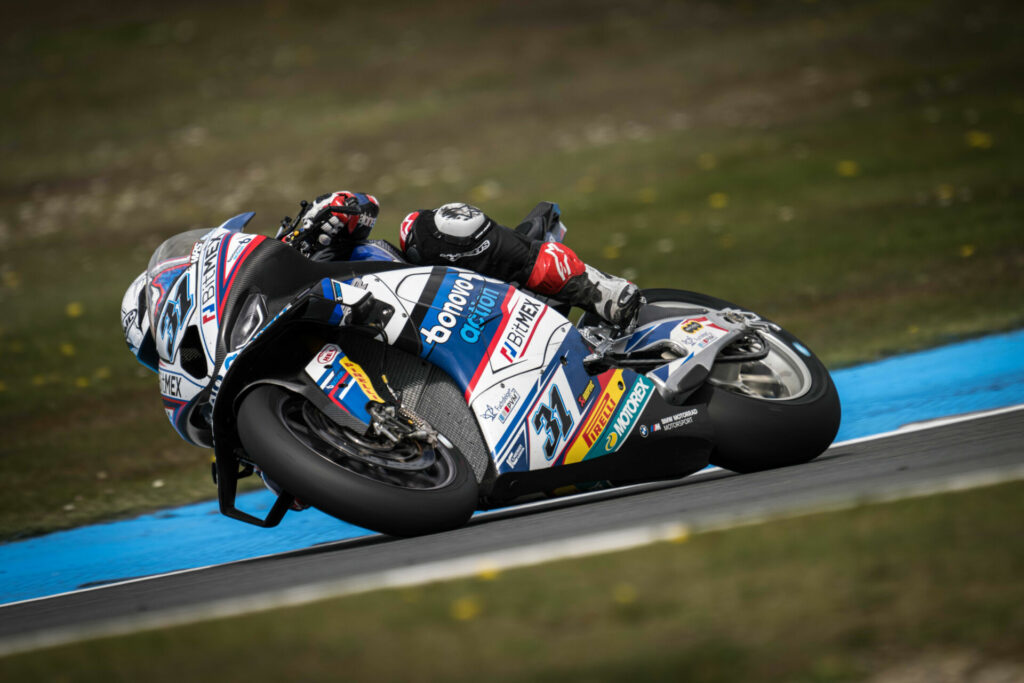 Garrett Gerloff, Bonovo action BMW Racing Team (SP: 17 / R01: 12 / SP Race: 17 / R02: 12): "I feel like we had some good pace, just starting from so far back after having such a tricky qualifying was making it difficult. It was my own fault really for being so far back and that's the most frustrating thing. Also, it was so close, as it was so tight between everybody. It would have been nice to start a few rows forward and I could have changed some things. In the Superpole Race I just didn't have anything to make up any ground, with only eight laps it was super difficult. In race two I had a good start, but in the first corner, I got bottlenecked and had to brake and check where the guys were around me. I just had to fight to come back. It was a long day. I'm looking forward to the next round, I like Barcelona. I'll go back there and try to have some good results."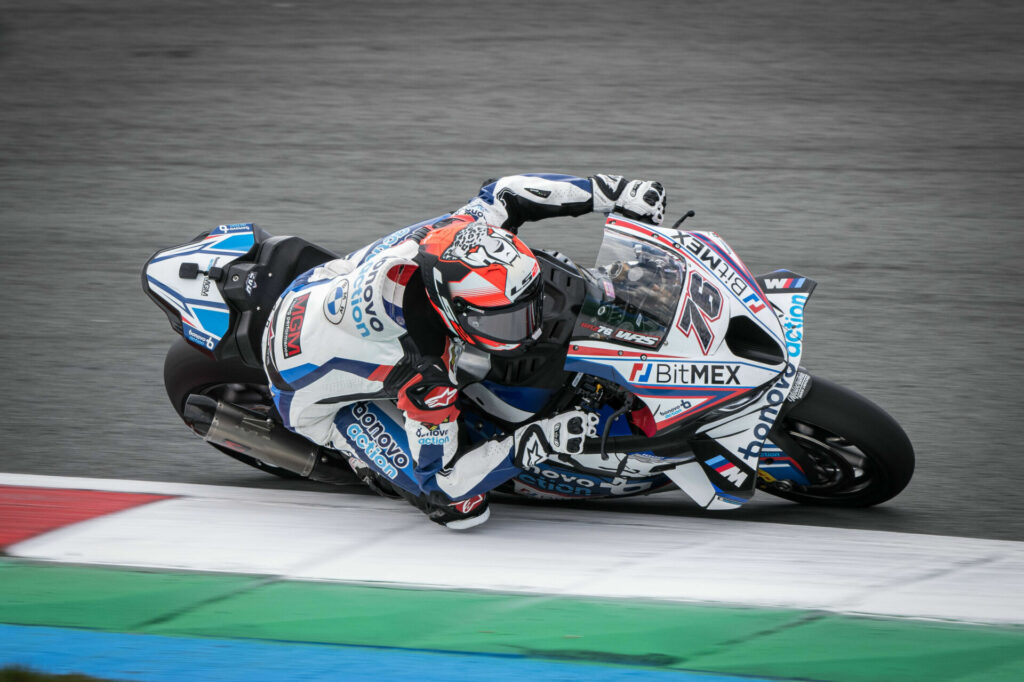 Loris Baz, Bonovo action BMW Racing Team (SP: 13 / R01: 17 / SP Race: DNS / R02: DNF): "I'm ok, but my first thought was for Michael (van der Mark), because I was right behind him when he crashed, and it was really a big one. I know what he has been through and it's really tough seeing him in this kind of situation again. I wish him a quick recovery and hope he can come back soon. I had a good start, and I was feeling better with the leg compared to yesterday. In the Superpole Race we had a technical issue, so I didn't do a lap. We had to change the engine between the Superpole and the main race and the new engine didn't feel the same, so I lost some time during the first laps. Then Öttl overtook me, as he was a bit faster in the parts where I was struggling. But I was catching him in some other fast places. Coming into that last fast left, it was three or four laps in a row that I gone wide there, and I was worried about crashing, so on that lap, I really rolled early to stay on the line and I crashed there. For sure, I released the brake earlier, maybe I went too inside, it's just strange. I feel sorry for the team because the bike is destroyed. I was feeling better, but when you don't feel at 100% all weekend, you obviously force it a bit in some places because I couldn't move. I was trying to get some points; I was pretty fast considering the shape I'm in. It was a rough weekend, really hard, but we keep moving forward. Scott (Redding) has shown that the bike has something more than we did this weekend. For sure, I will feel better in Barcelona. I hope I'll be able to come back to my normal pace."
More, from a press release issued by Team HRC:
Vierge and Lecuona crash out while fighting for top six at Assen
Team HRC and riders Iker Lecuona and Xavi Vierge have today concluded the third round of the 2023 Superbike World Championship at the Assen TT Circuit in The Netherlands. Unfortunately it was not their day, with both factory riders crashing out of the afternoon's 21-lap race while battling inside the top ten.
Before gearing up for race 2, riders were out for the Superpole sprint race. Conditions were cool and sunny (air temp. 14°C, track temp. 20°C), but there was a slight delay to the start after an incident involving another rider left dirt on the track. The race was shortened to 8 laps and began roughly ten minutes later than scheduled. From tenth on the grid, Lecuona made up two positions off the line while Vierge, twelfth on the starting grid, also gained two positions through the first corners. Lapping with very similar times, Xavi moved ahead of team-mate Iker on lap two. While Vierge was able to hold ninth to the line, Lecuona battled with Van der Mark in the final stages, just missing out on a top ten finish to close eleventh.
The third and final race got underway as scheduled at 2pm local time. Now ninth and eleventh on the grid thanks to their results in the sprint race, Vierge and Lecuona immediately gained a position on lap one. Unfortunately Xavi's race was over almost as soon as it began, the Spaniard crashing on lap three, at turn one, while pushing to stay in touch with the riders battling for sixth, with team-mate Iker moving into eighth as a result. Working hard to get into a rhythm, the remaining Team HRC rider moved briefly up into seventh, before battling with Gardner and Redding in the central stages of the race. It was not to be today though, with Iker suffering the same fate as his team-mate and crashing at turn four on lap eleven. Although he was briefly able to return to the track, the Spaniard was forced to pull into the pits and retire shortly afterwards.
With the first three championship rounds now complete, Vierge lies ninth in the general standings with 49 points, Lecuona lies thirteenth with 33. Team HRC will now focus its attention on round four, which is scheduled to take place at the Barcelona-Catalunya circuit in Spain on 5-7 May.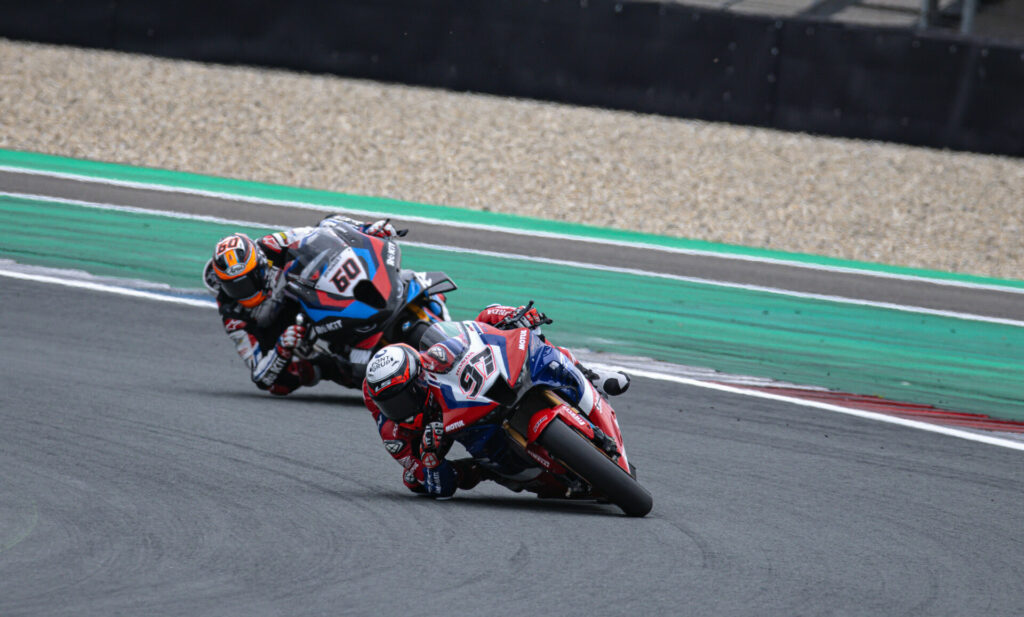 Xavi Vierge  97
SPR P9  RACE2 DNF
"I first want to apologise to the team for my mistake in race 2. The team worked really hard between yesterday and today, making various changes to the bike. It wasn't easy to decide what to do following warm-up, as we didn't have the right conditions to really check it, but we believed in our work and headed into the Superpole race feeling confident. I was pleased with the way that race went as the bike allowed me to battle. I was able to finish top nine and that meant I gained a better grid position for race 2. As that race got underway, I was feeling good and the feeling was there, allowing me to fight for the top six. Unfortunately I made a small mistake through turn 1 and lost the front, and that was the end of that. Not the end we were hoping for, but after a difficult weekend we did find something that allowed us to be up there fighting for a solid result. So we need to take the positives and will now head to Barcelona, a track that can work better for us."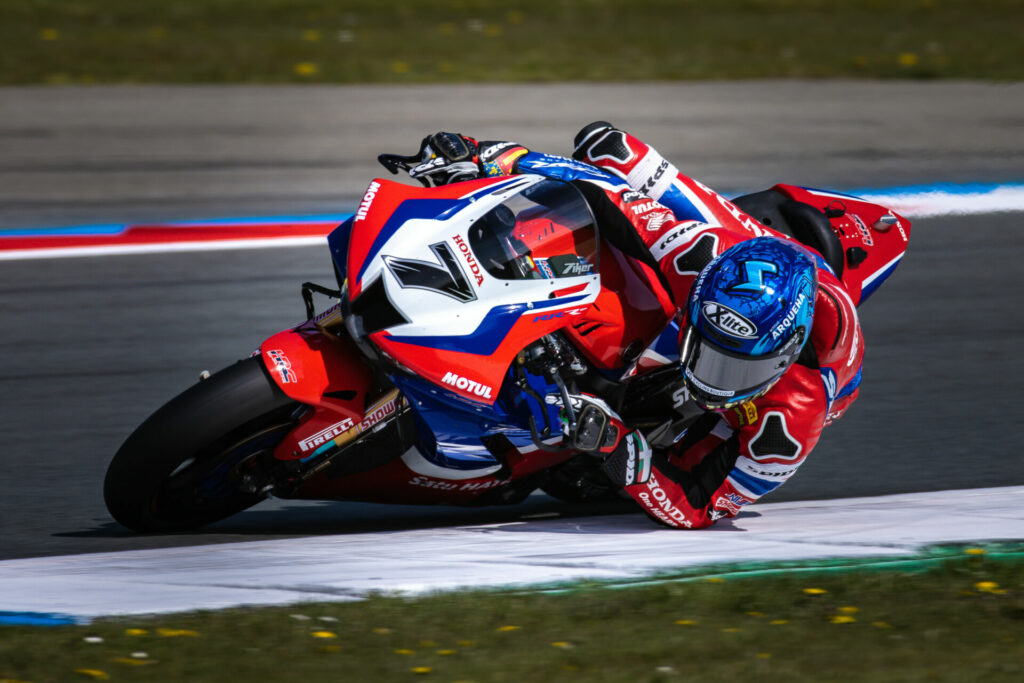 Iker Lecuona  7
SPR P11  RACE 2 DNF
"It was a tough day in general for me, the team and Honda, with me and Xavi both crashing in Race 2 and generally struggling at this track. We think we understood something about why the weekend developed as it did, so now it's time to remain cool and focused, checking all the data and really understanding which changes to make to the setup of the bike, both for the next round and for the subsequent testing session at Misano. It's true that last year I also had to save myself from some crashes, but this year we have crashed a lot. Having said that, thanks to the team, to Kuwata san, Mori san and everyone on the team for the trust they put in me. I trust them and the team and now we need to work and make the right choices."
More, from a press release issued by PETRONAS MIE Racing Honda Team:
WorldSBK – Syahrin in the points in WorldSBK race 2 at Assen
The PETRONAS MIE Racing Honda team has concluded what has been a challenging third round of the 2023 Superbike World Championship at Assen by scoring points in race 2 with rider Hafizh Syahrin.
In cool but sunny conditions, the brief Superpole race started a little later than scheduled when an incident for another rider left dirt on the track. One lap into the shortened 8-lap race and riders Granado and Syahrin were lying nineteenth and twentieth. Sticking close to each other, the pair moved up a place on lap two before exchanging positions on lap three. While Hafizh was able to maintain a consistent pace and hold eighteenth for the remainder of the race, Eric slipped back a little in the final lap to cross the line twenty-first.
The riders were back out for the weekend's final 21-lap race at 2pm local time. The PETRONAS MIE Racing Honda duo made up ground through the opening laps, with Syahrin lying seventeenth and Granado nineteenth by lap four. Both gained three more positions by the mid-race point, with the Malaysian moving into the points zone, followed by the Brazilian, sixteenth. Syahrin ran an undisturbed final part of the race to cross the line fourteenth and score two championship points, while Granado closed this final race in seventeenth position.
Syahrin now holds four points and places nineteenth in the championship standings, while Granado is yet to score points this season. The PETRONAS MIE Racing Honda team will now prepare for the fourth WorldSBK round, scheduled to run at the Barcelona-Catalunya circuit on 6-8 May.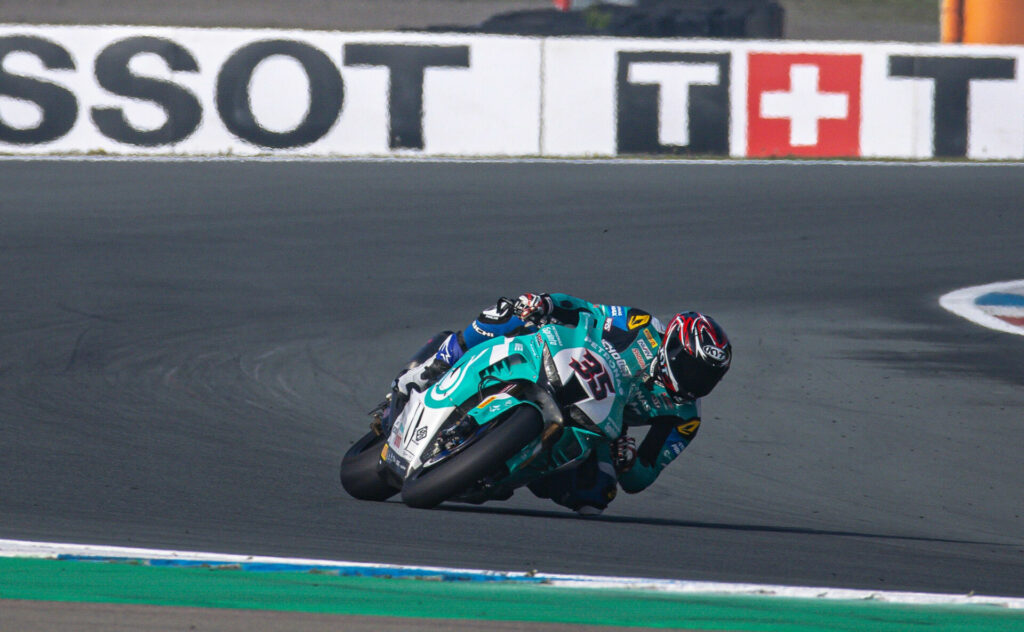 Hafizh Syahrin P14
"I'm very happy with our race 2 result as we scored two championship points. The Superpole race was also very useful and helped us to understand what we could do better in today's final race, which turned out well. We might not be scoring points in every race but we did it at every racing weekend and we're definitely taking steps round by round, repaying the efforts of everyone who is working so hard. I want to thank the team and all those supporting me. We now have a little time to rest before turning our attentions to the Catalunya round in two weeks' time."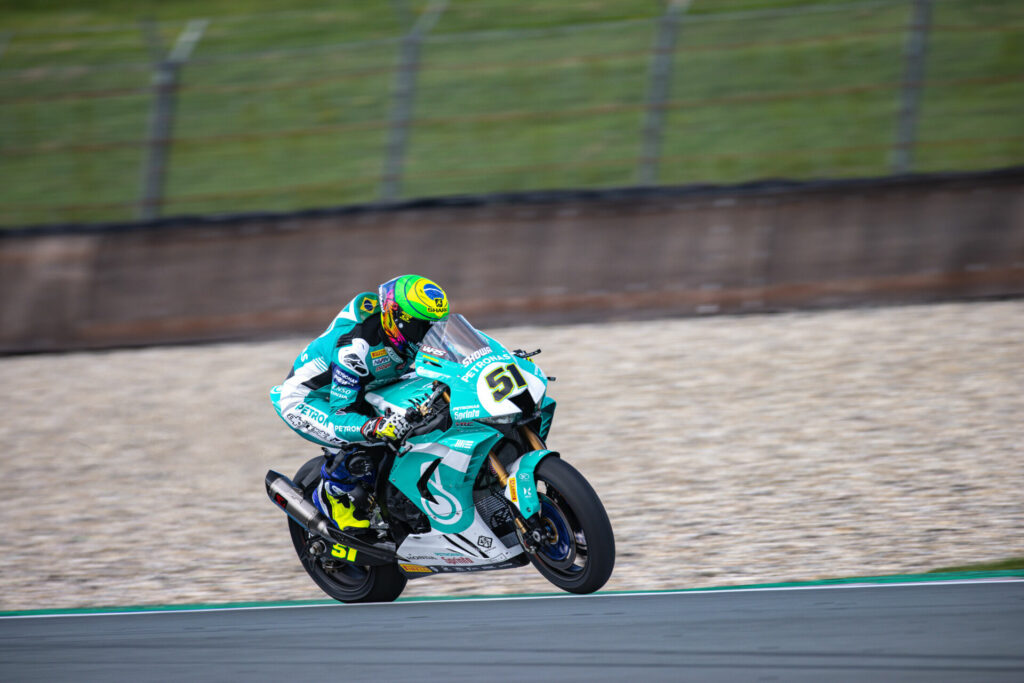 Eric Granado P17
"Well, the first half of the race went a lot better than yesterday and I felt that I had a good rhythm and was able to stick with the group. Then unfortunately from mid-race onwards I found myself struggling with arm pump, which meant I had to slow my pace quite significantly. I'd been suffering with this since Friday actually and I seemed to be recovering gradually but in this final race of the weekend, after completing so many laps, I guess my arm conceded defeat. Like I say, the first half of the race was positive, and I've taken a good step in terms of my confidence with the bike, but now we need to understand my physical condition and the bike setting in preparation for the next Barcelona round."
More, from a press release issued by GYTR GRT Yamaha WorldSBK Team:
AEGERTER THRILLED WITH FOURTH AND TOP INDEPENDENT RIDER STATUS, GARDNER GRABS GREAT SIXTH
Dominique Aegerter and Remy Gardner enjoyed a good Sunday in Assen, as the Swiss rider impressed in Race 2 and managed an excellent 4th place – making him the Top Independent Rider of the race. While the Australian recovered six places to finish 6th in the feature race.
The day started with the usual Warm Up session, and the GYTR GRT Yamaha pair made the final adjustments. Aegerter finished 7th with a 1'35.196, while Gardner was 13th (1'35.608), both felt ready ahead the two remaining races.
In a shortened 8-lap Tissot Superpole Race, the #77 and the #87 enjoyed a decent start. Aegerter was in contention for a Top 5 spot, with his teammate just behind. Unfortunately, Gardner was forced to go wide on Lap 2, dropping to 16th. The Australian rider did his best to recover as much as he could, showing good pace and eventually crossing the line in 12th. On the other side of the garage, Aegerter fought until the very end for a second-row start in Race 2, he managed 7th after fighting against Bassani's Ducati.
The GYTR GRT Yamaha duo started from 7th and 12th on the grid in the final feature race of the weekend. Aegerter and Gardner got off the line well, gaining positions at the start. The #77 installed himself in a solid Top 5 place in the early stages, while the #87 rider made his way through the field to find himself 7th on Lap 8, going past Honda's Vierge and Lecuona and Ducati's Petrucci. With seven laps to go, Gardner made one final move on BMW's Redding to take sixth position. Afterwards, he tried to close the gap with the guys in front to join the Top 5 fight and despite showing promising pace throughout the whole race, he stayed in 6th until the end.
Meanwhile, Aegerter tried to recover on Pata Yamaha Prometeon's Locatelli and Ducati's Bassani for a podium place. The Swiss star showed great speed in the 21-lap battle, staying in 5th for the majority of the race. In the latter stages, the #77 rider impressed with blistering pace, eventually catching Bassani for a last lap showdown. Finally, Domi crossed the line in 5th, before being promoted to 4th following Bassani's track limits penalty. This means Domi placed as the Top Independent Rider on the day.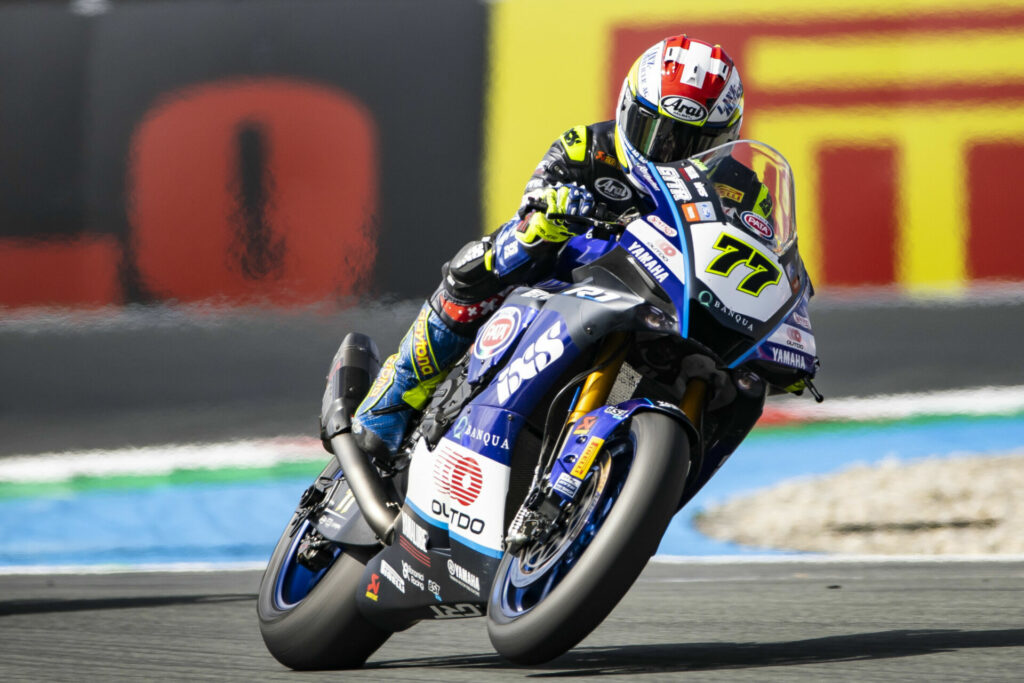 Dominique Aegerter #77
Superpole Race: P7 / Race 2: P4
"That was a great Race 2, finishing 4th and getting top independent is nice. We had a good start and fierce battles until the last chicane. There are still aspects of this bike that I can learn how to better exploit, we're going step by step. We have a great long-run pace and base setup, but we should be quick in the early stages too. I'm happy with the package we have, Yamaha and the GYTR GRT Team are doing a great job, plus it's good we can share data with fast guys. We'll keep working for sure, that is what has got us where we are today. We hope to be in the top group again in Barcelona."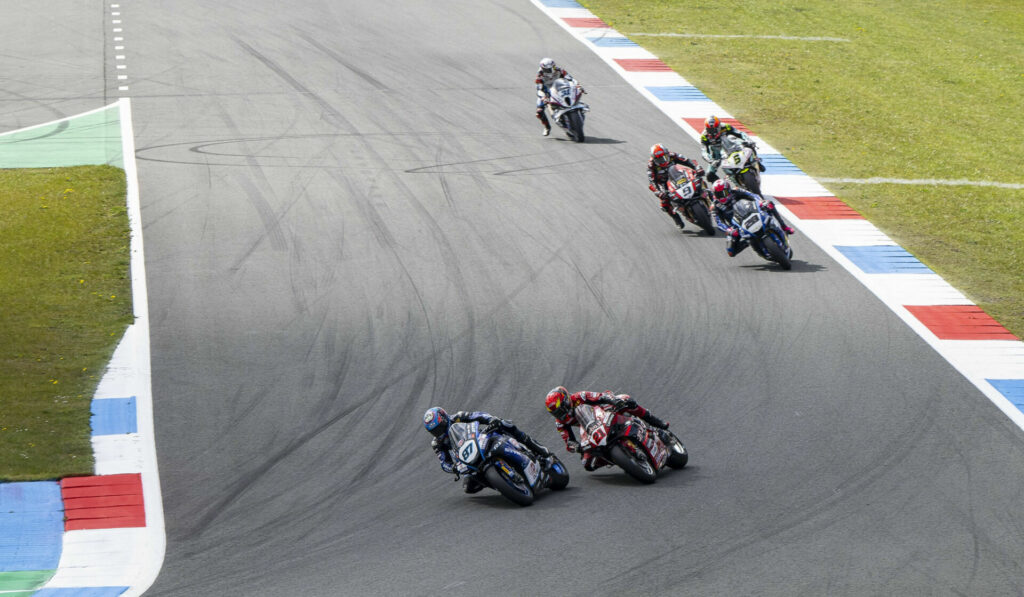 Remy Gardner #87
Superpole Race: P12 / Race 2: P6
"Not a bad Race 2, although unfortunately we had bad luck in the sprint race. For sure we need to work on our qualifying sessions, once again starting from behind didn't help. In the last feature race, our pace was fine and I enjoyed it. The tyre choice was the correct one in my opinion, it was just a shame I lost a lot of time in the opening laps as I got forced wide, but we were still able to perform a good recovery. Let's keep rolling and progress further, we know there's potential."
More, from a press release issued by Kawasaki:
Rea Takes A Podium Before Misfortune Strikes
Jonathan Rea secured his third podium finish of the season with second place in the Superpole race at Assen. He would then fall in Race Two while chasing the leading duo. Alex Lowes was fourth and then ninth, after going through his own moment of high drama before Race Two.
A delayed start to the WorldSBK Tissot Superpole Race meant it was run over eight laps, not the customary ten. Rea led in the first part of lap one but eventual winner Alvaro Bautista would pass in the final sector and hold his lead to the flag.
Rea was a clear second while his team-mate Lowes took a lonely fourth, having been in the leading mix early on while chasing his own podium ambition.
In the second race of the day, and the third WorldSBK race of the weekend, there was an unexpected turn even before the start of the 21-lap race itself. Lowes crashed on the sighting lap and had to come back to the pits to use a second bike for the 21-lap race.
Lowes moved up strongly from his last place starting position (imposed on him due to his late bike change) to finish ninth and salvage good championship points.
Rea was still fighting for the podium places with Alvaro Bautista and Toprak Razgatlioglu in Race Two when he fell on lap six, at the fast Turn Nine, and he was unable to re-start. Despite this misfortune Rea moved up one place in the championship standings at the end of the Assen race weekend.
In the championship standings, after three rounds and nine individual races, Bautista has 174 points Razgatlioglu 118, Locatelli 104, Bassani 77 and Rea 73. Lowes is tenth, with 44 points.
The next round takes place at KRT's home circuit of Barcelona-Catalunya, between 5-7 May.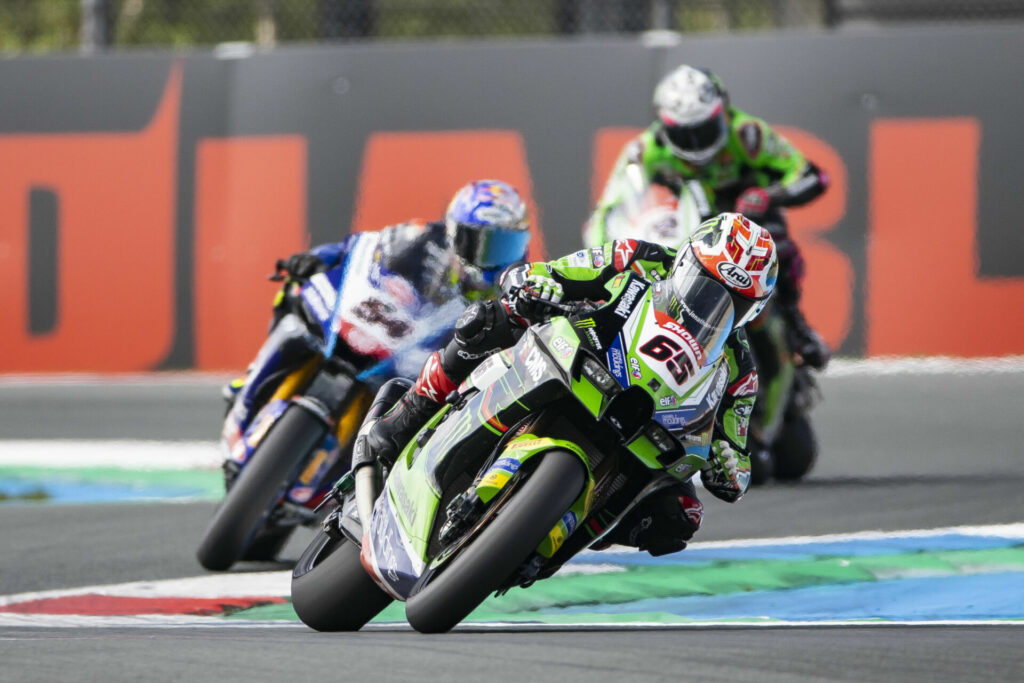 Jonathan Rea, stated: "It was one of those days, unfortunately, but I have got to take some positives from this weekend. The bike was really comfortable to ride, and I did some things at Assen that I have not been able to do for a few years. The starts were great, but I missed the jump a little bit in Race Two. We checked the data to understand the crash and for some reason, all weekend, I have had some pressure on the gearshift. This one time in T9, as soon as I opened the gas, it engaged third gear and that was enough to crash. I went down in probably the most graceful crash I have ever had! I was so frustrated because I felt like we could fight for a podium again. I felt much more comfortable in that race, compared to Race One and also the Superpole Race earlier today. The Superpole Race was maximum attack for eight laps. Alvaro just broke me with two laps to go."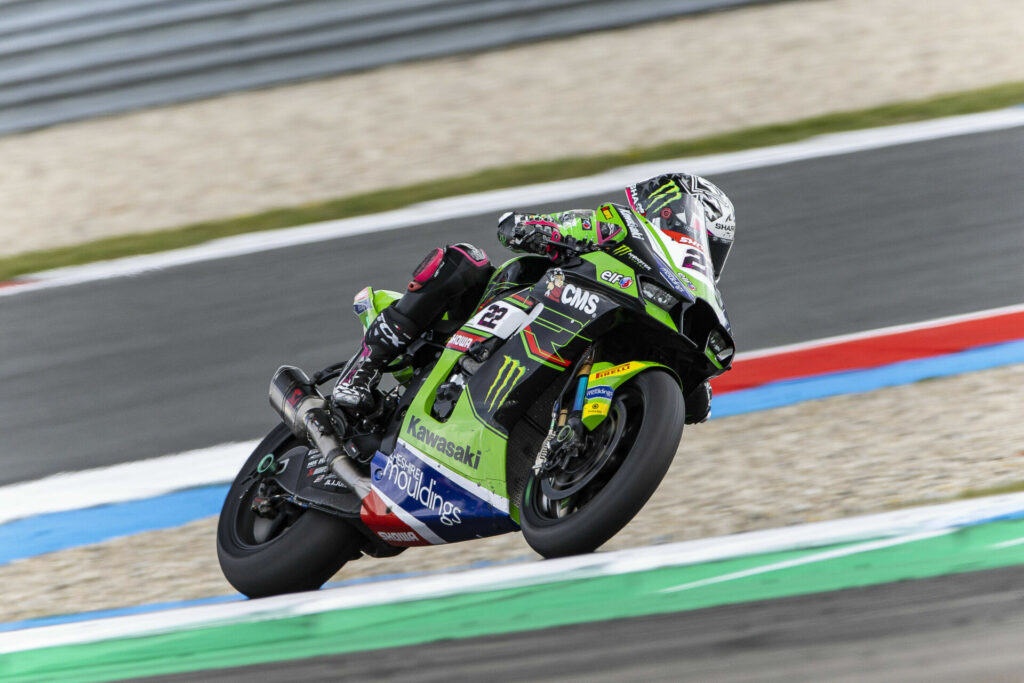 Alex Lowes, stated: "This weekend has been a bit better and when we have grip in the bike we can be quite fast. The Superpole Race was quite good because I was one of the only guys who could stay with the front three. The race, at eight laps, was a bit shorter than normal. The pace was fast and I felt OK on the limit. Everybody is riding on the limit. I lost the front on the sighting lap before Race Two. Starting from the back of the grid it was going to be tough, but my pace was a bit better after we had made a few changes on the bike. I was able to keep my front tyre grip for five or six laps longer and I was faster than the day before."
Tom Sykes (Kawasaki Puccetti Racing) finished 19th in the Superpole Race and took a point in Race Two for 15th place.
Oliver König (Orelac Racing Movisio Kawasaki) was 25th and then 16th on the final day at Assen. Isaac Vinales (TPR by Vinales Racing Kawasaki) was a retiree in the Superpole Race and then 18th in Race Two.
More, from a press release issued by Aruba.it Racing Ducati:
Aruba.it Racing and Ducati write a page of history at "The Cathedral of Speed". Bautista and Bulega win all the races in WorldSBK and WorldSSP. The Spanish rider also gives Borgo Panigale victory #400. Top 10 for Rinaldi
The weekend of the Pirelli Dutch Round, third event of the 2023 WorldSBK season, enters by right in the history of Aruba.it Racing and Ducati.
Alvaro Bautista and Nicolò Bulega in fact, won all the races held at TTCircuit of Assen (Netherland) both in WorldSBK and WorldSSP, taking their respective Pole Positions and setting all the fastest laps, as well as setting new circuit records.
An extraordinary haul on the same day of the historic 400 Ducati victories in the World Superbike Championship, a milestone cut by the Spaniard in Race 2.
At the end of the Pirelli Dutch Round, Alvaro Bautista is firmly first in the standings with 174 points, 56 more than Razgatlioglu (Yamaha). There is also a wide margin for Nicolò Bulega, the leader in WorldSSP with 127 points, 37 more than Manzi (Yamaha).
It was a difficult weekend, however, for Michael Rinaldi, who nevertheless gritted his teeth in Race 2 and brought home the Top 10.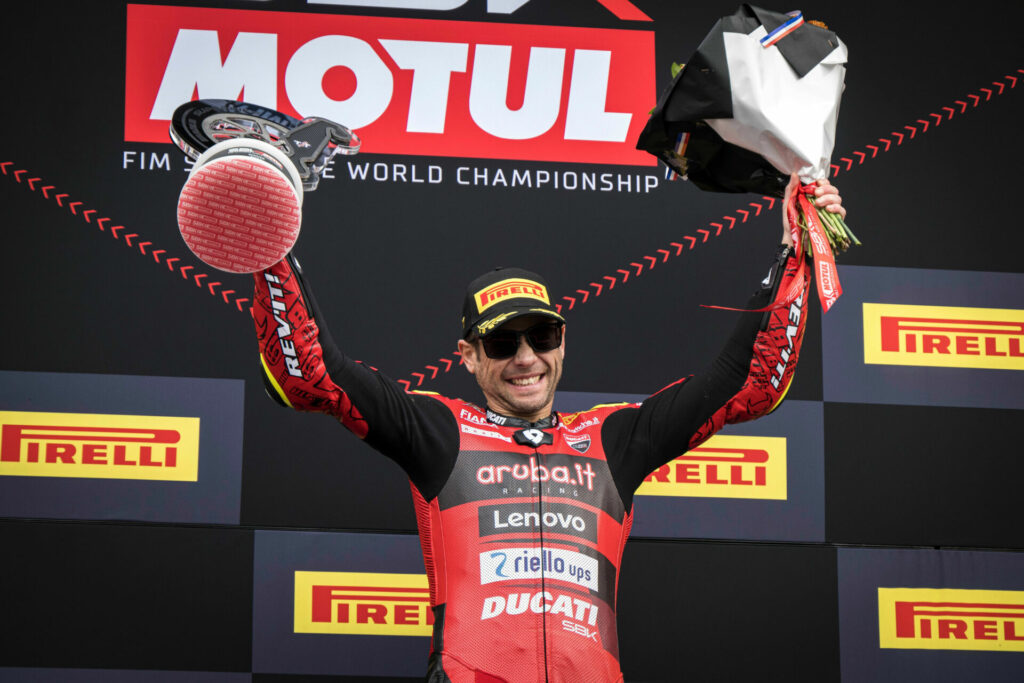 Alvaro Bautista (Aruba.it Racing – Ducati #1)
"It has been an exciting weekend and I am very happy to have put my signature on such an important milestone as the 400th victory for Ducati in Superbike. I'm also really happy because we even managed to improve on yesterday, especially in the Superpole Race. The advantage in the standings it is not my interest at the moment: what I'll remember from this day is the fantastic feeling with the bike.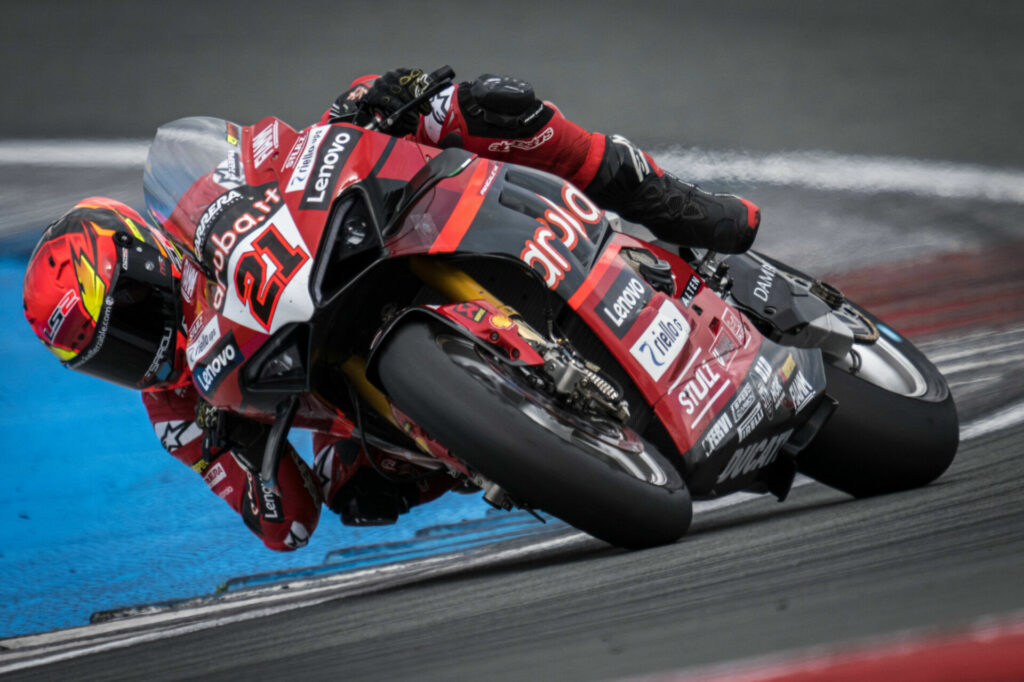 Michael Rinaldi (Aruba.it Racing – Ducati #21)
"Honestly it was a very difficult weekend. Right from FP1 the feeling wasn't the same as in the previous rounds; unfortunately, we couldn't work in FP2, then we had to run in wet conditions in FP3. Basically, we did setup in Race 1. At the same time, though, we need to be more responsive when we face difficulties like these. For sure we are not going to lose confidence from a weekend gone wrong."
Nicolò Bulega (Aruba.it Racing WSSP #11)
"We can say that this was a perfect weekend, probably the best weekend of my life. We won the two races, starting from the pole position, always doing the fastest lap. I want to thank my team because from the very first lap of FP1 the feeling with the bike was simply fantastic. Now, though, we have to think about Barcelona."
More, from a press release issued by Yamaha:
Double Dutch Podium for Pata Yamaha Prometeon WorldSBK
Toprak Razgatlıoğlu and Andrea Locatelli stepped on to the podium together after an exciting display of professional race craft in Race 2 at the TT Circuit Assen in the Netherlands today, to finish a positive weekend for Pata Yamaha Prometeon WorldSBK at the third round of the 2023 FIM Superbike World Championship.
It was Razgatlıoğlu's third podium of the event, finishing one better than his Race 1 and Superpole Race third places, but the key difference was how close the team's Turkish rider was able to run to winner Alvaro Bautista (Ducati) in the first half of the final main race. Forcing a move through the northern loop of the historical circuit in the opening laps netted a brief look at the lead of the race, but it was not enough to fully upset the dominance of the Spanish rider this weekend.
Teammate Locatelli took another step forward again today, enjoying a fierce battle with Italian compatriot Axel Bassani (Motocorsa Ducati) in both races. "Loka" was held up in the first part of the Superpole Race, unable to make a move and lost out to Bassani in the final portion of the shortened eight-lap sprint. But in Race 2, the two went head-to-head once again and the #55 rider came out on top after a spectacular high-speed battle on entry to Assen's fastest corner. Superior late race pace from Locatelli and his Yamaha R1 WorldSBK sealed the deal for the podium, following a super consistent weekend of results.
Pata Yamaha Prometeon WorldSBK returns to Barcelona in less than two weeks' time for the fourth round of the season, taking place from 5-7 May.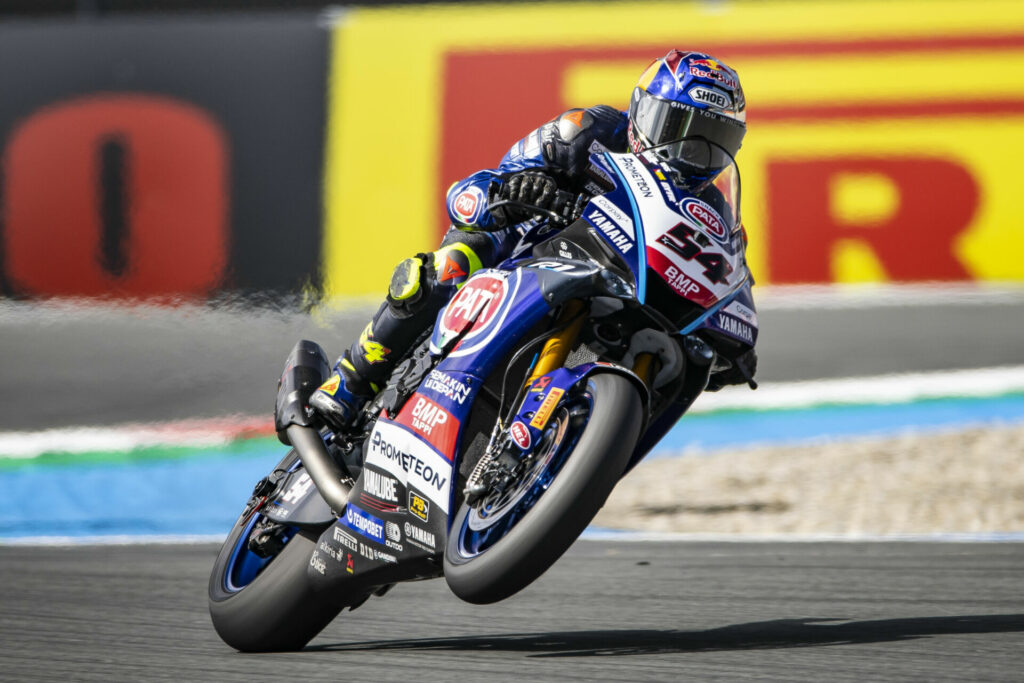 Toprak Razgatlıoğlu – Superpole Race: P3 / Race 2: P2
"I am really happy, I ride through the first corner in Race 2 and don't crash like 2021 and 2022! This is a big improvement! Also, today, in World Supersport my Turkish friends Can and Bahattin crashed and I am a bit scared before the race to do the same! I tried my best and finish in second position, I am happy for this but normally I am always try to win – this race it was impossible but I tried everything. Also I tried to attack Alvaro for the lead and anyway, we know, everybody know in the last laps he is more strong. This track is very fast, I am not close enough to try a hard braking pass – it was not easy. Second position is not bad, better than nothing! Also I am not coming back home without podiums, so this is a good positive! We will see in the next race. I am very happy for my teammate Locatelli as well, I hope we can finish more races on the podium together."
Andrea Locatelli – Superpole Race: P5 / Race 2: P3
"I am really happy about Race 2, because to think about going home after Assen without a podium was a bit sad! So I am really proud about the job we did here because we started in difficult conditions and we never really found good grip with the rear and it compromised the first laps a little bit until I could do my rhythm. We need to understand a bit more but we have another podium and a lot of good points for the championship, a really good result and no mistakes. We need to continue to work and see what is possible for the future races. I want to say thanks to the guys for this weekend, we can enjoy this moment."
Paul Denning – Team Principal, Pata Yamaha Prometeon WorldSBK
"Another good day 'at the office'! Friday was tough, we improved yesterday and took another step forward with both riders today. So first of all, I have to say thank you to the efforts of Yamaha and the team for reacting so well and giving the guys competitive packages today. We can't really argue with the outright pace of Bautista and his package at this moment, so to score a double podium in Race 2, retain second and third positions in the championship – and, more importantly for Yamaha, to finish second, third, fourth and sixth in the last race, shows that the R1 still has plenty of life in it yet! We'll move on to Barcelona – another challenging track for us – and try to maximise our performance there."
More, from a press release issued by Team Go Eleven:
SO CLOSE TO THE TOP TEN IN RACE 2, BUT TOO MUCH GAP IN THE FIRST LAPS!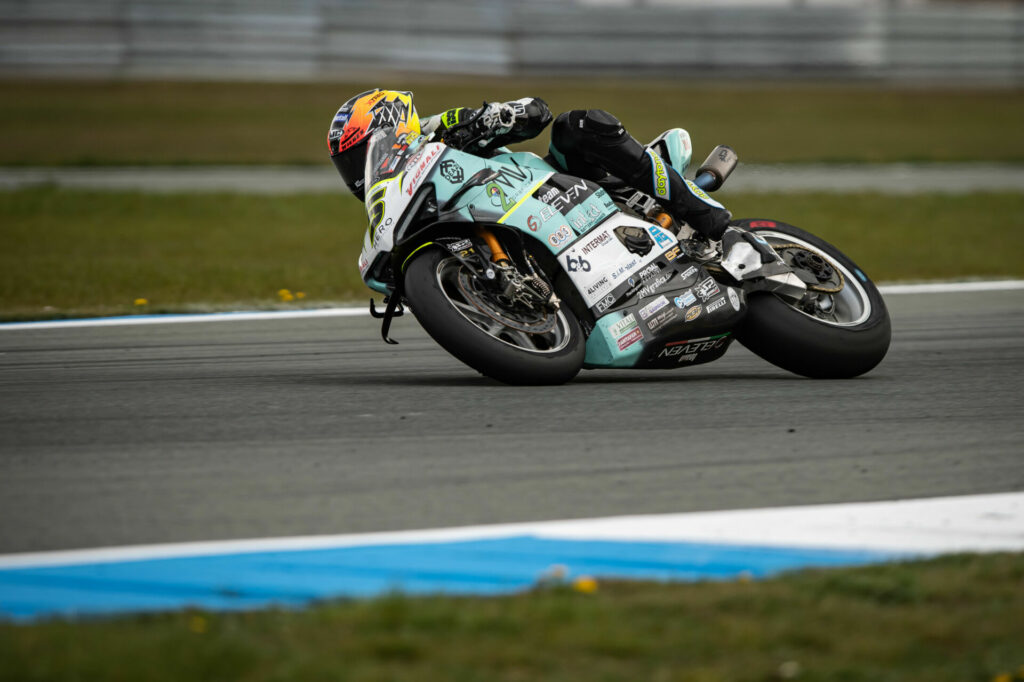 The team's work yesterday evening allowed Philipp to be able to fight in today's two races, but the staory was similar to yesterday's; a lot of time lost in the first laps, where the main difficulty is finding space for overtaking, then from the middle of the race onwards a pace in line with the Top 8. This is the aspect to work on, which conditions the races in our start of the season!
The morning got off to a good start for the Go Eleven rider, in the Warm Up he was able to get down to a low 35, a time in line with the pace of Race 1. Ninth position and a good feeling especially at the front.
Warm Up: 
P 1   J. Rea   1.34.747
P 2   A. Bautista   + 0.092
P 3   T. Razgatlioglu  + 0.275
…
P 9   P. Oettl    + 0.594
The Superpole Race here in Assen was held over a shortened distance of 8 laps, due to oil on the track in the Warm Up Lap. Even more difficult to recover for Philipp, starting from fourteenth place. The first lap, which was decisive in these sprint races, was rather complicated, then lap after lap he improved and came back a few positions, fighting above all with Petrucci, finishing in front of him at the chequered flag. No points taken, but the awareness of being able to think about the Top Ten in Race 2.
Superpole Race: 
P 1   A. Bautista    12'37.045
P 2   J. Rea   + 0.916
P 3   T. Razgatlioglu    + 1.757
…
P 14   P. Oettl   + 12.037
At the start of Race 2 Philipp managed to get off to a good start, defending his position, then suffering a couple of attacks in the first and second sectors. Unfortunately, the race was "lost" in the first six laps, when he was in the fight with slower riders, the group in front, battling for the Top Ten, took a clear advantage. In the second half of the race he was faster than Rinaldi, Redding and Lowes, closing the gap by almost half a second per lap, managing to slip behind the Ducati rider. Eleventh position conquered, a step forward compared to yesterday, but there is still a lot to work on.
Race 2: 
P 1   A. Bautista   33'14.560
P 2   T. Razgatlioglu   + 3.915
P 3   A. Locatelli   + 7.416
…
P 11   P. Oettl   + 21.645
This Round, held on a particular track like the TT-Circuit, highlighted the major problems affecting the results of the Italian team in this part of the season; all the riders are really close, just a few thousandths away, and a start from the rear, combined with a difficulty in dealing with overtaking relegates to a comeback race. A comeback that becomes difficult when all the riders lap with two, maximum three tenths of a difference. 21 seconds taken in Race 2 is not a lot, but 12 of which in the first seven laps highlight the area you need to focus on.
Now the WorldSBK circus moves to Barcelona, where last year Philipp finished in the top ten, a track where Ducati should perform very well. However, each year is unique, so Team Go Eleven will have to work and find the right set-up!
Philipp Oettl (Rider):
"Today we made a step in the right direction, starting from the Warm Up. The start and the first laps are our biggest problem at the moment, we don't miss a lot to fight in the group, but we missed just two/three tenths to have a really good race. This weekend we choice the right tyre, I was quite confident with the front. I struggled to overtake, especially the BMWs, i lost a lot of seconds there with Baz. We are fast, but we know where to improve. Physically i feel really good, I had zero problem through the weekend, even if I came from Le Mans 24 hour. I will keep working in the same way and we will have better days in the future!"
Denis Sacchetti (Team Manager): 
"Today we took a step forward but we lost too much time in the early stages of the race. It was difficult for Philipp to overtake Baz and with him we lost contact with the group that was fighting for sixth position. Everyone is riding very close here, the difference of performance among the riders is minimal, and nothing is enough to move from fifth to fifteenth, while still remaining "fast". We have to take care of every detail and improve in the first half of the race. We are competitive even if we haven't achieved the result that we want and this is what leaves a bitter taste in our mouth, it's like smelling good food but not being able to eat it… it makes us want even more! Now we can only focus on ourselves and improve to be back to the top positions!"