Bautista makes it four in a row with his first win in Mandalika
The 2022 World Champion won Race 1 in front of Yamaha duo Razgatlioglu and Locatelli, Rea ninth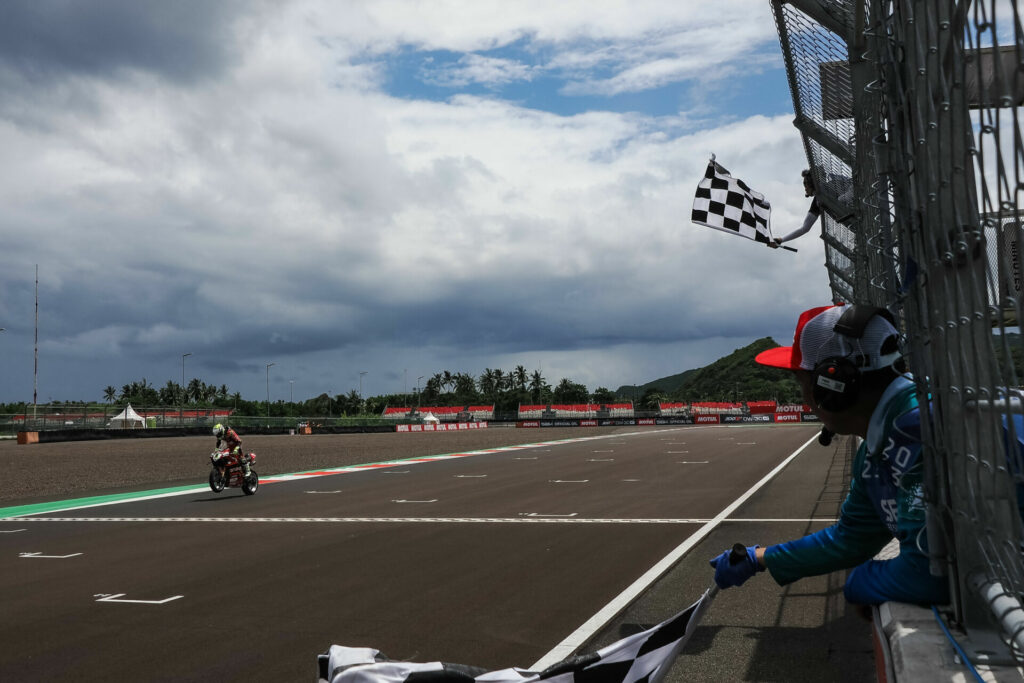 Alvaro Bautista took his fourth win of 2023 after his Phillip Island hat-trick, finishing 4.809s ahead of Razgatlioglu. He now has a 37 point-advantage in the Championship standings.
P1 | | Alvaro Bautista | Aruba.it Racing Team
"The race wasn't easy because we had to compromise the performance and the management of the tyre life as we had many issues during practices. I was able to make a good start and recover some positions. I was behind Toprak in the first few laps trying to not overstress the front tyre. Then, I saw we were a big group, and I thought the pace could be a bit faster to reduce the number of riders in the group. I tried to pass Toprak and put my pace. I got a good feeling with bike, and I enjoyed the race. I'm happy because last year I struggled a lot here and this year we are so competitive. We made big improvements."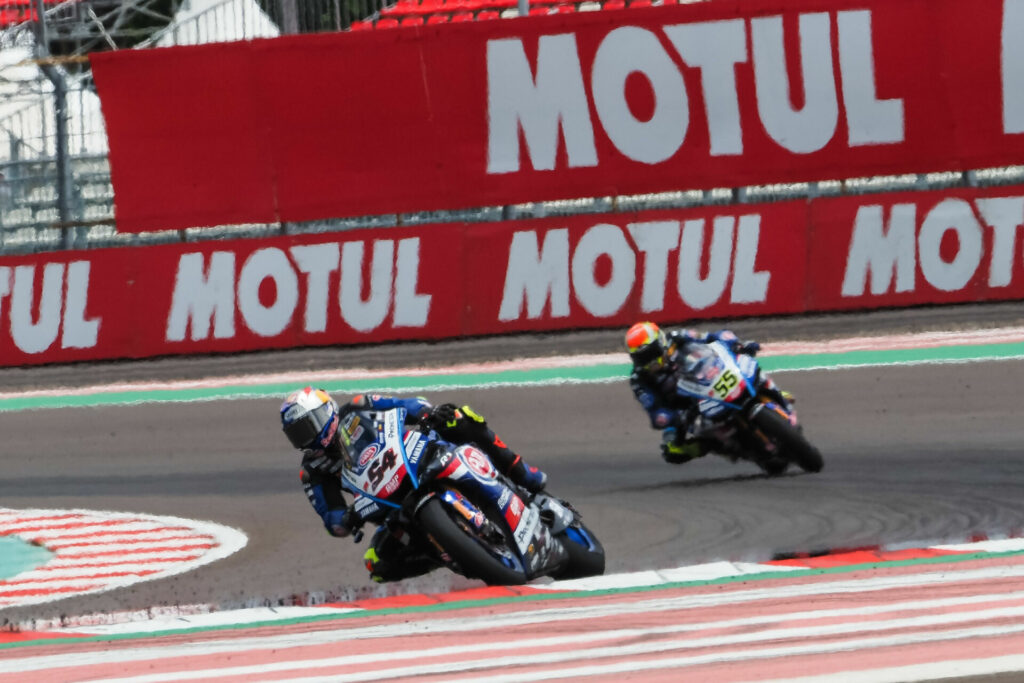 Polesitter Toprak Razgatlioglu took second place in Race 1 at Mandalika.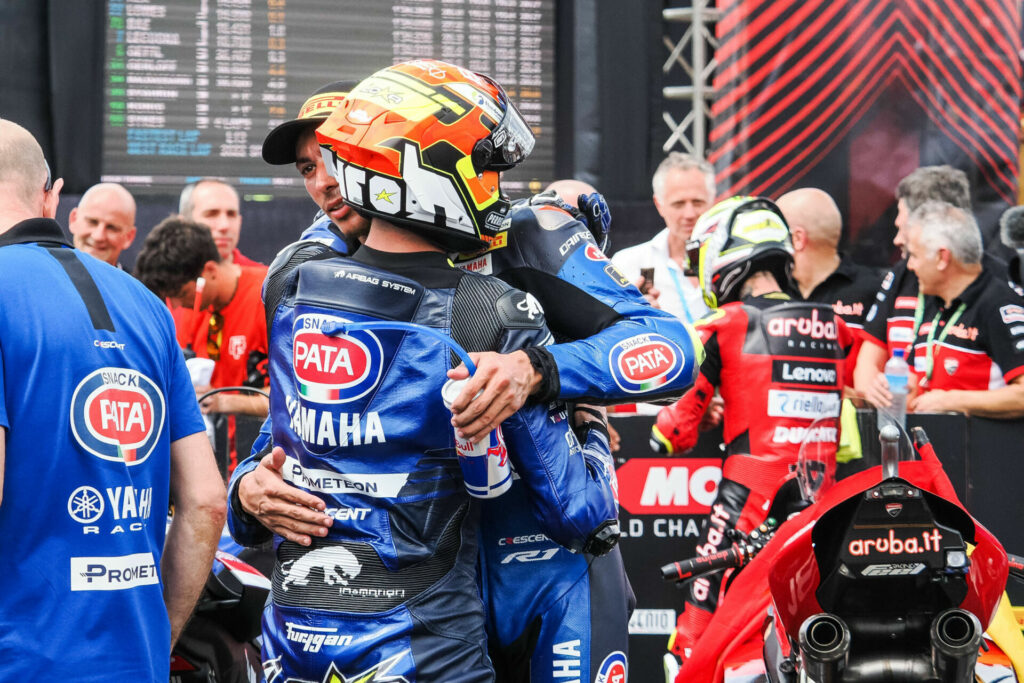 Locatelli completed the top three with his eighth Superbike podium.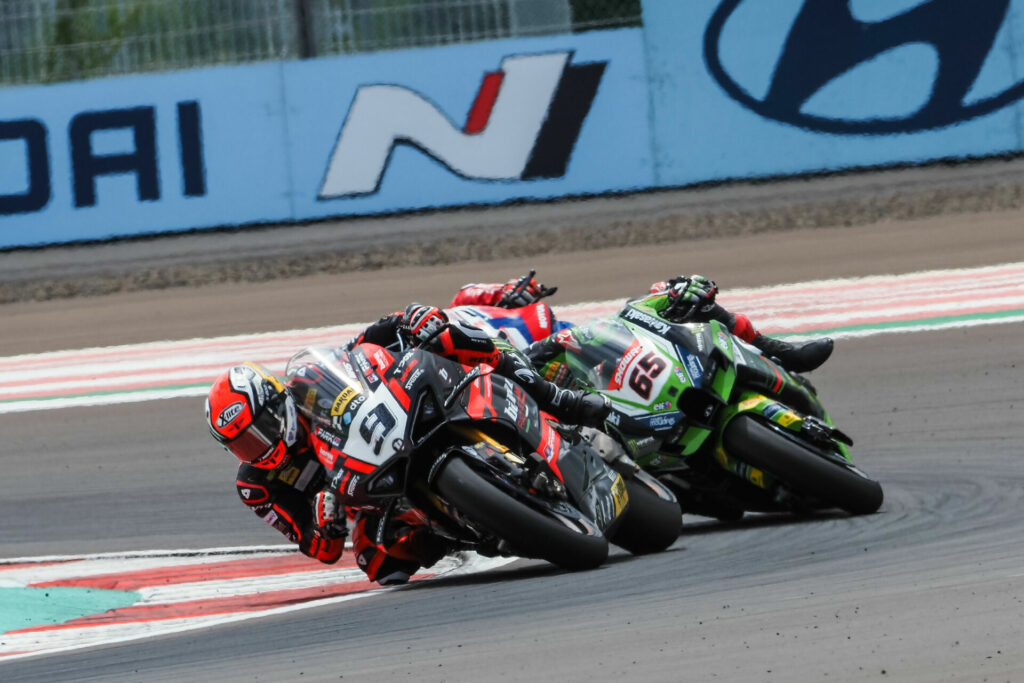 Rookie Danilo Petrucci took his best WorldSBK result with fifth place.
P5 | | Danilo Petrucci | Barni Spark Racing Team
"I didn't expect to be so strong in the race. Friday was a tough day; it is such a difficult track with just one line. You pay quite a lot for a small mistake. This morning, we made some adjustments, and everything was in the right direction. I had a good start. I was quite scared about the tyre wear, so I was a bit too conservative at the beginning and I had too many people pass me. In the end, I found my rhythm. I had a good battle with Jonny, and it was a pleasure and a pride for me to fight with a I don't know how many times World Champion… too many times World Champion! I tried to follow Bassani, but I had too few laps and I was suffering a lot in the heat."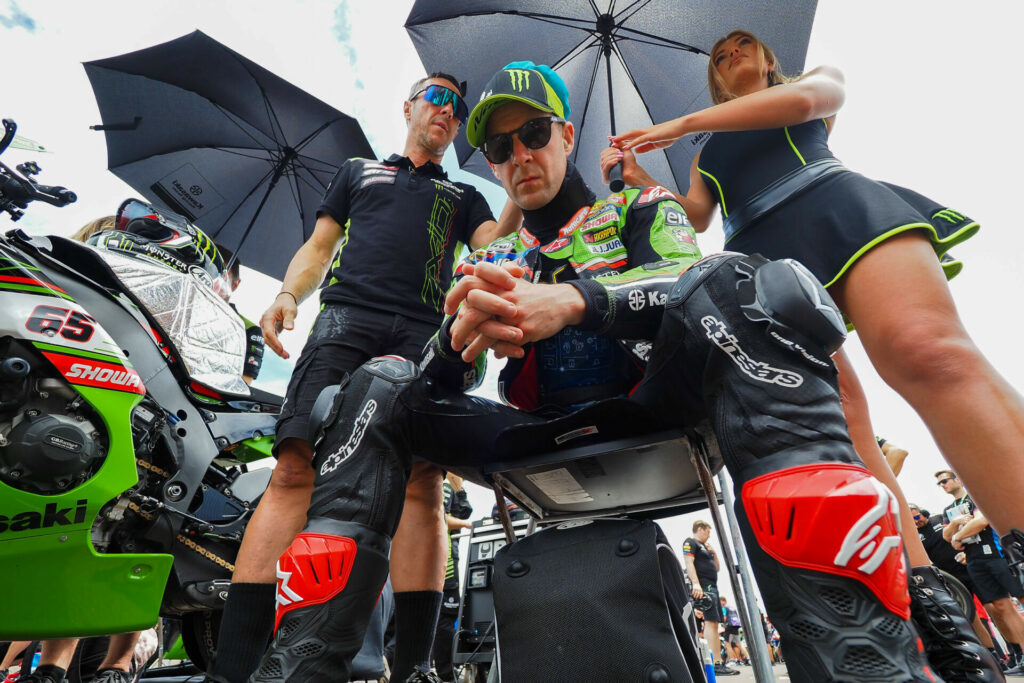 Kawasaki's Jonathan Rea struggled in Race 1 to take ninth place, finishing 14.454s off the race winner.
WorldSBK Race 1 Report
Race 1 in the MOTUL FIM Superbike World Championship during the Motul Indonesian Round was a dramatic affair at the Pertamina Mandalika International Street Circuit as Alvaro Bautista (Aruba.it Racing – Ducati) made it four wins in a row in the 2023 season after a fighting victory in Indonesia. Bautista went head-to-head with Toprak Razgatlioglu (Pata Yamaha Prometeon WorldSBK) in the early stages of the race at a circuit where Razgatlioglu has been so successful at since it joined the calendar in 2021.
Bautista was initially behind Toprak Razgatlioglu in the opening five laps of the race as the pair led the first group. The reigning Champion applied pressure to Razgatlioglu in the early stages but did make his move until Lap 5 as he caught Razgatlioglu by surprise through Turn 15 to move into the lead of the race.
Bautista's fourth win in the 2023 season means he is now on a winning run of six races that stretches back to Phillip Island in 2022, while he also claimed his and Ducati's first victory at Mandalika. Ducati are also edging closer to a milestone win as the Italian manufacturer now have 396 wins in WorldSBK.
Razgatlioglu was able to pull away from Bassani to claim second place behind Bautista. Razgatlioglu took his 85th podium. Andrea Locatelli (Pata Yamaha Prometeon WorldSBK) was able to make the move on Axel Bassani (Motocorsa Racing) on Lap 11 at Turn 10 to move into third place for his second podium of the 2023 season. Locatelli's third place means he remains second in the Championship standings behind Bautista.
With Bassani dropping back from the podium fight, he ended up battling with Alex Lowes (Kawasaki Racing Team WorldSBK) for fourth spot with the pair exchanging positions on several occasions. Lowes passed Bassani at Turn 12 on Lap 12 before Bassani responded at Turn 16 to re-gain fourth place and, after that, Lowes found himself dropping down the order. He was overtaken by Danilo Petrucci (Barni Spark Racing Team) around halfway through the race with the rookie taking his best WorldSBK finish to date with fifth. Michael van der Mark (ROKiT BMW Motorrad WorldSBK Team) charged through the field in the closing stages of the race to take sixth spot in Race 1, including some incredible fights with his rivals.
Michael Ruben Rinaldi (Aruba.it Racing – Ducati) was the first retirement of the race after he was involved in a Turn 1 crash on the opening lap, after a collision with Bassani. Rinaldi retired from the race but Bassani was able to continue. Rinaldi went to the medical centre for a check-up following the crash. He will be reassessed ahead of Warm Up on Sunday morning after being diagnosed with a minimal head injury but no signs of concussion have been detected currently.
WorldSBK action resumes on Sunday from 8:30 (Local Time) with the Warm-Up, followed by Tissot Superpole Race at 10:30 and Race 2 at 13:30.
Read the full report from Race 1 on worldsbk.com
WorldSBK Race 1 Results 
1. Alvaro Bautista (Aruba.it Racing – Ducati)
2. Toprak Razgatlioglu (Pata Yamaha Prometeon WorldSBK) +4.809s
3. Andrea Locatelli (Pata Yamaha Prometeon WorldSBK) +6.586s
4. Axel Bassani (Motocorsa Racing) +8.871s
5. Danilo Petrucci (Barni Spark Racing Team) +11.667s
6. Michael van der Mark (ROKiT BMW Motorrad WorldSBK Team) +12.685s
WorldSBK Championship standings
1. Alvaro Bautista (Aruba.it Racing – Ducati) 87 points
2. Andrea Locatelli (Pata Yamaha Prometeon WorldSBK) 50 points
3. Toprak Razgatlioglu (Pata Yamaha Prometeon WorldSBK) 43 points
WorldSBK Tissot Superpole Results 
1. Toprak Razgatlioglu / Yamaha / 1'32.037s
2. Andrea Locatelli / Yamaha / +0.069s
3. Alvaro Bautista / Ducati / +0.165s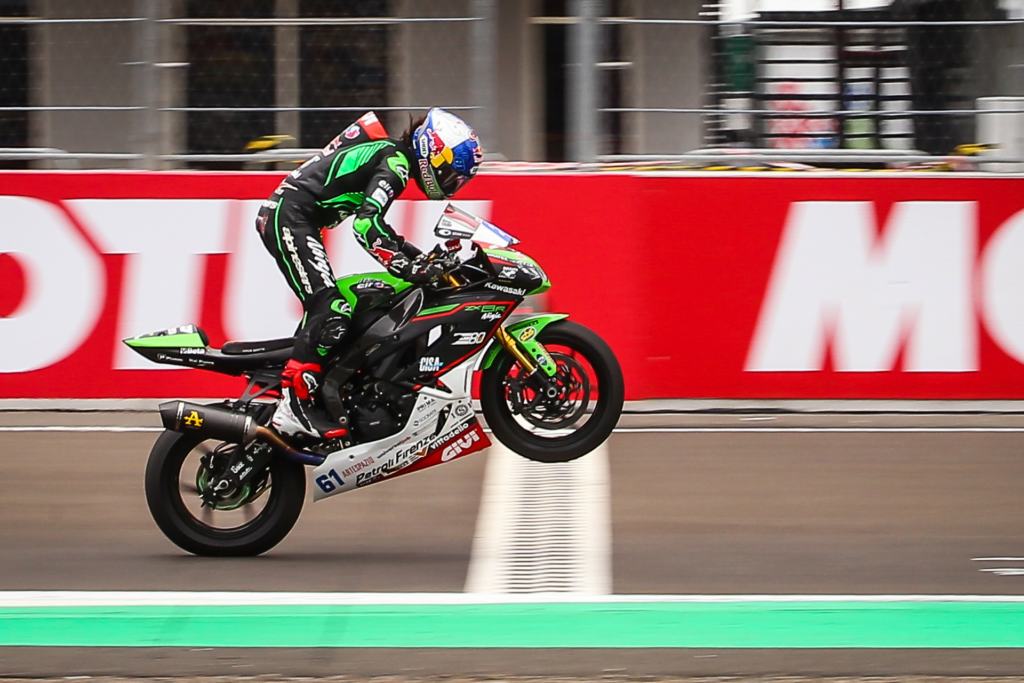 Oncu secures maiden WorldSSP win in Indonesia
Starting from the front row, Can Oncu claimed a dominant first Supersport victory by more than three seconds in Race 1 at Mandalika.
P1 | Can Oncu| Kawasaki Puccetti Racing
"I'm so happy. Phillip Island was very difficult. We came here and yesterday we didn't have a good pace and we said 'let's just go for it', and today we did it. It's incredible. I want to thanks Kenan, he called me yesterday and told me 'Can, you have to do it!'. I finally have my first win with Kawasaki, I'm so happy. To be honest, in the first lap I managed a one second gap. I just wanted to try to stay constant and do make mistake. I wasn't on the limit, I was under my pace, because I didn't want to finish the tyre as I always do. I was so comfortable with my bike. My dream was to win a race and I achieve it today. I'm even more motivated. We have to keep working hard and try to get more good results."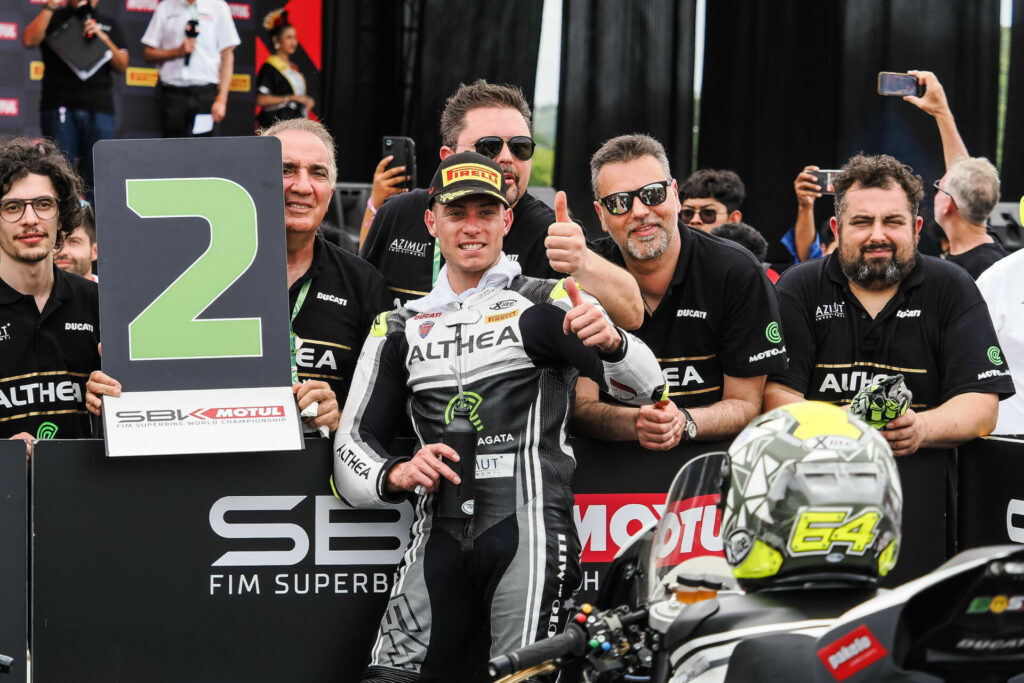 Federico Caricasulo took second place in Race 1 finishing 3.305s behind Oncu.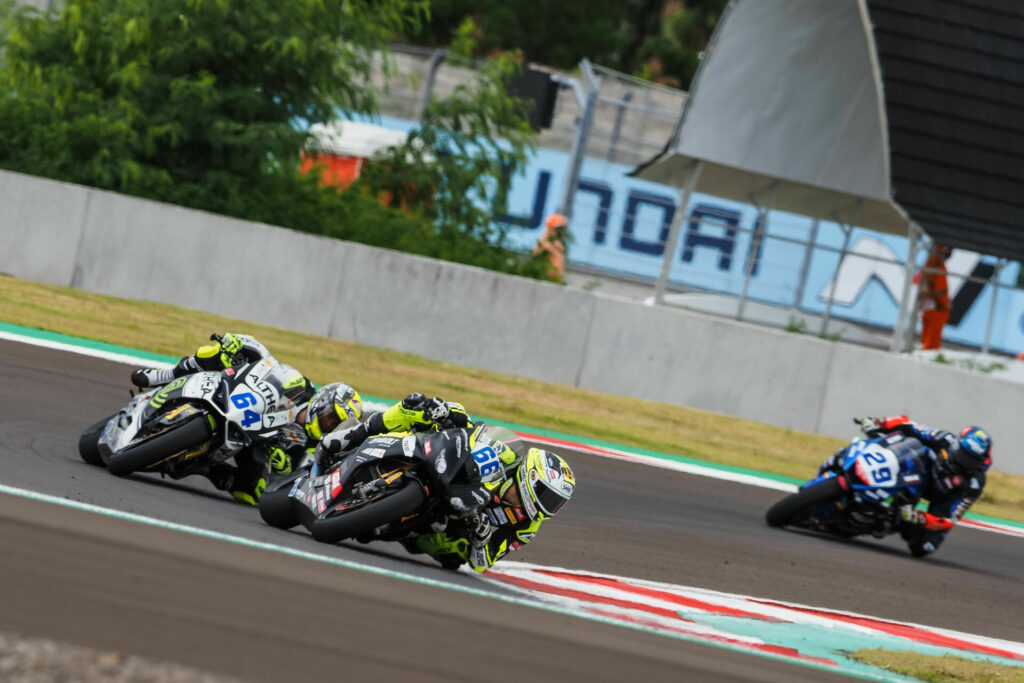 Niki Tuuli completed Race 1 top three, clinching his first podium with Triumph.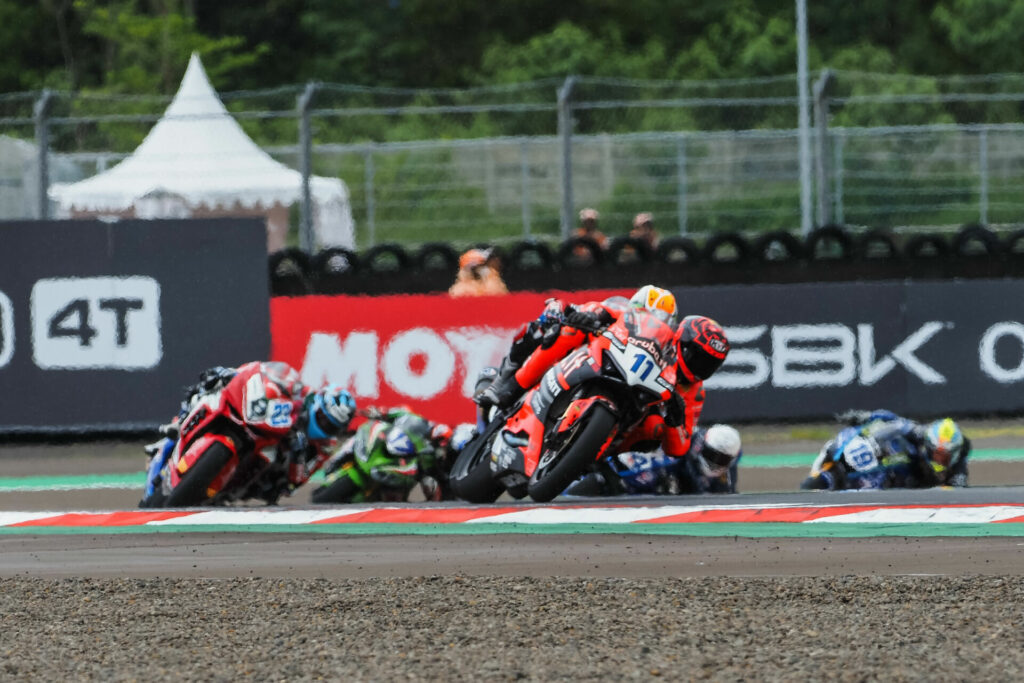 Nicolo Bulega couldn't turn his first pole position into a podium finish as he concluded Race 1 in fifth place.
WorldSSP Race 1 Report
It was a dramatic Race 1 in the FIM Supersport World Championship at Mandalika as Can Oncu (Kawasaki Puccetti Racing) blasted off from the start to claim his first WorldSSP win during the Motul Indonesian Round. Oncu started from the front row and, with drops of rain falling at the start of the race, moved clear to win by more than three seconds for his first win at the 65th time of asking. Rain started falling before the start of the race, but all riders opted to stay with slick tyres, with the rain not getting harder during the 18-lap race.
At the start of the race, Oncu took the lead on the opening lap after starting from third place and from there he did not look back. The Turkish star, now in his fourth WorldSSP campaign, was able to use a combination of his pace and his rivals battling behind him to take victory by more than three seconds for his first WorldSSP win.
The battle behind Oncu was an incredible fight between Federico Caricasulo (Althea Racing Team) and Niki Tuuli (Dynavolt Triumph) with the pair consistently changing positions. Caricasulo was able to resist Tuuli's pressure throughout the closing stages of the race before pulling a gap over the Finnish rider to take his 28th WorldSSP podium, while Tuuli took his tenth podium in the Championship, his first one with Triumph.
The battle for fourth was just as fierce as the battle for second between Raffaele De Rose (Orelac Racing VerdNatura), Marcel Schroetter (MV Agusta Reparto Corse) and Glenn van Straalen (EAB Racing Team) as three manufacturers battled hard. The battle ended when Nicolo Bulega (Aruba.it Racing WorldSSP Team), who closed the gap as the riders in front battled hard, collided with van Straalen at Turn 16 with the Dutchman going down before re-joining. It meant Schroetter took fourth spot at the end of the race ahead of Bulega in fifth, while De Rosa had been running in fifth before a puncture dropped him down the order before he retired from the race.
Read the full report from Race 1 on worldsbk.com
More, from a press release issued by Pirelli:
Bautista gambles on the softest Pirelli tyres to win Race 1
With an unconventional decision, the Spaniard chooses the SCX development tyre in B800 specification for the rear and the SC1 at the front; WorldSSP Race 1 goes to Oncu
Yet another victory, his fourth in a row after the three taken in Australia, for Álvaro Bautista (Aruba.It Racing – Ducati) in the second round of the FIM World Superbike Championship which is being held this weekend in Indonesia at the Mandalika circuit, on the island of Lombok. Unlike most of the riders, including pole man Toprak Razgatlioglu (Pata Yamaha Prometeon WorldSBK), who decided to use the standard SC0 rear and SC2 front solutions, a bit protected in terms of wear, the reigning World Champion, as well as his teammate, Michael Ruben Rinaldi, made the unconventional decision of gambling on the super soft SCX-A development tyre (B800 specification) at the rear and the standard medium SC1 at the front. This combination proved to be a winning choice thanks both to rather high asphalt temperatures that favoured the performance of the softest solutions, and to the Spaniard's careful tyre management. On the other hand, with lower temperatures such as those for WorldSSP Race 1, won by Can Oncu on Kawasaki, the SC2 front and SC0 rear solutions were almost a unanimous choice.
GIORGIO BARBIER
"This circuit is not technical, but it does have some peculiar characteristics and the asphalt temperature can have quite an influence on tyre choice and performance. Yesterday in FP1, the track wasn't very rubberised and it was a bit damp, so when the riders left the ideal lines, they risked sliding around. In FP2, with the evolution of the track and higher temperatures, the tyres began to perform extremely well. Today in FP3, we were back to the same conditions as yesterday morning. The riders had poor grip and the tyres showed small signs of wear. This effect is probably due to the humidity that accumulates overnight and leaves the asphalt slightly damp, so the track is colder and slippery. The Superbike Superpole session was highly influenced by the strong winds, so the riders, even using the SCQ, were unable to push as they would have liked. In Supersport Race 1, a few drops of rain at the start made the track more slippery. Then, like in FP2, with hotter asphalt temperatures, the soft solutions were back to performing extremely well. At that point, with asphalt temperatures around 50°C, the super soft SCX development solution became more competitive than the soft SC0, at least in the first and middle part of the race, allowing Bautista to take the lead and then manage the tyres impeccably all the way to the chequered flag. So, congratulations to him and to Ducati, as well as to Can Oncu for his first win in WorldSSP".
With a time of 1'32.037, Toprak Razgatlioglu (Pata Yamaha Prometeon WorldSBK) took pole position in Superpole ahead of teammate Andrea Locatelli and championship leader Álvaro Bautista (Aruba.It Racing – Ducati). The session, where the riders used SCQ rear tyres and SC1 front tyres, was highly influenced by the strong gusts of wind which kept the riders from pushing to the limit.
In Race 1, tyre choice was a crucial part of race strategy. Most of the riders decided to use the standard SC0 rear and SC2 front solutions, whereas a minority, including race winner Álvaro Bautista (Aruba.It Racing – Ducati) and teammate Michael Ruben Rinaldi, opted for softer solutions both at the front and at the rear, relying respectively on the SC1 and the SCX-A (super soft development tyre in B800 specification). In addition to the two Ducati riders, the same decision was also taken for the rear by the Honda factory riders, Vierge and Lecuona, as well as Gerloff on his BMW.
The softest solutions, in particular the SCX-A rear, combined with outstanding tyre management, proved to be the winning solution because they ensured a good advantage with respect to the SC0 for a good part of the race, then dropping in performance gradually toward the end.
In Superpole, Nicolò Bulega (Aruba Racing WorldSSP Team) took pole position with a time of 1'35.520. Behind him was another Italian rider, also on Ducati, Federico Caricasulo (Althea Racing Team). Third place went to Can Oncu (Kawasaki Puccetti Racing). With air temperatures of 30°C and asphalt temps of 44°C, all the riders mounted the SCX compound on the rear, the softest available to them, whereas at the front, choices varied: the pole man used the SC1, while Caricasulo and Oncu preferred the SC2.
Just before Race 1, a few drops of rain began to fall on the starting straight. However, all the riders on the track still started with slicks. The majority put on the standard soft SC0 at the rear and the standard hard SC2 at the front, although a few riders in the rear guard attempted to draw an advantage mounting the SCX rear.
After starting from the third spot on the grid, Turkish rider Can Oncu (Kawasaki Puccetti Racing) moved into the lead on the first lap of Race 1, maintaining the position all the way to the chequered flag. Behind him on the podium were, Federico Caricasulo and, in third place, Niki Tuuli (Dynavolt Triumph). Pole man Nicolò Bulega finished fifth with his Ducati.
More, from a press release issued by Team HRC Honda:
Vierge a hard fought seventh in race 1 at Mandalika, Lecuona feels like himself again
Team HRC scored solid results in the first race of the Indonesian WorldSBK weekend at the Mandalika International Street Circuit today, with rider Xavi Vierge battling strong rivals to finish seventh, while Iker Lecuona battled back from a difficult start to the weekend to close twelfth.
After the final free practice in which both riders continued to prepare for the races, the team benefitted from dry conditions for the crucial Superpole qualifying phase. Vierge and Lecuona first set a 1'33.177 and a 1'33.943 respectively on race rubber before returning to the pits to put in a qualifier. Xavi was able to improve marginally on his fresh tyre, setting a 1'33.094 which put him thirteenth at the session's end. Iker's time on this new tyre was one second quicker than his previous reference, and would have granted him eleventh position, but it was unfortunately deleted, meaning that he actually finished sixteenth thanks to his initial lap time.
The first of the weekend's three races got underway at 1.30pm local time (CET+7) and ran over a distance of 21 laps. Vierge made a very strong start and was up into seventh by the end of lap one. Settling into a consistent rhythm, Xavi lay eighth for a good part of the race before battling with Rea for seventh in the second half. Once past the Kawasaki rider, he was also able to move in on Lowes, passing him too on lap seventeen. Vierge ultimately lost one position in the final laps but did well to cross the line a valuable seventh.
Lecuona maintained his starting position through the early stages but was able to gain confidence and speed, lap by lap, once the race got going. Up into twelfth by the mid-race point, the Team HRC rider demonstrated a very strong pace throughout the race, running with lap times very similar to those of his team-mate and the group of riders battling for the top five, but was ultimately conditioned by his grid position. Twelfth across the line, and with renewed confidence, Lecuona will be looking for more in tomorrow's races.
Xavi Vierge  97
P7
"Even more than usual I want to say a big thanks to the team because after a difficult Australian round they came up with the perfect plan to bring my confidence back. We knew that our race pace was quite strong here but unfortunately, I again struggled to exploit the qualifying session. I made some mistakes that caused me to lose two or three tenths which set me back on the grid considering how close everyone's times were. And it makes a big difference whether you start on the first three rows or further back. Having said that, my start was very good and I soon made up a few positions. I was able to stick with the front guys, part of a group of very strong and competitive riders. I did my best to manage the tyres until the end but the battle was tough and I lost a little ground through the middle of the race and one position on the very last lap but, all in all, it was a good race and now we will try to make some small refinements to the setup in order to try and be just a little faster tomorrow. But again, thank you so much to the team for the support they give me each time."
Iker Lecuona  7
P12
"I'm so happy after the first race here in Mandalika because I now feel like "Iker" again on the bike. I was able to ride again, maybe not like in Australia because I'm still missing something, but I began to regain my confidence lap by lap, and also during the race. We had a bit of back luck in qualifying because I could have finished around P10 but I didn't see a yellow flag and so had my lap time cancelled. We placed P16 in the end, which made a big difference, also because my start was not good and I found myself in almost last position through turn one. I soon recovered though and felt very good throughout the race. My pace was unbelievable and I set my fastest lap time on lap 15, which meant I could lap in the mid '33s right to the end. I made up a lot of ground with respect to the group up ahead, made up of Xavi and some other strong guys. So I don't think P12 reflects our true level here, but we must focus on the positives which make us very happy. Our pace was great and I was able to ride in a relaxed way and enjoy the racing."
More, from a press release issued by PETRONAS MIE Honda Racing Team:
WorldSBK – A complicated Saturday for PETRONAS MIE Racing Honda Team at Mandalika
Competing at the Mandalika International Street Circuit in Indonesia this weekend, the PETRONAS MIE Racing Honda Team has concluded the first of the Superbike races in sixteenth position, with rider Hafizh Syahrin. Eric Granado was unfortunately unable to take part due to illness.
During the morning's Superpole, both Syahrin and Granado did their best but were not able to improve on their initial times after mounting fresh tyres in the final stages. A 1'34.678 for Syahrin saw him close nineteenth, while a best of 1'34.940 meant that Granado qualified twentieth for the first races of the weekend. Having struggled with gastroenteritis earlier in the day, Granado was subsequently deemed unfit to continue and therefore did not take part in the afternoon's race.
The first of the weekend's 21-lap Superbike races ran according to schedule and in dry conditions. From row seven of the grid, Syahrin held his position for the first half of the race before gaining one place. The race proved to be something of a solitary affair for the Malaysian, who soon found himself several seconds removed from the riders immediately ahead and behind, which prevented him from making any further progress. Syahrin thus crossed the line in sixteenth position in today's Race 1, just missing out on the points zone.
Hafizh Syahrin P16
"A tough race today. It was very hard to keep pace with those immediately ahead of me. I was struggling to find speed out of the corners, as the rear doesn't seem to offer enough traction. I tried different things to try and remedy this throughout the race but unfortunately nothing really helped. So we need to understand why this is, take a look at the data, and make a change ahead of tomorrow's races. I trust that, by working together, we will be able to improve."
Eric Granado DNS
"I haven't felt well since Wednesday to be honest, but I was able to do in free practice on Friday. But this morning I woke up very weak again. I tried to take part in FP3 and Superpole, and even improved somewhat in that qualifying session, but I felt like I had no strength and so went to the medical centre. In the end, the doctors decided I should sit out today's race and see how I feel tomorrow. I think it was the right decision considering how long the race is and how hot is it here. I want to apologise to the team and to Honda though because everyone worked so hard to provide me with a competitive bike. I hope to feel better tomorrow so that I can get back on track for the day's races."
More, from a press release issued by GYTR GRT Yamaha WorldSBK Team:
STRONG COMEBACK IN MANDALIKA FOR AEGERTER ON HIS 300TH CAREER START
GYTR GRT Yamaha WorldSBK Team's Dominique Aegerter secured a solid eighth-place finish with a fantastic push at the end of race one in Indonesia, while Remy Gardner was unfortunately sidelined for the day due to acute gastroenteritis. The Aussie was well-taken care of by the medical staff, and a further evaluation of his condition will be done on Sunday morning.
The Swiss rider kicked off the day with the last session of Free Practice, where he showed good potential ahead of the Tissot Superpole. At the end of the session, Aegerter was fifth fastest with a time of 1'33.419.
Then, the #77 was ready to attack the qualifying session, looking for a good start position in what was sure to be an intense race. Unfortunately, despite showing promising pace, Domi couldn't manage more than 12th (1'33.035), which meant a fourth-row start.
The Mandalika grid presented Aegerter with a prestigious milestone; his 300th career start, which was marked by the team with a special pit board. When it was time to race, the GYTR GRT Yamaha rider enjoyed a decent getaway at the lights but was forced to go wide due to a crash just in front of him.
Aegerter rejoined in 18th, but he wasn't prepared to settle for that. Instead, Domi showed incredible speed and made his way through the field, eventually getting into contention for the top six in the latter stages of the race. Finally, on the last lap, he pulled off a great double move to overtake the Kawasaki's of Rea and Lowes and secure an impressive eighth place.
Dominique Aegerter
SP: P12 / Race 1: P8
"I was unfortunately forced to go wide at the start as another rider crashed in front of me. Anyway, I tried my best to recover, and the rhythm was good; I was satisfied with the race pace. Like I said, unluckily, I lost a lot of time at the beginning, but we'll take the positives and look forward to the next races. It would be great to have a strong Superpole race to have a better starting position in race two; let's see if we can do it. I'd like to thank the team for the job they've done and the Indonesian fans for the massive support they gave me."
More, from a press release issued by Kawasaki:
Tough First Raceday At Mandalika
Jonathan Rea and Alex Lowes finished the first 22-lap WorldSBK race at a hot and humid Mandalika circuit in Indonesia in ninth and tenth places respectively.
Rea had to start Race One from the third row of the grid, despite having qualified on row two, in fifth place, after he was adjudged to have impeded another rider's progress during Superpole. Jonathan accepted the ruling without complaint, and ended up eighth on the first race grid as a result.
Alex was also starting off the third row, and both riders had to take avoiding action of some kind in the aftermath of a first corner crash under braking from Michael Ruben Rinaldi.
It was a tough race from the beginning, especially as Jonathan – alongside several members of the paddock – was suffering from some form of intestinal complaint.
Rea moved up to fifth place by lap five, and stayed there until lap ten. Losing front tyre grip, Rea could not use the greatest of his machine's capabilities for the whole race and he slipped back to finish ninth.
Alex had been as high as fifth after he passed his team-mate on lap ten, but he also had to drop back as front tyre wear played its unwanted part.
Lowes and Rea were involved in a last lap fight for points with each other in the end. Jonathan finished just 0.136 seconds ahead of Alex at the culmination of 22 high intensity laps, trying to stick to a narrow racing line, which had been particularly slippery in the morning's cooler and humid FP3 session.
The second and final Mandalika raceday on Sunday 5 March will feature the always exciting ten-lap Superpole Race and then a 22-lap Race Two.
Jonathan Rea, stated: "It was a difficult day. In Superpole I got lap cancelled because of a yellow flag and then a penalty for being in the way of Philipp Öttl. Big apology for that and no excuses really. In the race, I got involved in that melee in Turn One with Rinaldi, and lost some track positions. I got back to Andrea Locatelli and I thought that would be where I would race, with Locatelli and Toprak Razgatlioglu. Most of the sectors were OK, except for the fast succession of early right hand corners. I lost all my front confidence going through there. At angle, on the gas, the front was moving and sliding as I committed to T7. I had no front stability to turn there, then to change direction to get a good exit from T8. After that it was just a fight for positions. Not great for us today, but that was my race."
Alex Lowes, stated: "Superpole was tough, as the wind got up in that session and caught me out a bit. Then I had a yellow flag when I had fitted a fresh tyre. So I set my best lap when the tyre was not quite at its best anymore. A couple of tenths can make a big difference around here so I ended up on the third row of the grid. In the race, I didn't feel too bad for the first 12-13 laps. Then I had massive problems with front grip, and couldn't stop the bike the way I wanted, to enter the corners. I was struggling to lean the bike. Other guys looked like they had a lot better package than me. And the worst thing about this track is that when people get past, they nudge you off the racing line, and you lose a second instead of two tenths to half a second. So that pushed me back and back. In general, we need to work on the second part of the race."
Tom Sykes (Kawasaki Puccetti Racing) finished the opening race in 18th place, and four laps down on the leaders. Still suffering from gastroenteritis, as he has done since Thursday, Sykes toughed it out to ride in sweltering conditions. He came into the pits in the middle of the race to make set-up adjustments and then rejoined to evaluate his bike set-up and gather more data.
Oliver König (Orelac Racing Movisio Kawasaki) was 17th in the opening race.
More, from a press release issued Aruba.it Racing Ducati:
Bautista dominates with perfect Race 1 in Indonesia. Rinaldi crashes at first corner. Bulega (WorldSSP) gets a bad start from pole but scores a P5 finish
Alvaro Bautista conquers his fourth consecutive victory in the 2023 WorldSBK season. Michael Rinaldi starts with high ambitions but he crashes at the first corner.
These are the high lights of Race-1 for the Aruba.it Racing – Ducati team at the Mandalika circuit (Lombok Island, Indonesia)
Starting from third position, Bautista clings on to Ragzatlioglu (Yamaha), lapping with an extremely incisive pace. On lap six the Spaniard takes the lead of the race and then he passes under the chequered flag five seconds ahead of Toprak.
After a very good Friday and a positive qualifying (P4), Rinaldi gets off to a good start but at the first corner, he is unable to control the bike and crashes, hitting his head. Medical checks ruled out complications and Rinaldi will be back on track tomorrow.
P1 – Alvaro Bautista (Aruba.it Racing – Ducati #1)
"It was not as easy as it may have seemed. With such high temperatures, it was very important to manage the tires in the best possible way, lap after lap. In the first part of the race I was behind Toprak trying not to stress the front tire too much. Then I realized I had the potential to overtake him and also to break away from the chasing group, which was large.  I am happy because last year we struggled a lot at this circuit. This means we have made an important step".
DNF – Michael Rinaldi (Aruba.it Racing – Ducati #21)
"I am sorry for the crash, especially because I couldn't see how things were going to go. Given the way the race went, I think we could definitely have fought for the podium, so my disappointment is double. Luckily the crash had no consequences for me or the other riders on the track. The potential, after yesterday's practice and this morning, was high. Now we just have to think about having a good race tomorrow".
WorldSSP
Nicolò Bulega took his first Pole Position in WorldSSP but a light rain that fell during the grid procedures spoiled his plans. On the damp track, in fact, the Italian rider's feeling was not the best. In the first two laps, Bulega lost the chance to fight for the podium but he still managed to limit the damage by finishing in fifth position.
Nicolò Bulega (Aruba.it Racing WSSP #11)
"I am very happy with the first pole position but in the race, I was not able to push as I wanted. I was struggling a lot in certain sectors and that didn't allow me to attack and recover positions after the first two difficult laps. No doubt we have to work to improve for Race 2".
More, from a press release issued by Team Go Eleven:
GOT POINTS DESPITE A TOUGH WEEKEND IN MANDALIKA, A LOT TO IMPROVE IN THE SECOND PART OF THE RACE!
Saturday in Mandalika proved to be tough and difficult for Team Go Eleven; in Superpole a rider closed the throttle in the line, impeding Philipp who was just behind. Then in the first part of Race 1 the Italian team defended itself well, after a good start, only to suffer a clear drop in the second part. Got points, but it's certainly not Go Eleven's goal after what was achieved just a few days ago.
FP 3 was a particular session; few riders have improved compared to yesterday, Philipp entered with used tyres, trying to test the changes compared done, immediately finding a good feeling. Switching to the soft tyres, he managed to improve a few tenths, which however allowed him to enter the top ten of the session. Unfortunately, a large part of the gap is accumulated in the last sector, where the difficulties for the Ducati led by the Go Eleven rider are the same since last year.
Free Practice 3:
P 1   A. Bautista   1.32.981
P 2   T. Razgatlioglu   + 0.045
P 3   A. Bautista    + 0.079
…
P 10   P. Oettl   + 1.270
In Superpole, unfortunately, Philipp Oettl saw himself as the protagonist of a controversial episode during the fastest lap, which essentially made him throw the result away. After good first three sectors, in line with the Top Ten, in the fourth sector Rea completely closed the throttle on the line, in a fast point, forcing Philipp to avoid him. In addition to risking a huge collision, the German rider lost several tenths. These are episodes that happen on the track, Rea was penalized and also went to the Go Eleven garage to apologize in person. Fifteenth position and an even more uphill weekend than what already was.
Superpole:
P 1   T. Razgatlioglu   1.32.037
P 2   A. Locatelli   + 0.069
P 3   A. Bautista   + 0.165
…
P 15   P. Oettl   + 1.350
For Race 1, the choice of rear tire was a puzzle, which was only solved on the grid; SC0, the "hardest" compound so Philipp could push from the first lap without problems. He has an excellent start, he manages to immediately comeback a couple of positions, and thanks also to the impact between Rinaldi and Bassani at the first corner, he crosses the finish line around eleventh position. The first twelve-thirteen laps of the race are good, the German rider manages to keep pace for the Top Ten, staying close to Lecuona. In the last laps, however, he suffers a lot, he picks up the pace, defending the thirteenth position until the checkered flag. A difficult race, in which the number 5 suffered several overtakings in the last sector, unable to defend himself in any way. The important thing is to score points, and there was a step forward compared to yesterday, but it's still not enough to fight in the leading positions.
Race 1:
P 1   A. Bautista   32'44.093
P 2   T. Razgatlioglu   + 4.809
P 3   A. Locatelli  + 6.589
…
P 13   P. Oettl   + 26.167
For tomorrow it will be necessary to find another step forward; the gap is not high, but this year the riders are all really close and nothing is enough to enter or leave the Top Ten. Unfortunately here in Mandalika things haven't worked since Friday, little by little all the staff is working to get out of the problems, to close the gap, but it is not that easy, and often by making changes, further difficulties come out. Two races to go and there are still many points to earn; never give up!
Philipp Oettl (Rider):
"This morning we started quite well, the feeling was a little bit better than on Friday, in the Superpole i felt ok, too. In the fastest lap Rea decided to close the gas in a really bad place, and I was behind him, I had to roll off the gas, otherwise I could have been inside the Top Ten. He came to apologise, I accepted it, it was just the correct thing to do, I think I would have done the same. He is a six time World Champion, so I appreciated it even more. I had a really good start of the Race, then it was difficult for me to have a clear idea of my pace, cause every time i went out on track, the conditions were much different. I struggled a lot in the second part of the Race. I think we worked in the correct way, there is potential to improve, we took some points, but still I don't have a really good feeling here. I try again tomorrow!"
Denis Sacchetti (Team Manager):
"We're suffering a lot here in Mandalika, we're not as far away as it seems, but with the level of this year's category, losing a few tenths means a lot of positions. In Superpole, unfortunately, we didn't express our potential due to the near contact with Rea, but he came to apologize and we accept it, it can happen to everyone to make mistakes. The Race was important in identifying the points where we and Philipp can work, and tomorrow we will try to take a step forward. Here we must try to resolve the fourth sector, by losing so much at that point we are too vulnerable to be overtaken by other riders. Tomorrow we will have to defend ourselves and try to score more points!"
More, from a press release issued by Pata Yamaha Prometeon:
Double Podium for Pata Yamaha Prometeon WorldSBK after historic 1-2 Superpole
Toprak Razgatlıoğlu and Andrea Locatelli delivered an impressive double podium with a two-three finish in Race 1 at Mandalika, following a dominant qualifying for Yamaha in the second round of the FIM Superbike World Championship in Indonesia today.
Razgatlıoğlu led teammate Locatelli to the top of the time sheets in Superpole this morning, for the first 1-2 qualifying for Yamaha in nearly 13 years. The result is not only the best for "Loka" in WorldSBK, but leaves Razgatlıoğlu with a hat-trick of pole positions on one of his favourite circuits – unbeatable on single lap time since it was opened in 2021.
As to be expected, Race 1 itself was a gruelling hot competition which saw Razgatlıoğlu lead from the front for the opening laps until he was overtaken by Ducati's Alvaro Bautista. Suffering from a drop in grip from his front tyre after around eight laps, the Turkish ace was unable to fight back for the win but pushed to the end to secure a hard-earned second position.
Locatelli had superb race rhythm – similar to his performance last weekend in Australia which also saw him score a podium – but the Italian rider only lost out in the race start. Running P5 in the opening laps, he recovered quickly to close in on the top three and made the crucial overtake on Axel Bassani (Motocorsa) on Lap 10 before extending a comfortable gap over his countryman.
There are two more chances for podiums and for either of the Pata Yamaha Prometeon WorldSBK riders to fight for the team's first win of the season again tomorrow: the 10-lap Superpole Race at 10:30 local time (UTC+8) and full-length Race 2 to close out the weekend at 13:30.
Toprak Razgatlıoğlu – Superpole: P1 / Race 1: P2
"For me, the race was very difficult because I try to win but after eight laps the front tyre dropped and I am just fighting all corners – I try to enter but I lose the front on right corners. After, I understand Bautista is very strong every lap – I don't understand because he use the softer tyre but looks new. We need to improve tomorrow this and maybe bike set-up or tyre choice. We need to understand tonight and in Warm-Up because we have just one chance, but we will see tomorrow. We will keep fighting, I hope tomorrow we have the first win of 2023, I always try my best also especially today – many times I almost crash but I hope for tomorrow we can improve and I think maybe we are fighting for the win."
Andrea Locatelli – Superpole: P2 / Race 1: P3
"It was a strong race and unfortunately we just lost in the first part of the race, when I lost a lot of positions on the start – in the end I just needed to try and improve and recover the gap to the front but I think it was a little too late, so we need to try to be faster on the start better tomorrow. Sometimes we start very well, sometimes it was not easy like today. In the end it was a good result, P3, to be honest we were ready from yesterday because we started working very well but we did not know the rhythm of the other riders. It's the first big result to start the weekend, and we have tomorrow the Superpole Race and Race 2 to try to improve the bike and fight for the podium again. It's just the second weekend, but for sure it's a good way to start the championship – so I want to try and take more good results."
Paul Denning – Team Principal, Pata Yamaha Prometeon WorldSBK:
"Our Saturday started well with a historic one-two in qualifying that gave us hope for the race. We didn't win today, but honestly we can have no complaints about the efforts or performance level of the team and riders. In the end the package of Bautista and his bike was unreachable. Alvaro is the World Champion and he's riding like a World Champion, but the significant weight advantage allowed him to use the softer tyre combination, with good performance for the full race distance, which was simply not possible for our guys. Loka was in slightly stronger shape than Toprak towards the end of the race, but with both riders we'll look to see what we can do overnight to improve their R1 packages and do everything we can to try and win our first race of the season tomorrow."