Ducati 1-2 on Friday as Rinaldi leads Bautista and Razgatlioglu, Rea 4th
Setting a best time of 1'32.468s, Michael Ruben Rinaldi topped Friday's timesheets, finishing ahead of teammate Alvaro Bautista.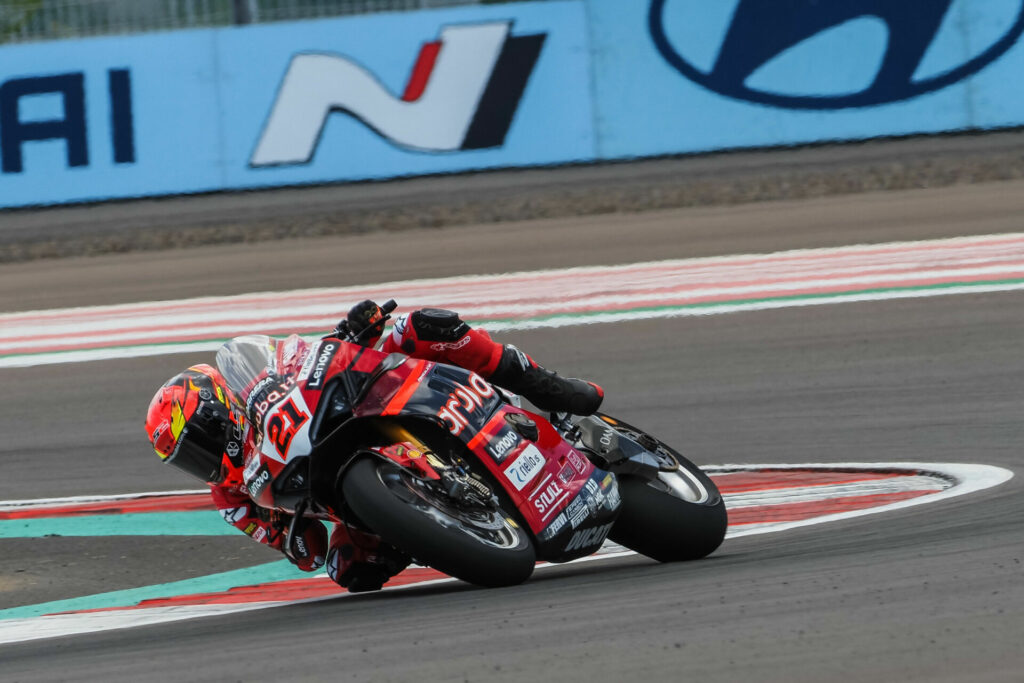 P1 | Michael Ruben Rinaldi | Aruba.it Racing Team | 1'32.468s
"Today has been a positive day despite the crash after a few laps in FP1. I immediately felt good on the bike. It's a strange track here because every session and every lap, the surface changes. There are not many motorcycle races here so there's no rubber on the asphalt and outside the racing line is dirty, so you can't make a mistake. From FP1 to FP2, we improved a lot the times and the feeling with the bike changed. I'm happy to be first but the conditions changed quickly, and I think it doesn't really matter if we are first today. Tomorrow, we will come back to the track and maybe it's a different story. We need to be calm, humble and try to do our best job.
For sure, it has been a positive Friday, but you cannot think Toprak or Jonny will not be there. They will be there for sure. During the winter tests, I think our team did a great job and our base is solid. The track changed a lot from FP1 to FP2 and tomorrow will be different. Maybe with more grip, we don't know whether our bike is working better or not."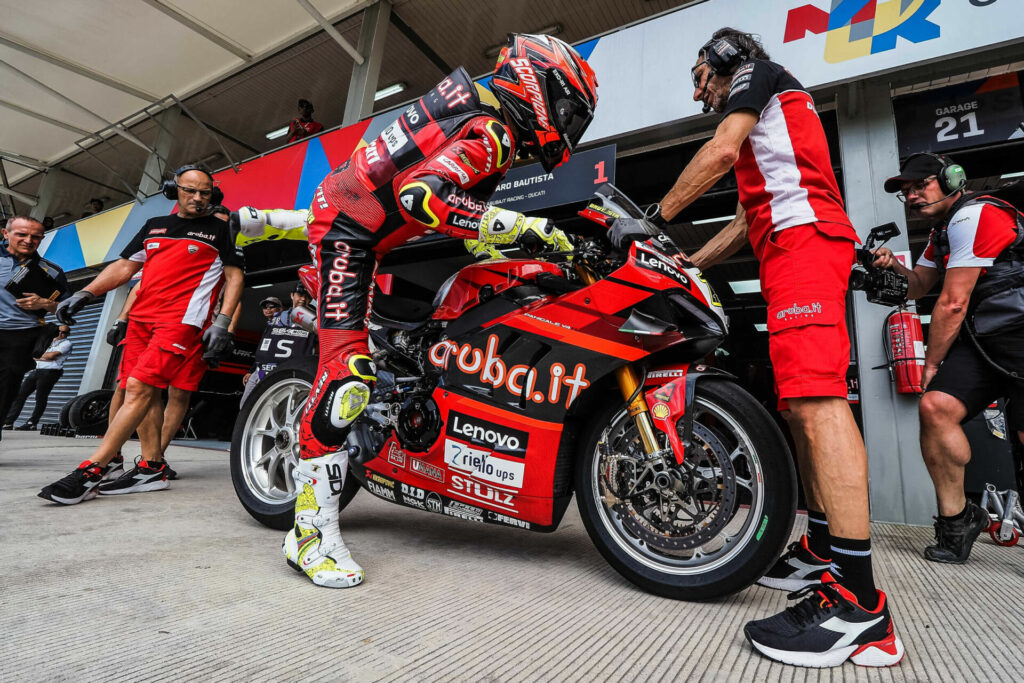 Alvaro Bautista finished 0.029s behind his teammate in Friday's running.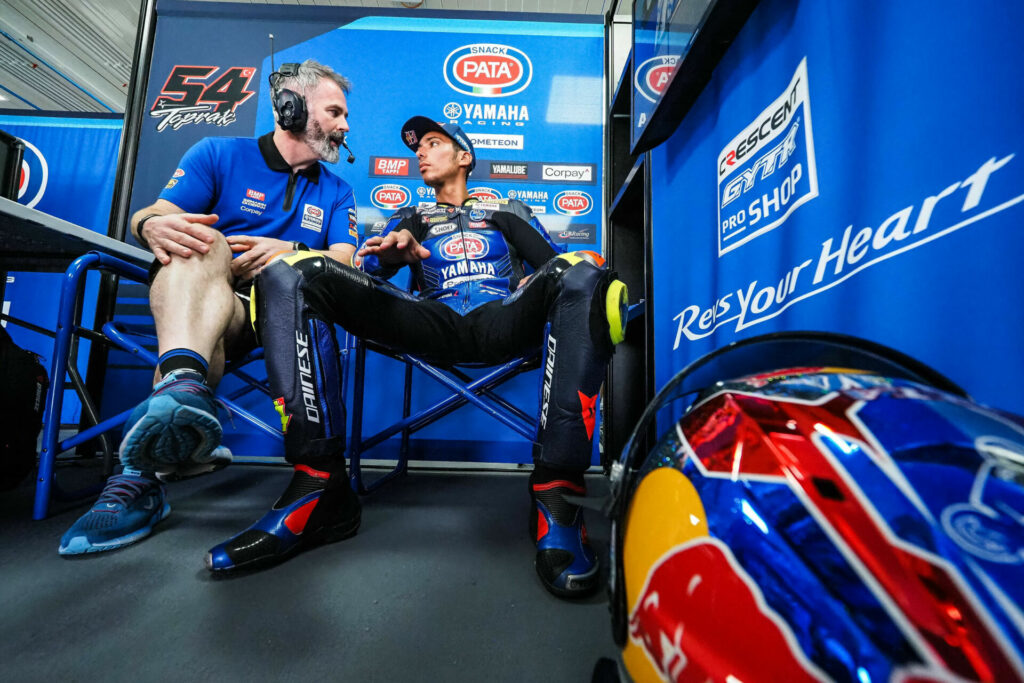 Toprak Razgatlioglu took third place with a best time of 1'32.625s, 0.157s behind Rinaldi.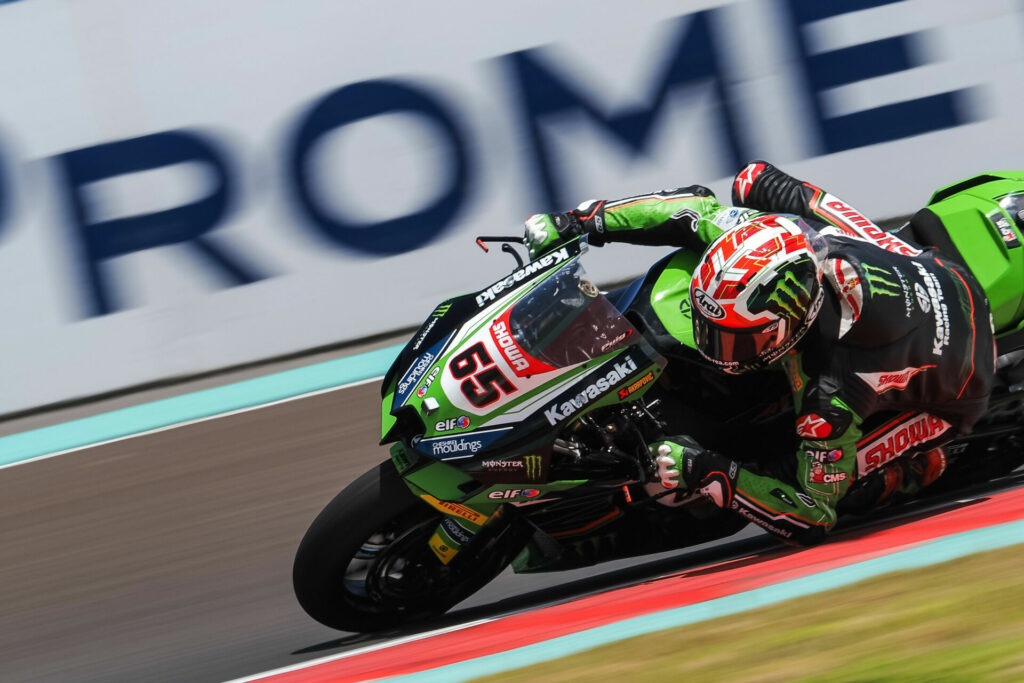 Jonathan Rea was fourth 0.735s off Rinaldi's fastest time.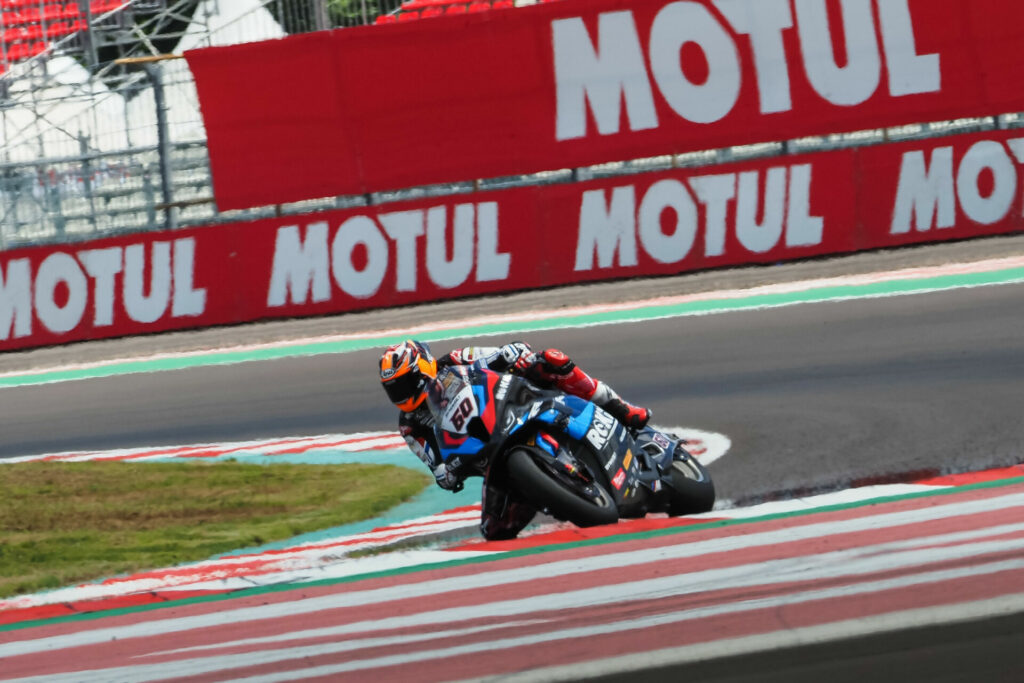 Michael van der Mark was the lead BMW rider in fifth.
WorldSBK Friday Report
The opening day of MOTUL FIM Superbike World Championship action in Indonesia has come to an end and the order has left us all intrigued going into Saturday. Despite Ducati never having won at the circuit before, their pace from Australia has been carried to the Pertamina Mandalika International Street Circuit, as Michael Ruben Rinaldi (Aruba.it Racing – Ducati) ended the day on top and led a factory Ducati 1-2, with teammate Alvaro Bautista second. It was a dry first day of action and with humidity high, although rain is forecast for parts of the weekend.
It was a strong start for Ducati and particularly Michael Ruben Rinaldi, who, having topped FP1 despite a Turn 10 crash, repeated the achievement in FP2 although this time, without a tumble. Rinaldi continued his strong showing from Phillip Island and with a Friday clean-sweep and a Ducati 1-2 but in reverse order to Australia, the Bologna bullets may be the ones to beat. Reigning World Champion Bautista set strong lap times throughout the course of the session, despite suffering a Turn 1 crash. After a brief stint in the box, Bautista went back out on track and improved his time, although not enough to overthrow his teammate.
Doing a 16-lap run but returning to the box and stating that he was struggling to turn into the left-hand corners, Toprak Razgatlioglu (Pata Yamaha Prometeon WorldSBK) went for a time attack in the closing stages of the session and placed third. Back in the mix after a Sunday to forget in Australia, Jonathan Rea (Kawasaki Racing Team WorldSBK) kept his powder dry on day one, opting not to go out in FP1 until the final 17 minutes as the track cleaned up and rubbered in. Rea was in the mix throughout the session and was right behind the Ducatis for most of it, on his way to P4 overall.
It was a late burst up the order for Michael van der Mark (ROKiT BMW Motorrad WorldSBK Team), with the Dutchman just less than three quarters of a second away from Rinaldi's top time. The #60 was only 0.010s behind Rea directly ahead of him in fourth, as he showcased the BMW M 1000 RR's potential at Mandalika, a circuit where it's been on the podium – back in 2021 in the wet with van der Mark.
WorldSBK action resumes on Saturday with FP3 from 08:30 (Local Time), followed by Tissot Superpole at 10:40 and Race 1 at 13:30.
Read the full report from Friday on worldsbk.com
WorldSBK Combined Results after FP2
1. Michael Ruben Rinaldi (Aruba.it Racing – Ducati) 1'32.468s
2. Alvaro Bautista (Aruba.it Racing – Ducati) +0.030s
3. Toprak Razgatlioglu (Pata Yamaha Prometeon WorldSBK) +0.157s
4. Jonathan Rea (Kawasaki Racing Team WorldSBK) +0.735s
5. Michael van der Mark (ROKiT BMW Motorrad WorldSBK Team) +0.745s
6. Remy Gardner (GYTR GRT Yamaha WorldSBK Team) +0.906s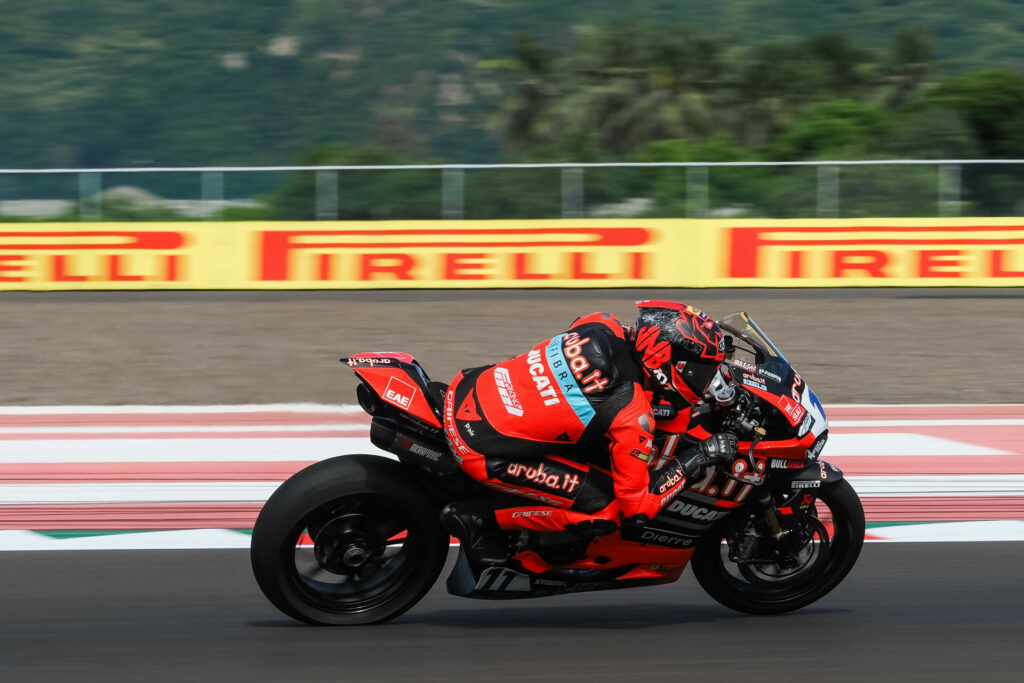 Bulega quickest on the opening day of the Motul Indonesian Round
Nicolo Bulega topped both Free Practice session as he set his fastest time in FP2, improving by more than 3s his morning time.
P1 | Nicolo Bulega | Aruba.it Racing WorldSSP Team | 1'36.705s
"I started this morning in a good way. I felt good with the bike … not 100% like in Australia but the feeling is not so bad. We need to improve the bike for tomorrow as we're struggling a bit more compared to Australia because of the high temperature. We need to improve the braking because when I'm braking, I can feel the rear sliding too much. I think today, the track was difficult because there was a lot of sand on the asphalt, but the track conditions were much better in FP2. I think tomorrow the track conditions will be much better, and it will also be our second day here so everyone will be faster, but I will try to do my best as always."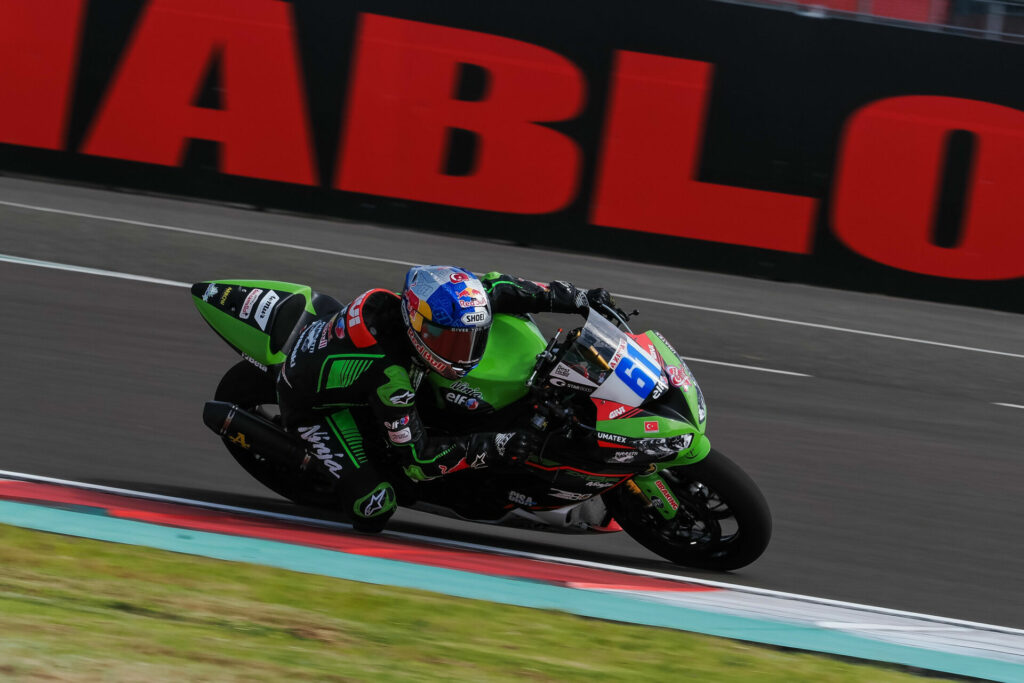 Can Oncu concluded Friday in second place just 0.024s off Bulega.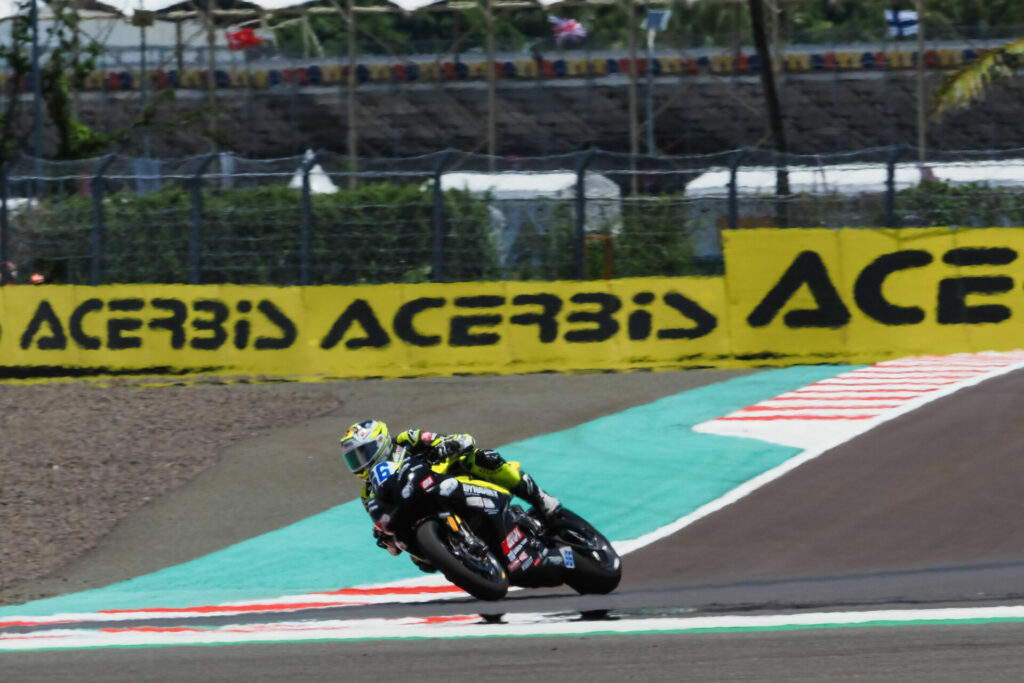 0.046s behind Bulega is Niki Tuuli in third place, it's his first-time racing at Mandalika with Triumph.
WorldSSP Friday Report
The times tumbled during the FIM Supersport World Championship as Free Practice 2 concluded during the Motul Indonesian Round at the Pertamina Mandalika International Street Circuit as riders found several seconds between FP1 and FP2. All riders improved their time in the second session with Championship leader Nicolo Bulega (Aruba.it Racing WorldSSP Team) fastest in the combined classification with the top four riders separated by less than a tenth.
Bulega's best time of the day was a 1'36.705s to end Friday on top as he looks to continue his winning run in WorldSSP having won the first two races of 2023. He was 0.024s clear of Can Oncu (Kawasaki Puccetti Racing) in second place after he posted a 1'36.729s. Finnish rider Niki Tuuli (Dynavolt Triumph), a race winner here in 2022 when with MV Agusta, was third and only 0.046s. German rookie Marcel Schroetter (MV Agusta Reparto Corse) took fourth spot with a gap of only 0.079s to Bulega, while Stefano Manzi (Ten Kate Racing Yamaha) was fifth at the end of the day's running despite a Turn 16 crash with just over 10 minutes in FP2 to go in the session. It meant that five of the six manufacturers competing in 2023 were represented in the top five.
Raffaele De Rosa (Orelac Racing VerdNatura) had been competing for top spot but dropped down the order to sixth place, and only 0.173s down on Bulega, while Federico Caricasulo (Althea Racing Team) was seventh. Caricasulo was 0.266s down on Bulega's time and had his FP2 disrupted in the final seven minutes after a Turn 2 crash.
WorldSSP action resumes on Saturday with the Tissot Superpole from 09:55 (Local Time), followed Race 1 at 12:00.
Read the full report from Friday on worldsbk.com
WorldSSP Combined Results after FP2
1. Nicolo Bulega (Aruba.it Racing WorldSSP Team) 1'36.705s
2. Can Oncu (Kawasaki Puccetti Racing) +0.024s
3. Niki Tuuli (Dynavolt Triumph) +0.046s
4. Marcel Schroetter (MV Agusta Reparto Corse) +0.079s
5. Stefano Manzi (Ten Kate Racing Yamaha) +0.161s
6. Raffaele De Rosa (Orelac Racing VerdNatura) +0.173s
More, from a press release issued by Team HRC Honda:
Vierge focuses on race pace at Mandalika, Lecuona bounces back after a crash in FP1
Team HRC is on track at the Mandalika International Street Circuit in Indonesia for round two of the 2023 Superbike World Championship, which comes just a week after the season-opener in Australia.
The action got underway at 10am local time (CET+7) with the first free practice session. Xavi Vierge made excellent progress throughout the course of the 45-minute practice, working systematically on the setup of his CBR1000RR-R together with his team. His fastest time, a 1'34.838, came in the final minutes and was enough to see him place a very strong fifth. Lecuona meanwhile had a less than fortunate start, crashing at turn 16 in the opening stages, which meant that he subsequently lost the rest of FP1.
Despite the hotter conditions (air temp. 33°C, track temp. 52°C), lap times were quicker across the Superbike field in the afternoon's second practice. Having already set a very fast time in FP1 and demonstrating a consistently fast pace, Vierge was nevertheless able to shave off another second, setting a 1'33.793 that saw him move up to eleventh in the day's combined standings. Lecuona worked to build confidence at a track he has little to no experience of, having been forced to sit out last year's event due to injury. A best of 1'34.452 for Iker, set in the final stages, meant a seventeenth-place finish in Friday's aggregate results.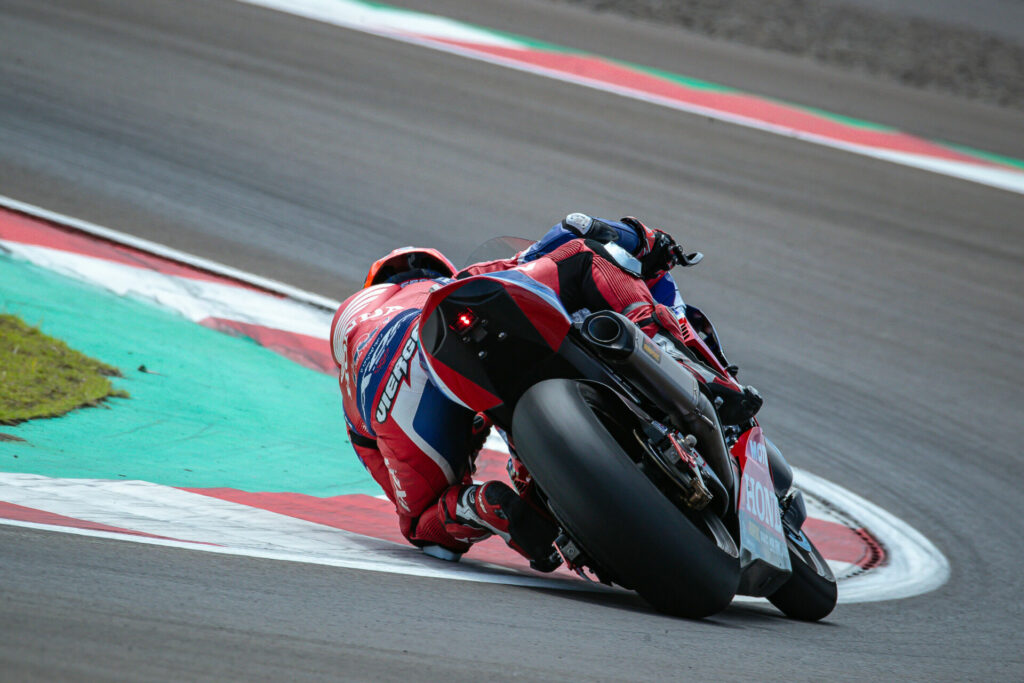 Xavi Vierge  97
P11 
"I'm happy with how today has gone, not least because I've got back that good feeling with my bike. We worked really well today and focused mainly on race pace, trying to find the speed that we were lacking to some extent in Australia. I think we did that and have done a good job today. Our pace is quite strong and the changes we made to the bike throughout the day's sessions gave me the confidence to be able to push and improve. I want to say a big thank you to the team as they have worked really hard, just as they did in Australia, to solve the issue we had, and this meant that our confidence levels were better right from the start of this morning's first practice. It's a real pleasure to be back here at Mandalika, and the track conditions are better than they were last year, which is good, so we will keep working to improve our lap times and get ready for tomorrow's Superpole and first race."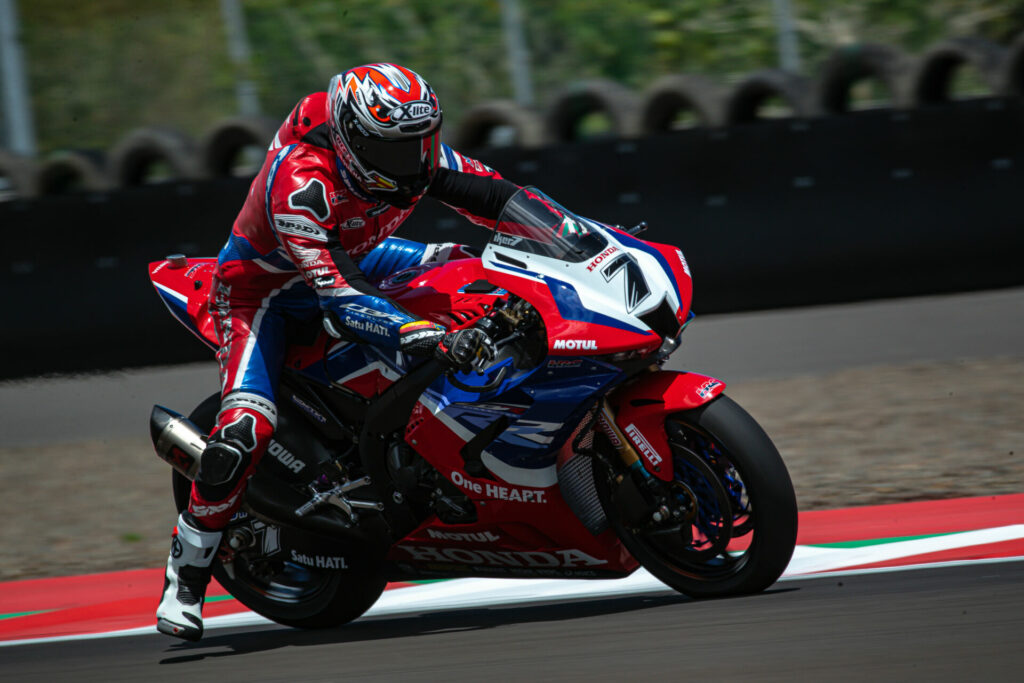 Iker Lecuona  7
P17 
"Soon into FP1, I had a highside through turn 16, similar to my crash of last year but fortunately I wasn't seriously injured this time, just a few aches and pains. This knocked my confidence to be honest, as we had started quite calmly and I didn't expect a crash during my first exit, and so I then used FP2 to try to get back into the right mental space to be able to ride. A big thanks to the team for all their hard work in repairing the bike in time for the second session, and to Leon (Camier) and Kuwata san and everyone in the team who supported me and didn't put any pressure on me and tried to give me good energy. In FP2 we did our best to work methodically and take things step by step, focusing on improving our feeling and we did that a bit, but a lack of grip at the rear meant I actually went down again through turn 10. So not an easy start to the weekend and a tough moment for me mentally speaking, particularly considering what happened here last year. I'm also a little depleted physically after suffering with some gastrointestinal problems over the last couple of days. Anyway, now we need to check the data and understand what happened and what can we do to move forward tomorrow."
More, from a press release issued by Aruba.it Racing Ducati:
Super Friday in Indonesia with Rinaldi first in both FP1 and FP2. Bautista second in the overall. Bulega also on top in WorldSSP
Free practices for the Indonesian Round, the second leg of the 2023 WorldSBK season, ended in the best possible way for the Aruba.it Racing – Ducati team thanks to Michael Rinaldi and Alvaro Bautista who finished P1 and P2 respectively in the combined standings.
Michael Rinaldi was immediately at ease at the Mandalika circuit and despite a crash without consequences, he closed FP1 in first place. In the afternoon the track conditions improved considerably and the Italian rider lowered his time by more than two seconds, confirming himself as the fastest rider on track.
After finishing third in the morning session, Alvaro Bautista found more confidence in the afternoon. The Spanish rider also made a small mistake which forced him to return to the pits, but in the final stages of FP2 he pushed hard, finishing 29 thousandths behind his team-mate.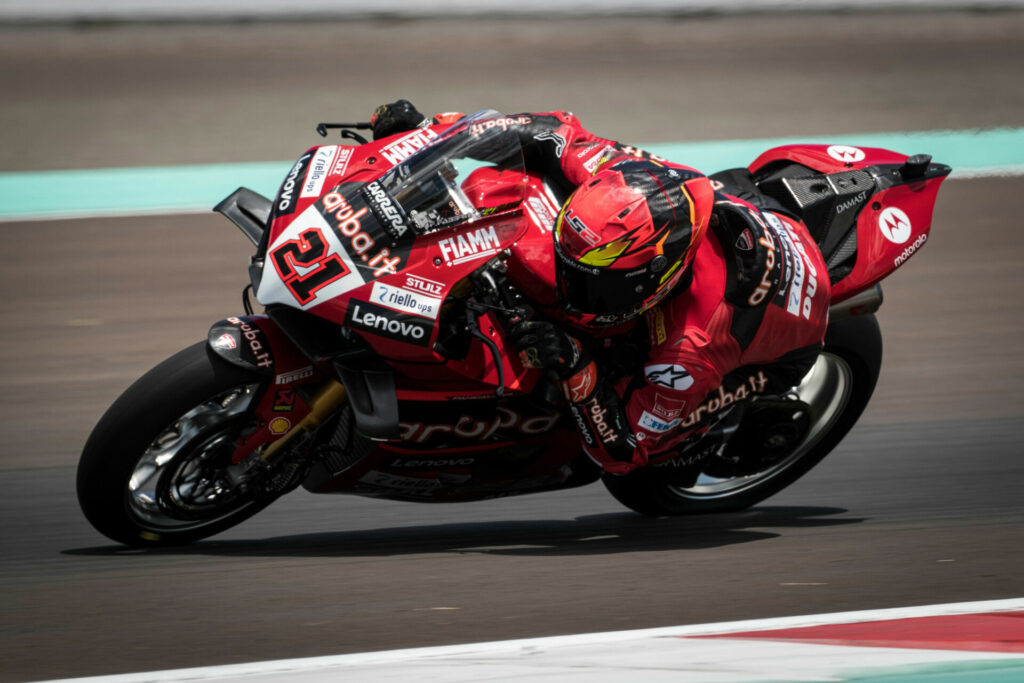 P1 – Michael Rinaldi (Aruba.it Racing – Ducati #21) 1'32.448
"It was definitely a positive day. Right from this morning the feeling was very good even if I crashed after just two laps. Thanks to the team's work, though, I was able to get right back on track without losing feeling with the bike. This is a particular track: despite the very good asphalt, the lack of rubber is evident and off the line, it's easy to end up on the dirt making a mistake. Therefore,  it's important to be very careful, especially in the first few laps. Very satisfying sessions, I repeat, but concentration must stay high".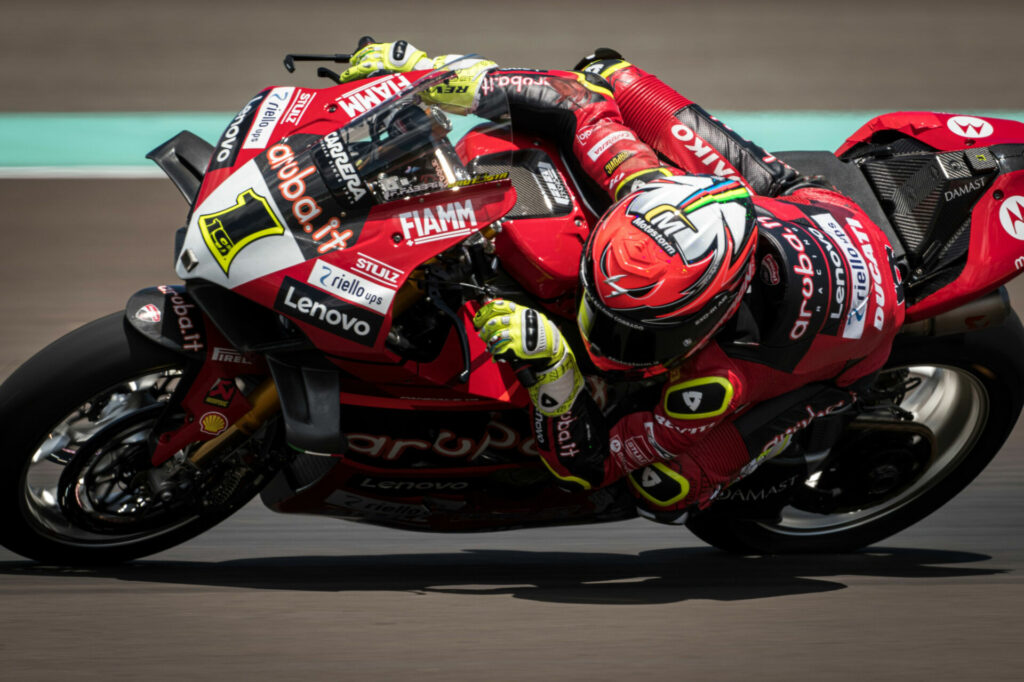 P2 – Alvaro Bautista ( aruba.it Racing – Ducati #1) 1'32.497, +0.029
"It wasn't an easy Friday, also because the track wasn't in ideal condition in FP1. In the afternoon we worked on the set-up mainly to try and solve the problems we experienced last November. I must say that the work done with the team paid off and I am satisfied with that. I regret having made a mistake that caused the crash. We still have to figure out which tyre to use tomorrow in Race 1. We will decide after tomorrow's FP3".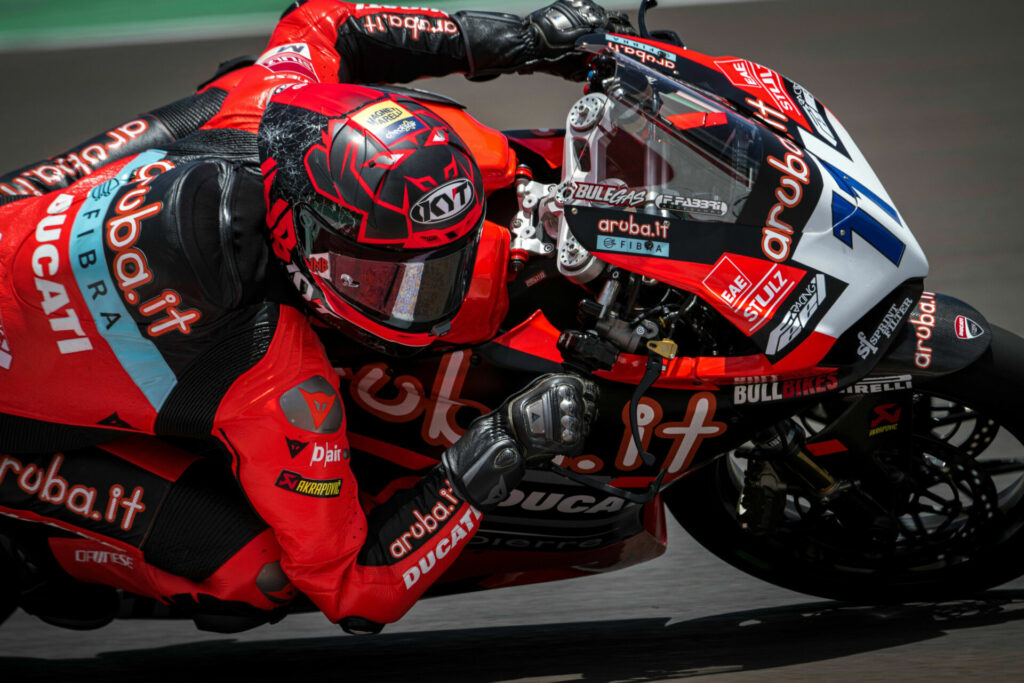 WorldSSP
Extremely good Friday for Nicolò Bulega, who finished first in both FP1 and FP2.
P1 – Nicolò Bulega (Aruba.it Racing WSSP #11) 1'36.705
"We finished on top in both sessions but the feeling was very different from what we had in Australia. It's clear that the asphalt conditions were difficult for everyone, especially in FP1 when we were the first to get on track. Anyway, I am satisfied because the feeling with the bike wasn't bad at all. Tomorrow we'll definitely find a better circuit and try to improve further.
More, from a press release issued by PETRONAS MIE Honda Racing Team:
WorldSBK – The PETRONAS MIE Racing Honda Team tackle challenging Mandalika
The 2023 Superbike World Championship continues this weekend at the Mandalika International Street Circuit in Indonesia, where the PETRONAS MIE Racing Honda Team is in action with riders Hafizh Syahrin and Eric Granado.
The technicians and riders were keen to hit the ground running in the first free practices, which ran in hot and humid conditions today. Granado spent FP1 doing his best to learn what is another challenging new track for him. The Brazilian worked hard with his technicians and progressed little by little, setting a time of 1'39.518 to place twenty-first. A 1'37.087 for Syahrin saw him finish this first session in seventeenth position.
Back on track in the early afternoon, Malaysian rider Syahrin made a big step in the initial stages of FP2, setting a 1'36.031 which ultimately proved to be his fastest lap of the day. Thanks to this time, Hafizh positioned nineteenth in the combined standings. Granado also picked up his performance with respect to the morning's session, lowering his time by more than three seconds (1'36.373) to conclude day 1 in twenty-second position overall.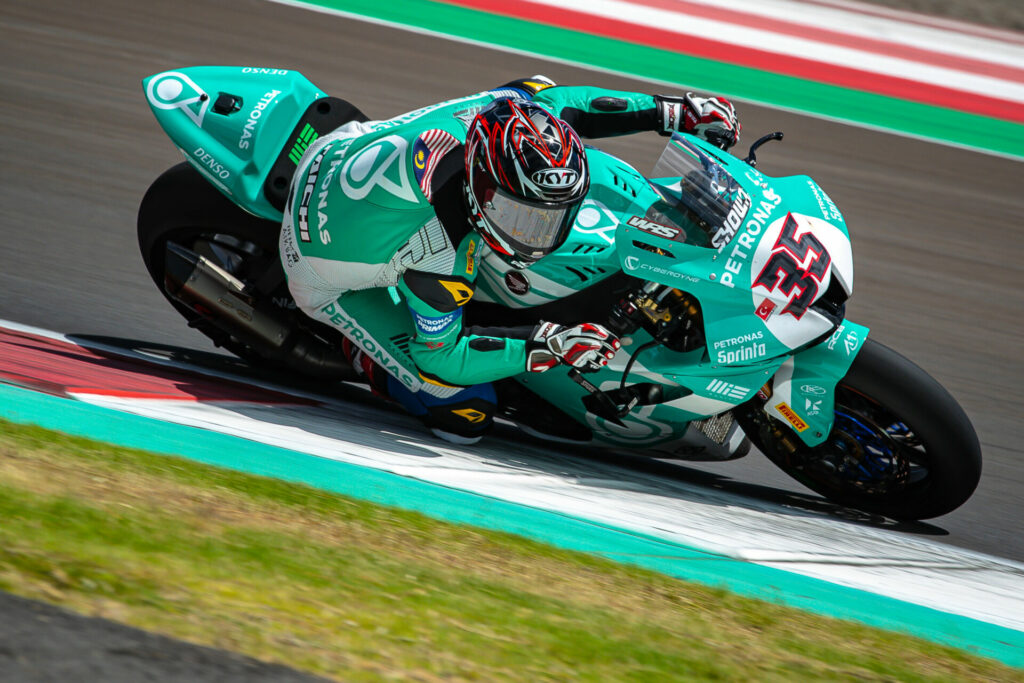 Hafizh Syahrin P19
"Today's sessions didn't go too badly. I felt that we had the speed, but when we put in a fresh tyre in FP2 it didn't really lead to a big improvement. I was able to be more consistent with respect to FP1 but not faster, losing speed mid-turn. There's no room for mistakes through the corners here as the lines are very narrow, so we need to improve the bike in terms of turning so that we don't lose out in this area. I think if we can take another step tomorrow, we can get closer to our rivals and challenge in qualifying."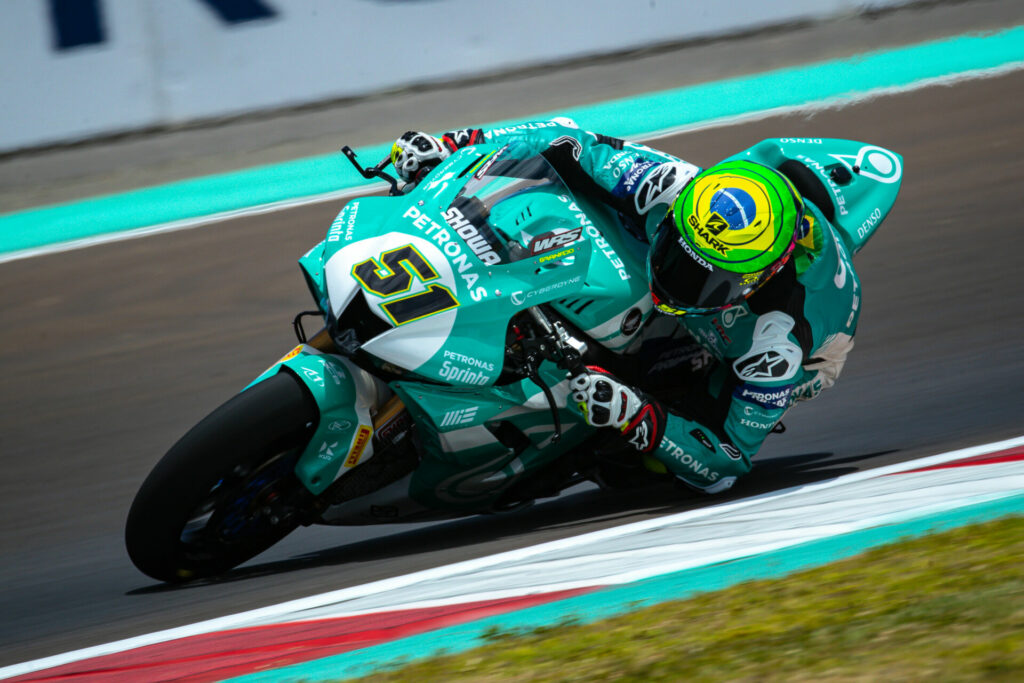 Eric Granado P22
"It's been a positive day. It's my first time here at Mandalika and so it's been interesting to learn the track. At first, there was very little grip and we all struggled to find the right line, particularly riders like me who don't know the layout! If you run off line, you lose a lot of time and risk crashing. So I took things easy during the first practice and then picked up the pace in the afternoon, improving by more than three seconds. I'm happy with day one and will continue to work tomorrow during FP3 and the Superpole to understand the track properly and ready the bike in preparation for the races."
More, from a press release issued by Kawasaki:
Complex Start To Round Two
The Mandalika International Street Circuit is the host venue for the second round of the FIM Superbike World Championship and after the first day of action KRT riders Jonathan Rea and Alex Lowes sit fourth and seventh fastest respectively.
The track surface at the 4.3km long Mandalika circuit proved to be very dirty and 'green', due to lack of use and the circuits location so close to the seaside on the Island of Lombok.
It took some time for the grip levels to increase on the narrow racing line during  Free Practice One, meaning Rea left it until the later stages of the first 45-minute track session to venture out and start the important work of finding an optimum race set-up.
Jonathan eventually finished up fourth fastest from all 22 riders, but he and his technical crew now have to find the best possible chassis set-up to make sure that his race tyres, particularly the fronts, can offer up competitive grip across full race distance.
Lowes also found the circuit conditions difficult to work with, especially as the grip levels changed as the day went on. Alex experienced some chatter during the afternoon session, but at times took the chance to stay out on track on a used tyre to try and find set-up improvements when he faces real race conditions.
The weekend action continues on Saturday 4 March with FP3, Tissot-Superpole qualifying and then the first full 22-lap race, which takes place at 13.30 local time in Lombok. Sunday 5 March will feature the always intense Superpole Race and then a second and final full distance Race Two.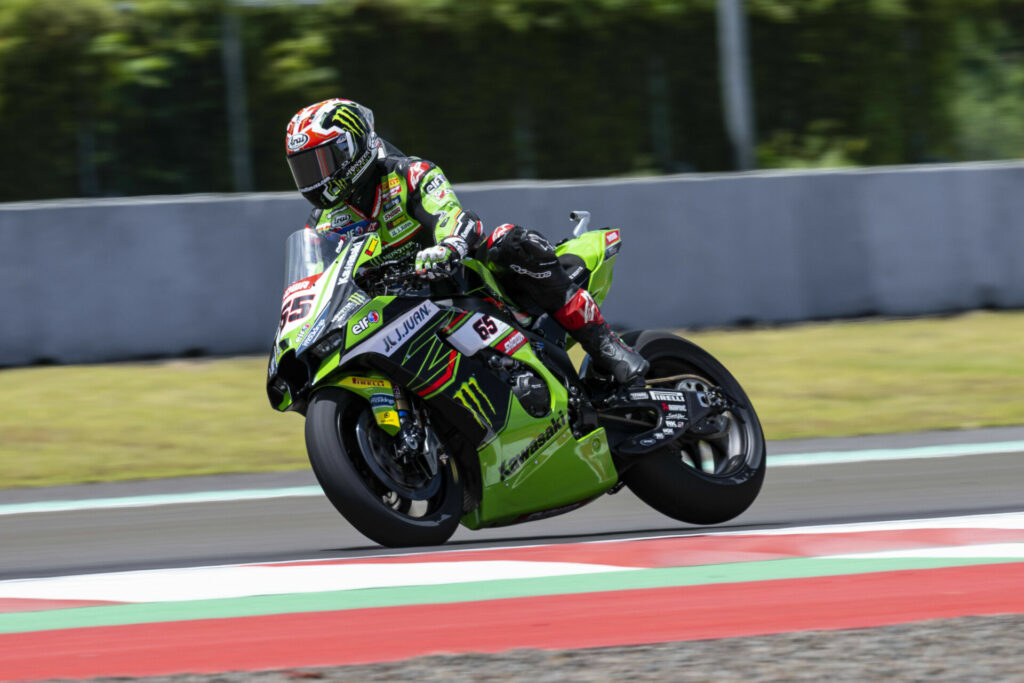 Jonathan Rea, stated: "The track has no rubber down and is so dirty, so the first session was a disaster. Because of the tyre allocation we just had to be conservative. I chose to only ride the last part of FP1 and even then with our normal preferred front race tyre, we destroyed it. In FP2 we focused with a different weight balance of the bike, trying to take weight out of the front to save the front tyre. I think front tyres are going to determine the race outcomes. In comparison to last year, we have improved in this area a little bit, but where our bike makes the time is in trail braking and corner entry. And if we don't have a stable front, then it is so difficult. So we are focusing to improve in that area tomorrow. Of course, I expect the track to be better tomorrow. There will be more rubber down and the track will be cleaner, which will help with front tyre life."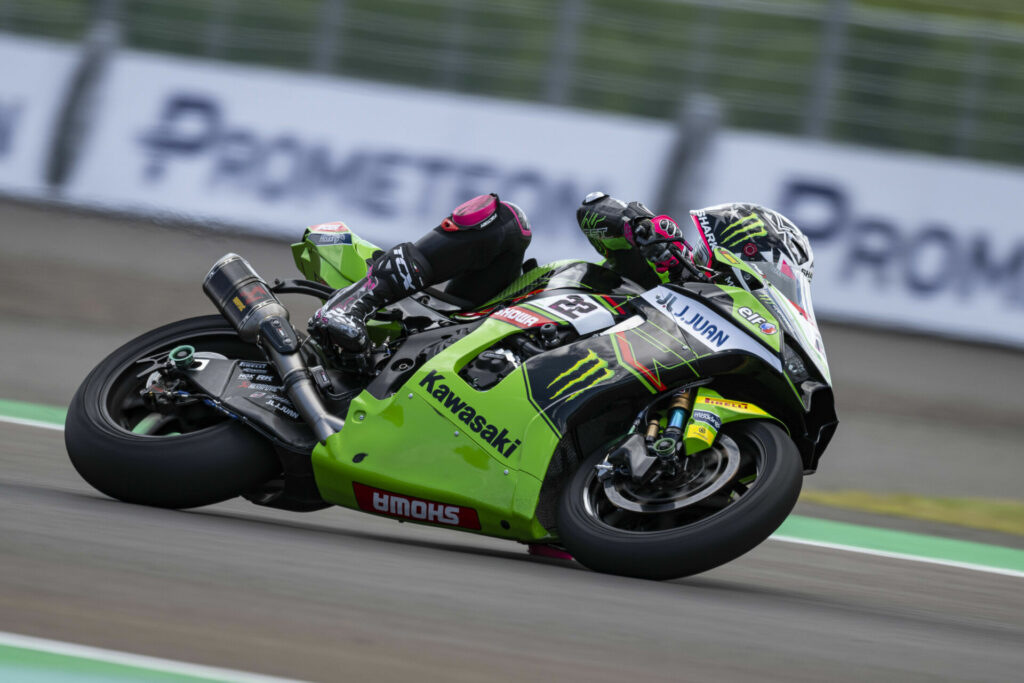 Alex Lowes, stated: "The track surface changed so much here over the sessions it is a little bit hard to chase a set-up. The track changes about a second a lap between each session, which will be of more effect than any set-up change you can do on the bike. But, we tried something a little bit different due to the lack of grip, to try to not force the tyres as much. If you get a little bit off line here, it is like the track can't take it. That was causing me quite a lot of chatter this afternoon, but apart from the chatter, I tried the hard tyre option to start with, did bit of a longer run, then I tried an SCX. That dropped off a bit too fast for me. Apart from that, I didn't feel too bad, to be honest. Better than I did here in November. We just have a little bit of work to do to piece it together and see what the conditions are like on Saturday."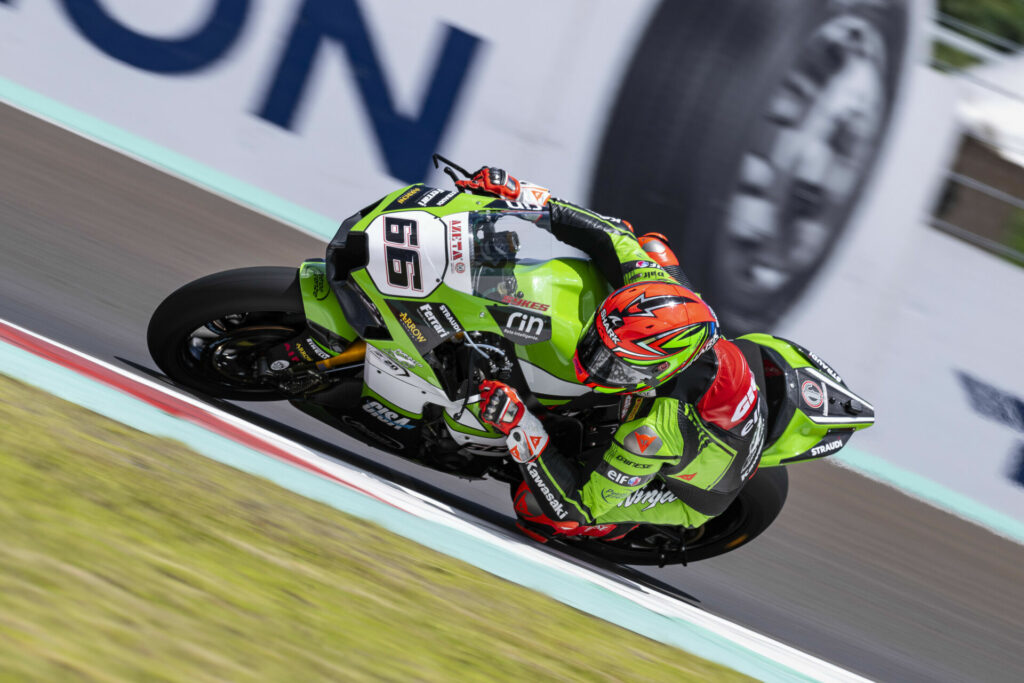 Returning star Tom Sykes (Kawasaki Puccetti Racing) suffered from a debilitating bout of gastrointestinal infection on day one at Mandalika, and hopes his physical condition will improve on Saturday. Tom was finally ranked 20 on day one.
Oliver König (Orelac Racing Movisio Kawasaki) ended his first day in Indonesia in 21st place.
More, from a press release issued by Team Go Eleven:
FAST IN THE MORNING, STRUGGLING IN THE AFTERNOON; A TWO FACES FRIDAY FOR GO ELEVEN!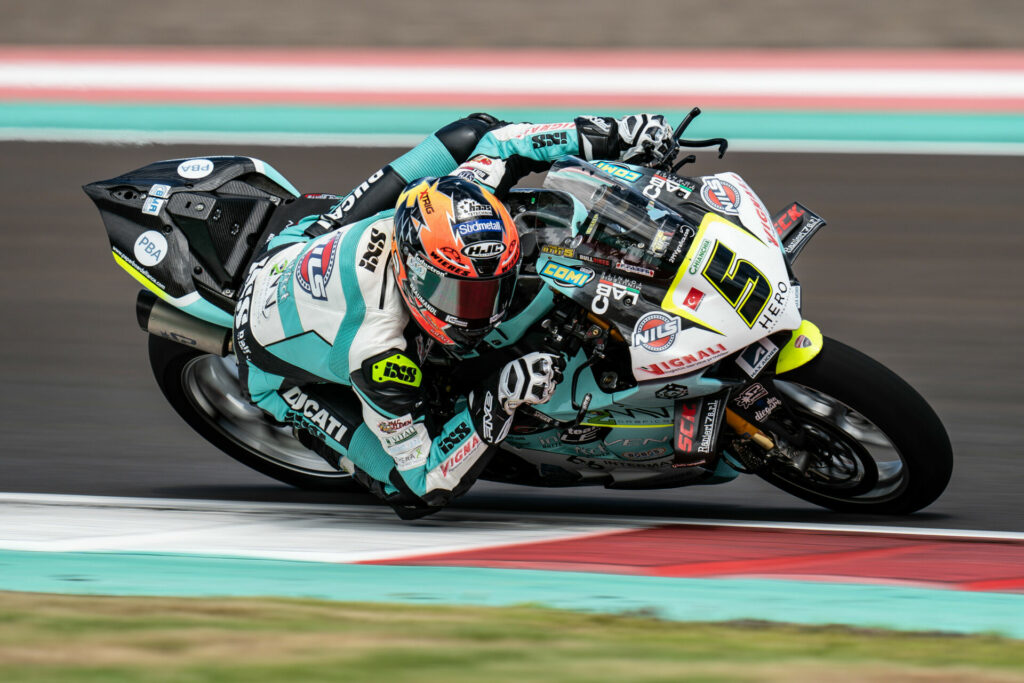 Day 1 in Mandalika turned out to be more complicated than expected for Go Eleven and the rider Philipp Oettl; coming from the excellent weekend in Australia, they expected to start again from a placement within the Top Ten. In the morning, everything worked fine, then in the afternoon the difficulties increased.
FP 1 saw many riders waiting in the pits for a long time; the track had no tyre and the times remained quite high throughout the session, if compared to the best laptimes on the track. However, Philipp was able to find an excellent feeling, riding his Ducati V4-R fluidly. After the first pit stop, the front tyre was particularly damaged, so much so as it was impossible to improve the the best lap. A good session, in any case, to pick up the rhythm and get back to having confidence with the Mandalika International Circuit after last year's crash.
Free Practice 1: 
P 1   M. Rinaldi   1.34.613
P 2   T. Razgatlioglu   + 0.056
P 3   A. Bautista    + 0.170
…
P 9   P. Oettl   + 0.958
The afternoon session was held in much hotter asphalt conditions, over 53°C, with decidedly more tyre on the line, so much so that the references improved by almost two seconds. Philipp and the Go Eleven Team tried to set a race pace, so as to have an idea of what could happen in tomorrow's race, but due to some traffic in the first laps, the lap time turned out to be less fast than the expected. Towards the end of the session, with the new tyre, he was able to lower the personal best lap, but the German rider was still unable to ride as he would like. The main problem is the loss of line, especially in acceleration, loosing a lot in the fourth sector, where most of the gap is accumulated.
Free Practice 2: 
P 1  M. Rinaldi   1.32.468
P 2   A. Bautista   + 0.029
P 3   T. Razgatlioglu   + 0.157
…
P 16   P. Oettl   + 1.892
For tomorrow, the technicians are already evaluating some solutions in terms of bike set-up and balance, trying to get close to Philipp's requests. There's no need to be alarmed yet, there is time to improve and tyre management, especially on the front, will play a fundamental role in the race, here in Mandalika, too. The race pace shown today by the others is not that great and the Top Ten is not far off. Tomorrow is another day and it will be necessary to find the right way to improve especially the final part of the track.
Saturday Schedule (local time / english time):
h 08.30 – 09.00 / h 00.30 – 01.00 Free Practice 3
h 10.40 – 10.55 / h 02.40 – 02.55 Superpole
h 13.30 / h 05.30 Race 1
Philipp Oettl (Rider):
"We started well in the morning, we were in Top Ten at the end of the FP 1, but during the second session track conditions changed a lot and we had to adapt to it. We struggled a bit, so we have a lot of work to do. We are a bit further behind than I expected to be here, but it's not so easy to have a good confidence in the line after last year's crash, even if in the line the grip is really good. I am quite confident that tomorrow we can do a good step forward analyzing datas collected today. We will find our way, this track is completely different compared to Australia, tyres here are different, too, so let's see what we can do tomorrow. As the track will improve day by day I expect that the feeling with the front, even after some laps, will improve, too!"
More, from a press release issued by Pata Yamaha Prometeon:
Pata Yamaha Prometeon WorldSBK Focus on Competitive Race Pace in Indonesia 
Toprak Razgatlıoğlu and Andrea Locatelli were two of the very few WorldSBK riders to complete consistent race simulations in Friday Free Practice at the Mandalika International Street Circuit in Indonesia today.
The pair had a clear focus on preparation for the gruelling conditions for both man and machine that they will face on the island of Lombok – including track temperatures pushing towards 60 degrees Celsius – during the second round of the FIM Superbike World Championship this weekend.
Razgatlıoğlu made three very quick lap times in the closing minutes of Free Practice 2 to finish third in the combined standings, after his crew diagnosed a small problem with vibration found during the last long run. Teammate Locatelli focused solely on race pace and finished the day eighth overall, happy with the work completed and his potential for tomorrow.
The Indonesian Round's special race schedule continues tomorrow, with a very early Free Practice 3 taking place at 8:30 local time (UTC+8), Superpole at 10:40 to determine grid position and Race 1 from 13:30.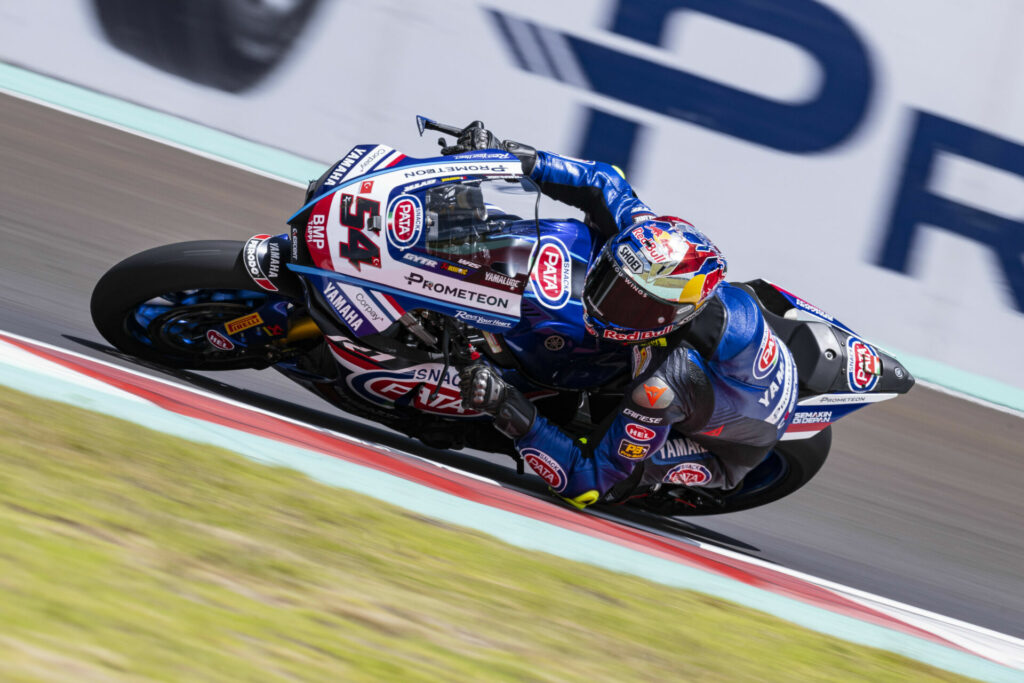 Toprak Razgatlıoğlu: P3 – 1'32.625
"For me it was a good start, especially after Phillip Island – now I am feeling much better on my R1. Today I try a race simulation, also I am feeling just a small problem with vibration but the good thing is we understand what it is. After this I did a very good lap time – even though I went wide on two corners! With new tyres the feeling is incredible, with good grip and turning. I had one mistake, almost crash in Turn 2 because the rear was sliding a lot and I went wide – but all ok. Now I am happy, everything is nearly ready and I am just waiting for the race, to fight for the win! We will see tomorrow, the race is always difficult because everybody is strong – I will try my best."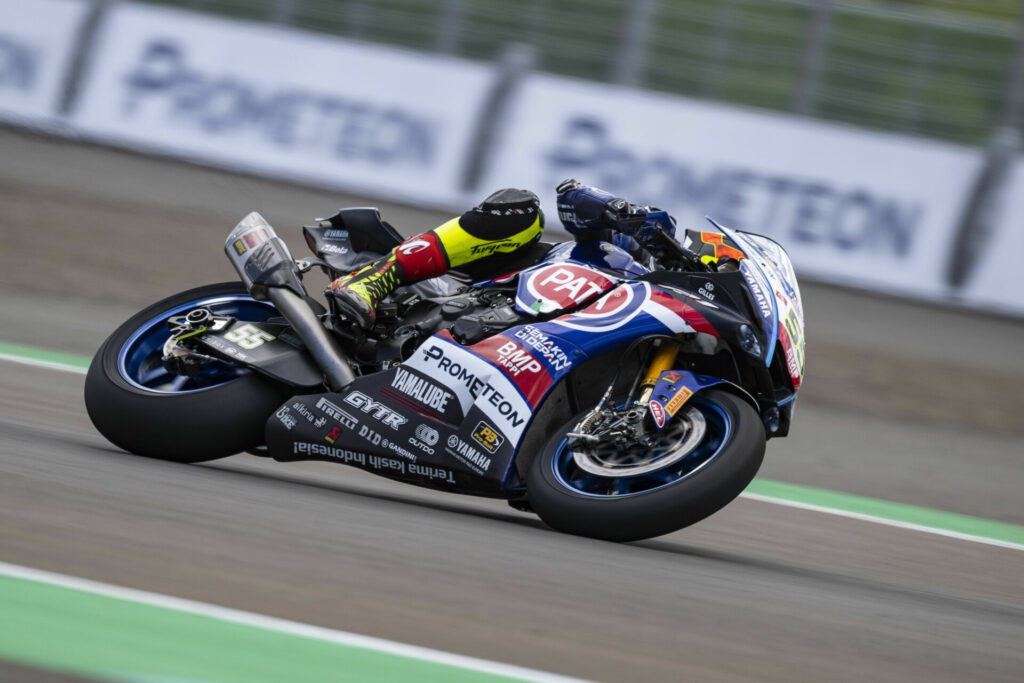 Andrea Locatelli: P8 – 1'33.545
"In the end it was another positive Friday for us because we did a lot of work and I think we understand very well what we can do for tomorrow. The feeling on the track was not so bad, I think we're working well during FP2 on the long run and race simulation – we didn't try to do just one fast lap, this was not our focus. So basically, we have a really good feeling on the bike and for sure tomorrow we can learn and improve a little bit more on the outright lap time. In general I am happy, I think we can try to be fast and fight – especially in Race 1 and then we will see."
More, from a press release issued by GYTR GRT Yamaha WorldSBK Team:
Gardner and Aegerter 'Road Sweeping' on Day One in Mandalika 
GYTR GRT Yamaha WorldSBK Team riders Remy Gardner and Dominique Aegerter returned to action on March 3rd at the Mandalika International Street Circuit, with both riders showing strong potential to finish sixth and 12th on combined times.
The duo faced a tricky Free Practice 1 session due to the track being dusty, dirty and without much rubber laid down. In the 45-minute session, Gardner placed sixth (1'35.192), with his teammate Aegerter in 14th (1'36.511).
In the afternoon's Free Practice 2, with the track offering more grip, both riders went faster. Despite primarily focusing on race pace and long-distance runs, Gardner managed to improve and put himself in the top six once again (1'33.374). Aegerter also shaved down his lap time, going 12th fastest (1'33.837) despite not trying for a flying lap.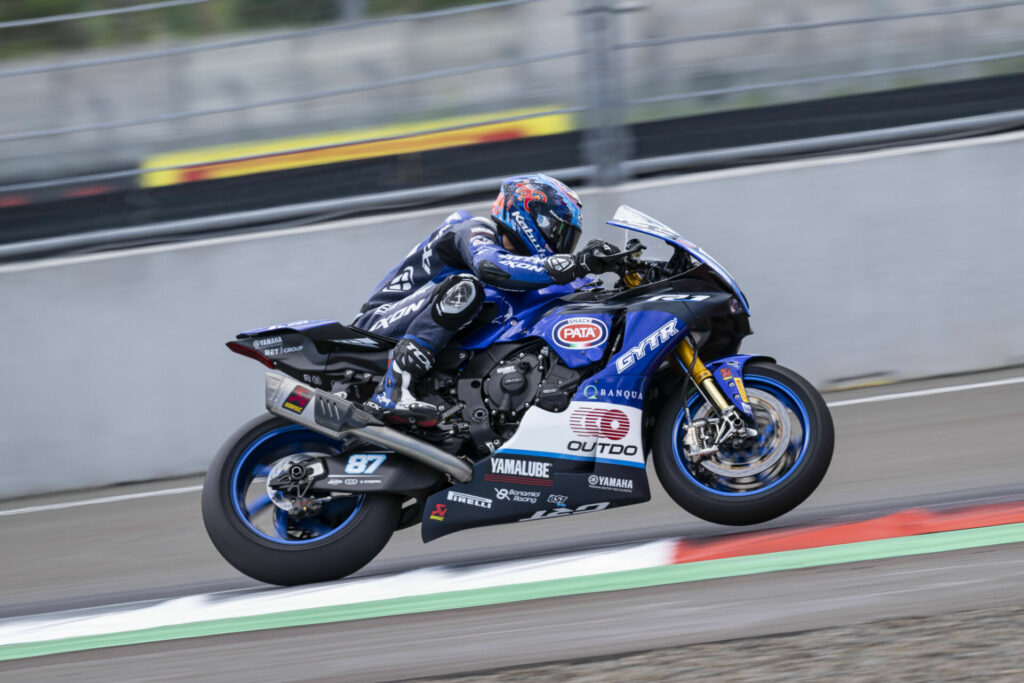 Remy Gardner: P6 – 1'33.374
"Today wasn't a bad one. In the morning, the track was still quite dirty, then in the afternoon, the feeling improved a bit. We'll need to be very careful with the tyre management here, but we have a pretty clear idea of what compound we should use. We've also saved a little something for tomorrow when we hope to have a good Superpole session. Ideally, it would be great to start from the front two rows."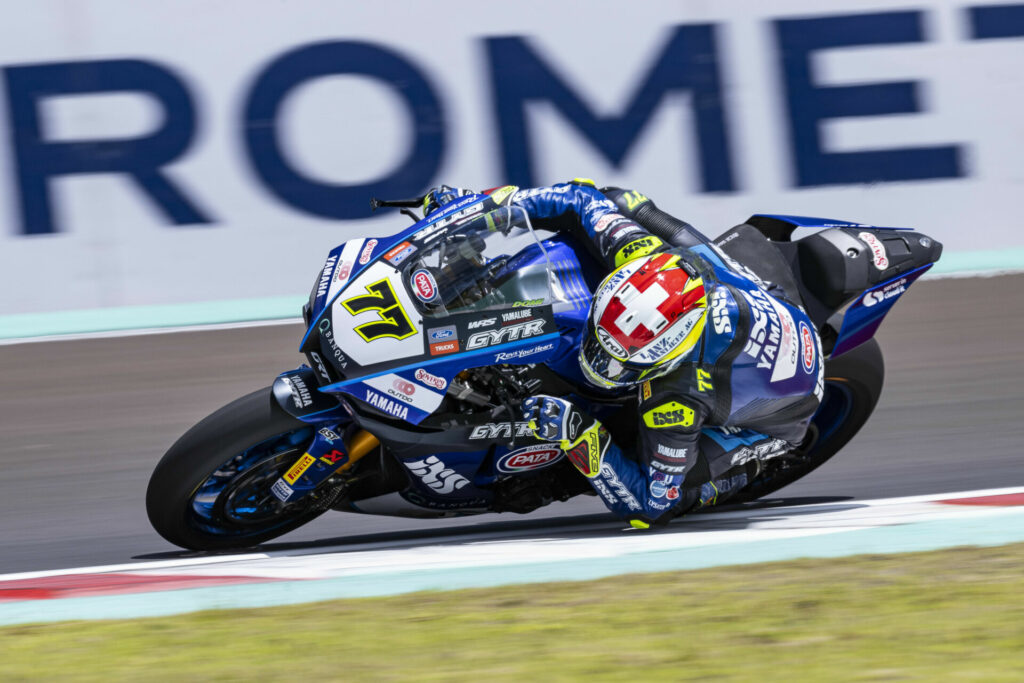 Dominique Aegerter: P12 – 1'33.837
"As usual, here it's very hot, and in the morning, the track wasn't very grippy. In the afternoon, we made some small changes, and we're not too far from the other guys now. In the last part of the second session, we tried something that didn't work, so I couldn't improve my time. We'll try to have a good qualifying session tomorrow – starting from a good position makes a big difference in the race, as we saw in Australia."