Rea, Bautista and Lowes distinguish themselves from the rest of the field as the fastest riders on Friday
Rea leads the way as WorldSBK's return to Phillip Island ignites, Japanese sensation Nagashima P6 on debut
Friday Highlights – WorldSBK 
P1 – Jonathan Rea (Kawasaki Racing Team WorldSBK)
Rea posted a 1'31.127s on his final lap of FP2 to lead Friday's combined standings.
He was 0.105s quicker than Bautista.
"I really enjoyed the bike from Lap 1, the guys did a pretty good guesstimate of the setup. Phillip Island is quite a unique track because, with experience, the more you try at this circuit, sometimes the slower you go. I tried to start calmer, be smooth with the bike, not fighting the bike and things were working. I just tried to be very clear with my comments to my guys to make the bike setup changes between FP1 and FP2 and the bike was good. There are a few areas we really need to improve tomorrow. We'll sit down tonight and analyse that to make things a little bit easier over a race distance. A little bit more turning is top of the agenda, and also throttle connection in some corners needs to be a little bit smoother. We have to be pretty satisfied. Like I said in the last races, we've been quite far from Alvaro and Toprak in terms of race time. At the end of the race, we've been struggling. My only target is just trying to be there at the end, keep consistent, give my 100% and if it's possible to do well then so be it. I try not to worry about them. Alvaro's already done his job this season and with Toprak we're still fighting for second in the Championship. He has a big gap, but anything can happen with the forecast. With my pace being good, we can fight at the front and try to take it to the last race at least."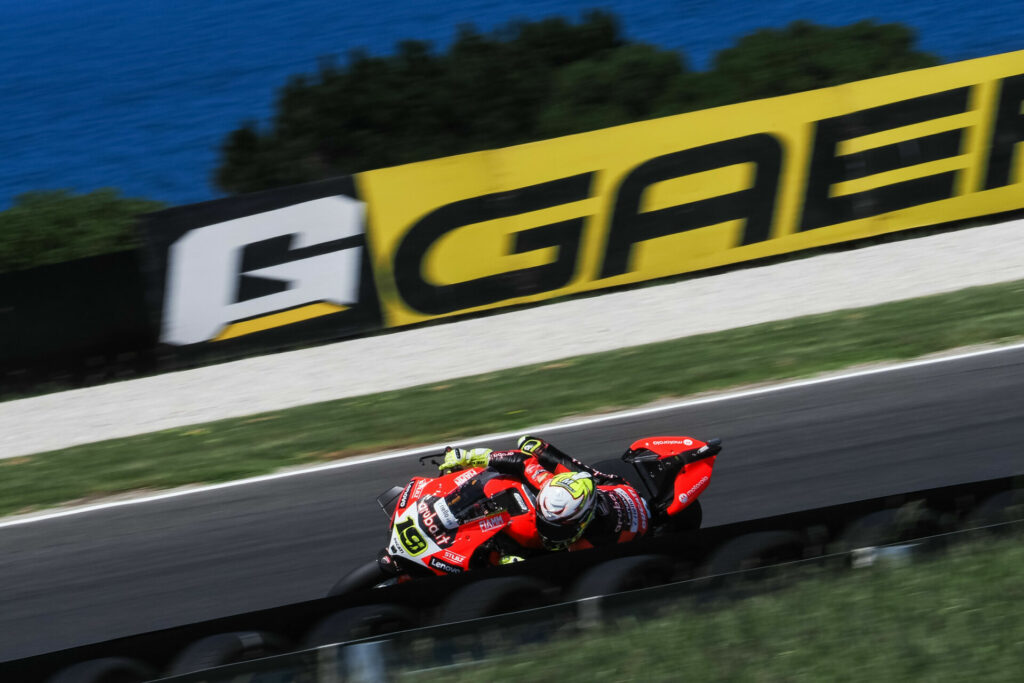 P2 – Alvaro Bautista (Aruba.it Racing – Ducati)
Bautista was second in the combined standings with a fastest time of 1'31.232s.
The newly-crowned World Champion crashed at Turn 4 in FP1 but was unhurt and back out in FP2, when he improved his time.
"I had a small crash at Turn 4 this morning. I went a bit off of the line and I lost the front. The only thing is that I couldn't finish the practice but fortunately, it was nothing serious. I always like to work on the pace, especially on Friday. Today, we had two new tyres from Pirelli so it was important to understand the tyres. In the morning I started with the B option; we did a few laps and I understood more or less the potential and the feeling with the bike. This afternoon, we tried both tyres but in the first run, I tried the A solution and I felt quite comfortable, so we decided to keep working with this tyre because for me, it means a better feeling on the bike. In the end, it could be an option for the race if it doesn't rain. I think it's been a positive Friday because we worked on the pace, and I felt good on the bike."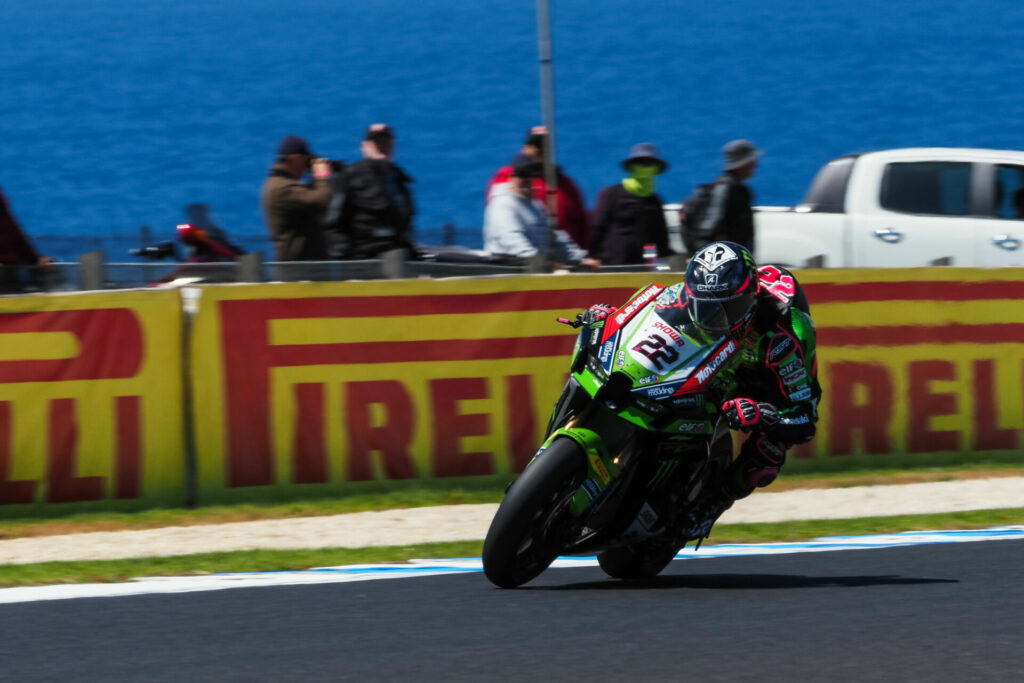 P3 – Alex Lowes (Kawasaki Racing Team WorldSBK)
A best time of 1'31.416s put Lowes in third place on the combined classification.
"It was good, really positive, coming off the back of a tough weekend last weekend where I couldn't get the feeling I needed. Today's been the opposite; I didn't touch the bike today really. I just tried to relax. It's all about tyre life and trying to get the tyres to last over the 22 laps here. Honestly, it was good. In the first session, I used the same tyre. In the afternoon, we made a small change and it felt a little bit better on the front. In general, we had a really positive day and I feel happy with the feeling I have with the bike. It was good for Kawasaki. We want to be fighting for the top step. Obviously, Jonny's not won for a long time so it would be nice to have a Kawasaki up there winning and I feel this weekend, if it's dry anyway, we have a good chance to go and fight for victory."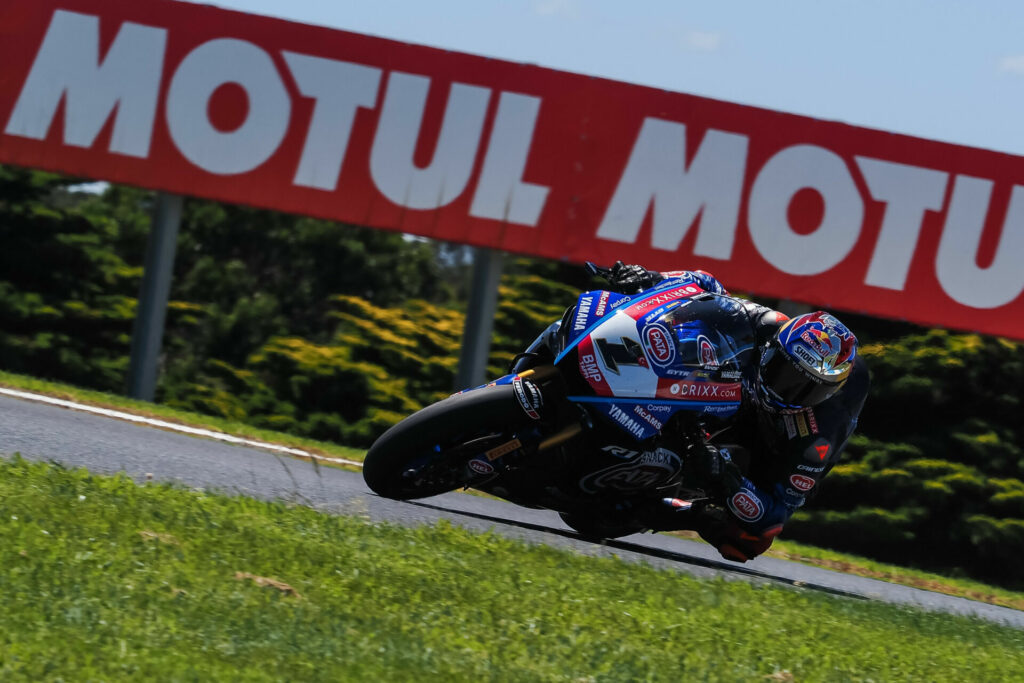 P4 – Toprak Razgatlioglu (Pata Yamaha with Brixx WorldSBK)
Razgatlioglu was fourth at the end of Friday with a best time of 1'31.604s set in FP1, as he was not able to improve in the afternoon session, the only rider in the field who didn't.
"After Mandalika, it was not the perfect day for me. We didn't have a strong start. Anyway, after two years, we come back to Phillip Island and we are now trying to have a good setup for my bike. I hope tomorrow we find a good setup and we start to come back strongly. Kawasaki are very strong at this track, I remember 2020. Also Bautista is very strong, I think he will ride alone in the race; it looks like his pace is very fast. I will try to join this group. I am just searching for a good setup. I hope I find this and ride with Jonny and Alvaro. Maybe, in the race, we can fight with Alvaro."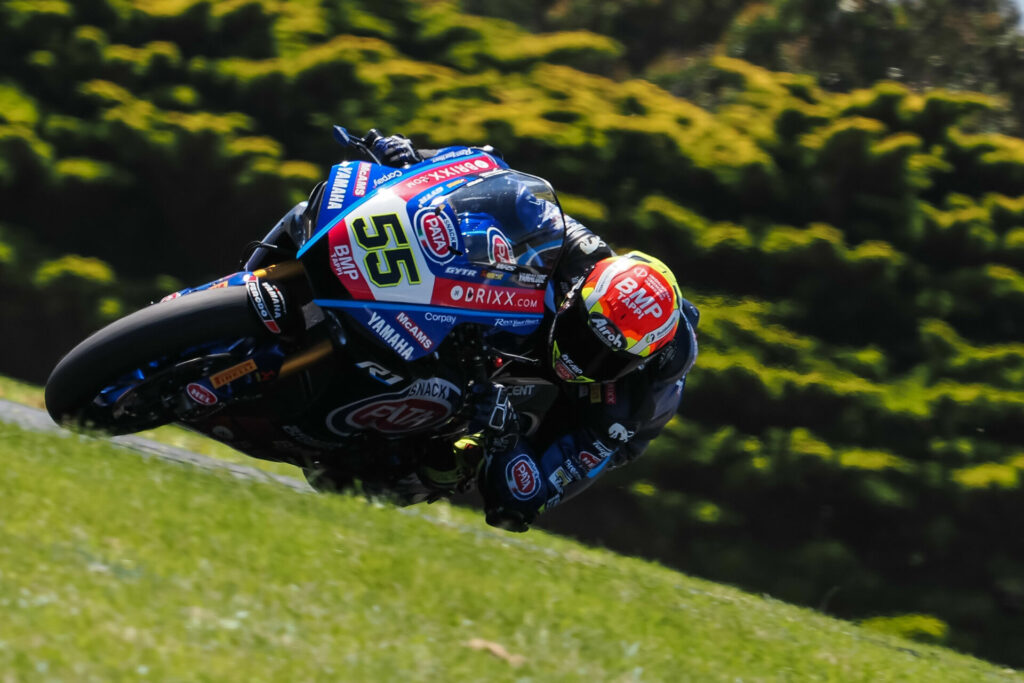 P5 – Andrea Locatelli (Pata Yamaha with Brixx WorldSBK)
Locatelli finished 0.051s behind teammate Razgatlioglu to take fifth place in the combined standings.
"It's like a dream to ride the Superbike here and today was really amazing. I'm also really happy because it's the first day and we are already fast. We have a really good feeling so it's a good first day and we'll try to enjoy tomorrow. For sure, it won't be easy but anyway, it's the last weekend of the season. We'll try to enjoy and get the maximum we can have. I want to push and enjoy because it's a special track for me. I want to try to close the season in the best way."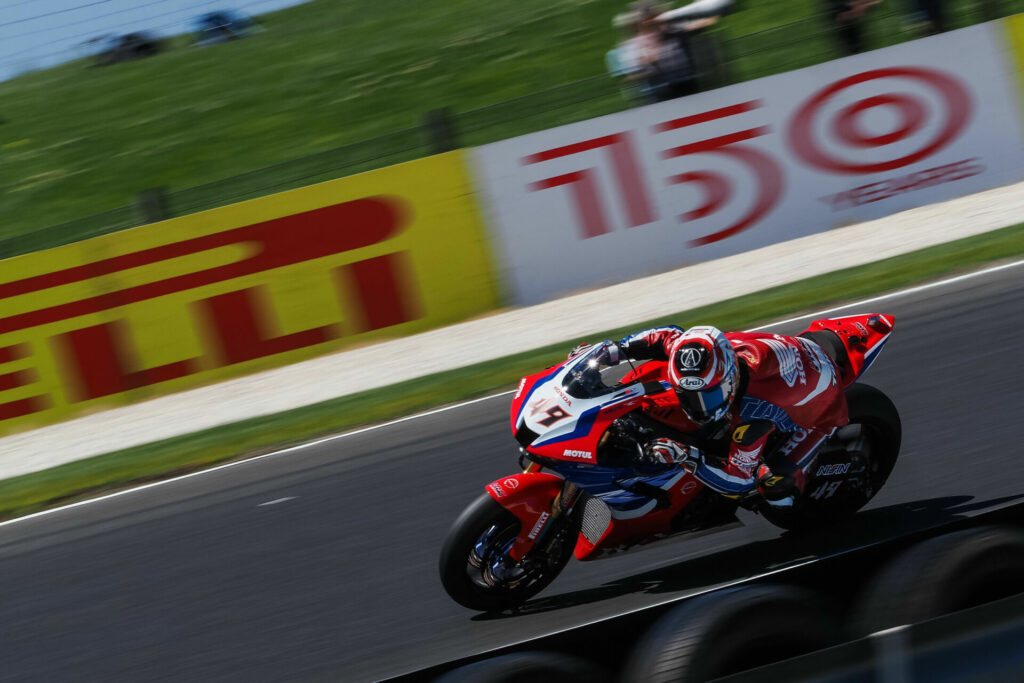 P6 – Tetsuta Nagashima (Team HRC)
Stepping in as a replacement for Iker Lecuona, Nagashima was sixth in the combined standings on Friday with a best time 1'31.869s, 0.742s behind Rea.
The Japanese debutant was also top Honda in both sessions
"I didn't expect this! I was expecting to struggle a bit more because it's my first time in WorldSBK. It was one of my first times with the Pirelli tyre. It was really difficult but P6 is not bad. I have experience here from MotoGP™ and I think the MotoGP™ bike is a little bit more difficult. When I ride the Superbike, it was a bit easier because I have experience from the Suzuka 8 Hours, and I know this bike well. I just need to adapt to the Pirelli tyres, but it was OK. I had a small problem, but it was still OK. I still have to improve for the race because it's 22 laps: it's quite long. My average lap time is not so good. I can still improve a lot. Let's enjoy the race. I don't know where I will finish but I will try to do my maximum and maybe after the race I can smile!"
To note:
Top BMW was Scott Redding (BMW Motorrad WorldSBK Team) in P9, whilst he was two places behind best Independent rider Philipp Oettl (Team GoEleven). Already crowned Best Independent Rider in 2022, Axel Bassani (Motocorsa Racing) concluded day one in 11th.
WorldSBK action resumes on Saturday from 10:50 (Local Time) with the FP3 session, followed by Tissot Superpole at 13:10 and Race 1 at 16:00.
More, from a press release issued by Kawasaki:
Rea On Top On Day One
The first day of action at the final round of the FIM Superbike World Championship saw both KRT riders, Jonathan Rea and Alex Lowes, post strong lap times from the very beginning. Jonathan was fastest of all and Alex third quickest after two dry and often sunny sessions on the 4.445km circuit.
After the extreme heat of the previous round in Indonesia, the secret on Friday was to find a strong set-up early in the weekend, in much cooler but consistently dry conditions in Australia.
With no Phillip Island race last year, due to the global pandemic, the team and riders relied on previous data and their own memories of this unique flowing layout to make strong starts in both FP1 and FP2.
Rea was quickest in both sessions with Alex fourth in the morning and third in the afternoon.
Changes were made to Rea's machine set-up for FP2, in the all-important quest for full race tyre life. This circuit is the hardest one on the calendar for tyres, with the bikes spending a lot of time on the left side during high speed cornering. Jonathan found improvements in tyre performance over distance and could maintain a strong single lap pace too.
Lowes found a solid set-up on day one and is looking to repeat the winning performance he put in during his first ever race weekend for Kawasaki in 2020, when he was victorious in Race Two.
Next up for both KRT riders at Phillip Island is FP3, Superpole Qualifying and then a 22-lap Race One on Saturday 19 November.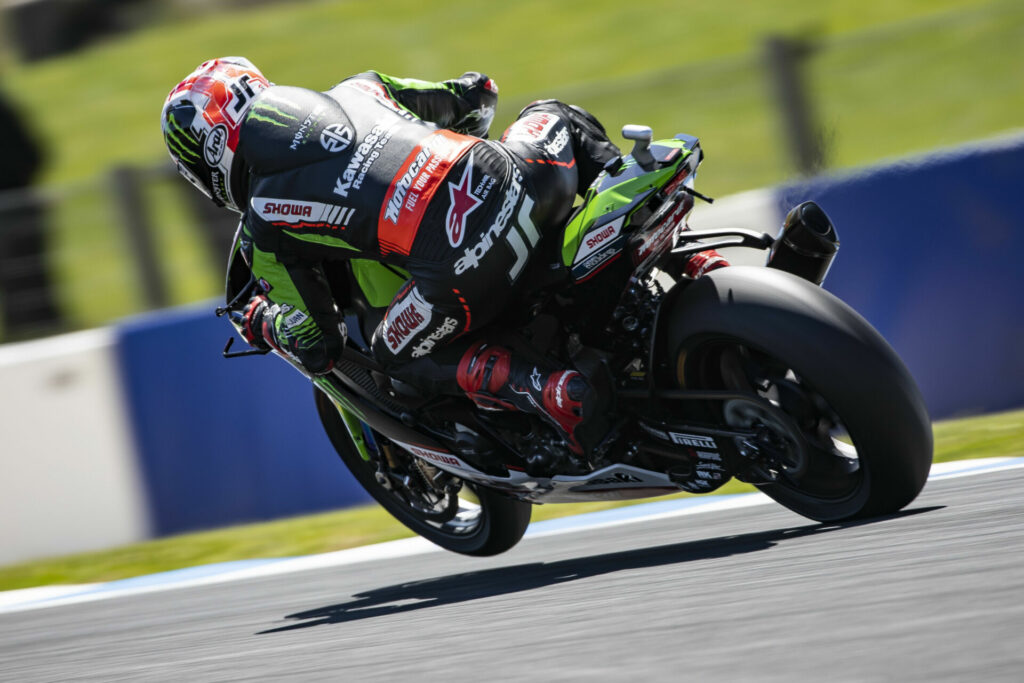 Jonathan Rea, stated: "We had a really solid day, and especially the start to the day. We had a good guesstimate of the spring balance and set-up needs, and the bike was working quite well. But, I also felt we could really improve. For the second session we made a big geometry change on the bike, back to what we had in the middle of the season. We improved the tyre consumption and the natural turning, but we just need to fix the spring balance of the bike now. Overall, there are a few issues we need to fix for tomorrow, in finishing the corner and also throttle connection in some areas. Just tweaks. We analysed front and rear tyre options, and I am quite clear with the front choice. With the rear I am still in between two options for the race. I did a lot of laps today to understand the tyres and give the guys some good info to improve. I think we can be fast enough with our one lap pace for Superpole."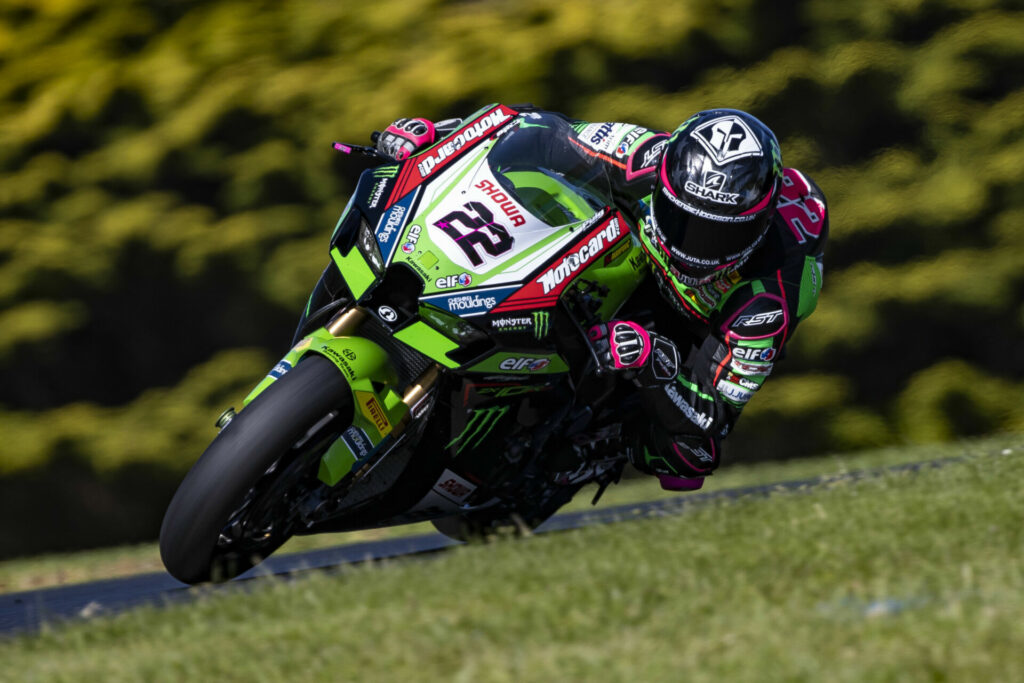 Alex Lowes, stated: "Today I was hoping that, on the base setting, we would be quick. It has been working almost everywhere since the test in the summer break at Barcelona. I have been on the front row at times and been challenging close to Johnny. Today felt good for me. The lap times have been quite slow to some previous times but I was happy compared to some of the other riders. There are a few more bumps at Phillip Island than I remember, especially at the last corners and at Turn Three. The track has just been used a little bit more, but it is not bad."
Lucas Mahias (Kawasaki Puccetti Racing) recovered well enough from a recent ankle strain to finish 13th on day one.
Oliver König (Orelac Racing VerdNatura) was 19th on Friday. In his second WorldSBK race weekend Kyle Smith (Team Pedercini Racing Kawasaki) started out in 22nd position, learning his way around the circuit on his 1000cc machine.
More, from a press release issued by Team HRC:
A strong first outing for Nagashima at Phillip Island, work in progress for Vierge
The curtain has gone up on the final round of the 2022 Superbike World Championship at the Philip Island Grand Prix Circuit in Australia. Team HRC is on track for the season finale with Xavi Vierge and HRC test rider Tetsuta Nagashima, who stands in for injured Iker Lecuona.
The weekend's first practice session got underway in dry, sunny conditions, giving the Team HRC riders the chance to start the setup work with their technicians. The pair took a methodical approach, particularly Nagashima who is competing in WorldSBK for the first time. Setting very similar times to each other throughout the session, Nagashima finished ninth with a 1'32.964, followed by Vierge in tenth with a 1'32.974.
Later in the day, Vierge and Nagashima were back out for the second practice. Tetsuta immediately shaved a good seven tenths of his earlier time (1'32.266) to move up the timesheets. He was able to make further progress as the session went on, setting a best of 1'31.869 which meant he placed sixth overall in the day's combined standings. Xavi spent most of this phase focusing on setup as he and his technicians worked to iron out a few details in preparation for tomorrow's Superpole and first race. Improving on his earlier time at the very end of the session, Vierge rounded out the day in fourteenth position overall with a best of 1'32.780.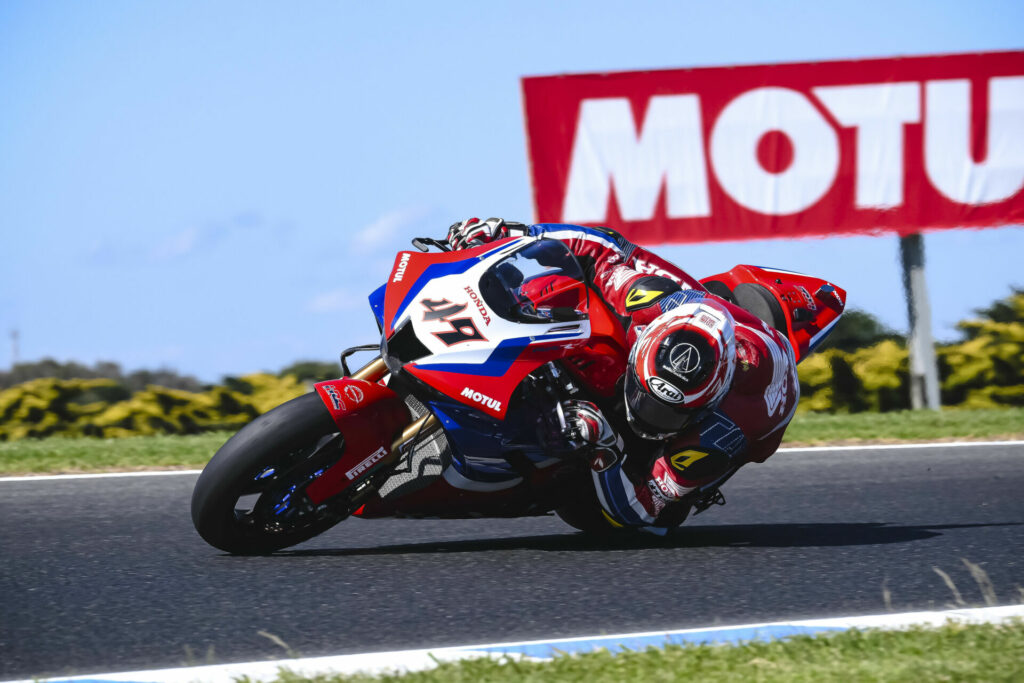 Tetsuta Nagashima  49
P6 
"I felt good today; P6 in FP2 is not bad. I was expecting to struggle a little more because this is my first time here in WorldSBK and pretty much my first time on Pirelli tyres. I raced here few weeks ago in MotoGP of course, and that helped a bit in that I was immediately able to find pace with the CBR, a bike I know well. The main thing was adapting to the tyres and to the setup for this package. There are still some things we can work on because I made just one fast lap. I need to improve my pace too, because the race is 22 laps, so we need consistency. I don't honestly know what to expect from the rest of weekend in terms of results, but you can be sure I'll do my very best. The team is working hard and everything is going very smoothly so far. I already knew some of the guys from my time in Moto2 so the team is like family and I felt good right away. I'm really enjoying the weekend and this WorldSBK experience."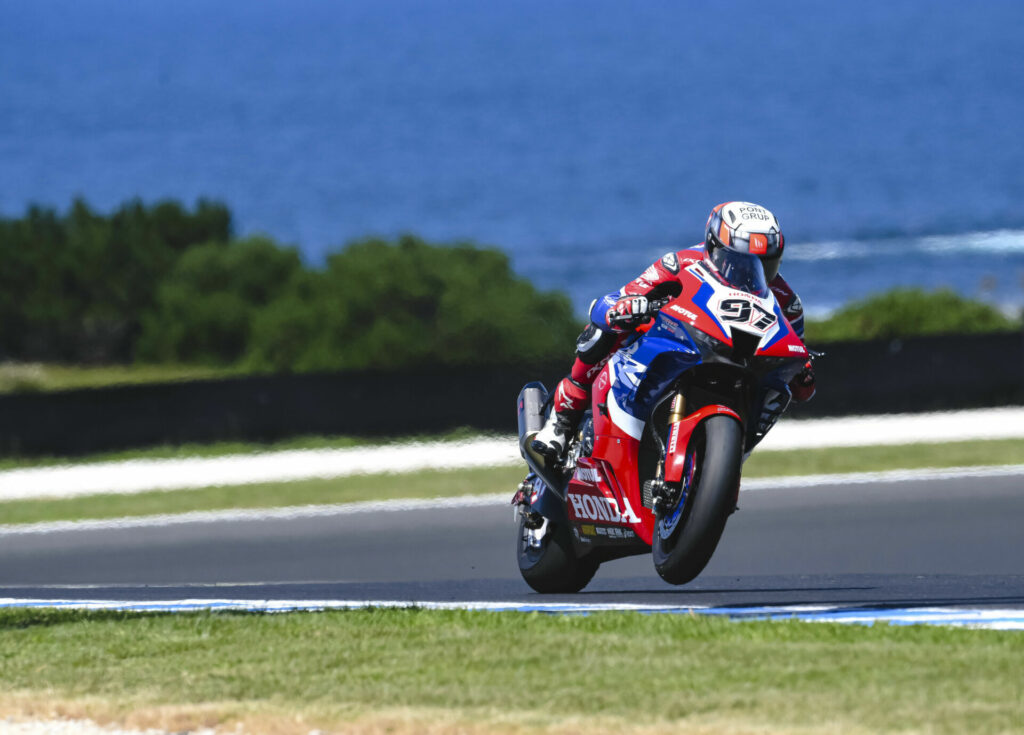 Xavi Vierge  97
P14 
"Today has been challenging for us, also because it's a long time since I last raced here at Phillip Island. FP1 was not so bad, and we regained confidence with the track and with the bike at this track. Then we tried a setup change for FP2 but it didn't work as we'd hoped. Luckily the team was able to react very quickly, and we were able to make a final run that proved much more positive in terms of feeling, even with a very used tyre. So we rounded out the day on a positive note and tomorrow we should be able to head straight in the right direction. With one eye on the weather though, because today we were blessed with almost ideal conditions but the forecast for the rest of the weekend is not so good."
More, from a press release issued by Pata Yamaha:
Pata Yamaha with Brixx WorldSBK Top Five in Tricky Phillip Island Friday
Toprak Razgatlıoğlu and Andrea Locatelli ended Free Practice fourth and fifth-place respectively in the combined time sheets at the final round of the 2022 FIM Superbike World Championship at Phillip Island today.
After more than two and a half years away from the classic Aussie venue, the WorldSBK class had plenty of work to do to get back up to speed on the fastest circuit of the calendar. For 26-year-old Italian rider Locatelli, it was a positive day for his first look at the island on the "big bike" with excellent one-lap speed and a productive long-run in this afternoon's Free Practice 2 session.
There was more work to do on Razgatlıoğlu's side of the pit box to find a comfortable – and crucially, fast – set-up on his Yamaha R1 WorldSBK. His fourth-fastest lap time came behind a strong trio of Kawasaki's Jonathan Rea, Alex Lowes and Ducati's Alvaro Bautista.
With an abrasive surface, lower track temperatures and two different construction Pirelli rear tyre options to test, the challenges facing the Turkish ace are very different compared to his hat-trick weekend in Mandalika just five days ago.
The Australian Round features another special condensed race schedule, with later session times each day: Free Practice 3 starts from 10:50 (UTC+11), Superpole qualifying at 13:10 and lights out for Race 1 at 16:00 tomorrow.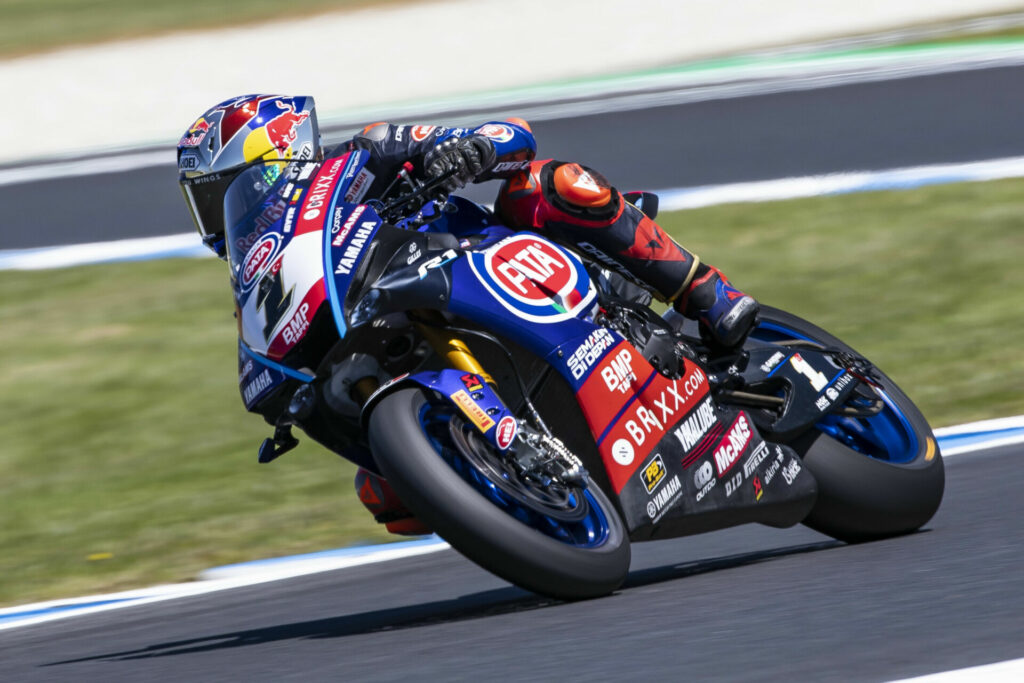 Toprak Razgatlıoğlu: P4 – 1'31.604
"After Mandalika, not a perfect day for me – we are not strong starting but anyway, after two years we are coming back here again at Phillip Island and now we are trying to find a good set-up for my bike. I hope tomorrow we find a good set-up and start to come back again strong, but we will see! I am not really strong in the wet conditions, but maybe it can help for me – I don't know – because maybe tomorrow in wet conditions I can ride more fast! No problem, because last weekend for the season and I will try my best. Both Kawasaki riders are very strong on this track, I remember from 2020 and also Alvaro is very strong. Maybe we are fighting with them again tomorrow, I will try."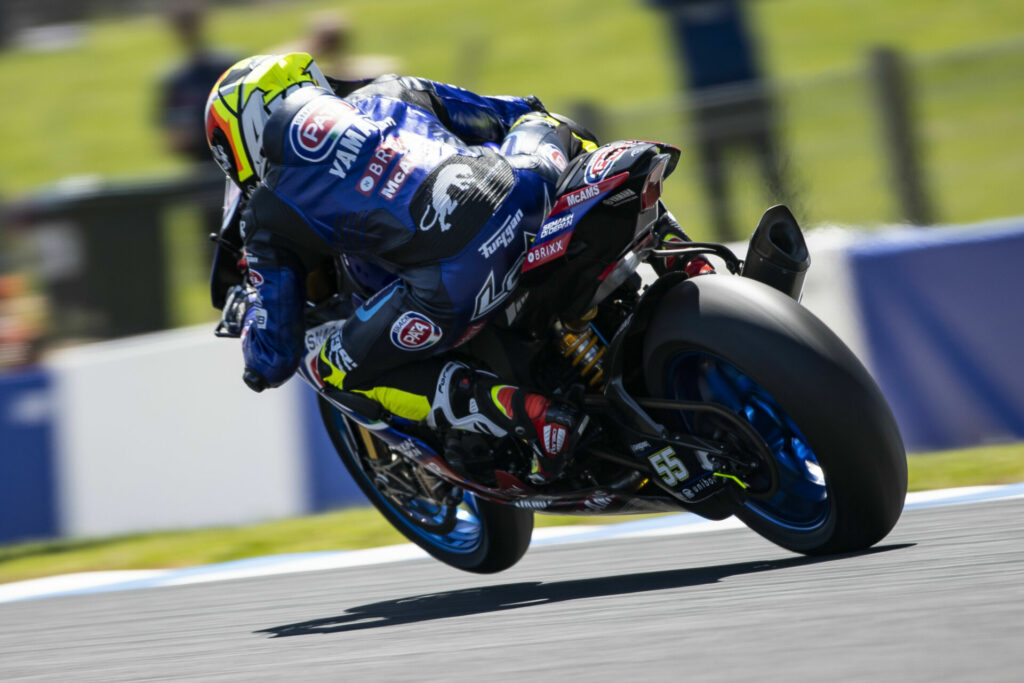 Andrea Locatelli: P5 – 1'31.721
"It's like a dream to be back in Australia, because I have been waiting a lot of time to ride the R1 WorldSBK here and today, it was really amazing. I'm really happy because it's the first day and we're already fast and I have a good feeling on the bike. It's only the first day – it will not be easy tomorrow, but it's the last weekend and we have three races, so we will try to enjoy and we will try for the maximum result we can get. The big step was in FP2, because I have never ridden this bike here and I also did the long run to understand the feeling and reference on this track with this bike. The average speed is really high, so I need to understand the good points and what I can manage on the bike. The rear is not easy to control because we have a lot of spin, but we are working very well today and we have good data to prepare the bike for tomorrow as well as confidence from Mandalika, so I want to push and try to get another podium if it's possible."
More, from a press release issued by GYTR GRT Yamaha WorldSBK Team:
Strong Race Pace for GYTR GRT Yamaha WorldSBK Team on Opening Day at Phillip Island
GYTR GRT Yamaha WorldSBK Team's Garrett Gerloff ended the first day of the FIM Superbike World Championship finale at Phillip Island eight fastest on combined times, while Kohta Nozane got his first taste of the Australian venue with the Yamaha R1 WorldSBK.
In the opening practice session, both riders were building confidence on the iconic Phillip Island circuit, with Gerloff showing promising pace to finish sixth on a 1'32.484, while Nozane gained experience around a track that he hasn't ridden since the 2013 Moto2 season, ending Free Practice 1 in 21st.
The #31 and #3 riders got going again for FP2 In the afternoon, making significant progress. American rider Gerloff focused on his long-run pace, showing superb consistency over a 15-lap stint. With race pace being the priority over lap times, the 27-year-old still managed to end the session in eighth (1'32.058).
On the other side of the garage, the Japanese ace improved his time by an impressive 1.345s to go 20th fastest on a 1'33.548. Nozane will look to make further progress in the final practice session tomorrow to be best prepared for qualifying and the race.
Both riders will be back on track for FP3 at 10:50 local time (GMT +11) tomorrow, before the Tissot Superpole at 13:10 and Race 1 at 16:00.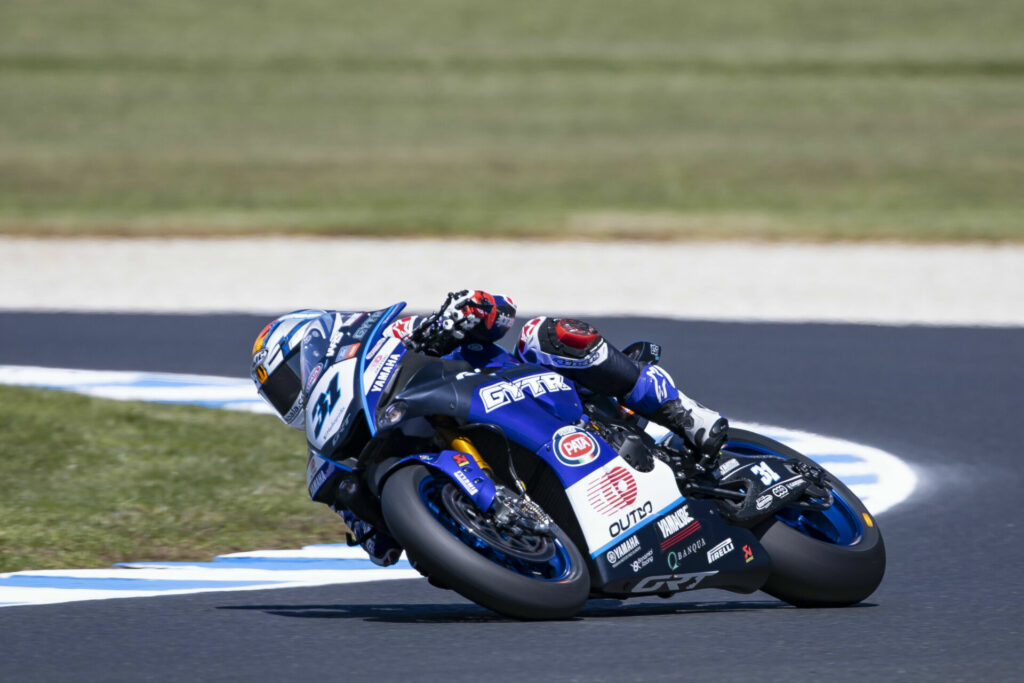 Garrett Gerloff: P8 – 1'32.058
"The lap times are not bad, which is a little bit strange because the feeling is not perfect. I'll take that as a good sign, we have some ideas for tomorrow as well, especially for if the rain holds off. Anyway, we'll be ready in any condition and I'm looking forward to making further progress ahead of the race."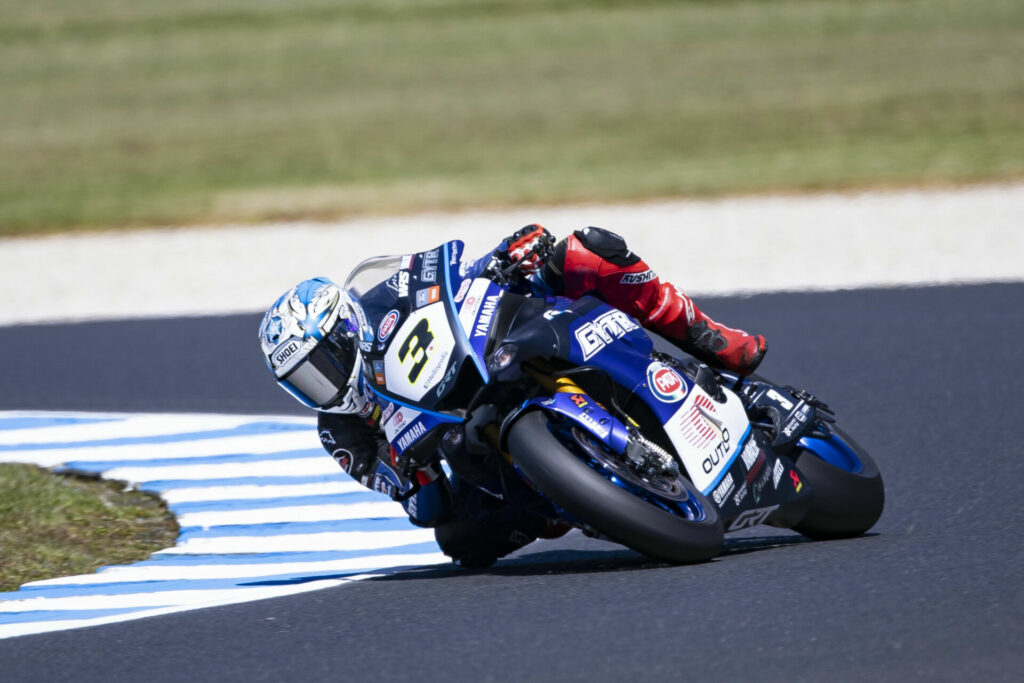 Kohta Nozane: P20 – 1'33.548
"Our first day with the Yamaha R1 machine here in Phillip Island wasn't too great, but I got to know the track and gained confidence throughout the sessions. I'll be honest, I'd rather have wet conditions tomorrow than a dry asphalt, but we'll do our best in any case and we'll be prepared for the races."
More, from a press release issued by Aruba.it. Racing Ducati:
Bautista (P2) in superb form on Friday at Phillip Island. Tenth place for Rinaldi. Bulega leads the way in WorldSSP free practice
Extremely positive free practice for Alvaro Bautista. Some difficulties for Michael Rinaldi. This is how the final race weekend of the 2022 WorldSBK season begun for the Aruba.it Racing – Ducati team.
Alvaro Bautista was immediately at ease at the Phillip Island Circuit (Australia), setting an extremely solid race pace. The Spanish rider finished second in both FP1 and FP2, also working on the new tyre solutions brought by Pirelli.
Michael Rinaldi, on the other hand, did not find the best feeling with his Ducati Panigale V4. In the afternoon the Italian rider lowered his morning time by half a second, but he was unable to get closer to the leading group.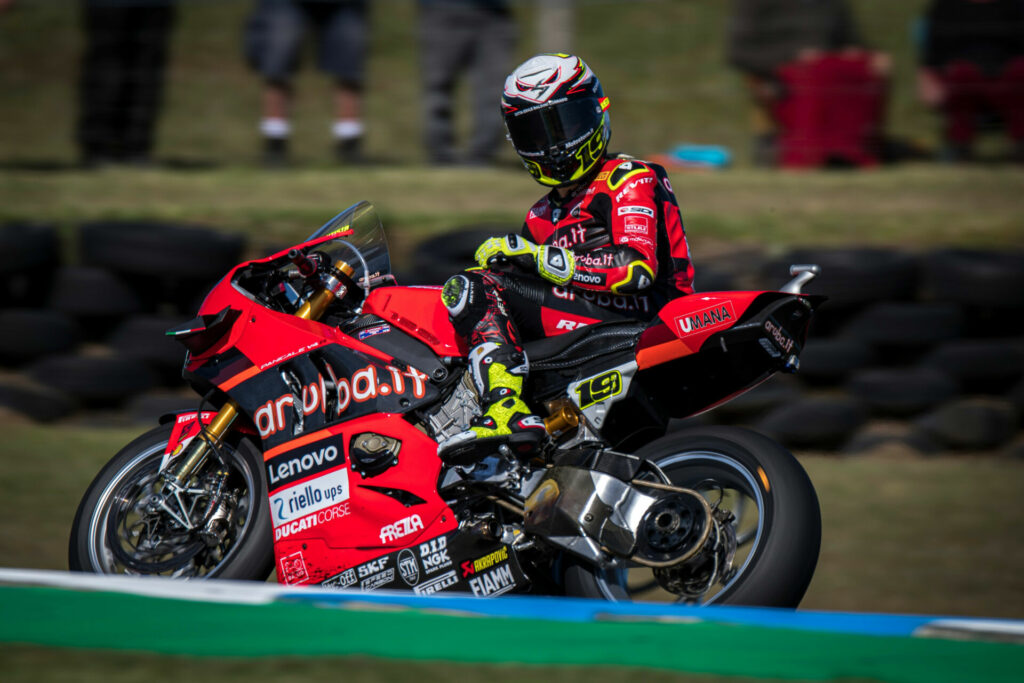 Alvaro Bautista 
P2 (1'31.232 +0.105)
"We did a good job today trying the two Pirelli tyres in FP1 and FP2 with good feeling. I am happy because the race pace is incisive. I think we have a good base ahead of the weekend's races even though the weather conditions could mix things up starting from tomorrow. In any case, we are ready to race in any conditions".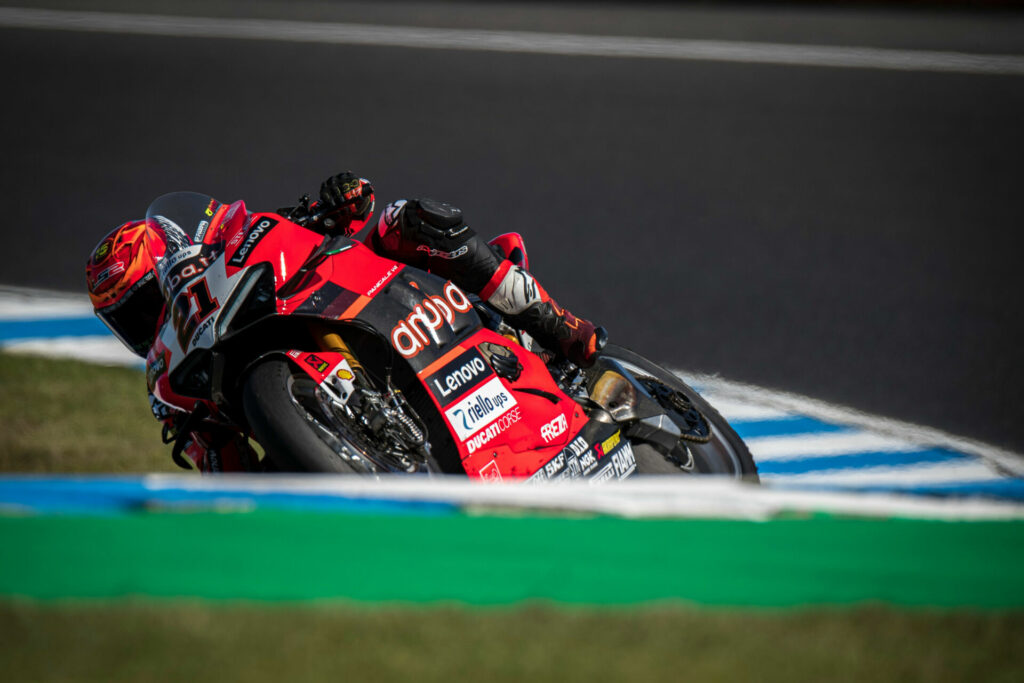 Michael Rinaldi 
P10 (1'32.329 +1.202)
"It's good to be back at this circuit. Unfortunately, I couldn't find the right conditions to be able to be incisive. It was a difficult day and I am not happy with the way things went. The feeling with the bike is not right. We have to work to make an important step tomorrow. I really want to finish the season well".
WorldSSP
Nicolò Bulega did not lose feeling with one of his favourite tracks: in fact, he pushed the Ducati Panigale V2 of the Aruba.it Racing WSSP team well and he closed the free practice in first position.
Nicolò Bulega
P1 (1'34.027)
"I was really looking forward to coming back to Phillip Island after three years and I have to admit that the feeling was really good. As soon as I got on track I immediately started to enjoy myself and the feeling with the bike was very good. We found the speed but we will try to improve further."