New Personalities Join The Kawasaki Family
One key to the continuing success of the official Kawasaki Racing Team in WorldSBK is the stability and 'family feel' of the entire set-up, both at races and back at headquarters in Europe and Japan. This year two new staff have joined the KRT team itself, in the shape of Electronics Engineer for Jonathan Rea, Sander Donkers, and an experienced WorldSBK figure in the electronics realm, Christophe Lambert.
The whole Kawasaki Racing family has expanded with the appointment of the two new electronics and data analysis specialists. The word 'family' can be sometimes overused in a sporting context but not only is the unmistakable feel inside Kawasaki's official squad akin to a family unit, the Provec Racing element of the overall KRT effort is actually run by two bothers – Guim and Biel Roda – and their cousin, Alvar Garriga.
It was identified recently that there had to be changes in the way that the team could process and act upon conclusions derived from the vast reams of data that are gathered from test sessions and races. Hence the arrival of Lambert and his vast experience of electronics in WorldSBK, most recently with Yamaha. His official title will be Electronics and Data Engineering Coordinator. As this new job title suggests, Christophe's arrival signals an overall expansion of the team's efforts in terms of electronics, with the sole aim of improving on-track performance when it really matters, during race weekends.
Sander Donkers is a direct replacement for Rea's previous electronics engineer Davide Gentile, a respected colleague and friend who leaves for another challenge with best wishes from all in Kawasaki after his positive contribution to much of the team's recent successes.
With two new engineering specialists in place, Sander and Christophe, the whole team will pull together to identify issues, improve working collective practices and aim for wins, all while representing the best of Kawasaki's competitive spirit and desire to succeed. This ambition for even more success is shared by the Kawasaki fans, riders, sponsors, technical partners, KRT itself and everyone involved in the whole global Kawasaki family.
By his own admission Christophe came into the exciting world of bike racing quite late, at the age of 25. The bike trackday enthusiast was bored in his regular job designing car air-conditioning systems, when a friend encouraged him to try to get a job inside MotoGP. He started studying at the French 'l'Ecole de La Performance' (Motorsports performance school) to immerse himself in the racing world and build up relationships with existing racing professionals. He entered his on-track career as the 'data guy' in a French 250cc MotoGP team. Moving to WorldSBK and working in smaller teams at the beginning, he has made his way right up to factory level. He has even worked with now regular KRT rider Alex Lowes when he was at Yamaha, and for the past three years he has worked with 2021 WorldSBK champion, Toprak Razgatlioglu.
Sander has an impressive breadth of experience in many forms of racing and different championships. Entering the HAN University in his native Netherlands in 1999, he secured a BEng Automotive Engineering and then went straight to the specialist Cranfield Institute to earn a Masters Degree in Motorsport Engineering & Management. Although now specialising in electronics, he was hand-and-mind working experience as a suspension designer in the UK, an electronics engineer in AMA Superbike racing, a crew chief, a Moto2 R&D Engineer, a MotoGP electronics engineer, and various electronic engineering roles for MV Agusta, HRC and most recently BMW in WorldSBK.
After many achievements in their respective careers, Christophe and Sander are now part of the most successful WorldSBK effort in the past decade, looking to work alongside many of their new colleagues who have been part of that success in their past, and who are equally hungry for more in the very near future.
The new KRT technical figures are far from hidden, having already joined with their perennially committed and hard working colleagues in a test at Jerez in Spain, and will continue to build their working and personal relationships at the next test, in Portimao, between 31 January and 1 February.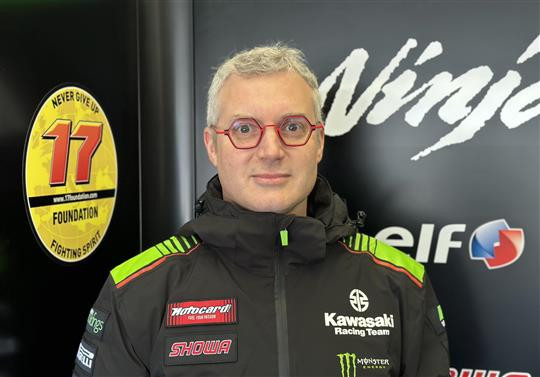 Christophe Lambert, stated: "I am really happy to join KRT. It has been something that has stimulated me over the past years. They have been at the top for a long time. It's  super-exciting for me to join them. The resources are amazing and the people are very friendly, and very professional. I think it will be a very nice experience for me."
Sander Donkers, stated: "I will be joining KRT from 2023 on, as an electronics guy for Johnny. I am really excited to join this project. It will be a big challenge for me, with a lot of new things to learn, but I am really excited to get started."
Guim Roda, KRT Team Manager, stated: "After analysing areas in KRT workflow that we could enhance we detected the need to introduce a new role to support the technical staff more and to extract the maximum from the electronics system. At the same time, we need to evaluate the quantity of data we generate on race weekend much faster. In the past, we have realised where we could have been better a few days after the race – which is inefficient. This new staff situation allows us to better analyse all the information we create to react fast in real time during the race weekend. We found in Christophe good experience and potential and we are quite sure we gonna make another step to improve our performance with him onboard. Additionally, Davide Gentile the Electronics Engineer for Jonathan has decided to look for new goals and we wish him well and thank him for his contribution to the project. For this important role we searched in many places and finally we decided on Sander as the best candidate to work with Pere and Johnny. Additionally, we have taken the opportunity to reorganise some roles and responsibilities within KRT, adjusting concept ideas to the reality of racing and we will reinforce the Test Team area with Florian Marino helping us to use best our track time. We are all highly motivated for 2023 season and for sure we'll do our best to keep improving, keep innovating and never give up."