FIM Superbike World Championship Test
Jerez Circuit, Spain
January 26, 2023
Unofficial Day Two Test Times (all on Pirelli tires):
Toprak Razgatlioglu, Turkey (Yam), 1:38.269
Jonathan Rea, UK (Kaw), 1:38.352
Alvaro Bautista, Spain (Duc), 1:38.449
Michael Rinaldi, Italy (Duc), 1:38.646
Alex Lowes, UK (Kaw), 1:39.175
Dominique Aegerter, Switzerland (Yam), 1:39.193
Andrea Locatelli, Italy (Yam), 1:39.280
Danilo Petrucci, Italy (Duc), 1:39.311
Iker Lecuona, Spain (Hon), 1:39.337
Remy Gardner, Australia (Yam), 1:39.464
Loris Baz, France (BMW), 1:39.517
Scott Redding, UK (BMW), 1:39.710
Xavi Vierge, Spain (Hon), 1:39.860
Philipp Oettl, Germany (Duc), 1:40.023
Garrett Gerloff, USA (BMW), 1:40.101
Michael van der Mark, Netherlands (BMW), 1:40.221
Tom Sykes, UK (Kaw), 1:40.750
Lorenzo Baldassarri, Italy (Yam), 1:40.975
Florian Marino, France (Kaw), 1:41.553
Oliver Konig, Czech Republic  (Kaw), 1:41.595
More, from a press release issued by Dorna WorldSBK Press Office:
Jerez Test concludes with Razgatlioglu on top ahead of Rea and Bautista
Riders wrapped up their first test of 2023 in Jerez before moving onto Portimao next week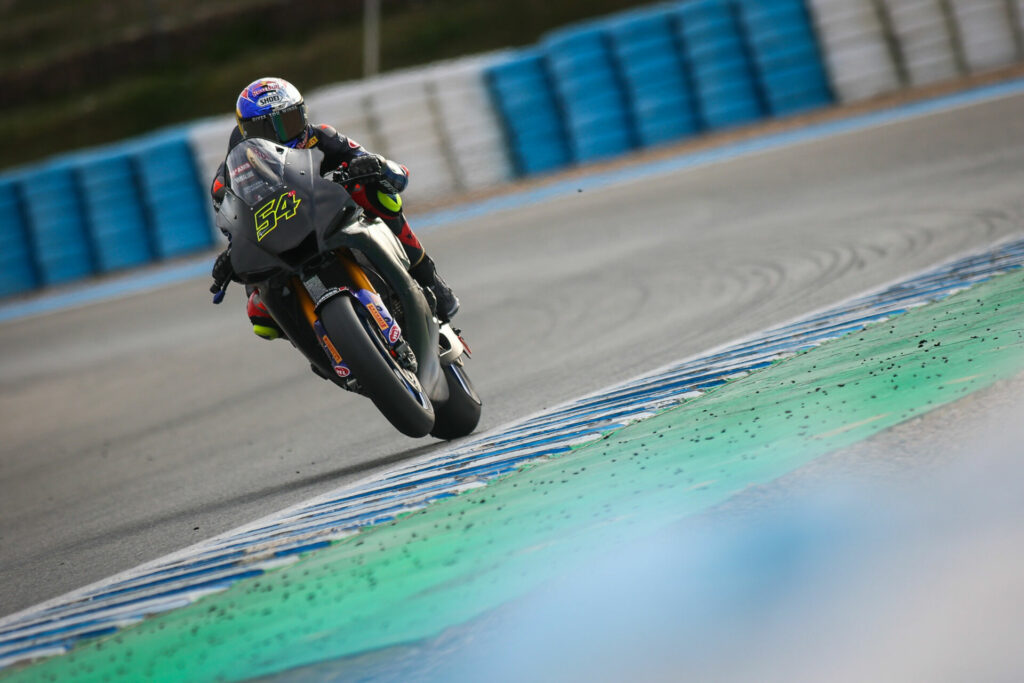 Toprak Razgatlioglu (Pata Yamaha WorldSBK) had a positive test and was unfazed by a crash midway through day 2 to set the fastest time again.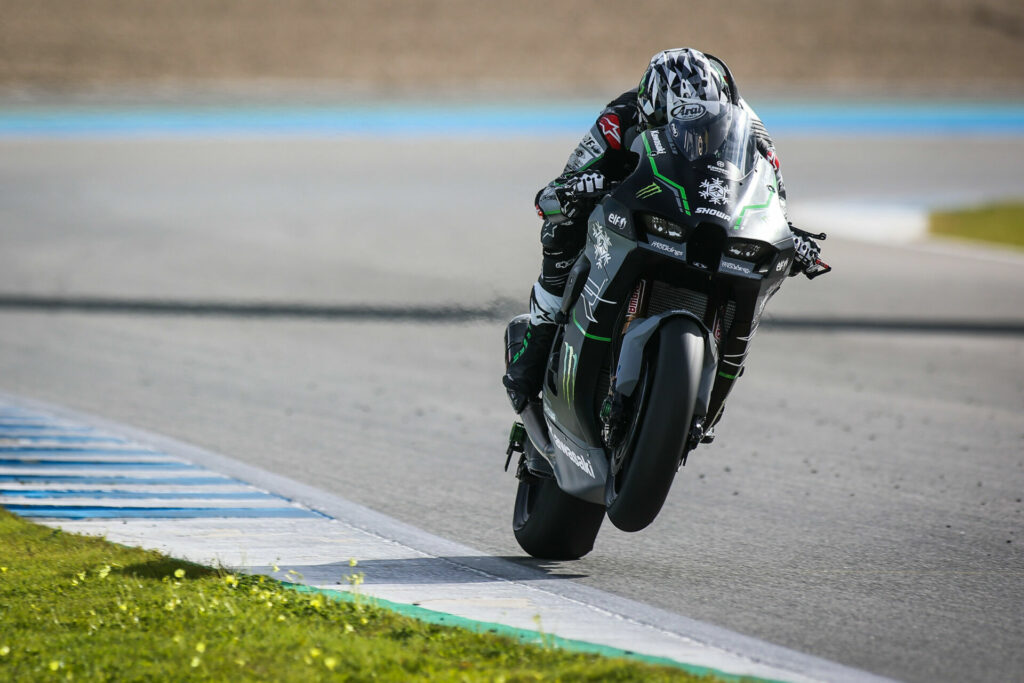 Jonathan Rea (Kawasaki Racing Team WorldSBK) was second fastest ahead of defending World Champion Alvaro Bautista.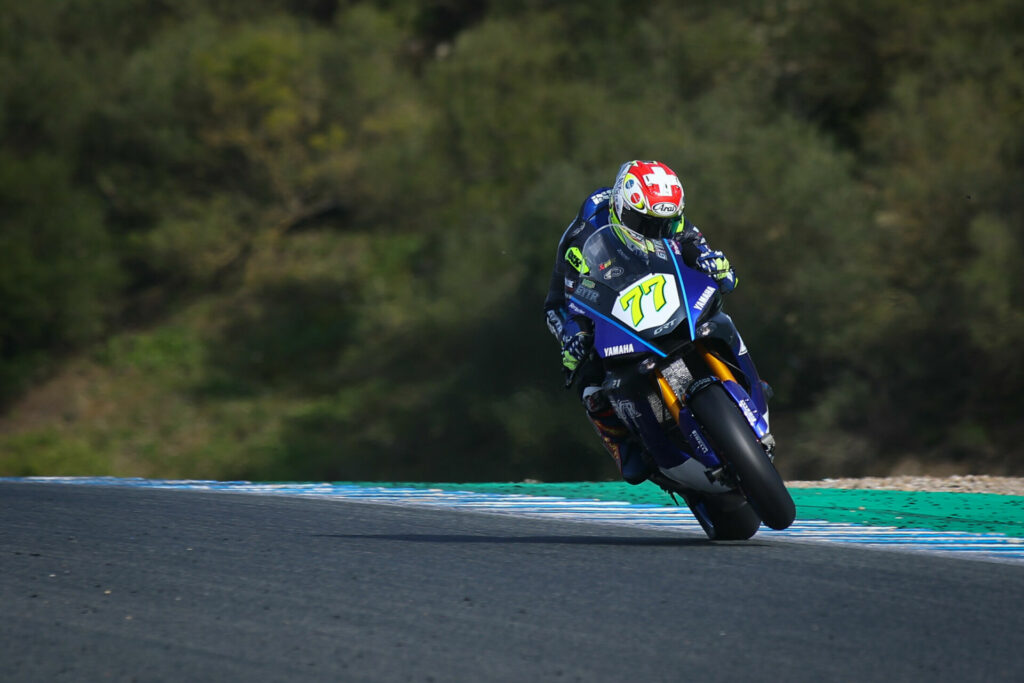 Rookies Dominique Aegerter (GYTR GRT Yamaha WorldSBK Team) and Danilo Petrucci (Barni Spark Racing Team) impressed finishing 6th and 8th respectively.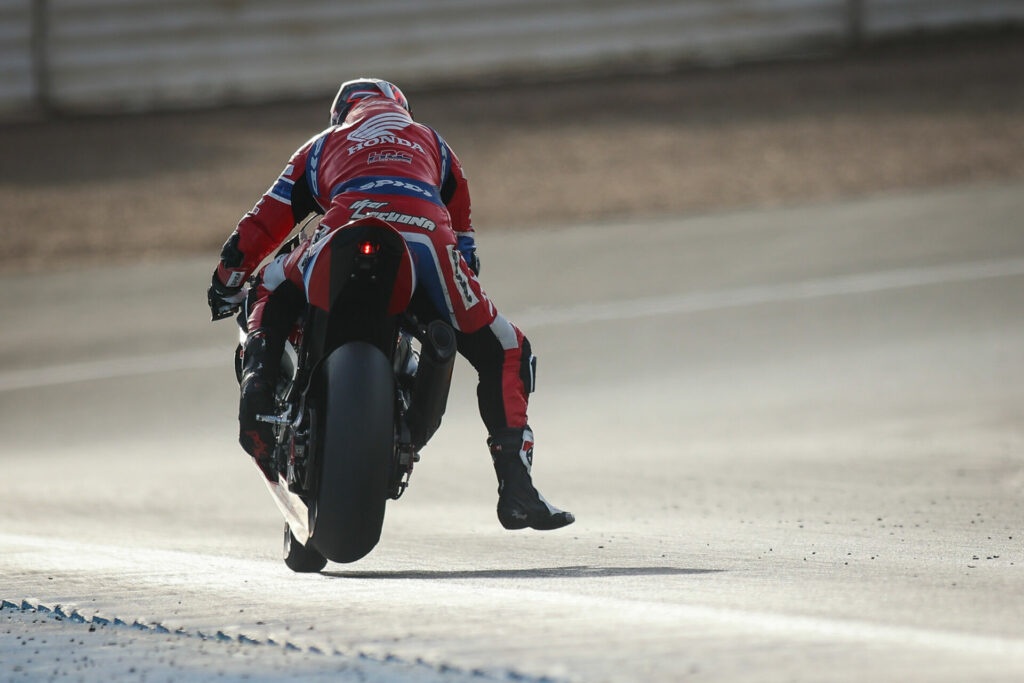 Team HRC's Iker Lecuona spearheaded Honda's effort as 9th fastest after completing 68 laps on Thursday.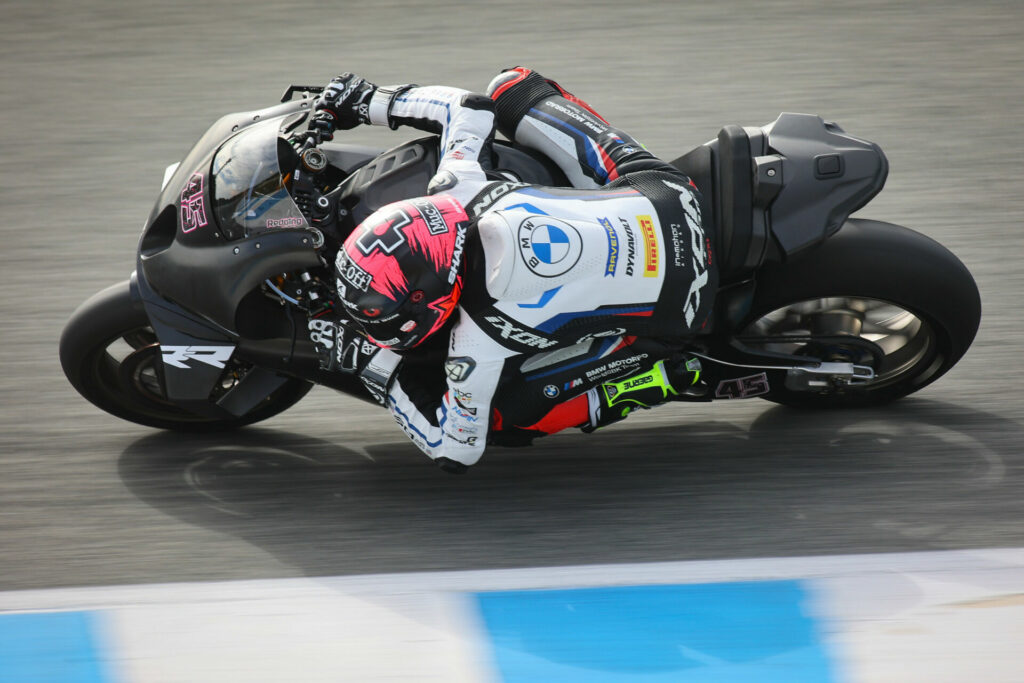 Scott Redding continued his development work as BMW introduced a new
M 1000 RR model for 2023.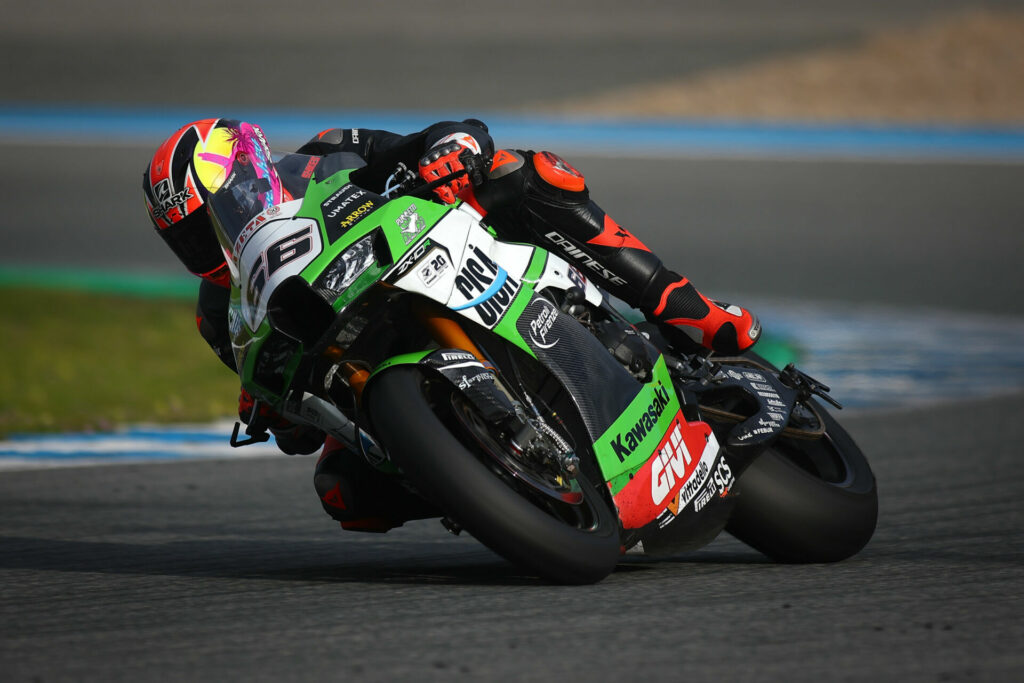 Tom Sykes returns to WorldSBK for his first test back on the Kawasaki
ZX-10RR with the Kawasaki Puccetti Racing team.
WorldSBK Day 2 Report
Testing at the Circuito de Jerez – Angel Nieto came to a conclusion for the teams and riders from the MOTUL FIM Superbike World Championship that attended. Toprak Razgatlioglu (Pata Yamaha WorldSBK) was able to bounce back from his crash in the morning to record the fastest time with a 1'31.269s set in the afternoon; attempting to break the 1'37s barrier. Jonathan Rea (Kawasaki Racing Team WorldSBK) was second on Day 2, less than a tenth behind Razgatlioglu while 2022 WorldSBK Champion Alvaro Bautista (Aruba.it Racing – Ducati) took third place.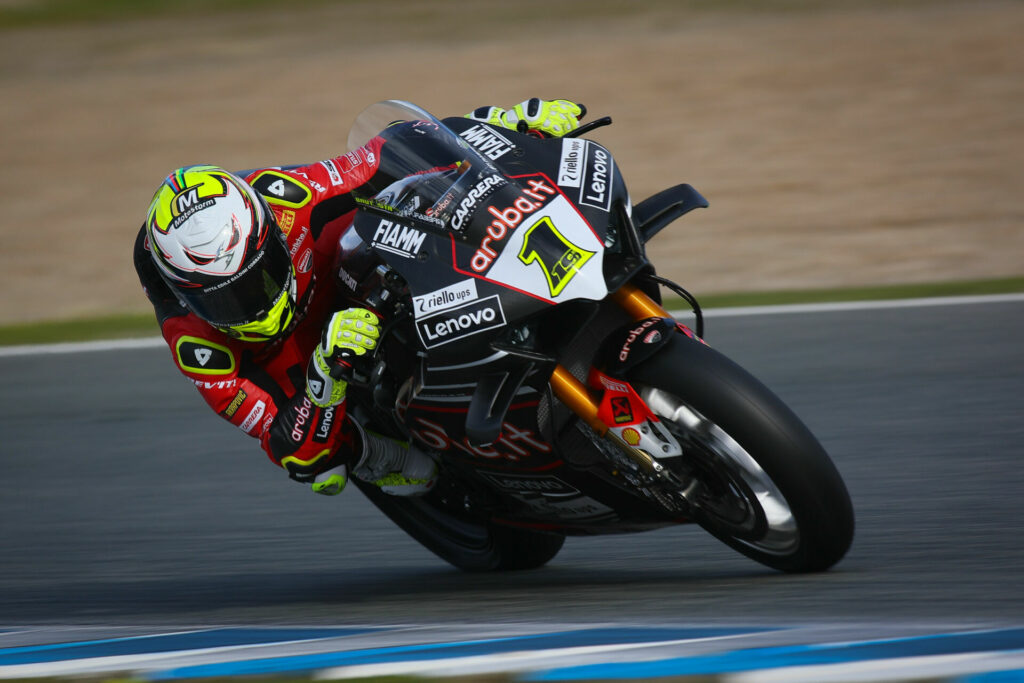 After a strong showing on Day 1, three WorldSBK rookies finished the test inside the top ten on Day 2. Dominique Aegerter (GYTR GRT Yamaha WorldSBK Team) was sixth fastest after posting a 1'39.193s, with Danilo Petrucci (Barni Spark Racing Team) taking eighth place after setting a 1'39.311s. Aegerter's GRT Yamaha teammate, Remy Gardner, took tenth spot but was only three tenths slower than Aegerter at the end of Day 2; showing how tight the WorldSBK field is in 2023.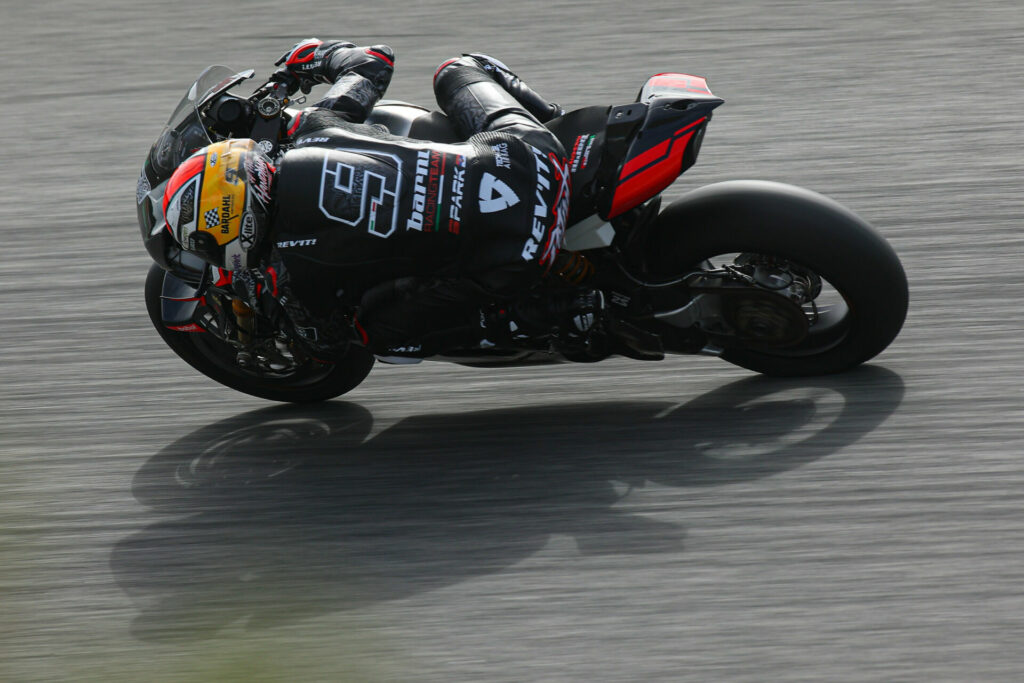 Most teams will now be headed to Autódromo Internacional do Algarve in Portugal for another two-day test to be held on Tuesday 31st January and Wednesday 1st February.
Read the full report from Day 2 in Jerez on worldsbk.com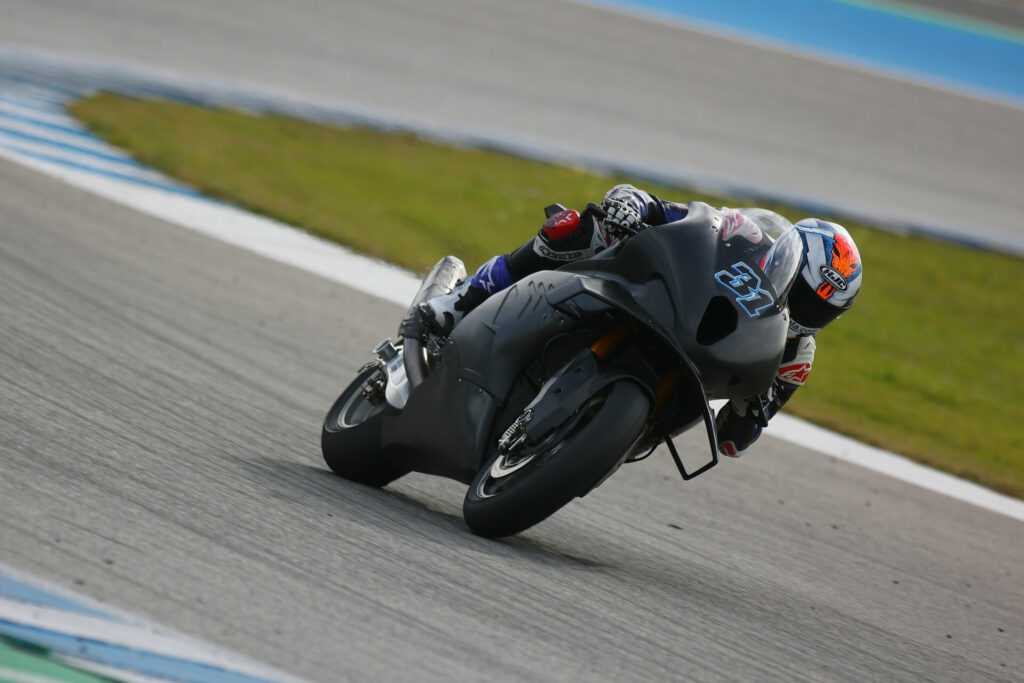 More, from a press release issued by Team HRC:
The 2023 pre-season kicks off for Team HRC with testing at Jerez
On Wednesday 25 and Thursday 26 January, Team HRC and its factory Superbike riders Iker Lecuona and Xavi Vierge took to the Jerez de la Frontera circuit in Spain for the first two-day test session of 2023, alongside most of the WorldSBK field.
Sunny albeit very cool conditions (which were even cooler on the second day with a maximum air temperature of just 13°C) offered Lecuona and Vierge the opportunity to continue with the development of the CBR1000RR-R FIREBLADE, the duo working efficiently and uninterruptedly from around midday until late in the afternoon on both days. This was fortuitous, considering that the team's last test at Jerez in mid-December was seriously compromised by bad weather. Team HRC essentially picked up where it left off last time out then, carrying out tests and comparisons that were not possible in last month's wet conditions.
Over the two days, Lecuona and Vierge focused on several new updates HRC had prepared for the test, spanning all areas of the bike's setup, with the pair clocking up 68 and 88 laps on Wednesday and 68 and 79 on Thursday, respectively.
The squad will be back on track in just a few days' time, participating in test sessions organised at the Autódromo Internacional do Algarve in Portugal on Monday 31 January and Tuesday 1 February.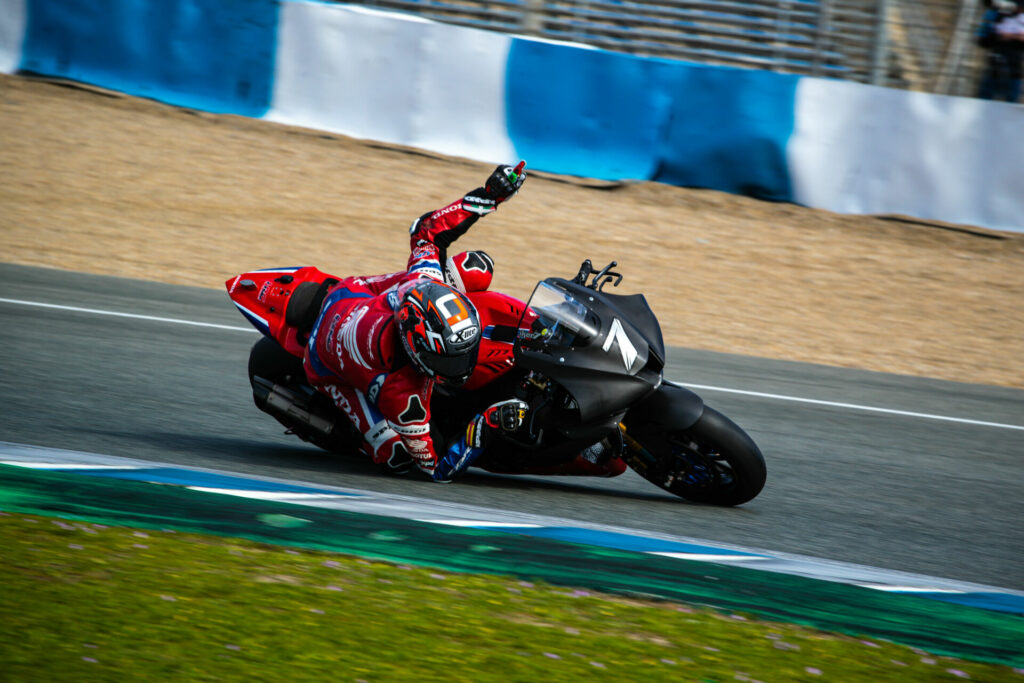 Iker Lecuona  7
"I'm much happier today than I was yesterday, when we were struggling with the braking basically all day. So today we focused in on this area and made a big improvement that allowed me to enjoy riding the bike again. That was the first positive, but we were actually able to take steps with regard to various aspects of the bike's setup, except one, in that we still have more to do in terms of turning. Having said that, I'm happy with the work we were able to carry out over what have been two very good days of testing, and I'm also pleased with the pace I was able to maintain on used tyres. I also tried a new soft spec today but almost crashed at turn 8. I think I made one of my best ever saves, touching with my elbow and knee but keeping it upright. Although I didn't profit from the qualifying tyre, I was consistent and fast with the "0" spec, with which I worked almost all day, and we're happy with that."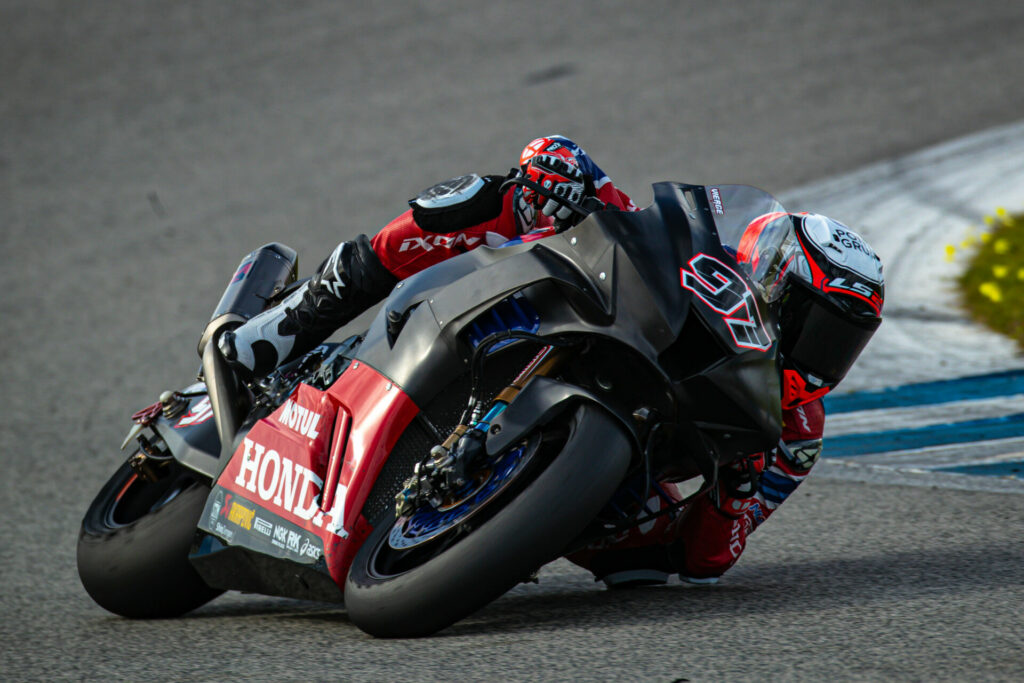 Xavi Vierge  97
"It's been very positive to finally be back on track, especially because we only saw rain during our last tests here in December. It's true that it has been very cold, but from midday on we were able to enjoy solid track time. We had a lot of work to do and have tried many things, basically going through all the items that we didn't have a chance to check properly during the final rounds and testing sessions of 2022. We've made some steps forward and now have a direction for our next test in Portimão. We're doing all we can to achieve our targets as quickly as possible and having so many Japanese engineers here has been extra motivation for us to do our very best".
More, from a press release issued by Aruba.it Racing Ducati:
Bautista and Rinaldi conclude the first winter tests of the 2023 WorldSBK season. Bulega (WorldSSP) also on track at Jerez de la Frontera with the Panigale V2
The first winter tests for the Aruba.it Racing – Ducati team concluded this afternoon at Jerez de la Frontera (Spain). Alvaro Bautista and Michael Rinaldi had the chance to test the new Ducati Panigale V4 R for the first time, alternating their rides with the 2022 machines for comparisons that produced important data ahead of the start of the 2023 WorldSBK season.
On "Day 1" the Spanish rider completed 86 laps, finishing with the second-best time (1'38.851), two-tenths behind Razgatlioglu (Yamaha). Third place for Rinaldi, who set a time of 1'39.240, completing 72 laps.
On the second day, both Bautista (1'38.449 – 86 laps completed) and Rinaldi (1'38.646 – 67 laps completed) were able to lower their lap times, finishing third and fourth respectively behind Razgatlioglu (Yamaha – 1'38.269) and Rea (Kawasaki – 1'38.325)
The Aruba.it Racing – Ducati team will be back on track at Portimao (Portugal) next Tuesday for the second session of winter testing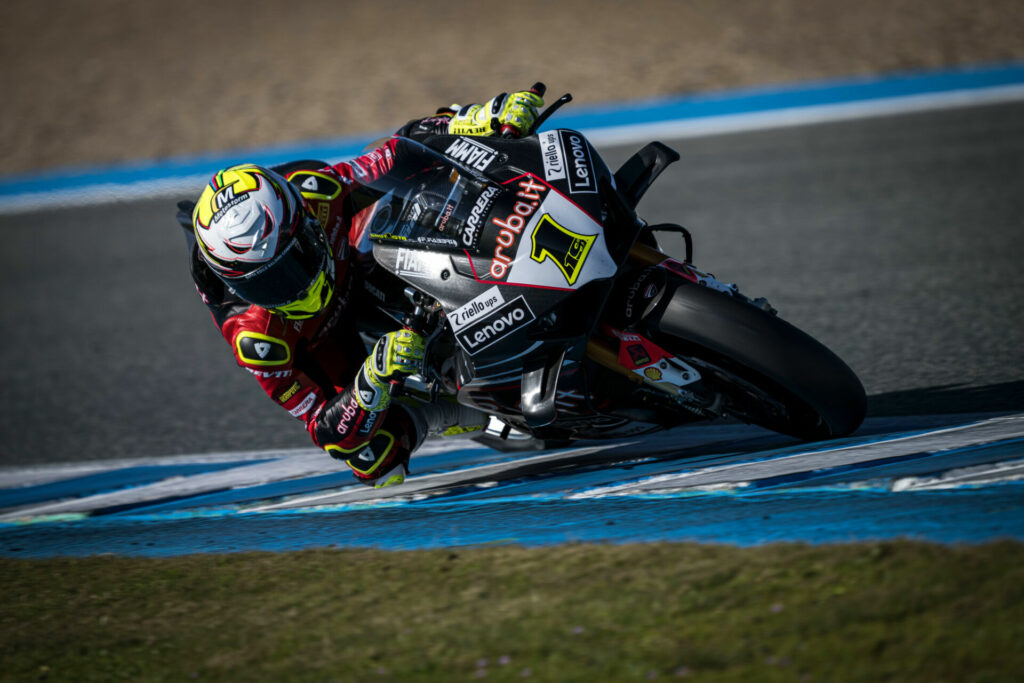 Alvaro Bautista (Aruba.it Racing – Ducati #19)
"Two very interesting days of testing. We tried the new Panigale V4R for the first time and I have to say that the sensations were very positive. We worked a lot on the tire solutions even though obviously the very low temperature of these two days doesn't allow us to have very clear ideas. In any case, I am very satisfied with our work".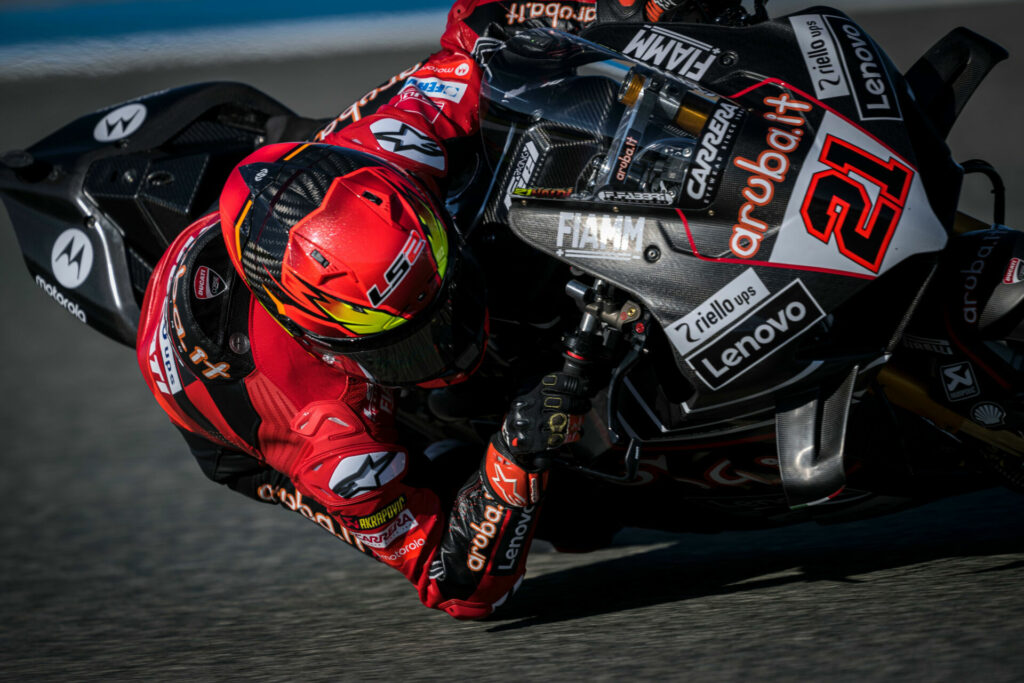 Michael Rinaldi (Aruba.it Racing – Ducati #21)
"We have worked on both the bike and the tires. We go to Portiamo with a good charge knowing that we have faced two very productive days. Our lap times were in line with the front guys even if with the qualifying tire I wasn't able to improve much. On the race pace, on the other hand, the feeling was really good, that's why I am happy".
The Aruba.it Racing – Ducati team will be back on track at Portimao (Portugal) next Monday for the second session of winter testing
WorldSSP
Positive feelings also for Nicolò Bulega, who took advantage of the two days of testing to find a good feeling with his Ducati Panigale V2. The Italian rider completed a total of 122 laps, finishing with a best time of 1'41.685.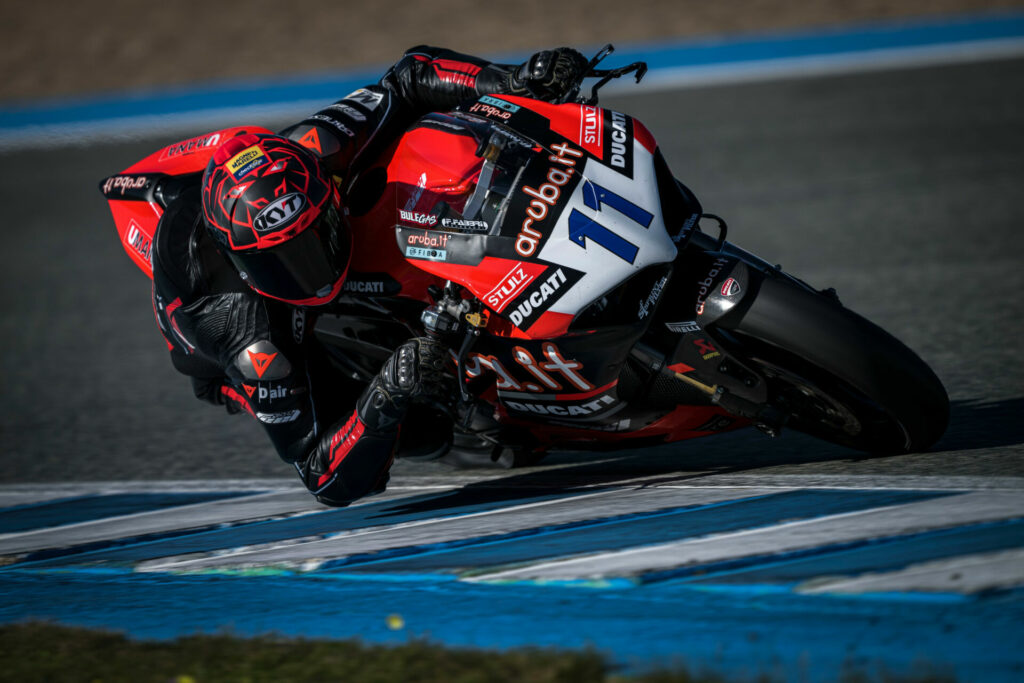 Nicolò Bulega (Aruba.it Racing WSSP Team #11)
"I am very satisfied with these two days of testing. After two months away from the circuits it wasn't easy to find a good feeling and instead the sensations have been positive. Especially today we did some really intense work with the team that we will continue in Portimao".
More, from a press release issued by Kawasaki:
Two Strong Testing Days For KRT
Jonathan Rea and Alex Lowes restarted their pre-season preparations for the 2023 FIM Superbike World Championship with a successful two day test at the Circuito de Jerez – Angel Nieto, between 25-26 January.
In contrast to some previous tests, conditions were consistently dry at the 4.423km long circuit in the far south west of Spain. With cool track temperatures experienced in the early morning and just before the end of track action (at 18.00) each day, the team elected not to ride for the entire duration of the available track time.
Rea was eventually the second fastest rider overall after setting 98 laps across the two day test. He posted a lap of 1'38.352, near the end of the second day. He was almost one second faster on day two than his already strong pace after day one.
Jonathan had a new electronics engineer, Sander Donkers, in his garage at Jerez with another addition to the team for 2023, Christophe Lambert, also now working alongside the established KRT personnel at Jerez.
Lowes concentrated on getting more comfortable at full pace on his machine and improving consistency over full race distance. He and his crew were satisfied with the results in this area and overall Alex was fifth fastest, despite not trying to go for a fast flying lap at the end of two very useful days of set-up progress.
Lowes' best lap was a 1.39.175 and he completed over 115 laps all in.
After the completion of the Jerez sessions there will be one more European-based winter test for both KRT riders, at the very different venue of the Autodromo Internacional do Algarve, in Portugal, between 31 January and 1 February. After that there will be two final days of official winter testing at Phillip Island in Australia, and the first points scoring round of the season will take place at the same venue on the last weekend of February.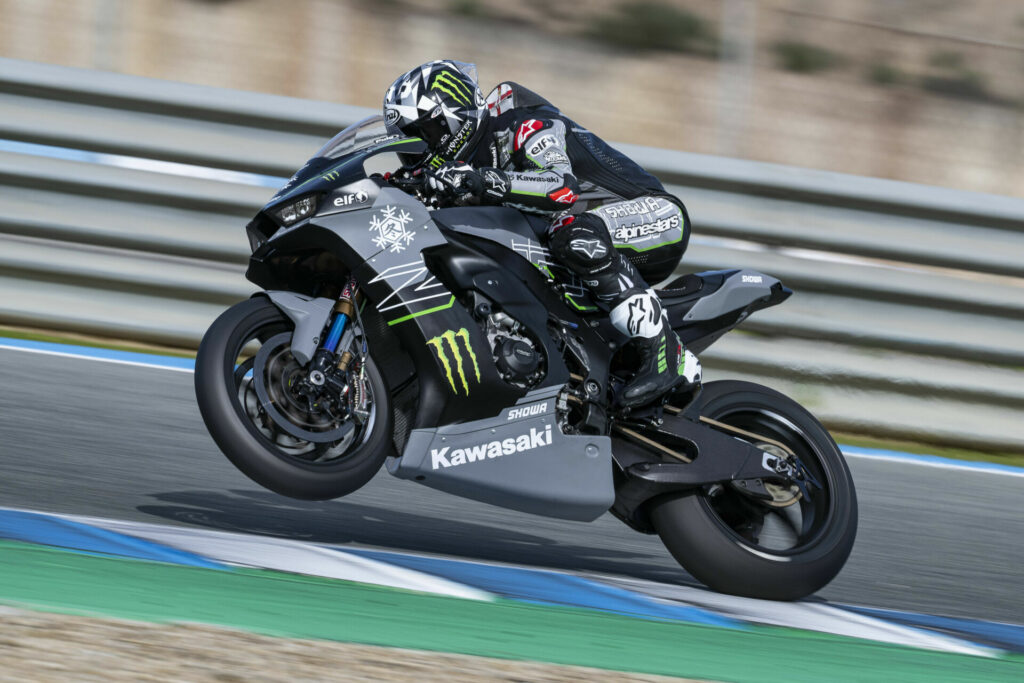 Jonathan Rea, stated: "It has been a productive couple of days. We didn't do so many laps because of the cold track conditions in the morning, so we just started a little bit later. But the laps we did do were very productive. I really got on well with my new electronics guy, Sander. We also have Christophe arriving with a lot of experience. So the first day was more about understanding and communication, how they adapted the set-up to my requests and how I make my comments to them. It is only the first step but they had some really good ideas. We improved quite a lot in one area. From the chassis side, we had some items to test from Showa, things we had to reconfirm from last year. We were able to get our workload done. We also tried out some some development front tyre options from Pirelli. The track itself was in good shape on both days but it was a bit windy at the end of the final day. I am quite encouraged by this test but we still have a lot of work to do before Phillip Island."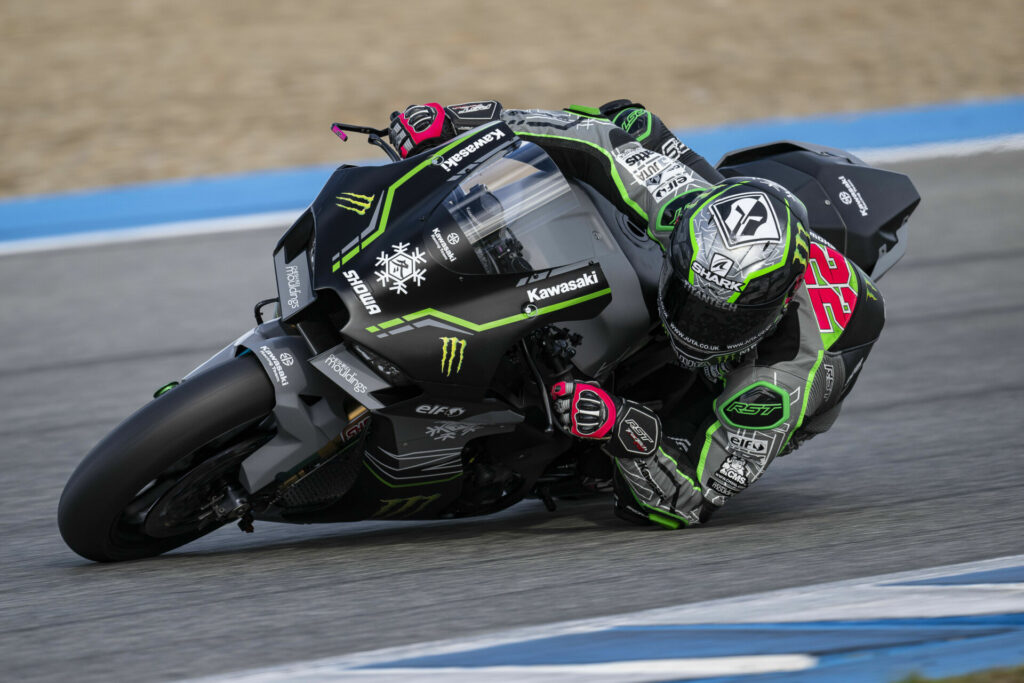 Alex Lowes, stated: "We had a good second day of testing here in Jerez. We have got some new parts on the bike and I did a longer race simulation that I was happy with. We were consistent, just missing a little bit of performance on fresh tyres – but I did not really go for a time attack and try to push hard. We did a lot of laps today and I felt good physically. We had more of our test items to try and improve again in Portimao next week. I focused on the harder tyres and did a long run on the hardest front and rear options, to try and take some grip away, because the track is so grippy in the winter. It felt quite good, so I am very optimistic for the next test."
Pere Riba, Crew Chief for Jonathan Rea, stated: "The test was good. Priority number one for me was to work with our new guys. Sander our electronics guy working with Jonathan, and also Christophe, who also is with us this year. They have to get used to, and understand, our systems, strategies and everything. We have this test in Jerez, then Portimao and then we go to Australia. So we have to understand the base for our electronics side and the engine side. Apart from that, we also made a test with Pirelli, trying out two front tyres. We had some engine items that we collected information about and we will compare them again in Portimao, at a different track design. We also had a small item to check with Showa."
Marcel Duinker, Crew Chief for Alex Lowes, stated: "The test was good for us; very productive. It has been quite a while since the last test at the beginning of December but at this test we had one main priority. That is what we worked on over both days and we found the correct set-up. We are more comfortable with it and in general this was our main limitation for some time. We finished the test with very good results. We were not chasing lap times although many people put in Q tyres in to go as fast as possible. We were not looking at that. We made a long run to check our consistency with our set-up and we confirmed our bike specification. We have another test in Portimao, which is a completely different track, and there we will re-confirm the items we have developed from the beginning of December. Everybody was positive about this test."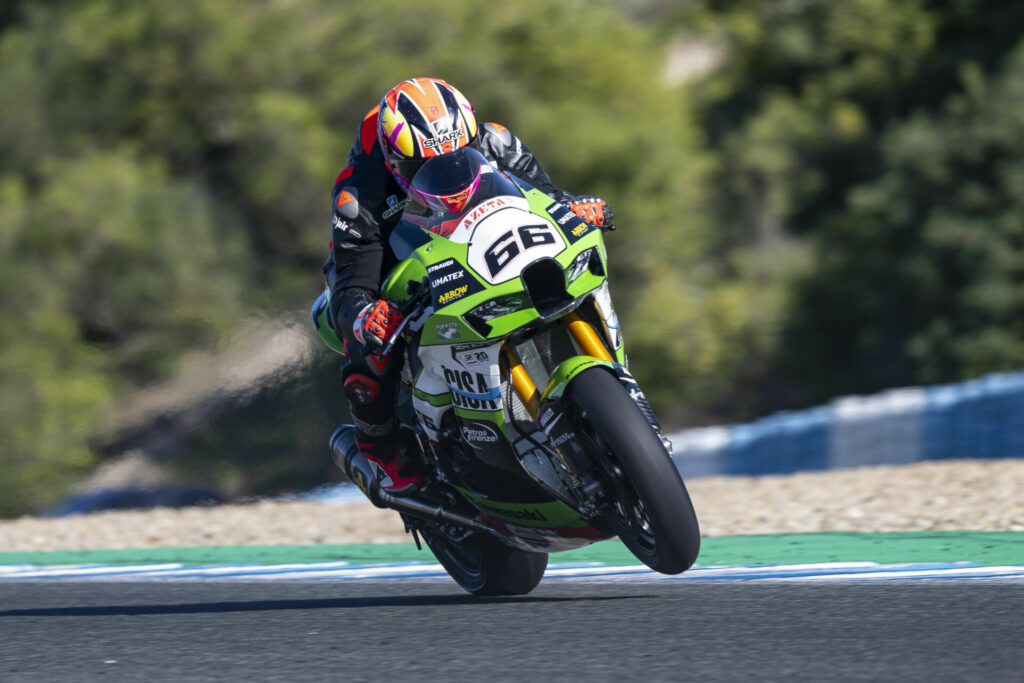 Tom Sykes (Kawasaki Puccetti Racing) was once more out on the Ninja ZX-10RR that he will race in the 2023 season, after competing in the BSB championship in 2022. He finished 17th overall on the final day. Oliver Konig (Orelac Racing VerdNatura Kawasaki) was also out testing in readiness for his second WorldSBK season, finishing 20th fastest overall.
More, from a press release issued by GYTR GRT Yamaha:
AEGERTER AND GARDNER COMPLETE A
"MARATHON" TEST IN JEREZ, THEIR FIRST ON DRY
The GYTR GRT Yamaha WorldSBK Team finally returned to action with a two-days session of test on 25th-26th January at the Circuito de Jerez-Ángel Nieto, Spain, in preparation of the 2023 FIM Superbike World Championship.
So, the brand new rookie GRT duo got the chance to ride their Yamaha R1 WorldSBK bikes in the dry, with Dominique Aegerter and Remy Gardner who enjoyed the time spent on the machines, finding their ways throughout the test sessions.
On the first day, both riders could run in good weather conditions from 11:15 to 17:30, without any break, looking firstly on getting confidence with their bikes. Afterwards, the GYTR GRT Yamaha pair went on maximising their time on the track, going on to know the Yamaha R1 machines at the very best.
Indeed, at the end of the first test session, Aegerter and Gardner completed more than 170 laps combined, having good vibes on their first ever run in the dry. The Swiss rider concluded with an impressive 89 laps, more than everyone else, recording a 1'39.934 (69/89), while his Australian teammate finished with just three less (86 laps) pulling on a 1'40.551 (79/86) as personal best.
Day 2 did not tell a different story, as the GYTR GRT Yamaha duo kept rolling laps at the Circuito de Jerez-Ángel Nieto, finding once again dry tarmac. Both riders found themselves well on the bikes, eventually improving their performance. Thereby, Aegerter set a 1'39.193 (70/71), with Gardner who recorded a 1'39.464 (70/76).
The GYTR GRT Yamaha WorldSBK Team will now move to Portimao, Portugal, for one more test session on 31st January-1st February.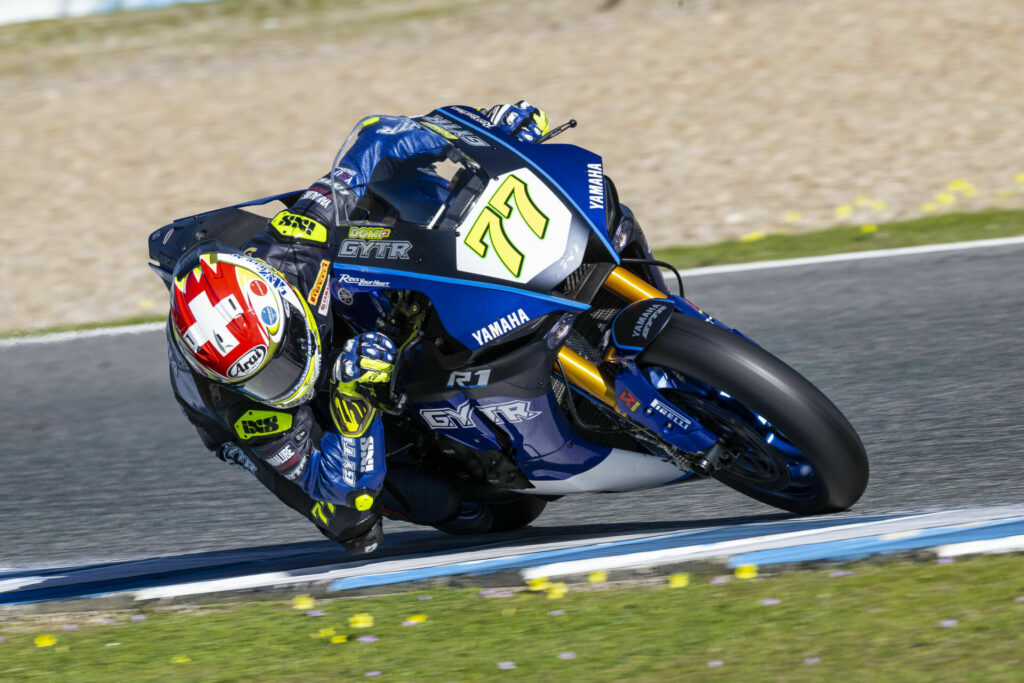 Dominique Aegerter (1'39.193, 160 laps)
"I'm happy with the job done during the two days here in Jerez. Finally we could ride in the dry and at the end I was able to ride a little bit more comfortable. We tried a lot of things, including working on my riding style. The final position is good as the lap times, even though we know we still have margin to improve. Let's move on to Portimao, where we will go more in depth with the testing and hopefully further improve."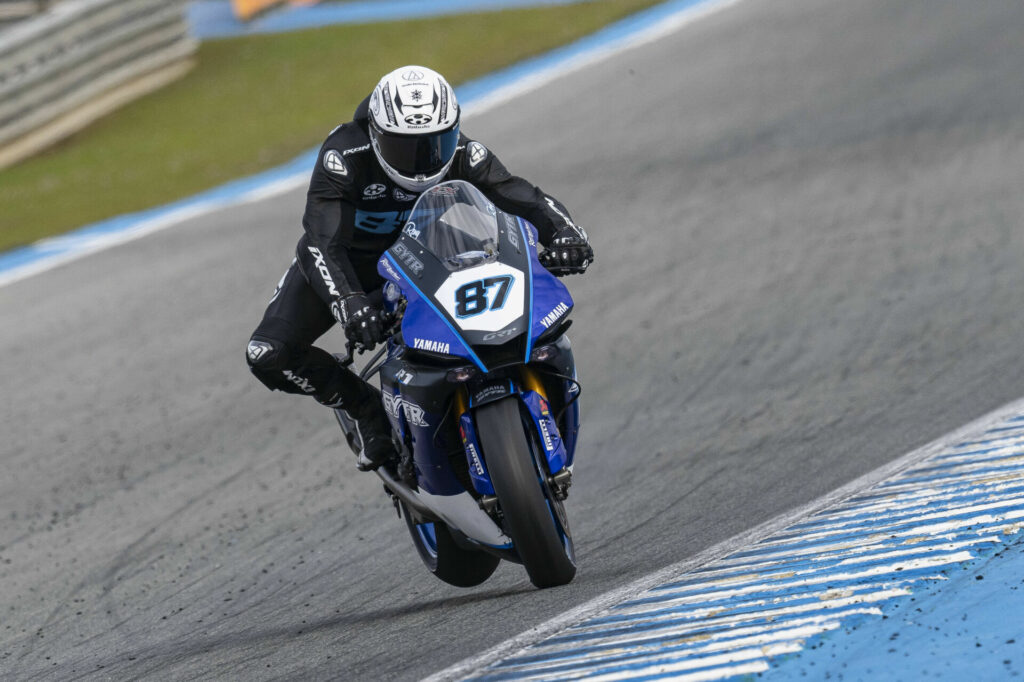 Remy Gardner (1'39.464, 162 laps)
"I'm quite happy with the progress we made throughout the two days, we're working well. I'm trying to understand the tyres, the bike, and I'm feeling good with everything. I'm enjoying a lot the time spent here in Jerez and I'm already looking forward to Portimao, where I'm confident we can find some more improvements and be faster."
More, from a press release issued by Team GoEleven:
WINTER TEST; FIRST CONTACT WITH 2023 SEASON IN JEREZ!
Finally, WorldSBK is back on track! The main protagonists of the 2023 Superbike season hit the track for two days of winter tests at the Jerez track in Andalusia. Sun and good weather allowed many teams to show important technical innovations, despite the low temperatures.
Philipp Oettl and the Go Eleven Team restarted from the bike in 2022 configuration during the first day, so as to regain feeling and confidence after a couple of months of break, only to then switch to a hybrid bike, with various 2023 innovations during day 2. If Philipp found good sensations on the first day, on the second day, when he switched to the 2023 configuration, with a different seat and tank than those previously used, some difficulty arose in finding the right riding position. Several modifications were made to find a temporary solution, working on footrest, handlebars and heights, but the German rider has still not managed to get the feeling he had with the bike from the end of last year. For the Portimao tests, which will be held next week, further developments should arrive, and studying the best solution for the riding position, then we can concentrate on the set-up in view of the start of the season, also evaluating the new parts with which the 2023 Panigale is equipped. The Spark exhaust, in the external and high version, another news of the new season, has provided positive feedback especially at low revs, without losing performance at top speeds. Furthermore, during the two days of Jerez, Oettl never used the SCQ tyre, concentrating his work on the "racing" configuration; it's essential to first find the right feeling, then think about the time attack!
COMBINED RESULTS:
P 1   T. Razgatlioglu   1.38.269
P 2   J. Rea   + 0.083
P 3   A. Bautista   + 0.180
P 4   M. Rinaldi   + 0.377
P 5   A. Lowes   + 0.906
…
P 14   P. Oettl   + 1.754
Philipp Oettl (Rider):
"The first day was positive overall, we started from the 2022 bike, then I did a few laps in "almost" 2023 configuration. The second day was much more difficult, on the new bike the seat position is really different for me, and I am not comfortable at the moment. We spent the day adjusting the ride position, but still we didn't find a good balance. For Portimao, we will try to do something different, going similar to the 2022 bike. I didn't expect this kind of problem, but it's a new bike for us, I am quite confident we can find a good solution from the beginning of Portimao test, so we can start working on more important parts of the bike."
Denis Sacchetti (Team Manager):
"Yesterday we used the bike in the 2022 configuration, to restart from our reference point, while today we started work on the new bike, the 2023, and there is more work to be done than we expected. The day was used to understand the correct ergonomic, in order to feel comfortable on the bike, so we did many seat tests focusing exclusively on this, and never looking for the lap time. We believe that the potential of the Ducati package is very high, and in Portimao we will focus on giving Philipp the opportunity to make the most of it. This year the level is high, and every detail must be given the utmost importance."
More, from a press release issued by Yamaha:
Razgatlıoğlu Dominates Proceedings in Jerez
The Yamaha WorldSBK teams depart the first two-day test of 2023 at Jerez in confident mood, after strong performances from both seasoned WorldSBK campaigners Toprak Razgatlıoğlu and Andrea Locatelli and class rookies Dominique Aegerter, Remy Gardner and Lorenzo Baldassarri.
Pata Yamaha WorldSBK's Razgatlıoğlu once again led the way, stamping his authority on proceedings by topping the timesheet on both days, with his lap time of 1'38.269 on day two tantalisingly close to the circuit lap record. Teammate, Andrea Locatelli, focused on evaluating development parts first tested in wet conditions back in December but made a significant improvement on the second day to finish seventh on the timesheet.
The GYTR GRT Yamaha WorldSBK duo of Aegerter and Gardner completed a true 'marathon' on track, racking up a total of 382 laps between them over the two days. Both riders started on the 2022 specification R1 WorldSBK, as they continued to familiarise themselves with the characteristics of the bike they'll race for the first time this season but moved on to test the 2023 development parts late on the opening day. Both riders ended the two days comfortably inside the top ten but are confident of further improvement with two more days of testing in Portimao.
For Lorenzo Baldassarri the Jerez test was his first outing on the GMT94 Yamaha WorldSBK R1 he'll race this season, so familiarization was his only focus during the two days. The Italian had a permanent smile on his face throughout the two days and is keen to repeat the experience next week in Portimao.
All four Yamaha WorldSBK teams will now head directly to Portimao for two more days of testing before heading down under to Australia for the opening round of the season at Phillip Island. In Portugal they will be joined by the Yamaha Motoxracing Team and rider Bradley Ray, who this year will contest the European rounds on the WorldSBK calendar.
Toprak Razgatlıoğlu – 1'38.269
Pata Yamaha WorldSBK
"A very big crash this morning but I am very lucky, just a little pain in my left leg but now the feeling is coming better. We improved my R1, with good acceleration and good grip – I was trying today for 1'37 for the record, but I did not see! We used a Q tyre today and I see best lap, 1'38.2. In general, good testing for me – in Portimão we need to try some more set-up because we are happy but also we are not stopping. Just we try to keep making everything better – thanks to my team, every day they are working and now we start to see how the level of the bike is and I am very happy."
Andrea Locatelli – 1'39.280
Pata Yamaha WorldSBK
"These two days of testing were positive, because we returned on track in dry conditions – last time here in Jerez was raining for three days! We were able to take some confidence again with the R1 in the dry and it was positive to understand where we start with some new parts for 2023. Today, we improved a lot compared to yesterday and this is a good point to start again in Portimão. I was also able to push a bit more and to try a little bit to close the gap to the front guys, but to be honest we didn't use a lot of soft tyres – or the Q tyre – to try and improve the lap time. We mainly try to work around the bike and search for good grip which is more important for the races. In the end, two positive days, no crash or mistakes and I had a good feeling on the bike, so now we can continue working next week."
Dominique Aegerter – 1'39.193
GYTR GRT Yamaha WorldSBK
"I'm happy with the job done during the two days here in Jerez. Finally we could ride in the dry and at the end I was able to ride a little bit more comfortable. We tried a lot of things, including working on my riding style. The final position is good as the lap times, even though we know we still have margin to improve. Let's move on to Portimao, where we will go more in depth with the testing and hopefully further improve."
Remy Gardner – 1'39.464
GYTR GRT Yamaha WorldSBK
"I'm quite happy with the progress we made throughout the two days, we're working well. I'm trying to understand the tyres, the bike, and I'm feeling good with everything. I'm enjoying a lot the time spent here in Jerez and I'm already looking forward to Portimao, where I'm confident we can find some more improvements and be faster."
Lorenzo Baldassarri – 1'40.975
GMT94 Yamaha WorldSBK
"This has been a very useful test for me and my team to know our new Yamaha R1. We started from a base setup and little by little we could get some nice improvements. We could finally take some decisions about the basic set up in electronics and geometries so that we can have a base for the next test in Portimao next week. The lap time now is pretty far but it is not so relevant, we need to take our time and improve step by step in all directions. Thanks to the Team and Yamaha who put very strong efforts to put me in the best conditions to start the season in the good way."