Day 2 at Jerez test: Gardner dominates, Yamaha's strong showing, and impressive rides by Bulega & Iannone
On the second day of testing at Jerez, the MOTUL FIM Superbike World Championship riders faced challenging conditions in the morning but took full advantage of a drier track by midday, allowing for around six hours of crucial testing at the Circuito de Jerez – Angel Nieto.
Remy Gardner (GYTR GRT Yamaha WorldSBK Team) continued to dominate the field, setting an impressive lap time of 1'38.448s, leading the pack by 0.278s. Nicolo Bulega (Aruba.it Racing – Ducati) was second with a remarkable 1'38.726s lap time, coming within two tenths of the all-time lap record, while teammate Alvaro Bautista was in seventh place with a best time of 1'39.962s.
Jonathan Rea (Pata Yamaha Prometeon WorldSBK) adapted well to his new Yamaha R1, finishing third. Alex Lowes (Kawasaki Racing Team WorldSBK) secured a fourth-place finish, clocking a 1'39.211s lap time while teammate Axel Bassani adapted to his new bike, completing over 120 laps during the test. Meanwhile, Andrea Iannone (Team GoEleven) surprised with fifth place and a lap time of 1'39.335s after completing 70 laps.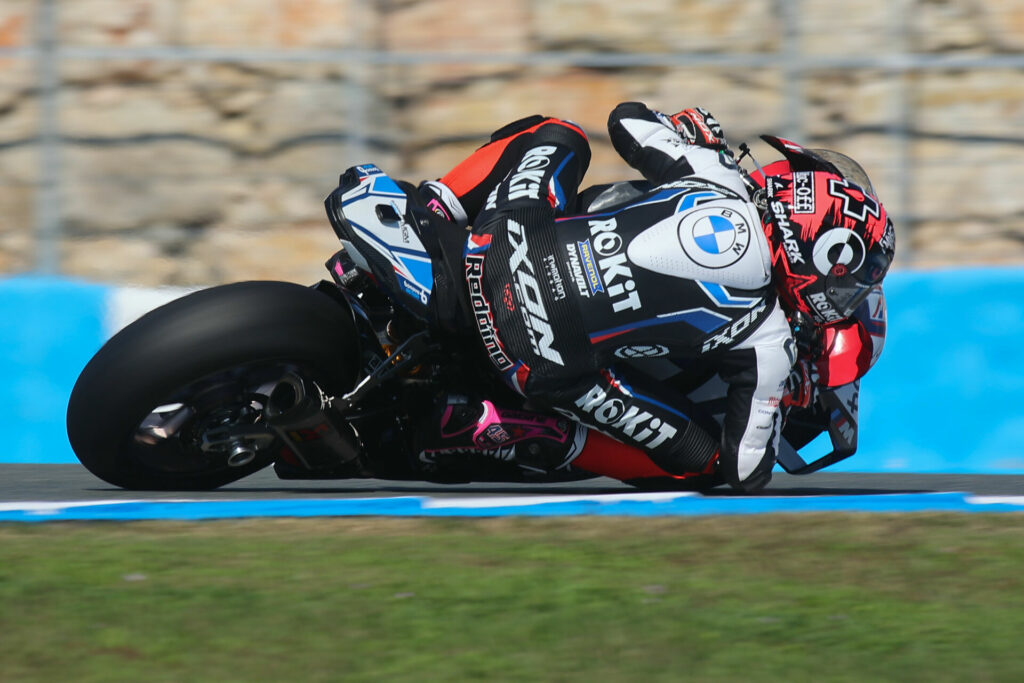 Scott Redding (Bonovo Action BMW) emerged as the fastest BMW rider, taking tenth place, ahead of his teammate Garrett Gerloff. Tarran Mackenzie (PETRONAS MIE Racing Honda Team), Honda's sole representative at Jerez, completed 39 laps as he continued to adapt to the CBR1000RR-R machine after racing in WorldSSP throughout 2023.
Remy Gardner | GYTR GRT Yamaha WorldSBK Team
"It's been a positive test. The pace has been really good over the two days, with the race tyre and obviously today, at the end, we put in two SCQs and did a really great lap time. There was a little bit more I could've done. I made a few mistakes on that lap but quite happy with the two days went. It wasn't a perfect lap, but it wasn't bad. More than the lap, I'm happy with the improvements we've made over the two days with what Yamaha have brought.
"Jonny surprised me with how fast he got on with the bike. That shows the experience he has. I'm really excited to see what Jonny can bring to the table and help develop the bike, and also for me to learn off Jonny. With so much experience, you can always learn something. Really great to have Jonny with Yamaha."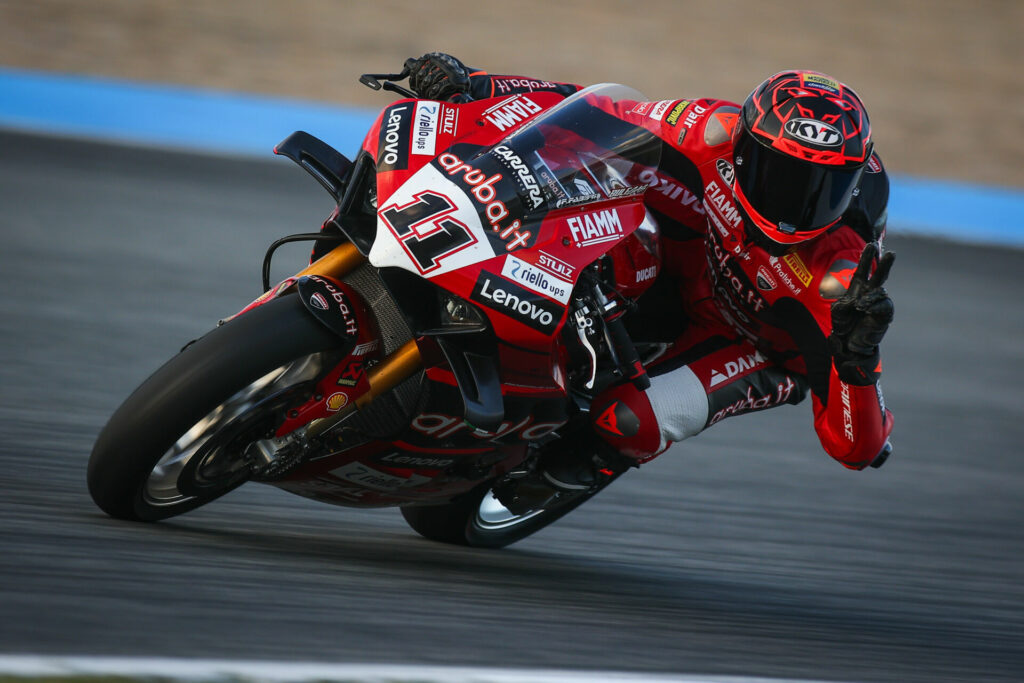 Nicolo Bulega left a strong impression by claiming the second position with an impressive lap time of 1'38.726s.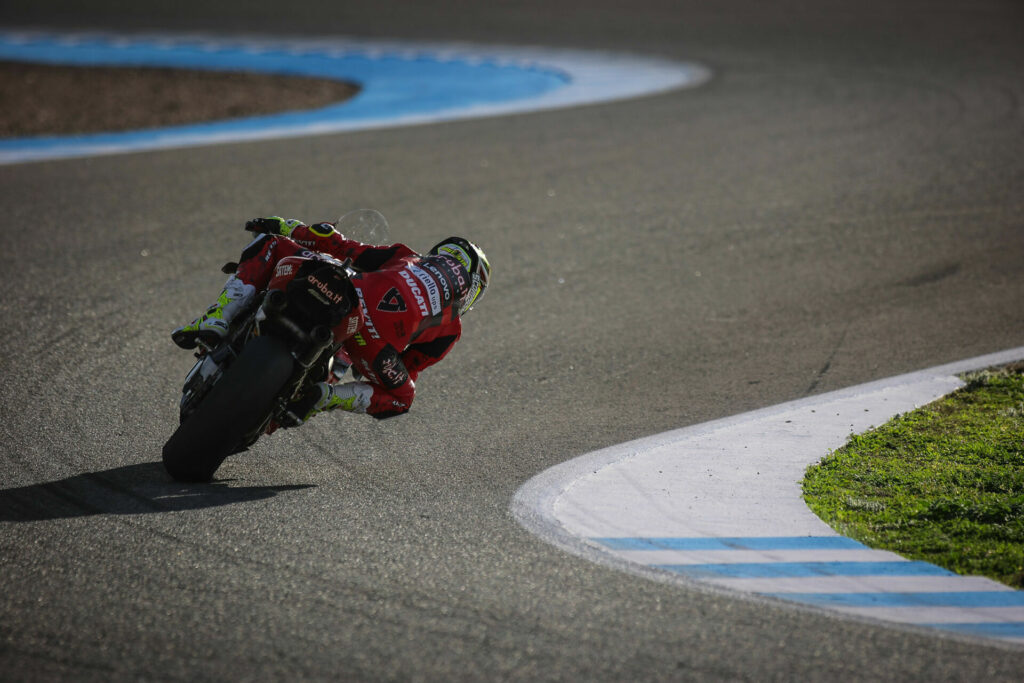 Despite focusing on the 2024 ruleset, Alvaro Bautista managed seventh place with a best time of 1'39.962s.
Alvaro Bautista | Aruba.it Racing – Ducati
"Today, we were focused on the 2024 regulations especially with the weight. We tried many solutions with the weight. Putting some weight on some areas of the bike, also trying inside the engine, and did many tests to understand how the bike's working. It's not easy because when the bike's working well, if you add 7kg, the bike feels different especially in the fast corners. We made some distribution to have more data and we got that data for this winter to try to work and try to see what could be the base for starting 2024."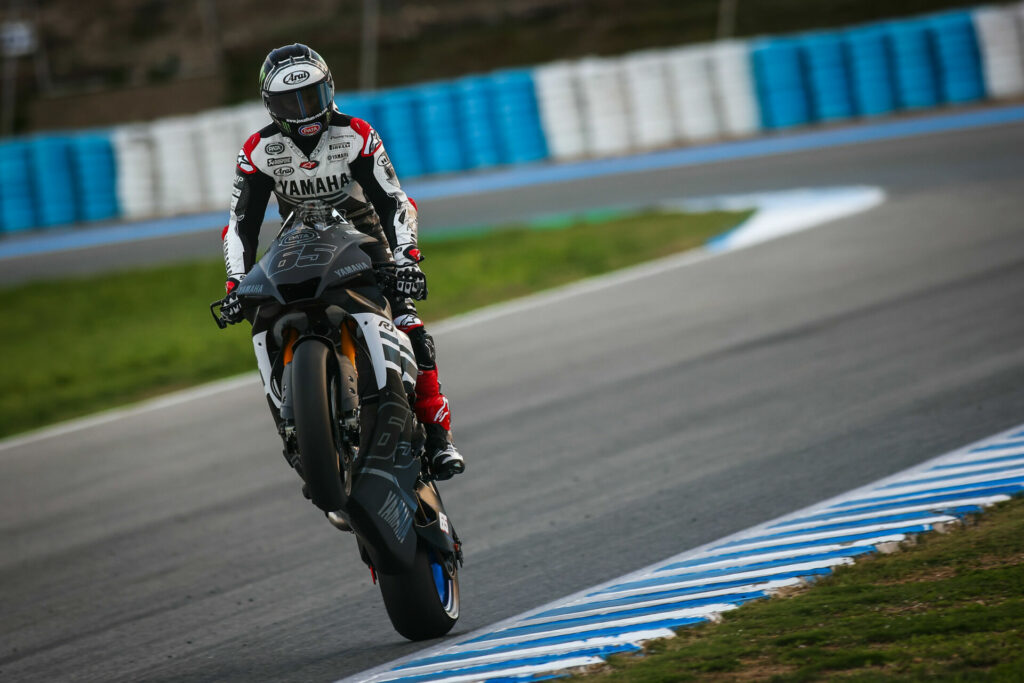 Jonathan Rea continued his adaptation to Yamaha, finishing third with a lap time of 1'39.179s.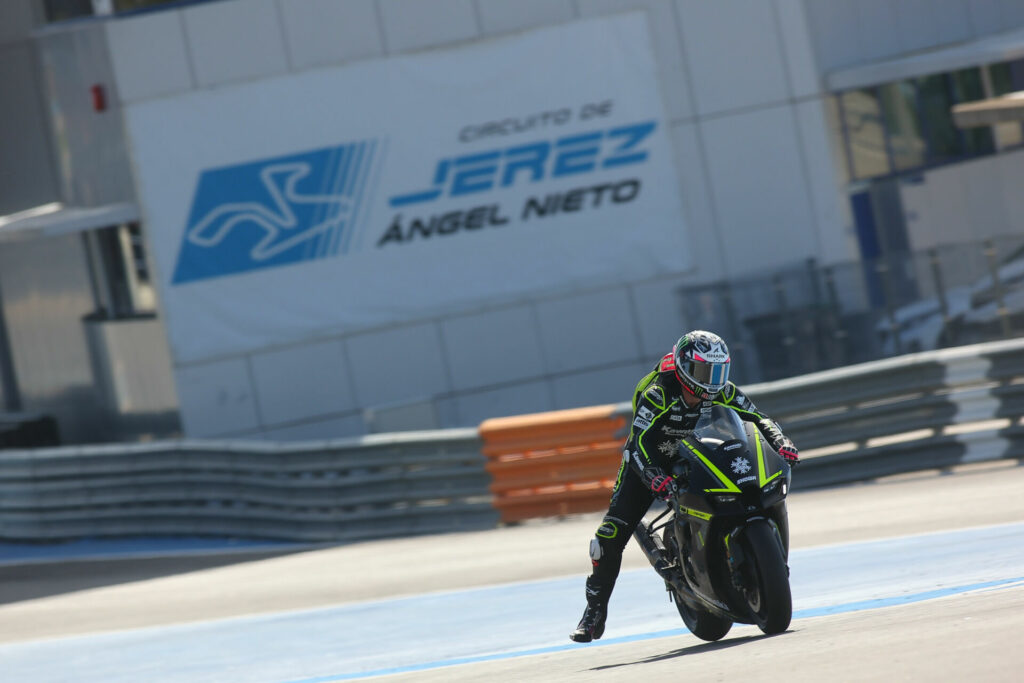 Alex Lowes wrapped up the day in fourth place, focusing on a range of adjustments in anticipation of the 2024 season.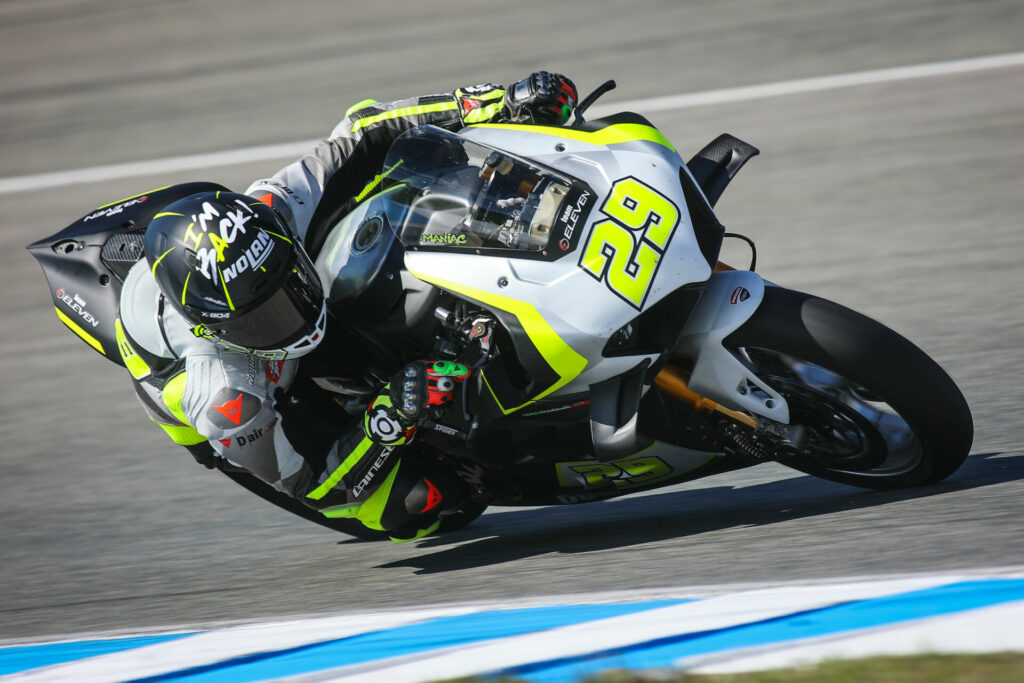 Andrea Iannone delivered a strong fifth place, posting a lap time of 1'39.335s.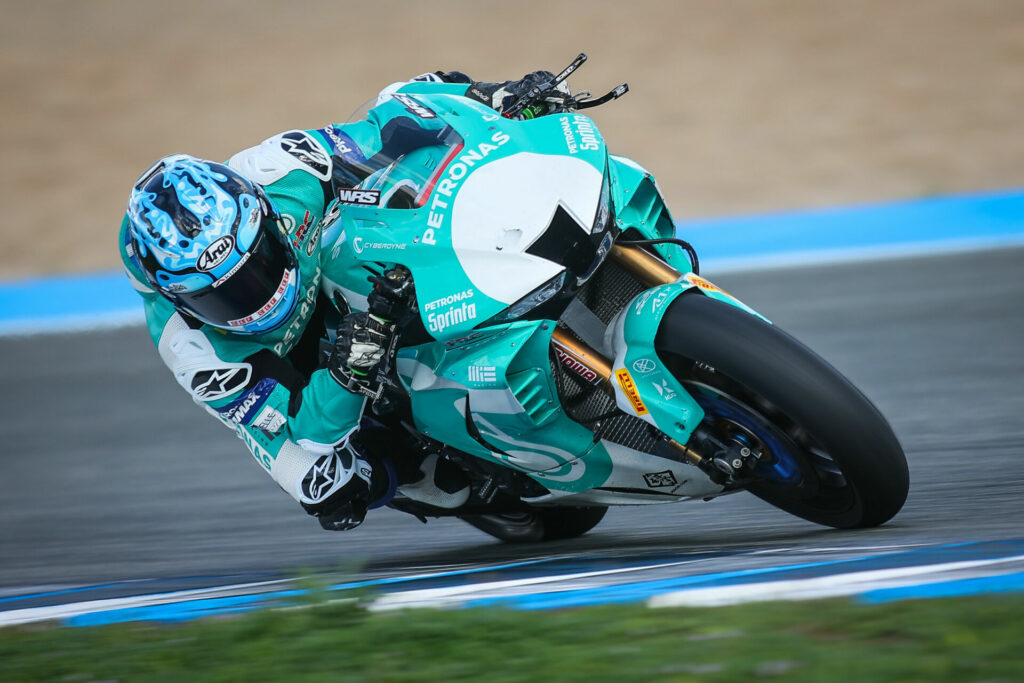 Tarran Mackenzie continued his adaptation to the Honda CBR1000RR-R, completing 39 laps and taking the 13th position.
The order from day two at Jerez:

1. Remy Gardner (GYTR GRT Yamaha WorldSBK Team) 1'38.448, 61 laps
2. Nicolo Bulega (Aruba.it Racing WorldSSP Team) 1'38.726s, 52 laps
3. Jonathan Rea (Pata Yamaha Prometeon WorldSBK) 1'39.179s, 68 laps
4. Alex Lowes (Kawasaki Racing Team WorldSBK) 1'39.211s, 68 laps
5. Andrea Iannone (Team GoEleven) 1'39.335s, 69 laps
6. Michael Ruben Rinaldi (Motocorsa Racing) 1'39.807s, 69 laps
7. Alvaro Bautista (Aruba.it Racing – Ducati) 1'39.962s, 58 laps
8. Brad Ray (GMT94 Yamaha) 1'40.007s, 59 laps
9. Dominique Aegerter (GYTR GRT Yamaha WorldSBK Team) 1'40.103s, 67 laps
10. Scott Redding (Bonovo Action BMW) 1'40.291s, 47 laps
11. Garrett Gerloff (Bonovo Action BMW) 1'40.334s, 66 laps
12. Axel Bassani (Kawasaki Racing Team WorldSBK) 1'41.346s, 54 laps
13. Tarran Mackenzie (PETRONAS MIE Racing Honda Team) 1'42.110s, 38 laps
More, from a press release issued by Aruba.it Racing Ducati:
Convincing test for Bulega who finishes second at Jerez. Bautista (P9) works exclusively on the new 2024 set-up. Intense first days of work for Huertas on the Panigale V2
Two days of private testing at the "Circuito Jerez de la Frontera Angel Nieto" concluded today, bringing a definitive close to the memorable 2023 WorldSBK season for the Aruba.it Racing – Ducati team.
The weather was not particularly favorable, allowing Alvaro Bautista and Nicolò Bulega only a few laps on Day 1, moreover on a track in less than optimal conditions due to some very wet patches. The same scenario unfolded on Day-2, during which the two reigning World Champions of WorldSBK and WorldSSP, entered the track only at the beginning of the afternoon session.
It was, however, a very intense four hours of testing. Nicolò Bulega got familiar with the Panigale V4R that he will use in the 2024 season, even setting the second fastest time of the day (1.38.726).
Alvaro Bautista, on the other hand, started work on the set-up he will have to adopt in the 2024 season after the introduction of the new weight balance regulation. The Spanish rider finished with a time of 1'39.962, without attempting the time attack.
His season, however, does not end here. Bautista, in fact, will be flying to Malaysia next week, for the MotoGP Wild Card aboard the Ducati Desmosedici GP of the Aruba.it Racing team.
Nicolò Bulega (Aruba.it Racing – Ducati #11)
"I'm happy even though we weren't able to complete not so many because of the track conditions. Even today we only did half a day but I still managed to be fast despite it was the first real test with my new team. There is still a lot of work to do but the fact that we are fast even though we are not yet at 100% of our potential gives me a lot of confidence".
Alvaro Bautista (Aruba.it Racing – Ducati #1)
"We have done a lot of work on the new weight balance and it is clear that there is a lot of work to do in the future before the start of next season. The positive thing is that we gathered a lot of data this afternoon so we can find effective solutions this winter. Now we go to Malaysia for the MotoGP Wild Card with the aim of having as much fun as we have had this season in WorldSBK."
WorldSSP
For Andrian Huertas it was the absolute debut on the Ducati Panigale V2 of the Aruba.it Racing WSSP. For the Spanish rider 77 laps completed today with the best time of 1'42.470.
Adrian Huertas (Aruba.it Racing WSSP #99)
"I am very happy with these two days. The team's welcome was fantastic. I felt immediately at ease like in a big family. And of course, I am very satisfied with the feeling with the Panigale V2. Unfortunately, I wasn't 100% today because of a slight flu but that didn't stop me from completing a lot of laps and gaining confidence ahead of the next tests. Once again I would like to thank the team for these first few days of work, which have been really positive".
More, from a press release issued by Kawasaki:
First New Look KRT Winter Test Complete
The first winter test in preparation for the 2024 WorldSBK Championship took place between 31 October to 1 November, at the Circuito de Jerez in Spain, with the refreshed KRT line-up of Alex Lowes and Axel Bassani taking to the track for the first time together.
The test provided some changeable track conditions but the riders made the best of the better weather to get used to the their latest spec Ninja ZX-10RR machines, at the circuit that very recently hosted the final races of the 2023 season.
Due to the track conditions changing over the two day test, which was also attended by many of KRT's rivals in 2024, the most useable track time was weighted towards the final afternoon, on Wednesday 1 November.
Lowes would go on to set a best laptime of 1'39.211, while new signing for 2024, Axel Bassani eased himself into his new role with a 1'41. 346 as he started to learn the finer points of his new machine.
Alex rode despite suffering a crash in the Superpole Race at the Jerez round a few days ago. He had to have stitches on his face at that time and was still feeling the affects of the abrasions and cuts from a rival's rear tyre that ripped his helmet visor off as he fell.
Bassani's first experience of the Ninja ZX-10RR was very positive, even if it is a very different configuration of machine compared to what he has been used to riding for his past few years in WorldSBK. Axel set 54 laps on the final day of this test.
This was also the first on-track opportunity for KRT to unveil its striking and distinctive winter test livery, a tradition which stretches back many seasons.
The next chance for the team to get on track will be between 12-13 November, at Motorland Aragon.
Alex Lowes, stated: "I was really happy to get the 70 laps that we put in today. It seems like we had to wait ages for the track to dry but we had some important things to try on the bike in order to to get our first feelings about 2024. With Axel just joining the team the only person who can compare the new items to the previous ones at this test is me. I didn't feel in my best shape after the race weekend, because of my face and my eyes, but on the bike I enjoyed riding. I also enjoyed the new environment working with Pere as my crew chief. We have a really good idea of what to improve, both from me and the bike. This was a very positive first proper day together."
Axel Bassani, stated: "The bike is completely different so we have to learn everything. Lap-by-lap I started to feel good with the bike and these are only the first two days. It is like one day because on the first day we didn't run in the afternoon, and also this morning. But, step-by-step, we are trying to learn and to be even better. The bike is completely different and when something is new you have to take time to understand and when you are ready you can push. The only answer to what I need is time. There are a lot of people with a lot of experience in this team so it is nice to be part of it. It's a special team for me."
Pere Riba, Crew Chief for Alex Lowes, stated: "We finished the test with Alex and some new crew members. It has been quite smooth and positive. It is the first time I have worked with Alex in the pit box, and there is a lot to learn, but it has been very positive. Alex has a very, very good attitude and already we have been testing something for Showa and some things for the future, with a good result. Alex had very good speed during the race weekend he has shown good speed here. He was in good shape even after his big crash. For the first day, the experience together was positive. All the crew worked together very well. I am happy to leave from Jerez with a good feeling and Alex seems to have a nice smile on his face, and this is the most important thing."
Marcel Duinker, Crew Chief for Axel Bassani, stated: "Over these two days we made around 60 flying laps in all. Axel has done a very good job and it is very pleasant to work with him. I am sure with his previous experience of WorldSBK he can help us to make a step forward. How he was riding the bike and how he explained the sensations from the bike – and the way he is putting his finger on the areas where we need to improve was impressive. Many people used soft compound tyres, but we did not. We were focusing on improving our base set-up with a harder race tyre. That is why many people made big jumps in their lap times today but that was not our target. Our target was to let Axel understand the bike. I am very optimistic and he is a really, really nice guy to work with. It was a very good start and everybody enjoyed it. "
More, from a press release issued by Yamaha:
Jonathan Rea Enjoys First R1 Test with Pata Yamaha Prometeon WorldSBK
The "JR" #65 Yamaha R1 WorldSBK made its debut at the hands of six-time FIM Superbike World Champion Jonathan Rea for Pata Yamaha Prometeon WorldSBK yesterday morning, beginning a two-day test and a new chapter for both team and rider at Circuito de Jerez – Ángel Nieto.
While inclement weather on Tuesday meant just seven full timed laps were completed (12 in total), today was a chance for the Northern Irishman to really engage with his new R1 and the team as early winter Spanish sunshine allowed more track time.
Completing 68 laps after an early lunch, Rea took the third-fastest spot on his final lap just before the end of the test – with fellow Yamaha rider Remy Gardner (GYTR GRT Yamaha) making the fastest lap with a 1:38.448, which would have seen him take pole position last weekend.
The next chance to get further acquainted with his new R1 WorldSBK for Rea will be on 20-21 November back here at Jerez, alongside teammate Andrea Locatelli – with a key focus on 2024 development with Yamaha's engineers.
Jonathan Rea – 1:39.179
"My first feelings with this team have been fantastic, ever since I agreed to make the move. Both the team and Yamaha have been really welcoming and making everything easy. The first test was just about getting familiar with the bike – it was a bit of a shock, I had a lot of different sensations than I am used to – but in a positive way! The R1 is very user-friendly – not necessarily easy to go to the absolute limit just yet, but easy to ride. It generates a lot of traction which encourages you to go fast and inspires confidence. You can get into the throttle and use the power of the machine – it feels good and now I can see how Toprak was riding the way he was, also Loka being so competitive this year. It's all good! Just a nice first contact with the set-up and the team, so I expect next time we can get more deeply into it. Step-by-step today we have tried some different things, fork spec, different tyre combinations so that I can understand how the Yamaha uses different compounds – I could see from the past that Yamaha have been able to maximise the SCX tyre. I requested some different electronics set-up – but not really too much. I have been using the current "base setting" let's say of the R1 and in the next test we will start to work on development parts. A really positive experience on both days and the R1 is feeling more like my bike, particularly as we have been lucky with the weather this afternoon and got through more than we expected. I'm sure I could wake up tomorrow and even more performance would come but now I have to wait a couple of weeks…! Thanks to everybody – I really enjoyed myself!"
More, from a press release issued by Team Go Eleven:
EIGHT TENTHS FROM THE TOP, ASTONISHING PERFORMANCE AT THE END OF DAY-2!

No one questioned that Andrea was a talent; but it was almost impossible to expect that, after 4 years without riding a racing bike, five years after his last race in Jerez de la Frontera, he finished the first pre-season tests around eight tenths from the first of the day.
Today, finally a complete day of test, thanks to the warm sun of Southern Spain, The Maniac was able to start working on the bike, testing all types of tyres, both in hot asphalt conditions and with the fresh wind towards the evening. The work on fine-tuning the electronics and the comparison with the other riders was also important, a fact which allowed the number 29 to lower the references session after session, improving mainly in the second part of the track. He did the low 40 pace several times, then in the last hour he opted to use the SCQ. Usually, it is not easy to exploit this particular tyre with extra-grip at the first attempt, 1.39.335, almost eight tenths improved, ending in fifth place.
Despite the tiredness and arm pumps, due to little training on this type of very physical motorbike, the laptime obtained surprised most of the paddock staff, almost exceeding all expectations. There is still a lot of work to do, especially on the race pace, but the smile that Andrea showed at the end of the day fills the hearts of the whole team. He has his head down and a lot of work, with the aim of further sewing the bike together in view of the next tests, at the end of January!
Andrea Iannone (Rider): "Today was certainly a positive day because we managed to lap much more than yesterday, this allowed us to better understand the bike and the tyres which performed very well. The approach on the Panigale was a shock for me lightning fast. It's a bike that has very high power, and today my arms suffered a little from this. I thank Ducati and the Go Eleven team for all the effort they put into this test. It has been crucial our positive mood to face this tests."

Denis Sacchetti (Team Manager): "Today Andrea sent a strong message, the desire to come back racing is very high and has left everyone, including ourselves, speechless! I am happy not for the laptime, but for the approach he had, his working method and the smile he showed today when he got off the bike. That smile counts more than all the data a monitor can show us!"