Winter Test Marks New Start Towards 2024 For KRT
Just days after the end of the 2023 WorldSBK Championship at the Jerez circuit in Spain intense preparations for a new look 2024 season will begin for the official Kawasaki Racing Team, between 31 October to 1 November.
The 2024 rider line up will consist of long-time colleague Alex Lowes, now joined by new signing Axel Bassani.

Alex is a proven race winner and podium finisher about to enter his fifth season as a KRT rider, while Axel has been the Independent Teams' Rider Champion for the past two seasons. The 2024 season will be Axel's first year inside an official WorldSBK team set-up.

KRT's tradition of unveiling a special winter test livery will continue at this test, with the unique off-season team branding to be used in all tests before the start of the 2024 season itself.

With a new KRT riding line up and a wide-ranging set of new technical rules to be met in 2024, KRT has been planning the shape and scale of the 2024 team for some time. The new personnel structure will work together for the first time at the forthcoming Jerez test, as will some of the technical modifications required to suit the new regulations covering combined bike and rider weight, crankshaft and balance shaft mass, fuel load restrictions, RPM limits and more.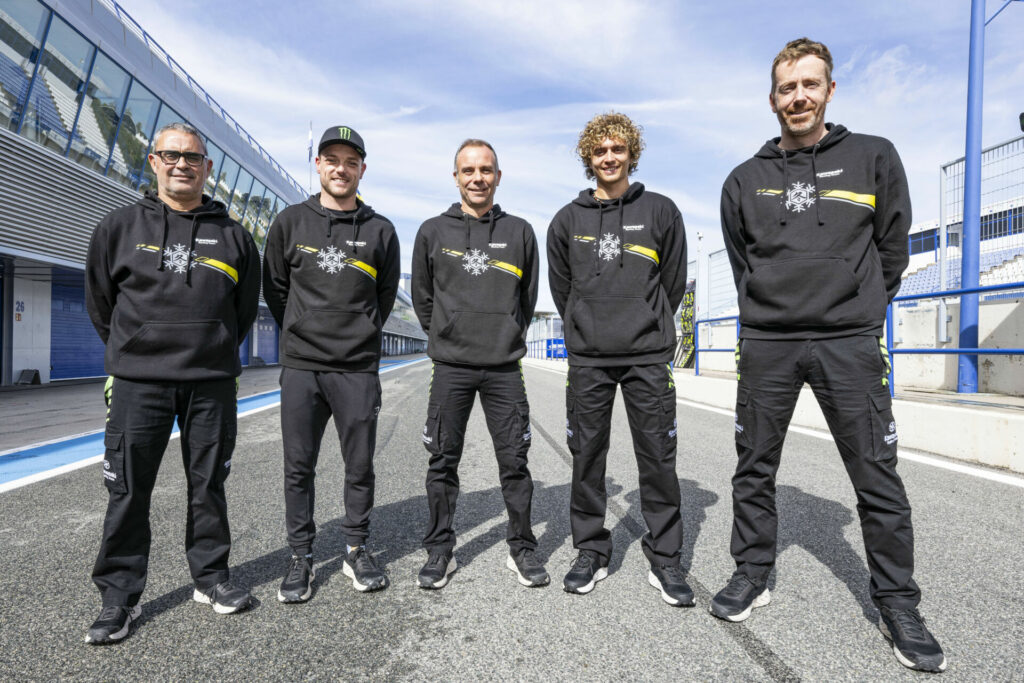 For 2024 Alex will have Pere Riba as his crew chief, while Axel will work with long time KRT crew chief Marcel Duinker. Other internal changes are also ongoing to meet the challenge of what all expect to be an exciting immediate future, full of new ambitions and opportunities.

For the riders this test is an important one for many reasons, if in a slightly different way, given their contrasting experiences of the Ninja ZX-10RR to date.

Alex will be building on all the info he has acquired so far and is determined to set the scene to achieve race wins in 2024.

Axel will obviously require time to get used to his new environment, team and machine. He is understandably super-excited about his new opportunity but will arrive with a professional approach to make as much progress as quickly as possible.

Alex Lowes, stated: "We are already focused on 2024. We know the areas we want to improve with our package so now we must work hard to get the data we need to step forward in those areas. We're changing some of the staff in the garage so I'm excited to get to work on the new relationships, with the target being to bring out more of our potential next year."

Axel Bassani, stated: "I am happy to start with this new adventure with Kawasaki. It is like a dream for me because it is a really good team with a lot of history. It is important for me to start with a relaxed mood, try to understand the bike, my new team and after we will see what happens."

Pere Riba, Crew Chief for Alex Lowes, stated: "We have finished an era, nine years together with Johnny and now we start a new chapter together with Alex. In the beginning there will be some differences because they are two different human beings, riders, characters, so for sure I will need my time to understand to match together with Alex. But I am motivated with this new challenge. We know Alex has good speed and then I will try my best together with my guys to get the best from him and improve the package. He knows the bike and the team and I will try to focus more on himself and get the best from him. Now we start the winter tests and the target for these two days is know each other, step-by-step to build the package."

Marcel Duinker, Crew Chief for Axel Bassani, stated: "It is a shame in some ways how the season finished because Alex was very competitive. It was a pleasure working with him all these years and we have a good relationship. Even though he has moved I am sure this good relationship will remain. Now we start a new chapter with Axel. I met him for the first time the other day and instantly we had a good conversation. He is young but he is already experienced, very competitive and incredibly motivated. I am sure he will help lift us in KRT to an even higher level. At this test we will go one step at a time but I am already excited to start the 2024 season."

Guim Roda, KRT Team Manager, stated: "We start new season with a big motivation to learn from our past experience and with the aim to keep improving our Ninja ZX-10RR package in a variety of ways. We have been working hard with FIM, Dorna and MSMA to balance a bit more the show for the fans. Our actual package still has potential to work better, but the rules need to allow us to flex more within what are strict Stock Rules and be more "racing spirit" oriented. Let's see if new rules give us a measure of this help. That will not be the only change required, and we will need to work on the right way to implement any changes but it is the correct direction. Also we are making some changes internally at KRT and the most obvious will be Alex working with Pere Riba, while Marcel Duinker will have the task to build the speed and understanding of Axel on our Ninja ZX-10RR. Additionally, Pau, one of mechanics of Alex, is moving to work with Arturo, while Uri is leaving to follow Johnny on his blue adventure. Mattia will be moved up again to the first line and more changes will be introduced in the team for next season all aimed at staying competitive with the strong expectation of machine innovations from other manufacturers – nothing stands still in WorldSBK. We all are so motivated, and changes like this are always good, to try new things, so let's go for it, and defend green colours in 2024 even stronger and prouder than ever."

#KRTNewStart2024