Editorial Note: The current World Superbike All-Time Lap Record for Algarve International Circuit is 1:39.610, which was set by Jonathan Rea in 2022. The current World Superbike Race Lap Record was also set by Jonathan Rea in 2022 at 1:40.135.
Feel_Racing_Racing_Portimão_Test_01_02_2023

More, from a press release issued by Dorna WorldSBK Press Office:
Lap record breaking quartet emerges in Portimao
Bautista edges out Rea by only 0.009s, while Rinaldi and Razgatlioglu also had a strong showing to conclude testing on the Portuguese rollercoaster
Despite a small crash in the morning, Alvaro Bautista (Aruba.It Racing – Ducati) set the fastest lap on Day 2 of Portimao test as he lapped under the lap record.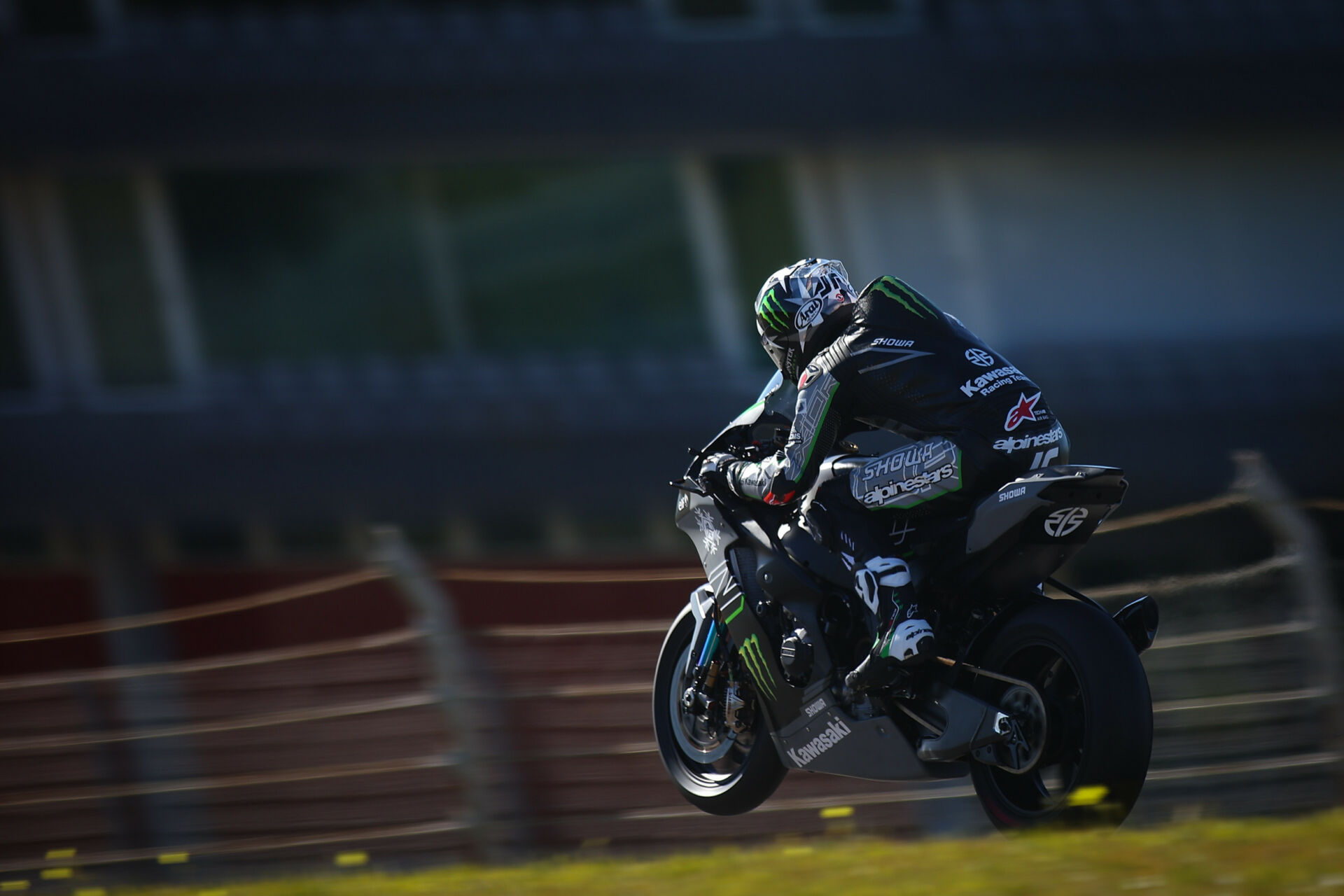 Six-time WorldSBK Champion Jonathan Rea (Kawasaki Racing Team WorldSBK) was just 0.009s off Bautista's fastest time, taking second place at the end of Day 2 with 68 laps completed.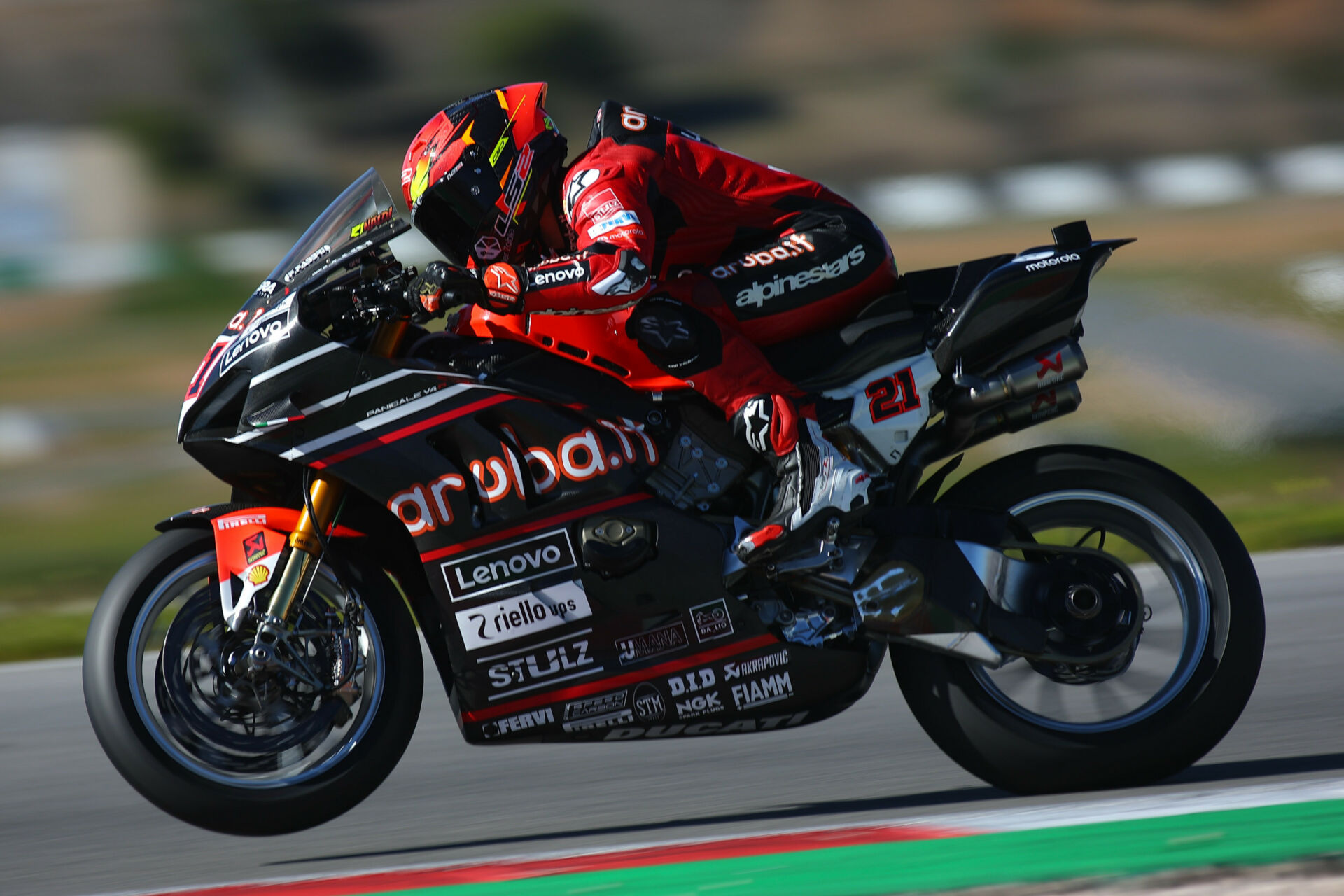 Michael Ruben Rinaldi (Aruba.It Racing – Ducati) took third place just 0.109s behind his teammate.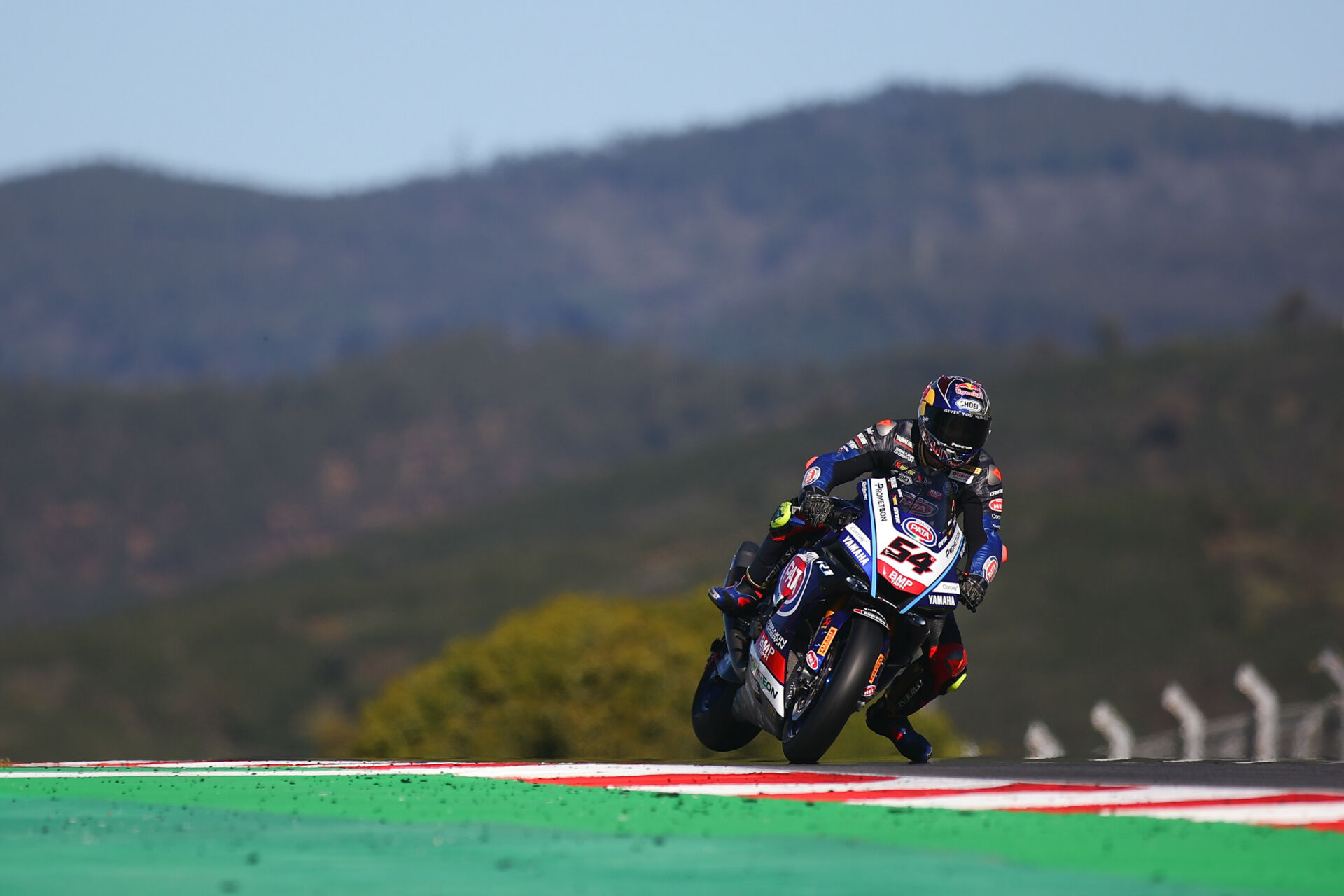 2021 WorldSBK Champion Toprak Razgatlioglu (Pata Yamaha Prometeon Team) concluded his two-day testing in fourth place with a best time of 1:39.441s.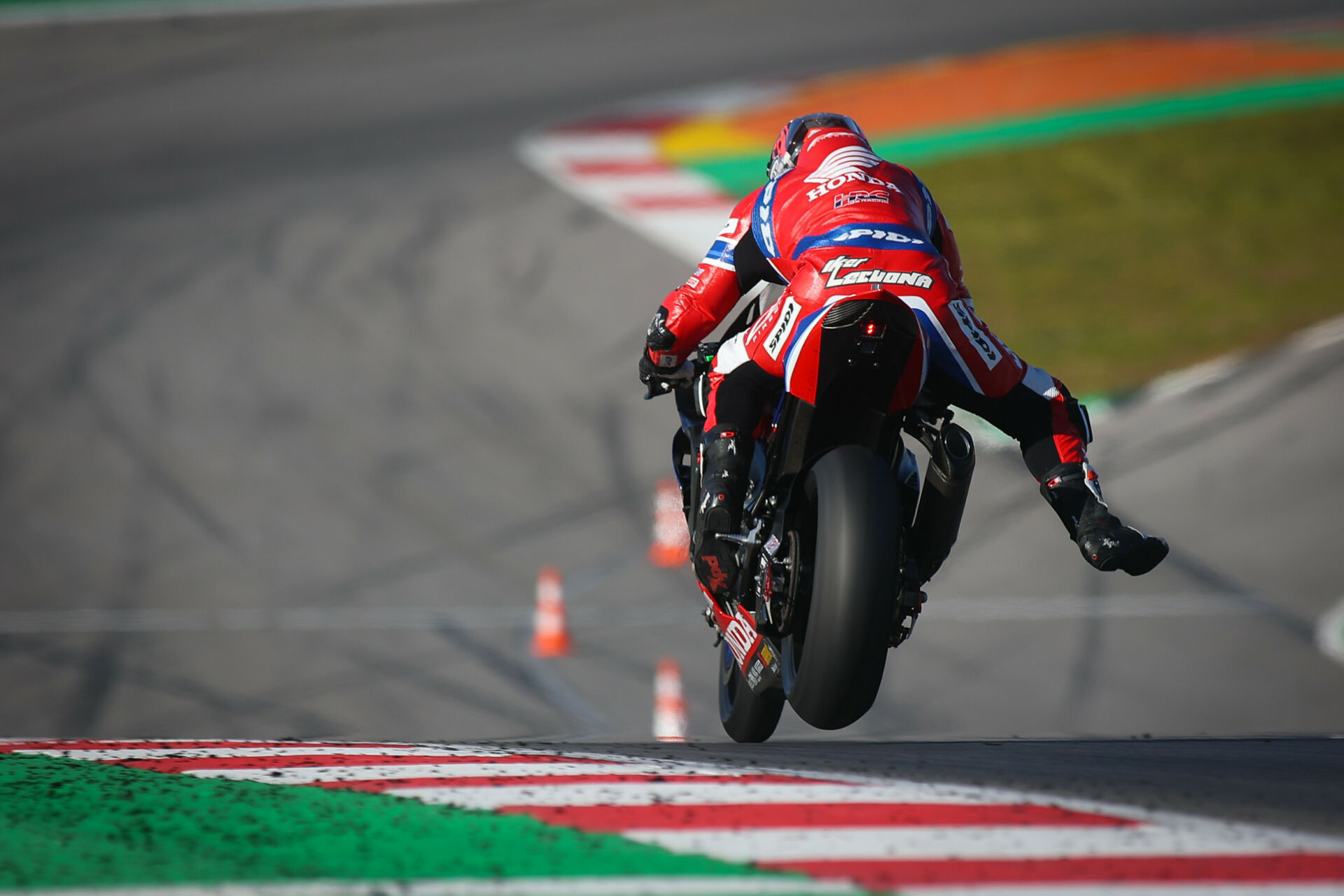 Iker Lecuona (Team HRC), who had a crash in the final sector in the morning, posted a 1'39.803s to take sixth spot as Honda looked to work on setups for the CBR1000RR-R machine.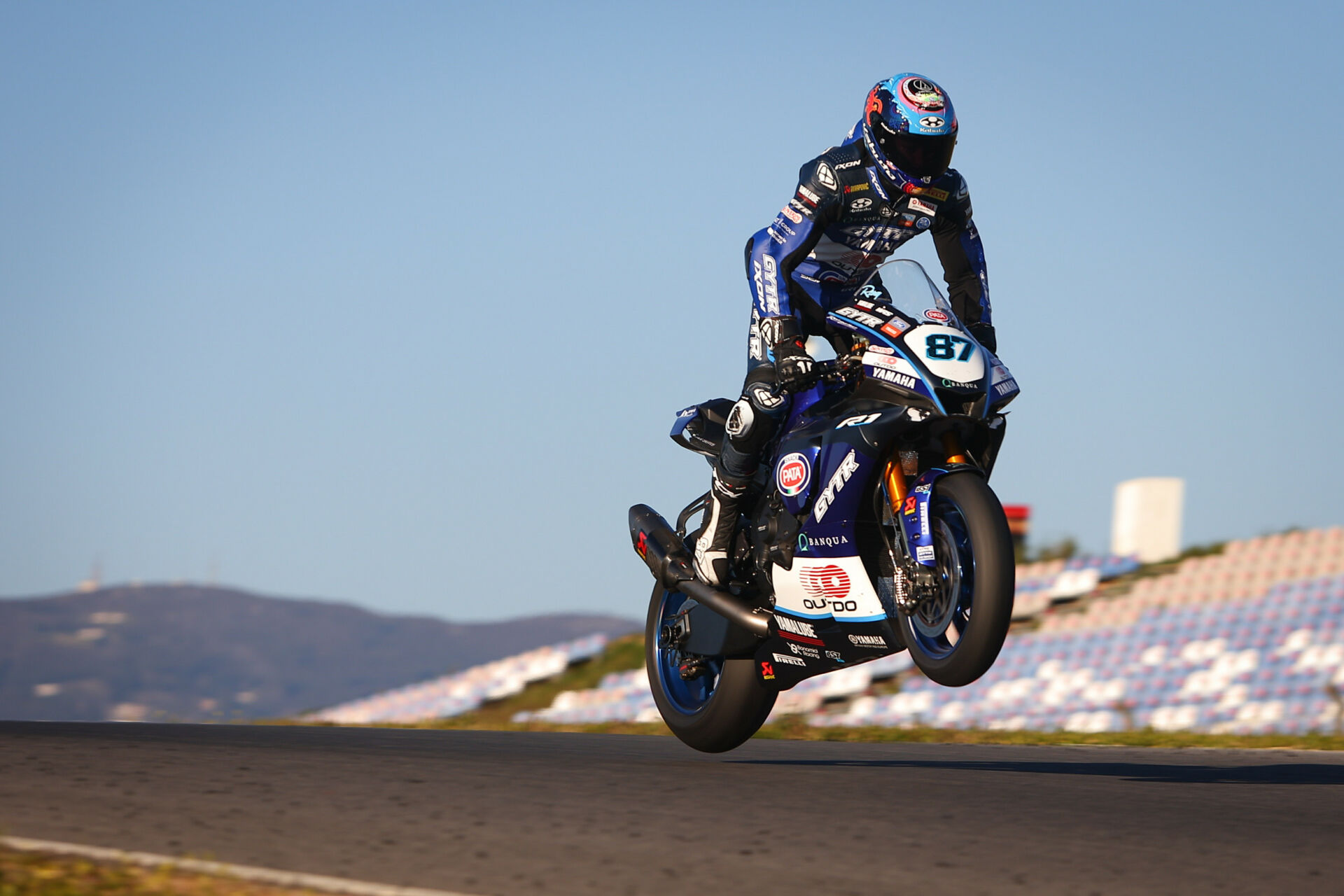 Remy Gardner (GYTR GRT Yamaha WorldSBK Team) was the fastest rookie on Day 2 at Portimao as he finished in 7th place, 1.167s off Bautista's best time.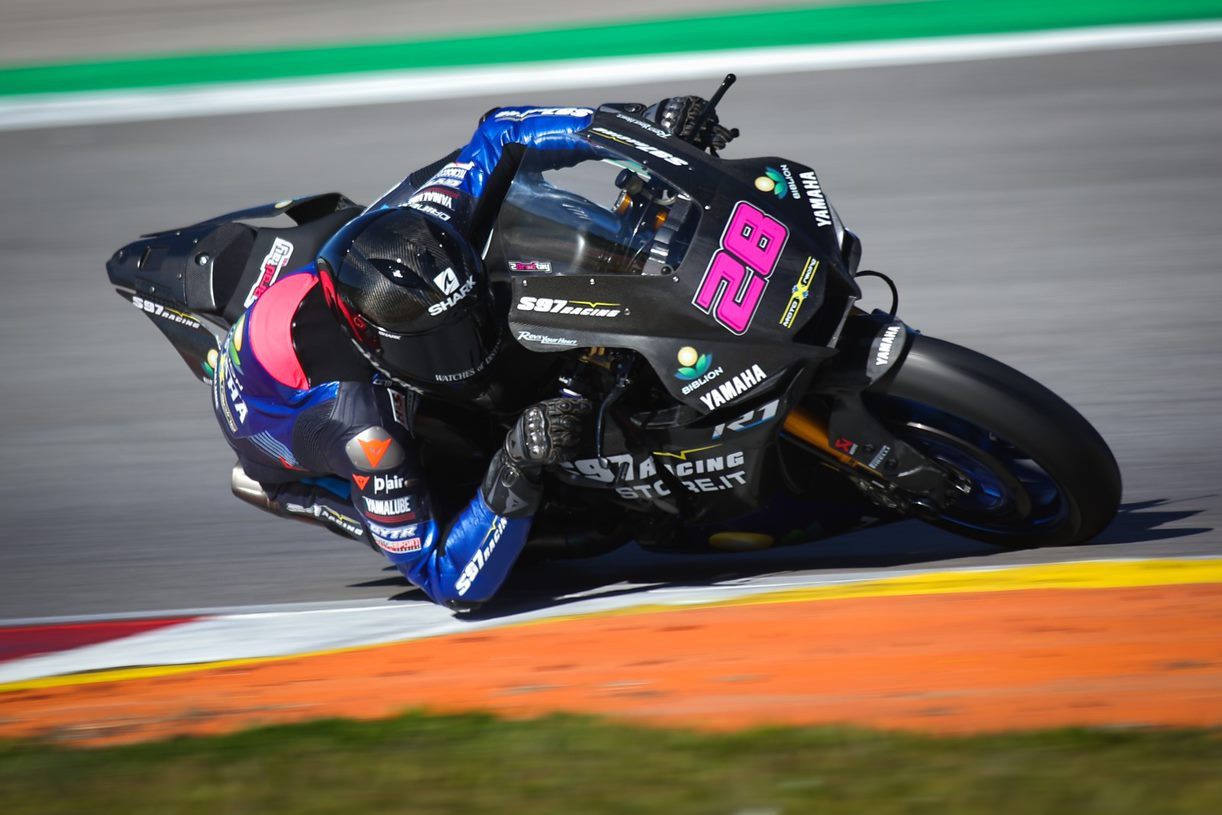 Yamaha Motoxracing WorldSBK Team's Bradley Ray and MIE Racing's Eric Granado concluded their first WorldSBK test.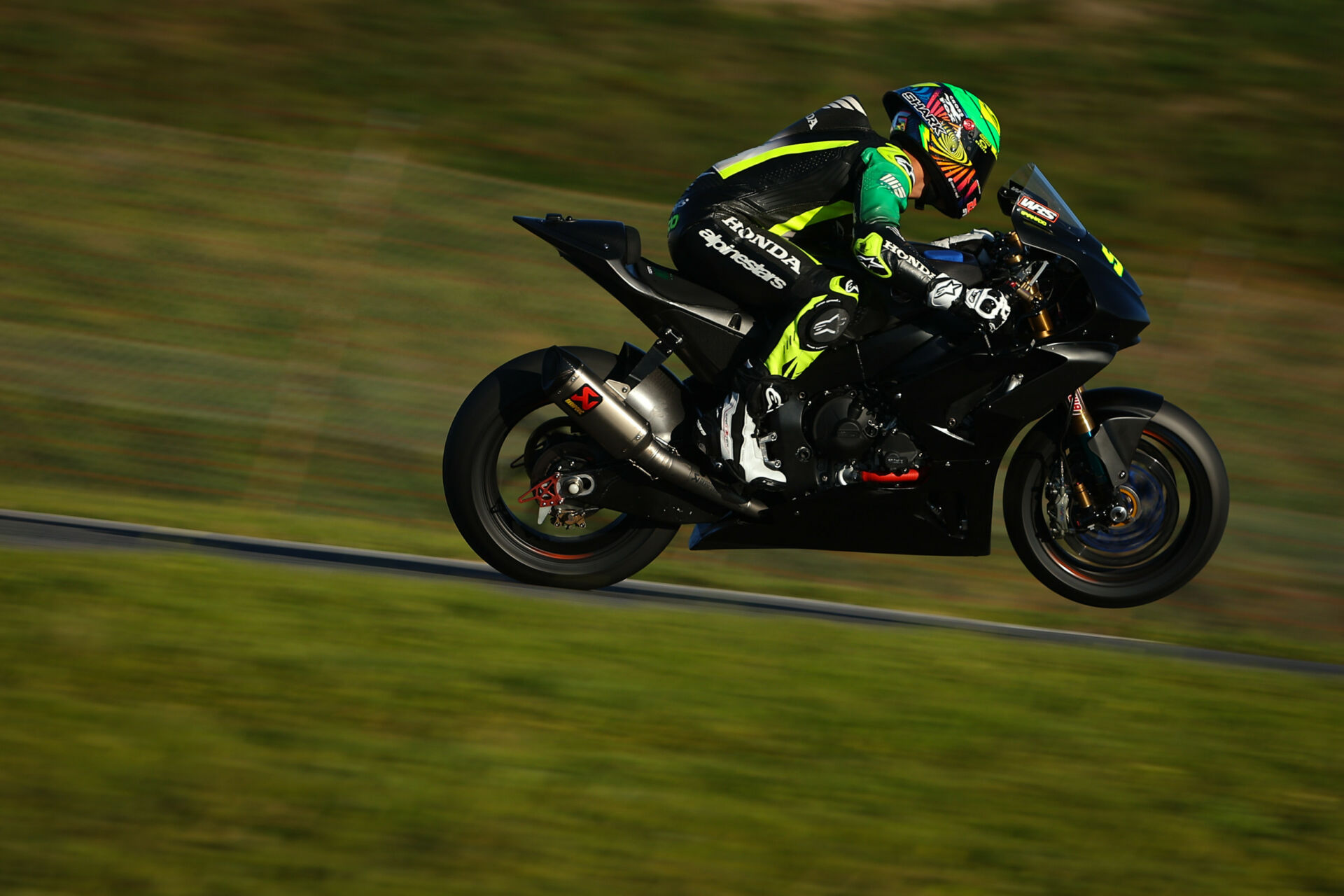 WorldSBK Day 2 Report
There was plenty of lap record pace on display in the MOTUL FIM Superbike World Championship at the Autodromo Internacional do Algarve on Day 2 of the two-day test in Portugal, with riders on the verge of breaking into the 1'38s for the first time in WorldSBK. Reigning Champion Alvaro Bautista (Aruba.it Racing – Ducati) topped the times on day two by just 0.009s ahead of six-time Champion Jonathan Rea (Kawasaki Racing Team WorldSBK).
Bautista posted a 1'39.035s to obliterate Rea's Superpole lap record from last year's Portuguese Round. Bautista's day, with the Spanish rider looking at bike stability, was disrupted by a crash at Turn 7 which brought out the red flag. His teammate was one of the four riders to go below the lap record with a 1'39.144s to take third place; backing up his top spot from Day 1. Rea, the lap record holder with a 1'39.610s from last year's Tissot Superpole, took second spot and was only 0.009s slower than Bautista at the end of the day's running with the six-time Champion testing some new items from Showa and looking at chassis balance. 2021 Champion Toprak Razgatlioglu (Pata Yamaha Prometeon WorldSBK) was fourth fastest as he also went under Rea's existing lap record, posting a 1'39.441s on his way to fourth spot. As at Jerez, there was a lot of focus on the rear of his Yamaha YZF R1 machine in order to improve grip exiting corners.
All riders and teams are now focused on the Official Test taking place ahead of the season opening round on Monday 20th and Tuesday 21st February at Phillip Island.
Read the full report from Day 2 in Portimao on worldsbk.com
More, from a press release issued by Team HRC:
Portimão the stage for another constructive Team HRC test before the squad travels to Australia
Team HRC and its factory Superbike riders Iker Lecuona and Xavi Vierge have completed a further two days testing at the Autódromo Internacional do Algarve in Portugal, following on from last week's positive sessions at Jerez de la Frontera, Spain.
On track on both Tuesday 31 January and Wednesday 1 February, the team again benefitted from dry and sunny weather conditions, which enabled them to complete a range of different tests.
Vierge suffered a small crash mid-way through Tuesday's session but was fortunately unhurt, his team working fast to repair his bike so that he could get straight back to work. The Team HRC duo completed close to 70 laps each on day one, with the work centring around bike set-up, electronics and geometries, much as it did last week at Jerez.
Day two saw the team continue with its work programme and successfully complete almost all of what it had planned for this week's test. Lecuona was the victim of an innocuous crash during the morning but fortunately sustained no injuries. Lecuona and Vierge clocked up many more kilometres aboard the CBR1000RR-R FIREBLADE, which provided the technicians with a great deal of useful data.
Team HRC will now continue to make final preparations ahead of the official tests that will take place at Phillip Island, Australia on 20-21 February, immediately prior to the opening round of the 2023 Superbike World Championship, which will run at the same circuit over the weekend of 24-26 February.
Iker Lecuona  7
"I'm generally quite happy with these two days of testing, particularly today, more than I was with the Jerez sessions to be honest. It's true that we started the day with a fast crash at corner thirteen. I just touched the front brake and lost the bike – perhaps I was a little over confident entering the corner. I was thankfully unhurt, but my bike came off worse so apologies to my team and a big than-you to them for fixing the bike perfectly and quickly – they did an amazing job. We've tested a lot of things but mainly focused on trying to feel good aboard the bike and on stopping and turning. At Jerez we basically tested everything, trying new items and a lot of different settings, and we ultimately struggled. Here I felt much better, especially on the second day. We're still lacking something because there is still a gap to the top in terms of lap times but we're there in terms of pace. We carried out a race simulation at the end of the day and I was able to be constant and fast until the end, something that I wasn't able to do last year, so I can say we leave here happy. Now we'll have to see where we are when we get to Australia."
Xavi Vierge  97
"We already worked well at Jerez last week, but during those sessions we were testing many things and looking for a direction, while here we already started out with a clearer base. Lap after lap we've improved, both in terms of performance and feeling, and have better understood how to move forward. I'm sorry for the crash on day one but the team worked well, and we were then able to enjoy a trouble-free afternoon and second day. This test has been about putting everything together, and this has given me confidence. We still have work to do but I definitely think we've taken a step forward. Today was another really good day for us, especially in the morning when we worked with the hard tyre. Our race pace is really good, and it was just a pity that we weren't able to exploit the soft tyre when the time came for a time attack, but we encountered some small issues that prevented us from completing a fast lap. Having said that, the important thing is that we had good feeling on the bike on the hard tyre, because we will race on that spec here at Portimão and we improved a lot compared to last year. We've enjoyed a good pre-season in Europe and now have a lot of data to analyze before we take a small break and then it's next stop, Australia."
More, from a press release issued by Aruba.it Racing Ducati:
A convincing two-days for Bautista (P1) and Rinaldi (P3) at Portimao Circuit (Portugal). Positive sessions also for Nicolò Bulega (P1 in WorldSSP)
The second session of winter testing has just concluded at the Portimao Circuit where the Aruba.it Racing – Ducati team got on track for two intense days of work.
Alvaro Bautista and Michael Rinaldi proved to be in an excellent form, finding a convincing feeling with their respective Ducati Panigale V4R machines from the very first laps of Day-1
The Spaniard concluded the Portimao test with the fastest time (1'39.035) while Michael Rinaldi – after being the fastest on Day 1 – was able to lower his time by half a second today to close with a solid 1'39.144, just 109 thousandths of a second behind his team-mate.
The next stop for the Aruba.it Racing – Ducati team will be at the Phillip Island circuit (Australia) when the final winter tests will take place on 20 and 21 February, just three days before the first round of the 2023 season.
Alvaro Bautista (Aruba.it Racing – Ducati #1)
"We did a good job at both Jerez and Portimao tests. The time we set today is not very important. What gives us great confidence is the feeling with the bike, which is really positive. We did a great job with the team, trying to pay attention to even the smallest details. I can't wait to be in Australia".
Michael Rinaldi (Aruba.it Racing – Ducati #21)
"We started these tests very well, closing the first day with the best time. I expected everyone to be faster today but we've also made important steps forward. I'm very satisfied, especially because with my team we managed to follow the program we had agreed, laying a solid foundation that will undoubtedly help us in the future".
WorldSSP
Nicolò Bulega confirmed at Portimao the good sensations he felt aboard his Ducati Panigale V2 during the previous test at Jerez de la Frontera. After finishing Day 1 in first position in the Supersport classification, on Day 2 the Italian rider was able to lower his time by almost six tenths, confirming his first place among WorldSSP riders with a fastest lap of 1'42.636.
Nicolò Bulega (Aruba.it Racing WSSP #11)
"These were two very important tests. I immediately found a very good feeling with my bike also thanks to the excellent work done by my team. The sensations are positive and this will allow us to arrive in the best conditions in Australia. We are ready for an intense season in which we certainly cannot hide our ambitions".
More, from a press release issued by MIE Racing Honda Team:
Two valuable days of testing at Portimão for the MIE Racing Honda Team
The MIE Racing Honda Team has been out at the Autódromo Internacional do Algarve in Portugal for some important test sessions this week as it continues to prepare for the 2023 Superbike World Championship. Riders Hafizh Syahrin and Eric Granado were both in attendance and rode half a day each on both Tuesday 31 January and Wednesday 1 February, alongside other Superbike teams including the factory Honda squad.
Weather conditions fortunately remained dry and sunny throughout, allowing the team to complete a wide variety of tests on many new items they had to test for the first time and giving rookie Granado the chance to build further confidence with the CBR1000RR-R. While the Brazilian completed a brief test at Jerez in December, these sessions marked Syahrin's first opportunity to ride since the conclusion of the 2022 WorldSBK championship. The test was therefore very important, allowing both riders to get back into the riding 'groove' after a period away from the tracks.
The MIE Racing Honda Team is doing all it can to ensure its riders are comfortable aboard the bike and so the technicians have worked hard on bike set-up and geometry as they look for a base set-up for the CBR. Both team and riders are satisfied with what they have accomplished this week and will now continue the preparations back at base, so as to be ready for the final pre-season tests, set to take place on 20-21 February at Phillip Island, Australia, just a few days prior to the championship's opening round at the same circuit.
Hafizh Syahrin
"Eric and I completed two half days of testing each here at Portimao. I rode yesterday afternoon and again this morning, so essentially one day in total. We've tested an updated version of the bike, a completely new package that includes a new swingarm, so it was not to easy to find a base set-up in such short time. I basically tried to complete as many laps as possible in order to understand as much as possible and to provide feedback to the team. It is very important to arrive in Australia with at least a base from which to start during the official test, where we will need to focus 100% on moving our package in the right direction. These two days have also allowed me to get used to the bike again and try to get the body back up to full power and speed after a two-month break. As I said, when we arrive in Australia we will approach the work differently and concentrate more on refining set-up. I know our times here were not very close to the top, but this was our first test while the others already had a session at Jerez. We nevertheless found good feeling on the bike and this is very important."
Eric Granado
"It was a positive test because I was able to test the bike for the first time in the dry. This was very good because it meant I could start to understand how the bike works in dry conditions. This was also my first experience of riding at Portimão with the Superbike, so not easy of course because this track is very technical and difficult, and it took me a long time to find the lines. But I had fun, and we did a lot of work with the team to understand how everything works. We tried some new parts that Honda brought us, so this meant we spent a lot of time in the garage changing things, mainly electronics and set-up to make the bike work better with this new upgrade. So, unfortunately, this meant I didn't complete as many laps as I would have liked but at least we lapped in the dry, without focusing on times and without putting in soft tyres to make a time attack, simply focusing on ourselves to understand how to work better together. Then during the tests in Australia and especially in the first race, we'll give it our all to put in the best possible performance."
More, from a press release issued by Kawasaki:
European Tests Complete For KRT
Jonathan Rea and Alex Lowes took part in two sunny days of testing at the Autodromo Internacional do Algarve between 31 January and 1 February at what was the final European-based sessions before the 2023 FIM Superbike World Championship season begins in Australia at the end of the month.
The 4.592km long Portuguese circuit, located in the hills above many popular holiday resorts on the Algarve coast, is a very different challenge from the previous testing venue of Jerez, which the team tested at last week.
Both official KRT riders found that recent improvements in the base settings of their Ninja ZX-10RRs transferred well for ther most part to the undulating nature of the Portimao track. Each had their own programme of work to conclude before the team's flight cases get loaded up in readiness for the long journey to Australia.
Rea was the second quickest rider of all at Portimao, even though he did not have a bike set-up to maximise his outright pace when he used the softer tyre options. He was a narrow 0.009 seconds from fastest rider Alvaro Bautista, with Rea setting a 1'39.044 personal best lap on the second day.
Lowes worked exclusively on race pace and preparations for the new season, after losing some available track time on the final morning at Portimao. Alex's best lap of the tests was set on day one, with a 1.40.264, placing him 9th fastest overall on the aggregated times. He set 72 laps on day one and 56 on day two of the Portimao tests.
With the European element of the pre-season testing schedule complete, there will be two days of official testing at the legendary Phillip Island circuit, on 20-21 February,  before the start of the 2023 season itself the following weekend.
Jonathan Rea, stated: "Our test was positive. Again, we were just step-by-step working with the new electronics guys, and the changes they made to my requests. So we have more of an understanding, a good understanding, already. Of course, it is still a work in progress. From the testing side today we had some development rear tyres from Pirelli to try. Last week in the Jerez test we had front tyres to test, this time it was two different options of SCX rears. The track was in strange shape because I was much better with harder compound tyres than softer tyres. Every time we put a softer tyre in, trying to make a time attack, the lap time wasn't coming. From a chassis point of view we tried a couple of new items at this test that influenced the bike in a really positive direction, so I feel we have made a step. You never really know until the lights go out but I think that we have had a decent winter, albeit a short one. I am quite happy with our two days work at Portimao."
Alex Lowes, stated: "I did all my work on the SC0 rear tyres today so until I look at the time sheets properly I won't know what my final pace was like. I had a small crash at T5 today, on that bump on the way in, which was annoying. But, in general, I feel quite good on the bike. I tried to do a lot of work on used tyres, because in winter testing 1'39.0 laps times are sound, but they do not improve the bike set-up too much. We need to really work in race conditions so that we can fight in the races. I have been trying to do that here and hopefully the hard work will pay off in Australia and we can have good races there. We can improve the package a bit but I think there is a little bit more to go."
Pere Riba, Crew Chief for Jonathan Rea, stated: "We are happy with the tests. We have some different items in some areas from last year to this year, and we tested them for the first time in Jerez. Here in Portimao what we did is confirm them and also try to build the starting point we will use in Australia. We reached all the expectations we had and honestly I am quite pleased with the job done by all the guys. The new electronics staff, Christophe and Sander, are working very well. We are understanding each other step-by-step. Johnny was very pleased and very happy, and at the same time he was going fast. At the end of the day, we are on the line that we expected to be on and we are ready to go to Australia."
Marcel Duinker, Crew Chief for Alex Lowes, stated: "We did most of our laps over half race distance each time we made a pit exit today, so we have prepared ourselves mainly for race conditions. Last year at the final test of the year, and at the race in Phillip Island, we were very competitive. We improved our performance. Here, we only used the hardest option rear tyre and we are now ready for the Phillip Island official tests and the first round of the new season."
Tom Sykes (Kawasaki Puccetti Racing) was also out on track at Portimao, finishing up the tenth quickest rider over two days as he returns to WorldSBK from racing in the BSB championship in 2022.
More, from a press release issued by Yamaha:
Pata Yamaha Prometeon WorldSBK Complete Positive Portimão Test
Toprak Razgatlıoğlu and Andrea Locatelli finished the final two days of winter testing in Europe at the Autódromo Internacional do Algarve with Pata Yamaha Prometeon WorldSBK today, as the team nears the start of the 2023 FIM Superbike World Championship.
Picture-perfect Portuguese weather allowed the #54 and #55 riders to complete nearly 300 combined laps and test a variety of new development parts in order to assist Yamaha's engineers in finalising the 2023 Yamaha R1 WorldSBK race package.
Razgatlıoğlu posted an impressive lap time on Pirelli's X tyre with a 1'39.441, faster than the WorldSBK lap record, but was unable to test the softer qualifying tyre due to cooler track conditions than the compound's optimum range. The 26-year-old finished the test in fourth position for outright lap pace and completed a total of 121 laps across the two days.
Teammate Locatelli also impressed in his work ethic to complete a massive 173 laps as well as his ability to take a step in performance, confidence and outright pace.
The season-opener in Australia at Phillip Island kicks off with a WorldSBK Official Test on 20-21 February before the race weekend starts on 24-26 February. For the team, the "long haul" starts even sooner, with the preparation of just over five tonnes of race equipment including its 2023 R1 WorldSBK race machines to depart from Pata Yamaha Prometeon WorldSBK's UK home at Crescent Yamaha in Dorset.
Toprak Razgatlıoğlu – 1'39.441
"Today we had a really good start and I felt good – I used the X race tyre and see very good lap time, 39.4 – I think is very good lap time but here the track condition changed a lot during the day. And after we work with the new parts and new swing arm, and end of today I use again the old one because we check which one is better. Finally, my feeling on the bike is much better with the whole package and I am confident. I don't have a time for the Q tyre today, because you know, end of the day very cold. So I say, I don't need Q tyre and also I did the very good lap time with X tyre. Maybe next time I am trying 1.38! I am ready for the season and ready for the fighting."
Andrea Locatelli – 1'39.705
"It was another great day of testing today – okay, the second day was a bit difficult in the beginning because yesterday I rode a lot, 85 laps! With the long run yesterday in the afternoon, I was a little bit tired but today we were riding a lot also and in the end we found a really good set-up and I have a really good confidence with the bike. This is important to arrive in Phillip Island in a good way. To be honest, I am really happy – because we did not have any mistakes and we understand some parts of the bike really well. And, the weather was good! We will see what happens in Phillip Island, but we close this test in a really good way. I think we can start immediately with a really good feeling and try to push – I can't wait to start and to fight in the first race."
Paul Denning – Team Principal, Pata Yamaha Prometeon WorldSBK:
"We were blessed with stable and relatively warm conditions for the time of year here in Portimao – which enabled the Pata Yamaha Prometeon squad to get through a serious amount of work! For Loka, these two days were simply his best test since joining the team at the end of 2020. He covered a massive 173 laps and displayed fantastic pace both in terms of consistency and ultimate outright lap time. A great job by Andrea and all of his crew to get through the amount that they did! We hoped Loka would take a step this season, and the approach that he has taken in this test and the confidence that he's displayed on the bike would indicate that we've started to move forward. Toprak, having been quickest on both days in Jerez, faced a few more challenges here in terms of evaluating new parts and – as is often the case with winter testing – suffered a few backwards steps before regaining positive momentum. In the end his test result in terms of long runs completed and ultimate lap times was maybe not exactly what we hoped for, but most importantly whenever his R1 package was to his liking, Toprak as always was immediately blisteringly fast. Phillip Island next is going to be a challenge – our competitors have taken a step forward, but we can't wait for the season to start."
More, from another press release issued by Yamaha:
Gardner and Aegerter Continued their Adaptation in Portimao Test
The GYTR GRT Yamaha WorldSBK duo concluded a two-days of test in Portimao on 31st January-1st February, finding good lap times despite being not able to put together their best splits in a single lap to maximise the effort.
Remy Gardner and Dominique Aegerter kept working on their Yamaha R1 machines, trying many things improve the feeling on the bikes. On Day 1, the Australian completed 86 laps to find himself 9th (1'40.667), while his Swiss teammate finished with 88 in 16th (1'41.432).
Twenty-four hours later, the GRT duo focused on their qualifying performance in the final minutes: Gardner went 7th fastest (1.40.202, 90 laps), while Aegerter concluded in 15th (1.40.844, 83 laps). Both struggled on finding a clean one-shot lap; indeed, the #87 and the #77 rider have a better ideal time on their hands, which leave them confident for the beginning of the season.
The GYTR GRT Yamaha WorldSBK Team will now move on to Australia on 20th-21st February for the Official Test in Phillip Island ahead of the beginning of the season which will take place at the same venue on 24th-26th February.
Remy Gardner: P11 – 1'40.202, 176 laps
"Two more days of testing, that was good. We improved even though we just struggled a little bit to find the correct way on day 2, but at the end we managed to improve the time. We got more experience before Phillip Island, I'm looking forward to that test to be ready for the beginning of the season."
Dominique Aegerter: P21 – 1'40.844, 171 laps
"Riding in Portimao is always amazing, but really demanding as well. I still need to get used to the big bike, it has a lot of power and strong brakes. We tried many stuffs and I think we could not really take the full potential, but we got some good data to work on, over a basic setup that we can have for the season."
More, from a press release issued by Team GoEleven:
LAST STOP PORTIMAO; NOW LET'S FLY TO AUSTRALIA!
Intense last week for the WorldSBK circus; after the two days in Jerez, the protagonists moved to Portimao, the splendid ups and downs of the Algarve, for an important practice session before flying to Australia, where the real 2023 debut will take place!
In Jerez, Philipp struggled to find the right feeling with the new Ducati Panigale V4-R; the riding position was the main problem to solve, in order to then concentrate the work on the set-up. Between the two tests, thanks to the work of the technicians, with the creation of special appendices on the tank, and to a lowered seat, the German rider immediately found good confidence. During the first day, Oettl was able to make a comparison between some components from last season and the new ones, so as to better adapt to the differences in behaviour. In the afternoon, then, he was able to make good use of the 2022 tyres supplied (some factory teams tested a new development of the softer compound), riding in 1.40.846 with the qualifying tyre. On the second day he immediately found an excellent feeling with the SC0, the harder compound, right from the morning. First, he stopped within four tenths of his personal best from the previous day, then he even managed to improve the time set on the qualifying tyre by a tenth. In the afternoon, which was slightly colder than yesterday the team tried to put on a couple of soft tyres, but perhaps the conditions weren't optimal to try the time attack, thus maintaining the reference set in the late morning with "race" configuration. During day 2, the technicians had the opportunity to work on the rear shock absorber and on the electronics, trying to understand the feeling from the new swingarm and the bike in the 2023 configuration. Excellent data collected, so as to be able to analyse it, evaluate what can be improved, both in technical terms and speaking about riding style. The Go Eleven rider's ideal time is really strong, faster than the time set, as he was unable to put together a proper fast lap.
Philipp still has to find something, he lacks a few tenths and a little confidence before he can be satisfied with the pre-season work; for this, the two pre-Australia days will be fundamental, where the official tests of WorldSBK 2023 will take place. A clear step forward, however, compared to Jerez, as we have seen, which gives Philipp a big boost in view of the (real) seasonal debut, when it will be essential to be fast and constant!
COMBINED RESULTS: 
P 1   A. Bautista   1.39.035
P 2   J. Rea   + 0.009
P 3   M. Rinaldi   + 0.109
P 4   T. Razgatlioglu   + 0.406
P 5   A. Locatelli  + 0.670
…
P 13  P. Oettl   + 1.754
Philipp Oettl (Rider):
"Another two interesting days of testing, I think these were much more productive compared to Jerez, especially cause we could compare both bikes, and I could adapt better to the new seat position. This was a really big step, now I feel comfortable on the new bike. Then we started working on the electronics and suspensions. I think we collected a lot of informations, from these two days, I think now it's really important to put everything together for the Australian Round. There we will have two days of tests more, that's quite a good luck for us, cause I still miss something and I don't feel completely ready to race. In Portimao we found the right way to follow, and I am really optimistic for the first race! "
Denis Sacchetti (Team Manager):
"Two very positive days here in Portimao, where we found the right ergonomics for the 2023 Ducati. Philipp found the correct feeling and was able to push, starting to work on the set-up and electronics. The objective of the test was done, but obviously it is only the starting point, we still have to find the optimal feeling he had last year in Australia. Now we will have to make the flight cases, time is very little and we still have a lot of work to do, we leave for Australia, the first round of the 2023 season. We are excited because the level of the riders and teams on track is as high as ever, but we know we have the potential to do well and get some satisfaction!"